The Betches' Bachelorette Guide To Tulum
Planning sucks, and bachelorette parties are a ton of work. So we're taking all the guesswork out of planning a bachelorette party by breaking down top bachelorette destinations. Our guides will tell you where to stay, eat, party, how to get around, and give you a sample itinerary that you can follow. You're welcome.
If the last time you went to Mexico was spring break senior year, you're in serious need of a below-the-border refreshment. I mean refresher…whatever. Any bride who loves a white sand beach, relatively affordable accommodations, and truly killer quesadillas needs to take her girls to Tulum, like, yesterday. This dream of a city may be a slight bitch to get to from anywhere that isn't another Mexican city, but once you're there, you will likely never want to leave.
Look, Tulum is famous for being Mexico's chicest beach town where you can chill as hard as you party. The best part? Heels are basically forbidden here, so you can stop worrying about coming home from a weekend of raging with a broken ankle. If you're already sold on Tulum, read on for specifics on where to get your bachelorette equivalent of GTL on.
How To Get There
Obv, if you live on the West Coast, you've basically already made it! The only thing that truly sucks about bach-ing in Tulum (or any other Mexican city) is that you can't fly directly there because there are only four international airports in the entire country of Mexico. Qué??? The closest one to Tulum is Cancún International Airport, which is still a solid two-hour drive away. Speaking of which, do not attempt to drive in Mexico because you will die. Hire a driver who knows the roads and wants to deliver you and your party safely, soundly, and still breathing to your hotel. There's also a shuttle you can take from the airport, but like, no. The shuttle drops you off in the center of the city and then you have to figure out your hotel, so, like, hablas español? Unless your only baggage is a Ziploc of snacks from the plane, navigating the streets of Tulum will stress you the f*ck out, so just spring for a driver and call it a day.
If you're coming from the East Coast, all of the above still applies to you, but give yourself a day of travel on either end since getting to Tulum will take even longer. Four hours on a plane may not be so bad, but when you factor in waiting around in the mosh pit TSA calls "security" in addition to the drive from the Cancún airport, nearly an entire century day has passed. If you are in the mood to save a little cash, plan your bach party during off-season, which will guarantee you the cheapest flights/hotel. The only downside to going during Tulum's off-season is that you may have to cancel your Halloween, Thanksgiving and Christmas/Hanukkah/Kwanza plans because October through December is the best time to go. Awkward. Lastly, and this may be the most important sentence of this story, do not drink the tap water.
Where To Stay
If your party is relatively small (I'll let you decide what small is), staying in a hotel is your safest bet, and we highly recommend La Zebra. It's technically a boutique hotel, but it has a private beach with chaises that more comfortable than most people's beds, restaurants, a pool, bars and a spa that will take away all traces of a stressful life in the real world. The only meh thing about this place is that the pool was def for swimming and not for, like, lounging on chaises to tan and take pics. In other words, it's in the shade, which, like no. Who goes to Mexico for the shade?
Anyway, the pool sitch aside, La Zebra is definitely where you'll spend most of your time because the food is good and the beach is huge. One more thing about the hotel before moving onto more important things, like where to party, whether you have a beach view or a garden view from your guest room, you can't lose because all of the rooms have huge windows with breathtaking vistas outside.
How To Get Around
Unless the restaurant/bar/excursion is exceedingly far, you'll want to walk everywhere, which is great because #steps, but also because the main area of Tulum is one long narrow street that's lined with charming and Instagrammable shops, hotels, and cafes. If adorable painted ceramic bowls are everything your dreams are made of, you will absolutely die on Tulum Beach Road. And if you want to shop for other things like espadrille wedges and crochet bikinis, be prepared to spend more than $100. But, like it's worth it because you get to respond to "I love your shoes! Where are they from?" with a casual "This little shop in Tulum. You can't get them in the States." Is there anything more satisfying than that?
Where To Eat
As is with any weekend getaway, good food is paramount and can make or break a trip. Full disclosure, La Zebra has delicious food (get the shrimp tacos), but if you don't want to be a hermit the whole trip, there are so many amazing holes in the wall and fine dining locales in Tulum, but for the sake of space and keeping your attention, I'm only going to talk about our tried-and-true faves in no particular order. Hartwood is famous for its food, and with most famous places, you need to book your reservation way ahead of time, but unless you're a man, that seems pretty doable. It's a tiny place that cooks and grills all of the food via open fire inside their hand-made wood-burning oven. I mean, can we get a Hartwood in New York please?
Next on the list is Rosa Negra, which means Black Rose in Spanish. If you don't love this place already, what is wrong with you? Anyway, the second you sit down at your table here, it becomes immediately clear that Rosa Negra knows what they are doing. The servers and the vibe make it feel like your table is the party. You order apps and drinks first, but the because the apps are exceptionally good, you'll most likely order, like, all of them and not be hungry by the time the mains arrive.Not to worry, though! They clear the table at the speed of light and then the music starts blasting. They play songs you'll want to scream to, like "Mama Mia" and "Sweet Caroline." The only caveat, which isn't really a caveat, is that you must be drunk. Otherwise you feel kind of weird living out your drunk truth while other people are just trying to enjoy their dinners.
Where To Party
Start the partying at Papaya Playa Project, which is basically the Mexican version of Project X…in a good way, though. Full disclosure about PPP: it's not fun if you are a group without a table. Tables are def expensive, but completely worth it because PPP is a gigantic rager on the beach, so if you don't want to repeat your weekend at Oktoberfest, where you lost your friends the moment you arrived, get and stay at a table. Otherwise you're wandering around alone in a giant crowd of drunken youths, which I can't think of anything worse, can you?
There's also a face-painting station, which makes you feel like you're a kid at the best birthday party in town, but in, like, a fun alcoholic way. The only thing about PPP that I won't rave about is the aggressively abrupt end to the party, which happens at exactly 3am. You may think the speakers accidentally got unplugged or the DJ f*cked up, but no, the party just ends and then you're on your own. K.
Friday, Day 1:
1.Arrive and check into your hotel.
2. Unpack and take obligatory shot of mezcal.
3. Change into your bathing suit and go to the beach or chill in your room (if you're a bad friend) before dinner.
3. Dinner at Gitano, which turns into a party as the night wears on, but it's def not a rager.
4. Party a little harder at bars that are close by, including but not limited to Casa Jaguar, Todos Santos, and Batey.
Saturday, Day 2:
1. Wake up! If you're an early riser (gross), head down to the pool and/or beach for some peace and quiet before the others wake up.
2. Lunch at either Ziggy's, Taboo, or La Zebra. Prob go to one of the first two options and then come back to Le Zebra (if you're staying there) for free chaises because #savedatmoney and chaises at other hotels are about $50 per person. No thx!
3. Visit cenotes, or underwater sinkholes, which, if you've seen Sisters, is nothing like what you think a sinkhole is. It looks like a beautiful underwater cave, and guess which city is famous for having the most beautiful cenotes? Tulum! Swim, snorkel or 'Gram the day away here.
4. Head back to the hotel to shower and get ready for the night ahead.
5. Pregame and party Papaya Playa Project, which will most definitely turn into a long and alcohol-infused evening.
6. Sweet sleep
Sunday, Day 3:
1. Buenos días!
2. Chill by the beach or shaded pool if you thought you could outsmart the sun and are now an unsightly shade of pink.
3. Lunch at one of the places you didn't eat at yesterday, then either fork of $50 or be cheap and head back to the hotel for a relatively chill afternoon because…
4. Dinner and best night of your life at Rosa Negra.
5.Sleep? At this point, it may already be the next day, in which case
Monday, Day 4:
1.For the love of God, sleep in
2. Last day by the pool/beach for a quick tan touch-up before checking out of the hotel and heading back to your lives where dinner is just dinner.
Images: Shutterstock; papayaplayaproject, hartwoodtulum, lazebratulum / Instagram
4 Things To Stop Feeling Guilty About In 2019
2018 was a year of many revelations. (Yes, saying "revelations" instead of "realizing stuff" makes me the intellectual Kylie Jenner.) It was a rapid-fire year of watching our favorite celebs make engagements, break engagements, have babies, and get cheated on by f*ckboys. (What I like to call "the big four.") In between worrying that these celebs are growing up too fast and worrying I'm not growing up fast enough, I realized I was forgetting one important thing. (No, not refilling my anxiety medication. Good one though.) I realized I was spending so much time judging and measuring everyone else's process in life and feeling guilty about my own that I could barely remember what I actually wanted. All I knew was what I thought it should look like.
So, in the spirit of slowing down, letting go, and re-focusing on getting happy from the inside out, here are four things to stop giving yourself (and other people!) sh*t for in 2019.
Feeling Only Okay About Your Job
One of the more toxic elements of Instagram is that everyone on there (everyone successful anyway) seems to be a fully self-made entrepreneur who lives their best life every day, is grateful for every morning, and answers only to themselves. While that obviously sounds delightful, you have to keep in mind that you have no idea how those people got there, and how truthful they're even being about the joy they find in their careers. Similarly, the friends you compare yourself to and feel like sh*t about—whether they're pursuing creative goals or just pulling in a fat paycheck—all likely have their own unique doubts, fears, and misgivings about their jobs. That's the nature of work, and the nature of life in general.
So, am I saying you should stay at your sh*tty desk job forever, because everyone's probably unhappy about something? Try again, b*tch! If you hate your job, or even just don't love it, you can absolutely add "get a new job" to your 2019 resolutions, and go after that mother*cker. But please stop beating yourself up because you haven't yet landed the perfect gig, or even figured out what exactly that would look like. (Although if this describes you, you should definitely give When's Happy Hour a read.)
And here's a secret no one on Instagram will tell you. It's okay to not be totally obsessed with your job. It's okay to want a life that isn't only about the hustle/grind/whatever people are calling their 24/7 jobs these days. You do not have to wake up on Monday mornings eager to "get that bread" if you are happier working a moderately fulfilling 9-to-5 and spending the rest of your time with your loved ones. The world will not end, and you are not a bad person.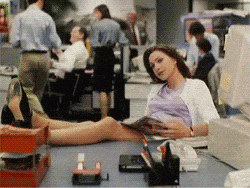 Feeling Only Okay About Your Body
This will all be thematically similar to the last section, so I'll keep it (kind of) brief. On Instagram, everyone either has a perfect body, is a "Before" rigorously working toward an "After," or is making a "bold" and "courageous" statement by weighing more than 98 pounds and being happy that way. Like with your job, if your body makes you actively unhappy then I absolutely encourage you to do something about it. But I also encourage you to think critically about that question. In a world without Instagram, would you be unhappy about your body? Does your body affect how you view yourself every second of every day, or only after you've scrolled through your feed? What makes you happier: a warm chocolate-chip cookie, or a DM request from a "promoter" with 200 followers after you post a selfie in a crop top?
Now, I'm also not saying that wanting to lose weight or achieve new fitness goals or whatever is always bad/shallow/for the 'Gram, but just because we all live our lives on the Internet doesn't mean we all have to look like swimsuit models. And being a work-in-progress—or just accepting that your body will never be the best, most accomplished, most celebrated thing about you is totally fine. Staring at your body every night and hating yourself about it? Not f*cking fine at all.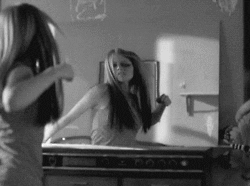 Not Having A Go-To "Squad"
This is really for my post-college and beyond readers. In college, you're surrounded exclusively by people of your own age and every article targeted at you is about the trials and tribulations of the group chat. Pre-gaming is basically a sacred ritual, and the bi-weekly group shot causes more drama than a season of Riverdale. Post-college, you find out a few things about those girl groups. Like that half of them have terrible personalities, drinking problems, or a b*tchy streak that used to be cute and aged poorly. Regardless, I often find myself feeling guilty when I see articles memes referencing a group chat that I no longer have. Or wondering when I became such a loser that my birthday dinner was under 20 people.
But here's the thing: I have never loved my friends more than I do at this stage in my life. Genuinely. The friends that I have are people who I know I can rely on, who I can talk to about anything, and who I personally consider to the coolest, smartest, and funniest people on this f*cking earth. Do I wish more of them lived in the same city, knew each other, and regularly attended Sex and the City style brunches with me? You bet I do! But I'm way over befriending a group of people I don't really have much to say to—just so I can stop feeling guilty and lame when I see pics of Kendall Jenner's girl squad.
This is the only squad that ever mattered anyway: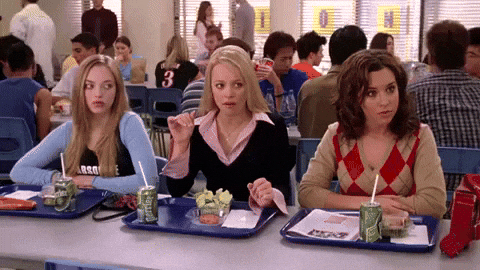 Taking A While To Orgasm
Okay I'll be real. This was the first category I thought of, and the one I was most eager to write. (It is also directed primarily at the ladies, to be clear.) It is about to be 2019, and I am thoroughly over people feeling guilty or ashamed of taking longer to orgasm. The planet is dying, our President is a moron, and society is so fragile that a change to Instagram's swiping feature literally almost killed us. It's the f*cking apocalypse, and women all over the world are still faking it or saying "I'm good" when they are not good because…Honestly, because of what? Sure, you're asking your partner to do more work. But that's not a problem when you're asking them to go in for the 300th pic of you in front of some wall art, so why is it a problem in the bedroom?
More likely, it's because men have systemically engrained the idea that women don't really need to orgasm in order for sex to be finished, so it feels bad or overly vulnerable to ask for it. But like so many things men have said over the years, this was a bad and wrong idea. Women of the world, repeat after me: sex takes as long as it takes you to finish. (Sound selfish? Too bad. Men and women alike have been saying it about men since the dawn of time.) You should never, ever feel guilty that it takes you a while—like putting pizza rolls in the oven vs. the microwave, the better product just takes more time. Let 2019 be the year of no longer accepting things just because men have been calling them true for centuries—the world will be a much better place for it.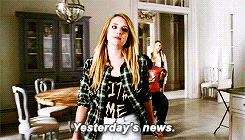 I hope you got some joy out of this article—it truly felt cleansing to write it. I want to reiterate that "not feeling guilty" does not equate to "not doing anything about it." You have the same goals and the same drive whether or not you make yourself feel like sh*t about where you are. This year, give yourself the gift of not feeling guilty about where you are in life. If hating on yourself burned calories, earned money, or gave us orgasms, we'd all have perfect lives. But it doesn't, and we don't, and guess what? It's f*cking fine. Happy new year!!!
Images: Giphy (4); Unsplash / Leighann Renee
A Timeline Of Taylor Swift's Girl Squad
Can we all just have a moment of silence for that time a couple months ago when Taylor Swift had disappeared from our lives? *Pause* Okay cool. Thx. Well those days are gone, and now, she's everywhere again. Just add it to the list of reasons why 2017 will forever be on my shit list. Sure, some of the songs on Reputation are legit bangers, but like, all of the annoying, petty, "I'm the victim, exclude me from the narrative I fucking created" bullshit can go. And while I could literally reel off things about TSwift that piss me off for like, idk hours, one of the worst is her girl squad of frenemies that she tries to promote as "empowering women" but is actually just a super cliquey group of famous, rich, models/actresses/musicians. Sorry. Someone had to say it. But because who can even keep track of all these regulation hotties, we're doing it for you. Here's a break breakdown of who these betches are, how they met, notable BFF moments, and why they probs actually hate Taylor as much as we do.
1. Karlie Kloss
Profession: Model
How'd They Meet: In the most annoying way possible—Taylor said in a Vogue article that she loved Karlie Kloss and "wanted to bake cookies with her." Then Karlie tweeted her asking, "Your kitchen or mine?", and then they became friends. So essentially Karlie slid into Taylor's DMs. Celebs—they're just like us!
Notable #GirlSquad Moments: VS Fashion Shows, eating at vegetarian restaurants, 4th of July, California road trip, "Bad Blood" video
Why They Probs Actually Hate Each Other: They are both super fucking tall, super fucking skinny, and super fucking awkward. There can only be one.

2. Selena Gomez
Profession: Singer/Actress
How'd They Meet: Just to paint a picture, I'm actually LOLing as I type this. They met when they were both dating 2/3 of the Jonas Brothers in 2008. For a time reference, I do believe that was when they still wore purity rings.
Notable #GirlSquad Moments: Award shows, being "normal," surprise performances at each other's shows, "Bad Blood" video
Why They Probs Actually Hate Each Other: It's no secret T isn't a huge fan of the Biebs. And like, I don't blame her here. He's the fuckboy her BFF is on again and off again with. That's just, like, the rules of feminism. Now that Bieber and Selena are "reportedly" hooking up again, TSwift is being weird about it, and Selena is def not having it.

3. Gigi Hadid
Profession: Model
How'd They Meet: Another friend, another bizarre meet-cute. Taylor Swift photobombed a pic of Karlie Kloss and Gigi Hadid at, wait for it, Harvey Weinstein's Oscars party. Yeah, like the Hollywood sexual predator Harvey Weinstein. Damn, that reference did not stand the test of time.
Notable #GirlSquad Moments: VS Fashion Shows, surprise concert appearances, VMAs, watching TV
Why They Probs Actually Hate Each Other: Like most things dealing with Taylor Swift, it has to do with boy drama. We all know Taylor dated Harry Styles and Gigi dates Zayn, and even though Z left One Direction a long time ago, T still feel likes things are a little too close for comfort. There's also tension because T's other BFF Selena started dating The Weeknd approximately 1.25 seconds after Gigi's sister, Bella, and him broke up. To quote Kristin Cavallari, drama, drama, dramaaaa.

4. Kendall Jenner
Profession: Model/Member of the Kardashian-Jenner crew
How'd They Meet: I spent as much time looking for this as I could without getting fired. I'm sure it has something to do with both of them literally only hanging out with models.
Notable #GirlSquad Moments: VS Fashion shows, award shows, surprise concert appearances
Why They Probs Actually Hate Each Other: Well this is fucking easy. Because of the whole Kimye-TSwift feud. Obvi. Oh, and they both dated Harry Styles.

5. Katy Perry
Profession: Singer
How'd They Meet: The first time these two were spotted together was at the 2008 VMAs with Miley Cyrus. I really hope someone somewhere put that pic in a time capsule.
Notable #GirlSquad Moments: Award shows, Twitter shout-outs, surprise concert appearances
Why They Probs Actually Hate Each Other: No "probs" needed here. These two fucking despise each other. It started because one of them stole the other one's backup dancers, which apparently, is the pop star equivalent of murdering someone's dog, because neither one has ever let it go.

6. Blake Lively
Profession: Actress
How'd They Meet: Similar to the Taylor and Karlie story, Blake and Tay became friends online. Like Blake tweeted that she liked Taylor, and then they magically started hanging out. You can't make this shit up.
Notable #GirlSquad Moments: 4th of July, hanging with kangaroos in Australia
Why They Probs Actually Hate Each Other: I bet one time Ryan Reynolds looked at her longingly, and it made Taylor fall in love. But he was actually looking past her at Blake. So now Taylor is sad. She's gonna write a song about it.

7. Lena Dunham
Profession: Actress
How'd They Meet: I can't believe I'm writing this again. But Twitter. Yes, Taylor Swift made another friend on Twitter. Lena tweeted that she likes Taylor's album, and therefore, Taylor recruited her to be friends. Tale as old as time.
Notable #GirlSquad Moments: Surprise concert appearances, "Bad Blood" video
Why They Probs Actually Hate Each Other: Lena probs resents being the DUFF of the group.

^^never forget