Crazy Wedding Story Of The Week: Bride Demands Her Bridesmaid Dye Her Hair
Whether you hate the wedding-industrial complex, are a bride planning a wedding and want to feel better about your own demands, or just need something to read, we're doing a new series where we share the craziest, most out-of-touch wedding story we found on the internet that week. Submit your own crazy wedding stories to [email protected] with the subject line Crazy Wedding Story, and we just might feature yours. And make sure to follow @BetchesBrides on Instagram and subscribe to our podcast, Betches Brides.
On Saturday night, I was hustled, scammed, bamboozled, and hoodwinked into having dinner with three of my recently married friends. Annnnnnd kill me. Anyway, even though I was both a guest and a bridesmaid at all three of these girls' weddings, they spent the first hour of dinner showing me pictures as if I didn't spend my rent money on being a part of their nuptials. The main takeaway? Wedding Instagrams are to newlyweds what "take me back" vacation photos are to single people. So naturally, the bride and groom want their wedding to be as Insta-worthy as humanly possible. Understandable.
Unless you're Adriana La Cerva getting married in Tony Soprano's house, the bride usually gets to drive when it comes to every little detail of her wedding. But sometimes, brides attempt to take that too far. This leads me the most amazing thing I've ever read on the internet, the Reddit Am I The Asshole (AITA) subreddit titled "AITA for asking my bridesmaid to temporarily change her vibrant hair colour for my colour schemed wedding?" Ok, I'll give her a point for being British, but will definitely crown her the asshole here because it's 2020 and friends shouldn't ever ask friends to change their appearance for a wedding. 
But I know what you're thinking: maybe this girl has like, bright blue hair, which I could kiiiinda understand the bride wanting to change even though the demand is unreasonable. And you'd be wrong. Even I didn't see this twist coming.
The bride starts off strong:
"The ongoing issue is that my wedding has a blue and green peacock theme" (why) "and guests have been asked to follow this colour scheme with their clothes. Hair wasn't originally included at all in the colour scheme, but my cousin Ella has natural bright ginger hair.
I would never ask someone to permanently change their hair for my wedding, I know that would be bonkers so I suggested some temporary hair dye, but Ella argued that she has been growing her hair for six years and doesn't want to risk the colour not washing out. I thought this was ridiculous because it literally says washes out in like 14 washes. But Ella says because her hair is completely natural colour it might take strongly to her hair."
First of all, wtf is a blue and green peacock theme? Why peacocks? Will there be peacocks at the wedding? Where does one procure peacocks? I need more info on the peacock situation. Condolences to Ella, though, on her lack of a soul, but as my beautiful redhead girlfriend complains about all the time tells me, once a ginger dyes her hair, it's really hard to get her natural color back. Anyone who's friends with a red-headed person knows this because it's literally all they talk about, so the fact that the bride is asking her bridesmaid/cousin who's never taken a foil to the head to dye her hair for the sake of fitting in with the weird af wedding theme is pretty rude. Honestly, Ella shouldn't have to explain why she doesn't want to f*ck up her hair with drugstore chemicals, but here we are. Also, 14 washes? Unless you wash your hair every damn day, that could take weeks to get out, and the bride is acting like it's easy-peasy.
"So I gave up on that avenue and suggested a wig, it is one day, one single day, and there are some amazing wigs these days. I had a look on Instagram and you wouldn't even be able to tell. But she said she would feel self-conscious and weird wearing a wig and that because her hair is butt length that it might sit weird on her head. So she won't dye it, and won't cover it up. I really don't want to come across as a bridezilla but butt-length flaming red hair will destroy the wedding photos, and ruin the colour scheme completely."
I once went to a birthday dinner that was wig-themed, so I got a Kylie Jenner-looking number and truly hated it. It was so uncomfortable and stupid-looking that I couldn't keep that thing on for more than a few minutes at a time, and my hair is only shoulder length! I can't even imagine trying to get a wig on a head of hair that's basically grazing the floor at this point. Tbh, I feel like the bizarre color scheme and wild peacocks will ruin the photos more than your bridesmaid's very normal hair. Also, it's not like she just recently dyed her hair magenta and it's all anyone can see. Like, we're talking about her natural hair color here. No one is going to be like, "She seriously came to this wedding with the hair color she was born with?" 
Im at a loss, I can't cut her from the wedding because my mom would murder me, but I can't have freaking Merida ruining the photos, AITA for asking this of her for just one single day?
First of all, Merida was a brave soldier who saved her mother, there's no need to bring her into this. Also, is anyone else seeing the hilarious irony here? Just the English major? Cool. So the bride is saying that her cousin should just dye her hair because it's one day of her life, but this horrible dye job will not only live forever in the photos, it will also likely ruin her natural color and take at least two weeks to rinse out. Like??? Anyway, to answer the bride's question, yes, honey, you are the asshole. 
Before I end, there's an update!
EDIT: Ella has dropped out of the wedding because we couldn't reach a compromise so it doesn't matter anymore. I now have to deal with my mom and aunt chewing me out over it all.
Honestly, good for you, Ella. F*ck your cousin. I'd drop out of the wedding too, and I probably wouldn't even attend.
Look, the only time it's okay to demand someone change her appearance is on makeover day for America's Next Top Model. Other than that, we non-Tyras need to just let our friends and cousins and whoever look how they want to look. If red-heads are so offensive to you and your stupid photos, maybe don't ask them to be in your bridal party. Then find a therapist to find out who hurt you. 
Images: Unsplash
For more, subscribe to our NEW Betches Brides newsletter
7 Tricks Celebrities Do To Make Their Stomachs Look Flat
People say the camera adds 10 pounds, but like, I'm convinced that only applies to when you open your iPhone camera and it's accidentally on selfie mode. Celebrities are known to have perfect bodies, and despite a few bad paparazzi shots of a hungover Amanda Bynes, I fully agree. I mean, I know they spend a lot of money on personal trainers and nutritionists, but I think we deserve to know some of the tricks they use to get their stomachs to look perfectly flat and feel amazing despite all the flying and drinking they do. After doing some thorough research on the topic, I'm ready to share. Here are some celebrities' favorite tummy hacks.
Jessica Alba: Probiotics
Jessica Alba is a client of celebrity nutritionist Kelly Leveque, and her clientele also includes Chelsea Handler and Emmy Rossum. This woman knows how to make women look great, and her trick is probiotics. In fact, Jessica Alba doesn't even diet or watch her calories, because she's mainly focused on eating in order to improve her gut health. Apparently your gut health helps regulate your hormones and control your weight, so by improving the microbiome in your gut, you'll slim down and feel great.
Kourtney Kardashian: Green Tea
As much as we love our coffee, green tea is having its moment right now, and the Kardashians are totally funding it. Kourtney Kardashian can probably write a book about her list of health hacks (Kris Jenner, great opportunity here), and we've already tried a few of them. The flat tummy hack she swears by right now is her daily green tea latte. She drinks it with honey and almond milk, and she says it makes her stomach feel and look its best.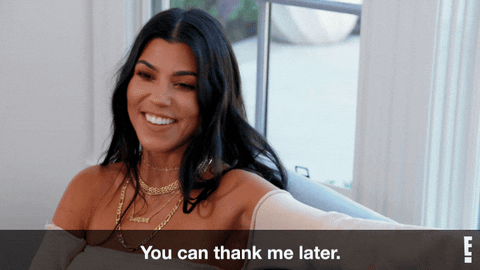 Meghan Markle: Water
An article recently came out about how Meghan Markle can take long flights all the time and still avoid bloating and puffiness. Important news right here. Anyway, it turns out she swears by her probiotic and drinking tons of water. She says this combo actually helps with jet lag and it prevents your body from bloating and even becoming constipated. Especially when flying at high altitudes, your stomach becomes filled with air, so loading up on water while traveling is a must. Start chugging.
Adriana Lima: Breakfast Smoothie
If you thought all Victoria's Secret models skip breakfast and eat three unsalted cashews for lunch, Adriana Lima says drinking a filling smoothie in the morning is actually what makes her look so good. Obviously aside from all the ab workouts she does, Lima says she looks her best in a crop top when she drinks a breakfast smoothie, usually with avocado, honey, or yogurt. She claims it boosts her energy and kick-starts her metabolism for the day. And I mean, it seems like it's working for her.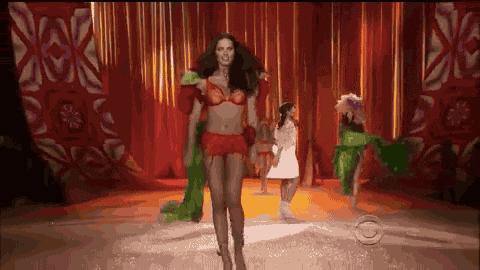 Khloé Kardashian: 5 Staple Foods
Khloé has obviously hired a team of health and fitness professionals to get her body to look its best, but she has her own tricks when she's not getting her ass kicked by Gunnar Peterson on national TV. Apparently Khloé sticks with five foods that give her that slim stomach look: avocado, ginger, watermelon, tomatoes, and oats. I assume she eats other foods aside from these five, but she likes incorporating these into her diet and says they helped her see results that complement her hard work in the gym, and they obviously work. I mean, there's a reason Revenge Body exists.
Emmy Rossum: No Fructose
I haven't heard the word fructose since freshman year biology, but apparently Emmy Rossum avoids fruit when she wants to de-bloat and feel her best in a tight dress. Fructose is the natural sugar in fruit, and although fruit is obviously good for you, having too much of it can make you bloated, and that's because the fructose feeds the gut bacteria that could make you look puffy and full. Honestly, if we're talking about giving up FRUIT, I'm scared to see what else she avoids, but like, it's her life.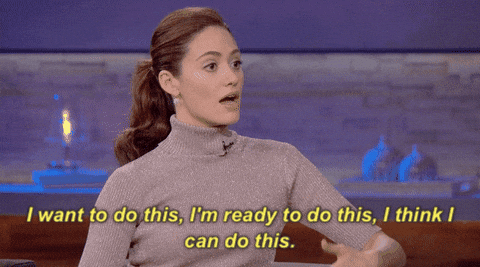 Miranda Kerr: Dandelion Tea & Goat Milk
Okay, this could be the weirdest hack of all, but Miranda Kerr is literally goals so let's talk about it. People always ask Miranda what she likes to eat, and she usually has normal answers, like toast and eggs and green juice. BUT Miranda also swears by this mixture of dandelion tea with goat milk. She says it has cleansing and detoxifying effects. I looked it up, and it turns out dandelion root actually has a ton of antioxidants and it can work to detoxify your body and reduce inflammation, so she's not crazy. She doesn't explain why she adds goat milk, but dairy from goats tends to be easier to digest than from a cow, so that's probably the reason. Personally I don't plan on trying this one right now, but if anyone does, please report back. I need to see what this girl's raving about.
Images: Giphy (3)
10 Foods To Help You Debloat If Sweatpants Are All That Fits You Right Now
Bloating is LITERALLY the worst. It's like, you could be eating healthy and totally not shitty, but your jeans claim otherwise. Learning to avoid the shit that makes your stomach hang over your pants is a lesson that should be clutched and held close like a vintage Chanel purse.
Here are the top ten foods that make you NOT bloated, so eat this shit to avoid feeling (and probs looking) like that chick from My Big Fat Fabulous Life.
1. Cucumbers
This shit has been a mainstay in spas for year, and it turns out, for good reason. Cucumbers make you the opposite of bloaty and farty because of an antioxidant that helps reduce swelling in ALL of its forms. So put these shits on your eyes, in your belly, and anywhere else you feel could use a nip and tuck.

2. Bananas
Our fav dick-shaped fruit has ANOTHER use —this time, to help us fit into our jeggings. Since they're so rich in potassium, bananas prevent water retention by telling all the extra salt in your body to get its shit together. An even bigger plus—they'll help you poo, making you feel EVEN SKINNIER. Hooray, bananas.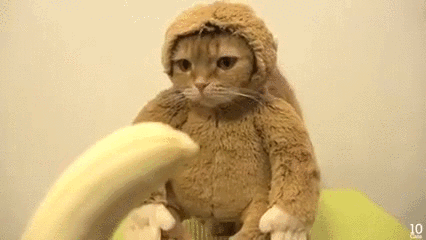 3. Asparagus
Battling water retention is apparently on asparagus' to-do list, and we're thankful for it. Eat it raw, roasted, steamed—what the fuck ever, and you'll feel light and airy despite having had a delicious meal.

4. Ginger
Battling hangovers? Check. Fixing nausea? Check. Making sure your stomach doesn't repulse those around you? Check. Because it's a natural anti-inflammatory, ginger relaxes the whole digestive tract, which makes you feel less like you have to suck it in. Add this shit to any smoothie or tea to help beat the bloat.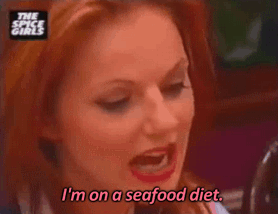 5. Watermelon
Oh yay! Our fav (sorta) calorie-free fruit makes the list. Because watermelon is so full of well, water, it makes you feel fuller without puffing you up. Add the fact that it has little to no sodium (a notorious bloater) and you better be adding this to your diet this week.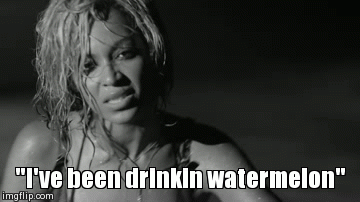 6. Greek Yogurt
A betch fav, Greek yogurt makes the list for showcasing its super good/yummy bacteria. Additionally, since it's high in protein, it'll keep the carbs at bay and keep your tummy flat. Just be sure to say "lol no" to those yogurts with the add-ins or added sugars. That'll do the opposite of giving you a flat stomach—just saying.

THERE IS A GOD. If you need a coffee, keep it iced to add water (duh, an anti-bloater) and skip the sugar. We know coffee will give you a nice little caffeine jolt and the water will like, hydrate you.

8. Avocado
Once again, there's literally no excuse for you to be bloated, having read this list. Avocados and iced coffee? Yah, we can hang. Avocados are super high in potassium like our friends, bananas, which keeps us from retaining water. Once you get rid of all the water, you drop three pounds just like that! We assume.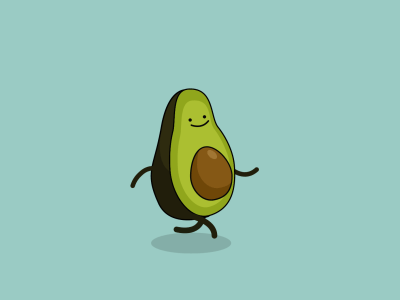 9. Zucchini
Since it's literally a denser, slightly less delicious cucumber, the presence of zucchini on our list shouldn't surprise you. The plus side is that, unlike cucumbers, you can grill, roast, or make chips out of these dick-like veggies. Additionally, they're super filling without the added calories like our good friend, sugar. Thanks, zucchini.

10. Egg whites
Start the day off the WHITE way (no racism intended). Unlike a regular omelette, or doughnut, or whatever, egg whites have basically no sugar, no carbs, and tons of protein. That'll result in a full but flat tummy AND relieve you of some of that extra water.