13 Mother's Day Gifts Under $100
When it comes to made up, unnecessary holidays, I will always be the first to say how stupid they are. Case in point: wtf is National Fruitcake Toss Day and why do we set January 3rd aside for it? As far as I'm concerned, January 3rd is a day of post-NYE rest. Mother's Day, though, is not one of those holidays, and it is as legit as it is necessary. I applaud all mothers for all of the incredibly hard work that they do. I, for one, was a supreme brat from ages 12-23, so I am definitely going to spend May 10th bestowing upon my mother a thoughtful gift that says, "thank you for putting up with my bullsh*t for so long."
Here's the thing, though: my mom deserves like 25 Hermès scarves, the Tiffany diamond (you know, the one Lady Gaga wore to the Oscars) and a few other luxuries, but I just got laid off and can barely afford organic strawberries these days. Luckily, there are a few great Mother's Day gift options for under $100 that say "You are a queen and you deserve the best, but, as you can see, I am poor rn." Good enough, I guess.

I'm sure some of you may think that no respectable woman would carry around anything that says "mom" on it, but this phone is not for regular moms; it's for cool moms. Seriously, my mom is a classy broad with amazing style and I know for certain she'd f*cking love this leather case. It's totally customizable, so if you're not into pastels with navy accents, you can pick whatever color combo your mother would love most. Have fun spending the next four hours designing this bad boy!

Most mothers I know subsist on tea, and these super cute vintage-looking tins from Society Social make for a great gift. Each tea flavor comes in a different colored tin and contains 20 tea bags, so she'll be set with her tea habit for a good while. Also, if you ask me, this is a literal steal.

This silk pillowcase is a perfect example of something I've always wanted, but could never bring myself to actually buy. Luckily, I dropped enough super subtle hints to my roommate and she bought it for my birthday. Let me just say, it totally lived up to the hype. Here's why your mom will also love it: it's anti-aging. For starters, she won't wake up with creases all over her face, but more importantly, the silk won't absorb her serums, moisturizers and eye creams. It also protects her hair. Win-win!

If you've ever been to New York, you've been to Levain. They make the densest, richest cookies I've ever had, and I mean that in the best way. The sweet relief that comes with taking a bite of the classic chocolate chip walnut is what I imagine doing opioids must feel like. Seriously, they're so f*cking good and can last for months in the freezer. I don't know your mom, but I promise she will love them.

Local Eclectic is a female-founded and female-run online marketplace for emerging and independent jewelers to sell their gorgeous designs. I have gotten so much jewelry from this place that I'm embarrassed to admit how much of the money I don't have has supported my jewelry addiction. Anyway, these birthstone rings are super delicate and can be layered, so getting a few for your mom based on the months you and your siblings were born is so cute. Or just get her one to remind her who her favorite is.

This robe is currently on sale, so don't wait to get it if you want to save serious $$. It's made of Turkish cotton, which means it's soft af. The inside is a super plush terry cloth and the exterior is a very on-trend waffle pattern. I am really tempted to get this for myself because I'm pretty sure that my current dark gray floor-length robe was inspired by the Grim Reaper's from the Sims. Serena & Lily is a home brand beloved by many moms, so I'm sure any of them would appreciate this.

Let me just start by saying if you have principals and refuse to spend $67 on a candle, check out Voluspa for gorgeous candles at a less offensive price. Anyway, Jo Malone is known for her perfume and, as of late, her candles. I actually have this one on my nightstand and I get whiffs of it even when it's not burning. The glass container has a really nice minimalist look and the candles all smell amazing, so you really can't go wrong. The Wood Sage & Sea Salt scent is the most popular, and I love that not-so-subtle "bougie parfumée" flex on the bottom of the label.

Guys, listen: for my first Mother's Day, I would really appreciate a bottle of 90-proof liquor. In all seriousness, this is a great gift! Everyone loves a good cocktail—especially now that we will most likely still be staying at home on May 10th—and gin is a crowd-of-less-than-10-pleaser. Also, this bottle looks like something Julia Engel would have displayed on her bar cart because it's so charming and whimsical-looking.

In the Pursuit is kind of like Local Eclectic, but for literally everything, not just jewelry. If your mom is into crystals, burning sage, and palo santo, she will lose her mind at this kit. It contains a rose quartz crystal, clear quartz point, sage wand, beautiful matches and a bunch of other sh*t that will definitely clear the bad energy from her house.

Gray Malin is a photographer whose pictures are reminiscent of Slim Aarons, but way more affordable. I got this book for myself at a book-signing and, after flipping through it, bought myself one of his photos. His work, mostly aerial photos of beautiful beaches around the world, is really beautiful and the book is a great way to see it all without having to drop thousands on a big-ass picture your mom has no wall space for.

Everyone loves slippers, and if anyone tells you otherwise, they're a liar. UGG may not be as cool as it was in 2006, but their slippers are still unparalleled. If your mom is aching for a canary yellow slide that she can wear around the house, she'll love these. They also come in black, though.

If your mom loves yoga as much as she loves the environment, this towel is the perfect gift for her. I know what you're thinking, "a towel?" but this is no ordinary towel. In fact, it's made from recycled fabric and is non-skid, so your mom can use it as a yoga mat. I mean, who doesn't love a good multi-purpose product, right?

If your mom lives in the tri-state area, don't even think about getting her flowers unless they're from PlantShed. If Rufus Humphrey was a botanist instead of an art-junkie, he'd have opened PlantShed (it's half charming flower shop and half coffee shop). They teach you how to care for your new plant so that your mom couldn't kill it if she tried.
Images: Brigitte Tohm / Unsplash; Bloomingdale's; Gray Malin; In The Pursuit Studio; Caskers; Jo Malone; Serena & Lily; gopjn.com; Levain; Slip; Society Social; Casetify; Kin; PlantShed
Betches may receive a portion of revenue if you click a link and purchase a product or service. The links are independently placed and do not influence editorial content.
6 Drinks You Need To Know How To Make To Be Considered A Functioning Member Of Society
As we get on into the scary shit that is adulthood, there are certain skills every betch should possess. Knowing how to fold fitted sheets (still unsure if this can be done), submit taxes, unload a dishwasher, book appointments, and even take care of an animal are all on the list. Feeding, and more importantly, drinking like a king are also up there. Knowing how to make classic drinks without consulting the internet so as to keep yourself and your friends drunk is super fucking important. Here is our definitive list of the drinks you need to memorize and know how to create for whoever walks through your door.
1. Gin & Tonic
It's two goddamn ingredients, and if you can't figure it out you don't deserve to share space with those who do. Add about 2 oz. of gin to a tall glass filled with ice. Squeeze in 2-3 lime wedges, then add them to the glass. Add 3-4 oz. of tonic water and stir.

2. Margarita
Ah, the margarita: a great and terrible decision, all wrapped into one. Luckily for you, making one isn't really that difficult, since we're going the classic route and not the blueberry burnt orange top shelf tequila dusted with fair trade sugar route. Run a lime wedge around two glasses and dip the rims in salt (or sugar if you're a lil bitch). Set aside. In a cocktail shaker filled with ice, combine 4 oz. white tequila (NOT Jose Cuervo), 2 oz. Cointreau, and 1 ½ oz. fresh lime juice. Shake that shit for about 15 seconds. Fill the rimmed glasses with ice and strain the margarita into the glasses. Garnish with lime wedges and serve.
3. Martini
A real martini is made with gin, which, while making you a psychopath for drinking it, isn't all that bad when added to a simple concoction like the motherfucking classic dry martini. Combine 2 oz. of dry gin with 1 oz. dry vermouth and 1 dash of orange bitters (optional) in a cocktail glass that's been chilled. Stir well and twist a piece of lemon peel over—then use as garnish. Olives are a faux pas, BY THE WAY.

4. Old Fashioned
Since this is like, probs the OG cocktail, you better know how to make it. Classic recipes abound and it's not all that difficult. Put 1 tsp sugar in a glass, douse with 2-3 dashes of bitters and a few drops of water. Add whiskey and stir until the sugar is dissolved. Add ice, stir to chill, and garnish with an orange slice.
5. Cosmo
We admit Sarah Jessica Horseface ruined this one for us, but it actually isn't that bad of a cocktail. I mean, it's kinda sweet, kinda tart, and kinda really fucking easy to make. Fill a cocktail shaker with ice and add 1 ½ oz of citrus vodka, ½ oz. Cointreau, ½ oz. cranberry juice, and ¼ oz. fresh lime juice. Shake that shit well and strain into a cold cocktail glass.

6. Mint Julep
So this may be the most difficult of the bunch, and that isn't saying much. If you live in the dirty south or raise horses/make bank on horses in Kentucky, you better know how to make this recipe as well as you can stalk an ex's girlfriend's mother's brother within 30 seconds of finding out their middle initial. Place 2 tsp. simple syrup in a tall glass and add about 10 fresh mint leaves. Muddle that shit until they're bruised, but not totally destroyed. Half fill the glass with crushed ice and add 3 oz. of good bourbon, stirring to combine. Add more crushed ice and add a few sprigs of fresh mint on top. Serve with a short straw.
Congratulations, and welcome to society, ya filthy animal.
Hipsters Have Officially Ruined Rosé For All Of Us
Everyone knows a true betch's summer go-to beverage is a nice tall glass (or bottle, whatever) of rosé. It's cold, it's pretty, it has alcohol in it, it's delicious. Did I mention it has alcohol? But sometimes wine drunk doesn't cut it. Like, maybe I wanna get my drink on but not fall asleep after an hour only to wake up to the world's worst headache. Fucking sue me. Or maybe I just had a very stressful day of doing the bare minimum and need to black out for a while and recalibrate my emotions. I mean, not that you can't black out on rosé. I've done countless experiments here and I assure you, it can be done, but it just takes a little more time and a lot more calories than a few well-timed shots of clear liquor would. Well now, thanks to Wolffer's vineyard in the Hamptons, you can get liquor drunk with rosé vibes. How you might ask? Gin made from rosé. Did you hear that thud? It was me dropping the mic.
If you're wondering how this is possible, you've come to the wrong place because I'm not a gin distiller sry, but apparently gin just has to be a clear alcoholic drink made of neutral spirits and juniper berries, so the term "gin" is a loose one. I even Merriam-Webster'd that shit.

Now that's what I call research. Am I a legit journalist? Only time will tell. My Googling research also taught me that, in order to turn wine into gin, Wolffer uses copper stills to create pure alcohol from rosé, then adds juniper berries and other shit to make it gin-y. A touch of red grape skin extract enhances the pink color to really take it to a faker the next level.

If you know anything about anything, you know that rosé is for basics and gin is for hipsters, fucking duh. You might also remember that there is scientific evidence that proves only psychopaths drink gin. So now you don't have to fit in a bubble. Don't let society tell you you have to choose. You can be both basic and a psycho. That's what makes this country so great. (Though maybe try not being a hipster. Society as a whole is like, done with that.) You wanna wear Uggs on your feet and a beanie on your head while contemplating murder? Fucking do it. Just make sure you have a glass of rosé gin in your hand. And jk about the murder part.
This Blackberry Gin Spritzer Will Keep You Skinny While Getting You Drunk
So, like, summer is officially here, and somehow I don't have the bikini body of Gigi Hadid despite working super hard on not eating and only drinking vodka sodas. Rude. Since I'm all about giving up and giving in to temptation these days (lol yolo), I figured we skip the low-cal vodka drinks and questionable hard seltzers (we've hit a new low as a society) and go right for the drink of psychopaths—gin. Weirdly, this liquor reminiscent of cleaning solution goes beautifully with things like fresh berries and mint aka the prime farm-to-table crops of summer. To get in the spirit, we mashed 'em all up together and made an alcoholic bev that'll keep us cool and happy when we're getting our tan on.
Ingredients
1 6-oz container of blackberries OR raspberries … or a combination of the two. IDGAF, it's your life.
½ cup white sugar
2 cups gin
1 cup fresh lime juice
1-2 bottles of that hard seltzer shit—we used Spiked Seltzer
Mint
1. Grab your Vitamix or poor people blender and combine the blackberries and sugar. Once you're done blending, stir the concoction until the sugar looks dissolved, which honestly may take a while. You can also put it on the stove in a small saucepan and heat the mixture until the sugar is alllllll gone.
2. Once you've got that where you need it, strain the mixture through a fine sieve into a pitcher so you can throw out the seeds. Ain't nobody want those.
3. Grab your gin and lime and pour into the pitcher with the blackberry stuff. Then divide among glasses and top with the hard seltzer and sprigs of fresh mint.
It's like totally healthy because there's fruit in it, fucking duh!
A Guide To Buying Booze As A Gift So You Don't Look Cheap
Shopping for Father's Day is stupidly difficult. If you're wanting to skip the "fun" mugs, ties, and yard tools, wtf else is it that a dad wants?! Like us, most dads love booze. Whether they like to get weird with tequila or are happy cracking open a craft beer, most dads just want to be left the fuck alone to drink and grill with some goddamn peace and quiet. I can respect that.
So, this Father's Day, don't fuck up by getting a chocolate hammer and "No. 1 Dad" mug for the fourth year in a row. We've rounded up top contenders in all the booze categories to make this a bitchin' (and drunk) Father's Day.
1. Red Wine

If dear old dad is into a nice glass of red wine for sippin' at dinner, look for something that goes with literally everything. We like 2014 Cultivate Pinot Noir—a blend of grapes from several California regions that goes really well with red meat AND chocolate. It has tasting notes of everything from ripe red fruits to a touch of black tea. Sounds manly. Plus, it's about $27, so it counts as a legit gift.
2. White Wine

If for some reason dad is into white wine (maybe red wine gives him heartburn or makes him angry), reach for something that blends well with shit like grilled chicken, spice, and seafood. Grab a Sauvignon Blanc since it isn't especially sweet AND it keeps dad away from basic bitch territory like Chardonnay (shudder). We like 2015 Hawkes Bay Sauvignon Blanc cause it's got a bitchin' blend of acid and sweet with hints of citrus. Make sure dad knows to chill his wine and serve it with something Asian-inspired—like food from that Japanese place he loves so fucking much.
3. Bourbon

If dad is into bourbon, there are a few decent ones you need to be looking to buy. One is Bulleit Bourbon which, at 90 proof, is likely to give dad a hangover Father's Day he'll never forget. The good thing about this shit is that it's smoother than most bourbons since it's 2/3 corn and 1/3 rye. It has mild spice and a littttle sweetness, perfect for drinking straight or mixing into whatever dad needs.
4. Scotch

.


If daddy has an American Express Black Card and you get your pretentious betchiness from him, chances are he drinks Scotch. Bonus points if he does the flicky water thing and sips it in a Hannibal Lecter sort of way. Anyway, if you're looking for a good but affordable Scotch for dear dad, try Chivas Regal 12 Year Old (Blended) or Bowmore Small Batch (Single Malt). Both are under $40 so you won't break the bank, but they're also recognized and awarded as super smooth with interesting flavor profiles. If you're dad's into Irish whiskey (I know it's not the same as Scotch, fight me), get him a bottle of Bushmills Red Bush. It's distilled in bourbon casks for a well-rounded yet versatile flavor profile.
5. Vodka

So if you're Russian or something, dad probably likes his vodka. Is that profiling? Whatever. Anyway, if you're ready to drop about $40 on good, organic vodka, try Purity Vodka. It's made in Sweden or something and has a really clean taste with notes of vanilla and pepper not usually in vodka. Definitely a step up from Dubra and Smirnoff.
6. Gin


Is dad a psychopath who enjoys gin? Is this where you got your psycho tendencies from? Great! Picking a good gin is NOT as simple as grabbing a bottle of Bombay (stop). Look for something decent like The Botanist. It doesn't taste quite as much like a cleaning solution and focuses on a niiiiice peppery kick. Plus it's only like $40 so you can't afford NOT to get it. Or if you want to trick Dad into thinking you spent a lot of money on his gift as penance for maxing out his credit card again or something (speaking for a friend), pick up some Sipsmith London Dry Gin. It's made in London (and therefore automatically classy) and it has a dry finish with spicy notes of juniper and a hint of lemon tart. Dry, spicy, then tart—kind of like dad. Too corny? Sry.
7. Tequila

Are you looking to splurge? Tequila makes us crazy, so if you want to blow dad away for Father's Day and try to make him forget that time you totaled his car, opt for the Avion Reserva 44, which clocks in about $150. It's super rich, aged, and has a really unique taste. If all you've been drinking is Jose, you won't know what planet this shit is from.
8. Craft Beer
If dad is a simple man who just wants to be left alone with a beer, give him the gift his heart desires (and then leave him tf alone). There are literally millions of craft beers out there, so head to Trader Joe's, grab an empty six pack, and start putting together a tasting you think dad would like. Like, any asshole can grab a case of Sam Adams—it'll just mean SO MUCH that you took the time to put that shit together. You're such a great daughter.
9 Ways To Prevent A Hangover So You Might Actually Get Sh*t Done This Weekend
Ever since someone (probably a dude) figured out that drinking fermented yeast makes you feel funny, humanity has been on a noble quest to figure out how to prevent a hangover. Nerds and people who don't understand the concept of "fun" will tell you that the easiest way to avoid a miserable morning-after is to drink less. Since the very idea of not getting wasted every weekend is unfathomable, the only proper response to this is to point and laugh.
But there's only so much coconut water and aspirin a betch can take without going crazy, so it's in your best interest to try to mitigate a hangover before you go out. If you take the following precautions, you might spend only three hours in bed tomorrow morning instead of the usual six. Best of luck, comrades.
1. Alternate Shots & Water
Most betches understand the science of hangovers better than anything they learned in biology class, but in case you missed it, the headache is mostly the result of dehydration. Alternate a shot of alcohol with at least a little water, and you might wake up tomorrow feeling merely gummy instead of like a desiccated corpse. Yes, you'll be in and out of the bathroom all night, but suck it up and take some drunk selfies while you're there.
2. Go Easy On Bubbly
According to a decent amount of research, fizzy alcohol gets you drunk faster because carbon dioxide or something. You obviously know your limits, but know that you'll get lit way too quickly if you accept that offer to do a keg stand with Champagne.

3. Eat Dinner (A Real One)
Eating a legit dinner before you go out seems counterintuitive to me. Why would you eat a bunch of food when it'll just soak up the alcohol and make it harder to get drunk? Plus, even clear liquors have calories, so you'll just feel fat. Research shows that food slows the absorption of alcohol, so it's true that you won't get drunk as quickly as you would if you skipped dinner.
But getting drunk slower also means you won't get wasted and puke in someone's trashcan at the pregame—save that for when you're rolling up to the club, where it's totally acceptable to boot and rally (as long as you do so discretely). In the morning, you'll hate yourself less because you didn't go full-on blackout, and you won't wake up starving to death. It's a win-win.
4. Stock Up On Juice
Alcohol causes wacky blood sugar levels, so keep some juice in the fridge to help it even out in the morning. IMO, you're totally justified in claiming you're going on a cleanse this weekend.

5. Stick To Light Liquors
Hangover researchers (aka heroes of the modern age) think that these things called congeners make hangovers worse, and they're found in dark alcohols like red wine and whiskey. Good thing vodka sodas are already a betchy classic.
6. Take A Vitamin
According to Harvard's School of Public Health, which probably knows what it's talking about, alcohol depletes your body of important stuff like vitamins. After work on Friday, run to the store for those Flintstone gummies everyone loves.

7. Get Sleep The Night Before
Half of what makes hangovers so terrible is the sheer exhaustion. Getting legit sleep after a night of drinking is pretty much impossible, but you can at least get enough sleep the night before or nap before going out. Who doesn't enjoy an excuse to sleep more?
8. Make Brunch Plans
Above all else, make sure you have plans for brunch the next morning. After a few mimosas, you won't even feel the hangover anymore.
What Your Favorite Kind Of Liquor Says About You
As we all know, what you order at the bar can say a lot about who you are as a person. Wine drinkers are classy, vodka soda people are probably counting calories, and if you order a Long Island Iced Tea you're def looking to hide from a troubled past. These are just like, the facts when it comes to cocktail preference, but what about the liquor that goes into those cocktails? We all know at least one WGG who won't shut the fuck up about whiskey, so obviously the liquor you choose to drink says a lot about your personality (in the case of the whiskey chick, that you're annoying AF). While you already know that the giant frozen marg you just ordered is signaling to all the world that you are extra, what does your home liquor cabinet say about you, other than that you're a low-key alcoholic who needs to have access to intoxicating beverages at all times. Sure, you can judge someone by their cocktail order, but why not take the judgment all the way to the liquor that goes into the cocktail—or more accurately, the liquor that is poured directly into your mouth via shot glass? Please enjoy responsibly.
Tequila
With Cinco de Mayo rapidly approaching, all the betches are going to be asking for tequila. It's versatile in the fact you can take it as a shot or put it in a margarita, and, well, that's pretty much it. Tequila is great for holidays, spring break, and nights you feel like blacking out and losing friendships. We've all been there. But if you're the girl who orders tequila on the regular, you're probably the biggest hot mess in your friend group who gives the least amount of shits about earning that title. There's a reason "Tequila Makes Her Clothes Fall Off" is a thing. Your friends might talk some shit about how they're "concerned for your health," but that's probably just because they're jealous AF that you can push all your inhibitions aside and have a good time. Even if it often ends with you waking up in a jail cell.

Vodka
Some might say you're basic for ordering the same type of shot since high school, but those people can go fuck themselves. As we previously mentioned, vodka sodas are the healthiest least terrible mixed drink you can order as far as calories go. And if taking vodka shots is your chosen way to pregame, it's probably because you're efficient and you know what gets the job done. You're looking to get the most amount of drunk while taking in the least amount of calories, and we respect the hell out of that. Ordering vodka doesn't make you basic, it makes you classic. Classic vs. basic is like the difference between Audrey Hepburn and the girl that only posts selfies with the puppy Snapchat filter.
Rum
Ordering rum on vacation is one thing, making it a habit is another. Let's face it, if you need your liquor to be super sweet just so you can choke it down, you're probably a little immature. It's like people who take their coffee with so much milk and sugar it looks like a hot chocolate. Not to say you have to order scotch to be taken seriously, but no one thinks the girl drinking straight Malibu at the party is about to graduate law school or become a CPA. Like, sure, I'll order a rum and coke so I can sing R. Kelly's "Ignition Remix" in my head while feeling like I'm giving myself diabetes, but that's a "It's summer and I just got a text back" thing, not an every day thing.

Whiskey
We've said it once, and we'll say it again—the girl ordering whiskey at the bar is 20 times more likely to say she prefers to hang out with guys because they're less drama. Like fuck off, seriously. You're trying to prove that you're tough enough to chill with the bros like a bro, but also DTF because, obviously, playing lawn darts for six hours was a ploy to make out with your partner. The exception to this rule, of course, is if you're from the South. Then it's perfectly acceptable to down Jack Daniels because it's part of your culture. I'm pretty sure they put that shit in baby bottles down there. Otherwise, you're just signaling to everyone that you're afraid of female friendships, desperate, and all these calories will go straight to your thighs.
Gin
We've all read that study by now that says a person who likes gin is probably a sociopath—it has something to do with people who like bitter flavors being crazy because bitter taste is a sign of poison in nature. Anyway, I'm not going to go as far as to say you're a total psycho, but choosing gin at the bar probably means you're a little insecure. You don't want to go for vodka because it will make you seem basic, yet anything else will make you seem like you don't care about calories. As Ron Swanson says, "Clear liquor is for rich women on diets." So, you, basically.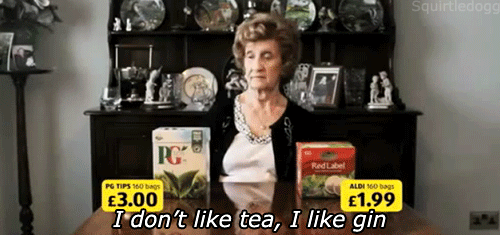 Scotch
The girl who orders scotch isn't actually a girl at all. She's a 70-year-old man who has somehow taken over the body of a young woman. Did you need a scotch to help bring out the flavor of your imported Cuban cigar? C'mon. Get out of my face with that shit. Scotch is only for people who have somehow severely damaged their tastebuds—I'm assuming in some freak World War II accident.
Bourbon
You're probably a bit of a hipster, because bourbon is the new craft beer. You heard it here first, folks. Similar to whiskey, you're probably trying a little to hard to seem casual if you have to order bourbon. Like, I get the appeal. Bourbon has to be made in Kentucky so it's a little more exclusive than plain old whiskey. Plus, if you're real fancy, you can claim that you can tell the difference between bourbon and whiskey, even though everyone around you knows you're full of shit. The Kentucky Derby is Saturday so if you don't know how to feel pretentious while getting wasted yet, Saturday is your chance to try it. Wait, Cinco de Mayo is Friday and The Derby is Saturday? Fuck. Prepare your liver!
A Company Is Marketing Gin As "Unicorn Tears" To Gullible Basic Psychos
Raise your hand if you've been personally victimized by basic betches and their obsession with fantasy creatures, especially fucking mermaids and unicorns. **Insert me and every normal person raising their goddamn hands** I mean, seriously what are you? An 8-year-old girl with a Limited Too and Lisa Frank obsession. Sorry for the rant… I suffer from rage blackouts. But from unicorn pasta to mermaid blankets, crowns and toast, enough is e-fucking-nough. But because the limit of extraness does not exist, we have something else to add to the list: Unicorn Tears gin. Because even psychopaths are basic these days.
At first, I was just rolled my eyes at the stupid af name. But then I did some more digging and found that they're legit selling this shit as if it's actually the tears of a make-believe horned horse. The company who created this shit described it as "a mythical spirit" and said that it's made from "humanely raised unicorns." And no I'm not fucking kidding. That's legit what the official description says, which isn't all that surprising, because as someone in marketing I can tell you the industry is filled with extras. 

And in case that wasn't enough, this shit glitters. Alcohol that sparkles. Like you're a fucking freshman using your fake to pick up Goldschlager at the liquor store since you saw it in Superbad. Since when is a plain vodka soda not good enough? Despite doing the literal most, is that safe for your health? Isn't glitter like, metal or plastic or something? Whatever. Not drinking it anyway so not my problem. But if you do, just know that in addition to being labeled the most basic of the basics, you might legit die. Don't tell us we didn't warn you.