9 Last-Minute Gifts For People Who Have Literally Everything
Is it just us, or can getting holiday presents for everyone on your list start to feel like a full-time job?
I mean, it's not like we're all sitting here taking meticulous notes all year about products that our fav people have their eye on, right? (If you are one of these people, please tell us all of your secrets).
And let's be real—we all have that one friend who mentions something they want, and next time you see them, welp—there it is. They're the type of person who has literally everything. Is there anything more frustrating than thinking you found the perfect gift just to find out they got it for themselves before you could even hit the "buy now" button? We think not.
Shopping for these people can be a tough task, which is why we've collected the best gifts to give for those hard-to-please people in your life. From unique experiences to little luxuries they wouldn't normally buy for themselves, trust us when we say there really is something for everyone here.
Give them a reason to stop scrolling and go smell the metaphorical flowers by gifting them a National Parks Pass. Nothing says, "You need to get outside" like a gift that will force them to spend some time in nature.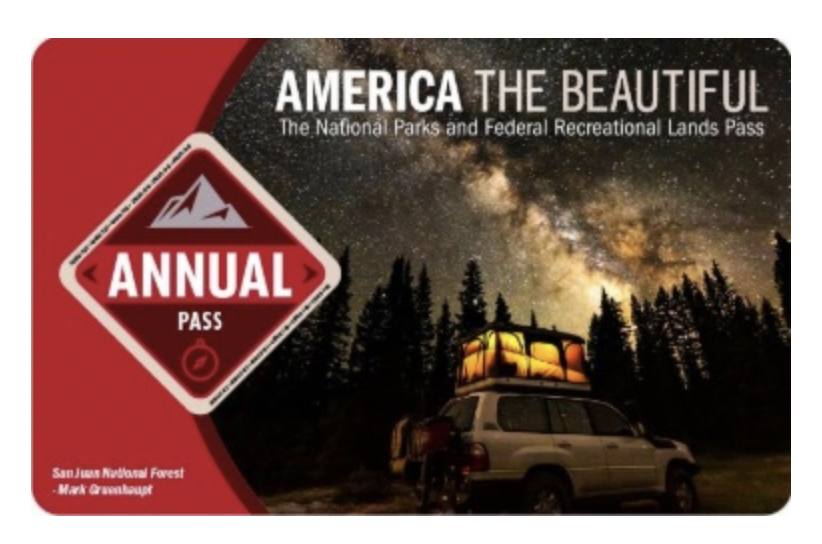 National Parks Annual Pass
USGS
That's nothing quite like the gift of competition. Bananagrams is a thought-provoking, anagram game that will get everyone gathered around a table for some quality time together. Albeit, we can't promise you won't get into a screaming match about if a word is real or not. You win some, you lose some, right?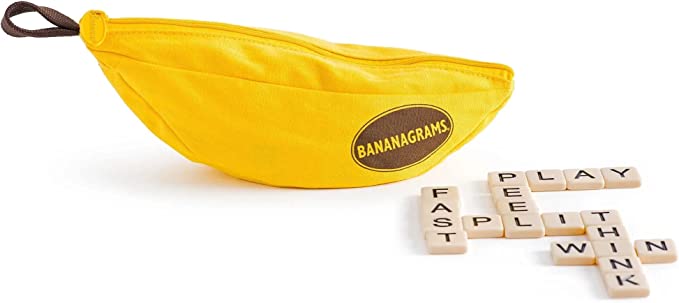 Cozy up together with the blanket of your literal dreams. We've never met a person who was upset with receiving a chic, comfy blanket, especially when it just so happens to be the Kardashians' favorite brand.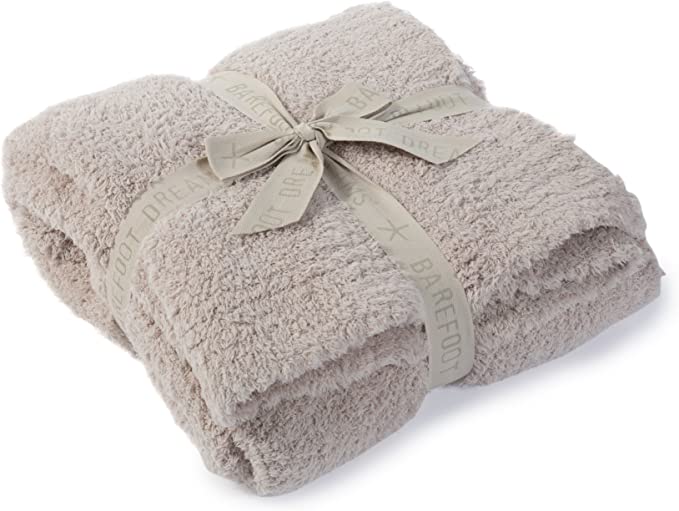 CozyChic Throw
Barefoot Dreams
Okay hear us out on this one—this flavored olive oil set is a little something special. Most people would probably never buy it for themselves since they likely only use flavored oils on certain cooking occasions… aka get this for them and have them make you a nice meal. Win-win.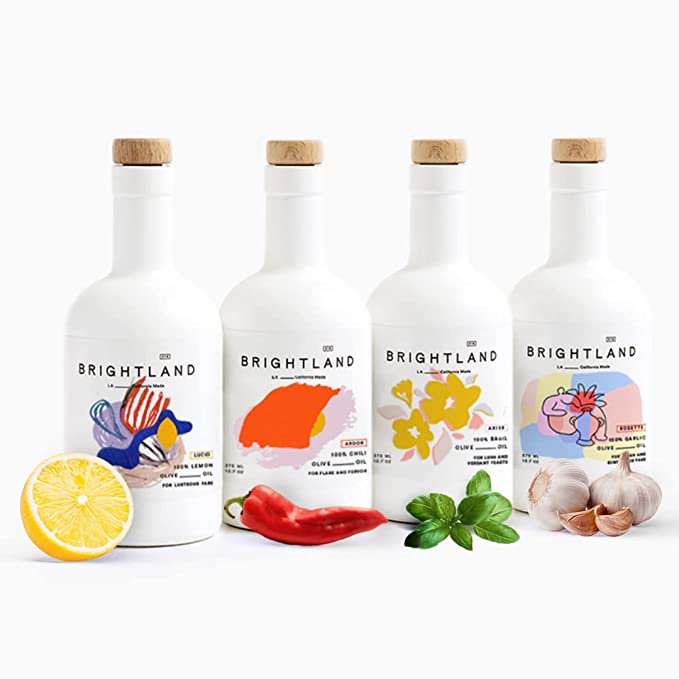 Olive Oil Set Infused with Garlic, Lemon, Basil, and Chili Peppers
Brightland
Truth be told, the holidays are stressful AF and we could all use a drink. Enter: these chic colored coupe glasses. They're chic, trendy and the perfect luxury to gift your bestie for a future wine night. Pro tip: assign everyone a color and you'll never get your drinks mixed up again. Probably.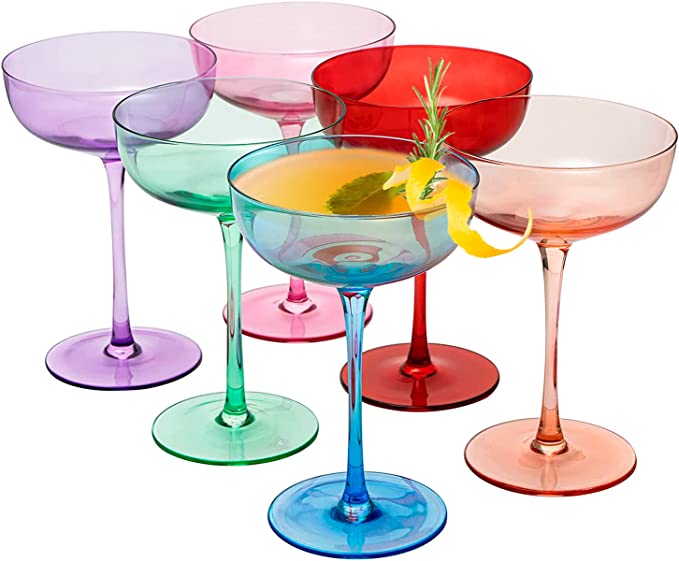 Colored Coupe Glasses
The Wine Savant
A custom photo puzzle will keep them busy during the strange abyss that is the week between Christmas and New Year's while also showing how thoughtful you are by displaying one of your favorite photos. Thank us later.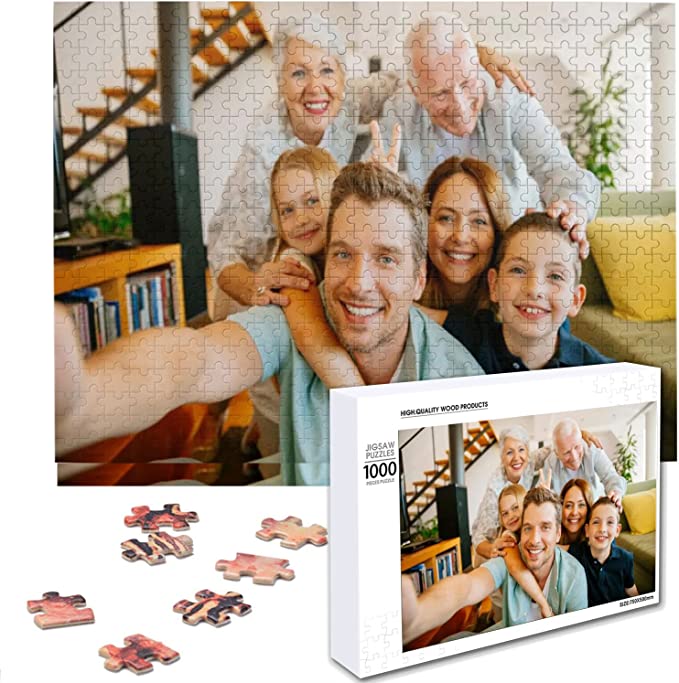 A wise woman once said you can never have too many candles, and who are we to doubt that as fact? Not only is this candle the best scent in the world (in our humble opinion), but the packaging is so gorgeous you hardly even need to wrap it. Throw a bow on it and you're good.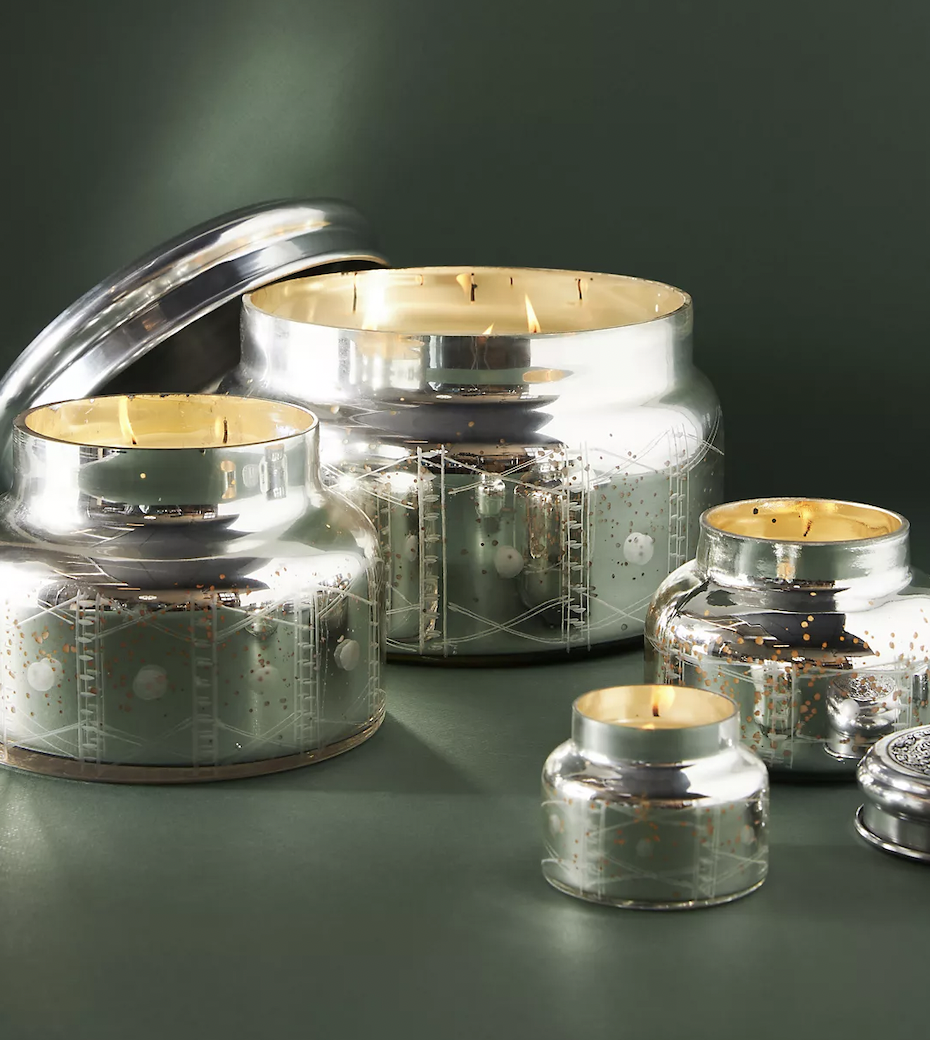 Volcano Mercury Glass Jar Candle
Capri Blue
Everyone loves chocolate. Need we say more?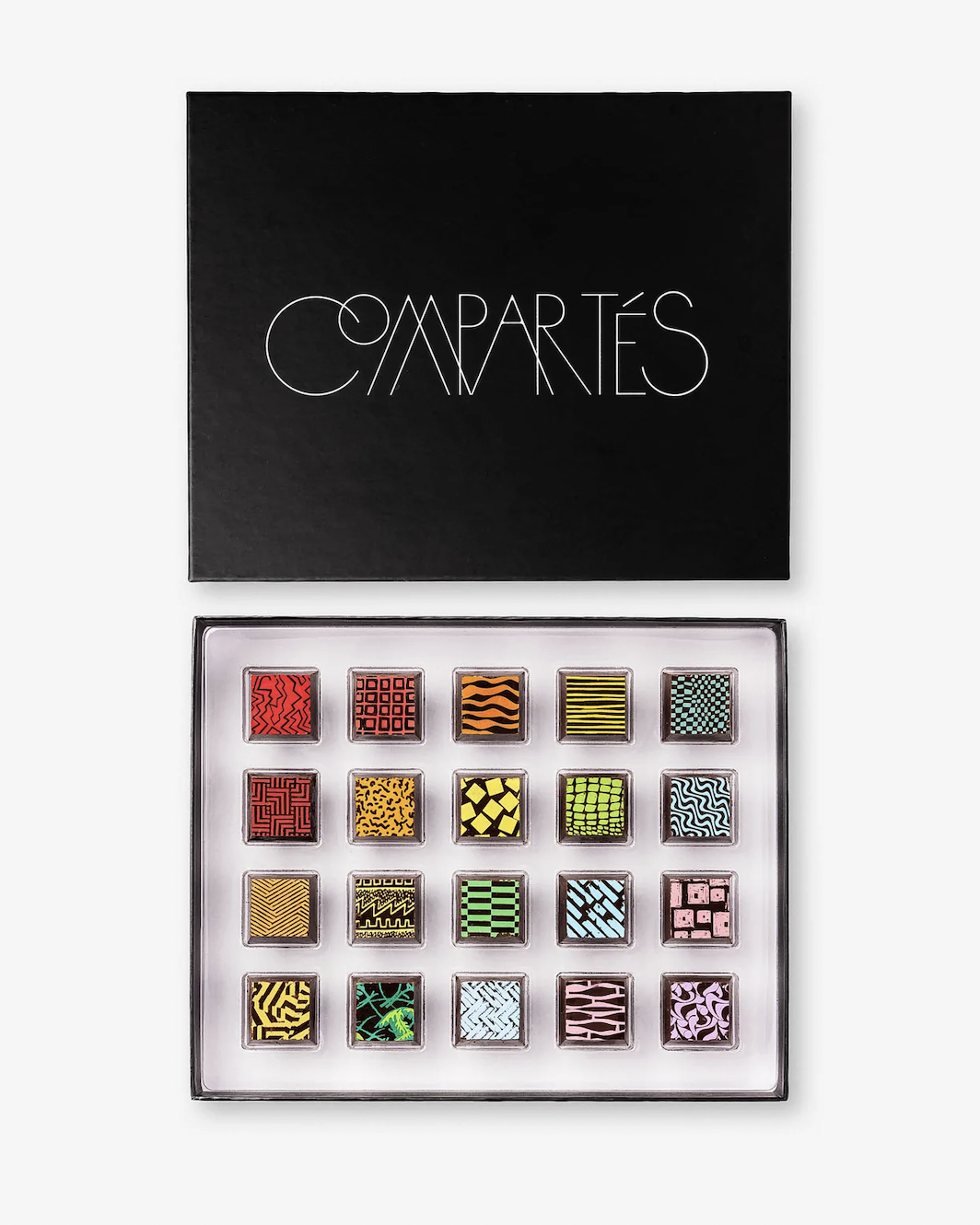 20 Piece Signature Truffles Gift Box
Compartés
Last but not least… If you're truly stuck, there's no better gift to give than to give. Pay it forward on their behalf and you'll stay on karma's nice list for another year.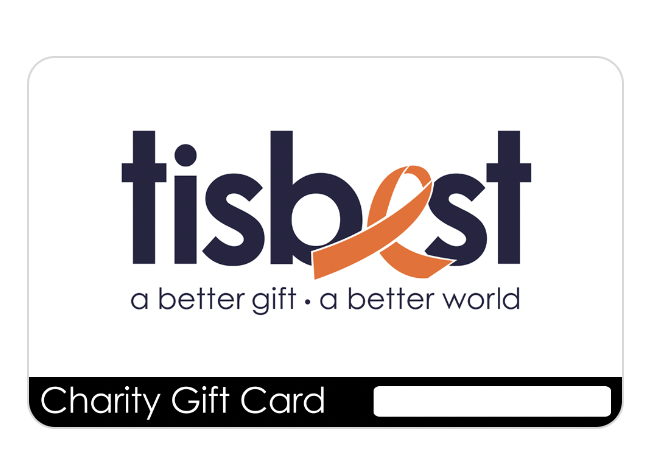 Father's Day Gifts Dads Will Actually Use
Betches may receive a portion of revenue if you click a link and purchase a product or service. The links are independently placed and do not influence editorial content.
Let's get right to it: Father's Day is coming up, and we know you need ideas for gifts. Sure, we don't know that for fact, since we don't know know you and all, but we can guess you aren't necessarily living and breathing the same shit your dad is living and breathing. That's right, your 65-year-old dad isn't going to have the same batshit crazy reaction you might have to that Milk Bar cake you see all over your basic friends' Instagrams. So, it's on you to do some research and get something he might actually get excited about. But not to fret—we've got those young and hip dads covered in this list, too. We know they're mourning their youth, so the least you can do is get those new dads something cool for Father's Day.

Scentbird Subscription

Scentbird
Scentbird is a subscription that sends new designer/niche fragrances directly to your doorstep each month. We know men love their Old Spice, etc., but this is a great way to force get them to step it up a notch.

Apollo™ Stress Relief Device

Apollo
Dads love gadgets. And being stressed. Enter: the Apollo Neuro Device. Developed by neuroscientists and physicians, the Apollo device offers silent, soothing vibrations that speak to your dad's nervous system, telling him he's safe and in control, meaning it can help him fall asleep, relieve anxiety, etc.

Reparative Moisturizer

Eighth Day
The reparative moisturizer with Peptide-Rich Plasma® is an all-in-one, highly active moisturizing treatment that hydrates and repairs damaged, aging (sorry!) skin. We love a luxurious moisturizing moment, and so will your dad or husband… once you convince him to use it. And if he doesn't, more for you.
This is a minimalist, RFID-blocking wallet. The main cardholder uses elastic to expand to hold up to 12 IDs and credit cards. It literally screams "Hi, I was made for dads".

Tempur-Cloud® Breeze Dual Cooling™ Pillow

Tempur-Pedic
Men—especially dads—always seem to be uncomfortable and hot (and complaining about it). The Tempur-Pedic Cooling Pillow is iconic because it can solve both of those problems (and you can still keep the thermostat where it's at). You're welcome.
This is the nice guy of gifts, because you kind of can't go wrong with monogrammed packing cubes. They're even made sustainably from 16 recycled plastic water bottles. It's a win-win, and if your dad or husband is always the one who's trying to wake everybody up at 6am on vacation, he'll appreciate the organization of this gift.
I mean, let the tee speak for itself. Show off that your dad or hubs is the coolest dad around town in the Cool Dad 2022 Tee. If you're a baby mama reading this, get yourself the Cool Mom 2022 Tee to match.

Cashmere Crewneck Sweater

Nadaam
You can't go wrong with a staple sweater, especially one that's this soft. This specific Cashmere Crewneck is reversible and features a hand-sewn fashion tag, with a contrast seamless stitch. 

Basketball Trucker Hat

Homme Femme
This is for the like, really cool dads (they exist too these days). This is a premium vintage trucker hat with Homme Femme Basketball embroidered on the front. If the dad in your life doesn't appreciate fashion, this probs isn't for him. But the guys that get it, get it…you know the rest.
The movement to make dad sneakers cool again starts here! These Pangaia sneakers are made by repurposing discarded grape skins, stalks and seeds into lightweight grape leather. The sole is made from 86% natural rubber created from industrial waste including unused prototypes and products. They come in a bunch of different colors to choose from, too.

Gold Stainless Steel Watch

Allurez
You knew there'd be a watch on this list, and here is our pick. It's a gold stainless steel mesh bracelet watch that's a great option if you want to go all out this Father's Day, but not ridiculously all-out. You know?
We love a kit, because it requires minimum thinking on our end. This shave kit from Walker & Co. includes the Bevel Safety Razor, Shave Brush, Pre-Shave Oil, Shave Cream, Post-Shave Balm, and 40 Blades. Fancy shit! 
Images: biova-nakou / pexels
What Holiday Gift To Get Based On Their Zodiac Sign
Is there anything more telling about a person than their Zodiac sign? Maybe their holiday wishlist. Luckily, we've got you covered with the most accurate gift guide ever. Even if you don't know enough about each zodiac sign's strengths and weaknesses to make a highly accurate snap judgment about a person's entire life and personality, at least you know exactly what to get your stubborn-ass Taurus sister this holiday season.
Aries

As the first sign in the zodiac, the Aries in your life is obsessed with being number one in pretty much everything. So for this self-proclaimed trendsetter, give them the gift of what they love most—showing up first—with this new fast-drying Shark hair dryer. Not only will they love the fact that they're 10 steps ahead of everyone else who's still gushing over their Dyson hair dryer (Aries knows that's sooo last year) but they'll also love the quick efficiency of this fast-drying, heat-damage-free Shark hair dryer.

Since Aries have an immature, childlike need for attention, you can contribute to their insatiable need to constantly be the center of everything by gifting the Aries in your life a gorgeous statement coat like this floral one from Hutch. Not only does the coat capture everyone and anyone's attention with its bold, vibrant colors, but Aries will also find comfort in the kitschy flower print that plays to their more youthful desires.
Taurus

Honest x Vanity Planet Aira Ionic Facial Steamer
The Taurus in your life knows a thing or two about being pampered, and is obsessed with everything luxurious. So let them life live every day like it's a treat-yo-self spa day with this gorgeous facial steamer from the Honest x Vanity Planet collaboration. Of course, said Taurus will stubbornly insist that nothing compares to the expensive facial they got at the Ritz that one time, but even they will be pleasantly surprised with the high level of at-home luxury that this steamer offers.

Barefoot Dreams CozyChic Cheetah Spot Throw Blanket
Tauruses (Tauri?) will accept nothing short of the best of the best, so be sure to meet their high standard of luxury by treating them to the pinnacle of luxe living with a Barefoot Dreams blanket this holiday season. It's one of those things that any sane person feels ridiculous purchasing for themselves because of the price point, but to receive as a gift? Well, even a stubborn Taurus won't argue with that.
Gemini

Liverpool Los Angeles Hooded Plaid Boyfriend Blazer
To put it nicely, the Gemini in your life is a bit unpredictable. They like variety and options because their taste can change on a whim. So since no one knows which way the wind will blow with a Gemini on any given day, just cover your bases and get them this versatile jacket that's a blazer/hoodie combo and fittingly as adaptable as they are.

Bright Cellars Monthly Wine Subscription
As we've established, the Gemini in your life craves variety and excitement, so what better gift for a Gemini than a wine subscription service? With this Bright Cellars wine subscription, Geminis will never get bored because they can pick four new wines every month. Not to mention, Geminis iconically love to drink and party, making this gift idea an all-around no-brainer.
Cancer

Smudge Wellness 10 Days of Magical Self Care Advent Calendar
Since Cancers are extremely intuitive and sensitive to the energies around them, give them a gift that allows them to tap into their more mystical side with this chic self-care crystal kit. Even if they're not into the whole mystical crystal thing yet, the fact that you knew enough about them to know the traits of a Cancer to even come up with this gift idea is sentimental enough to make Cancer tear up over the thoughtfulness.

The Cancer in your life is sensitive, sentimental, and nostalgic. So give them what they love most, a chance to have even more sentimental possessions by gifting them a Polaroid camera. As if they weren't hoarding enough already (please finally toss those 7th grade "love" letters, I beg of you) now they can enjoy taking fuzzy retro pics of you two in the name of creating more precious memories. Just don't be surprised if you now get a mushy scrapbook with some of these photos for next holiday. 
Leo

Represented by a lion, an aggressively obvious trait of Leos is that they love their mane AKA their hair. So treat Leos to a silk pillowcase which will help protect their beloved tresses while they sleep, plus it adds an element of glamour to their daily sleep routine.

If I could imagine a bag for a Leo, this would be it. This bag is everything that a Leo loves: glitz, glamour, and style. To put it simply, the bag is as over-the-top and attention-seeking as they are. 
Virgo

LILYSILK Trimmed Silk Short-Sleeve Pajama Set
Nothing quite guarantees a Virgo's restful night sleep like the mental comfort of knowing they're in a matching pajama set. The successful execution of their Type-A perfectionist tendencies trickling all the way down to their nighttime outfit gives a Virgo a high that could only be matched by giving them an organizer. Speaking of…

House of CB To Do List Planner Sheets
Virgos are lovers of organization, aesthetics, and getting shit done, and this cheeky House of CB stationary feels like it was designed for their sign specifically. As your resident Virgo here, I can attest to the fact that I'm legit getting excited over the idea of crossing things off this highly aesthetically pleasing to-do list.
Libra

Juliette Has A Gun Perfume Wardrobe Discovery Set
Notoriously indecisive, let your Libra indulge in their helpless indecision by giving them a gift that allows them to explore options. With this perfume sampler set, they can thoughtfully ponder which perfume they like best from this beloved brand without actually having to commit to a full-size bottle. Not having to choose is the best gift you could possibly give.

NickyDionCo Balance Healing Crystal Candle
Libras love to beautify their surroundings with harmonious things, so what better gift than this gorgeous healing crystal candle? This one in particular has the intention for balance, something Libras basically invented and will certainly appreciate.
Scorpio

Scorpios get stereotyped as aggressive, but for good reason—because it's true. Not to be that girl again, but have you ever dated a Scorpio? Yeah, exactly. Ironically, Scorpios have no tolerance for games and manipulation when it comes to relationships, so play this game to figure out what their dealbreakers are. Maybe you'll actually learn a thing or two about this sign that's normally secretive and mysterious.

Storets Esther Faux Leather Strapless Top
Another great option for your Scorpio friend is this sexy faux leather strapless top. This top screams hot-Scorpio-about-to-ruin-your-life and they'll love owning that energy all night at the bar while potential suitors hopelessly buy them drinks. 
Sagittarius

Get the restless and adventurous Sagittarius this stylish wintry belt bag, which is perfect for all of their #wanderlust adventures. Since they're always on the go, they obviously can't be bothered with an actual purse, so they'll love the ease of this convenient Lululemon belt bag.

Cream Yoga Charlotte Bra + Angela Legging Set
Since Sagittarius is the most high energy of all the signs, you can be certain that they're actually making it to that 6am Barre class you both signed up for… unlike yourself. So for your Sagittarius friend, gift them a cute workout set that you know they'll wear to the five million different workout classes they attend. Plus, that way, when you inevitably bail on the class because you're too hungover, you can rest easy in bed knowing independent Sag still made it to class without you and looked cute as hell while there.
Capricorn

4th & Reckless Neva Single Breasted Blazer Beige Check
Probably the most obvious gift I'll suggest in this gift guide is this stylish tailored blazer for the hardworking and ambitious Capricorn. Even if said Capricorn is still in a work-from-home situation, they'll probs still wear this subtly printed blazer just for the Zooms, if only to remind everyone of what a boss they are.

Capricorns are very disciplined, and as such, they value skin care. So get them a gift only a diligent Capricorn would appreciate: a LED face mask. You know you'll get your money's worth since they're the only person you can actually count on to use it regularly enough to get results.
Aquarius

WHILE WE'RE aWAKE Bodega Crewneck
Your non-conforming Aquarius friend will adore the understated irony of this casually cool Bodega-inspired crewneck. The nonchalant streetwear graphic is anti-mainstream, perfect for your alternative Aquarius.

Aquarians have always been into all things sci-fi, but now it's actually trendy to be into space shit. Since it's currently cool, there are lots of space-themed fashion pieces you can get them, like this celestial-inspired necklace they're sure to love. 
Pisces

Pisces will appreciate both the dreamy artistic design and sustainable worldliness of this top from independent designer, Ecru. They'll love the imaginative design inspired by the Peruvian mountains and take pride in this artistic gift.

Uncommon Goods Beach Day Paint-By-Numbers Kit
Pisces seek to constantly express themselves creatively, so get them this paint by numbers art set which is a combination of everything they love: art and the beach. They'll love being able to lose themselves in the activity of painting, plus they'll get a wall-worthy image at the end of it, unlike some of their other free-spirited, emotionally-inspired art that they currently have on display.
Betches may receive a portion of revenue if you click a link and purchase a product or service.
Image: BONNINSTUDIO / stocksy.com
An Impractical Gift Guide For The People Who Have Everything
Somehow Christmas music is already playing on the radio, so I guess it's time to start buying gifts. I've had since last Christmas to think about what to buy people, but it's still not enough time—especially for the people who aren't easily satisfied with a Glossier Balm Dot Com Trio or an Aquis Rapid Dry Hair Wrap. 
This is the quintessential gift guide for those people in your life. I promise you they won't own any of this. No one has this sh*t. From an intravenous drip for plants to a Juliette Lewis mousepad, you won't find these things on the Goop Gift Guide. 
For the… 

Did you know being a parent is hard? Let's make the newborn do something while they're doing nothing. My favorite thing about this item is that it comes in a range of sizes. Even if your baby is already 18-24 months, they can wear one of these. No need to encourage the baby to walk when crawling makes the floors cleaner. Takes the pressure off the parents and the baby. 

This is really a gift to yourself because you no longer have to kill their plants while they're out of town. Is this you? "Why are the leaves brown? It's either too much water or too little water. Could it be not enough light? Well, no, because this is where they left the plant. They wouldn't have left it in this corner if it's not supposed to be in this corner. I don't really get thirsty until the evening. Maybe I'm watering at the wrong time of day?" If any of that sounds like your own internal dialogue, it's time to get your friend a more dependable way to keep their plants happy and healthy. 

For those that have a real allergy to gluten and miss bread. This is not a gift for those who have given up gluten for non-medical reasons. People who have been able to give up gluten for non-medical reasons don't really love bread, and they really never did. 

This is for the friend who learned they never even had to be in an office in the first place.  No more stinky leftovers being microwaved or coworkers knowing each other's bathroom schedule—this friend of yours is set. All that's missing is a Juliette Lewis mousepad to go with their three monitors and ergonomic chair. "It's a good quality item." (A quote from Cousin Eddie in Christmas Vacation, a film in which Juliette Lewis shines.)

When someone leaves their dog home alone, they don't know what's gone down while they've been away. Finally, a gadget to ruin their ignorance. An anonymous Amazon customer wrote, "try not to burn your house down when you see how much your pet has actually peed on your carpet…I suggest you have a few shots of whiskey so you don't care as much about how much urine is in your carpet!"

So, you're telling me that while we don't need a cord for headphones we also don't need a rope for jump? These are the AirPods of exercise equipment. Your loved one will never trip on that silly rope again. Tangle-free living, baby! 

For that very busy person who doesn't even have time to hold an umbrella, get them this. It goes well with AirPods and the Cordless Jump Rope. They can be listening to music and jumping rope while it is pouring down rain. That's a W. 

Remember the catalog Sky Mall? Me too. Well, your friend who refuses to get vaccinated might not be able to travel in the future, so why not get them one of the most memorable gifts from Sky Mall? Every time they look out their window, they can be reminded of the friendly skies they once frequented. 
Betches may receive a portion of revenue if you click a link and purchase a product or service. The links are independently placed and do not influence editorial content.
Images: Studio Firma / Stocksy.com; Amazon (7); Target
The Betches' Holiday Gift Guide 2020
Ah, the holidays. Time to try to get gifts for every single important person in your life, despite not knowing WTF they want (and they really need nothing). Even harder is coming up with what you yourself want, since it feels like you have a million ideas of what you'd want as a holiday gift, until the moment someone asks for your wish list, when it all goes blank. Well, we're here to help you in that department. I polled the team at Betches for their holiday must-haves. Here's what's on our wish list for 2020.
Sami, Co-Founder And Co-Host of Diet Starts Tomorrow

Extend the length of your towel sitting sessions with a towel wrap that stays up. Also, I am a sucker for a floral design. Since I last checked, the price has gone down to $25 which gives you a better reason to buy it. 

Since I am not leaving my house this winter, December in New York aromas will have to come to me.

Perfect for astrology lovers and people who like to think about themselves, because it comes with a whole blurb about your date of birth that describes your personality. Mine was 100% on point and no one has paid me to say that.

For those in apartment living who want to simulate a bbq, this is the closest you'll get this winter.

Ok, I technically bought this for myself (from the hotel on my honeymoon), but it's the most comfortable robe I've ever worn and is extremely soft. I get questions about it on Insta story whenever I wear it. 
Aleen, Co-Founder & Co-Host of Diet Starts Tomorrow

Nostalgia is so hot right now, and what could be better than a nameplate necklace that mixes throwback with self-involvement? There's also a gothic font option if you can't leave the 90s in the past.

Never worry about killing another plant again because these are self-watering planters. See mom, I don't kill everything I touch!

I know the price tag seems scary, but this is the best at-home facial. Odds of being able to get in-person facials this winter seem slim, so it might be time to invest.
Jordana, Co-Founder & Co-Host Of U Up?

My top priorities this year are soothing my anxiety and getting a good night's sleep, so this is pretty perfect for that.  

I need something to take on my morning walks where I don't have to carry a cap and that won't leak. I need to be able to take a quick sip before putting the mask back on, and I'm hoping this will do the trick. 

I"m planning on having a very inactive social life this winter, and puzzles are a great way to relax without looking at a screen. 
Ashley, Director, Content & Strategy

I forgot how to do makeup over quarantine and this will help when I'm trying to cover all my maskne. 

Since the only thing to do is workout from home, this will help with recovery. You probably don't want to be getting an in-person massage right now, just saying.
Brittany, Art Director & Manager of @betchesmoms

"Washable silk" sounds like an oxymoron, but I promise it isn't. Might as well invest in fancy pajamas since we have no chance to wear fancy clothes anywhere.


Tie. Dye. Sweat. Set. The motto of 2020.

Jessie makes amazing art and home decor, and it's original art that you're not going to see in all your friends' houses because they got it from Target.
Sara, Editor-In-Chief

My mom never let me have one of these in middle school, and now I know why! But, I mean, look at how beautiful it is. And I'm putting it on this wish list because I obviously can't justify spending that much money myself on a throwback piece.

I regret to inform you that quarantine has forced me to become one of those people who (*pauses for dramatic effect*) runs outside. And with the weather getting colder, keeping your ears warm is key.

Onto things I will actually use: this pineapple and jalapeño infused tequila. As a person who likes spicy margaritas but is too lazy to invest in ingredients like Cointreau and real limes, this will make a good addition to my bar cart (that is actually just a shelf in my freezer, but whatever).
Dylan, Assistant Editor

Now that we're getting to the cold part of quarantine, you need to be as comfy as possible at all times. Since you can't actually wear your Uggs in bed, this blanket is the next best thing.

I successfully avoided buying one of these in the spring, but nine months later, I'm still f*cking bored. Can't hurt!

Obviously we're all spending a lot of time at home right now, so why not spruce up your space with this candle that smells great, and is also topical?
Nicole, Marketing Manager & Co-Host of Betches Brides

Let's face it—you're not going anywhere exciting soon because of 2020, so you might as well splurge on items that make you comfortable from your couch. This Barefoot Dreams robe is a bit expensive for a robe, but I can assure you that it will change the course of your life. It's the softest thing I've ever touched. There's a reason the Kardashians are also obsessed with this brand. If you're like me and already own 12 different robes, you could opt for a blanket instead. Get this for the ultimate lounger in your life or yourself.

2020 has made me realize it's important to invest in my bed. I can't describe how much of a difference quality sheets on your bed make—just trust me on this. Also, they're a good gift for couples for whom you don't know what TF to get this year. 

The money tree is symbolic of good fortune and prosperity, which we could all use more of. Get this for the person in your life who needs that extra spark of motivation, and also just wants a cool decoration to put next to their WFH station. Also, it's a low-maintenance plant, meaning you won't kill it as you did with all your other plants. But let me be clear—if I don't hit the lottery after buying this, I'm returning it (JK). 
Kelsey, AE Brand Partnerships

It just looks really cozy and is perfect for layering and outdoor activities, which are the only activities I will be doing this year!

I'm going to need a lightweight jacket to run outside in, again, cause I'll only be able to be outside, and this will make sure I'm seen on the roads when it's dark at 4pm. Plus, it's cute.


I've only been wearing yoga pants, so the joggers will switch it up, plus it's a fun, bright color which might put me in a better mood than wearing all black. Also looks cozy chic to me! 

Threw in an extra—I already bought these, but it feels like stepping/running on a springboard and is the fluffiest comfiest thing ever, plus ankle support—worth the investment!
Sean, Podast Manager

I've been waiting for someone to get me this sweatshirt since I first heard about it being called "the greatest hoodie ever made." Sadly, no one loves me enough to take the hint, so this year I finally exercised a little #selfcare and ordered one for myself. This thing is amazing. It lives up to the hype. Don't let your loved ones go unloved this year (like I did) and get them a quality US-made hoodie.

Every holiday season has that one must-have item. Some years it's an annoying talking Elmo doll. Other years, it's a different annoying talking Elmo doll. Most years, it's whatever Frozen merch my niece seems to be clamoring for. This year, it's the Friends Advent Calendar. But one thing is guaranteed every year: I will always wait too long to order the must-have gift and be left kicking myself. If you manage to find this Friends advent calendar in stock somewhere online, please DM me and I'll be forever grateful. Complete with 40 keepsakes, I can think of little else that would bring this much joy to my holiday season.

Speaking of must-have items for the holiday season, look no further than the Playstation 5. This is a perfect example of "you always want what you can't have." Playstation has been around forever, and I haven't bought one since they originally came out in 1996. So when I heard about the new console being released, it didn't really excite me. Then I heard about the low supply due to COVID and I immediately had to have one. If you're trying to find the perfect gift for that special someone (most likely someone that's driving you crazy in quarantine and needs a new hobby) look no further than the impossible-to-get PS5. Available online only this season, there are already countless stories of people getting one into their checkout cart, only to have it go out of stock before they could even click 'next'. I've tried and failed to get one several times now. If you can somehow pull it off, you will be crowned the queen of Christmas this year. Best of luck to you all.
Kristin, Sales & Brand Partnerships

I am obsesssssed with TULA. You can't go wrong with any of their products. Their 24/7 Moisturizer is legitimately the best thing ever. Their website also has a dedicated holiday section right now with some bundle discount gifts.

For the tea lovers in your life, this gift keeps on giving for a very reasonable price. They'll get four personalized teas a month chosen based on their preferences.

With a name like that, how could you not get it for someone? This frame works with any iPhone or Instagram pic and is perfect for all the couples you know who just got engaged.
Abby, Graphic Designer

Be honest, you're going to wear this every single day from here on out.

This nostalgic instant camera will transport you to happier times, like when you could legally be in the same room as total strangers.
Betches may receive a portion of revenue if you click a link and purchase a product or service. The links are independently placed and do not influence editorial content.
Images: freestocks / Unsplash
How To Ask For Money Instead of Gifts This Holiday Season
If you've ever read a story by yours truly, you know that the holidays give me all the life I'll ever need. Even now, as a 26-year-old jaded New Yorker who is impressed by nothing, I tear open a perfectly-wrapped gift with the same energy that most people save for fighting strangers at Target on Black Friday. However, sometimes I'll rip off the wrapping paper, lift the cardboard lid, and find a disappointing gift. Honestly, the last time I got excited over a gift that came in a box was in 2004, and guess what was in the box? A puppy.

Unless you're gifting someone the eternal happiness that comes with a dog, wrapped gifts just aren't as exciting as they used to be. Maybe it's just a downside of being an adult, but my favorite kind of gift is a monetary one. Like, want to give me a gift I'll truly cherish? Pay for my gym membership for a month! Just kidding, but like, not really. If all you and your loved ones want for Christmas is some cheddar, listen up, because etiquette expert Elaine Swann will clue you in how to give money as a gift seeming like you put zero thought into your present, and on the flip side, how to ask for money without looking like an entitled douchecanoe.
The only time I've ever witnessed people asking for money instead of presents was at my brother and his wife's wedding. Yes, you read that right. These two asked their guests to donate to a honeymoon fund instead of losing their sanity on a wedding registry. At first, I thought it was the tackiest thing I'd ever heard, but then I saw the photos of them gallivanting around the Ritz in Paris and realized they didn't drop a damn cent on this. And that's when I realized that asking for money in lieu of gifts is, honestly, the move.

So if you're just looking to give cash this holiday season, Swann suggests, "Make sure you personalize this gift. Give some thought to how this person may use the money. Then, in the note, you can add in a line about something that is a hobby of theirs or something they may enjoy doing with the money." So, for example, if you're giving me money, tell me a little tale about a thirsty girl who's strapped for cash and loves white wine. Cute, right?
If you've been raised to exhibit classiness in your day-to-day life and don't want to stop now by asking for money, worry not because there are ways to do it without looking like Mona Lisa Saperstein.

Swann says, "Be honest! Let them know that you have your heart set on a ski trip, a spa treatment, paying off your student loans, or any other kind of experience you're interested in. By stating this, you can encourage them to give the gift of money that can go toward this experience." For an added bonus, she advises, "Keep it towards an experience that people can see and feel a part of when you share stories or photos through social media." Because the only thing better than seeing the look on someone's face when they open a gift is being publicly thanked (and tagged) on Instagram stories once they actually use your gift.
Look, if anyone is actually giving you a holiday gift, chances are they know you pretty well, so they're not going to judge you for asking for money (they probably know you well enough to judge you for your choice in exes/Seamless orders/generally destructive life choices instead). 
If you do want money, don't wring out your generous friends by asking for a fortune. That's actually why putting this money towards something specific, like a trip or a facial, is the way to go, and it will actually give them an idea of how much they should give you without you having to awkwardly name a number. At the end of the day, everyone loves getting money as a present! I've never heard any of my rich friends who work in finance or advertising open an envelope of cash and be like, "Ugh, I wish it was bath salts!" So, if you love your friends and family, get them something they really want, like a crisp Benjamin. 
Images: NBC; Giphy (2)
10 Last-Minute Gifts You Can Get On Amazon
If being what my grandmother calls a "youth" has taught me one thing, it's that delayed gratification ain't worth sh*t. Call me crazy, but if there is something wrong with getting what I just decided I wanted with free two-day shipping, then I don't want to be right! Obviously, Amazon is the holy grail of online shopping 365 days a year, but the one time it really comes in handy is during the holidays.
A modern nightmare: I have a dinner date with a friend in a few days and last night, she texted to confirm and then she sent a follow-up text, "You're going to love your gift!" My first thought was "Yes! I love presents!" and my second thought was "F*ck, now I have to get this bitch a present." Even though a small part of me hates spending money on people who aren't myself, I was pretty happy to order her gift and have it wrapped and ready for her three days later for our dinner-turned-gift-exchange. 
If you, too, hate waiting, here are ten of our favorite gifts to shop on Amazon. If you order in the next two days, you can get free delivery by 12/24. 

One thing my 90-year-old grandmother and I have in common is that neither of us understands technology, like, at all. Take this Fire Stick, for example, which, after using it this weekend, seems like it was designed for idiots people like me. It's a skinny remote control and a USB that plugs into the side of your TV. It works exactly like an HDMI cord, except no one will trip over it and you don't have to have your laptop open and simultaneously playing whatever you're trying to watch on your TV. 

I am the type of person who gets the generic version of literally everything because I don't want to spend money on the name brand stuff, but this Slip pillowcase is my one exception because it's that good. First of all, it's soft af. Secondly, unlike cotton, silk doesn't absorb your expensive nighttime skin care. Lastly, it always feels cool to the touch, which, if you run hot (hi), is a blessing. 

A few weeks ago, a friend was telling me about this amazing towel for your hair and, whaddya know, I was seeing its sponsored posts on my Instagram feed later that day. As creeped out as I am by technology that has no respect for boundaries, I bought and used this Aquis towel. Let me just say, it's not just a towel. There's something about microfiber that makes it insanely absorbent without tugging your scalp. I leave this bad boy in for like, 15 minutes while I put on my makeup and when I take it off, my hair is basically dry. 

If your bedroom is like mine, it's white and boring af. This little guy changes that! You can watch movies, stalk your office crush, and mindlessly scroll Instagram from the comfort of your own bed, which may sound like what you usually do, but this is different because it's projected on your ceiling. For reference, the iPhone 11's screen is six inches long and two inches wide. The choice is yours. 

This is one of those things I really want but would never actually spend $60 on because I'm cheap. Even though I don't really go anywhere, I go to my hometown for nearly every holiday, which is enough travel to warrant a travel case for all of my jewels (one ring, my watch and a few pairs of earrings). This is the kind of gift everyone would appreciate. 

I do not fancy myself a chef, but I do f*cking live for pasta, and I love it even more when I don't have to pay New York prices for it. Luckily, none of the recipes in this cookbook are Top Chef-level complicated, so even if your Secret Santa uses her oven to store her sweaters, she'll be able to nail a few of these recipes. 

One thing I love is the amount of cups in the world. There is literally a designated cup for every type of beverage and I'm all for it. Even though I stan a beer chalice, I love a good Champagne flute. These ones are amazing because they're insulated, and because nothing is less appetizing than flat, warm Champagne, these are good to have on-hand. 

While fingerless gloves do seem completely useless in theory, gloves with fingers are horrible. Contrary to popular belief, you'll be pretty warm in fingerless gloves and you'll be able to use your phone's touchscreen while avoiding your coworkers on the subway. 

Not only does this cleanser smell amazing, it makes your skin look and feel like you just got a hydration. Seriously, use this day and night for a week and you will legit notice a difference. It doesn't leave your skin feeling tight or dry, but rather, supple and moisturized. 

Most of my friends LOL at the fact that I still use planners even though I graduated from college four years ago, but I don't give a sh*t because I love them. This one is especially nice because it's not aggressively decorated or enormous, but it's big enough that you can actually fit all your appointments and sh*t in it. Get this for your friend who double books and everyone else in your group will thank you.
Images: Kira Auf der Heide / Unsplash; Amazon (10)
Betches may receive a portion of revenue if you click a link and purchase a product or service. The links are independently placed and do not influence editorial content.
The Betches 2019 Gift Guide: Under $50
If the proliferation of Christmas music through my eardrums is any indication, it's holiday season. That means it's the one time of year when you have to think about other people and not just yourself (bummer). However, as a conceited person, I'll say that there is no rush quite like the influx of praise you receive from buying someone the perfect gift. But that is hard to do, so I've rounded up some gifts that will get you those compliments you so badly need, organized by price point. Whether you're ballin' on a budget or straight ballin' you can find something on this list.
All of these items are under $50, so they're perfect for the person you like, but not too much. If you're looking for something more luxe, check out our other 2019 Gift Guides for items from $50-150, and over $150.
$25 & Under:

Scrunchies, like everything else that was popular in the 90s, are back in style. But since spending more than, like, $10 on a single scrunchie just feels wrong, you can get this entire set of eight for that much money. There's a velvet one, a sequined one, a silky looking one… basically, a scrunchie for every outfit.

This $22 value is only $12, which is basically free. Murad's Hydro-Dynamic Ultimate Moisture cream is what all our crusty winter skin needs, and the bright shiny ornament-like packaging is so festive.

I've used these wipes while traveling and after workout classes, and they are an actual life-saver. The travel kit gives you either full or mini sizes of their Face 201: Bacteria Fighting Wipes, Body 101: Deodorant Wipes (aluminum-free), and Body 301: Aloe Wipes. These are ideal to use in a pinch if you're kinda gross but can't shower (i.e. just left a fitness class or just got off a plane). Though they don't come in this pack, the hair wipes are also amazing because they get all the sweat out of your hair, and the face wipes are also super convenient.

Okay, you know this is hilarious, but unlike a throwaway gag gift, this sleep mask is actually useful. Described as "a mini pillow for eyes" by an actual review, our eye mask will help you block out the bullsh*t… and by bullsh*t, I mean light.

When you don't know what to get someone for the holidays, get them some fun earmuffs like these ones from Aerie. No matter who you are, what you look like, what you believe in, we all get cold ears in the winter time. I love the hot pink ones because they're obnoxious, and the headband part is sparkly, which is perfectly festive.

This is actually the cutest stocking stuffer. This little ornament contains pH-color-changing rosé glimmer balm that automatically adapts to the perfect color for you based on your pH. Plus the ornament doubles as a carrying case.

You love listening to Jared and Jordana play Red Flag or Deal Breaker on the U Up? Podcast, now take the fun home with you with our original card game. Whether you're having a girls' night in or need a game to liven up your summer share house, these cards are the perfect way to figure out just how low your group's dating standards are. The game comes with 52 red flag/deal breaker cards, plus a card holder.

Who doesn't need glitter right before holiday party SZN and NYE? Free People just launched a mineral-based shimmer formula that provides subtle, buildable, natural-looking sheen that can be used anywhere on the body. For your clean beauty betches, it's free of parabens, silicones, phthalates, synthetic colorants and synthetic fragrances—and the packaging uses no plastic. It comes in four shades: gold, rose quartz, opal, and amethyst. 

With locations from Georgia to Colorado to New York, and many more, bartaco is a coastal inspired taco eatery that is literally popping up everywhere. If you don't have a location nearby, you can still take the bartaco taste home with their trio of three signature hot sauces. The 3-pack includes Habanero, Jalapeño, and Roja. 

If you want to give someone the gift of an influencer-worthy unboxing, pick up the ROUTEINE KIT, because the packaging is seriously so cute I didn't want to throw out the box. This $70 value will only cost you about a third of that, and it contains THE EVERYTHING DAY and NIGHT, skin "multitaskers" that boast anti-aging, firming, moisture, and more; THE GOLDEN RULE retinoid; and THE GIRLFRIEND primer.
$26-$50

If you've ever needed a blade, or scissors, or a nail file, and not had one, then you know how useful having a Swiss Army knife is. This little one comes with all that plus a few other extras, and they have cute patterns inspired by food. So really, what's not to love?

Okay, so like, it might feel kind of shady to give someone a gift that implies, "your under-eyes are super dark and puffy!" However, these are so cute and these eye masks are all over Instagram, so I think you can get away with it. These energizing eye masks contain collagen, vitamin C, and everyone's favorite skincare ingredient, hyaluronic acid. They come in a pack of 12 or 24, so it's worth the price tag. Plus, this gift gives you and whoever you give it to an excuse to have a + face masks night.

For the serious insomniac in your life (hi), it's time to pull out the big guns with this weighted sleep mask that contains a half pound of evenly distributed weighted beads, an adjustable velcro strap, and premium fleece to get your ass to sleep.

Hot girl summer was exhausting, and I don't know about you, but I'm positively excited to settle into cold girl winter. All it means is I don't leave my apartment and just sit with this lavender scented candle all day and night. 

If you're tired of Cards Against Humanity, try Off Topic. Basically, you draw a card to determine the topic, then roll the die to determine the letter all your answers have to start with. Once you flip over the hourglass, everyone has to race to write down as many answers under the designated topic that start with the designated letter. Then you get to defend your questionable answers to everyone else playing the game. 

Do you have a friend with tired, dry hair? Weird flex, but ok. This elixir that works either as a leave-in treatment or finishing oil comes in the cutest little flask, and I'm a sucker for cute packaging. Especially if that packaging could be reused to sneak alcohol into the club… 

So, these candles are a little out-there but I think they're so fun. Basically, it starts out as a cute geometric animal candle, but then when you burn it, it reveals a metal skeleton. I feel like we all have that friend who is still obsessed with Tim Burton and used to love Hot Topic back in the day, and I have a feeling that friend will appreciate this candle.

Robyn Blair Davidson has become a big deal for turning her candy obsession into literal art. So, following that logic, her prints (a collab with Dormify) are the ideal gift for anyone with a sweet tooth who needs to liven up their walls a little bit. 

I have a Sonix portable charger and always get so many compliments when I whip it out. They have way cuter ones than just the standard black boxy thing everyone else has, and still provide an extra 16 hours of battery life for all your iPhones.

This kit contains a cannabis facial moisturizer, cannabis cleansing foam, and scrunchie. But don't get too excited… the products do not contain CBD or THC—just cannabis sativa seed oil. Still, it makes for a cute gift for your stoner friend who you don't want to just gift a dime bag for Christmas.

Don't let the size fool you—this little guy can pack some serious sound. (Sorry you can't say the same about…. Well, nvm, you know where I was going with that). But since it's still small, it's easy to carry around and bring to your friend's house party, the beach, or wherever you're going.

Forget about the Disney Vault, it's all about the Moroccanoil Beauty Vault. This limited-edition set, first of all, looks luxe as hell, and it also contains seven of Moroccanoil's best-selling hair and body products, in perfectly convenient travel-size versions. TSA can't tell you nothin'.

Under $50 for a pair of legit, not-paper-thin leggings sounds too good to be true, but it's real. I personally love a high-waisted legging, and these fit really well. As in, they won't be falling down but you won't have your breathing cut off either. Their sports bras also fit well and provide good support (I have this one and it's great). It's a holiday miracle!

I am not a gin person, so I am judging a bottle by its cover here. But, like, that black bottle is so chic. This gin has the classic gin flavor of juniper berries, plus notes of hand-picked Indian botanicals, like coriander and vetiver. Look, if you can actually taste those notes, more power to you. All I taste is my impending inebriation.
Betches may receive a portion of revenue if you click a link and purchase a product or service. The links are independently placed and do not influence editorial content.