The Best Shows And Movies Coming To Netflix In October
October used to remind everyone that there are other climates aside from violently hot, but we are already two days in and it is 88 motherf*cking degrees outside. Not to worry, though, Global Warming is totally some really elaborate and well-executed prank by China, everyone! Anyway, hopefully October will stop feeling like the inside of an oven sometime soon, because Netflix just added a plethora of amazing new content and I want to be able to binge without feeling guilty about never going outside. When it's hot out, I feel like I should be tanning at the beach, swimming in a lake or drinking on a rooftop. You know, just enjoying the great outdoors. When it starts getting chilly, as it is supposed to do in October, I am pretty content laying in bed with some SkinnyPop and a solid queue on deck. If this sounds like a great way to spend every night of the week, keep reading for our top new Netflix picks for October.
'Charlie's Angels'

Because I always arrive exceedingly early to movies, I was able to see the trailer for the new Charlie's Angels starring the most random cast ever Kristen Stewart, Naomi Scott and Ella Balinska, and I have to admit, I'm not impressed. Am I wrong for being loyal to the OG girl gang? Even though the jokes were corny af and the special effects were the definition of amateur hour, Charlie's Angels was and will always a masterpiece that should have stayed in the early 2000s. If you need reminding, the original and Full Throttle will both be gracing Netflix in October, so do yourself a favor and give it a watch. 
'Ocean's 13'

I'm getting aggressive nostalgia vibes with Netflix's new lineup, because Ocean's 13 is finally here. Matt Damon, George Clooney, and Brad Pitt? I wasn't old enough to appreciate these smokeshows when the movie came out in 2007 because I was too busy obsessing over Jesse McCartney, but now, as a 26-year-old woman with taste, I am all for this trio in Hollywood's most epic fictional heist. If you were also too young to understand the plot when it premiered during the simpler time that was 2007, watch it now because it's the kind of amazing that only these three foxes could serve. It's also the third and final movie in the Ocean's trilogy, so even though it marks the end of an era, there's always the female reboot of Ocean's 8, which came out last year. Obv not as good because it's not the same without Clooney, but I'm all for a cast of badass bosses making Anne Hathaway look like a f*cking idiot.
'Peaky Blinders' Series 5

On a very long train ride, I stumbled upon the show's Instagram account and, I have to say, Cillian Murphy looked damn good. So I spent the remainder of the train ride  watching the entire first season, and I'm not mad about it. The British show follows the exploits of the crime-ridden Shelby family in a post-World War I England. The family is actually based on a real gang who called themselves, you guessed it, Peaky Blinders, which has got to be the cutest gang name I've ever heard. The show is really good and feels like a cross between Downton Abbey and The Sopranos. If that didn't pique your interest, I don't know what to say to you. 
'Schitt's Creek' Season 5

I am very behind on this show, so I wish I could be as pumped about the fifth season as some of my coworkers are. Even with my limited exposure (I'm on season 2), I can tell it's amazing. It's the kind of show you can quote endlessly. I put this on when I need to chase a scary movie with some witty banter, or when I'm painting my nails and want some background noise. Also, if you've ever seen Best In Show, the couple who owned the terrier is in Schitt's Creek! They're also essentially playing the same characters minus the dog, so, there's that. Highly recommend this show if you need a laugh or are in the mood for something made in 2019 that isn't a sh*tty remake. 
'Blow'

The only word to describe Penelope Cruz in Blow is "goals." Like Peaky Blinders, Blow is based on a real gang and a real event, but that's about the only thing these two productions have in common. Blow, as the name indicates, zeroes in on American cocaine smuggler George Jung, and his time spent doing business with the Medellin cartel. As you can imagine, things didn't go well for our boy George (played by Johnny Depp). Penelope's character ends up marrying George, but the two do not live happily ever after. For those mad about spoilers, you've had 18 years to watch it, so sorry, I'm not sorry. This movie reminds me of a more romantic Sicario, so do with that observation as you will. 
'The Time Traveler's Wife'

Not to be that person, but the book is significantly better than the movie. The Time Traveler's Wife is f*cking sad, so if you're in the mood to drown in a pool of your own tears, put this sobfest on. I feel like the title says it all, but if you're unfamiliar with the plot, here it is in one sentence. Regina George meets her future husband when she is a child and he is a full-grown adult, but their marriage problems are a little worse than most because he travels through time unexpectedly. Even though it sounds painfully cheesy, it's actually great and Rachel McAdams' performance is reminiscent of a slightly older Allie Hamilton, but with her sh*t together. 
'Haunted' Season 2

Truth be told, I do not watch this show because I have the fear management of an infant, but if you're into scary sh*t, you'll like this show. Netflix says, "This reality series, which comes from the producers of The Purge and Lore, provides viewers with a chilling glimpse into first-person accounts of supernatural events." Yep, I will not be watching this since I couldn't even make it through the preview of The Purge. 
'No Reservations'

I saw this movie by myself in a theater because the girl I was supposed to see it with got into her first fight with her boyfriend as we were standing in line to purchase our tickets. Unfortunate circumstances aside, I still loved this movie because Catherine Zeta-Jones and Aaron Eckhart have some seriously steamy chemistry. The movie is a classic rom-com with a tiny sprinkle of untimely death, so you will laugh and you will cry. Head chef at a swanky New York restaurant, Catherine Zeta-Jones is your typical no bullsh*t perfectionist whose world gets turned upside down when her sister dies and her niece becomes Catherine's responsibility. Great movie that I highly recommend for a night in with Pinot. 
'Shine On with Reese' Season 1

Horrible name, but our favorite mini human Reese Witherspoon gave into the public's demand and started her own talk show! She only interviews women, which I am definitely down for, and she does a fantastic job. Her guests are also super varied, so get ready to hear from people like country music icon Dolly Parton and Spanx founder Sara Blakely and everyone in between. Why didn't she start doing this decades ago? I would have definitely watched an early 2000s Reese interview America's fiercest female leaders. 
'Living with Yourself'

The only allure of this show is the fact that Paul Rudd is in it. It hasn't come out yet, but the trailer looks a little suspicious to me. According to Wikipedia, LWY "follows the story of a man who, after undergoing a mysterious treatment that promises him the allure of a better life, later discovers that he has been replaced by a doppelgänger." I mean, minus the doppelgänger part, this sounds exactly like the plot of Deadpool. Tell me I'm wrong. 
A few goodies saying goodbye in October include,  Julie & Julia, Charlie and the Chocolate Factory, The Sisterhood of the Traveling Pants, Pineapple Express and The Carrie Diaries: Seasons 1-2, which honestly doesn't sound like a huge loss to me. we'll be busy enough with the new shows and movies to cry over Pineapple Express leaving.
Images: Thibault Penin / Unsplash; Giphy (10)
The Most Expensive Celebrity Weddings
The winter months are finally behind us, and we are entering into the most beautiful season of the year. Wedding season! There's almost always an open bar, shrimp cocktail, and the potential you'll make out with your step-cousin. What's not to love? In fact, I'm currently looking forward to my brother's wedding, where, with the help of my unlimited Bar Method membership, I plan on outshining everyone and calling it "Cait's Big Day." See! These things are fun!
But I hate to break it to you: no matter how awesome your sorority sister Deborah's all-inclusive Cabo nuptials were, they were a mere dumpster fire compared to the opulent events that celebrities throw for their weddings . I guess when you made a billion dollars on a sex tape, why not get married in a castle for the publicity to celebrate the third time you found your true love? It doesn't make a mockery of the sanctity of marriage at all! This year, the main event we're all waiting for this year is the marriage of the King and Queen of Extra, J.Lo and A-Rod, where I'm sure as a party trick they'll have Instagram models lighting stacks of hundreds on fire, and serve champagne spiked with liquid gold. But since we don't know exactly when that's coming, I've decided to take a look back at the most expensive celebrity weddings of all time. Proceed with caution, because these numbers have been known to cause extreme jealousy and even rage blackouts.

1. Nick Jonas and Priyanka Chopra
You can't mention extravagant weddings and leave out our most recent gluttonous celebrants, The Hottest Jonas Brother ™ and his Bollywood star bride, Priyanka Chopra. Nick and Priyanka had not one, not two, but THREE wedding ceremonies, all in the hopes of luring Duchess Meghan to just one, but apparently she was busy making Kate Middleton cry or whatever. Kidding! I mean, not kidding about the three weddings, I would never joke about something like that. I'm kidding about them trying to trap Meghan Markle into coming, I'm sure they know she already dropped them faster than ABC dropped Quantico.
One of the weddings (don't ask me which one, I'm already exhausted from this story and I have numerous disgustingly ostentatious weddings to go), took place at the Umaid Bahwan Palace, a royal palace-turned-hotel in India, which costs $60,000 a night. They also put on a fireworks display and wore custom Ralph Lauren designed outfits. I know you're wondering, "Did poor Nick Jonas have to spend all his Camp Rock money on this wedding?" and the answer is a resounding NO! Thankfully, our lovely couple got practically the whole thing covered by sponsorships including Tiffany & Co, Longchamp, and Elit Vodka. I hope you all are able to get sponsors for you own weddings, because is it even true love if you aren't getting paid for it?
2. Kim Kardashian and Kris Humphries
TBH I totally forgot Kris Humphries existed until last week, when he decided it was important to let the world know he is the proud owner of a Five Guys franchise. Congrats! This revelation really just made me hungry, but it also got him into this story, so I guess he can call it a win?
In case you also forgot about Kris, let me refresh your memory. His wedding to Kim reportedly cost $10 million, $20K of which was spent on the cake that they all enjoyed, and then they immediately went to their plastic surgeon and had the fat the cake left on their waistline injected into their asses. I'm just speculating, but we all know it's plausible. This wedding is especially fun because it involves math! If you spent $10 million on a wedding that last 72 days, how much did that cost you per day? Probably more than Kris's Five Guys franchise will ever take in, that's for sure.  (It's actually $138,888.88 per day, if you're seriously curious).

3. Kim Kardashian and Kanye West
After Kris Humphries, Kim decided she needed a more famous husband fell in love with longtime friend Kanye West. So, in typical girl-with-no-shame fashion, she decided to throw yet another obscenely expensive wedding.
Kim and Kanye got married in Italy at the Forte di Belvedere, which cost over $300,000 to rent. There was a performance from Andrea Bocelli, and her gown was Givenchy Haute Couture. Okay, now listen hard, because this is the only nice thing I'm ever going to say about Kim Kardashian: I kind of liked her dress. Now excuse me while I go burst into flames. Anyway, the lovely couple was married amongst their friends and family, except for Rob, who deemed himself too fat to attend. If only we could all use that excuse Rob, IF ONLY. When all was said and done, the event cost around $2.8 million, according to E! Online. That sounds atrocious, but TBH the cost per day is WAY less than her wedding to Kris Humphries, so it was practically a bargain.
4. George and Amal Clooney
When the ultimate bachelor announced his engagement, the world was stunned. Everyone thought that George would grow old with his motorcycle and Max, his potbellied pig. But he gave it all up to eventually run for office marry a gorgeous British human rights attorney. Fine, if you had to settle, George, I guess she'll do.
The pair got married in Venice, with their A-list guests arriving by boat and looking every bit the movie stars they are. Everyone stayed in Cipriani hotel suites that cost a reported $3 million, and George looked dapper in his Giorgio Armani tux, while Amal wore a custom Oscar de la Renta gown, which she showed off on the cover of People magazine. The whole event cost over $4.5 million, and that doesn't even include all the Casamigos Tequila that I'm sure George provided at no cost.
5. Prince William and Kate Middleton
Finally, we get to the royalty! The parents of the most badass member of the monarchy, Prince George, got married on April 29, 2011. Their wedding is unique because most things didn't actually cost money. The castle for the reception? Oh no biggie, they own it. The tiara? A loaner from the Queen's personal collection. Kate's makeup? Oh, the future Queen consort will do it herself, thanks. So why the f*ck did this wedding cost a reported $34 million? SECURITY. That's right! A whopping $32 million was spent to keep this event secure. And I guess it was worth it? All members of the royal family (as well as Pippa's iconic backside) survived the event and have lived on to bless the world with their beautiful offspring, mediocre fashion, and petty family fights.
So there you have it, all the sh*t celebrities waste money on for marriages that probably won't last most expensive celebrity weddings. I wish there had been more circus performances and puppies serving appetizers to report on, but if that happened, no one is telling me. Fingers crossed J.Lo will do it!
Images: Giphy (2); priyankachopra, kimkardashian, about_clooneys, katemiddletonphotos/Instagram 
The World's Second Most Anticipated Celebrity Twins Are Here
While you were focused on Beyoncé's twins (who are they? when are they? how can I meet them?), you may have forgotten that there are like, other rich and famous twins being born to the world. George and Amal Clooney welcomed their own Carter twins pregame bundles of joy today, a boy and a girl named Alexander and Ella. Congrats to George and Amal, not only for successfully bringing two lives into this horrible nightmare world, but also for naming them two very reasonable things. I guess this is what happens when one of you is an actor, and the other is an internationally famous human rights lawyer. Sure, one person in the relationship might be inclined to name their children Solo Cup and Dixie, but the other half of the equation is there to say, "There are starving twins in Africa and we're naming our babies something normal."


According to a statement released by the couple ealrier today, "This morning Amal and George welcomed Ella and Alexander Clooney into their lives. Ella, Alexander and Amal are all healthy, happy and doing fine. George is sedated and should recover in a few days." 
Ugh. Could this couple get any cuter. Not only do you have two normally named children, but you also have time to throw a funny joke into the mix? My only qualm here is that I'm a little surprised that Amal went for the straight Clooney, rather than doing a hyphenated last name, but then again she did just give an eight-month-pregnant-with-twins speech at the UN like three weeks ago so I'm not gonna come out here and say Amal Clooney is doing feminism wrong. Speaking of feminism, I will now fill the traditional "when will she get her baby body back" portion of this article with gifs of Ruth Bader Ginsberg. You're welcome.


Wow. That was empowering. Congrats to George and Amal (but mostly to George, who is pretty obviously getting more than what he's giving in this arrangement) on the birth of their healthy happy twins! Let them enjoy the spotlight for now and then use the birth of the Carter twins as an opportunity to teach them a valuable lesson about knowing your own worth and taking an L when necessary.
The 15 Hottest Older Men That Might Convince You To Get A Sugar Daddy
Anyone who tells you we don't need feminism anymore is officially an idiot, but there are some redeeming things about being a woman in 2017. We can vote, open credit cards without our husband's approval (and max them out on shit we don't need), and most importantly, objectify men to our heart's content. It's practically our duty as modern women to turn the tables and make our grandmothers proud.
Well, not my grandmother in particular, but surely some elderly woman out there somewhere would approve. Maybe that lady from The Golden Girls?

All this is to say that as you read the following list of the hottest older men in Hollywood, you're basically doing gender equality a favor—reversal of the male gaze and all that jazz. Btw, if you're not normally into dating people your dad's age (reasonable), consider this your reminder that age is just a number when you have access to the world's best dermatologists and your livelihood depends on being absurdly attractive. Enjoy.
1. Idris Elba

Idris Elba is British, more than six feet tall, and everyone wants him to play James Bond. Move the fuck over, Daniel Craig.
2. Pharrell Williams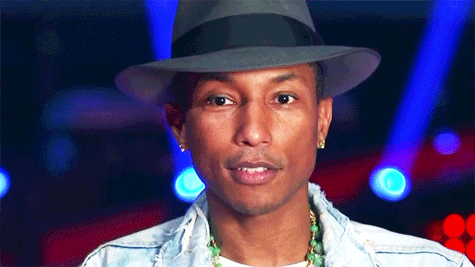 Not only does he have a ridiculously perfect voice, but he also has better skin as a 44-year-old man than you could ever hope to achieve. We're actually not sure that Pharrell is actually 44; we're pretty sure he's a 116-year-old who sold his soul to the devil many years ago in exchange for eternal youth. But whatever, he fine. If only he would lose the stupid hat.
3. Hugh Jackman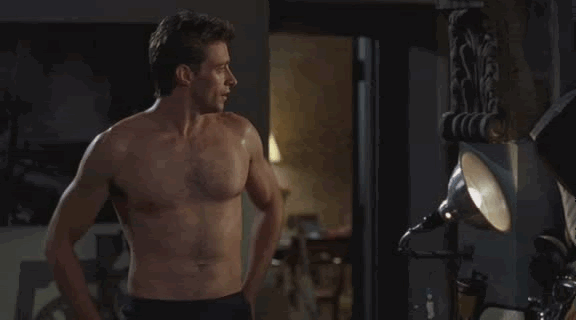 More like Hugh Jacked-man. Right? Right?? I'll stop now. Mahalo.
4. Jeffrey Dean Morgan

I challenge you to watch the latest season of The Walking Dead without wanting to hate-fuck Jeffrey Dean Morgan's character. I refuse to believe I'm the only one.
5. John Stamos

He was hot as Uncle Jesse, and now John Stamos is hot as… whatever he's doing now. Reminding people he was Uncle Jesse?
6. Pierce Brosnan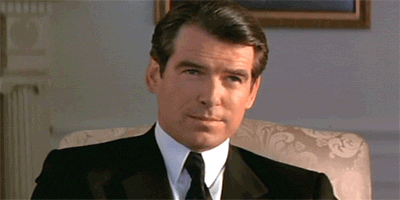 Pierce Brosnan can out-smoulder a dormant volcano. Pierce Brosnan, BTW, is a former James Bond—not to be confused with Piers Morgan, that British conservative talk show guy who everybody hates.
7. Antonio Banderas

Ignore the fact that he voiced Puss in Boots and appeared in Interview with a Vampire, and focus on his accent and cheekbones. Don't lie; you were in love with him since his Spy Kids days.
8. Lenny Kravitz

Is Lenny Kravitz drinking the same magical age-defying elixir as Pharrell?
9. Norman Reedus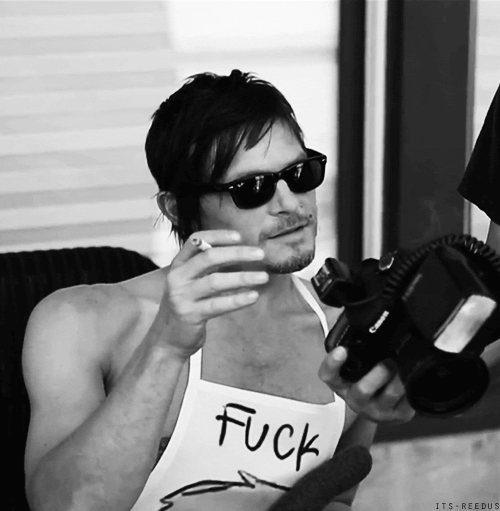 Yes, he looks kind of unwashed and eerily resembles the guy you see roaming around the campgrounds at Coachella without any friends or camping gear in sight, but check out those arms. That's the kind of muscle I'd want on my side during a zombie apocalypse for ogling and survival purposes.
10. George Clooney

Do I really need to say anything?
11. Blair Underwood

Sorry Gossip Girl, but this is probably the hottest Blair in history.
12. Jason Isaacs

Jason Isaacs is famous for two reasons: 1) playing some guy in the Harry Potter movies, and 2) being hot.
13. Daniel Dae Kim

JFC, can he put away those cheekbones? You're gonna cut someone with those.
14. Daniel Day Lewis

Different Daniel Day, same ridiculously perfect bone structure. Although it would be cool if he would quit taking roles that make him ugly on purpose.
15. Colin Firth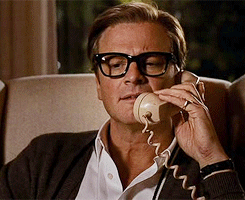 You had to know this was coming. Colin Firth is universally acknowledged as the hottest middle-aged man in the universe, let alone Hollywood.