6 Ways To Tell If Your Hookup Wants A Relationship
If you're at a point where you're totally ready to get into a serious relationship, it's annoying when someone you've gone on date after date with ends up only having wanted to get into your pants. It's understandable that experiencing this can make you want to flat-out ask the next person you date whether or not they want a relationship also, which Jared and Jordana discussed on the latest episode of the U Up? podcast when a listener asked after how many dates this is okay to do. If you do ask, you run the risk of scaring that person away, especially if you just met. It's difficult to know when the right time to ask is, or if there is even a right time at all, but there are ways to take hints and find out on your own whether the person you're dating is in it for the long haul. 
1. They Open Up To You And Have ~Deep~ Conversations

Obviously people don't just reveal everything to any random stranger they meet. If someone opens up to you about something that's meaningful to them, it's a pretty good indicator that they'll be sticking around for a while. If they start conversations about deep topics, it's because they look at you in a serious and important way, not just someone to talk about lighthearted, fun stuff with. I know I wouldn't tell a guy about my crazy One Direction obsession unless I knew he was the real deal (and in too deep to become terrified of me and run away).
2. They Mention Future Plans That Involve You

If they talk about doing something together that would happen a considerable amount of time later, that means they want to still be in your life by then. Even something as simple as talking about going to a show that is a while away or that park that looks so beautiful when the leaves change color in the fall while it's still summer. What seems like just subtle suggestions can actually tell you a lot about where their mind is. No one that consciously doesn't expect, plan, or hope to move things further with you would hint at wanting to do something with you that would happen far enough into the future that they'd have to keep seeing you. They probably wouldn't even be thinking of cute things they want to do with you at all.
3. They Make An Effort To Stay In Communication With You

Worrying about someone texting you first seems a little middle school, but if they are actually thinking about you and truly want to stay connected to you, they'll initiate conversations. If you feel like you're the one who has to do all the work in terms of communicating, you're probably more into them than they're into you, and they probably aren't that serious about the potential for a relationship. Being a "bad texter" isn't a good excuse, because if they really were excited to talk to you, they'd be all over it.
4. They Don't Wait Too Long Before Trying To Plan Another Date With You

It's probably a bad sign if the person you've gone on a few dates with doesn't try to plan another one until a few weeks have gone by. This gives off the impression that they don't really care to foster a stronger relationship with you and don't put you high on their list of people they want to make plans with. On the other hand, you're clearly on someone's mind if they are eager to see you again, and they most likely want to keep moving things forward with you.
5. They Talk About Their Friends And Family With You

Friends and family are usually the ones people are closest to. If someone openly talks about the people in their life that mean the most and the potential of you meeting them, that is probably a good sign that you're someone they could see themselves getting into a relationship with.
6. They Remember Small Details About You

If you're ordering dessert and they ask why you're getting the cheesecake and not the chocolate cake because they remember how much you love dark chocolate, that means they're interested enough in you to pay attention to the little details you tell about yourself, which probably means you're more than just a date for the night to them.
To hear Jared and Jordana's thoughts on the question of after how many dates you can ask if someone wants a relationship, you can listen to the latest U Up? episode below.
Images: Relevante design / Unsplash Tumblr; Tenor (5)
12 Signs Your Guy Friend Wants To Date You: For The Clueless Among Us
As we've said before, heterosexual guys and girls can't really be friends, because in almost every situation at least one party is just biding their time until the other person lets their guard down and finally lets them smash. The friend zone (a term which we object to on principle but will use for convenience sake here) can be a chill place when you and your guy friend have both agreed that's where you'd like to be, but as literally every sad Reddit commenter has taught us, a lot of guys are only in the friend zone because they don't know how to get out if it. For these guys, being in the friend zone is like when you go to a party where and there's no more alcohol left, just sober people playing Apples to Apples—you want to GTFO as quickly as possible. In order to spare the men in your life this turmoil (because men have it really hard these days), here's how to tell if they guy who you describe as "like a brother to me" is actually more interested in getting in your pants.
1. He's Always Free To Hang Out When You Want To Do Something
Even your besties aren't always free when you are. If your guy friend is always available, he's def bailing on other plans just so he can reply "nm what are you up to" when you ask him what he's doing. It's also safe to assume that he's lied and said he's hungry even though he just ate dinner. He also low-key missed his grandma's funeral so that he could make your birthday party, and ended up having to Facetime into the wake while you were on the dance floor making out with a rando.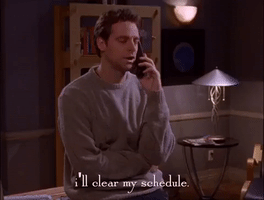 2. When You Talk About Dating Other Bros He Thinks They're All Assholes
To be fair, a lot of men are assholes, but most guys give each other the benefit of the doubt/don't give enough of a fuck to shit talk someone they don't know. It's like a bro code. Dudes will always stand up for fellow dudes' shitty logic, even if it means justifying punching through a window as a reasonable strategy for conflic resolution—unless, of course, he wants to date you. Then, suddenly, no dude is enough for you. They're all too dumb, too shady, or too tiny-penised to deserve your attention. If you actually listened to his advice, you'd realize that the intelligent, honest, big-dicked man of your dreams is right in front of you. Unfortunately for him, you never will because why would anyone ever take their guy friend's advice about dating?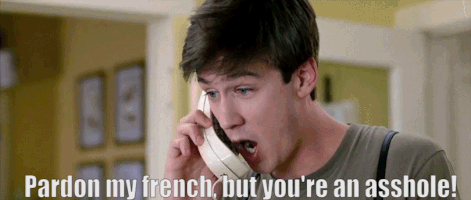 3. He Has Called You His "Fake Girlfriend" Or Introduced You As "Wifey" As A Joke
Guys have a hard enough time calling their real girlfriends their girlfriends, so the fact that he even wants to label you as anything other than a friend is his way of testing the waters to an actual relationship with you. Next thing you know he'll be like, "Wouldn't it be cute if you wore my Grandma's old wedding ring?" and "Hahahaha what if you signed this marriage certificate?" 

4. You've Never Actually Met Any Of The Girls He's Dated
He will mention going on dates sometimes, but you've never met any of these girls. Who are they? Even a brief look at his Instagram will show that his interactions with females are limited to tagging you in photos, liking your photos, commenting on your friends' photos of you, and the occasional Russian sex bot. When some rando girl eventually does pop into his life, it'll take about two days for her to realize who the real woman in his life is and commence hating you with a firey passion. She'll spend the entire relationship being fake AF to your face and demanding to know why you're his best friend on Snapchat behind closed doors. 

5. He Takes You Out For Dinner On Your Birthday
Anything other than buying you a shot at a birthday party all your friends are already at is a lot to begin with. But if he takes you out for a separate meal on your birthday, he's either trying to date you or adopt you. Probably the former, all things considered. He'll probably even jokingly refer to it as a "date" like five to 10 times before you realize what's going on, pretend to have a birthday emergency, and tell him you'll Venmo him for half the bill knowing full well he'll never charge you. 

6. He Walks You To Your Car/Door/Subway Stop When You Say Goodbye
After you guys hang out, he makes a point to walk with you to the farthest point he can accompany you to, because he doesn't want to say goodbye. Also he's probably hoping he will finally make a move, but he won't. He'll just walk you to your door at which point you'll tell him about the hot new guy who moved into your building, get distracted by your phone, and go inside without even so much as an awkward side hug. He'll chill on your porch for another 5-10 minutes, debating running inside and confessing his love, before going home and masturbating to your Snap story instead. 

7. He Responds To Your Texts Right Away
This one is self explanatory. Your mom doesn't even do that.

8. When You Go Out With With A Group Of Friends, He Never Hits On Other Girls
I mean, unless you count all those drinks he bought you. You try to point out girls for him to talk to, but he always seems to have a problem with them. They're not pretty enough, they look bitchy, too blonde, too tall, too skinny, not you, etc…

9. He's Always The First To Comment On Or Like A New Pic When You Post It
It's almost like he has an alert set for your Instagram posts (he does). 

10. He Always Watches Your Snapchat And Instagram Stories
He's hoping you'll give him a clue to how he can get you to like him more. It's like, he's just hanging by his phone hoping you'll post "First person to watch this gets to be my boyfriend!" but alas, it's just another dog face selfie. 

11. He Remembers Shit About You That You Don't Remember Telling Him
He remembers that every day in third grade you used to share your lunch with that little skinny squirrel, and that time you read your poem "I Wish I Was A Mermaid" to your entire fifth grade class and your hands were shaking. Also, he named his boat after you.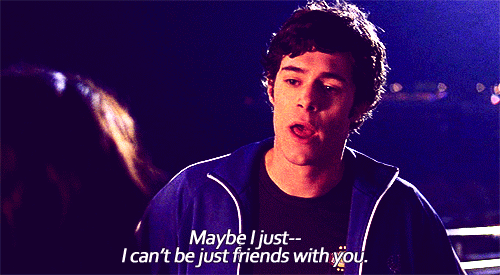 12. He Says "You're Cool" Or "You're Great" Just Because
I mean, we know we are cool and great, perhaps even "grool," but he's spending time during his day thinking about you enough to warrant an unsolicited compliment text, and that means he sees you as more than a friend. Also he's like, a little obsessed and there's no way he wouldn't be the type of boyfriend that wants to merge calendars to figure out exactly how to meet up at every available point in the day. It's exactly this clingy obsession that will always prevent the two of you from being together, and will inspire his inevitable future career as a Men's Rights Activist on YouTube. 

What type of fuckboy should you date based on your horoscope? Find out here!
Dear Betch, How Do I Recover From Acting Like A Drunken Idiot?
Dear Betches,
I am suffering from some serious drunken regrets right now! I was casually seeing (regularly having sex, going on dates ~3x/week, talking every day, etc.) this guy for about 3-4 months. Naturally/unfortunately, I started to catch feelings and when I brought up how I felt and wanting to be a bit more serious, and he wasn't on the same page, we decided to end things and left off on good terms about a month ago.
I usually pride myself in my ability to not drunk text, but I was especially wasted this weekend and texted him around midnight. I was out and he was at home sober, but I told him to come over and he did. Totally blacked out when he got there and woke up confused with him in my bed. Usually we'd get breakfast or something, but he told me I was so wasted the night before and being so weird, saying the stupidest things, etc., but he wouldn't tell me what! He left shortly after and ever since I've been so embarrassed and can't stop obsessing over what I must've been acting like. I know I shouldn't care, we don't have many mutual friends and he's not someone I run into when I'm out, but still, I did have feelings for him and I don't like that his opinion of me probably isn't that great anymore.
Any tips on how I can get over the regret and embarrassment I'm feeling?
I love when people write into me like "How do I stop feeling sad over my ex?" or in this case "How do I stop feeling embarrassed?" The short answer is: you just fucking do it. I wish I could control other people's feelings, but I can't do that. If I could, I would use my superpowers for the greater good, i.e., getting Future to fall in love with me and not helping you overcome one slightly embarrassing moment. Just let it go/laugh it off. Everyone says dumb shit when they're drunk at some point or another. Until I complete the final testing on my time machine, you can't go back and un-say what you said to this guy. But for the record, when my time traveling device is complete I'm not sharing it with you bitches.

Dear Betch,
I dated my best friend and it ended terribly. He started seeing his ex again (primary reason for the break up) and I am absolutely psychotic and agreed to try and be friends (stupid) after a few tears were shed between the two of us. He informed me that his girlfriend doesn't like me (not shit, I wouldn't like me, either). I don't want to be her friend and I don't care whether or not she likes me but I am afraid that if I were to agree to be his friend: 1. she would turn him against me (she has already tried) and 2. that he just says he wants to be friends because he feels bad about what happened or wants me to tell him that what he did to me was okay and that as soon as I agree to be his friend again he will stop trying because he won't feel bad about it anymore.
There is no way on his own that he would stop talking to me—I am his best friend and we used to be inseparable. But the friendship was already damaged by our breakup and he has known her for much longer than he has known me. He also obviously chose her over me and was he a true friend if he could use me when he was lonely and move on that easily? They jumped back into their relationship the same day he broke up with me.
I am currently not speaking to him and told him that it is not likely that we can ever be friends. Although I agreed that our relationship got boring (his fault, no doubt in my mind) I think it was because I was trying so hard to make him happy since I knew I was the only person who could. We were a lot better when we were just friends but I don't know that he needs me now since he's the type of person that drops his friends and only sees his girlfriend when he's in a relationship.
I am considering two routes: not talking to him until they break up and he realizes how stupid he was for getting back together with her for the 38924th time or being a friend and talking to him. The main problem is that he really fucked up in a super serious way and I am the best person capable of understanding the situation. While it was frustrating to have to deal with everything with his problem, I know the best way for him to move on from it is by talking to me.
I don't want to lose him as a friend but he really didn't treat me like one by treating me so badly and getting back with his ex after he was well aware that I would not be able to accept that. She treated him so badly and it's one of those things where you hate your best friends ex and every time they get back together and they have the same stupid drama you just want to scream GET OVER IT you're not going to marry each other!!!!!! I told him that if he wanted to get back together with her he would lose me as a friend and that is exactly what he chose. He keeps asking if there is anything he can do to make it up to me but he must not have cared that much about me if he used me as a rebound and got back with his ex right?
The last time they got back together I honestly did continue talking to him in the hopes that we would start hooking up again but after being together for a while the sex got boring so I don't even know that this is worth it. The only things I could get out of this now are the "you were right, I shouldn't have done that" and maybe making him feel a little better (but I don't know that he deserves to).
Is he being genuine or does he just want to feel better about what he did? Or is he holding on to me to make sure he has a backup plan?
Sorry for rambling :/

You're all over the place. First, you're blaming him for being a boring boyfriend. Then, you're saying nobody could make him happy like you could. Are you a '90s pop singer? Cut that shit out. I'm getting whiplash rn from all the different positions you take in this letter (I will withold the Trump jokes—for now). Anyway, yeah, you should stop being friends with this dude. Do I really have to rehash the "You never had a guy friend, you had someone who was willing to play the long game and wait it out until he could fuck you" thing? Because I'll do it. Oh wait, I guess I just did. Anyway, yeah, stop talking to him. If you dated, he's no longer your "friend"—he's your ex. I wouldn't want my boyfriend talking to an ex he just broke up with, either.
Also, "I know the best way for him to move on from it is by talking to me" ??? Bitch, what? You really think the best way for this guy to get over his relationship with you is by talking to you about it? Are you on drugs? I don't have time for this. Distance yourself from this "friend." Bye.