What His Room Decor Says About Him
I consider myself a realist. Therefore, I do not expect the room decor of a 20-year-old male to resemble that of an IKEA showroom. Most people, in fact, don't expect to be blown away by the interior decorating skills of a college boy, and would be really impressed if they even had a fitted sheet on their bed. What I'm trying to say is that the expectations are LOW.
That being said, whether heinous or slightly less heinous, a guy's room "decor" (and I use that term loosely) can reveal a lot about him and tell you the kind of f*ckboy you're dealing with. Without further ado, let's judge a book by its cover.
SAFTB Flag

It's only fair to begin with the most common f*ckboy room staple piece. This flag is like the male equivalent of having a tapestry from Urban Outfitters. The "Saturdays are for the Boys" (SAFTB) flag is the epitome of douchebaggery, especially if it ever gets brought out in public. If you're in college, you've definitely experienced the SAFTB flag f*ckboy and the type of sh*t he likes to pull. Drunk texting you annoying sh*t while you're out with your friends. Making you Uber to his house at 2am, only to pass out in a puddle of half-eaten pizza and his own vomit, leaving you outside shivering in your cop top. And, god forbid, actually muttering the words "Saturdays are for the boys". Basic decor. Basic f*ckboy. 
Records/Music Walls
The problem with this type of guy is that he thinks he's "edgy" and "different" when in reality he fails to notice that Frank Ocean and The Lumineers are not, in fact, underground artists. This f*ckboy will likely attempt to model his outfits after, like, Tyler the Creator, and he'll own more cross-body fanny packs than you do. He will pretend not to notice you whenever he has his AirPods in and will sh*t talk you for listening to Adele. You may have a few fun dates and convince yourself that you're ~branching out~ with both your taste in men and music, but before you know it you'll grow exhausted of his pretentious conversation topics, drop him, and start to crave trash pop music again. 
Beer Boxes
At least one wall in every f*ckboy's dorm/apartment/house is covered in boxes from whatever beer is the cheapest rack at the local liquor store. Unless he's in a frat, in which case, at least two walls will be plastered with beer boxes. Anyone with eyes can see this "decor" is just trash taped to a wall, but this f*ckboy sees this collection as a point of pride, and not an ode to all the empty calories he's consumed that semester (not to mention, all the brain cells killed).
This is the guy who thinks getting blackout drunk is a personality trait. He will always be found at the party next to the keg, being weirdly protective over it and criticizing everyone's pours. He'll sh*t on you for liking White Claw, but drink Natty Light like it's water. The one upside of this guy is that he's generally pretty fun to party with if you're both hammered… until he inevitably gets way too hammered. He's a great date for any events or mixers up until the point when he gets way too drunk, vomits in front of all your friends, and you're stuck apologizing for the drunken idiot you now have to force into a cab because he insists he's "fine". 
Excessive Sports Pennants/Posters
Though also incredibly basic, the excessive sports regalia f*ckboy is not to be confused with the SAFTB f*ckboy. This guy actually cares enough about a specific team to display a flag/logo/whatever in their room, whereas the SAFTB f*ckboy is just slapping the universal symbol for misogyny on their wall. The excessive sports paraphernalia is a dead giveaway that this is the kind of f*ckboy who peaked on his high school basketball team and will probably tell you stories about games and constantly claiming he "could've gone D1." Sure, Chad.

When it comes to a room drowning in fan gear, certain cities will spell doom for you. For example, if he is from Chicago or backs Chicago teams, be prepared to hear him whine about sports teams that consistently suck. This guy will probably have a minor gambling addiction and ignore your texts during football games while he loses a few hundred dollars. If he's from Boston, get ready for a giant superiority complex. 
"Witty" Political Posters
Political posters signal a f*ckboy who took a single political science class and suddenly thinks he's smarter than you. Picture Connor Roy from Succession. This guy will allllways have piping-hot "hot takes" that are really more half-baked than hot. He'll ask to not use a condom after saying he doesn't support Planned Parenthood, or refuse to pay for dates because "capitalism is a scam" or some sh*t, and he will generally talk to you like you're inferior. No matter what side of the aisle he finds himself on, you can bet that he will hang up a few political posters. But pay attention to the specifics, because those are the most revealing. For example, if he has a JFK poster, he's likely from the East Coast, and any money he's spent on you probably came right out of his parents' pockets. A Reagan/Bush '84 poster means he saw it on another guy's T-shirt once, and he only identifies as a conservative because his parents do. 
This obviously isn't a definitive list, and I'm not saying that there isn't still hope for these guys. But the sad reality is that most of us are dealing with some disturbing hodgepodge of all of the above f*ckboy traits. May we pray that one day these guys evolve and branch out to something a bit more civilized. Like a wall of LaCroix boxes or an Anthropologie candle.
Images:manny PANTOJA  / Unsplash; Giphy (2); @barstooluconn (Instagram: 1)
The 5 Types Of F*ckboys You'll Talk To In Quarantine
About five weeks ago, I left school to head back to my hometown of Cleveland, Ohio. As I speed-packed my whole room up, I tried to come up with a list of positives about this situation. The one silver lining I could think of was that we would be removed from f*ckboys. In fact, maybe f*ckboys would spend this time recovering, and just like nature, they too could begin the process of healing. They are the virus. 
Fast forward five weeks and I swear to God, every fifth text I get from one of my friends is bitching about f*ckboys. Some have even gone as far as to pitch their stories to me as ideas for another article (and while I appreciate the help, I sadly have enough content from my day-to-day interactions). It seems like f*ckboys have taken quarantine not as a time to better themselves, but as a time to strengthen their ability to be the absolute worst. 
Not to rip off Carrie Bradshaw, but all of these stories had me thinking, have the f*ckboys gotten stronger and bolder in the Q? Or, have they been like this all along and we are just now beginning to notice it?  
Like the Four Horsemen of the Apocalypse, the Five F*ckboys of Quarantine have come riding in on pale horses, ushering in a new period of sh*ttiness in dating. But I would never dream of leaving you unprepared for navigating f*ckboys in these trying times, so here's my guide to the five f*ckboys of quarantine.
The Ghost: Quarantine Edition
Definition: We all know what ghosting is, so you shouldn't really need an explanation. The CDC is learning more about COVID-19 every day, and your f*ckboy expert (me) had the privilege of learning first-hand about how much of a blow to the ego it is to get ghosted while social distancing. Ghosting right now should be a felony—like, honestly it might be on par with murder. Here's the thing, even f*ckboys know this, so ghosting in quarantine looks a little bit different than in real life. 
View this post on Instagram
How to spot them: Unlike a guy who ghosts you like, in normal conditions, this guy is more of a flake than a straight-up Ghost. We all need attention, he just likes to float around and get this attention from different girls. Babes, I'm sorry to say this: but he isn't too busy, he isn't "bad at Snapchat," and he certainly just "didn't see your text." Like all of us, he has nowhere else to go and nothing else to do. You know you're being ghosted (quarantine edition) if:
⭐︎ Your snap is left on delivered or open for 20+ hours—he got the notification and is waiting for you to get the hint.
⭐︎Every few days, he comes back around. We call this haunting. You'll exchange a few vague snaps back and forth. It's because he wants to keep his options open. (I fall for this often, please be better than me.)
⭐︎If/when quarantine ends, he'll probably try to resume his normal schedule of contacting you, as if he wasn't shady for the entirety of this crisis, especially if you were talking before. 
How to deal with them: As smart, self-sufficient, and socially distant betches, we have no time for being ghosted. As hot as he is, and as much as you enjoy texting him, all you're doing by trying to keep the Snap streak alive is hurting yourself. It's sad but very, very true. You're locked inside and there's no reason to make yourself more miserable than necessary. If you think you're stuck in this pattern but can't tell, stop initiating conversations and see what happens. You may not get the answer you want, but at least you know not to waste your precious emotional energy.  
The Boomerang
Definition: Quarantine has given us all a little bit of time to think about our behavior—even I have recently come to question some of the actions I have taken over the last few months. As someone prone to overthinking in normal circumstances, I know that the combination of stress + a lot of time alone can lead to regret and the urgent desire to make amends for past behavior. Adding in the fact that we are almost all drinking alone right now means that even f*ckboys (whom we previously thought incapable of remorse) want to repair what they have already broken. Enter: The Boomerang. 
How to spot them: You know the guy who fell off the face of the planet and killed your Snap streak, but continues to watch your Insta story? This is him. All of a sudden, Mr. Disappeared-Into-Thin-Air is back, and more interested than ever—but don't get used to his presence. You'll know he's a Boomerang if: 
⭐︎ He sends you a text that says, "How's your quarantine…" followed by one that says "I probably owe you an explanation" or any variation of that.
⭐︎ While initially it seemed like he was all in and willing to give round two a ton of effort (i.e., FaceTime dates, responding to you right away, ensuring that he is definitely not Snapchatting other girls), this behavior will change after a few days.
⭐︎ After about a week, the slow fade you're familiar with may start, and this is how we know the cycle of ghosting is beginning yet again. 
How to deal with them: Boomerangs are meant for mind games, and they absolutely aren't meant to be around for a long time—that's, like, the whole point of them. If this guy is someone who completely f*cked you over in the past, and you're looking to start a little drama or you need some excitement, literally ask him why he ghosted you. Show him the receipts. Go the whole nine f*cking yards (and please send me screenshots). If he ghosted you and you didn't really care, enjoy some light flirting, but as soon as you start developing feelings or this goes too far, send him on his way. 
The Fake Boyfriend
Definition: As excited as I am for all of the rom-coms about our time in quarantine to be made next winter, we have to remember that our daydreams about meeting a boy over Ship in quarantine and falling in love are fiction. As lovely as it may be to have a pen pal or two while you're stuck in the Q, there's a slim chance that your new love connection will survive more than a week in the real world. 
View this post on Instagram
How to spot them: A Fake Boyfriend goes way too deep way too soon, and maybe this is because we legit have no choice but to get to know each other for our personality but also, like, maybe not? You know you've got yourself a Fake Boyfriend if: 
⭐︎ Like a Boomerang, he jumps right in with the FaceTime dates, virtual happy hours, and, if he happens to be quarantined at home, you may even be ~lucky~ enough to meet his family. However, all of this will probably happen at a way faster rate than normal, because like, what else is there to do?
⭐︎ He ensures you that you're the only girl who is getting the girlfriend treatment, and there's a chance he's not lying, but you never know.
⭐︎ We are nowhere near this yet, but as soon as quarantine ends, you'll get an "I'm just not ready for anything serious right now" text. Shocker. 
How to deal with them: Listen, none of us are in the position to be rejecting attention right now, especially if you're as bored as I am. However, I don't advise investing a lot of emotional energy in a fake boyfriend. Talking is fun, especially in times like these, but don't put too high of a premium on his behavior. If this does happen to be a guy you think you can have a real connection with and you grow to really like, maybe try to go out together one or two times once we are allowed to, like, be around each other again and see if your relationship can withstand the test of human interaction. 
The One Who Doesn't Understand Social Distancing
Definition: We always knew that some f*ckboys were not as smart as the rest of us, but this guy takes the cake. He may acknowledge the severity of the situation, but he without a doubt thinks he is immune to COVID, is treating this as an extended vacation, and "is really excited about being back with the boys" when he returns home. Dude, no. 
How to spot them: On the surface, you can tell he might be, like, kinda trying to practice effective social distancing. He sure is all about it on Insta stories, which we love to see. However, he doesn't fully understand that now is not the time to drink with your friends in person, even from six feet away in your backyard, and especially not if you are doing this with a different group of people every night. Example behaviors are:
⭐︎ Posting a picture of him holding a Corona on his story, because he is really witty, and captions it, "day four of quarantine." As a bonus, this picture got posted on April 15th which is, like, five weeks after your state enacted stay at home orders.
⭐︎ Even more bonus points if the previous slide on his story is a picture of him and his bros, and they definitely are less than six feet apart.
⭐︎ When he starts to talk to you it might just seem like the normal quarantine flirting… until he asks you to come over… and is serious… and doesn't get the problem with the request. 
How to deal with them: In the immortal words of Meghan Trainor, "My name is no, my sign is no, my number is no, you need to let it go." Every time he invites you over, respond with an emphatic no and send a link explaining the benefits of social distancing. If this behavior continues, you may want to explain to him—very slowly—why he is part of the problem and how social distancing works. IDC how good the sex is, if you're reading this you are way too smart to put yourself at risk over (admit it) a mediocre-looking f*ckboy. 
The Aspiring Influencer
Definition: I get it, when the only other people you interact with are your siblings it's easy to think like you really have your sh*t together, but this doesn't make you an influencer. I honestly thought that only basic girls (myself included—I'm not not wearing a tie-dye set rn) and the boys who take mirror selfies at the gym would fall into internet traps during quarantine, but I was wrong. Guys who seemed relatively normal before this started are acting like they think they're influencers. And, if there's one thing our society does not need right now, it's a ton of frat guys with Dad bods promoting their TikTok-inspired SoundCloud remixes.
View this post on Instagram
How to spot them: It starts with that Bill Clinton record challenge exposing their super basic music tastes, maybe they even do a push-up challenge (not complaining about that one), but all of a sudden their social media usage has spiraled out of control. Weird, he didn't post a picture of you together from your last date party because he "doesn't really use social media," but all of a sudden he is the most active user you follow. You've got an Aspiring Influencer on your hands if: 
⭐︎ He started posting lame oversexualized attempts at doing TikTok dances and challenges. Guys, if any of you see this, I need you to know that it's an app made for 15-year-olds. Please stop thrusting your hips and commenting on underaged girls throwing it back. It's creepy and problematic. Thanks.
⭐︎ He genuinely thinks his vlog-style Snapchat story bitching about how he doesn't have lukewarm beer/Vat/or pot at home is the height of comedy. However, these posts would only be funny if he was being sarcastic and that's just not something that's in reach of his mental capacity.
⭐︎ He's posting more thirst traps than a girl who got really hot after a breakup. No shade, I just want to know where these guys' ability to look normal/hot in pictures was when I was trying to show their instas to my friends and the best option I had was a picture of them from 2017 holding a fish. 
How to deal with them: These f*ckboys are blatantly on the hunt for attention in these trying times, and, honestly, aren't we all? While they are ultimately pretty harmless and funny to sh*t-talk with your friends, if you're talking to an Aspiring Influencer, know that they are likely talking to other girls and that this new persona they have adopted will probably live on past quarantine. There's really no harm in continuing to talk to them, but just remember that their ability to be genuine is comparable to their ability to do the Renegade dance: abysmal. 
These behaviors could all be adapted to the real world. However, the constant ability for f*ckboys to surprise us just confirmed what we already knew: the devil works hard, but f*ckboys work harder… that is, when it comes to screwing girls over. 
In any other situation, I would advise against engaging with f*ckboys. However, these are not usual times and we all deserve a little bit of excitement and drama in our lives. Especially when we have run out of trashy dating shows to live vicariously through. As always, I am here to empower and validate your actions while still providing you with the information that will help you make smarter choices when it comes to f*ckboys. 
Everyone is super #stressed right now, and honestly, we don't need the added hassle of toxic d*ck. Have fun, but remember to avoid the f*ckboys who make you feel sh*tty. Just because your ex is hitting you up doesn't mean that you'll feel good after talking to him. And of course, under NO circumstances am I giving you permission to violate social distancing in order to see a f*ckboy!  
Images: Thom Holmes / Unsplash
5 More Types Of F*ckboys You'll Meet In College
"I'm not shocked, just disappointed." – My dad, after I drove my car into the fridge in our garage. Also, me when I realized there were even more types of f*ckboys to write about. 
If you recall, a few months ago, I wrote an article about 6 types of f*ckboys you are likely to meet in college. Honestly, we should have known that my initial list was not comprehensive by any means. As dumb as most college-aged guys are, they're super innovative when it comes to things like making bongs out of random objects and screwing over women. And, like that one scientist said, species must change if they are going to adapt and survive. 
First things first, I'm going to refer to the original article a few times throughout this one. Think of this as a higher-level class and the original post like a prereq. If you haven't read it yet, you might want to go back and read it first.
You've dealt with the basic f*ckboys. Now it's time to educate yourself on the advanced level f*ckboys. 
The Wannabe F*ckboy
Definition: If a classic f*ckboy is the king, the wannabe f*ckboy is like the guy who plays the trumpet every time the king enters a room. He's a total bro, in the ironic sense of the word, and lives to impress his friends. For reasons that elude understanding, he genuinely wants to be a f*ckboy, but he just doesn't have it in him.
AKA: "Brad's Wingman," "The Funny Friend," or, "The Less Hot One." 
Where to find them: Hyping Brad up for beer pong and awkwardly standing near his friends…poor guy. 
How to spot them: His outfits are either a little dorkier than a typical f*ckboy's or make him look like he's dressing up as a douchebag for Halloween. He wears shorts in the winter and loooves his Miami Heat LeBron Jersey, even though he isn't from Miami, and LeBron plays for the Lakers now. 
 You know he's a Wanna-Be F*ckboy if:
-He's always forced to be the wingman. And I mean always.
-He tells you, mid-hookup, that he's, "kind of a f*ckboy so you shouldn't get attached." As if you were planning on it. Like, okay, Jordan, thanks.
-Despite telling you not to get attached, after you hook up, he becomes super obsessed with you and texts you all the time.
-He tries really hard to be funny because it's usually the only way he gets attention.
-He introduces himself by his last name or a nickname he came up with that no one else uses. 
How to deal with them: Like a classic f*ckboy, you know what you're getting into with this one. Unlike a classic f*ckboy, you might actually enjoy being around him when he isn't trying to seem like an asshole. But don't forget, him making you laugh a few times behind closed doors doesn't make him any less likely to stop trying to get his friends to think he's hot sh*t. Usually that means making gross comments about women and actively trying to hook up with other girls in public. 
A wannabe f*ckboy will try to justify his behavior with the fact that he's still messed up from when his eighth-grade girlfriend was in love with a high schooler. Maybe one day he'll go to therapy and sort out why he feels the need to seek out Brad's approval, but until then, he's not worth your time. 
The Sugar Daddy In Training
Definition: Kind of like a finance bro, yet somehow dumber. He likes preppy clothes, has good taste in restaurants, is incredibly out of touch for a 21-year-old, and has no problem swiping his daddy's credit card. 
Where to find them: They're probably in the business school and are likely in a frat (even though they're too snobby to drink Natty Light). They like to go to bougie restaurants on the weekend as their version of a pregame.
How to spot them: A sugar daddy in training will be wearing dark-wash jeans, an expensive watch, and a name-brand shirt. Bonus points if he has an Off White or Gucci belt! These guys are often overly nice but have a bit of a creepy vibe as a result of their low-key sugar daddy energy. 
You'll know you're involved with one if: 
-You're not even dating, but he takes you to really nice restaurants and offers to pay for the full meal.
-You say no to plans because you have to study, and he brings up that he's paying as if that will make your exam not matter. But like… is he wrong?
-He orders absurd drinks at your sh*tty college bar and requests top-shelf alcohol. In reality, he can't tell the difference between Patron and Jose Cuervo.
-He'll always pay for your drinks, which is kind of cute. But he acts like it's his own money (it's not) and like you owe him something in return. You literally never ever ever ever owe a boy for drinks or anything else!!
How to deal with them: A sugar daddy in training might be fun. They usually have some personality and honestly, as a broke college student, a free meal might be hard to pass up. However, getting involved with these guys can get pretty icky pretty fast. If you do choose to hook up with these guys, more power to you, but the minute he starts treating you like you owe him sh*t or using a date to pressure you into anything, walk tf away. 
The One Who Just Broke Up With His Long-Term Girlfriend
Definition: After a two-year relationship, homeboy is single and not-so-ready to mingle. The types to be in these long-term relationships when they're super young tend to be serial daters. However, the trauma of a breakup (which was probably not his idea) makes him lose all sense of self.  
Where to find them: Blacking out EVERYWHERE. At a bar. In a frat house. During a tailgate. On a Tuesday afternoon. It's like Green Eggs and Ham, but if it were about Natty Light and taking shots. 
How to spot them: Well ladies, sad to say, but these guys often dress in civilian clothing, which makes it hard to tell whether or not he'll ruin your life. He's going to be acting like a 15-year-old boy who was put in charge of grocery shopping: all impulse control, no rationality. 
Here's how you can tell when a breakup is about to turn a boy into a total douche:
-He hooks up with any girl with a pulse, just because he can.
-He talks about how great "freedom" is. A lot.
-Because he's a "relationship guy," he ends up getting into a long-term thing with, like, the fifth girl he hooks up with post-breakup.
-He calls his ex "crazy," but still talks about her allll the time.
-He likes to remind you he just got out of a long-term relationship and isn't looking for anything serious. This likely happens right after he asks you to sleep over for the third time that week. 
How to deal with them: Repeat after me: you are not his therapist! He's not looking for his next girlfriend, he's looking for some form of stability as he attempts to get over his last relationship. I'm sorry to break it to you, but you're probably not the only life raft he's grabbing on to, if you know what I mean. If you have any expectations from him beyond a rebound hookup, you're playing yourself. 
 The One With Super Close (Girl) Friends
View this post on Instagram
Definition: If a guy is spending all of his time with a girl and claiming they're "just friends," it might be true, but he could also be full of sh*t. There's nothing inherently wrong with having friends of the opposite sex, however, more often than not, at least one of them has some not-so-platonic feelings. 
To get this out of the way: "Babe, you don't need to worry about her, seriously she's just a friend," is only okay when I say it, k?
Where to find them: At every sorority event as someone else's date, surrounded by girls at the bar, helping his 'friend' do random sh*t throughout the day.
How to spot them: He dresses exactly how every girl wants a guy to dress, and that's because his girlfriends are there to pick out his outfits. This guy is charismatic and good with girls, but it's only because he has a whole squad of (gorgeous) girl friends always by his side. 
He might be in love with one of his friends, or vice versa, if:  
-He gets really jealous when any guy talks to one of his girl friends.
-There's a weirdly sexual/romantic part about one of his "friends" in every story he tells.
-He has blatantly admitted to hooking up with one of his "good friends" in the past, but now "she's just a friend."
-If you do ask about any of the girls, he gets really defensive and kind of gaslights you into thinking you're crazy for being a little jealous.
-His girl friends are not fans of yours and have made that extremely clear to either him or you.
-His friends are the type of girls who hang out with guys "because there's less drama." *Barf.* 
How to deal with them: First of all, never give him an ultimatum unless you're really ready to walk away from him, because 99 times out of 100, he will pick his so-called friend over you. The best way to figure out what the deal between him and his alleged BFF is would be to try (in a way that isn't overly crazy) to become friendly with her. You'll be able to tell if either of them gets uncomfortable. If it comes to a point where you are in a real relationship, and he always picks her over you, walk away. 
 The One Who Glowed Up
Definition: Maybe he lost a ton of weight, got a good haircut, or finally started taking Accutane. But, overnight, the sweet, ugly-ish guy you used to flirt with for notes in Intro to Econ started looking really f*cking good. You and your friend walked past him this semester, and you had to ask if that was actually Adam. It was, and at some point recently, he went through a hugeeee transformation. 
Where to find them: These guys typically can be found near a bar, or at a frat party, they're always seeking out places they can find girls, just to show off their new looks. 
How to spot them: Guys who just got hot can occasionally be hard to tell apart from classic f*ckboys. At a darty (or anywhere where it is semi-socially acceptable), they'll be shirtless. If they aren't, they're wearing something that really screams for attention. After all, why work would they work that hard to get hot if girls still won't give a sh*t about them?  
You can tell he is very aware of his new good looks if: 
-He goes from being almost like a puppy dog in your presence to acting like he thinks he's too cool for you.
-He always blows you off for gym sessions.
-If he gets caught flirting (or, worst-case scenario, hooking up) with someone else, he tries to excuse it by blaming his actions on his new self-confidence.
-He's like a vegan now or on some equally as obnoxious diet to keep up his new look. 
How to deal with them: I would say he needs a significant blow to his ego, but it seems just mean to take something away that he worked so hard for. If you can find a way to subtly let him know that he's not the greatest thing to grace this planet, let me know, because I haven't really figured out how to do that without being a massive b*tch. 
Listen, as someone who has fallen victim to many a f*ckboy in the last 2.5 years, I don't suggest avoiding them altogether. Not only is it pretty much impossible, but I actually find f*ckboys totally fascinating. You can learn a lot from getting involved with a f*ckboy, that's what college is about after all, learning. However, to prevent emotional fallout, you must know how to deal with them and put them in their place. 
If you have more f*ckboy stories to share (whether or not they relate to these categories), write-in to the @offcampus insta stories or email them to [email protected]. 
Images: Eliott Reyna / Unsplash; offcampus / Instagram; Giphy
5 Signs You're Just A Hookup
Unless you're still dating your high school boyfriend like seven years later (congrats, weirdo), you've def come across a guy at some point and wondered, "is he actually into me or am I just a hookup?" It's something that you should figure out, specifically if you're emotionally unstable and afraid of rejection. Though I'm sure it's baffling that everyone isn't in love with you, men are, as a rule, idiots.
Once upon a time, I was an absolute moron and basically thought that if I started talking to a guy I'd eventually date him. That's when I stumbled upon the Betches dating book, I Had A Nice Time And Other Lies, one day and got a clue. This isn't even #sponsored, it's just how I found my way to this website. But also buy their new book because it's equally brilliant. K sorry I'll stop fangirling.

Anyway, you don't want to be a dumbass by focusing on a single guy and refusing to talk to other potentially even hotter guys just because you're convinced that you're going to start dating and you don't want to ruin it. That's stupid for so many reasons. Basically, here are all the signs you're just a hookup that I wish I had always known. These have been gathered from my friends and my own idiocy. I also polled some of my guy friends so you could get the ~inside scoop~.
Hopefully, you already know the obvious. If he only texts you at 2am, he doesn't want to date you. But boys, despite being complete buffoons to girls, are tbh a little sneaky sometimes. So without further ado, here are some slightly less obvious signs you're just a hookup and he's not that into you, sorry bb.
1. You've Never Seen Him Consume Anything But Alcohol
Either he's secretly a vampire (cue a Vampire Diaries marathon) or he doesn't want to waste money buying you food when he can just buy you shots in a few hours when you meet up at a bar. "Oh yeah, we'll get dinner next time but come to Kell's tonight!" Don't fall for that.
2. He Takes Forever To Reply
He takes a day to text you back, and when he does, his texts makes no sense, he doesn't answer any of your questions, he OBNRs your Snapchat (if you're, like, under 21 this is especially important), etc. it's one of the surefire signs you're just a hookup. If he replies with, "Oh sorry just saw this" or "Was slammed this week with work," you should call BS and move on. Three different guys I polled were like, "we're always lying when we say this," sooo consider it a line.

3. He Doesn't Take You To Brunch The Next Morning
Just because he let you sleep over does not mean he's necessarily into you. Like, okay, he didn't shove you out of bed at 4am. So, he's… a semi-decent human being? I wouldn't go announcing your impending nuptials. Ask yourself a few more questions: Did you wake up wedged between the mattress and the wall with no covers? Did he mutter something about how the door locks and run off to "use the bathroom" so you can change and leave ASAP? Did he promise to text you later even though you haven't even exchanged numbers? If you answer yes to any of these questions, ding ding ding (!!) he's an asshole, and he's probs not into you.
If, however, he offers to take you out for brunch, or even just a casual coffee at Philz, then things are looking up. At the very least, he better text you after hooking up.
4. He Doesn't Talk With You About Substantial Things
Do you know anything about his life? Like, does he have a little sister? Have a favorite food? Know when his next midterm is? And more importantly, does he know anything about you? Does he remember your birthday? Or like, I don't know, if you have a huge presentation for work? Basically, if he knows details about you, that means he cares enough to remember boring sh*t about your life. If he only remembers to text you Saturday night because ~suddenly~ he wants to know "what's up" then leave him on read.

5. He's Rude In Person
Either he's supremely awkward (in which case, ew byeeeeee) or he just doesn't want to talk to you. Sure, it's immature to be standing eight inches away from someone and not say hi, but really, you can't expect much from 22-year-olds who still think they're in a frat. Anyway, if he looks away when you walk by or mutters "hey" before walking off in the other direction aggressively "texting" then yeah, he's not interested.
Even though it may suck to realize that your future husband potential boyfriend person of interest isn't actually, um, interested in you, it's a healthy thing to realize. You really don't want to waste time and brain space on a guy that's not good enough for you anyway when you could be finding someone else instead or bingeing all the Netflix romcoms ever created, because tbh that sounds more fun.

Images: Giphy (4)
This Reader's Online Dating Story Is Everything That's Wrong With Dating
Last week, Twitter user, @SingleintheSou1 tweeted Betches with a screenshot of her text conversation. The texts were with a guy she'd matched with on Hinge a few days before, whom she had yet to meet. After bonding over a shared interest in football (can't relate), they swapped numbers. Then he decided to casually remind her what a hot commodity he is by mentioning he had a date. @SingleintheSou1 was not pleased. This led to a debate of sorts in our mentions. Some people said the guy did nothing wrong. Some people (me) called him trash (mentally, not publicly on Twitter). So we decided to reach out to the original poster to get her version of the story.
It all started with this offending text:
He thinks he can just slide that in there and I won't notice? We just matched a week ago and have a date sent for this weekend…. #WellThatsCancelled #cantmakethisup @betchesluvthis @seriouslybumble pic.twitter.com/gBDLaMFZK8

— Single in the South (@SingleintheSou1) September 4, 2018
LOL. Okay, my first reaction here was twofold. (Threefold, if you count the initial "green text" cringe.) First, good on @SingleintheSou1 for calling him out and not just being like "haha that's fun." (Definitely what I would've done, and I get wrecked by f*ckboys like it's my job. Just saying.) Second, how did this guy respond to her calling him out? Typically, there are two camps of douche here. Type A is your typical bro who will go with "u jealous? ;)" and then send a picture of his penis. Type B is the guy who will spend your entire relationship trying to convince you his emotions are more pure and urgent than yours, and who will act genuinely wounded when you don't want to discuss his date with him. Luckily, I reached out to @SingleintheSou1 and we have our answer.

Yep, type B douche if I've ever seen one, which definitely sucks because these are the guys who are much harder to get rid of. They tend to take "I'm not going on a date with you," as a jumping off point for debate, which it's really not. But hey, why tell you when I can show you. Screenshots continue below.


LMAOOOO. This is like, every single tactic guys try when they f*ck up with a girl, but all in one text convo. What a gift. What a goldmine. First, he tries to turn the fact that he mentioned dating other women into an abstract discussion of online dating. Doesn't he know that's what Twitter threads are for? Next, we've reached the "clearly begging" phase of trying to reset with "how was your day." Finally, we've got the "all right I'm going to CONFRONT her on this," (at 8:24am no less—anyone else think he drafted this the night before?).
The confrontation is classic bullsh*t. He tries to make her feel like she missed out on something he already said he wasn't interested in ("I was going to cut it off with them"—and LOVE that there's a "them" now). He weirdly tries to suggest this her fault ("you might ghost me at any time"). And finally, he turns it around on her with "were you not talking to other guys?" Never mind that that's in no way the point—she just didn't exactly want to chat with him about other women.
Anyway, my opinion is that this guy was a joke from the moment he mentioned his other date. But not everyone on Twitter shared that view. @daniellenpeart had the following to say:
If you're not in a committed relationship what's wrong with dating around?? I'm confused. It's a little weird that he slid it in there, sure.. but at least he was honest.

— Danielle Peart (@daniellenpeart) September 4, 2018
@SingleintheSou1 then responded:
Just like they said – no we aren't in a committed relationship but it's rude to be shady and talk about it before you've even been on a first date

— Single in the South (@SingleintheSou1) September 6, 2018
Yeah, I'm still going to have to side with @SingleintheSou1 on this one. It's true that guys should be honest if they're seeing other people—if you ask them. Sorry, but I guess I'm just not enough of a ~modern woman~ to want to discuss prospective matches with someone I thought I'd be going on a date with. I think a lot of the problems with online dating come from the fact that everything is so transparent already. Everyone knows that you can go home and swipe through hundreds of matches at any time—and nothing's stopping you from continuing to do that even if you meet someone you like.
But dating has always required building the illusion that you'd rather spend more time with that person than anyone else, even when it's really, really not true. You both have to be there in good faith, making an effort to make a connection. And that's hard to do when they insist on announcing it every time they go on a date with someone else who they would like more. Just my two cents. @SingleintheSou1, best of luck in your future pursuits—and thank you for including us on this journey.
Got a sh*tty dating story? Email us at [email protected] with subject line "Dating Horror Story". 
Images:  Single In The South; SingleintheSou1, daniellenpeart / Twitter
All The Gross Ways Leo Tried To Gaslight Kendall On 'Paradise'
I'll be the first to admit it—anyone still watching Bachelor in Paradise and expecting to see anything but the contestants at their absolute worst is a fool. And most of the time, I'm fine with that. But Leo talking to Kendall on last night's episode absolutely made my blood boil. I never understood why Becca kept him around as long as she did. And I understood even less when I started seeing the DMs Bekah was getting about him. As if it weren't enough that Leo's presence is breaking poor Grocery Joe's heart, Leo now decided to go off on Kendall in the most f*ckboy-ish way I've seen since Dean. Leo: you're not pretty enough to pull that off, and even Dean barely got away with it. Here are all the things Leo said to Kendall that should make you run far, far away.
"You're A Really Good Actress"
So (spoilers, kind of), let's remind ourselves why they're even having this fight. Kendall found out that Leo kissed Chelsea, and is understandably taken aback. Not even really because of the kiss—Leo's right, to an extent, that everyone's talking to everyone—but because he went out of his way to keep it a secret from only her. Doing that takes away any credibility that you're actually looking for a relationship. Kendall would obviously see that on TV when it aired. So, keeping it a secret proved that Leo just wanted to get a rose, not pursue a future with her. Color me shocked.
Moving on to the actual comment here—this is a classic move from a guy who's done something shady and doesn't want to deal with the consequences. Kendall isn't even outright pissed—she literally just questions him about it. But he immediately turns it around as though she has something to prove in this conversation instead of him. He acts like she could never have liked him at all if she's doubting him now, and tries to force her into the position of fighting for his affection. It's a classic bully move: she expresses unhappiness with one action, and he holds their entire history and relationship hostage unless she drops it.
This is how sh*tty guys get out of ever changing anything or apologizing. They constantly force their partner into considering their concerns too minor to risk the relationship over. But the fact is, the relationship should never have been at stake—and they wouldn't be putting it at stake if they really cared about it.

"You Really Tricked Me"
At this point, Leo has invented an entire drama where Kendall was only pretending to like him. Casual reminder that Kendall has said literally nothing to suggest this. Second casual reminder that they are having this conversation because LEO went for someone else. Just in case anyone else feels like they're taking crazy pills. Anyway, Leo spins all this bullsh*t at Kendall just to divert attention from his own messed up behavior, and try to make it about his own hurt feelings. Not only that, but to make Kendall feel like crap in the process if at all possible.
By refusing to even address what she came to talk about, Leo is being so dismissive that it's hard to believe he sees her as human. His only interest is in walking out with the upper hand—whether that's by manipulating her into coming back to him, or trying to make her seem like a crazy b*tch and walking away. This. Guy. Is. Garbage.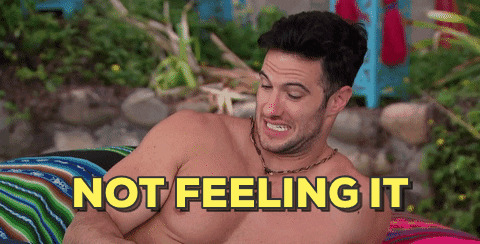 "I Don't Know How You're Still Single"
This moment in his tirade disappointed me, because Kendall responded by saying "you're making me feel wonderful." Admittedly, in the context of "you're also making me feel like crap," but still. Kendall, do not let this backhanded swill make you feel wonderful!!! Also included in this section of Leo's commentary were "I don't know how Arie didn't pick you" and "I don't know how you haven't found someone." All of these "compliments" are just a way of reminding her, when she's already vulnerable, that she is, in fact, still single. That Arie didn't pick her—which I'm sure was painful. That she hasn't found a guy, or been picked by a guy. All very real insecurities for anyone who's single and unhappy about it, let alone someone who has gone on two TV shows to find a boyfriend.
By negging her in this way, Leo is trying to chip away at Kendall's confidence. He's trying to make her less secure in her value by reminding her of times when she hasn't been chosen. And he's doing all this while responding to her saying "why did you secretly kiss another girl" with "I guess this whole relationship was a lie" and acting like he's over it already. He's hoping if he dangles the threat of being alone hard enough, she'll just say "never mind forget I said anything please just take me back!" Again, "I don't know how you're still single" is a terrible "compliment." "I'm so glad I met you" is what good, normal guys say. Good guys respect you enough to treat your relationship status as a choice, and not imply that they've failed at something by not having a boyfriend.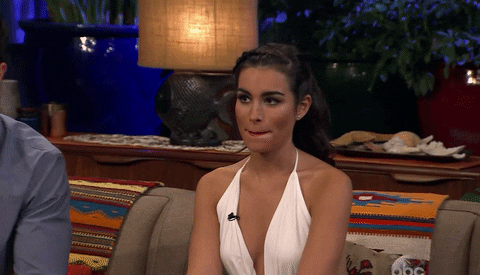 I'm sure I could go on, but you get the idea. Never, ever let guys get away with invalidating your concerns, redirecting every issue back to their own feelings, threatening the relationship every time you try to have a conversation, or actively trying to make you feel insecure. I am more than ready to see Leo go home tonight—Kendall, please girl, dump that hairy man-child and make it as cruel as you can manage.
Images: Giphy (3)
We Have Definitive Proof That Congress Is Just A Frat House
Isn't every frat bro's worst nightmare graduating and leaving the glory days behind? Well, they're in luck because they can just run for the House of Representative and spend the night with their legislative brothers. Yes, you heard me right. Congressmen sleeping in their offices, essentially getting free housing and not paying taxes on their place of residence, all while cutting government funding programs, is apparently a thing. It's a elected official's fuckboy's wet dream, really. 
WTF Is Going On?
If a building has Greek columns on it, it's automatically a frat house, right? It seems that somewhere between 50-75 elected officials (mostly men, because duh) have chosen to essentially live at their offices. This means they are receiving all of the bennies, such as free cable, free security, and free utilities during non-office hours. Fyi, it's potentially a violation of an ethics code that prohibits official resources from being used for personal use, so there's that. It's also like, really gross. Like, go stink up your own home with your morning breath, Paul Ryan.

Remind Me Why I Care?
Thirty GDI members from the Congressional Black Caucus (CBC) have decided the party is over and wrote a letter to the Dean of Congress, aka the House Ethics Committee. They stated that not only is it unprofessional and unsanitary, but also a misuse of government funds to live for free in the office. The CBC is on a mission to take down frat row and prohibit any lawmaker from using their office as a home too. Some women and Democrats are also partaking in the frat life, but most are also pissed and grossed out by it all. Another reason for this happening is that members are already on probation for certain bros dealing with sexual misconduct accusations. Again with the frat house similarities.

Who Wants To Live In An Office?
Members have been doing this for years and in the past have been praised for how frugal they are for couch surfing. Most members are in DC for less than 150 days a year, so paying $2,000 in rent just seems like throwing away money. In fact, members have been passed over for a pay promotion for seven years in a row now. It's almost like they aren't making good enough grades for Greek life to give them more funding. The office life isn't so bad though. There is a cleaning service, en-suite bathroom, mini fridge, and microwave ready to go, exactly like my freshman year dorm. The idea of laws being made in an environment similar to my dorm life is legit terrifying.

It doesn't seem like the House Ethics Committee is in a hurry to do anything about this, seeing as it's been two months since they received the letter of complaint. Looks like Greek life is on for lawmakers at the White House. Rush Congress 2018! It's not four years, it's for life until Trump fires you.
Heads up, you need to keep up with the news. It's not cute anymore. That's why we've created a 5x weekly newsletter called The 'Sup that will explain all the news of the week in a hilarious af way. Because if we weren't laughing, we'd be crying. Sign up for The 'Sup now!
Images: Giphy (3)
Is Justin Bieber Still A Fuckboy? An Investigation
Today is Justin Bieber's birthday, and birthdays are a perfect time for reflection. Justin is 24 now, but has he really grown up at all? It's a perfect time to look back on the past year in Justin's life, and ask the all-important question: is Justin Bieber a fuckboy? Obviously he was in the past, but does time really heal all wounds? Let's see.
Justin didn't put out new music of his own in the last year, but he was featured in a few big songs, most notably "Despacito." Justin sings in Spanish on the song, but we were unsurprised to learn that he didn't really know the words at all. Lots of people took offense at Justin supposedly mocking Hispanic culture, which is definitely something a fuckboy would do. We're just getting started, and already it's not looking good for Justin.
Fuckboy Points: +1
Last summer was a weird one for Justin Bieber. He was still on his Purpose World Tour, but he announced in July that he was canceling the rest of the tour dates due to mysterious "unforeseen circumstances." His manager posted on Instagram saying that the dates were canceled to protect Justin's "soul and well-being" and John Mayer also came to his defense. As much as it sucks for the fans, mental health is incredibly important, and we don't know all the details of what Justin was going through. Unfortunate, but not a fuckboy move.
Fuckboy Points: -1

Soon after canceling the tour, Justin found comfort in the form of the Lord Jesus Christ. Lol same. He started spending a lot of time with his creepy hipster Pastor Carl Lentz, and he also got a cross tattoo on his fucking face. There were even rumors that Justin and Pastor Carl were ~romantically involved~ but I guess it just wasn't what the Lord intended. So is Justin a fuckboy for Christ? Through God, all things are possible.
Fuckboy Points: +1

All of this other stuff is great, but clearly the most important thing that happened to Justin Bieber this year was his much-publicized reunion with Selena Gomez. Selena dumped The Weeknd sometime back in October, and within days had apparently rekindled her flame with Justin. They started going to church together (so pure!), which was just what they needed to go back to the way things were.
Fuckboy Points: 0 (Getting back with your ex while she's on the rebound is undoubtedly a fuckboy move, but Church seems (dare I say) wholesome, so they cancel each other out.

But Selena's mom wasn't having it. Mama Mandy didn't invite Justin to the Gomez family Christmas in Texas, and she was reportedly even hospitalized over the stress of her daughter getting back with him. While all of this is evidence that Selena's mom is a huge fucking drama queen, does it mean that Justin is also a fuckboy? Yes. Yes it does.
Fuckboy Points: +1
So, is Justin Bieber a fuckboy? For those of you with basic arithmetic skills, you'll notice our final fuckboy points count is at two, which is more than zero, which points to fuckboy status. I have nothing personal against Justin (slide into my DMs anytime), but if your girlfriend's mom is so scarred from the relationship that she's going to the hospital, you probably did something wrong. In the past five years, Justin has given us plenty of evidence that he's a major fuckboy, and people don't change overnight. He may have a beautiful, tatted body and the voice of an angel, but don't be fooled. Justin Bieber is still a fuckboy, sorry 'bout it.
Images: Giphy (3); Justin Bieber / Instagram