6 Fat Burning Foods You'll Want To Add To Your Diet Right Away
It's pretty damn tempting to buy every skinny tea and diet plan you see on Instagram, but honestly there's no real trick to fat burning unless you're eating a balanced diet and working out regularly. It took us a while to accept this tragic reality, but after trying every diet on social media and experiencing continual disappointment, it might be the hard truth. With that being said, there are definitely some foods that have certain compounds and nutrients that could help you burn fat more easily—fat burning foods, if you will. We did some research to find the superfoods that have been proven to help with weight loss, and we're currently ordering each one in bulk. Here are the fat burning foods you to add to your diet.
1. Cayenne Pepper
Pepper has a compound in it called capsaicin, which has been proven to spike your metabolism and boost your body's ability to convert food into energy instead of storing it as fat. Spicy foods also tend to suppress your appetite, which is one of the reasons why you may be super full after eating something spicy for lunch. According to the American Journal of Clinical Nutrition, you just need to add a pinch of cayenne pepper to your meal and it'll help your body burn fat after you eat. So like, pass the pepper.

2. Black Beans
Just in case you needed that extra push to order Mexican for dinner tonight, black beans may be one of the coveted fat burning foods, although that burrito might not be. If you ask me, black beans should be trendier than they are, because they're low-key magical. In fact, some researchers say they're equivalent to a fat-burning pill, but like, much more legal (some disagree, but over all, adding beans to your diet as part of a healthy weight loss regimen can help you lose weight). Black beans are filled with slow-digesting fiber that feeds the bacteria in your gut and trigger a chemical called butyrate, which basically helps your body burn fat more efficiently.

3. Grapefruit
It may be time to stalk up on grapefruits ASAP. In a 2006 study, scientists realized how magical grapefruits are when they asked a group of participants to drink apple juice everyday and another group to drink grapefruit juice everyday. It turned out the grapefruit people lost more weight and their bodies' metabolic rate sped up dramatically, and the apple juice people went home in shame (I paraphrase). Not only are grapefruits rich in bioactive compounds that help break down body fat and regulate your blood sugar, but they also lower your body's insulin and speed up your metabolism. Game changer. Just don't douse it in sugar, duh, because that defeats the purpose of fat burning foods.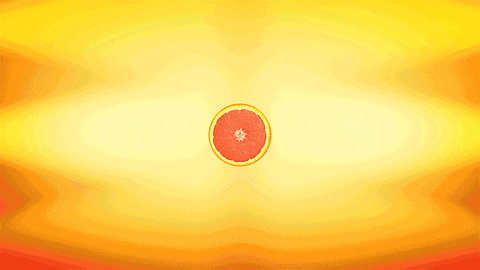 4. Bone Broth
You may have seen your favorite health bloggers sipping on homemade bone broth recently, but this trend actually has a ton of scientific proof behind it. Bone broth is filled with vitamins and collagen, and its nutrients can also help reduce inflammation in the gut, which often leads to weight loss. By healing the gut and filling our bodies with good bacteria, bone broth can make you less bloated, be better protected against sickness, and promote fat loss in the body.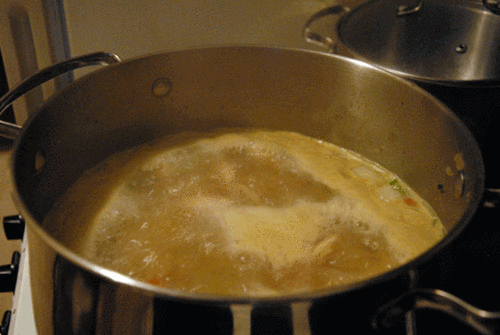 5. Eggs
People used to think the cholesterol in egg yolks would make you fat, but actually the opposite may be true. The egg yolk myth started decades ago, but it turns out we were wrong back then and we're like, much smarter nowadays (cue the video of people eating Tide pods in 2018). Eggs are packed with protein and vitamins, and the cholesterol in the yolk has no real impact on cholesterol metabolism in your body. Some evidence even shows that eggs may raise levels of HDL cholesterol in your body, which helps prevent heart disease. The protein and healthy fat combination in eggs will keep you full for longer and have been linked to fat loss, so like, it may not help you burn fat as expressly as some of these other fat burning foods, but eggs may help you lose weight overall. Bottom line, you can stop pretending you like egg whites.

6. Anything Fermented
Fermented foods, like sauerkraut, Kombucha, kimchi, kefir, tempeh, and miso are all foods that could majorly help your body burn fat. This comes back to the whole idea of the good bacteria in your gut. By improving your gut health, you help your digestion work better and boost your body's immunity. Nobody's promising that if you start drinking Kombrewcha you'll lose three pounds overnight, but these foods are super healthy for you and they just get your system working better, which could very likely help you lose fat, as long as you're not like, eating the sauerkraut on a hot dog. You're on your own in that case.

Images: Trang Doan / Pexels; Elle Hughes, Charisse Kenion, / Unsplash; Tiburi, Edwina MC / Pixabay;  Giphy (2)
What To Eat Before Going Out So You Don't Bloat Or Die
Does bloating ruin you day, your evening, and your life in general? Do you often try to be a responsible adult and attempt to eat before binge drinking, only to find that your meal has sabotaged you into looking like a beached whale? Lucky for you, we've rounded up the top 7 foods to eat before you head out drinking to AVOID the muffin top spillover and bubbly stomach that results from a bloated belly, so you can still rock that deep-V onesie. HOWEVER, these foods are still substantial enough so you won't end the night face-down in a stranger's toilet. Anyone who's ever tried to take shots after only eating salad for dinner can relate. We just saved your life. You're welcome.
1. Salmon
Blah blah blah drinking is bad and can deplete your body of vitamins. So have a piece of grilled or roasted salmon before heading out which will keep you fuller, help prevent a terrible hangover, and keep the bloat at bay.

2. Avocado
The avocado, the fruit we associate most with worship, is a great choice to prevent not being able to button your pants. Since it's full of healthy fats and digested more slowly than carbs, it'll keep you full without adding inches. So, whip up some fucking guacamole and have at it with like, not chips … which will bloat you.
3. Eggs
Full of protein like literally everything else on this list, whipping up an omelet is a legit choice for your night on the town. Eggs are also full of cysteine, which, according to the internet, is an amino acid that gives your liver a boost, which, obviously, you're gonna need.

4. Chicken
Kind of random, but munching on a piece of grilled chicken before seeing how many shots you can take will take longer to digest (keeping you full), is lean protein (keeping you skinny), and will help curb some of the hangover pain tomorrow. Just make sure we're not dealing with breaded or fried chicken … that'd be silly.
5. Hummus With Cucumbers
It doesn't get more basic bitch than this, but your skinny stomach will thank you. Hummus is chock full of vitamins and protein, which will keep you full i.e. when you're blackout you won't crave a burrito bowl quite as hard. The tahini in the hummus can also help prevent hangovers, so win. Why cucumbers? Because they're literally full of water and are one of the best things to help you stay hydrated AND non-bloaty.

6. Very Specific Fruit Salad
So we need to be fucking specific on this one. Make yourself a fruit salad with kiwi, honeydew melon, and bananas. The bananas have potassium and will help prevent a hangover. The melon is a diuretic and helps flush excess water from your system while working to replace electrolytes. Lastly, the kiwi will help you shit (honestly yah) which always makes us feel skinnier.
7. Kefir Yogurt
If you're in the mood for a parfait, use kefir yogurt as your base. It's tangy, thinner than your typical Greek variety, and helps break down lactose which can cause bloating and stomach pain. Throw some nuts and honey on top and you're ready to take shots.
Get F*cked Up Off This Grilled Pineapple With Tequila Sauce Recipe
Temperatures will ACTUALLY be up this weekend, so it's time to get the fuck outside and grill—or invite your boyfriend over to get outside and grill. Since we're betchy and don't really want to partake in the whole "stuffing our faces with burgers" thing, let's grill fruit and soak it in alcohol, mmkay? MMkay! This grilled pineapple with tequila sauce recipe will let you feel healthy as you get wasted, with none of the bloat that's commonly associated with the food you eat when you're drunk. We don't recommend grilling while intoxicated (aka we don't want to be responsible for you burning your eyebrows off), this is like, pretty easy to make. So without further ado, check out our tequila pineapple recipe.
Ingredients
Pineapple rings — honestly as many as you want/are hungry for
Shredded coconut, shredded and toasted — probably like ¼ tsp for each pineapple ring, so do the math, ho
2 oz. tequila
2 tbsps lime juice
2 tbsps orange juice
1 cup plain Greek yogurt
1 tsp lime zest
1 tsp orange zest
1 tsp brown sugar
Get your fuckboy bf to heat up the grill. Grab your pineapple rings and grill until they're golden—so like, 2 minutes on each side. Remove from the grill and sprinkle with the toasted coconut.
While those cool a lil bit, get a bowl and mix together the tequila, lime juice, orange juice, yogurt, lime zest, orange zest, and brown sugar. This is literally so easy a caveman, or you, could do it.
Drizzle that mothafuckin' sauce all over those pineapples. Serve with margaritas. Consume, preferably on a rooftop.