This Viral Hair Mask Brand Just Launched A Hydrating Hair Oil
Betches may receive a portion of revenue if you click a link and purchase a product or service. The links are independently placed and do not influence editorial content.
If you're looking for a frizz-fighting and hair-nourishing product, allow me to introduce you to the holy grail of hair oils. K18 had everyone shook when its award-winning hair mask launched in 2020, and the new Hair Molecular Repair Hair Oil will undoubtedly be on the tip of everyone's tongues soon. It's the simplest hack for turning dry, damaged strands into healthy and glossy ones.
The K18 Hair Molecular Repair Hair Oil is a luxurious blend of natural oils, peptides, and amino acids that work together to repair and restore all of those years of frying your hair with a flat iron and hair dye. Whether you've been dealing with split ends, breakage, or dryness, this hair oil will help to reverse the damage and leave your hair looking and feeling better than ever before.
And if you like keeping your hair routine simple, don't worry, it's not complicated to add into your routine. Just apply a few drops to damp or dry hair and work it through your strands. The formula is lightweight and non-greasy, so you don't have to worry about weighing down your hair or making it look oily. Plus, the oil absorbs quickly, so you can style your hair as usual without any fuss.
The results are no joke since it works on a molecular level to repair the hair from the inside out. The peptides and amino acids penetrate deep into the hair shaft, repairing the bonds that have been damaged by chemical treatments, heat styling, and other environmental stressors. You'll be left with smoother, softer, and more manageable hair after each use.
In even better news, the K18 Hair Molecular Repair Hair Oil works on all hair types. Whether you have thick, coarse hair or fine, delicate strands, it'll get the job done (and it'll get it done fast). It's also perfect for anyone who has color-treated hair, as it helps to maintain and extend the life of your color.
And the packaging makes application a breeze. It comes with a dropper to dispense the right amount product directly onto your hair or onto your hands. You won't waste a single drop.
Ready to give your hair the kick in the ass it needs? Grab this nourishing and strengthening hair oil today right at Sephora. Yes, at $65 it's a bit of an investment, but it'll last you for a while despite the small bottle size.

The 5 Best Hair Products For Dry And Frizzy Hair This Winter
Most people may only associate frizzy hair with the hot, summer weather. But the winter also dries everything out, including your hair. Here are the best hair products to use this winter, because they work to eliminate the frizz and increasing the moisture. That's something we all need in our lives. Use one of these, and avoid repeating Monica's hair in Barbados. Yikes.

In just three minutes (aka the time it takes you to shave your legs), this hair mask will transform your hair and give it some much-needed moisture. If your hair is extra damaged, use this as your regular conditioner. At a drugstore price, how can you go wrong?

This product is amazing for all types of hair. I know, I know. Putting oil in your hair seems rather strange but trust, it works miracles, and is truly one of the best hair products for dry and frizzy hair. Infused with argan oil, this product will speed up your hair's drying time, reduce frizz, and add moisture. Although it's more expensive than drugstore products ($44 for 100ml), a little goes a loooong way, so this bottle will last a while.

Along with the cold weather, coloring your hair and using shampoo and conditioners with sulfates can seriously dehydrate your locks. Opt for a shampoo and conditioner combo without sulfates to rehydrate your hair to eliminate the frizz. You might not have quite as many options in the shampoo aisle, but it'll be worth it in the end.

This one may be a little more bougie, but it is totally worth the higher price tag. $57 for a 100ml bottle may seem pricey, but this stuff is truly worth the big bucks. This oil-based serum combines maize, procaxi, argan, and camellia oils to deeply nourish your hair to protect against further damage and fight frizz.

This product will give you soft, touchable curls with loads of volume and zero frizz. At a great price, only $26 for a 222ml bottle, this one is a must-try. It is paraben- and sulfate-free and isn't tested on animals. Anything else you could ask for in a product?

Images: Giphy; Pantene; Sephora (3); Amazon
How To Get Frizz-Free Curls This Summer Even When It's 100% Humidity
People with straight hair think they have it rough this time of year and I'm not sorry, but curly hair is really the worst of all time in the summer. On a good day (which I can't even remember when that was), big bouncy curls are what make me feel like a talentless celeb, whether it's because I dared to let my natural hair show or I worked my magic with a curling wand. However, when bittersweet August rolls around, my so-called curls literally spiral out of control—sort of like, IDK, my fucking life? They frizz before I can even leave my bathroom and if I don't have time to straighten my hair when I'm already "late" for meeting my friends out, I look like Mia Thermopolis before the glow-up. Yeah, it's that bad. Since I rarely ever have time to straighten my mop and I ran out of excuses to bail on going out, here's the solution to non-frizzy curls so you don't have Monica hair from here on out.
You'll thank me when this isn't you:

1. Use Curl-Enhancing Shampoo And Conditioner
The dictator of how good your hair day will be starts in the shower. You want to find a curl-enhancing shampoo and conditioner duo like Briogeo Curl Charisma Rice Amino Avocado Hydrating Shampoo and Shea Curl Defining Conditioner. The formula is everything you could want for your curls and more because it not only defines your curls 10x more (duh), but it locks out frizz-causing enemies and provides tooooons of body without making your hair heavy af.

2. Detangle And Brush Your Hair While In The Shower
Not after you get out because this is what like, separates your curls and causes them to frizz out like a Chia Pet. Find a detangling brush made for thicker, coarser hair types like Tangle Teezer Thick And Curly Detangling Brush. Its bristles keep your curls intact and prevents cuticle damage so half of your hair doesn't fall out or nearly break the brush like this:

3. Deep Condition At Least Once A Week
By the time Wednesday rolls around, you look as good as your hair: lifeless. For an extra pick-me-up and hydration bonus mid-week, try to use a leave-in conditioner such as Living Proof Curl Leave-In Conditioner that offers the best frizz control ever and keeps a hold on your voluminous curls all throughout happy hour and bar hopping.
Them: Your hair looks so good today.
Me: Ugh omg stop, my hair's totally all over the place.
Also Me:

4. Add Oil After Drying
When you're done drying your hair by *lightly* dabbing with a towel (not rubbing, for god's sake) or using a blow dryer with a diffuser, seal in your hair's natural oils by applying a light oil like Bumble And Bumble Bb. Curl (Style) Anti-Humidity Gel-Oil. This blocks out the humidity and provides a fab natural-looking shine. Plus, if you're day drinking under the sun, UV inhibitors will prevent your curls from drying out so you won't look electrocuted.

5. Finish With A Defining Cream
When you're done perfecting your look, add a cream like the Drybar Velvet Hammer Hydrating Control Cream to hold your style so annoying-ass fly-aways don't kill your vibe and get in the way of your drink and your two-step. This cream will prevent frizz all night long as you make your way through sweaty nightclubs so your hair still looks as smooth and radiant as ever. It will add an amazing gloss and intense definition for extra perky ringlets. Can I, um, put this on my chest, too? Asking for a friend.

3 Drug Store Shampoos That Are Secretly Ruining Your Hair
Hair can truly make or break you. You're either a candidate for L'Oréal's next hair commercial, or you just look ratchet. This is why my professors from college should be glad I took as many bad hair mental health days as I did to skip class once a week in a while. Anytime my hair isn't on point, I'm as upset as Kim was when she lost her diamond earring in Bora Bora.
Even though our sacred blowouts and keratin treatments are v important to us, they're expensive AF. Since I'm neither rich nor famous, I have to pay for like, rent and shitty wifi so unfortunately, I can't make an appointment every time I get split ends. That's why I pay more than I'm willing to admit on my shampoo and conditioner. But you shouldn't spend hundreds at the salon only to destroy your hair with the shampoo and conditioner you use at home (duh). Some brands we love are actually way harsh and ruin your hair rather than help it, so here are sets you should toss in the trash and sets to use instead.
Beware Of The Plastics:
1. Pantene Pro-V
Pantene was under fire (figuratively and in a way, literally) last year when one hairdresser in Maryland claimed his client's hair started smoking when he began his usual ombré process. Uh, WTF. He says it was because the client used Pantene's Moisture Renewal Shampoo and Conditioner for over a year. After an amount of research I haven't done since college, several Pantene Pro-V shampoo and conditioners contain unhealthy ingredients such as sulfates and long-ass words that end in "-cone." Silicones are what make you feel easy, breezy, beautiful with shiny hair, BUT over time they act as plastic coats that cause build up, making your hair look greasy and lifeless. Sulfates cleanse your strands, but too much rips off your hair's natural oils and dry the fuck out of it. Cue why we need sooo many keratin treatments.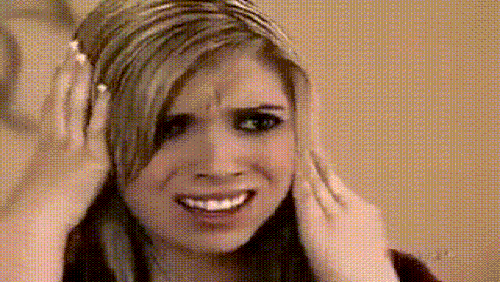 2. Organix
Not only are all of them not 100% sulfate-free, but some of them also contain salt and silicones. We all know that salt can give us great natural waves, but realistically, how does our hair feel after being in the ocean? Like a fucking haystack. With the combination of the big three no-no's, long-term use of OGX products can leave your hair feeling unmanageable, brittle, and frail. If you've used this after a keratin treatment, you most likely wasted like, $300. Sorry to break it to ya.

3. TRESemmé
My once go-to shampoo and conditioner has been placed on my shit list. It has been for sometime, honestly. During my visit to the salon for my first ever highlights, my hair dresser scared the shit out of me by telling me my hair took the dye too quickly. When I told her I used TRESemmé, she basically said if I want to have hair, period, stop using it. Some of their harsh ingredients (sulfates and salt) take a toll on your poor strands, making it hard to receive coloring and volume after a period of time.

Sooo, before you say, "But I've been using this shit for months and my hair is perfect," the thing is, you won't see these long-term effects right away. Hence, fucking long-term. Since most of these ingredients are basically in all shampoos, they're not terrible to use once in awhile or, simply in moderation. But everyone's hair is different and reacts differently. So if you're wondering why your keratin treatment isn't lasting as long as it should or you're finding it's getting harder to style your hair, I'm just saying you should probs check to see if these life-ruiners are in your shampoo. If they are, ditch 'em for these guys.
The Greatest Shampoos You Will Ever Meet:
For healthier hair that lasts, this duo works wonders. It's both sulfate- and silicone-free so there are no risky chemicals to harm your hair. Formulated for all hair types, it features a weightless formula that promotes hair growth and prolongs the amount of the times you have to wash your hair for lazy bitches (so like, all of us). Its ingredients include a healthy hair molecule that reinforces the strength of both of your hair and cuticles. This is even waterproof which no longer makes frizzy hair an issue. Ugh, thank god.

Regardless of your hair type, this is def a clutch choice for a new shampoo and conditioner option. The formula remains sulfate-free and still balances your hair for a natural, healthier, flawless look. It's infused with seaweed extract to provide minerals and protein and happens to be a fab set if your hair is color-treated.

These are like, cruelty-proof all around They're vegan, as well as gluten-, sulfate-, and silicone-free. So they're good to animals and good to your hair, win-fucking-win. The ingredients retain your hair's natural moisture, prevent color fading and dryness, and infuse keratin all throughout. So, basically, this stuff is bomb.