What To Bring To Friendsgiving If You Don't Know The First Thing About Cooking
Thanksgiving is the ideal holiday for people who actually know their way around a kitchen. The holidays are essentially a dragged out humble-brag for wholesome girls who "love to cook" and "just wanted to share their new banana bread recipe with the friends they love most!!". 
Cut to me: a gal who falls dead on the other end of the spectrum. One time I tried to make a Vietnamese spring roll that simply required me to buy some noodles and vegetables and roll them up into a single rice paper sheet—couldn't even do that. So, you get where I'm at in terms of cooking for others. I am, therefore, taking the liberty of crowning myself an expert in NOT cooking, which makes me the perfect person to share ideas on what to bring to Thanksgiving or Friendsgiving dinner if you don't know how to cook. And no, I'm not just going to tell you to go to the store and pick up a pumpkin pie—that's amateur hour.
Alcohol That Isn't Wine

You can pretty much bet on the hosts having wine already, or another guest bringing wine as a gift. So, instead of bringing a basic $25 red wine (because you felt too guilty buying the cheapest $12 option so you took it one notch up), bring a bottle of something that the hosts will actually remember. Skinnygirl cocktails are always unexpected and yummy, but still as fancy as wine. My personal favorite is the original Margarita flavor. Loverboy is another fun, low-calorie drink, and the packaging will automatically let it be known that "party's here!!!" Or, if all else fails, bring a variety pack of spiked seltzer, since we as a collective society are still not done making memes about it.
Thanksgiving-Inspired Chips

I recently braved the Union Square Trader Joe's (if you don't live in NYC, just know that this Trader Joe's location is almost as crowded and difficult to get into as, like, LIV nightclub in Miami), and had the amazing pleasure of sampling their Turkey and Stuffing Seasoned Kettle Chips. Not to be lame and get too overly excited about a chip, but I literally walked away thinking, "this is a party in my mouth!!" Okay, that got lame. Whatever. The chip truly tasted like turkey and then stuffing—magic! Pringles also came out with a roasted turkey flavor, now available in retailers nationwide. But if you do go this route, get a dip too so you don't seem like a total cheapskate.
Ready-To-Bake Cookies

I know, I know—you saw that word "bake" and immediately kept scrolling. Don't! You can do this! Ready-to-bake cookies literally only involve putting the cookie dough rounds (that are already all evenly cut up for you) on a cookie sheet, and putting them into the oven. You do not need to be Paul Hollywood to pull this off—all you need to be able to do is set a timer. If you don't know how to use the oven, take deep breaths and text your Mom. Pillsbury knows that you are useless and uneducated in the kitchen, and has turkey-shaped sugar cookies just for you that are on-theme, easy and delicious. *Chef's kiss.*
A Salad

As someone whose cooking-incompetent mother has used this trick for years, I'm confident that people who don't cook can still put together a really amazing and tasty salad. The ingredients don't even have to be anything crazy. Simply find a unique dressing at one of those super expensive local health markets (like The Health Nuts), and people will rave about the salad. Trust me, I have seen the positive reactions with my own two eyes throughout many years of the same boring salad from my Mom (sorry, Mom)! 
Here are a few detailed options (with links to ingredients you may be overwhelmed by):

Wild rice salad: Arugula, tomatoes, wild rice, shaved almonds, sweet potatoes (optional, my mom always forgets to add the sweet potatoes, #shocker, and it still tastes great), and Greek vinaigrette
Asian salad: Chopped up cabbage, chopped up peanuts, sesame seeds, tofu/chicken (optional), and ginger dressing
Garden salad: Mixed greens, avocado, dried cranberries/cherries, croutons, sweet potatoes, hummus (optional), walnuts, and avocado vinaigrette 
Also, bring pita for extra brownie points. 
Cranberry Cocktail Ingredients

Note that I did NOT write "cranberry vodka." That was intentional. This isn't your college bar. Let's rebrand the cranberry vodka to a more sophisticated, classy Friendsgiving or Thanksgiving cocktail with cranberry juice, seltzer, vodka or gin, and some actual, fresh cranberries and lime to float inside the drink. Maybe even bring champagne flutes to complete the "fancy cocktail" package. Do a sugar rim if you're extra fancy.
Roasted Veggies

As my friend ingeniously told me over dinner the other night, the one thing everyone always forgets to bring to a Friendsgiving is veggies. I thought about it, and realized she was 100% right.  When it comes to friendsgivings, everyone's falling over themselves to bring a pumpkin pie, mac 'n cheese, mashed potatoes, etc., and you have nothing green at the table. But roasting veggies is so easy. Just buy a bunch of asparagus, onions, peppers, or literally whatever else you want. Toss them in olive oil, season with salt and pepper (and other spices if you're fancy), put them all on a pan, and roast at 400 degrees. Check on it after like, 20 minutes to make sure you didn't burn anything.
Banana Bread

To that girl in the office who ALWAYS brings banana bread in—we're onto you. Banana bread is SO easy to make and requires very few ingredients. Just get:

A bread-shaped pan because I know you don't own one 

Butter (1/4 cup melted—look on the stick of butter and it will tell you how much that amounts to in solid form)

Sugar (1 cup of the regular sh*t)

Egg (just one)

Flour (1 1/2 cups of the all-purpose flower that's probably been sitting in your freezer for a year)

Baking soda (1 tsp)

Salt (1 tsp)

Chocolate (optional)

And 3 bananas! The blacker, the better—perfect for those people who try to be optimistic and buy fruit, only to have it go bad on their counter.
You literally just have to mix up the bananas, sugar, egg, and butter. Then mix the flower, baking soda, and salt, and add the banana mix into that. Then you bake that whole thing at 325 degrees for about an hour in your new pan. So, watch out, designated office baker. 
To the non-cooking betches out there: stay confident in your gifts! No, bagged chips might not be the "homemade dish" that was technically requested on the invite, but they are equally as tasty—so who cares?
Images: Element5 Digital/ Unsplash; Christine Siracusa/ Unsplash; Jeff Siepman/ Unsplash; Jez Timms/Unsplash; Taylor Kiser/ Unsplash; Erol Ahmed/ Unsplash; Emiliano Vittoriosi/ Unsplash; Mae Mu/ Unsplash;
Bring One Of These Easy & Cheap Dishes To Friendsgiving
Friendsgiving is the best parts of Thanksgiving without having to spend time with your weird extended relatives. Doing fake Thanksgiving aka Friendsgiving with just friends means you can eat, drink, and have no one berate you about not being married yet. Unless your friends are terrible, in which case, stop inviting them. The only part of Friendsgiving that sucks is that you and your friends are responsible for paying for this elaborate meal and you have to cook it all yourselves. So what can you bring to Friendsgiving that won't cost you a fortune, won't take 7 hours to prepare, and is edible? We did some research on recipes that will make you look domestic af.
Upgraded Comfort Side
Hopefully the friend who offered to host Friendsgiving will provide the turkey, leaving the rest of you to provide the best part of any Thanksgiving feast: the sides. If you're short on time, you can totally do a quick vegetable dish, but everyone knows the backbone of Thanksgiving is the comfort food. Since the host will be super busy, provide a staple side dish like stuffing, potatoes, or mac and cheese. None of these are expensive or time consuming to make and will be heavily appreciated by everyone. Instead of doing the most generic box mix you can find, upgrade it a little bit so you seem like this badass chef. Do a baked mac and cheese with bread crumbs, or funeral potatoes (only called that because in the South, they're comfort food you bring to someone's house after a death in the family. Don't make it weird).
Easy Dessert
If you're really short on time, pick up a few pies from a bakery and call it a day. Or, if you know the host will be providing those, make your favorite cookies or cinnamon rolls. You can never have enough dessert at these events. My favorite cookies in the world are butter cake cookies. They are always a crowd-pleaser. I almost killed my lactose-intolerant coworker because I unknowingly made him a batch for covering a few shifts for me. He ate them all in one sitting. He still claims it was worth it. I call them fat cookies because they are horrible for you and I will eat all of them if I make them at home so I save them for special events only. If you want to make a homemade pie, go ahead, but at least buy the crust because that sh*t is annoying to make from scratch.

Fall-Themed Cocktail
Much like dessert, there is never enough booze at an event with my friends. Most people will bring a bottle of wine, so if you don't really feel like cooking, liquor up the masses by making a boozy hot cider or a fall themed sangria. You can even do apple cider mimosas, hot toddies, or pumpkin pie martinis. If you really want to be Pinterest-worthy, hollow out apples as your cups and put in a little cinnamon stick as a garnish. They are so cute and clean up is just as easy as if you were using solo cups.
Appetizers
If there is one thing I know about Thanksgiving, it's that the food is never, ever ready on time. Uggghhh. There is little that can turn me from bubbly ex-sorority girl to Beelzebub in heels faster than expecting to eat and having it delayed. Appetizers are always an afterthought at group events, so if you want to do something quick, pick up cheese, crackers, and fig jam and make a cute little platter. You can also make dinner rolls, cheesy pull-apart bread, goat cheese dip, pigs in a blanket, or a vegetable tray. Your host will be so grateful that hangry guests (me) aren't breathing down her neck.

Images: element 5 digital / Unsplash; giphy (2)
3 Easy Dishes To Bring To Friendsgiving That Will Trick People Into Thinking You Can Cook
There's no easy way to say this, so here it goes: Baking and cooking for Thanksgiving sucks ass. First off, it requires real, actual work on your part, which, like isn't it the holidays? Isn't this Jesus' gift to us all—the gift of some goddamn peace, quiet, and relaxation? Secondly, there's the horror that goes with baking or cooking something and people not liking it or judging you for making it in general.
I appreciate being judged and judging others when it's something related to how great my hair looks or my general amazing fashion sense. But I get real upset and put off when someone doesn't like the massaged kale salad or ginger pumpkin spice bars I made. Fuck you! This was a labor of me being drunk and fucking up love.
Save yourself the heartache and make one of these three v easy dishes for your annual Friendsgiving or real Thanksgiving this year. Impress people. Make them think you care.
1. Sparkling Pomegranate Punch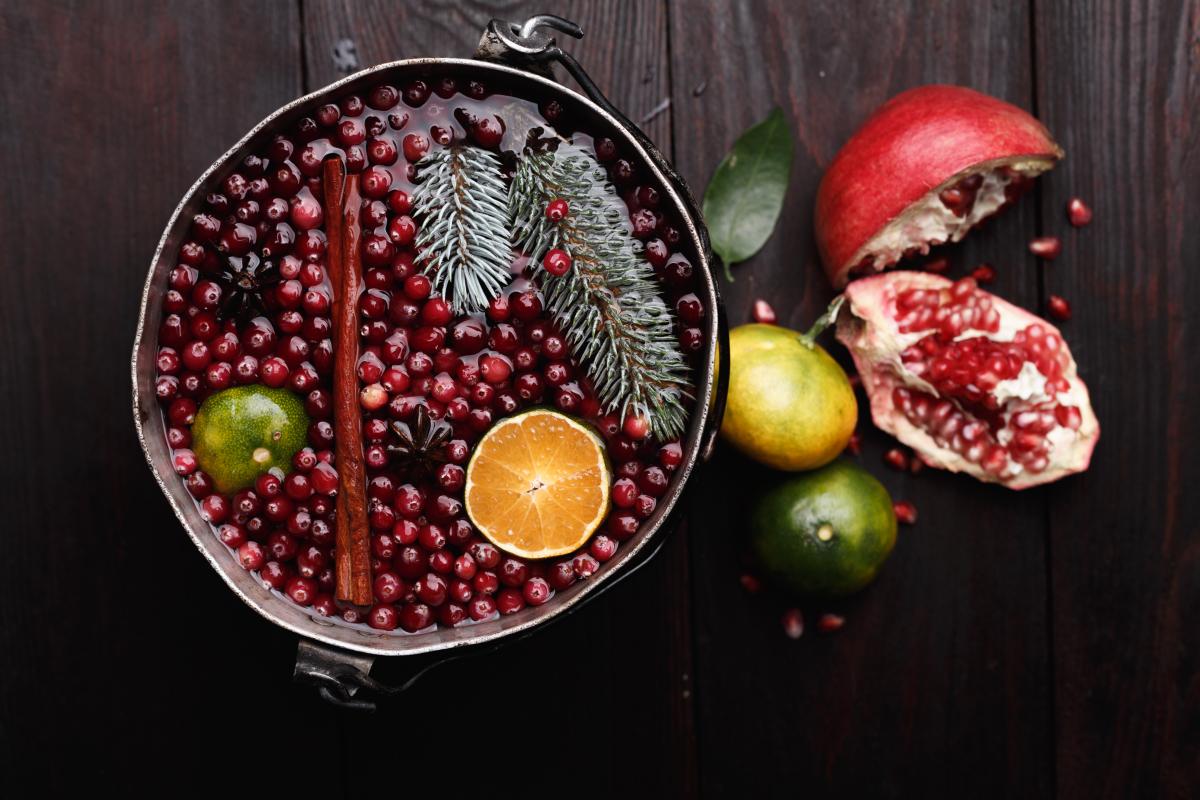 Hey guess what—if your guests are drunk, they're less likely to notice shitty or nonexistent food. Tis the season for classic holiday punch in a big bowl that gets everyone fucked upppppppppp. Thanks, Food & Wine, for letting us add more alcohol to this recipe.
· 3 tbsps white sugar
· 1 cup pomegranate juice
· Two 750mL bottles sparkling wine, chilled
· 1 cup Riesling wine
· 2 oranges, thinly sliced crosswise
· 1 cup diced fresh pineapple
·¼ cup pomegranate seeds
Grab that giant punch bowl your mom keeps trying to get you to use and dissolve the sugar with the pomegranate juice in the bottom. Add the sparkling wine and Riesling, then add all the many fruits, including the pomegranate seeds. Serve over ice.
2. Classic Mac N Cheese

If you're determined to have a casserole-type dish on the table with everyone else's but don't want to tackle a turkey (same), make a classic mac n cheese (we adapted our shit from Southern Bite so you know it's good). Everyone will love it and probably love you for making that shit. You can't fuck it up by adding more cheese… JUST SAYING.
· 2 cups whole milk
· 2 tbsp butter
· 2 tbsp all-purpose flour
· Salt and pepper
· 2 ½ cups shredded cheese (honestly an assortment of cheddar, jack, and gruyere would be bitchin)
· 16 oz package elbow macaroni, cooked
Preheat the oven to 400F and microwave the milk on HIGH for 1 ½ minutes. Meanwhile, melt the butter in a large skillet over medium low heat and then whisk in the flour until it's smooth. Cook, whisking CONSTANTLY, for one minute without burning that shit. (You can do it; I have faith in you.)
Gradually whisk in the warm milk and keep fucking whisking for like, five minutes or until everything is thick. Whisk in some salt and pepper plus about 1 ½ cups of the cheese until everything is smooooooooth. Add in the cooked pasta, then spoon/pour that mixture into a lightly greased 2 quart baking dish and throw the remaining cheese over top. Bake in the preheated oven for 20 minutes or until golden. DONE.
3. Rustic Cranberry Relish

You know what ISN'T impressive? Sliding a glob of cranberry Jell-O out of a can to be sliced into jelly pieces and smeared on Thanksgiving dinner. Your friends will be SUPER impressed if you make a rustic orange cranberry relish via the New York Times, though, and they also will think you actually like, spent time on it.
· 1 bag fresh cranberries
· 1 whole navel orange, skin included, washed and cut into chunks
· ½ cups chopped pecans
· 1/3 cup honey
Grab a food processor and throw all these ingredients in. Blend until a finely chopped mixture with a crunchy texture emerges. Chill until you're ready to impress people with it. THAT'S LITERALLY IT OMFG.