16 Comfy & Cute Matching Sets You Need For Quarantine
As someone who considers her primary hobby to be shopping, this quarantine has been a bad influence on my already out-of-control online shopping addiction. Of course, since it's just been announced that we now still have, at the very minimum, another 30 days of quarantine, there's officially no point in wasting my online shopping efforts buying trendy new spring clothes that no one will ever see. That being said, I obviously still need to fulfill my retail therapy void somehow. So, I've turned my powers to a more timely and practical cause: loungewear. And, nothing gets me going more than a stylish matching loungewear set. Here are some cute sets that aren't totally sold out yet but that you need to order ASAP as a means of #selfcare this quarantine season.

Whoever deemed groutfits to be a fashion faux pas clearly never experienced a global pandemic. This set from PrettyLittleThing is the groutfit of all groutfits because, not only does it look comfy af, it's stylish too. The fitted joggers paired with the casual off-the-shoulder top make it super cute and flattering in the most effortless way. It's great for like, those of you quarantined with your boyfriends and actually still trying to look cute. And btw, while we're on the topic, if that is you, enough with the cutesy insta stories of you two playing Uno…we get it.

If you're someone who is currently pursuing a lifelong career via TikTok this quarantine, then this is the set for you. It's cute, flirty, and, most importantly, cropped. TikTok 101: You must wear a crop top or else all the cool 16-year-olds will know you're not one of them. But, important note, you also can't look like you're trying too hard and like, you put on an outfit for your TikTok. At least, this is what I've gathered from my two weeks actively on the app… Gen Z, the floor is now yours.

As a proud owner of this set, I can vouch for it in all its value, particularly during these quarantine times. The fit is flattering and the tie-dye makes it trendy. Not to mention, the cropped sweatshirt alone is cute paired with jeans for, you know, whenever we can leave the house again.

If your #wfh style is more of a cool-girl vintage look, this Champion set is the one for you. The washed pink color is great for spring—err… at least the prospect of experiencing spring. Either way, it offers a variation to your wardrobe besides your ex's frat hoodie and your one-night-stand's gym shorts.

PJ Salvage Light Blue Animal Sweatshirt, $70 & Blue Animal Short, $50
As someone who has always loved a good animal print, I'm having a hard time right now dealing with how Carole Baskin seems to be on a one-woman mission to kill the trend. However, this animal print set comes in a calming dusty blue color, a color I can't imagine someone who would kill her husband would ever wear. (Oh, and btw, it comes with matching pants too!)

Go full blackout, just like me every single night of this quarantine, with this all black matching sweatsuit. The cropped hoodie with high waisted sweats is the perfect loungewear combo that you obviously need.

Not only is this set fashionable, it looks cozy af. It's also in the "color of the season", not that that even really matters right now since the spring fashion season is a moot point anyway. But hey, at least you can bask in the comfort of knowing your quarantine outfit would be considered fashion perfection.

Like the fluffy set above, this set is also a very fashionable take on a traditionally not-so-fashionable sector of the clothing biz. It's the perfect lounge set for my fellow fashionistas thirsting to look ever so stylish during these quarantine times.

If you haven't ever checked out Target's clothing section during one of your "necessary" Target runs, you've been missing out on a gold mine of amazing pieces. Personally, I'm a huge fan of their lounge/sleep brand Stars Above, which is the brand behind this amazing tie-dye set. I own several of their lounge sets and they are the comfiest outfits ever.

Get into a neutral monochromatic look for a chic minimalistic vibe this season. It gives an illusion that you have your sh*t together during this therapy-inducing quarantine. When, in reality, you're actually hoarding all the good snacks in your room, hidden from your siblings.

Wear this to bed or running errands, this effortlessy chic set features a heathered knit, cropped long sleeve top, and slim fit pants with an elasticized waistband and of course, pockets. This top and bottom are sold as a same size set. The best part? It's only $24.

This set is so cute and angelic, unlike me. And, assuming you're not wearing makeup or self-tanner during quarantine, then you can wear this all white set worry-free. Unless, of course, your quarantine snack of choice is Cheetos, then I'd probs steer clear of this one.


Okay, looking ahead here to the possibility of being quarantined all summer long, here's a stylish set to look cute af for your FaceTime happy hours with all the men you've been matching with on the dating apps. The material keeps it casual, while the style makes it more feminine and fashionable. Or, if the one-shoulder crop top is too extra for you, then there's also a long sleeve top option to pair with the shorts instead.

I loooveee me a cardigan, and I love it even more when it comes as a part of a cute Instagrammable matching set. This cropped cardigan will be so cute worn separately with jean shorts once we're finally allowed to leave our houses again. Until then, I love it as a set with the matching chocolate shorts for a not-so-basic lounge look.

This set is literally called the Killin' Time Jogger Set so you know it's automatically a quarantine essential. It comes in blue, lavendar, and black so take your pick, or just get all three. Considering we'll all just be killing time for who know how long, there's no harm in getting them all.

This might not be a set you'd wear out and about, but right now, that's not really a concern, is it? This soft AF waffle knit set is  perfect for when you don't want to work from home in your pajamas… but also you totally want to work from home in your pajamas. The knot detail at the waste and the flare of the pants make them just stylish enough to look presentable, and so you don't look like you just rolled out of bed for your Zoom meetings. But if you did, no judgment—we're all in this together.
PSA: Lounge sets everywhere are selling out fast! I'm assuming it's because loungewear is the only thing that us online shopping addicts can justify buying right now. So if you do see a set here that you want, then DO NOT WAIT, because apparently they're about as in-demand as toilet paper right now.
Images: @onthehumanity / Unsplash; PrettyLittleThing; Princess Polly; Z Supply; PacSun; South Moon Under; Revolve (3); ASOS; Tobi; Missguided (2); Target; NastyGal; Free People; Fashion Nova; Nordstrom
Betches may receive a portion of revenue if you click a link and purchase a product or service. The links are independently placed and do not influence editorial content.
5 Gym Bags That Aren't Ugly & Will Fit All Your Sh*t
Going to the gym is hard enough, and being ill prepared only makes it that much harder. There's nothing worse than booking an overpriced gym class to arrive and find that you forgot your sneakers or sports bra. Scratch that, maybe the worst thing is finally getting the motivation to go to the gym and work out yourself, without the aide of some overly peppy fitness model to motivate you, only to realize you forgot your water bottle and headphones. It's like, do I go home and get my stuff? No, because then I know I'll sit on the couch and fall into a Netflix blackhole. But how do you push yourself through a workout with no water or music?? It's an impossible dilemma, and one that should be avoided at all costs. So to help prevent you from forgetting your sh*t and thus either missing your workout, half-assing it, or being forced to buy one of your boutique fitness studio's overpriced sports bras, we've rounded up the most functional but not bulky gym bags to keep you organized. You can thank us later.

As the only backpack on our list, this Caraa bag can fit way more than meets the eye. The waterproof backpack itself is lightweight AF, which is great considering you're going to be attempting to stuff as much as possible in it. With a ton of interior and exterior pockets, including built-in phone and battery pockets for our constantly dying devices, there's a place for every sweaty unmentionable you'd need for the gym. The best part is that the inside is red, providing a contrast to your all black items, allowing you to actually find your stuff while digging through your bag.

If it has Adidas' stamp of approval, it already has ours. But this duffel bag's shape is why it made it onto our list. The wide opening at the top makes it easy to stuff your spin shoes alongside your gym clothes. Various smaller pockets within the main compartment help to keep your items organized and easily accessible. The ventilated exterior pockets are the perfect place for your clothes post gym class in case you're heading out to drinks afterwards.

If you're looking to add a bit of color (yes, I consider gray a color) against your all-black workout wardrobe, this bag will be your go-to. With a cross body strap in addition to a handle, you'll be able to pack this bag to the fullest without feeling like it's tugging on your back.

With six interior pockets and three detachable pouches, this camo bag can stretch to fit your sneakers, workout clothes, water bottle, and whatever else you could need to increase your chances of actually making it to the gym. It's foldable, rollable, packable, and crushable—making it the ideal bag to schlep around all day long. Plus, the pattern is far from your basic gym bag without screaming redneck.

Yoga lovers, rejoice! This bag has one of the least intrusive yoga mat holders we've yet to see. No longer will you be unintentionally jousting with passersby on the street. Your yoga mat will be tucked beneath the bag in a secure pocket so it won't fall out while you walk.
Images: Carl Raw / Unsplash
Betches may receive a portion of revenue if you click a link and purchase a product or service. The links are independently placed and do not influence editorial content.
Comfy AF Loungewear You Can Wear Out To The Bar
If you haven't gotten on board with the athleisure trend lifestyle yet, what are you doing with your life? It's like, the best thing to happen to fashion since high-waisted jeans. For every girl out there who's ever had the post-lunch questionably pregnant pouch, you KNOW how great high-waisted jeans have been for the culture. Anyway, besides being comfortable while looking stylish af, the other benefit of athleisure is the ability to purchase pieces that can be worn for both lounging and going out. (Okay, maybe not like "going out" to the club in Vegas, but "wearing out to a bar that doesn't require heels" kind of going out.) I mean, a piece of clothing you can wear for both??? Like, talk about financially responsible! That being said, here are the pieces comfortable enough to lounge in, yet stylish enough to wear out.

If you've ever worn anything from Free People's Movement collection, then you know how comfortable their pieces are. This tank is the epitome of effortless style. The ribbed and distressed detailing make this tank more elevated than your basic tank. Wear it when you're lounging with a cute bralette, or out with some sticky boobs underneath for a little subtle side boob action. Pair it with leather pants and a pair of heels and guarantee your drinks will be paid for all night.

I think I've said it more times than Scheana told us last season how quickly Rob can hang a TV, but neon is in. (Oh, it's seven minutes by the way.) These pants are not only trendy, but also comfy and make for great loungewear. Pair with a loose cropped tee, like the one mentioned below, or with a sleek bodysuit for Kardashian vibes when going out. Either way, these pants are a must.

The best part about the athleisure trend is being able to wear a stylish sweatshirt out, especially in this brutal winter weather when you didn't want to leave your house in the first place. Note: stylish sweatshirt. Don't wear your college sorority sweatshirt out, that's not stylish. Wear a pullover sweatshirt like this one paired with gold hoops, a tight skirt, and over-the-knee boots. It's very Lala Kent vibes. And no, sorry not sorry for all the Vanderpump references. If you don't know this about me yet, I'm a #pumprules die-hard, so take me as I am.

This T-shirt is cool, casual, and everything you could ask for from your loungewear. Keep it casual with some jogger sweats, or wear it out with distressed boyfriend jeans and a pair of cool boots. It's pretty much the only T-shirt you need and, at a mere $30, you can't go wrong.

I mean, get you a legging that can do both, am I right??? These leggings are chic enough to be worn out and comfy enough to wear around the house. They have rave reviews about how truly comfy they are, so you don't have to just take my word for it. Not to mention, they come in a multitude of colors. So once you get your first pair and fall madly in love, you can go ahead and order a few more pairs with the rationale of them all being different colors, of course.
I don't know how long the loungewear trend will last, but as long as the Kardashians are flaunting their absurd asses in comfy joggers, we can confidently say it's here to stay for the time being. And, like I said, it's actually responsible to buy these items because they're multipurpose. So like, what are you waiting for?
Images: Dom Hill / Unsplash; Free People; Urban Outfitters; Revolve; Princess Polly; Carbon38
Betches may receive a portion of revenue if you click a link and purchase a product or service. The links are independently placed and do not influence editorial content.
The Trends Celebs Wore During NYFW & Where You Can Get Them For Less
Between Cardi and Nicki's brawl, Kendall and Anwar Hadid's potential romance, and the drool-worthy outfits on the streets of NYC, New York Fashion Week is clearly in full swing. Equally as important to the designer threads coming down the runway are the outfits worn by the celebrity fashion icons sitting front row at all of the shows. Whereas the runway shows give us insight on the upcoming trends for spring, it's the celebrity street style that clues us in on what the trends are as we head into the current fall season. These are the trends we've seen on celebs so far this fashion week, and where you can purchase pieces from these trends for a lot less.
1. '70s Chic
Supes groovy, the '70s trend has ruled celeb street style this NYFW. Kendall Jenner stunned at Longchamp in a gorgeous lace-up purple suede dress, giving us straight Daphne from Scooby Doo vibes. (And no "ruh-roh", I was all about it.) KJ sat next to fellow supermodel Kate Moss, who also embraced the '70s trend with an effortlessly cool fringe jacket. Of course, Paris Jackson got a little too costume-y with the trend, wearing '70s flare jeans and a tied-up crop top. But I mean, she is the daughter of Michael Jackson…so like, if anyone's going to do it, it's her. Touché, Paris. You can wear this trend for fall without looking like an extra on That '70s Show by working in suede pieces, high-waisted bell bottoms, and A-line silhouettes into your current fall wardrobe.



2. Suit Dresses
Ever since Kylie wore that fire all-white suit dress to the VMAs, suit dresses have been on everyone's radar. Kendall Jenner wore a satin blazer dress to Russel James' Angel book launch party this past week, while Rosie Huntington-Whiteley wore a maxi version to the Ralph Lauren show. Suit dresses are an easy fall outfit that automatically looks stylish and chic. This fall, try a suit dress with heels for a dressed-up look, or wear it with sneakers for a more casual and edgy fashion blogger look.


3. Sheer
Probably the biggest trend we've seen so far amongst celebs this fashion week is feminine sheer fabrics. Celebs have been wearing them in subtle ways and, well, not so subtle ways. Bella Hadid and Kendall Jenner both went the not-so-subtle route, wearing head-to-toe sheer bodysuits to NYFW parties. Other celebs, like Olivia Palermo at Ralph Lauren, wore sheer fabrics in a less obvious, more girly, and classy way. Whether you love attention and want to go sheer bodysuit, or want to look more effortless with just a touch of sheer, you're guaranteed to be on trend for fall by mixing sheer into this season's wardrobe.

Free People Hard To Forget Top – $48

by the way. Naomi Mesh Cut Out Midi Dress – $66

4. Tonal Ensembles
The monochromatic look has been vvv in this summer, but fall puts a small twist on the trend, going in a more tonal direction rather than full-blown monochromatic. This means, you want to create a fall outfit that mixes shades of the same color, rather than just completely wearing the same shade head-to-toe. Barbara Palvin, the model famous right now for dating "Cody" of the beloved Disney series The Suite Life of Zack and Cody, wore the perfect tonal outfit to the Boss show. Tons of other celebs also embraced the trend, like Adriana Lima at Tom Ford and Kelly Rowland at Opening Ceremony. For those not brave enough to take on the full monochromatic trend, the tonal trend is def your less risky alternative (plus more currently stylish).


5. Midi-Maxi Dresses
Besides the sheer trend, the other huge trend we've seen a lot of so far this NYFW is the popularity of the midi-maxi dress. This dress length, which is longer than the traditional midi but not floor grazing like a maxi, has been worn by almost every A-lister at fashion week so far. They've been a go-to for Priyanka Chopra, so obviously you should be doing it too. Anyways, the midi-maxi dress is the perfect dress for fall, and works great paired with all of your fall boots and jackets!

Those are just a few of the trends we've seen from the celebs so far at NYFW and, with still a few days left, fingers crossed we'll get some more celebrity feuds (line through) trends before it ends!
Images: Shutterstock; South Moon Under (2); Free People (5); Revolve (3); Urban Outfitters (2);  Asos; Reformation
Betches may receive a portion of revenue if you click a link and purchase a product or service. The links are independently placed and do not influence editorial content.

5 Retailers You Didn't Know Had Wedding Dresses
If you're recently engaged and the thought of dropping a couple thousand dollars on a wedding dress coupled with spending prolonged time with your mom/bff/soon-to-be mother-in-law perusing bridal salons is giving you high-level anxiety, time to chill TF out. The internet—and our favorite retailers to buy, like, T-shirts from—have come to our rescue and come out with a bunch of affordable wedding dresses that are still v chic.
Gone are the days of sitting in Kleinfeld's and pretending to be totally OK with dropping $5k on a gown that will divide everyone in your wedding party. Seriously, do yourself a favor and at least peruse the online offerings from spots you already know, trust, and don't have to guess your size for. You didn't know these 5 retailers made affordable wedding dresses, which is why you're so lucky to have me as a friend and confidant.
1. H&M
You have to poke around a bit, but H&M does offer some pretty cute and affordable wedding dresses if you search and categorize dresses by long and white. There are high-necked lace numbers for under $300, bridal separates, and this slinky, sexy satin dress that's ideal for a beachy wedding. Plus, they have some decent basics to fill your suitcase with after you decide married life isn't for you and you need to start a new life on an island with some cats. Just saying.

2. Anthropologie – BHLDN
Boho betches know that Anthropologie has an entire line dedicated to weddings, BHLDN. Dresses range from a couple hundred to a couple thousand dollars and come in tons of styles from "I don't care and I'm gonna rock this tiny lace see-through thing" to "I need a glam gown that looks like I spent $10k". The best part is that BHLDN stores are an actual thing, so if you're not into ordering your wedding dress online, you can trek to one of those locations and try it on IRL with or without your entourage.

BHLDN medallion gown
3. Free People
The favorite for festival wear and Coachella hats actually makes some very summer and beach-worthy dresses for those of you that enjoy camping and not combing your hair. You can channel Princess Jasmine in this revealing number (and piss off your mom) or channel your inner gypsy in the Canyon Moon dress—probably while reading Tarot cards!

Free People canyon moon gown & duster
4. Modcloth
Yup. The retro-vibe clothing line offers a lot of tea-length and full-length dresses that are perfect for a super casual wedding where you don't feel like dropping more than $500 on something you're only going to wear for eight hours of your entire life. If you aren't into wearing one of these for a wedding, they make a great rehearsal dinner or shower dress, too. Prices range from $65 for those on sale to around $350, so you can still afford a 10 hour open bar so, #priorities.

Modcloth graceful grandeur maxi dress in ivory
5. ASOS
If you haven't heard of this before, prepare to blow all your money on this wonder. Prices range from about $20-$550 when you sort by wedding stuff, and the options are jaw-dropping. Art Deco style fringe dresses and pink-tinged bridal lace dresses are all amazing finds from this retailer, and many of them are lower than $200. There are also tons of bridal shoes, hair accessories, and other wedding sh*t you didn't realize you needed! Praise be.

ASOS Edition wedding dress with paneled seam
Images: Melody Jacob / Unsplash; ASOS; Modcloth; Free People; Anthropologie, H&M
Betches may receive a portion of revenue if you click a link and purchase a product or service. The links are independently placed and do not influence editorial content.
Beauty Stocking Stuffers For Under $15 You're Going To Want For Yourself
Is it *really* the most wonderful time of the year ? Um, I'm going to have to give that a hard pass. Look, I'm all about the fakeness, cheeriness, glitter fests, and spiked peppermint mochas as much as you are. However, everyone seems to forget how fucking stressful the holidays are. As if constantly boiling pasta and delaying grocery shopping as long as possible wasn't a big enough sign that I'm literally always broke af. Now, I have to buy shit for other people instead of myself just before I'm bum-rushed into overpriced NYE plans. The most wonderful time of the year, my ass. Even thinking about holiday shopping gives me an anxiety attack, so I'm starting with small gifts for the real MVB's in my life, aka some stocking stuffers. From palettes to exfoliators to new nail polishes, here are six beauty gifts under $15 that you literally can't go wrong with.
This a life-changing hair treatment in the cutest festive bottle. The multi-purpose formula conditions your hair from end to end, while taming and de-frizzing split ends. Just when you thought it couldn't get any better, it cuts drying time a ton and is oil-free, so it won't make your hair limp and greasy at all. It's the perfect gift for, like, anyone who has hair, honestly.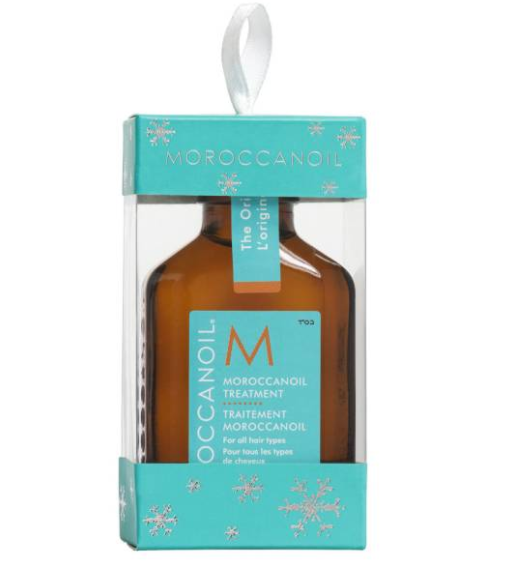 This holiday-exclusive set comes with four perfect minis in gorg seasonal colors. With bright red, glistening silver, vampy purple, and chic black, OPI def delivers smooth application that lasts longer than the shit you probs pick up at Walgreens.

For your friend who is happily obsessed with keeping her face #flawless, these exfoliating sugar cubes will be her new fave. The six sweet-smelling cubes gently get rid of dead skin cells and help keep the skin feeling v soft, smooth, and moisturized.

When you get two full-sized Urban Decay products for under $20, you buy fucking six of them. These are limited edition, so you should def buy this ASAP. The set includes a full-size eyeliner that has fab blend-ability and a full-size mascara that keeps lashes long and healthy. Both come in black, which only makes this too good to be true.

It's an amazing gift for me, you, and everyone else who has an unhealthy obsession with lipsticks—especially when it comes to finding the perfect, true red. The 2-in-1 kit includes a mini-size hydrating in Legendary and travel-size Insta-Matte Lipstick Transformer. If you're wondering WTF a transformer is, it's seriously the best thing. The lipstick transformer turns any velvet lipstick immediately into a matte that does not—I repeat, does not—dry out your lips. You can apply as many times as you'd like to reach the desired texture your chapped lips deserve this winter.

It doesn't matter how many face palettes people have, they will literally never say no to another. And if they do, IDK, they're probs homeschooled and will not appreciate you being such a good friend. This super convenient all-in-one face palette comes with two intensely-pigmented blushes, a champagne highlighter, and universal bronzer. The warm shades give you a healthy, natural-looking glow you can take with you on the go, whether you're at the club or meeting up with your cuffing fling.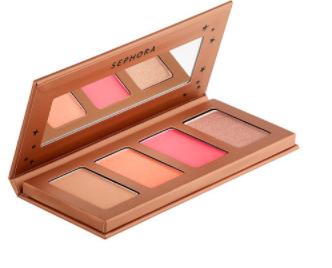 Images: Jazmin Quaynor / Unsplash ; Sephora ( 6 )