What His Swimsuit Says About How Big Of A Douche He Is
I learned two important lessons from my time analyzing men's underwear. 1) I'm basically the female version of Tan, and 2) there are way more bad options than good when it comes to covering men's junk. The situation is no different when we're looking at bathing suits—*remembers Speedos exist*—actually, it's worse. Ultimately, scoping out guys at your local beach/pool/YMCA (I don't judge) isn't about finding your sartorial soulmate. It's really about avoiding these common red flags. Read on for what his swimsuit says about him, and the swimsuits that should make you run far, far away.
Swim Briefs
Let's start with the worst. "Swim briefs" are Speedos, plain and simple. Calling them swim briefs is the equivalent of referring to Q-tips as "cotton swabs." So even using this term is sufficient reason to excuse yourself to the bathroom and never return. For those lucky souls who have never encountered a Speedo, I'll paint you a picture. They do bare minimum in the front, and either barely cover his ass or go full thong. In other words, if you hook up with a guy wearing a Speedo, you could plausibly mistake it for your own underwear while trying to get dressed. These are strangely popular among Europeans, so consider yourself warned before meeting your Italian Hinge match at Le Bain.

Square Leg/Square-Cut Shorts
Looks like we're going least to most coverage here! Square-cut shorts are the bathing suit equivalent of boxer briefs. This cut can be sexy when revealed under pants, but IMO it's a little aggressive as the sole thing covering your lower half. (*Thinks back to the cheeky Brazilian bikini I just ordered.* Nope, I stand by it.) I feel like Jordan from The Bachelorette definitely wears this kind of bathing suit, to give you a sense of the overall dateability conveyed by this style. It's the ultimate for guys who want to show off every inch of their bodies without committing fashion suicide. AKA every guy who cracked 1,000 followers on IG and now thinks they're too good to answer your texts. Not that I'm bitter, we were obvs growing apart anyway. But yeah, guys who wear this swimsuit are likely way more into themselves than they are you. Sorry!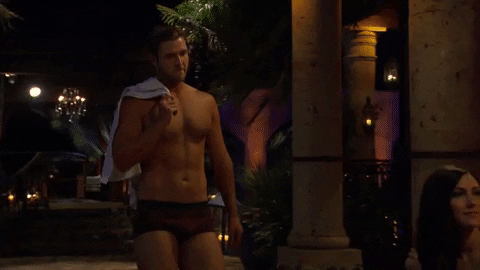 Swim Trunks
Ayyy, we've arrived at the only socially acceptable swim suit for men. Feels good. You'll recognize swim trunks from every time you've seen a male go in water without baring their full ass. They're your basic loose short, completely indistinguishable from actual male shorts to the naked eye. With swim trunks, the main thing you want to look out for is the print they choose. My personal preference is a solid that's flattering to their skin tone, or a simple print that's on-theme without being obnoxious. (E.g. *subtle* floral/Hawaiian, nautical, etc. Don't @ me, I like the tiny sailboat thing.)
If they're covered in giant flamingos, pineapples, or American flags, they're frat bros who didn't have to do anything other than breathe to get laid in college and don't intend to start now. Give them a few years of getting rejected by women like you and come back to them. Like wine, except instead of wine it's a 27-year-old man-baby. Anyone who wears plaid swim trunks is a psychopath or in middle school, and you can't convince me otherwise.

Board Shorts
Board shorts are…ok. They're really just the sloppier, oversized version of swim trunks, often worn by little kids or guys who really don't care about the fit of their clothes. Acceptable on surfers, for whom these serve a legit practical purpose. In all other scenarios, it's the sartorial equivalent of what you put on to pick up Gatorade while hungover.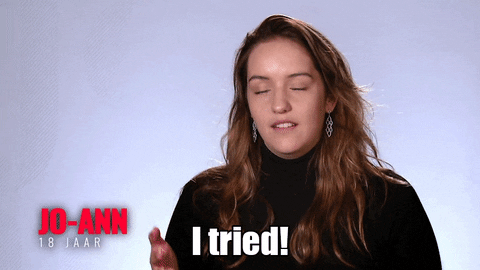 Jammers
First time hearing of jammers? Don't worry, me too. While I'd hoped this was a term for dressed-up jammies, it's actually a swimsuit specifically designed for athletic performance. AKA this bitch better be training for the Olympics. Otherwise, he's just weirdly proud of his thigh girth or trying to hide some kind of rash. Not a risk I'm interested in taking.

There you have it. If you're looking for a guy to actually date (so old-fashioned, I know), swim trunks only please. If you're already dating and looking to fine-tune his wardrobe, throw out all his obnoxious prints and board shorts. Everyone else, please feel free to hook up with the Speedo/short short/jammer wearing guys out there and report back. Don't say I didn't warn you when all they talk about is their dating app matches, muscle tone, and favorite protein powder. Wow, I'm just describing Jordan. He'll be missed.
Images: Giphy (5)
We Have Definitive Proof That Congress Is Just A Frat House
Isn't every frat bro's worst nightmare graduating and leaving the glory days behind? Well, they're in luck because they can just run for the House of Representative and spend the night with their legislative brothers. Yes, you heard me right. Congressmen sleeping in their offices, essentially getting free housing and not paying taxes on their place of residence, all while cutting government funding programs, is apparently a thing. It's a elected official's fuckboy's wet dream, really. 
WTF Is Going On?
If a building has Greek columns on it, it's automatically a frat house, right? It seems that somewhere between 50-75 elected officials (mostly men, because duh) have chosen to essentially live at their offices. This means they are receiving all of the bennies, such as free cable, free security, and free utilities during non-office hours. Fyi, it's potentially a violation of an ethics code that prohibits official resources from being used for personal use, so there's that. It's also like, really gross. Like, go stink up your own home with your morning breath, Paul Ryan.

Remind Me Why I Care?
Thirty GDI members from the Congressional Black Caucus (CBC) have decided the party is over and wrote a letter to the Dean of Congress, aka the House Ethics Committee. They stated that not only is it unprofessional and unsanitary, but also a misuse of government funds to live for free in the office. The CBC is on a mission to take down frat row and prohibit any lawmaker from using their office as a home too. Some women and Democrats are also partaking in the frat life, but most are also pissed and grossed out by it all. Another reason for this happening is that members are already on probation for certain bros dealing with sexual misconduct accusations. Again with the frat house similarities.

Who Wants To Live In An Office?
Members have been doing this for years and in the past have been praised for how frugal they are for couch surfing. Most members are in DC for less than 150 days a year, so paying $2,000 in rent just seems like throwing away money. In fact, members have been passed over for a pay promotion for seven years in a row now. It's almost like they aren't making good enough grades for Greek life to give them more funding. The office life isn't so bad though. There is a cleaning service, en-suite bathroom, mini fridge, and microwave ready to go, exactly like my freshman year dorm. The idea of laws being made in an environment similar to my dorm life is legit terrifying.

It doesn't seem like the House Ethics Committee is in a hurry to do anything about this, seeing as it's been two months since they received the letter of complaint. Looks like Greek life is on for lawmakers at the White House. Rush Congress 2018! It's not four years, it's for life until Trump fires you.
Heads up, you need to keep up with the news. It's not cute anymore. That's why we've created a 5x weekly newsletter called The 'Sup that will explain all the news of the week in a hilarious af way. Because if we weren't laughing, we'd be crying. Sign up for The 'Sup now!
Images: Giphy (3)
Lace Shorts For Men Are The Latest Trend In Douchebag Fashion
Remember a few days ago when you felt personally victimized by RompHims? Well we have some bad news, because there's a new pastel product in town: lace shorts for men. They come in five different colors, and yes, we were also triggered after "lace." They were first advertised through an Instagram account named Sparkie Baby Official, which tells you pretty much everything you need to know about how legit and high quality they are, if the built-in belts didn't already give that away.
Judging by the long white socks on the models, the shorts are clearly intended for bros. The more we think about it, maybe we should have seen this coming. Like, how different really are lace shorts from the bright pink Vineyard Vines shit we've been told were "fratty" for years? Is this not just an even better outfit for an entire pledge class to wear while shouting homophobic slurs at each other? They're wearing the lace as a JOKE, guys. It's not like they wear it underneath their clothes everyday!

All jokes about repressed sexuality aside, these are extremely concerning from a utility standpoint. The only material is some shitty lace and heinous white…briefs? Are those included with the shorts? There is literally no chance they're covering ANYTHING, and if any guy is dumb enough to buy these he's also probably too dumb to realize he's flashing everyone and the FB tags will not be kind to him.
TBH, I'm pretty sure the only reason anyone is discussing these shorts is because of the guy in green. He is taking bubble butt to a whole new level and if he doesn't have a modeling agent yet, I would like to step forward and offer my services because I think we could really go places. First stop: remove the tats. Next stop: Calvin Klein.
What will be next in douchebag fashion? We can't be certain, but the thought is pretty terrifying at this point. We never thought we'd miss the days of Lacoste polos, ugh.