New York Gym Owners Are Suing The State Over The COVID Shutdown
When things in the U.S. started to close down amid coronavirus fears in March, I don't think anyone anticipated how long this would last. (If you did, you should give the stock market a try.) Over the last four months, business owners have struggled with extended shutdowns and limited information on when things will open back up. In New York, specifically, the reopening protocol has been split into four phases. Each phase has a different list of businesses that are allowed to reopen with new safety measures in place, but these phases aren't all-encompassing.
Phase 4, the final phase that has been currently outlined, allows for the reopening of museums, universities, sporting events (with no fans present), and film and TV production. It does not, however, include movie theaters, malls, or gyms. Those types of businesses must be in some mysterious future phase, but who the f*ck knows when that will be? Though many parts of the state, including Long Island, have now entered this fourth and final phase, gym owners are still waiting on answers about when they will be allowed to reopen, and they're doing something about it. A group of New York gym owners have filed a class-action lawsuit against the state, with the goal of finally getting some real answers about the plan to move forward (and money, they also want money).
The suit is led by Charlie Cassara, owner of SC Fitness in Long Island, who told Fox News' Brian Kilmeade this week that thousands of gym owners have joined forces with him, believing that they should be treated "no different than any other business in the state and the country." With Long Island entering the fourth and final reopening phase this week, Cassara noted that "there are no other phases," and that fitness studios "deserve the opportunity to open up under the CDC guidelines set forth. We are ready to do that."
On top of the frustration about not being included in Phase 4, Cassara said that the state government has been unhelpful when it comes to offering additional information. "We're not even given any answers. We have no layout. We just have: 'You are not in Phase 4. We'll talk to you guys when we're good and ready.'"
With coronavirus still far from contained, and working out at a gym considered a high-risk activity, it makes sense that gyms will be one of the last sectors to resume "normal" business, but this lack of information is obviously frustrating to those affected. James Mermigis, the attorney representing the gym owners, told Kilmeade that his clients are "just asking for equal treatment," suggesting that the state is violating their constitutional right to be treated equally. As for the goal of the class-action suit, he said "We are going to give the governor an option. Either open up the gyms, or pay us."
Cassara and Mermigis filed their lawsuit on Thursday, suing the state for a whopping $500 million. They claim that the shutdown has cost them hundreds of millions of dollars in lost business, and say that they've been forced to lay off 70,000 employees as a result. While the Governor's office hasn't commented publicly on the lawsuit, they issued a statement that is like, definitely about the lawsuit: "There are some things that don't fit neatly into a phase that are going to require further study and we're going through that right now. We're not going to be like other states that are inviting a second wave." I love Governor Cuomo's ability to sound smart and shade other states at the same time. Judging from that statement, New York won't be reopening gyms in the near future, especially with cases in so many other states still exploding.
Any way you look at it, this is a tough issue. Of course, this has been a brutal year for business owners, and the continued lack of concrete information isn't making it any easier. But at the same time, COVID-19 doesn't give a sh*t about our reopening plans, so it's in all of our best interests to be as cautious as possible. I hope the government figures out a way to support these gym owners, but for now, I think we should get used to our at-home workouts for the foreseeable future. Or, you know, maybe you can work out in one of those workout bubbles that look like Joe's box from You. 
Images: Danielle Cerullo / Unsplash
Fox News Blames The California Wildfires on…Diversity?
Another day, another chance for Tucker Carlson to say something offensively moronic, and boy, does he always deliver.
Last Tuesday night, Carlson had conservative commentator Dave Rubin on his show, and the result was the two of them discussing how the California wildfires have been caused by woke politics and diversity hiring. Mmmmmmmmmmmmmmmmmmmmmmmmmmmmmmmmm…what?
Rubin used utility company PG&E as an example, saying that because they have been focused on fair hiring and diversifying their workforce, there have been blackouts, which have led to fires. Carlson chimed his racist ass in and said, "PG&E strikes me as almost a metaphor for the destruction of the state," Carlson said. "Here's the utility which doesn't really know anything about its own infrastructure, but knows everything about the race of its employees. How did we get there?"
I would say it's more appropriate to ask how we got to a place where we're blaming diversity for natural disasters but go off Tuck.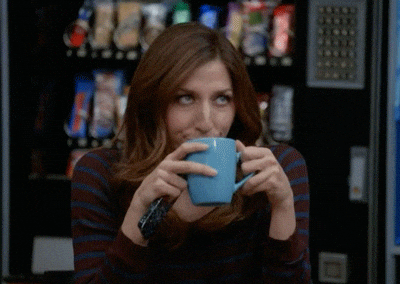 Rubin added in some more offensive sh*t by saying, "The problem right now is that everything, everything, from academia to public utilities to politics, everything that goes woke, that buys into this ridiculous progressive ideology that cares about what contractors are LGBT or how many Black firemen we have, or white this or Asian that ― everything that goes that road eventually breaks down,"
Imagine if these dudes used their energy to do literally anything else besides be assholes.

Fortunately, as of today, the fires are largely under control after destroying tens of thousands of acres. As we see above, the lengths the right will go to avoid the reality of climate change and its effects are truly stunning.
Donald Trump and Fox News Are Feuding
Terrible news for those who ship Donald Trump and Fox News — so mainly Sean Hannity and my Step-Uncle Fred. The "president" and the conservative news channel are usually busy jerking each other off, but there seems to be trouble in paradise, as Trump targeted Fox News in one of his latest Twitter tantrums. Say it ain't so!
Trump's Twitter tirade began with a cute lil' meltdown over the fact that Fox News was covering the 2020 Democratic Election without hate speech. His anger was directed at host Sandra Smith, who he criticized for going too easy on DNC Communications Director Xochitl Hinojosa during an interview. Then, his tweet spiraled into a barely legible word vomit with random, unnecessary capitalization that somehow brings up Hillary Clinton into it. Naturally.
Here are the first two tweets:
Just watched @FoxNews heavily promoting the Democrats through their DNC Communications Director, spewing out whatever she wanted with zero pushback by anchor, @SandraSmithFox. Terrible considering that Fox couldn't even land a debate, the Dems give them NOTHING! @CNN & @MSNBC….

— Donald J. Trump (@realDonaldTrump) August 28, 2019
….are all in for the Open Border Socialists (or beyond). Fox hires "give Hillary the questions" @donnabrazile, Juan Williams and low ratings Shep Smith. HOPELESS & CLUELESS! They should go all the way LEFT and I will still find a way to Win – That's what I do, Win. Too Bad!….

— Donald J. Trump (@realDonaldTrump) August 28, 2019
But Trump didn't stop there. Trump never stops there. Trump couldn't point out "there" on a map if it was right in front of him and clearly marked "there" in bold, italicized, underlined letters. Instead, he kept ranting, and eventually landed on the conclusion that "Fox isn't working for us anymore."
….I don't want to Win for myself, I only want to Win for the people. The New @FoxNews is letting millions of GREAT people down! We have to start looking for a new News Outlet. Fox isn't working for us anymore!

— Donald J. Trump (@realDonaldTrump) August 28, 2019
Again, this tweet is riddled with grammatically incorrect capitalization, but let's move beyond that and focus on the closing statement here. Donald Trump thinks Fox is supposed to be working for him. As in, they are supposed to deliver completely biased news, never hold him accountable, and always own the libs, no matter what. So like, he legit thinks Fox is his propaganda machine.

Reading Trump's tweets feels like a joke — because how could anyone take this sh*t seriously — but it is actually really scary to see the president publicly imply that a news channel should be working for him, and then publicly shame them for working against him by simply covering Democratic news.
Does this mean Donald Trump and Fox News are breaking up? I'm not sure this is the end, but it may be the beginning of the end. It is, at least, a warning of the obvious to Fox News: Trump's loyalty will disappear the second he decides he doesn't need or want you anymore. If you think Trump won't turn on you the second it's convenient for him or the second he feels like you aren't giving him enough unadulterated admiration…think again, b*tch!!!
Take note, Sean Hannity. And Step-Uncle Fred.
UPDATE, August 30: Fox News host Neil Cavuto responded to the president's tweets on his show last night.
"All right, well, I think the president watches Fox. I also think he is getting sick of Fox, which is weird, because I think he gets pretty fair coverage at Fox," he said, adding that the president has made clear that "to fact-check him is to be all but dead to him and his legion of supporters who let me know, in no uncertain terms, I am either with him totally or I am a 'Never Trumper' fully."
He went on: "First of all, Mr. President, we don't work for you. I don't work for you. My job is to cover you not fawn over you or rip you, just report on you… My job, Mr. President our job here is to keep scores, not settle scores."
Watch more of the response below.
"Mr. President, we don't work for you. I don't work for you," Fox News host Neil Cavuto said in the closing monologue of his show. "My job is to cover you, not fawn over you or rip you. Just report on you." pic.twitter.com/owHC2gwd0u

— Kyle Griffin (@kylegriffin1) August 30, 2019
Omfg This New Fox News Movie Looks Incredible
Every single thing in our lives has turned upside down in the past few years, and 2019 isn't promising to be any different. Hell has frozen over and we are going to be tuning into Fox News. No, not to hate watch, but to actually learn something. The movie centering around the Roger Ailes scandal is in production and I never thought I'd say this but it's making Fox News look glamorous.
Basically it covers the 20 year reign of Ailes as the head of the network and all the shady sh*t he did. What sort of shady sh*t? Oh you know just the sort of shady sh*t men in power seem to always end up doing: sexual harassment. But a movie simply about Ailes isn't what is worth getting excited about. No. What is bringing my butt to the box office is yet another incredible wig donned by Nicole Kidman who plays Gretchen Carlson. (The other wig I am referring to is, of course, Kidman's Big Little Lies hairpiece.)
We're tuning into Fox News next fall, ladies! pic.twitter.com/biMpeg9ZQH

— ilich (@theReal_ilich) December 10, 2018
Kidman is joined by Charlize Theron who will play Megyn Kelly and Margot Robbie as an associate producer at Fox. This is what I've always dreamed of- an ensemble film filled with ice queens and terrible politics. Russell Crowe is apparently on board to play Ailes, which feels a little to gracious considering Russell Crowe is like, an attractive older man, and Roger Ailes famously looked like hamburger meat that had been left in the Sun. We will have to wait to see who will play Bill O'Reilly and Rupert Murdoch, but maybe Satan himself is free and looking for screen time?

Heads up, you need to keep up with the news. It's not cute anymore. That's why we've created a 5x weekly newsletter called The 'Sup that will explain all the news of the week in a hilarious af way. Because if we weren't laughing, we'd be crying. Sign up for The 'Sup now!

Did Fox News Just Accidentally Troll Themselves?

File this one under: devastating self-owns. This week, during a segment made to talk about the media and "fake news" (sidebar: when can we retire the term "fake news"? Can it be now? Can it be yesterday?) our trusted friends at Fox accidentally showed a graphic live on air that made it seem like Fox News is the least trusted network in news. Wonder what they could have possibly done to earn that distinction.

Lol. This is like posting an Insta pic where your friend looks good and you look bad – a horrible error, to be sure. Once "Media Buzz" host Howard Kurtz realized what the graphic said he ordered it taken down, claiming that the graphic was actually supposed to be used at a later part of the show. You know, the part where the show is over and your TV is off. According to Kurtz, what he meant to show was a Monmouth University poll about whether the media regularly or occasionally posts fake news. Oops! Again, this is like going on Insta to post a cute selfie and then accidentally posting the toe fungus pic you sent to your doctor instead.

(We all send toe fungus pics to our doctors, right?)

Kurtz is now doing what Fox News hosts do best and slamming the media on what he says is "incorrect" reporting on the above graphic. According to him, the graphic is meant to show what percentage of people trust the each network compared to President Trump, and not to each other. Monmouth found that 30% of people trust Fox more than they trust President Trump, 20% say they trust the president more than Fox, and 37% say they trust both equally. Even still, putting up the poll with no context was what we in the media biz call "a bad look."

So what can we take away from this poll fiasco? The good news: Fox's accidental graphic shows that Americans tend to trust mainstream media outlets more than President Trump, and that CNN and MSNBC have much higher credibility than Fox.

The bad news: I heard this on Fox News so like, can you even trust it?

Heads up, you need to keep up with the news. It's not cute anymore. That's why we've created a 5x weekly newsletter called The 'Sup that will explain all the news of the week in a hilarious af way. Because if we weren't laughing, we'd be crying. Sign up for The 'Sup now!

Turns Out Bill O'Reilly Is An Even Bigger Shitbag Than We Thought

Here's some not surprising news: Bill O'Reilly is a garbage bag of a human being. Besides looking like every gross old man that your mom tells you to avoid at neighborhood parties, he actually is that gross old man that coworkers tell you to avoid at, like, your fucking job.

In a series of equally not-surprising scandals at Fox News, it's now been reported by The New York Times and the Washington Post (not fake news!) that Good Ole' Bill secretly settled one of six (SIX!!!) sexual harassment allegations with a network contributor for $32 million – which is a fuck ton of money, even by serial sexual harassement standards. But did that stop Fox News from renewing his contract? Of course not. Literally why would it?

The victim, legal commentator, Lis Wiehl, alleged O'Reilly repeatedly harassed her and engaged in "a nonconsensual sexual relationship" with her. According to Wiehl, O'Reilly sent her gay pornography and "other sexually explicit material," which is like the old people version of random dick pics. Either way, that's fucking nasty and way, way illegal.
That's right, gentlemen, it is illegal to randomly email porn to your coworkers. Set a reminder in your phone or something so that you don't forget! Apparently a lot of you are…

In case you've been living under a rock, O'Reilly was let go from his job at Fox News after a very casual 6 sexual harassment scandals and settlements were exposed. This settlement is so far the largest of the bunch, making it the most damning for both Fox News and O'Reilly. Like, is keeping a sexual harasser on your staff really worth $32 million? Was The O'Reilly Factor really that good? Probs not.

Of course, though Shitbag Bill (new nickname!) claims that he is the victim and that this is also lamestream media lies, his empty AF pockets tell an entirely different story. *Whispers* One of toxic masculinity that endangers and belittles women in the workplace. Mmmmbye!
BILL: It's one sexual harassment suit, Michael, what could it cost? 32 Million dollars?

Heads up, you need to keep up with the news. It's not cute anymore. That's why we've created a 5x weekly newsletter called The 'Sup that will explain all the news of the week in a hilarious af way. Because if we weren't laughing, we'd be crying. Sign up for The 'Sup now!