People Discovered Shein Was Selling A Swastika Necklace & Flipped Out
Because I don't say "I hate it here" enough times per day (my current count is at least 10 so far today alone), Chinese fast-fashion retailer Shein was caught selling Swastika necklaces on their site. And before you ask, no, this is not one of those situations where it kind of looks like a Swastika if you squint and cock your head to the side—they were blatantly selling a product they called "Metal Swastika Pendant Necklace" and it was exactly as the name describes.
Marissa Casey Grossman aka @fashionambitionist on Instagram pointed out the product's existence in a post to her Instagram feed, writing, "I have zero words" and calling the necklace "ABSOLUTELY disgusting". Other influential Instagrammers like @influencerstruth and @condeblast blasted Shein for their decision to produce and sell a swastika necklace. The listing is no longer active, and Shein has since apologized.
Some users pointed out in the comments that the swastika has long been a symbol of good luck and fortune in other cultures, and the Nazis appropriated it. Indeed, a Shein spokesperson told Buzzfeed that the necklace was not a Nazi swastika, but "a Buddhist swastika which has symbolized spirituality and good fortune for more than a thousand years." They added that the Nazi swastika has a different design and is pointed at an angle. Let's just hope the people looking to buy that $2.50 necklace knew that—but either way, a global company with over 11 million followers on Instagram should have known better.
This isn't the first time Shein came under fire for selling religious items, either. The necklace controversy comes less than a week after Shein briefly listed Muslim prayer mats and attempted to sell them as decorative rugs on their site. The mats were taken down almost immediately and the company quickly issued an apology on their Instagram, writing that they "vow to do a much better job in educating ourselves on different cultures, religions, and traditions." Clearly that promise hasn't panned out.
Over the weekend, anti-Semitism was in the news when DeSean Jackson, the wide receiver for the Philadelphia Eagles, posted a quote that he attributed to Hitler.

The statements that Jews plan to "extort America" and "achieve world dominations" are illustrations of a harmful stereotype that claims Jews control things like the banks, media, U.S. government, and have plots to take over the world. The stereotype dates back to the 19th century and has been used to scapegoat Jews for complex problems in the world.
After receiving backlash for the post, Jackson issued two apologies. He initially claimed, "Anyone who feels I have hate towards the Jewish community took my post the wrong way. I have no hatred in my heart towards no one!!" Ok, sure, but what exactly was the right way to take that quote?
In a later apology on his Instagram, he wrote, "I unintentionally hurt the Jewish community in the process and for that I am sorry!" He added, "This apology is more than just words – it is a promise to do better. I will fully educate myself and work with local and national organizations to be more informed and make a difference in our community."
View this post on Instagram
Despite his claim that he didn't intend to hurt Jews with the quote, I have to wonder how any quote attributed to Hitler that explicitly references Jews could not, by definition, hurt Jews. I mean, that was kind of Hitler's whole thing. (Also, for what it's worth, the quote is probably not even from Hitler, but that's the least problematic aspect of all of this.)
The Philadelphia Eagles released a statement calling the messages he shared "offensive, harmful, and absolutely appalling" and offering a vague promise to "take appropriate action".
— Philadelphia Eagles (@Eagles) July 7, 2020
Finally, to round out this horrible list, the Trump campaign is selling shirts with a design that is reminiscent of that of the official symbol of the Nazi party. Of course they are. See for yourself:
The President of the United States is campaigning for reelection with a Nazi symbol. Again.

On the left: an official Trump/Pence "America First" tee.

On the right; the Iron Eagle, the official symbol of the Nazi party.
⁰It's not an accident. Bigotry is their entire brand. pic.twitter.com/mSOBxwf7Wa

— Bend the Arc: Jewish Action (@jewishaction) July 1, 2020
After receiving backlash for it, the Trump campaign issued the biggest non-apology of all time. In an email to Forbes,  Trump's 2020 communications director wrote, "in Democrats' America, Mount Rushmore glorifies white supremacy and the bald eagle with an American flag is a Nazi symbol. They have lost their minds."
First of all, the complaints about this shirt have nothing to do with Mount Rushmore, but ok, and nice gaslighting on the anti-Semitism concerns. This comes after Facebook removed Trump campaign ads contained an image of a red upside down triangle, a symbol used by Nazis to identify political prisoners in concentration camps. At this point, it's hard to believe the Trump campaign does not know exactly what they are doing with these kinds of graphics, and honestly, I'm just surprised Facebook actually did something about Nazis on their platform for once.
The Shein rep told Buzzfeed, "As a multicultural and global brand, we want to apologize profusely to those who are offended, we are sensitive to these issues and want to be very clear that we in no way support or condone racial, cultural and religious prejudice or hostility." They added, "We are actively working through our internal structure and processes to resolve these issues, including a product review committee to ensure that we respect our diverse community."
Currently, according to Shein's own website, products are first conceptualized by designers, and after manufacturing go through a "rigorous" quality assurance" phase. Regardless of whether or not you buy the apology, you should probably stop shopping at Shein anyway. The company has been accused of ripping off indie designers and their clothes fall apart after one wash. It's also a fast-fashion company, and while they claim to support fair labor practices and sustainability, fast-fashion companies in general have contributed to massive pollution and waste and committed human rights abuses.
Images: Shein; 0ne0fone (2), fashionambitionist / Instagram
Kylie's Billionaire Status Is As Fake As Her Lips, According To New 'Forbes' Report
Remember back in 2018, when we all laughed at Forbes calling Kylie Jenner a self-made billionaire? Well, nearly two years later, they're finally changing their tune on Kylie, but oddly enough, the "self-made" part isn't the issue. On Friday, Forbes published a scathing article, titled "Inside Kylie Jenner's Web Of Lies—And Why She's No Longer A Billionaire". Grab the popcorn and make yourself some tea, because things are about to get savage.
When Forbes made their billionaire claim about Kylie Jenner in 2018, it was based off an estimated $900 million valuation of Kylie Cosmetics, which at the time was reportedly 100% owned by Kylie. Kylie's billionaire status became official last fall, when she sold 51% of Kylie Cosmetics to Coty in a deal that valued the brand at $1.2 billion. But the new Forbes report is a damning look into false reporting, forged documents, and a level of thirst that's almost beyond comprehension, until you remember which family we're dealing with here.
Kylie launched her initial line of lip kits in 2015, and there's no question that the business was an instant success. Products sold out instantly, new lines were added, and Kylie Cosmetics quickly became a cultural force. And that's when the thirst started. Soon after Kim Kardashian West got her own Forbes cover in 2016, "Jenner publicists began a campaign to 'get a Forbes cover for Kylie.'" This campaign included meetings at Kris Jenner's house and accountants' offices, and the family handed over tax returns that were, literally, hard to believe. According to the documents, Kylie Cosmetics brought in over $300 million in revenue in its first full year of business, and Kylie had a personal income of $110 million, which would have put Kylie at number two on Forbes' Celebrity 100 list of Hollywood's top earners. But Forbes, along with "a handful of analysts and industry experts," "found the numbers implausible."
Forbes ultimately decided on a lower, more reasonable estimate for Kylie's personal income. They pegged her income at a lowly $41 million, which saw her bumped from number two on the Celebrity 100 list, all the way to 59th place. According to the new report, Kris Jenner's PR team told Forbes that they were "so frustrated" with Kylie's placement on the list, because "we've done so much." I can only imagine how hard that must have been for them, wow.
While the people at Forbes never really believed those numbers from 2016, and even go so far as to suggest that the tax returns were forged, they later became public, and were widely reported as fact. Projections for Kylie Cosmetics' future skyrocketed, and the hype continued to grow. The next year, the Jenners reported to Forbes that revenue in 2017 had increased t0 $330 million, and these numbers apparently seemed legit enough to Forbes, or maybe they just got sick of Kris calling and showing up unannounced at their offices, because they finally gave Kylie her coveted cover. The magazine estimated her personal net worth at $900 million, which meant she would soon become, as we've all heard, the youngest self-made billionaire ever.
After a year and a half of sucking up to Forbes, the Kardashian-Jenners were obviously thrilled with the cover, and staff at Kylie's 21st birthday party even wore shirts with the cover printed on them. Aside from the obvious eye-roll at calling Kylie "self-made," many people were also still skeptical about her designation as a billionaire. But those concerns were seemingly put to rest by the Coty deal, which seemed to cement her billionaire status.
But many people suspected Coty had overpaid for their stake in the company, and when taking a closer look at the deal, holes start to appear. Too bad these ones can't be filled with Restylane! Filings from Coty report that sales of Kylie Cosmetics products totaled $177 million in the 12 months before the deal, and were just $125 million in 2018. This is a far cry from the $300+ million that Kylie and fam had previously bragged about, and that wasn't the only discrepancy. Kylie's team told Forbes that Kylie Skin did $100 million in sales in the first month and a half, but the Coty filings show that the company's sales were only $25 million for all of 2019. These numbers are so much smaller than the ones previously reported, that Forbes sees only two possible options. Either the numbers from Kylie's team were never real to begin with, or Kylie Cosmetics went from $300 million in 2016, to just $125 million two years later. There's no real evidence that business has dropped that sharply, so the only logical conclusion is that Kylie was lying to Forbes all along. Honestly, fitting for a company that was built on the lie that Kylie was just over-lining her lips .
The Forbes report also raises some questions about Kylie Jenner's ownership stake in Kylie Cosmetics. It's long been reported that Kylie was previously the sole owner of her brand, so it would be assumed that she now, after selling the majority stake, she owns 49%. But Coty's purchase agreement "lists a 'KMJ 2018 Irrevocable Trust,' controlled by Kristen M. Jenner, as owning a profit interest in Kylie Cosmetics. Upon the sale, the document says the trust would get a capital, or ownership, interest in the company." In Kardashian speak: if you know anything about Kris Jenner, it's that she never forgets to take her 10 percent. So basically, when Kylie cashed out of her company, 10 percent of the money went into this trust which is almost definitely controlled by Kris, which means Kylie actually only owns 44.1% of her company.
I'm not into math, but all of this means that Kylie Jenner doesn't have as much money as we previously thought. In fact, these new findings are drastic enough that, when combined with the economic situation created by the pandemic, Forbes has decided that Kylie Jenner is no longer a billionaire. Considering all the factors, Forbes says that there's "no way to realistically peg Kylie's net worth above a billion." For someone who basically turned her Forbes cover into a personality, this has got to sting.
After the Forbes article went up on Friday morning, Kylie Jenner wasted no time before making her thoughts known. She posted a tweet bashing Forbes for their "inaccurate statements and unproven assumptions," saying that she's "never asked for any title or tried to lie my way there." She also called out the suggestion that Forbes was shown fake tax returns, pointing out that the only "proof" offered in the article is that Forbes didn't believe the numbers. I'll admit, I'm wondering about that as well, but I don't automatically believe Kylie, either.
what am i even waking up to. i thought this was a reputable site.. all i see are a number of inaccurate statements and unproven assumptions lol. i've never asked for any title or tried to lie my way there EVER. period

— Kylie Jenner (@KylieJenner) May 29, 2020
In a subsequent tweet, Kylie seemed to insinuate that we and Forbes shouldn't be talking about how much money she has when there are so many more important things going on. Which is funny coming from her, because back when the issue came out in July 2018, she was all too happy to post about the cover on multiple platforms just so people could fixate on how much money she had. Convenient that she wants to have it both ways. To her credit, Kylie did post on Instagram about George Floyd's murder, but she also posted about getting an influencer package for the new Despicable Me movie on the same day.
i can name a list of 100 things more important right now than fixating on how much money i have

— Kylie Jenner (@KylieJenner) May 29, 2020
So Kylie may not be a billionaire anymore, but before you start setting up a GoFundMe for Kylie's living expenses, don't worry, Forbes still estimates that she's worth $900 million. If that number is right, then it's only a matter of time before she gets reinstated in the billionaires club, but I have a feeling Forbes won't be celebrating her achievements the second time around. Personally, I'd like to hear more about the allegedly forged tax returns, and I have a feeling the IRS might be interested in those as well. We all know Kris Jenner loves a good publicity stunt, and I'm sure a tax fraud trial would send those KUWTK ratings through the roof!
Images: Kathy Hutchins / Shutterstock.com; kyliejenner / Twitter
Is The Backlash To Kylie Jenner's 'Forbes' Cover Low-Key Sexist?
If you've been anywhere on the internet, you've heard the news of Kylie's Forbes cover—and seen the immediate backlash. Personally, I had mixed feelings about it. I definitely stan for the Kardashians (and Kylie in particular). But I also bristle at the suggestion that they got to where they are through hard work and perseverance. TBH, most of the reason I worship them is because they have the option of doing the exact opposite. If I found people who worked hard to be inspirational, that would imply I wanted to work hard myself. Nope. I'd like to be born into a family of millionaires, doctor my face into submission, and make thousands of dollars off each selfie I Instagram. Isn't that the American dream?
So, given that Kylie did basically exactly that, I both applaud her successes and scoff at the mention of her being "self-made." But when I dug deeper into the story—and the backlash—I was admittedly surprised at what I found. (*Lights cigarette and squints à la Carrie Bradshaw*) I couldn't help but wonder: Would Kylie have gotten all this backlash if she were a man?
What Did Kylie Really Achieve?
In researching this article, I did something I suspect many detractors did not. I actually read the Forbes article, and I learned some surprising things. First of all, Kim (age 37) is worth $350 million—compared to Kylie's (age 20) estimated $900 million. To be worth 2.5 times the OG Kardashian is all kinds of impressive.
Second, Kylie Jenner trademarked the name Kylie Lip Kits at only 17 years old. This brings me to the point I'm really interested in. Apparently, Kylie trademarked the name in August 2014. According to this handy timeline, she first began denying rumors that she got lip injections in March 2014. This means two things. Within months of injecting her lips, she decided that her business would be based on selling women (non-injected) lip products. That's BOLD. Also, she then admitted to getting lip injections in May 2015. Basically, announcing to the world: "I don't think makeup alone can make your lips look good—but here are some of my fave makeup looks for $29 dollars each, available November!" And THEN she proceeds to sell out her first-ever launch in under a minute.
Sure, the accumulated wealth to launch the company (and buy those injections) wasn't self-made at all. But she literally designed and purchased her own lips and then built a cosmetic brand based exclusively on said lips. The only way that could be more self-made was if she handled the syringe herself.

How Does She Compare To Other Self-Made Billionaires?
When compared with other self-made billionaires, the difference in the Kardashian clan is noteworthy. While many others came from privileged backgrounds, Kardashian wealth is extreme. Not to mention the fact that they literally broadcast that wealth, and so have an audience at the ready. So, all these factors play into the swift rebuke of the term "self-made."
And yet. Much of the same criticism launched at Kylie is applicable, in other forms, to her fellow billionaires. Co-founder of Snapchat Evan Spiegel, who grew up in Pacific Palisades—the 4th wealthiest neighborhood in LA, and home to plenty of celebs—got a Cadillac as a 16th birthday present, went to a celeb-studded "ultra-exclusive" school, and took helicopters to family ski trips. His introduction to the tech world was assisted by his father's alumni status at Stanford, his insider access through "family friends," and countless other helping hands. Spiegel himself has acknowledged his privilege as a "young, white, educated male," adding that "life isn't fair." Hurts to hear, but hella true.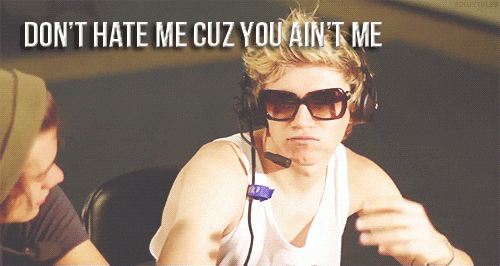 So, What's The Real Difference?
For one, there is the legitimate difference in amount of wealth and available publicity, which I acknowledged above. But, there's also the fact that Spiegel, for all his self-awareness, can make statements like that because no one else is calling his status into question. People might argue about whether or not he's an ass, but so far, no one's balked at the idea that he's self-made. Even the article I link to above, including all the details on his privileged early life, includes no direct suggestion that he didn't earn his success beyond including Spiegel's own quotes. The charmed life, the wealthy parents, and the parade of expensive cars are seen as little more than details about how lucky this self-made billionaire happens to be.
Per the dictionary's shadily announced definition yesterday, self-made means "having succeeded in life unaided." Evan Spiegel was not unaided. Donald Trump was not unaided—remember his father's "small" million-dollar loan? Mark Zuckerberg was not unaided—he, too, has publicly stated that "you don't get to be successful like this just by being hard working or having a good idea." He even explicitly adds that if he'd "had to support family" or "didn't know be fine if Facebook didn't work out," he'd never have made it. Sure, they may have been LESS aided—but privilege is privilege, and most of the self-made billionaires you'll see on any list had a lot of it.

Is It Sexist Tho?
So, is it low-key sexist that the public only riots when Kylie's included on this list? That only Kylie is demanded to actively downplay her own achievements, while male counterparts are lauded as shrewd and self-aware for acknowledging their circumstances? Yeah, kinda. Sadly, Kylie doesn't fit the public image of what a young self-made billionaire should be. We've been bred to expect nerdy white boys in turtlenecks, and we don't question their credentials if they fit the bill. But throw a stunner like Kylie on the cover of Forbes, and people go nuts trying to justify their worldview. While there is some merit to questioning how much "self-made" applies to Kylie Jenner, it's a shame that only Kylie Jenner has provoked that insistent questioning, and not the privileged young men who came before her.
Images: Giphy (3)