10 Food Trends That Deserve To Die Slow, Painful Deaths
2017 was a tough year for a lot of us. We had to settle with the fact that a large orange Gremlin that someone fed too much Fox News and Diet Coke became president. We also came to the realization that like, 75% of men think it's cool to rub your shoulders or have lengthy convos about dicks with you at work. We felt a shiver of hope when black women literally saved Alabama. Then immediately fell down a dark hole of sad when net neutrality died.
Regardless, though, of the news both good and bad, we were faced with an alarming number of food trends this year. Some were okay (I see you, queso everything) but some were fucking stupid. Let us now reflect on these, our horrible food trends of 2017.
1. Burgers That Aren't Burgers
"Oh, I really want a burger, but not like, a burger." Oh I totally know what you mean, 2017. Let me fetch you a burger on an avocado bun, or a burger made of sushi, or a burger made of ground-up legumes and beets. If you want a burger, eat a fucking burger. It ceases being a burger when you get rid of one of the two main ingredients—burger and bun. If I see my medium rare beef burger sitting on a "bun" of avocado, I will tell you to go fuck yourself. Then I'll find a bun, sandwich all that shit together, and enjoy it the way it was made to be enjoyed.

2. Activated Charcoal
If you love eating the ingredients of a face mask, this trend is for you. For some reason, activated charcoal had a moment this year—we assume pushed by doctors who concluded that too many people would try to drown their sorrow in alcohol this year and needed a way to soak up the poison. The cool thing is that this turns everything black, but the not cool thing is that it makes birth control less effective, which we basically need to live.
3. Matcha
I know you love your matcha soy latte and your matcha hot chocolate and your matcha colored hair and your matcha matching socks, but fuck off. Do you know what matcha actually is? It's a type of green tea that blah blah can help boost your memory and improve cholesterol, but to most of us, it was just a weirdly sweet, chalky tasting substance that made us look cool at Starbucks. Hard pass.
4. Unicorn And Mermaid Shit
Apparently, 2017 became a 12-year-old girl and everything had to embody a nightmare starring Lisa Frank and pastel Care Bears. That horror bled over into our coffee this year, and I for one hope to never see it again. My hatred also applies to the differently named—but same concept—Mermaid anything. When you crave artificial coloring, lack of flavor, and sugar flavored sugar, this is what happens. This is why we can't have nice things.

5. The Instant Pot
This year, we were faced with what would happen if we fed meth to our slow cookers. The answer was the instant pot, and I think everyone over at Bon Appétit and Food & Wine collectively jizzed themselves over the sponsorship dollars that poured in when they declared this the biggest culinary wonder of 2017. Is it cool to cook eight different things in one vessel? Yah. Is it cool after a week when all I want is some spaghetti and Rao's? Not really. You will use this once, just like the wine aerator you were spurred to buy in 1998 and the spiralizer you scraped dollars together for in 2009.
6. Fucking Stupid Oreo Flavors
You know what ISN'T necessary? Improving on something that literally already makes a billion dollars (I assume) per year. Is it good to expand a little and see what you can convince stupid Americans to buy? Yah, totally. But branching into flavors like FRUITY PEBBLES and COCONUT CRÈME or even fucking JELLY DOUGHNUT are 100% unnecessary and an insult to the very people who inhale sleeves of these chocolatey godsends nightly to take the pain out of everyday life. Leave me my dignity, Nabisco.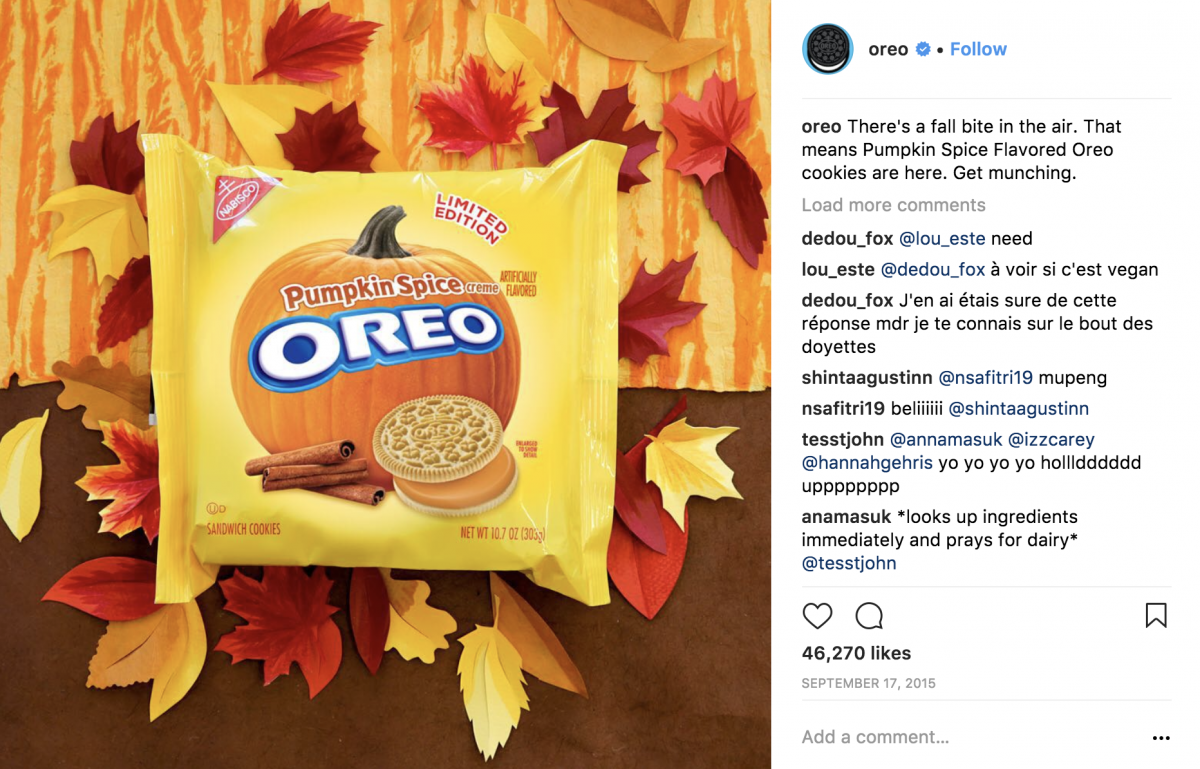 7. Cauliflower
"I LOVE SHITTY PALE BROCCOLI," said no one ever. Can we collectively come to an agreement that cauliflower rice, potatoes, pasta, pizza crust, coffee, chocolate, hope—whatever—needs to stop? I love carbs, and I know you do, too. There's literally no reason to pretend you're enjoying a big bowl of smooshed and sculpted wet vegetable matter over the fettuccini Alfredo you actually wanted. And if you're crazy enough to actually make a time-consuming cauliflower pizza, then you should be committed.
8. Cloud Eggs
Remember this shit? It popped up around January/February of this year, and it's just as stupid now, nearly 11 months later. Cloud eggs are what happens when you have too much time on your hands decide to beat and fluff the whites of an egg without disturbing the yolk. Do you know how time consuming that is? Do you know how not impressive it tastes? Picture an unsweetened meringue with an over easy yolk in the middle. I'll take my avocado toast elsewhere.

9. Ube And Other Purple Shit
If you missed the purple trend, it's okay because I slept my way through most of it. This purple yam from tropical parts of Asia was used in desserts all over my Instagram feed. I won't be sorry to see purple shit go, although Pantone seems to have a different opinion. Sidebar: the color of the year sucks. Nobody likes purple.
10. Avolattes
This one came and went in a flash—and for good fucking reason. It's exactly what it sounds like—a latte served in a fucking avocado. STOP. Put my coffee in and around my mouth and stop trying to combine breakfast trends.

The 8 Best Places For A Fire Avocado Toast Instagram In LA
Whether you live in LA or are just on vacay there, you can't leave without gramming an avocado toast at brunch—that's just like, the rules of feminism. Lucky for you we have done the hard work of "researching" the best avocado toasts, and by researching we mean getting drunk at brunch and eating avocado toast, obvs. Here's the best places to go if you want to enjoy California's other favorite green plant.
1. Sqirl
The avocado toast here is hands down the most photogenic in LA. It's definitely hyped up, but for a good reason. The wait is going to be annoying, but the line moves fairly fast. Still, be prepared to wait at least an hour before ordering. But trust us, it's worth it. You'll probably spot Marisa Tomei or Kristen Stewart here, which will def help you get those eyes on your Instagram story.
2. Jon & Vinny's
This is like the LA version of a typical Italian diner, which is to say it is nothing like an Italian diner at all. It does, however, have a delicious avocado toast option on Ciabatta bread. The place is small and laid back, so don't expect to bring a big group here. They also have pizza options, but come here for brunch and get the avocado toast—it's a light option with olive oil and lemon and it's what we imagine the Godfather would have eaten if he was a hipster teenager in a punk band.
3. Zinc
Zinc has one of the best ambiences in DTLA. It's also very spacious, which means you don't have to wait very long for a table. The avocado toast here hits all the right checkmarks. It's a classic and hearty choice with radish, chives, lemon, and avocado. You def want to get the egg on it, unless you're trying to lose three pounds. It's also right by the climbing gym, so you could also just do that afterwards and then the calories don't count. Right?
4. LA Chapter
This is great because it's in the Ace Hotel and you can 'gram yourself drinking a cocktail at the Upstairs pool bar after brunch. This is a great place to take your parents when they come and visit. They make their avocado toast with Aleppo pepper, which doesn't mean anything to us or to Gary Johnson but probably means something to people who care about that stuff. Definitely get a poached egg on this one, at least for the picture.
5. Stir Market
This is a large Italian market much like Eataly in New York. The avocado toast is simple here, but still totally grammable. This is right in the heart of Weho, which means don't wear your flip flops and leggings unless you're trying to hide from the paparazzi. You'll probably want to grab a coffee afterwards and day drink along Santa Monica Blvd afterwards.
6. The Hart & The Hunter
No, this isn't a new band playing at Bonnaroo this year, it's the name of a Southern themed restaurant.  Obvs if we're going southern you know this isn't for the betch on a diet. Their avocado toast comes with pickled onions and capers on sourdough (obvs) bread. It's one of those cute places that make you feel like you should be wearing a sundress, so plan accordingly. Also plenty of light in here for good pics.
7. Tar & Roses
This is another popular place that will have a wait, but their avocado toast is always with a twist so it's worth coming here. Like yes, there's a wait at the Louvre in Paris too, but are you just going to not see the Mona Lisa? Exactly. Their avocado toast options have included crab and Atlantic sardine, so they're not fucking around.
8. Commissary
The LINE hotel is a gem of a place in K-town for many reasons, but Commissary is the best reason when you're hungover on a Sunday morning, probably from dancing in the lobby the night before. The avocado toast comes with goat cheese and is surprisingly spicy, so watch out if you're not into hot stuff. It is a little pricy, but it's a hotel, get used to it.
The Rainbow Food Trend Is Back, And This Time It's More Extra Than Ever
Food trends are weird. Sometimes, it's basically just everyone discovering a food that already existed, like avocados in approximately 2011. (Seriously, what did we put on our toast before? I honestly can't remember.) But some trendy foods are a little more questionable, like turning every kind of food into sushi, or a burrito, or the invention of cronuts. But while these fad foods are a bit strange, this new food craze is fucking batshit. It's basically the rainbow food trend of 2016, only this time it's somehow even more hipster-y and annoying. Brace yourselves.
People on Instagram have started using weird ingredients to make foods that look like a "galaxy" pattern, or with super bright colors to look like "mermaid" or "unicorn" shit. Yes, this is real. We've already exposed the horror that is mermaid toast, and unfortunately, moldy-looking cream cheese on bread is only the beginning. People Hipsters are not stopping at toast, and there's no telling what they will fuck up next in the name of a few Instagram likes.
These monstrosities foods as a whole have been dubbed "Lisa Frankenfoods," and that's scary accurate, but also it makes us want to kill ourselves. These nightmare people spend way too much time and energy making all their food weird colors, and in case that wasn't extra enough, they usually add some stars and moon shapes on top for good measure extra basicness. Because it's totally normal to spend hours wandering the sprinkles aisle at Kroger to find some stars to put on your fucking toast. 

The most popular example you've probably seen is the rainbow bagel. But like, why does it need to be a rainbow? The colors don't even taste like anything, and you know it's a complete pain in the ass to make. But either way, some hipster in Brooklyn had an idea and now the damn thing is Instagram famous. Honestly though, that's just the tip of the iceberg, and we've been dealing with the rainbow bagel for a year now, so it's nothing new.
"I've got 99 problems, but a bagel ain't one" [email protected]__christina

Enjoy the world's most beautiful bagel! https://t.co/Q62XrT0JeQ #NYC pic.twitter.com/fxXAW7ve4l

— The Bagel Store (@thebagelstore) March 26, 2017
The real issues are the new mermaid and galaxy foods because they typically combine the two worst people alive: hipsters and vegans. These people love foods like chia pudding and smoothie bowls, and they ruin them by adding this powder shit called "Blue Majik," which is apparently an Australian superfood but we're not convinced. Really, should you be eating something from a company that spells "Majik" like that? No? We didn't think so.
Blue Mermaid Smoothie Bowl with E3Live Blue Majik https://t.co/fTYetXm7cb via @GOTSA_ pic.twitter.com/QvzbKiyG1N

— Oh Snap! Let's Eat! (@ohsnapletseat) August 16, 2016
Also, how does the above bowl qualify as "mermaid," exactly? It's just blue.
Introducing the latest foodie trend – vegan galaxy toast https://t.co/7jScKL0Vff pic.twitter.com/dBQQuPZA3n

— Harper's Bazaar UK (@BazaarUK) March 20, 2017
We won't lie, the galaxy shit looks kind of cool, but wouldn't you rather have it on like your computer background, or maybe some basic leggings if you're going to EDC Vegas? There's really no need to ruin your cream cheese by adding swirls of black food coloring, so just don't. We like visually appealing food, but it's food, not your fucking middle school art project. Also, please stop trying to make everything into a mermaid or a unicorn or Lisa Frank. Like, we get it, you miss the 90s and you can't let go of your childhood and you have some lingering daddy issues that you're attempting to deal with by eating your feelings, literally. But please stop assaulting my Instagram feed with this nonsense. Just do what everybody else who still harbors resentment towards their absent father does, and fuck a bunch of old dudes. Or buy a Disney princess bikini. Your call.
Mermaid Toast Is The Latest Hipster Food Trend That's Ruining Bread For The Rest Of Us
Every so often something so extra comes along that it's almost hard to even believe such extraness can even exist. The past year alone has given us succulent nails and permanent freckle tattoos for the face. Usually these stupid fads are relegated to the beauty realm, but occasionally they seep into the one thing we love most: food. Remember rainbow bagels, rainbow grilled cheese, and Oreo bagels? Yeah, we tried our best to forget, but our memory-zapping devices had a glitch so we couldn't quite erase these bastardized hipster foods from our memory. After the shit show that was 2016, we thought we'd seen it all. But nothing could have possibly prepared us for what's currently sweeping the blogs and Instas of foodies girls with an iPhone everywhere: fucking mermaid toast.
Your first question is probably "wtf is mermaid toast?" and if you'd just slow your roll for a second, we will get to it. But first I'd like to give a shoutout to whichever unhappy, bored white girl thought of this, because this is truly a testament to how far we as a race have come in our basicness. We all thought avocado toast was the be-all and end-all of basic white girl foods, but mermaid toast blows this toast out of the water. Pun intended, because I'm the worst person alive. So the next time someone tries to make fun of you because you ordered avocado toast at brunch, kindly show them this shit and let them know it could be a hell of a lot worse:
Move over rainbow bagels, mermaid toast rules the internet now: https://t.co/RcgomziEdV pic.twitter.com/4kSNF5GX8p

— Eater (@Eater) March 13, 2017
I KNOW. Don't be fooled; this shit may look pretty, but it sounds gross af. It starts with toast (groundbreaking I know) then is smeared with almond milk cream cheese—because, of fucking course you can't just use regular cream cheese that comes from a cow—and finally the mermaid part: blue algae powder. That's right. What you thought was just blue food coloring (because that's what normal people would do) is actually made from sea plants. Fucking ew. Talk about eating for the Insta, because who in their right mind would eat that for the taste? You're left with a swirly blue-green piece of toast that's kind of pretty I guess but also kind of looks like that time I forgot to throw out a tub of Philadelphia five months past the expiration date.

Also, can we fucking stop with the mermaid obsession already? Like, I get it. You wore a mermaid crown to Coachella and Ariel is your fave Disney princess and you live for a beach vaycay and moisture is the essence of wetness and wetness is the essence of beauty. But none of that shit makes you a mermaid. Sorry, it just doesn't. But if you want to spend your life thinking you're half fish, half person, be my fucking guest. Just please stop with the mermaid toast. It's gross, no one cares, and you look basic af.