The Weirdest Food Trends That Are Going To Be Big In 2020
Another year, another bout of really f*cking stupid food trends on the horizon. Lest we forget the year that cauliflower took over the world in the form of rice, pizza, mashed potatoes, and any other carb that brought us joy. Do you remember when we convinced ourselves that milkshakes with towers of desserts balanced precariously on the rim were a good idea? How about that horrible year that everyone was "eating for the Insta"? How about we eat to like, maintain consciousness? Call me old-fashioned, guys. But much as 2020 has managed to fit a dumpster fire of a year in only 9 days, some of the food trends coming our way aren't going to be that great, either. But others I can't wait for. You win some, you lose some. After perusing what experts across the internet have to say about it, here are the top 2020 food trends we expect to see f*cking everywhere this year. God save us all.
1. Mocktails And "Soft" Alcohol

Apparently, 2020 will see the rise of mocktails as less something to make fun of and more something that your bestie orders at the bar without trying to be funny or ironic. I guess the good news is that your pregnant friend can still feel like she's having fun, which means she has one less excuse to bail on girls' night. The bad news is, from my experience, those bougie juices are gonna run you close to the price of a cocktail anyway. According to Today, "Non-alcoholic bars are popping up all across the country and zero-proof concoctions with delicious juice and tea blends may become just as popular as a glass of wine when it comes to unwinding after work." Hmm. I'm not sure if a hibiscus kombucha tea-tail will be able to take the edge off a day of meetings and marathon conference calls quite like a gin and tonic, but here's to trying.
2. Nashville Hot Chicken

I have to hand it to the South: when it comes to comfort food, they know what the f*ck is up. It looks like Nashville Hot Chicken, a southern staple, is going mainstream in 2020, giving me the excuse I didn't need to eat fried chicken every day from now on. For a dish that was literally born out of rage and spite, the addition of this hot chicken to the KFC menu last year predicts big things for 2020. Fried chicken coated in either pepper oil or crusted with spices then dunked in more hot sauce sounds like a phenomenal way for me to blow out all my hangovers this year.
3. Harissa Everything

Remember the year of Sriracha? It was on pizza, in your pasta, in desserts, and played a starring role in one of my nightmares that I'm still working through in therapy. This year, expect the same fervor around harissa, a spice paste originally hailing from Africa. Named a food trend by TIME in 2015, harissa actually died off a bit between then and now, but is expected to make a comeback. Uber Eats is reporting that orders for dishes containing the spice paste have been on a sharp upturn, so stay tuned for this condiment to end up in nearly everything this year.
4. Zero-Waste Food

Suck it, boomers. Although most of our parents' generation was all about styrofoam and like, destroying the planet, millennials are clearly here to save the day with zero-waste food taking a firm grip in our collective food culture in 2o20. According to Insider, "Composting and avoiding purchasing foods with excess or wasteful packaging are all ways that home cooks and restaurant chefs will be incorporating the zero-waste trend into the kitchen in 2020." I'm personally curious how this is going to affect my addiction to GrubHub, PostMates, and Uber Eats, all of which require restaurants to have a lot of to-go packaging (some of which is less green than others).
5. Veganism And Plant-Based Meat

Good news: Vegans will have even more of a reason to share their lifestyle choices with you in 2020, thanks to the huge push toward alternative, lab-grown, and plant-based "meats". If you can get a fast food behemoth like Burger King to sell a burger made of plants (and a lot of unpronounceable ingredients), you're well on the way to getting "regular" Americans (see: rednecks) to try something other than deep-fried cow. Spoiler alert: I'm betting there will be a HUGE pushback once people realize the amount of chemicals that are used to make plant-based meats.
6. Healthy Comfort Foods

You know what I want? HEALTHY mac and cheese. Good-for-me fried chicken. Pizza that boosts my energy and gives me clear skin. That sentence started out sarcastic, but now it doesn't sound so horrible. Apparently, 2020 will see the emergence of comfort foods created to be, like, better for us. That means that the decadent, cheesy, greasy goodness you normally associate with self-soothing, sweatpants, and binge-watch sessions could be getting makeovers with vegan meats, alternative butters, and sauces created from (gag) squash and veggies. These are truly the end times.
7. Ube

If you enjoy desserts and colors that just barely occur in nature, boy, is this the trend for you! If you aren't familiar, ube is a purple yam used mainly in Filipino cooking and desserts. And with stay at home moms regular people searching the interwebs more than ever for Filipino desserts (see: those tired of the usual Oreo cheesecakes for Jan's monthly neighborhood get-together), expect to see this weird sh*t everywhere by summer.
8. Alternative Butters And Spreads

According to Whole Foods, the evil empire that allows me to spend my entire paycheck while patting myself on the back for what a great localvore I am: "Think seed butters beyond tahini—like watermelon seed butter—and seasonal products like pumpkin butter year-round. Nut butters beyond cashew, almond, and peanut (hello, macadamia) and even chickpea butters (no, it's not a new name for hummus)."
Watermelon seed butter? I gotta hand it to some of these hipsters companies for making use of literal trash and attempting to turn it into something trendy. Hot tip, restaurants: swap that avocado toast for watermelon seed toast and charge $25. Brunch just got a lot bougier. And, probably, grosser. Change my mind!
I'm sure there will be stupider trends than these, and I for one can't wait to see them takeover our Instagram feeds, one influencer at a time. In the meantime, I'll be chowing down on hot chicken and watermelon seed spread, waiting for the rest of the world to catch on.
Images: Anna Pelzer, Unsplash; Blake Guidry, Unsplash; Fey Marin, Unsplash; Christoper Williams, Unsplash; Sharon McCutcheon, Unsplash; Megumi Nachev, Unsplash; Giphy (3)
A Look Back At The Biggest & Weirdest 2019 Wellness Trends
It's almost 2020, and you know what that means… time for literally everyone to say "where the HELL did the time go???" But for real. It seems like it was just yesterday when we published our predictions on what food and health trends were going to take over 2019 back in December 2018, and here we are now, reviewing those predictions to see if we were actually right or not. Want to know just how far we'll go to prove we're always right? We consulted health, food, and trends experts to double-check those receipts. You're welcome. Now let's reflect.
We predicted these 2019 health trends would be big in the new year:
Shorter workouts 

Fitness streaming services 

Vibration therapy/percussion guns 

More sleep 

Personal training

Treadmill classes 
And the verdict is… ALL OF OUR HEALTH TREND PREDICTIONS WERE ACCURATE AF. Christine Lusita, TV health expert and author of The Right Fit Formula, confirms that every single thing on this list was actually trendy in 2019. "We're in a crucial time right now where we're celebrating our individuality and building community," she says, which is why short classes, apps, and gadgets gained popularity and helped us live our best lives this year. Wanna know just how sleepy we all were in 2019? MINDBODY's senior director of research and product marketing, Amaya Weddle, Ph.D., adds that "60% of Americans say they're frequently exhausted at work. Nearly 22% say they regularly nap in their cars during the week." Vibes. Hence the need for more rest and self-therapy.
Speaking of self-care, I know I'm not the only one who watched slow-mo videos on Instagram of fitness influencers using percussion guns on their thighs and ass in the name of engagement "post-workout therapy" (hello? Am I actually the only one?). The only trend Lusita thinks might be slightly off (BUT STILL RIGHT) is personal training, because that was "more popular with Gen X and boomers" (lol, ok boomers) than with millennials. But all of our other trends were, and I quote, "SPOT ON" and "great predictions by yourself and Betches." Ugh, we're like sooo smart. 

We also predicted these weird af 2019 food trends:
Fake meat snacks

Fats

Avocado ice cream

Kimchi

Seaweed
Drum roll, please… Lisa Richards, nutritionist, author, and the creator of The Candida Diet, confirms we were *basically* ALSO TOTALLY RIGHT! "Fake meats have certainly become more popular as we close out 2019. While they're not necessarily snack based, there are many restaurants and food manufacturers turning to plant-based proteins for burgers and other fake meat products," says Richards. And if you need further evidence, just look at every single burger chain scrambling to get a version of The Impossible Burger up on their menu rn. Fats were a thing, too, but mainly for people who follow a Keto diet. "A focus on preventing inflammation and improving heart health has contributed to this focus on healthy fats as well." She notes that seaweed had a "steady presence that wasn't so large it would be considered a fad, but not too small that it wasn't noticed." Avocado ice cream was also prob at the bottom of the 2019 food trend list, but it was popular nonetheless. "The overall category of ice cream with non-dairy bases has certainly risen in popularity. Especially people with lactose issues can now find plant-based frozen desserts made of coconut, almond, oat, cashew bases," adds Joy Wang, RDN with Sun Basket. Raise your hand if you've ever been personally victimized by lactose. *raises hand*
Anyway. See??? Right. Always. Can't wait to show this to the next person who doubts me. Maybe I should quit my day job and become a fortune teller. 

2020 Health & Food Trend Predictions
We're too tired from being right all the time, so we're not doing a full-length 2020 trend predictions list this year. BUT, because we're also really nice, here's a preview of some health and food trends to come after the ball drops. 
Weddle claims that fitness streaming services like Peloton (despite that tragic holiday commercial) and more sleep will continue to reign supreme in the new year, including an emphasis on… wait for it… NAPS. "We're seeing the demand for nap bars and nap pods is growing. In fact, 54% of us want to try nap bars for some midday Zs." SIGN ME TF UP FOR A NAP BAR. (Sorry for yelling, I'm just very enthusiastic about this trend.) In addition to fermented foods like kimchi, Uber predicts (based on what people were ordering off Uber Eats this year) that starfruit, cold brew, udon, bone broth, oat milk, and Impossible burgers are going to spike in popularity in 2020. I mean, I just Uber Eats things like bagels and Gatorade when I'm hungover, but to each their own, I guess.
Finally, according to Lusita, "we're going to see an increase in more 'fun' related workouts that build community, spirit, and all the feels," as well as an increase in a more individualized approach toward food and fitness. Think wellness and nutrition coaching, mindful exercise, intuitive eating, and at-home workouts with MIRROR and Hydrow. Health and wealth, here we come!
Here for it. Maybe 2020 is the year I'll finally eat right and pick up a dumbbell or two. Prob not tho. Who needs to workout when you can predict the future? Not us! 
Images: Brenda Godinez / Unsplash, GIPHY (2)
10 Major Food Trends You Can Expect To See In 2019
As we wave goodbye (and good f*cking riddance) to 2018, we look forward to the weird, fresh, and sometimes terrible trends to come in the world of food. Will we be inundated by raw everything? Are pomegranates going to be fetch once more? Will avocado toast be de-throned as the reigning basic b*tch breakfast? This year, we predict weed will be more mainstream, sea vegetables will adorn our plates next to motherless meats, and foamy delicious oat milk will grace our lattes. Sounds like it's gonna be wild, so take a look.
1. Dope Is Dope
Bet on seeing hemp milks and cannabis everything in the grocery store this year. Your stoner neighbor, Bob, will be v pleased since, he's been telling you about the benefits of this totally sacred herb since he moved into your building two months ago. But seriously, the appeal of all things CBD and hemp is spreading, and food producers are getting in on the action. According to Whole Foods, CBD oil is still technically prohibited from being featured in food items, but that may not last long.

2. Seaweed And Sea Greens
Sushi lovers rejoice, because seaweed is totally going mainstream this year. According to Forbes, "Expect to see seaweed butters, kelp noodles, puffed snacks made from water lily seeds, plant-based tuna alternatives made from algae, crispy salmon skins and kelp jerkies." I'm going to go ahead and move kelp jerkies to the absolute bottom of my "try" list, but all that other stuff sounds at least kind of fun.
3. Lab-Grown Meat
We probably shouldn't be calling stuff grown in a lab "meat", but here we are. According to the New York Times, KFC and several other meat giants are already throwing money at "motherless meat". I'm really not sure how I feel about this, but theoretically it's better for the environment, as well as being more ethical. You know that vegan burger that totally "bleeds" when you bite into it? Look into your future.
4. New Lettuces
Romaine cut us deep this year and betrayed our trust one too many times. The big E. coli scares have actually pushed chefs and home-eaters to try new types of lettuces from Bibb to Little Gem. The trendiest, though, will be lettuces grown hydroponically and/or on urban farms. Don't ask, because I'm not a scientist.

5. Gut-Healthy/Probiotic Heavy Foods
It all started with Activia and Jamie Lee Curtis telling us we needed her yogurt to help us poop more. Sure enough, more and more of us are turning to things like kimchi and kombucha for a healthy crap factory. This year, we'll see even more pre- and probiotic rich foods, all aimed at keeping our microbiome in healthy working order.
6. Cricket Protein
I'll let you take a minute to digest the whole insect protein thing. About 80% of the world eats bugs in some form, and Americans have been behind for awhile. Look for cricket flour (really) in your local health food stores this year. Apparently, the roasted, ground, and milled crickets make for a yummy, nutty flavor profile. Still gonna be a no from me, dog.

7. Bee Pollen
Hopefully this trend will help and not hurt the already dwindling bee population (#savethebees fam). Victoria Beckham has claimed for YEARS that bee pollen is what gives her that #glow, and she may be on to something. Bee pollen is an amazing source of anti-inflammatory antioxidants and, according to early studies, may help in reducing cholesterol and healing cuts and bruises.
8. Peganism
What do you get when you combine vegan eating and paleo diets? Peganism, and it's as stupid as it sounds. This shouldn't surprise any of us, what with literally all of our coworkers telling us how much better they felt once they cut out bread, pasta, and happiness. Combine that with veganism, which–fun fact–you're required by law to tell everyone about within four minutes of meeting them. 2019 is gonna be LIT.

9. Oat Milk
Get ready to replace your almond and soy milk with oat milk. According to Nation's Restaurant News, "Dairy-free, nut-free, possibly gluten-free (depending on where the oats are processed), this milk substitute is drawing fans with its texture that's creamier than most of its counterparts. It also has more protein than nut milks (but less than soy milk or actual milk) and more fiber than any of them." So, now you can make your overnight oats with actual oat milk, which is like, so meta.
10. Pacific Rim Flavors
We've found a new cuisine to hopelessly exploit! How many fruits can we make go extinct in 2019? Pacific Rim refers to places like western North and South America, Asia, and Oceania, which seems rly broad, but I don't make the food trend rules. According to Whole Foods, "Ingredients like longganisa (a Filipino pork sausage), dried shrimp, cuttlefish and shrimp paste are on restaurant and home menus that span from breakfast to dinner, while vibrant tropical fruits such as guava, dragon fruit and passionfruit are making their way into colorful smoothie bowls and cocktails." Let's take bets on how long it takes for Americans to wipe out dragon fruit while on the quest for delicious smoothies.
Images: Shutterstock; Giphy (4) 
5 Weird Food Trends To Prepare For In 2019
The entire world of food changes from year to year, and it's getting hard to keep up. No one drinks milk anymore. Now we drink "milk" made from nuts (is it just me or did almond milk not exist three years ago?). No one eats regular pasta anymore. Now we eat black bean and lentil spaghetti. What's going on? And WTF are lentils? As funky as these things sound, nut milk and veggie pastas are totally normal compared to the other weird stuff popping up on the supermarket shelves nowadays. Prepare yourselves, betches. Here are some of the upcoming weird food trends you can look forward to seeing (and trying, if you dare) in 2019.
1.  Fake Meat Snacks
Sounds even more nasty when I put it that way… but yeah, vegetarian meats like bacon and pork rinds are going to be hitting supermarkets for all of us herbivores to snack on when we get hungry. Now instead of dehydrated peas and beets, we can enjoy some faux meat (while dreaming of eating a real cut of steak or slab of greasy bacon while we do it)!
2. Fat
Bulletproof coffee, coconut and MCT oil, and chocolate treats, oh my. In honor of the super trendy paleo and keto dieters out there, fatty foods are officially IN. If you're on a strict diet that allows a higher-than-normal daily fat intake, then you're in luck, because more brands will be catering to your needs in the coming year.
3. Avocado Ice Cream
Avocado lovers, unite! Everyone loves avocados so much that now it's becoming a staple ingredient in meals and desserts… including ice cream. Once upon a time, making avocado ice cream was only for extremely bored people who found the recipe on Pinterest and just so happened to have an appetite and an avocado lying around their kitchen. Now, everyday people are actually going to be buying it from the dairy-alternative ice cream section in your grocery store. What a world we live in, huh?
4. Kimchi
What is kimchi? Fermented cabbage… which I only have when I'm at Korean BBQ but some people like it a lot, so much so that it's expected to trend in 2019. This Korean-oriented veggie is tangy, super healthy, and full of good bacteria. It's similar in nature to sauerkraut, which is also an acquired taste. If you like cabbage, radishes, spices, fish sauce, and kelp powder, give kimchi a shot. Mix it with seafood, or eat it on its own if you're feeling crazy.
5. Seaweed
You know when you're at the beach and you go in the water and that creepy green stuff gets caught around your legs and gives you a heart attack because you think it's a jellyfish? Well, that's the cool new thing to eat! Dried, spiced, roasted, and flavored seaweed is gluten-free AND vegan, so I guess you could say it's pretty healthy too. I sound like I'm hatin,g but seaweed is actually delicious. Shout out to my fellow seaweed salad eaters.
Images: Dose Juice / Unsplash
10 Food Trends That Deserve To Die Slow, Painful Deaths
2017 was a tough year for a lot of us. We had to settle with the fact that a large orange Gremlin that someone fed too much Fox News and Diet Coke became president. We also came to the realization that like, 75% of men think it's cool to rub your shoulders or have lengthy convos about dicks with you at work. We felt a shiver of hope when black women literally saved Alabama. Then immediately fell down a dark hole of sad when net neutrality died.
Regardless, though, of the news both good and bad, we were faced with an alarming number of food trends this year. Some were okay (I see you, queso everything) but some were fucking stupid. Let us now reflect on these, our horrible food trends of 2017.
1. Burgers That Aren't Burgers
"Oh, I really want a burger, but not like, a burger." Oh I totally know what you mean, 2017. Let me fetch you a burger on an avocado bun, or a burger made of sushi, or a burger made of ground-up legumes and beets. If you want a burger, eat a fucking burger. It ceases being a burger when you get rid of one of the two main ingredients—burger and bun. If I see my medium rare beef burger sitting on a "bun" of avocado, I will tell you to go fuck yourself. Then I'll find a bun, sandwich all that shit together, and enjoy it the way it was made to be enjoyed.

2. Activated Charcoal
If you love eating the ingredients of a face mask, this trend is for you. For some reason, activated charcoal had a moment this year—we assume pushed by doctors who concluded that too many people would try to drown their sorrow in alcohol this year and needed a way to soak up the poison. The cool thing is that this turns everything black, but the not cool thing is that it makes birth control less effective, which we basically need to live.
3. Matcha
I know you love your matcha soy latte and your matcha hot chocolate and your matcha colored hair and your matcha matching socks, but fuck off. Do you know what matcha actually is? It's a type of green tea that blah blah can help boost your memory and improve cholesterol, but to most of us, it was just a weirdly sweet, chalky tasting substance that made us look cool at Starbucks. Hard pass.
4. Unicorn And Mermaid Shit
Apparently, 2017 became a 12-year-old girl and everything had to embody a nightmare starring Lisa Frank and pastel Care Bears. That horror bled over into our coffee this year, and I for one hope to never see it again. My hatred also applies to the differently named—but same concept—Mermaid anything. When you crave artificial coloring, lack of flavor, and sugar flavored sugar, this is what happens. This is why we can't have nice things.

5. The Instant Pot
This year, we were faced with what would happen if we fed meth to our slow cookers. The answer was the instant pot, and I think everyone over at Bon Appétit and Food & Wine collectively jizzed themselves over the sponsorship dollars that poured in when they declared this the biggest culinary wonder of 2017. Is it cool to cook eight different things in one vessel? Yah. Is it cool after a week when all I want is some spaghetti and Rao's? Not really. You will use this once, just like the wine aerator you were spurred to buy in 1998 and the spiralizer you scraped dollars together for in 2009.
6. Fucking Stupid Oreo Flavors
You know what ISN'T necessary? Improving on something that literally already makes a billion dollars (I assume) per year. Is it good to expand a little and see what you can convince stupid Americans to buy? Yah, totally. But branching into flavors like FRUITY PEBBLES and COCONUT CRÈME or even fucking JELLY DOUGHNUT are 100% unnecessary and an insult to the very people who inhale sleeves of these chocolatey godsends nightly to take the pain out of everyday life. Leave me my dignity, Nabisco.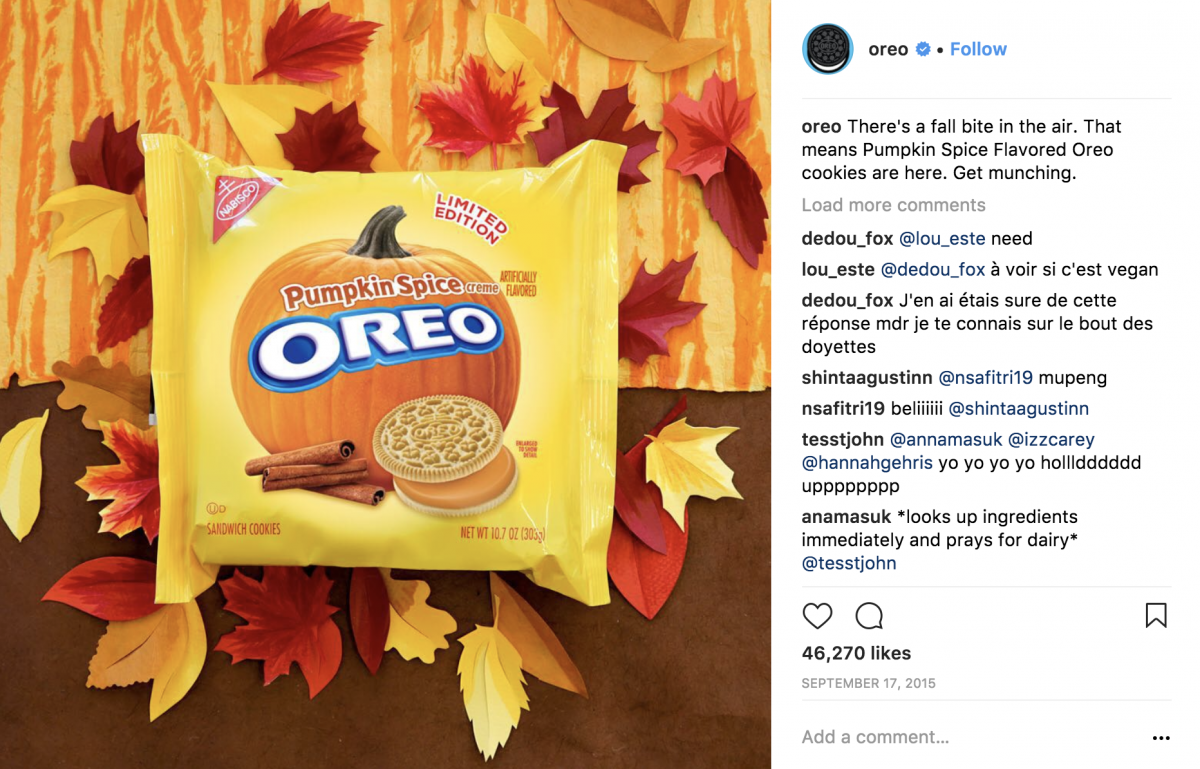 7. Cauliflower
"I LOVE SHITTY PALE BROCCOLI," said no one ever. Can we collectively come to an agreement that cauliflower rice, potatoes, pasta, pizza crust, coffee, chocolate, hope—whatever—needs to stop? I love carbs, and I know you do, too. There's literally no reason to pretend you're enjoying a big bowl of smooshed and sculpted wet vegetable matter over the fettuccini Alfredo you actually wanted. And if you're crazy enough to actually make a time-consuming cauliflower pizza, then you should be committed.
8. Cloud Eggs
Remember this shit? It popped up around January/February of this year, and it's just as stupid now, nearly 11 months later. Cloud eggs are what happens when you have too much time on your hands decide to beat and fluff the whites of an egg without disturbing the yolk. Do you know how time consuming that is? Do you know how not impressive it tastes? Picture an unsweetened meringue with an over easy yolk in the middle. I'll take my avocado toast elsewhere.

9. Ube And Other Purple Shit
If you missed the purple trend, it's okay because I slept my way through most of it. This purple yam from tropical parts of Asia was used in desserts all over my Instagram feed. I won't be sorry to see purple shit go, although Pantone seems to have a different opinion. Sidebar: the color of the year sucks. Nobody likes purple.
10. Avolattes
This one came and went in a flash—and for good fucking reason. It's exactly what it sounds like—a latte served in a fucking avocado. STOP. Put my coffee in and around my mouth and stop trying to combine breakfast trends.

The Weird Things Beyoncé, Reese Witherspoon, & Other Celebrities Eat To Stay Skinny
I used to believe Us Weekly when they tried to convince me stars were "just like us." I mean, can you blame me? How can you look at a photo of Matthew McConaughey pushing a shopping cart and think otherwise? Needless to say, I was wrong, and I wasn't considering the fact that celebrities have homes on islands that can't be located on a map. Like, these people do cocaine to prepare for award shows and they've never swiped a debit card in their lives. They're extra. I recently enjoyed investigating/shit-talking strange things celebs do to stay healthy, and I've decided to dig even deeper into their bizarre diets. After doing some research, here are the diets worth talking about.
Something about the image of a 41-year-old woman waking up in her Santa Monica mansion and downing a jar of baby food for breakfast is just disturbing to me. In a world where you can literally hire a Michelin star chef to cook you gourmet healthy meals, you decide to crack open a jar of Gerber sweet potato mush meant for a 6-month-old. Honestly, I understand Reese is technically eating fruits and vegetables all day, but I really DGAF about how many nutrients are in these jars. You're an adult. Stop eating baby food and eat some food meant for grown-ups. Or like, just buy a Vitamix if you're that committed to eating blended produce.

We knew Megan Fox was a betch ever since she bitched out MK & Ashley in Holiday in The Sun, and her lifestyle choices since 2001 have only confirmed our convictions. Megan Fox has admitted that she literally hates dieting and exercising, so she basically eats whatever she wants and then goes on some extreme cleanse right before she has to look good for a movie. One psycho cleanse she loves is the vinegar diet, where she practically starves herself and takes shots of vinegar to flush water weight out of her body and cleanse her entire system, whatever that means. There's no way this shit was cleared by her doctor.
Before Bey and Jay started cooking vegan spaghetti for dinner, Bey was a crazy dieter, and she did this insane master cleanse diet back in the day to drop 20 pounds for Dreamgirls. Aside from liquid shakes and soups, Beyoncé literally only drank this cleanse drink, which is a mixture of water, lemon juice, maple syrup, and cayenne pepper. No solid food for 14 days. Personally, I'd die. Wouldn't everyone? I guess that's what differentiates the normal human from Queen B. Also like, her 50 Grammys and $350 billion net worth, but whatever.
It's not exactly breaking news that Victoria's Secret models starve themselves before the fashion show, but Adriana Lima's protein shake diet just confirms that fact, so please stop showing us videos of these girls boxing with a fake trainer in an XXS sports bra. Adriana admits that for a couple weeks leading up to the show, she cuts out all carbs and relies on protein shakes to survive. Oh, she also works out for two hours a day. I mean, I felt lightheaded just typing that. How is this girl still standing? Can we just hope she eats some bread after the show is over like Gigi claims to do? I'm concerned.
I used to wonder how Amanda Seyfried looked like she was glowing at all times, and I guess it's because she was eating raw celery everyday. Suddenly I'm not as jealous. A few years back, Amanda Seyfried ate an all-raw diet, which is exactly what it sounds like. She ate raw vegetables, nuts, and seeds. I seriously wouldn't even feed that shit to a bird. Like, she now admits that it was intense and awful, but seriously, what kind of results are worth that pain? I'm gagging just thinking about snacking on raw spinach. Can someone please pass me an Oreo before I vom?

Remember when you were little and your mom would yell at you for eating Play-Doh? It turns out this bullshit is now being encouraged as a "detoxification" method. Shailene Woodley straight-up eats clay, and she actually swears by it. Apparently clay helps build your immune system, balances your pH levels, and helps your body fight off diseases. I'm sorry, but don't Flintstones vitamins do the same thing?? This diet hack sounds like something your Pledge Master made you do and swear to never talk about again. This Hollywood alternative nutrition shit has officially gone too far.
6 Food Trends That Have No Business Being At Your Wedding
Look, we understand that weddings are stressful for everyone involved. The groom would probably rather eat his shoe than be the center of attention. The bride is locked in a battle of financials and décor with her mother and mother-in-law. The bridesmaids are ready to stab each other over splitting the bill for the bachelorette party. And we, your wedding guests, just want a simple open bar and some goddamn hot food.
But Pinterest and the internet have betrayed us. Food trends for weddings are running unchecked into really fucking stupid territory. Be it naked cakes, or food trucks, or all things fusion, we're here to guide you on what you def should not do for your wedding when it comes to feeding us.
1. Doughnuts
These belong in brightly colored stores dotting the crappiest highways, not on a cutesy peg board at your dessert table. I'm sorry, but is that shit just ASKING to be poked, prodded, burped on, and otherwise touched by the nasty toddlers you allowed to be present during your special day? Hard pass.

2. Cupcakes
These were cute in 2012. They now have no place on your dessert table. Negative bonus points if they're mini and form your cake. You, ma'am, can fuck right off. Are you a bride or a bitch hosting a sweet 16? Grow up.

3. Food Trucks
Are you a Brooklyn hipster, a hipster hopeful, or just trying to be a dick? Go ahead and have a food truck at your wedding. While we deem these acceptable for cocktail hour (but barely), making your guests stand in line for made-to-order food, when we're already drunk and tired and just want to eat mashed potatoes through a straw, is cruel and unusual. Did you know that food trucks used to be referred to as Roach Coaches? Yeah, so go ahead and have one. I fucking dare you.

4. Breakfast For Dinner
Oh, I'm going to keep my food cost low but thrill my guests with lukewarm pancakes, runny eggs, and tepid potatoes! Yippee! You realize I could have this for a quarter of the price down the road at Waffle House, right? A wedding—especially an evening wedding—is no goddamn place for your brunch dinner.

5. Mini Everything
Oh my gawwwwddddd, look how cute this tiny taco is, next to my tiny tequila shot, next to my tiny beef wellington. Hey guess what—if you have an open bar, I'mma need some real food up in this bitch. Full size servings, please. Unless you're planning on hosting a tea party for small children, go ahead and put me down for the full size steak, full size shots, and full size fucking dinner.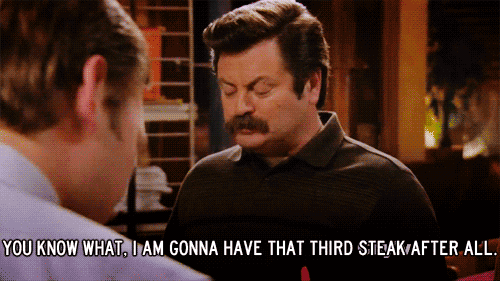 6. Around The World And Fusion
Pick a fucking country—even two—and settle on it. Unless you and your intended are each like, Indian and Mexican and Native American and Italian and Jewish, you don't need 20 fucking dishes representative of your culture. Uh, no, I really don't want Korean-Jewish fusion tacos or sesame chicken next to my matzah balls. Knock it off. As was once said in Forgetting Sarah Marshall: "It doesn't make you a traveler of the world, it makes you full of shit."

The Rainbow Food Trend Is Back, And This Time It's More Extra Than Ever
Food trends are weird. Sometimes, it's basically just everyone discovering a food that already existed, like avocados in approximately 2011. (Seriously, what did we put on our toast before? I honestly can't remember.) But some trendy foods are a little more questionable, like turning every kind of food into sushi, or a burrito, or the invention of cronuts. But while these fad foods are a bit strange, this new food craze is fucking batshit. It's basically the rainbow food trend of 2016, only this time it's somehow even more hipster-y and annoying. Brace yourselves.
People on Instagram have started using weird ingredients to make foods that look like a "galaxy" pattern, or with super bright colors to look like "mermaid" or "unicorn" shit. Yes, this is real. We've already exposed the horror that is mermaid toast, and unfortunately, moldy-looking cream cheese on bread is only the beginning. People Hipsters are not stopping at toast, and there's no telling what they will fuck up next in the name of a few Instagram likes.
These monstrosities foods as a whole have been dubbed "Lisa Frankenfoods," and that's scary accurate, but also it makes us want to kill ourselves. These nightmare people spend way too much time and energy making all their food weird colors, and in case that wasn't extra enough, they usually add some stars and moon shapes on top for good measure extra basicness. Because it's totally normal to spend hours wandering the sprinkles aisle at Kroger to find some stars to put on your fucking toast. 

The most popular example you've probably seen is the rainbow bagel. But like, why does it need to be a rainbow? The colors don't even taste like anything, and you know it's a complete pain in the ass to make. But either way, some hipster in Brooklyn had an idea and now the damn thing is Instagram famous. Honestly though, that's just the tip of the iceberg, and we've been dealing with the rainbow bagel for a year now, so it's nothing new.
"I've got 99 problems, but a bagel ain't one" [email protected]__christina

Enjoy the world's most beautiful bagel! https://t.co/Q62XrT0JeQ #NYC pic.twitter.com/fxXAW7ve4l

— The Bagel Store (@thebagelstore) March 26, 2017
The real issues are the new mermaid and galaxy foods because they typically combine the two worst people alive: hipsters and vegans. These people love foods like chia pudding and smoothie bowls, and they ruin them by adding this powder shit called "Blue Majik," which is apparently an Australian superfood but we're not convinced. Really, should you be eating something from a company that spells "Majik" like that? No? We didn't think so.
Blue Mermaid Smoothie Bowl with E3Live Blue Majik https://t.co/fTYetXm7cb via @GOTSA_ pic.twitter.com/QvzbKiyG1N

— Oh Snap! Let's Eat! (@ohsnapletseat) August 16, 2016
Also, how does the above bowl qualify as "mermaid," exactly? It's just blue.
Introducing the latest foodie trend – vegan galaxy toast https://t.co/7jScKL0Vff pic.twitter.com/dBQQuPZA3n

— Harper's Bazaar UK (@BazaarUK) March 20, 2017
We won't lie, the galaxy shit looks kind of cool, but wouldn't you rather have it on like your computer background, or maybe some basic leggings if you're going to EDC Vegas? There's really no need to ruin your cream cheese by adding swirls of black food coloring, so just don't. We like visually appealing food, but it's food, not your fucking middle school art project. Also, please stop trying to make everything into a mermaid or a unicorn or Lisa Frank. Like, we get it, you miss the 90s and you can't let go of your childhood and you have some lingering daddy issues that you're attempting to deal with by eating your feelings, literally. But please stop assaulting my Instagram feed with this nonsense. Just do what everybody else who still harbors resentment towards their absent father does, and fuck a bunch of old dudes. Or buy a Disney princess bikini. Your call.