The Absolute Worst Wellness Trends Of The Past Decade
It's no secret that we live in a society obsessed with wellness. According to one statistic, the global wellness market is estimated to reach $4.75 trillion in 2019. And while some wellness trends are genuinely beneficial, plenty are complete and utter bullsh*t. Read on for some of the worst wellness trends over the last 10 years.

It's hard to believe that just ten years ago, millions of people thought they could outsmart common sense science and lose weight by remaining sedentary and holding an oscillating weight for a few minutes each day. *Sigh* a girl can dream. Despite the claim that the Shake Weight can provide a total upper-body workout "in only 6 minutes per day," this is highly unlikely. What it will do is make the holder look like they're giving a hand job to a disembodied robot dick.

The HCG Diet involves taking the hormone HCG, eating a 500-700 calorie diet (not a typo) and forgoing exercise altogether, all for almost a month. There's way too much to unpack here. First, altering your hormones is far from casual and should be a larger decision made under the care of a doctor. But even without that element, the diet is absolutely insane. The average woman needs to consume 2,000 calories per day to maintain weight and 1,500 calories to lose one pound per week. While these figures are obviously not one size fits all, suggesting that a person should eat one-third or half that amount is not sustainable and frankly, is probably starvation. And no exercise at all? Something's not adding up here.

Not even Smith Jerrod could convince me to try this farce of a diet. Adoptees eat a diet, usually only plant-based, consisting of completely raw (that is, never heated over 104-118°F or 40-48°C) and unprocessed foods. I could eat 100 pounds of raw carrots and still be starving, so I do not understand how this diet is sustainable for more than one meal. If that weren't unappealing enough, experts say that all of the slicing and dicing required to prepare raw foods actually strips them of many of the nutrients that proponents of the diet claim are lost to traditional cooking methods. Hard pass.

I'm not here to ruin your good time on this one. In fact, I'm the first person to crave a cold, hard glass of Chardonnay after a moderately difficult grueling workout class. So why not save yourself the trip and have a one-stop shop in your gym? The issue is that alcohol decreases the level of glycogen in your muscles, which creates the energy the muscles need to repair and strengthen themselves, not to mention increase your metabolism. I guess there's a reason most gyms don't have a vodka fountain, and it's because alcohol basically sabotages your workout. So as tempting as it might be to toss one back immediately after barre, opt for some water instead.

We all have that one friend who swears by hot yoga and insists that she "doesn't feel like she's getting a real workout" unless she leaves the class in a pool of her own sweat. Unfortunately, these hot classes can do more harm than good. While many hot exercise classes turn the heat upwards of 100 degrees, the American College of Sports Medicine recommends temperatures between 68° and 72° F degrees for athletic facilities. In other words, there's really no reason to make the room that hot, except for the false perception that you got a great workout because you sweated out half your water weight. Then there's the risk of dehydration, heatstroke, and heat exhaustion. I'll stick with my normal temperature yoga, TYVM.

This list wouldn't be complete without an entry from our favorite pseudo-medical professional wellness expert, Gwyneth Paltrow. In 2015, she recommended that women steam their vaginas, claiming "It is an energetic release—not just a steam douche—that balances female hormone levels." The hormone claim is patently false. But that's the least of the troubles with this bogus trend. First and foremost, the vagina doesn't need help regulating itself. Second, steaming raises body temperature, opening the door for unwanted bacteria and yeast and poor lubrication. No thanks. And finally there's the risk of, you know, burning your cooch. As with most things Gwyneth says, you should probably ignore this one.

Detox teas are yet another product of dubious efficacy shilled by celebrities and, in this case, Bachelor rejects, Kardashian-Jenners, and Real Housewives. Funnily enough, none of the #ads promoting these products show the user sitting on the toilet, even though that's where these teas will take you. As we've explained before, detox teas are essentially liquid laxatives, and prolonged use can cause diarrhea, cramps, dysfunction of the bowels, and dependence on the laxatives. Yikes.

I've never really understood this one. The idea of drinking a black smoothie, or worse, brushing my teeth with black toothpaste never really held much appeal. I can kind of see where we went wrong with thinking this would be a wellness product, since activated charcoal is most commonly used in the case of an overdose because of its ability to absorb toxins. But as far as its detoxing properties go, there's no need to use it to filter out toxins because we have kidneys and a liver to do exactly that. There's also no clear evidence that it whitens teeth, clears acne, or controls odors. Even worse, it can reduce the effectiveness of certain medications. So basically, it makes you look demonic in pictures and that's about all we can guarantee.

Continuing the theme of completely unnecessary detoxing procedures is colonics, popularized by, you guessed it, the GOOP-meister herself. Colonics are procedures that flush your colon with water in an effort to detox the body. As we've covered above, our bodies are more than capable of purging themselves of toxins without any outside help. In addition, colonics can cause cramping, vomiting, electrolyte imbalance, rectal tears and even death. Just a few more reasons to spare your butthole.

Despite the douche factor, as vaping began trending, it was thought to be a healthier alternative to smoking. And when used as a means to quit cigarettes and other tobacco products, it may be effective, though it hasn't been approved by the FDA for this purpose. We are, however, starting to see its risks. Just a month ago, a study found that Juul e-cigarettes deliver nicotine similarly to regular cigarettes. Considering that teenagers are some of the biggest users of e-cigarettes, this raises the concern that e-cigarettes are creating a whole new customer base of nicotine addicts, some of whom will eventually either turn to regular cigarettes or supplement their vaping with smoking. Then there's the potential link between vaping and lung disease, and the instances of people who have ended up in the hospital because of vaping. While there's still a lot we don't know, it's safe to say that vaping is far from the miracle it was originally thought to be (and still incredibly douchey).
If this list is any indication, our collective obsession with wellness, no matter how absurd, will continue for many decades to come. What other ridiculous wellness trends have you noticed over the past decade? Sound off in the comments!
Images: Shutterstock; Giphy (10)
7 Exercise Mistakes That Are Sabotaging Your Workout
Going to the gym f*cking blows. Half the time I don't know what I'm doing, so I just resort to hopping on the elliptical for 30 minutes before calling it a day. Not to mention, it's sweaty, painful, annoying, and honestly, I'd rather be on my couch watching SVU reruns. That's why nine times out of ten, I'll fork over the $40+ and just sign up for a bougie workout class where I can have an instructor tell me what to do, use the studio's freebie dry shampoo and face wash, post proof I was there on my Insta story, and continue avoiding an actual gym like the plague. And that's coming from me, a Pilates instructor, who yes, can also hate working out just as much as you do. If you're like me and want to make sure you're getting your money's worth of your fancy workout class, don't make these exercise mistakes after you sign up, because you're going to end up sabotaging yourself.
1. You're Not Properly Fueling Before Class

Never go to class on an empty stomach. You'll be groggy, irritated, and maybe even a little hangry. You can't expect your body to push through your workout and give it your all if you're operating on zero fuel. Grab a banana and some peanut butter—any food that will give you quick carbs for a boost of energy—and eat 30 minutes to an hour before your class to give your body what it needs.
2. You Won't Get Off Your Phone

Yes, Twitter is funny as sh*t, but pull yourself away from your tech for the entire duration of a class. If you need to take a quick selfie or snap a pic for some ~content~ that's fine, but do it before class or as soon as it's over. It's super rude to your instructor and other class attendees, and if you can't pull yourself away from your iPhone for an hour you won't be able to focus on your workout and will miss out on reps. And I promise you that your ex does not give a sh*t you made it to your fourth Barry's class in the past week… if he's still watching your story.
3. You're Wearing The Wrong Clothes

You don't need to show up wearing a sports bra, but wear clothes you feel confident in and that are at least semi-fitted. If your clothes are too baggy, your instructor won't be able to check your form, you'll lose out on maximizing your reps, and it can even lead to injuries. Avoid your college sorority T-shirts and think of it as an excuse to hit up Lululemon for some quality workout gear.
4. You Don't Tell Your Instructor You're Injured

First of all, kudos to you for even getting to class in the first place. But don't be so badass that you avoid telling your instructor you have something going on. Even if you don't think it's anything, letting your instructor know something doesn't feel right—or if you have a legit injury that's been checked by your doctor—is always the move. Your instructor should be able to modify any exercises for you, and can even give you a few pointers on how to rehab your injuries.
5. You Won't STFU

If you're hitting up a class with a friend, great. But stop talking sh*t/gossiping/stalking your Ship matches together as soon as class starts. If you really need to catch up, grab green juice after class and chat there. Or if you know that you won't be able to shut up when you're together, take the class on your own and make plans with them later.
6. You Arrive Late Or Leave Early

Yes, the MTA is a bitch and a half and will probably make you late at one time or another, but don't let make you late to your workout class. Not only could you lose your class credit or be charged by the studio (ugh, annoying), but it can also jeopardize your safety. 99 percent of classes start and end with a warm up and cool down and yeah, you should absolutely do them. They are crucial to helping your body prepare for exercises later in class, and they'll help relieve any soreness or tightness after your workout. IMO, not stretching after a spin class should be a felony.
7. You're Not Eating After Class

After you're done hitting a high-impact class, the first thing you should do is eat a good meal with protein. Avoid a sugary smoothie (yes, even it's made with mostly fruit) and try a good salad topped with tofu, beans, or another lean protein, or a sandwich you can take on the go. Yes, working out can help you lose weight, but only proper nutrition can make you fit and help you reach your goals. Don't let the past 45 minutes you spent sweating out last night's vodka sodas be in vain!
Images: bruce mars / Unsplash; Giphy (7)
The Top Exercise Myths You're Buying Into & Why They're B.S.
If there's one thing a betch is great at, it's excuses. Creating the perfect escape plan for any situation on the fly is second nature. That is especially true when it comes to living a healthy lifestyle. Like, who among us hasn't said "yeah, I took six tequila shots and did a line of coke last night, but I ate egg whites and avocado for breakfast, so it's fine"? This week on our Diet Starts Tomorrow podcast, we sat down with trainer, Power Lifter, and owner of Syatt Fitness, Jordan Syatt, to get real about reasons we're not living a healthy life. Here are the classic six excuses we use, and why they're ultimately crap:
1. "I Do High-Intensity Workouts Less Often"
If you've had a near-death experience at Orange Theory, you're likely aware the HIIT, or high-intensity interval workouts, are all the rage right now. Most of their marketing is that you can work out for like, 20 minutes and then continue to burn calories 48 hours after. While Syatt says this is true, it's not necessarily better: "being consistent for a long time is always going to be better than being intense for a short period of time." So yeah, you may have gone to Barry's Bootcamp once, but if you don't go consistently, you might be better off just walking on the treadmill five times a week.

2. "I'm Too Insecure To Go To The Gym"
Aren't we all? Like seriously. As the title of this episode goes, "the gym is a room full of insecure people." No one is there judging you, cause likely they're in the same boat. This is the number one concern that Syatt gets posed with, which literally means everyone's thinking the same thing. Syatt explains: "for me, would I look back at my life when I'm 90 years old and I'm like sitting at home with a diaper on and sh*t in my pants, am I going to look back and be like 'wow I'm really glad I didn't go to the gym because Joe Fuckstick might've judged me', right?" Right. So get over yourself and go be with a bunch of other insecure people dropping their weights and falling off the treadmill.

3. "I'm Not Doing It Right"
Not having a trainer to whip you into shape guide you is not an excuse. You have like, Google. You can search for any moves online and there is likely a tutorial for them. Syatt suggests setting up your phone and filming yourself do a certain move, then comparing your form to someone online. Then if you look really hot, post it on your Instagram—just kidding, don't be that girl.

4. "I Haven't Eaten Healthy or Worked Out In So Long, What's The Point Now?"
Syatt's response, "A lot of the times, people use guilt as a means to validate not doing something." Okay true, why don't you just @ me next time. But seriously, drowning yourself in pity and pizza doesn't get you anywhere. Syatt says the very first thing his clients hear from him is that "you can't f*ck up." By saying this, it takes away the chance for you to feel guilty for not going to the gym or eating an entire cake by yourself. You're an adult (ish) and have the ability to make your own choices. Don't focus on what you didn't do. "If you want to be lazy, be the laziest f*ck you could possibly be and enjoy that time," Syatt explains. "But when it's time to work out, go crush your workout."

5. "I Just Have A Slow Metabolism"
Okay, for starters, do you even know what a metabolism is? Probably not. There are very few people who have a metabolic disorder, and in the words of Syatt, "You don't have a metabolism problem; you have an eating a f*ck ton of food problem." I'm being targeted. But basically what Syatt is getting at is that metabolism depends on how much you move in a day and how much muscle you have. If you lie in bed watching Netflix all day, yeah, you're probably not losing any weight. You don't have a sh*tty metabolism, though—you're sh*tty at moving. Even just walking can help your metabolism function as it properly should.

6. "I Only Lose Weight Doing Detoxes"
There is nothing worse than preachy teatox campaigns that make you sh*t your brains out. And what f*cking toxins? Syatt explains that your body is literally built to remove toxins. What do you think your entire digestive system is for anyway? You don't need someone's unregulated mystery bag of tea flushing out your insides. You can do that all on your own with your liver and kidneys. Detoxes can also be super restrictive, which can have dangerous consequences and promote bad eating habits (like starving yourself all day then eating three bags of Chex Mix under your covers crying—totally random example). And do you really want to live your life not eating? You're missing out on like, all the fun.

So, it's unfortunate, but your excuses have run out. It's time to haul your ass out of bed and stop throwing a pity party for yourself about all the reasons you can't. You can do this, and even if you don't believe in yourself, Syatt has enough confidence for us all to share.
Listen to the rest of our interview with Jordan Syatt on our Diet Starts Tomorrow podcast.
Images: Giphy (6); Unsplash/Juan Pablo Rodriguez
8 Ingredients That Are Sabotaging Your Salad
Omg it's like, almost summer. Time for salads and smoothies until you can't see straight but you're like, super fit and skinny. But heading to the salad bar or opting for the fast food power salad isn't necessarily the best choice. We all have a tendency to overindulge, add too much shit, or not add enough good stuff. If you're going the salad route because your beach bod is more reminiscent of a Pillsbury mascot's than a fitness Instagrammer's, it may be time to take a hard, investigatory look at what you're putting in your salad and how you're sabotaging your bod.
1. Croutons, Wontons, And Tortilla Strips
I know a little handful of toasty, crunchy bread snacks doesn't seem that bad, but anytime you're adding on croutons, wontons, tortilla strips, or another deep fried (or even baked) bread snack, you're adding empty calories. They're literally just unhealthy carbs in every case, and they greatly up your caloric intake. Just say no to bread (unless it's pizza).
2. Dried Fruit
Sugar central. Dried fruit can be great when pooping isn't happening (much love, apricots and prunes), but topping your salad with shit like dried cranberries or raisins is raising the sugar levels. Just a ¼ cup of Craisins has 29 grams of sugar. Way harsh, Tai.
3. Creamy Dressing
No surprise here, but if you're layering on the ranch, creamy Italian, or really anything that isn't oil and vinegar, your salad just became hundreds of calories heavier. A lot of creamy dressings use mayo or cream as a base, which, isn't as healthy as say, lemon juice or balsamic vinegar. Try making your own with Greek yogurt or just sucking it up and not layering lettuce with blue cheese dressing, you unhealthy fuck.

4. Nuts And Seeds
Yes, adding a handful of walnuts or almonds boosts the healthy fats in your salad, but adding more than ¼ cup of nuts or seeds can sabotage your diet big time. Keep in mind that healthy fat is still fat, and a ½ cup of walnuts is like, 190 goddamn calories. Sunflower seeds? Just ¼ cup has 186 calories. Stay woke, fam.
5. Avocado
Like we said, healthy fats are still fats. Adding four to six slices of avocado to a salad may not seem like a lot, but it's almost half of an avocado, weighing in at about 115 calories. On the flip side, this is one of the healthiest toppings you can get for nachos, so it really just depends on your situation.
6. Iceberg Lettuce
If you eat Iceberg lettuce, you're trash. I'm not even sorry. Who goes out of their way to get this shit when you have the option of non-contaminated Romaine, beautiful artisan spring mix, kale, spinach, and our bestie, arugula? Garbage people do. This has no flavor, is mostly water, and, yeah, has like no calories, but it sucks in every way. Fuck you, iceberg lettuce. Stop ruining America's salads.
7. Cheese
Yo, I'm sorry. I shouldn't have had to add this, but I did. Yah, you'll get some extra calcium (strong bones AMIRITE), but half a cup of cheese is like, 250 calories and 20 grams of fat. That's gonna go right to your thighs, which are already causing some chub rub, aren't they?

8. Bacon
C'mon.
9. Getting The Biggest Bowl
Not a food item, but heading to the salad bar and grabbing the biggest bowl or plate you see and LOADING it with shit isn't going to help your arteries. Opt for a medium size or even a small bowl or plate, then go for seconds if you're really THAT hungry.
10. Eating Only Lettuce
If your goal is to be hungry in two and a half hours, grab a bowl and load it with only lettuce and cucumbers, then top it with straight vinegar. That isn't going to keep you full for very long (and probably tastes very sad). You can add some of the things on this list—like nuts and seeds and avocado—just in moderation. It'll keep you fuller longer, i.e. you'll borderline forget about the trash bag of popcorn in your desk or the gummy worms you found on the floor that still look okay.
Images: Giphy (7)
3 Beauty Problems You Didn't Know Apple Cider Vinegar Could Solve
By now, you may have heard of all the natural remedies for random shit floating around out there. Use coconut oil for your body odor! Use baking soda for your shampoo! Try Listerine to clean literally everything! Because you aren't a hippie, there really is no need for these peasant remedies, but one has gotten our attention by way of actually fucking working: apple cider vinegar.
We know what you're thinking, "ew, I don't want to smell like a salad." But what if smelling like a salad could help you with your disgusting zits, your split ends, your dog's ability to fuck up all your shoes … ? Read on for more non-cooking-related uses for apple cider vinegar.
1. Your Skin
It may surprise you to know that a little apple cider vinegar in your facial routine could seriously improve your life. We tried it as a toner and it made a difference after one goddamn day. Because of the lactic and malic acids in the vinegar, your skin will be softer, more exfoliated, and more balanced. Mix about 2 tbsps of vinegar with one cup of water and apply to skin with a clean cotton ball no more than twice per week. But first, test out a small area to make sure it doesn't make things worse. If you have sensitive skin, we definitely don't recommend this route.
2. Your Metabolism
Do you have a carb problem? Good news: Apple cider vinegar can help crush your bad habit. The enzymes in your stomach can't completely digest starch in the presence of acetic acid, which is in apple cider vinegar. When you can't digest the starch, you can't add the calories to your waistline. Additionally, the acetic acid can help suppress your appetite and reduce water retention. We don't have a ton of scientific data for the claims (there have been studies and there HAS been some proof that all these things are true), but don't expect to drop 20 pounds just by adding vinegar to your diet. At most, it'll help you keep off an extra pound or two while you continue to diet and exercise.

3. Your Feet
Yes, it will help if you insisted on wearing those heels that totally don't breathe. The ones where, as soon as you take them off, it smells like a small, furry animal may have died under the floor. Grab a washcloth or paper towel, dip it in diluted apple cider vinegar (generally you want one cup of water for every 2 tbsps apple cider vinegar) and rub those foul beasts down.
4. Your Hair
Have a dandruff problem? That's gross, but we understand. Apple cider vinegar can help. Mix equal parts apple cider vinegar and water in a spray bottle and spray on your scalp about twice per week. Place a towel on your head and leave for about an hour, then wash your hair normally. If you don't have dandruff, you can also use 1/3 cup apple cider vinegar mixed with 4 cups of water to rinse your hair of excess product buildup. Just use after shampooing, then rinse.

5. Your Dog's Chewing Habit
If your dog won't stop fucking chewing your expensive shoes, it's time to go the apple cider vinegar route. Grab a spray bottle and mix together two parts apple cider vinegar, one part white vinegar, and half a part of lemon juice. Spray on things Fido finds delicious but like, aren't meant to be delicious. Hw won't chew shit after he gets a mouthful of that.
Images: Giphy (2)
5 'Unhealthy' Foods That Are Not Actually Bad For You
Some food myths were made up decades ago, and yet we still can't seem to shake them. Like, sometimes we'll take any tips we can get, but we don't stop to realize this advice was literally created during the same time that women were advised not to exercise because it would make them less feminine. It's 2018, and we're *starting* to know better. I mean, if we can order bottles of tequila on an app and convince our boyfriends to go to a Rihanna-themed spin class on a Saturday, we can do anything. It's time to stop giving up healthy foods just because someone once told us they're unhealthy. Here are six formerly unhealthy foods we can start with.
1. Regular Potatoes
So many "healthy people" will devour sweet potatoes by the bowl, but would never touch a regular potato. These people are straight-up misinformed. Honestly, sweet potatoes have a little more fiber than regular potatoes and they're a little lower in calories, but the difference isn't that dramatic, so you can stop crying when your By Chloe waiter brings you regular fries when you ordered sweet potato. Regular potatoes have a terrible rep, and while they are a starchy carb, they're really not that bad for you. They have more vitamin C than sweet potatoes do, and also have more protein and less sodium. Game changer.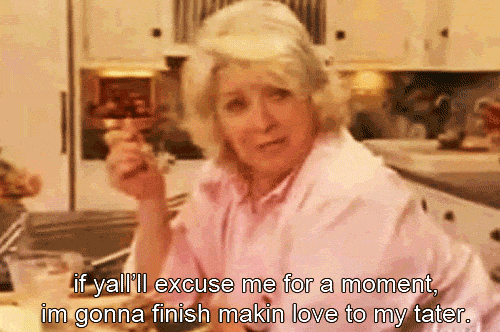 2. Gluten
The gluten-free diet has taken on a life of its own, and honestly we need to backtrack a bit. Once upon a time, people had (and still have) legit Celiac disease, a medical intolerance to gluten. These people were told by their doctors to cut out gluten, and suddenly they looked and felt much better. Ever since then, half of society thinks they need to follow the same advice when they don't even have a gluten intolerance. Obviously eating enough bread and crackers every day won't do your body any favors, but you're not going to sabotage your lifestyle just by having gluten in your diet. Let's put it this way: If you can't explain what gluten is, you shouldn't be gluten-free.
3. Egg Yolks
Egg yolks are one of those things that people shunned in the 70's and the myth never really recovered, even though our science has majorly advanced. While the egg white is the part of the egg with no fat and a few grams of protein, the yolk carries a ton of important vitamins, like vitamin B12, D, A, B-6, zinc, and iron. It has a few grams of fat, but it's healthy fat that will just help keep you more full after your meal. Also, for anyone who told you yolks are high in cholesterol, it's actually not the same cholesterol that's bad for your body. Basically, we gotta let go of the yolk myth. I mean, the people who decided the yolks are bad for you are the same people who smoked cigarettes while pregnant. Let that sink in for a sec, then order the omelet with regular eggs.

4. Feta Cheese
A lot of people think getting cheese added to your salad is unhealthy, but those are also the people who enjoy the taste of kale and think Balsamic vinegar is a suitable dressing. No on all accounts. Feta cheese isn't bad for you. First of all, it's lower in calories than most other cheeses, and it's also packed with vitamins that are so good for you, like Vitamin D, B12, calcium, and iron. Cheeses like mozzarella and cheddar don't have half as many health benefits as feta. It's pretty high in sodium, so I wouldn't go ham, but adding some here and there is actually fine for you.
5. Packaged Bars
Protein bars and energy bars get a bad rap for being glorified candy bars, but honestly it depends what brand you're buying. So many of these bars are filled with shit that you wouldn't feed to your friend's dog, but some of them are actually pretty good when it comes to their ingredients. Products like RX Bars, Square Bars, Lara Bars, and Go Macro bars all have super clean ingredients and minimal added sugars. Any nutritionist will tell you that whole foods and fresh produce are better than processed bars, but if you're starving at 4pm and just need a bar so you don't keel over or reach for the candy bowl on the receptionist's desk, they're really not bad for you. It just depends if you're picking up the bar with four ingredients or the one that sounds like the warning label on a pharmaceutical prescription.

6. Frappuccinos
I'm obviously kidding. These are fucking terrible for you. Order a cold brew like everyone else.
Images: Eaters Collective / Unsplash; Giphy (3)
The Full-Body Workout You Can Do In A Corner Of The Gym
If you go to the gym right before 9am or right after 6pm, you know how annoying it can be to get around the place during workout rush hour. As much as we'd all love to work out in an empty gym with the whole place to ourselves, it's v unrealistic unless you're like, a psychotic morning person or like, super rich. Luckily for you, we've put together a workout can literally be done with one mat in a tiny corner of the gym, so you don't have to bother waiting for a machine to become available or for people to step away from the dumbbell racks. Here's a quick workout that will tone your whole body and burn a ton of calories while staying in one space the whole time.  
1. Walkout Push-Ups
The walkout push-up is a great warm-up move because it gets your lower and upper body working without diving right into a cardio or strength move. The idea here is to first warm up your hamstrings by starting in a standing position and folding your arms and head forward, and then get your upper body warmed up by crawling your hands out to a plank position. Once you're in your plank, perform one push-up (drop to your knees if you have to) and then crawl your hands back to your ankles to stand back up, engaging your core at the top each time. Start off slow, and then try to speed up on your last few reps. Do 10 of these in total.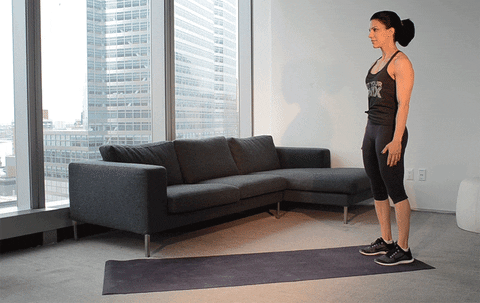 2. Glute Bridge To Oblique Reach
This is another lower and upper body movement, but this time you're working your butt and your obliques, aka your side abs and love handle region. Start by lying on your back with your knees bent and your feet on the ground. Then, extend one leg straight out and lift your hips into a bridge, squeezing your glutes and specifically feeling the burn on that same side. After the bridge, lower your hips back to the ground and reach your arms toward the straight leg while extending the leg upwards. Remember that you're crunching with your abs, so don't just use your arms to swing your body up. This combo is slightly complicated since it's technically two moves in one, so you can take your time on these until you get the hang of it. Do eight reps on each side.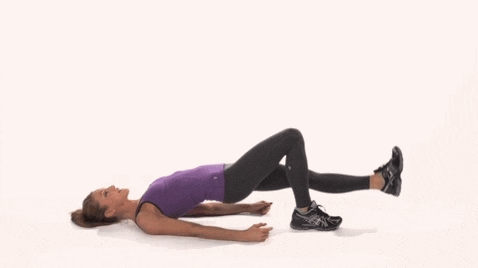 3. Tricep Extensions
You'll need a weight for tricep extensions, but it shouldn't be too hard to find because you can literally use whatever you want—a dumbbell, a weighted medicine ball, or a kettlebell. If you have a kettlebell available to you, you're gonna hold it by its horns (AKA the non-bell part) and lift it up over your head, keeping your elbows straight forward and your arms tight. Then, extend the bell toward the back of your neck, using your triceps to bring the weight up and down each time. If you feel like your elbows are widening out to the side, take a break and reposition yourself. The tricep muscles are really what give your arm that toned, sculpted look, so go heavy on these and take your time. Aim for 10-12 reps.

4. Deadlift To High Pull
The good news with this move is that you can use the same weight you were just using. Again, this is a combo move, so you're totally killing two birds with one stone by working your legs and your arms in one exercise. Place your kettlebell on the ground in front of you, and make sure it's between your legs, but like an inch or two forward. Then, bending your knees slightly, you're going to hinge your hips backward and lift the kettlebell keeping your arms straight, bringing it to your waist as you hinge the hips forward. That's the deadlift part. Then, you're gonna pull the kettlebell up to your chin, using your shoulders to row upright, with your elbows wide towards the sides. Once you complete one rep, bring the kettlebell down to the ground and do five more.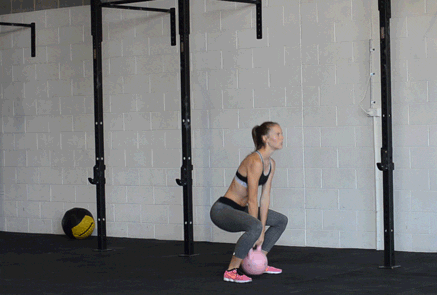 5. Squat Jumps
Now that we've done a bunch of strength work, it's time for some cardio. Your legs burn the most calories out of all the muscles in your body, so doing jumping exercises while combining squats or lunges is super effective. It's also really hard, so pace yourself. Start in a squat position, making sure your knees are behind your feet so you don't hurt yourself. Get super low, and then jump up explosively while straightening out your legs and arms. Aim for 20 reps here, but you might want to die by the time you get to 15. Try to fight through it.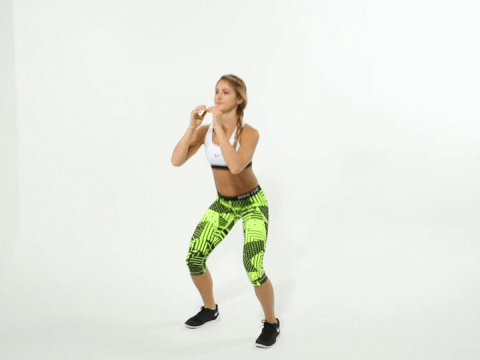 6. Burpees
Burpees are annoying and difficult, but there's a reason you see them in every fitness magazine and at every workout class—they WORK. Start by standing with your feet shoulder-width apart and your arms at your sides. Then, lower your body into a squat and place your hands on the floor in front of you, jumping your feet back so that you're in a plank position. Once your body is in a straight line, lower your chest to the floor and then bring it back up as quickly as you can. Then, jump your feet forward, outside of your hands, and jump up with your arms in the air. Do 8-10 of these, depending on your energy at this point in the workout. Also, keep in mind this is a full-body move, so make sure you follow the motions without just slamming your body down to the ground in the sloppiest way possible.

Images: Trust Tru Katsande; Unsplash, Giphy (5), Pinterest (1)
Upper Body Exercises To Target The Muscles You're Ignoring
When it comes to choosing workouts, some exercises just seem obvious, like doing squats for a perky butt or planks for rock-hard abs. And don't get me wrong, I'll do squats and planks until they're out of style. *BUT* I think it's also important to work on the muscles we don't often think about, especially as girls. We tend to think we just need a little toning and cardio here and there, but there are a lot of important muscles that we neglect at the gym, especially our upper body muscles. It's time to address WTF to do about them. Here are some underrated upper body exercises and why you should be working them.
1. Chest Presses
Aside from a few modified push-ups as a warmup, most girls never think about working their chest muscles. I mean, the chest press seems like a guy's exercise, and it can be super intimidating. What many women don't realize is that your chest muscles just create a stronger upper body in general, which literally makes it easier to do basic activities, like opening doors and holding heavy bags. People also find that chest presses can even give yourself a little chest lift, so you can stop buying push-up bras. So start your upper body exercises with chest presses. Grab two dumbbells and lie flat on a bench with the weights at chest height and your elbows out toward your sides. Then, press the weights upward, keeping them over your chest the entire time, and bringing them back down after every rep and avoiding pushing with your shoulders.
2. Lying Back Extensions
People tend to do a lot of rowing and lat pulldowns to target back muscles, and these exercises are great, but we tend to forget about our back extensor muscles, which are located at the lower back. They're super important for core engagement, stability, and avoiding injury. Doing lying back extensions will help you avoid hurting yourself at the gym, considering you basically use your back in any exercise, like even running or spinning. Lay out a mat and then lie on your stomach with your head facing the floor and your arms out over your head in a "Y" shape. Then, slowly lift your legs and arms off the floor, keeping only the area from your stomach to your thighs on the mat (if that's too hard, leave your legs alone and just lift your upper body). Lower back down and then lift back up, feeling the tension in your lower back.

3. Inner Core Leg Lifts
We do a lot of ab movements around here, but there's a major difference between your ab muscles and your core muscles. Most ab workouts, like bicycles and Russian twists, don't target the transversus abdominis, which is the muscle that connects to our pelvic floor and internal organs. In order to strengthen these inner muscles, do inner core leg lifts. Start by lying on your back with your knees bent, and slowly lift your right foot off the floor, keeping your core engaged as you lower it back down. Then, do the same on the left, and switch back and forth, exhaling with each rep. These are supposed to be slow and controlled movements, so don't worry if you're not getting your heart rate up or sweating, but DO worry if you're just kicking the ground without feeling it in your abs. Then you're probs doing it wrong.

4. Lateral Raises
Toning your shoulder muscles will make your whole arm look more defined and just so much better, and the most ideal way is to work the front of the muscle and the side of it in one workout to tone every angle. The lateral deltoid, aka the side of your shoulder, is really what gives your arms a toned look, and it's often neglected because people just don't realize what a difference it makes. Standing up with a dumbbell in each with your palms facing your thighs, keep your elbows slightly bent and raise your arms to the side until the weight reaches shoulder height. Then, slowly lower the dumbbell back down to your thigh. Keep raising them up and down, and try not to bounce your legs to use momentum to lift them. The goal is to keep tension in your shoulders the whole time and not get any help from your lower body.

5. Single-Arm Planks
Obviously your abs aren't a "forgotten about" muscle, but we often overlook the most basic functions of our core muscles, which include stability and balance. Upper body exercises like single-arm planks strengthen the core while testing your stability. By doing moves like these, you'll notice that yoga poses get easier to hold, being in third position on a spin bike feels more natural, and other ab movements are just less painful. So basically, the single-arm plank is essentially a regular plank, but you only use one hand at a time. Duh. It's easier to start with your hand centered in front of your chest, but try to work it back out to under your shoulder as you get stronger. The idea is to keep your body square to the ground without raising your hips on one side, and keep your core tight the entire time.

Images: Ayo Ogunseinde /Unsplash; Giphy (4), Pinterest (1),