10 Questions You Wouldn't Think To Ask When Touring Wedding Venues But Are A *Must*
"Plan a wedding," they said. "It will be fun," they said. Like many others, I do not have a single clue what I am doing when it comes to wedding planning. I've relied heavily on friends who know the ins and outs, and what I thought would be the most enjoyable part of the process has turned out to be the least. I'm talking venue hunting.
Seeing venues is fun, so I don't mean to hint otherwise. The problems lie less in what you see, and more in what you don't. While the limit does not exist for questions you should be asking when touring venues, here are some must-ask queries with answers that may surprise you.
1. Do You Have A Designated Ceremony Area?

If you plan on hosting your ceremony at a different location than your reception, you can skip this question. If you plan on hosting onsite, do a little digging about the venue offerings for a ceremony. For starters, can they host the ceremony? If they can, is there a designated area for the ceremony? I recently toured a venue, and when asking if I could host a ceremony on site the host replied "yes". I asked to see the ceremonial site and they then pointed to a small patch of makeshift grass between two parking lots. While it took physical restraint to not gasp and/or laugh, it was seriously eye-opening that even the most beautiful venues aren't always what they seem. The other kicker is the ceremonial fee, which is a self-explanatory fee for hosting your ceremony on site. According to WeddingWire, the average cost in the US is $600, but for big cities like NY and LA, expect something closer to $2,000.
2. Do You Have A Bridal And Groom Suite On Site?

I'll be the first to say the bride is the *most* important on the wedding day (bridezilla in the making here), but I want my groom to be treated like a king as well. I was shocked to see how many venues only had one wedding suite, which meant only one of us could get ready on site. My fiancé is irrationally laid-back and would get ready in the parking lot if he had to, but not all couples are comfortable with a single-suite venue. While it may seem minor right now, it's important to think about what getting ready offsite day-of means for the person who chooses to do so (renting a hotel suite, renting a large car or limo for wedding party, etc.).
3. Can I Bring A Hair And Makeup Team To The Bridal Suite?

THIS is a question I can't believe I had to ask at venues. To me, a bridal suite was an obvious getting ready location for myself and my bridesmaids. However, I quickly learned this is not always the case. Some venues do NOT allow you to physically get ready in the suite. They must arrive with hair and makeup done, with no outside vendors allowed in to help prepare the wedding party. Personally, I am really looking forward to getting ready with my bridesmaids all together in the bridal suite, and then waltzing out the door and into the ceremony, so this was an important ask in my book.
4. What Are The Different Rates?

I semi knew this was a "thing" going into venue touring, but I was honestly shook at how drastic the price differences were between "on" and "off-peak" months, Friday/Saturday/Sunday, and time of day. Most venues break down their pricing first by month, with May, June, August, September, and October being the most popular (and therefore, the most expensive) months. From there, choosing your day of the week also dictates the price, with Saturday being the most expensive. AND FROM THERE, the time of day further influences the pricing. A daylight wedding (typically 12pm to 5pm) is often discounted, whereas an evening wedding tends to be more expensive (typically 6 or 7pm to 12 or 1am). So, be warned that Saturday night wedding at sunset in summer WILL impact your budget more than you want it to (I'm talking double the price of a Sunday daytime wedding in April).
5. Where Do The Extra Fees Go?

Venues with in-house catering will charge a per plate fee which covers the guests' attendance and dinner/open bar. Venues who allow you to bring outside vendors will often charge a flat venue rate. But one thing common across the board is the added 20-25% "service charge". What is this, you may ask? No, it's not to compensate the waitstaff, the bartenders, or the cleanup crew. It actually typically goes towards any collateral damage (broken plates, carpet stains, etc.), and the rest goes into the owners' pockets. If, on a venue tour, you ask what the fee goes to and you hear "it goes back into venue upkeep", be aware of what this *really* means. It may bother you, or you may be fine with it. If you ask about the service fee going toward service and you're told that the waitstaff makes "regular minimum wage" instead of "servers minimum wage", just note that you will be tipping another 20% on top of your 20% service fee and 8.875% tax fee (and a potential cleaning fee). Just to put this in perspective, if your wedding is $50,000, with the fees, cleaning, and gratuity, you'll actually be spending about $75,000. I know, I was just as shocked as you are rn!!
6. Do You Require Chair Rentals?

Add this to the list of questions I didn't know I had to ask. For reasons unknown, I assumed with a wedding venue came chairs and tables and normal seating arrangements. For many venues (especially those with in-house catering) this is true, but not for all. Some venues require chair rentals for the space, and this is what I call annoying. Add it to the category of "fees I never thought I'd have to pay."
 7. Do You Require Preferred Vendor Use?

If you have specific vendors in mind ahead of time, this question is an important one for you. Most, if not all, venues have a list of preferred vendors—vendors they work with often, trust to work in their space, and recommend to their clients. Choosing these vendors often come with perks such as no plate fee for the vendors working the wedding, no insurance cost, and the obvious (and best) perk, discounts. That being said, some venues require you choose a vendor from their lists (this is especially true for flowers and DJs) and is something to confirm before falling in love with a venue or outside vendor.
8. How Many Hours Are Included In Rental Space?

This question is semi self-explanatory, but an important ask. How many hours are "included" is a polite way of asking can I come in early? Can I stay late? Will there be more fees for those extended hours outside of my actual party? How long is my actual party? Get those answers and avoid those fees!
9. Is Parking Available And Included?

Oh hey there, another fee. Parking on premises isn't always included, but when it is, you can guarantee it comes with a fee. There are often different "levels" to this parking fee. Typically, couples can choose to play a lot flat fee which allows their guests to park for free, but park themselves. There's also the option to have the guests pay for parking, which feels really reasonable to some and really jarring to others. But, if you're feeling fancy, there's also the option to have a valet service for all guests driving in, and this is where it gets pricy. Worth it? Only you reading this can be the judge of that.
10. Do You Offer A Planner?

While some people choose to go the route of planning their own wedding in full (me), others (people smarter than me) go the route of hiring a planner. Planners have pros and cons—pros being the fact that they know what they are doing, cons being that they often work with specific vendors and venues and may be biased with their recommendations. But, the most ideal situation (in my eyes) is finding a venue you love that assigns you a planner to help handle the rest of the arrangements. This person works specifically for your venue, so they know every single issue you may run into, and therefore are perhaps the most powerful point of contact throughout the entire process. It's good to know if your venue offers a person to help, how far out they begin helping you, and if they are included in your package.
While there are an infinite amount of obvious questions to be asked, these are the questions you don't want to forget about. Happy planning!
Images: Abby Savage / Unsplash; GIPHY (10)
10 Ways To Cut Costs On Your Wedding Without Looking Cheap
We honestly hate helping in any form, but the wedding industry has gotten so out of control that it demands our expertise. Between shows telling us that you have to spend upwards of $100k on one goddamn day and brides pitching actual crying fits because mommy won't buy them the $30k dress of their dreams, we needed to bring everyone back down to Earth.
You can have a super amazing day, dress, and overall wedding without blowing your savings and parents' retirement fund. Here are our top 10 tips for cutting costs at your wedding without making you seem tacky and cheap.
1. Get Married December-March
Winter weddings are daring in general (here's hoping it doesn't blizzard), but if you take the risk, you may be rewarded with more money for drinks on the honeymoon. Choosing "off" months between December and March can mean as much as a 40% less cost at some venues, depending where you are.
2. Get Married On A Friday Night Or Sunday Morning
I make a lot of fun of brunch weddings (cause I don't want to get drunk in front of family members before noon), but if you wanna save a buck or two, picking an off time is the way to go. Saturday nights are in high demand, so choose a Friday evening for your super special day or a Sunday morning brunch. Bonus points if you choose a Sunday night before a Monday holiday like Memorial Day when everyone is off anyway.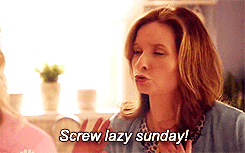 3. Chill On The Invitations
I know you want Minted's handmade, laser-cut, imprinted, glitter, foil, rare edition, unicorn tear invitations, but unless you want to spend more than $800 on 200 invites, you need to chill. People aren't going to spend more than five minutes examining your invite, so the idea of spending a ton of money is preposterous. Go pretty, go classic, and pick one—MAYBE two—special touches like a foil or letter press.
4. Be Besties With Your Florist
If you've been dyyyyying for hydrangeas but they're out of season and are going to cost you $24 per stem (real talk), let your florist lead the way. These are goddamned flower experts, and if you tell them to substitute with cheaper but similar looking colors and flowers, they will. I told my florist to use my color scheme and go nuts—keeping it around a specific price. She delivered, and the flowers looked amazing.

5. Do Choose An Actual Venue
You may think having a backyard barbecue at your friend's parents' Hamptons house is going to be cheaper than an actual venue, but you could be wrong. Once you start factoring in catering, tents, utensils, linens, the band, the restrooms, etc., your bill is likely to be just as much as a venue (if not more). PLUS, it's a lot more fucking work.
6. You Don't Need A Giant Fucking Cake
I've said it time and again—no one gives a shit about your 12 layer platform vanilla-on-vanilla wedding cake. Save some goddamn green, and get a small cute tea cake to cut with your S.O. that you won't even have to share with anyone. Everyone else can fuck themselves eat cookies.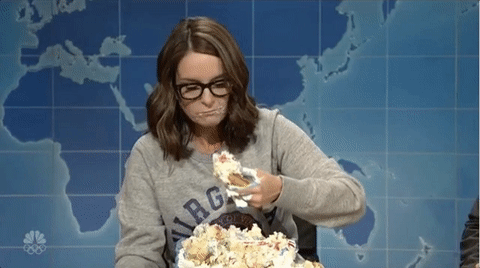 7. Buy, Don't Rent
If you're at a venue that's charging you for every fork, napkin, and plate, see if you can use or buy your own items. Seriously, it's often cheaper to use your own linens and utensils, if the venue will allow it. So start stealing knives, forks, and napkins, fam.
8. Stick To Your Goddamn Dress Budget
This is a big one. Nothing pisses me off more than the bitches on Say Yes to the Dress who have a budget of $3k and end up spending nearly double. STICK TO YOUR DRESS BUDGET. DON'T EVEN LOOK AT DRESSES OUTSIDE THAT BUDGET. Remember that even if you pick a dress at your $2k budget, you're still going to shell out for alterations. So going above on that means you're going to lose something else or pay way more than you want in the end. CHILL. IT'S ONE DAY.

9. Make Your Guests Do Work
I mean, you're paying for a five or six hour party—the least your guests can do is help out. Whether you make them set tables for the reception, make your desserts (guilty and it was AMAZING), or bring all the liquor to stock the bar, making your guests pitch in is totally a great way to cut costs.
10. Visit The Tacky Bridal Shows
I KNOW they're literally the worst, but the best thing about those bridal shows and expos is that florists, DJs, bands, planners, and venues hang out there to snag brides with a good deal. Honestly, I know a betch who got like 40% off her DJ because she hired him from the bridal show. So, yes, it kind of sucks to go to a room full of what feels like used car salesmen, but you'll thank yourself when you see the bill later on.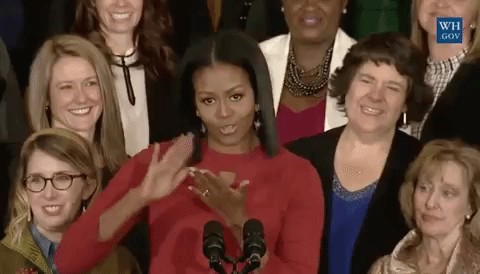 What Your Wedding Bouquet Flowers Say About How Basic You Are
Are you a basic bitch getting married soon? Are you trying to figure out the perfect flower combinations for your super special day? If you want your flower arrangements to say "celebration" and not "swirling torrent of grief," read on.
Yah, flowers have meaning. Just like make believe horoscopes, gem stones, and other useless shit, the difference between having hydrangeas in your bouquet and having roses is big if you buy into symbolic meaning.
Let's assume you do and are about a ½ bottle of wine in at the moment (same). Let us guide you through the world of flower meanings.
1. Red Roses
I'm sorry, but if you carry red roses down the aisle, plz don't be my friend. Aside from my 10-year-old self who thought these were the most perfectly perfect flowers EVER, most everyone these days that sees a red rose thinks of the gas station it was likely purchased from (and the fun crack pipe it comes with). They convey deep desire and longing, so yeah, go ahead and convey how horny and in love you are.

2. White Roses
Take a note from Indian brides that dress themselves in head-to-toe red for their weddings. White symbolizes death in Hindu culture, so I find it really fucking funny that we all wear white wedding dresses to the altar. As far as white roses go, they symbolize purity and chastity. So if you and your intended are both creepy virgins, go ahead and carry these down the aisle. They can also symbolize sympathy. Awkward.
3. Carnations
Hooray for trash flowers. Did everyone else get these every Valentine's Day from their pretend boyfs in fourth grade? No? Just me? Anyway, if you're even DEBATING having this flower in a wedding bouquet, centerpiece, aisle runner—even the fucking throw-away bouquet—you shouldn't be getting married. You're no better than chubby fourth grade me. These flowers symbolize white trash pride and beauty, but you'll be saying, "I'm cheap and low class." Hard pass.

4. Hydrangeas
These have been super trendy as of late, which is hilar to me, since I just found out they symbolize thanks. Like, oh thank you for coming to my giant party and buying me something shitty off my registry. Fun fact—hydrangeas can ALSO mean heartlessness. I feel validated for hating on weddings as hard as I do now. Hydrangeas are my spirit flower.
5. Peonies
Happiness, health, and prosperity seem like decent things to work into your bouquet for you wedding. Make sure to leave these out of your bridesmaids' bouquets, though. They don't get to be happy. This is your day.

6. Sunflowers
I fucking hate sunflowers—I need to put that out there. They're tacky and so are you. If you do go with sunflowers, your symbolism is spot on with their dedicated love meaning. Good for you. Too bad your eye for symbolism hasn't helped your clear lack of knowing when shit is fug.
7. Lillies
Beauty and shit! So carry a bunch of lilies, if you want to overpay for flowers, have them die rly fast, and are convinced your cupcake dress is super hot.

8. Orchids
Are you edgy and exotic? Get some orchids and watch your flower budget triple. Orchids symbolize feminism, so I guess they aren't a good choice, if you're wearing a suit for your wedding day and don't like men? (Kidding, I know what feminists are.)
9. Daisies
Is this an arranged marriage? Are you actually 12? Blink twice if you need help! Shockingly, daisies symbolize innocence. So, if you were raised believing that holding hands results in drugs and pregnancy, this is the flower for you.

10. Zinnias
Joke's on you, if you picked these whimsical (shoot me, I just used whimsical in a sentence) flowers for your centerpieces or general wedding décor. Zinnias actually symbolize absent friendship, so they PROBABLY aren't the best for your whole outward devotion of love thing.
Mother's Day Gift Guide: Gifts For The Regular Mom, The Cool Mom & Everyone In Between
What greater holiday is there than a day that celebrates the strong, beautiful women who raised us? Go ahead, try to think of one, I'll wait. 4th of July you say? Okay. Anyway, Mother's Day really does serve as a reminder that we should be really really nice to all the moms in our lives because we too may be mothers some day and we don't want a bitchy daughter who doesn't appreciate us.  So it's good karma to get them a gift, right?  A betch's mom is the most important lady in her life. She's given us endless words of wisdom on fuckboys, she's reluctantly allowed us to borrow steal her clothes, and she always picked us up from school when we were feeling "sick".  She's molded us into the betch we are today, and for that we are forever grateful.  To show her how much you love her, we're giving you a list of all our favorite brands/gift ideas that are perfect for every type of mom in your life. Welcome to the Betches Mother's Day Gift Guide 2017.
FOR THE MOM WHO STILL GRABS CANDY FOR HERSELF AT THE CHECKOUT COUNTER
Hats off to this mom, she still answers to her sugar cravings and DGAF. Elevate her candy standards with Sugarfina's Sweetest Mom Candy Bento Box and watch it disappear within 20 minutes of her opening it. If she's into the juicing craze like any betchy mom, feel free to gift her a bottle of Pressed Juicery x Sugarfina's green juice gummy bears. It's the perfect candy she can eat while convincing herself that she's healthy AF. These are the chicest and yummiest candies ever, and I'm sure this mom won't mind if you steal a few for yourself…maybe…
FOR THE ZEN AF MOM YOU CAN ALWAYS VENT TO
This mom is amazing because she has the patience to listen to us talk shit about irrelevant shit for hours and somehow make us feel 10 times better in the end. Philosophy is a fave brand of ours, not just because of their amazing products, but also because of their values. It's the wellness brand version of the mom who always sends you inspirational articles and makes sure you never leave the house without food in your stomach. To reward this woman for putting up with your crazy ass, give her the Moments of Grace box—the perfect set of shower, fragrance, and moisturizing products.
FOR THE MOM WHO KNOWS HOW TO MAKE A HOUSE A HOME (AND WON'T LET YOU EAT ON THE COUCH)
This mom might have come off as a little strict and slightly neurotic due to her strict house rules you lived under as a young betch, but you now understand it was all worth it for the image of a perfect home. She's classy, she's elegant, and she's not afraid to tell you to fuck off when you deserve it. Giving her a Venus Et Fleur box is not just giving her cliché flowers for Mother's Day, it's giving her a centerpiece for her precious home. These are the most beautiful flowers and they last for an entire year. There are several colors to choose from so you can def find one to match the living room couch. PS, they're having a pop-up shop at Saks specifically for Mother's Day, so go with your siblings and get her the most Instagrammable flowers ever.
FOR THE MOM WHO WANTS TO BE INA GARTEN'S BEST FRIEND
This mom spends half her life watching the Food Network and the other half begging her husband to agree to redoing the kitchen. As such, she takes great pride in all her kitchen essentials, and each time you come home there's a new blender or toaster. Although you have barely any space for a wooden spoon in your apartment's kitchen and deem it acceptable to microwave water for your tea, this mom would rather be caught dead than without at least 25 different spatula options. Cuisinart is the perfect place to find the best and newest kitchen products that this mom will die over, like the QuicKettle and the PrepExpress. If you get her any of their products, I foresee massive amounts of free food in your future.
FOR THE MOM WHO'S NOT AFRAID TO BLACK OUT AT FAMILY DINNERS
This mom is always invited to hang with you and your friends whenever she's in town. As a betch who can single-handedly create a party out of thin air, her Mother's Day gift needs to suit her hostess needs. Kim Crawford Wine is the perfect bottle to whip out on any given occasion, and with summer around the corner, it is officially rosé season. Their website has tons of amazing recipes, including frosé, so…this mom will def exploit a bottle of Kim Crawford rosé for all it's worth. If she also happens to be an Insta whore, we're sorry in advance.
FOR THE MOM WHO GIFTED YOU YOUR WITTY SENSE OF HUMOR
This mom has passed on her good genes of having no filter and always has the entire family in tears at Thanksgiving dinner (like, the good kind). We were always afraid of what kind of backhanded bitchy comment she might make at our frenemies when we were younger, but we loved her anyway and secretly enjoyed it. If she's begging you not to get her anything this year, at least get her the perfect card from Shop Betches.
FOR THE MOM WHO'S PUTTING OFF BOTOX FOR AS LONG AS POSSIBLE
This mom has had perfect skin her entire life and is now in overdrive doing everything she can to keep it that way.  Washing her face isn't just something she does a couple times a day, it's now an insane obsession. To make sure this mom is getting the most out of her incessant face cleansing, get her the Soniclear brush from Michael Todd Beauty. The antimicrobial brush stays cleaner and fresher for longer, and cleans deep into your pores.  Let's be real, you're probs going to get one for yourself as well. Also, since she's probs big into blending, you should get her the Sonicblend brush to apply her makeup flawlessly.
FOR THE MOM WHO WON'T LET YOU ANYWHERE NEAR HER KITCHEN
This mom has a panic attack whenever there's too many people in the kitchen (which for the most part means if there's anyone in there besides her). She's a firm believer in "a place for everything and everything in its place", which as a betch you can only relate to on the level of your apartment's bar cart.  Joseph Joseph has the perfect modern organizational kitchen shit that will perfectly encourage this mom's obsessive compulsive habits, but at least the kitchen will look sleek AF so who cares. We love their Nesting Bowl Sets and their super chic Worktop Savers.
FOR THE MOM WHO ALWAYS FALLS ASLEEP WITH HER IPAD ON HER FACE
This mom can't get enough of her Facebook feed and loves to send you videos of dogs at all hours of the night. She probably thinks she's squinting at all her screens because she's old, but really it's because no one's eyes should not be staring at this shit all day. Felix Gray glasses are v trendy-looking and protect your eyes from the blue light emitted from all our electronics' screens, so mom won't have to fight through the headaches to continue scrolling through Insta anymore. Our office's fan favorites are the Turing and Nash frames.
FOR THE MOM WHO JUICED BEFORE IT WAS COOL
This mom has been a juice drinking yoga freak since before you were born, and she's always looking for new ways to show the world that she's healthier and has more of her shit together than anyone else. Daily Harvest delivers fresh soups, smoothies, chia parfaits and overnight oats to your door on your schedule. This way, mom can get her fav smoothies delivered at 3pm just in time for her to consume before her 5pm spin class. If you didn't think eating healthy could be convenient, neither did we, but here we are.
FOR THE MOM WHO HAS EVERYTHING YOU NEVER KNEW YOU NEEDED
This mom may seem like a hoarder, but in reality she's just a collector of random shit that will impress people. Totally different. Also, we are not ones to talk about hoarding as evidenced by our closets. Anyway, Tovolo is the perfect place to shop for this mom because while it's super fun for us to look through all the fun kitchen gadgets they have, it will be that much more fun for her because she'll know exactly what to do with whatever you get her. "OMG, skull ice molds?! This will be perfect for Debbie's divorce party!"  We love their Clear Ice System and Stainless Steel Cocktail Shaker.
FOR THE MOM WHO ALWAYS LOSES SHIT
As a young mom, this one relied on her children to remind her of her dentist appointments or whenever she accidentally left the stove on. Though she's the most scatter-brained person you know, she's so lovable you've never (really) faulted her for it. Plus, her lack of having her shit together taught you how to be a proactive, multitasking betch. To make this mom's life a little easier as her brain is only getting worse with age (sorry but it's true), get her Tile for Mother's Day so you never have to get another phone call about her missing keys again. All she has to do is attach the little Tile to whatever it is she loses every day and connect it to her phone through Bluetooth and voilà, when she needs to find either thing she can make 'em ring (I did not do that on purpose but I apologize).
FOR THE MOM WHO REALLY WANTS TO LOSE 3 POUNDS BUT HATES THE GYM
This mom might sound very familiar because she is all of us. She would much rather spend an hour at book club talking shit than hitting the gym, but the thought of showing up to Southampton for the summer in her current state is freaking her out. Do her a favor and buy her HUM Nutrition's Skinny Bird, a natural weight loss supplement. If you're feeling really generous, they also have a "Turn Back Time" supplement that helps with skin cell protection. Time to pop some pills!
FOR THE BRAND NEW MOM
This mom has been MIA because she is now with child and a real human and also struggling to get more than 4 hours of sleep at night. Brighten up her day by getting her little Betch In Training a baby onesie from Shop Betches.
FOR THE MOM WHO IS ALWAYS ON THE GO
This mom has always been your business betch inspiration, as you've admired her for balancing her work and home life so well. Despite being super important at her company, she somehow found the time to proofread all your high school papers and prepped you for every job interview you've ever had.  Soap & Glory is the perfect cheeky and empowering cosmetic brand that this mom absolutely NEEDS in her life. Since she's always running from mandatory family breakfast to business meeting, get her some of our favorites like their Rushower Dry Shampoo and their Hand Food hydrating hand cream.
FOR THE MOM WHO ALWAYS KEEPS IT SIMPLE
This mom is a woman of few words, but always knows what to say. You can find her in the yoga studio in the morning and hosting a charity dinner party by night. She's the one who taught you that doing things for others is like, important. Not one for flashy things but a lover of the arts, this mom would love a piece from Adam Marc Jewelry. Our favorite pieces are the Kim Star Choker and the Rafaeli 14k Gold Bar Necklace. Use code BETCHES20 for 20% off—your mom will never have to know you didn't pay full price.