Melania Trump Disappeared For 25 Days And We Have Theories
Cancel the plans to put Melania Trump's face on a milk carton, because the missing first lady is back in action. It's been over three weeks since Melanie Melania was last seen in public, but on Monday afternoon, she attended a closed-to-the-press event at the White House to honor Gold Star families, so I guess things are totally fine and normal? Lol jk something weird is definitely going on and I (and the jumbo margarita I'm drinking right now) intend to get to the bottom of it, with some much-needed and well thought out Melania Trump conspiracy theories.
How Did This All Begin?
This all started when the First-Lady-who-never-wanted-to-be-First-Lady went into the hospital on May 14 for a kidney procedure. According to the White House, the procedure was "successful with no complications," but then she stayed in the hospital for the rest of the week, which set off some conspiracy theory radars, since the most common procedures for benign kidney conditions tend to have you up and out in a day or two. Things started getting more batshit when Donald Trump told reporters told Melania was doing great and "looking at us right there," and then pointed to an EMPTY WINDOW, and then when Melania's Twitter account posted a weird tweet about how she was doing that sounded a lot more like POTUS than FLOTUS:
I see the media is working overtime speculating where I am & what I'm doing. Rest assured, I'm here at the @WhiteHouse w my family, feeling great, & working hard on behalf of children & the American people!

— Melania Trump (@FLOTUS) May 30, 2018
Unlike your burnout cousin, first ladies don't normally disappear for three weeks, so the internet (and I) have plenty of theories about where Melania's been.
Theory 1: She Got A Face Lift
That "kidney procedure" was totally plastic surgery. Think about it: being married to Donald would give anyone frown lines. It takes way longer to recover from a face lift than it does from kidney surgery, so maybe all this time Melania's just been icing her cheeks in the dark and wondering why she didn't marry some other rich guy instead.
Theory 2: She Secretly Moved Back To NYC
I would not be surprised if Melania shimmied down the White House drain pipe (or out the White House sinkhole) in the middle of the night and took herself back to Trump Tower, where she can sit in a gold room and not have to hold anyone's hand if she doesn't want to. After all, it's what she did the first few months of her husband's presidency.
Theory 3: She's Taken Refuge With The Obamas
I mean, we all saw that photo where Barack Obama made Melania smile wider at Barbara's Bush's funeral than she has in months. Seems like she'd absolutely want to sleep in Barack and Michelle's spare room, eat their snacks, and remember what it's like to laugh again. Plus the Obamas are wayyy more receptive to distressed immigrants in need of shelter than the current administration. Sadly, she's had to return to the White House because, like with parents who kick their kid out of the basement so that they can finally enjoy retirement, the Obamas needed to her to Let's Move on, even though these were the #BeBest three weeks of Melania's life.
Theory 4: She's Doing An 'Eat Pray Love'
Don't we all want to eat a bunch of pasta, meditate, and hook up with a hot guy from another country? Maybe Melania's a basic bitch just like the rest of us.
Theory 5: She's Out Being Best
Maybe she's just working really hard on her new "Be Best" initiative.  Stopping bullying is v. difficult, especially when your own husband is the biggest bully in America.
Anyways, I guess she's back now, although since this event is closed to the press, I have my suspicions that "Melania" will actually just be Jared Kushner in a wig.
Heads up, you need to keep up with the news. It's not cute anymore. That's why we've created a 5x weekly newsletter called The 'Sup that will explain all the news of the week in a hilarious af way. Because if we weren't laughing, we'd be crying. Sign up for The 'Sup now!
5 Photos Of Melania Looking Kind Of Happy In Honor Of Her Birthday
Today is the Melania Trump's birthday, so I have been given the nearly impossible task of compiling some photos of her where she looks genuinely happy. But since I am an upstanding citizen, I put in the work and came across a…few photes where FLOTUS doesn't look like she's contemplating the choices that led her to this prison she calls life. Without further ado, here are some photos of Melania smiling in honor of her birthday. Happy Birthday, Melania! May your day be filled with divorce papers smiles!
Barbara Bush's Funeral
Quiz: Which One Of These Photos Was Taken At A Funeral? pic.twitter.com/gveYxlpfC9

— Orli Matlow (@HireMeImFunny) April 24, 2018
Melania famously cracked a genuine smile at the late Barbara Bush's funeral recently. She was sitting next to Obama, so like, we get it. How could you be within a 10 mile radius of that man and not smile? Also notable that Trump is nowhere in sight in this photo. It all adds up.
Trump's Inauguration

There we go, there's a smile! And she's sharing it with her husb — op…oh…wait. Nope. False alarm.
This Random Stock Photo

If you turn your computer upside down it sort of looks like she's smiling here. Or if you draw on a smile or close your eyes and imagine her talking to Obama at Barbara Bush's funeral, that works too.
Hugging Michelle Obama

Wow, the Obama's really have an effect on Melania. Again, I get it. If Michelle Obama hugged me I'd probably cry tears of joy, which is as close as it gets to a smile for me. Also, for any trolls out there, I know this gif is edited at the end.
This Fun Gif

She looks so happy! Oh, wait…I'm getting word that this is not actually Melania Trump? That's friend-of-the-Sup Laura Benanti on The Late Show? Oh, okay. My b. Let me just…find another one…
Quiz: Which One Of These Photos Was Taken At A Funeral? pic.twitter.com/gveYxlpfC9

— Orli Matlow (@HireMeImFunny) April 24, 2018
Here we go! Oh, what's that? I already used this one? Fuck it, I give up.
Look, Melania, you don't have to smile if you don't want to. That's your right as a woman. We just hope you're okay. Happy Birthday, and as a present, we offer you the chance to join the resistance. If at any point you want to join us, blink twice. We'll come pick you up, but tbh you have to pitch in for gas money.
Heads up, you need to keep up with the news. It's not cute anymore. That's why we've created a 5x weekly newsletter called The 'Sup that will explain all the news of the week in a hilarious af way. Because if we weren't laughing, we'd be crying. Sign up for The 'Sup now!
Michelle Obama's Most Iconic Moments In Honor Of Her Birthday
In the real-life nightmare that is the year 2018, there isn't a day that goes by where we don't wish Barack and Michelle were still living in the White House. I mean, saying goodbye to Obama was hard enough, but losing the best First Lady of all time was literally painful. Michelle Obama is hands down the betchiest First Lady ever (Sorry, Jackie) and she was prob one of the only First Ladies that didn't actually hate her husband. Aside from the fact that she has the best arms and somehow looks good with bangs, Michelle moved into the White House, immediately got a puppy, and started one of the most iconic eras in FLOTUS history. It's Michelle's birthday today, so we're rounding up our fave Michelle moments to celebrate this woman. I mean, let's not forget she was literally Barack's supervisor before they started dating. Case closed. Let's get started.
1. Her Carpool Karaoke
Michelle's Carpool Karaoke segment with James Corden is one of our all-time favorites, and it's really not because Missy Elliot decided to crash half-way through. First of all, the fact that Michelle is in this video at all is huge. Like, do you think Laura Bush would have ever made a cameo on a Carpool Karaoke video? The answer is no. Also, let's just acknowledge the fact that Michelle sings every word to Stevie Wonder's "Signed, Sealed, Delivered" and Beyoncé's "Single Ladies." Like, are we just gonna ignore the fact that she probably has both of their numbers on her phone? She's so modest. She even slips in an endorsement for her Let Girls Learn initiative to educate girls in third-world countries. Insane.
2. Her Push-Ups On 'Ellen'
The fact that the First Lady was on Ellen at all was basically unheard of before the Obama era, but now that we've established how cool they are, we're not surprised Michelle killed it on one of her appearances on Ellen in 2012. She talks about her 5:30am wake-up to work out for an hour and a half every morning. Every. Morning. Are you kidding? I do one SoulCycle class on a Sunday at noon and need *at least* a week to recover. Ellen and Michelle start doing push-ups, and Michelle flawlessly does like, 10 more reps than Ellen. The best part is that when the audience counts 25 push-ups, she goes "I just stopped" like she could've gone all day.
3. Her Photo Shoot with Meryl Streep
There are really only a few women in the history of mankind that should be remembered as badass role models for future generations. Susan B Anthony…. Gloria Steinem…. Olivia Pope… Maybe even Blair Waldorf in the early seasons. The point is, Michelle and Meryl Streep are literally at the top of that list, and the fact that they did a photo shoot together in Vanity Fair is life-changing. I mean, they actually went to Africa together to work on their joint education initiative, so I guess you can say they had a more productive Christmas break than you ever will.
4. Her Advice at Glamour's Event
A couple years ago, Michelle attended Glamour magazine's The Power of an Educated Girl event in NYC, where she sat on stage next to Charlize Theron and literally gave the best advice on education I've ever heard, and I like, went to college. She told all the girls in the room that "there is no boy at this age that is cute enough or interesting enough to stop you from getting your education." I'd like that written on my tombstone.
5. Her Hangouts With The Miami Heat
One of Michelle's most iconic moments obviously had to be when she invited to the Miami Heat team to the White House. She first filmed a video with them to promote her healthy eating initiative where she literally dunks on LeBron James, and then they filmed an even better mannequin challenge video that kind of made the whole trend okay to partake in. Not to compare the two, but I'm pretty sure the only guys Melania has brought into the White House so far have been her makeup artist and whoever installed her Christmas decorations. Just saying.
6. Her Lack of Sympathy for Melania Trump
Speaking of Melania, Michelle appeared on The Late Show With Stephen Colbert before the 2016 election and told him she has no sympathy for Melania for having to stand next to the president. She told him, "If I didn't agree with what Barack was saying, I would not support his run, so I stand there proudly and I hope they are too … so no sympathy!" The thing about Michelle is that she's so composed and modest that she's not even rude about Melania. Like, Colbert literally brings up the time when Melania plagiarized Michelle's speech and asks if she's sympathetic toward what has happened to her, and she just sarcastically replies, "Yeah…. That was tough." Well played, Michelle. Well played.
7. Her 'Parks & Rec' Appearance
How can we forget about the time Michelle made an appearance on the Parks & Recreation finale? Michelle has made TV appearances on a few different shows over the years, but seeing her on Parks & Rec was epic, mostly because we don't care about any of the other shows. Her appearance was only like 30 seconds and all she did was say a couple lines and high-five Amy Poehler, but it was epic to see her on the show and she killed it, as per usual.
Michelle, we miss you.
10 Badass Women In Government You Should Have Learned About Like, Yesterday
For many betches, the 2016 election was a painful reminder of how far women still have to go to earn equal representation in government. Like, it's pretty hard to argue that women are equal when the American people were given the opportunity to choose between a former FLOTUS-turned-senator turned-Secretary-of-State and a racist Cheeto who runs beauty pageants and they made the Cheeto president (still not over it, sorry). In the U.S., women hold only 19.4% of the seats in Congress, with 83 women serving in the house and and 21 serving in the senate (78 Democrats, and 26 Republicans), and given that it's been a casual 97 years since women earned the right to vote, those numbers are a fucking mess. Also, kind of puts how shittily our government is running these days into perspective. Like, oh you guys are having trouble communicating with the American people? Hmmm…I wonder what group of people could be missing from government that are also notoriously good communicators…hmm….
All that being said, there are badass betches in our government rocking blazers and telling men to STFU every day, and you should know who tf they are so that you know who to turn to when a large group of men try to do something crazy like defund Planned Parenthood.
Oh…wait….
1. MAXINE WATERS (D, CA)

If you have not already been inducted into the Church of Maxine, then sit your ass down because it is time to hear the good word. Maxine Waters, whose most recent TBT included a photo of her just casually chilling with Coretta Scott King, does not play, and has not played for a long fucking time. Mad Max has been in Congress since 1991, where she was an outspoken opponent of the shitshow commonly referred to as "The Iraq War." Maxine currently serves as the representative from California's 43rd district and is the most senior black woman in Congress, where she served as the head of the Congressional Black Congress from 1997-1998 (some of my best years, TBH). Most importantly, Maxine is a fucking baller with a notoriously low amount of fucks to give. Need an example? Check out this epic, mic-dropping press conference she gave literally moments after being briefed by FBI director James Comey, and then I'll see you for Sunday for worship.
Maxine Waters is fed up with it all. pic.twitter.com/GiIhchM8Oy

— Philip Lewis (@Phil_Lewis_) January 16, 2017
2. ELIZABETH WARREN (D, MA)

If you have ever used the internet (and you have, cuz you're like…reading this now) you have definitely seen one of the ten thousand incredible viral takedowns that Sen. Elizabeth Warren serves up daily. Warren took office in 2013, making her the first female Senator from Massachusetts, and she promptly got to work fixing what was fucked. Most notably, Lizzie served as the head of the Consumer Financial Protection Bureau, which was created by Obama after the 2008 financial crisis (another thing that was primarily men's fault) where she rose to prominence and Assistant to the President (Obama not….the other one) and Special Advisory to the Secretary of the Treasury. Since that time, Liz has become one of the boss betches of American politics, using her prominent platform to publicly roast anyone that she deems worthy of roasting. Liz has repeatedly said she has no interest in running for President, but hey, even Donald Trump said that in the eighties and look where the fuck we are now.
3. TAMMY DUCKWORTH (D,IL)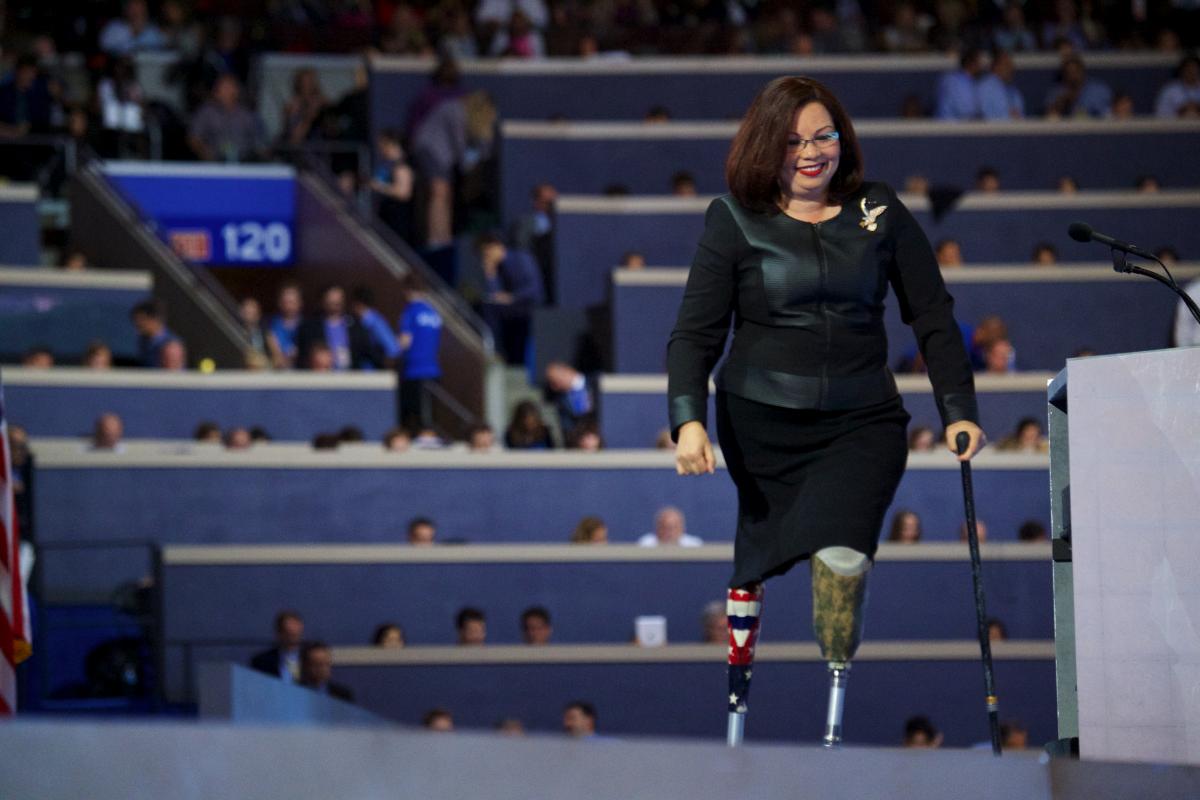 For most people, losing both your legs and damaging your right arm during military service in Iraq seems like a pretty reasonable point to say "I'm out" work-wise, but Tammy Duckworth of Illinois is not most people. That's right. Before being elected to Congress in Illinois, Tammy lost both her fucking legs in Iraq and said, "Nah I'm not done yet." Not only is Tammy the first disabled woman elected to the House of Representatives, she's also the first Asian American woman elected in Illinois, and the first female double amputee from war in U.S. military history. So yeah, being the "first" comes pretty easily to Tammy. You know, I can actually think of another government job desperately in need of a woman that Tammy would be peeeerrfect for.
4. WENDY DAVIS (D, TX)

While Wendy is not technically in government right now, she did serve as representative for Texas' 10th district in the Texas State Senate from 2009 to 2015, where she rose to prominence after holding an eleven-hour-long filibuster in opposition to Senate Bill 5, a measure that helped to continue Texas' embarrassing obsession with restricting abortion rights. You're thinking "That's NBD, I could talk for eleven hours no problem, just ask my bf," but could you do it…without sitting down? Or peeing? Or drinking wine? Yeah. Probs not.
5. KIRSTEN GILLIBRAND (D, NY)

Kirsten Gillibrand was elected Senator from New York in 2009, taking over the seat vacated by Hillary Clinton (heard of her?) and she has not stopped balling since. Sen. Gillibrand was the only member of the Senate to vote "no" on every Trump appointee besides Nikki Haley for U.N. Ambassador and has been an outspoken advocate for women's rights. Also, thanks to her we now have someone in Congress named "Kirsten," which is honestly a win for women with basic names everywhere.
6. TAMMY BALDWIN (D, WI)

Tammy Baldwin and her collection of kickass purple blazers was elected to the Senate in 2012, making her the first openly gay U.S. Senator in history. Since that time, Baldwin's voting record has made her one of the most liberal members of Congress. She is a supporter of the Violence Against Women Act, the Ledbetter Fair Pay Act, and the Equal Pay Act. Also, she's up for reelection in 2018 so, yeah….let's make that happen. Also, sidebar, but who knew there were so many Senators named Tammy? 
7. SAIRA BLAIR (R, WV)

Saira Blair is a Republican (whaaa?) member of the West Virginia House of Delegates, and the youngest person ever elected to state or federal office. Blair casually joined the WV House of Delegates at the ripe old age of 18, when most people are planning their beach week and lying to their significant others about how they'll totally stay together in college. Blair began her political career at 17, and was able to pull the ultra-boss move of voting for herself in the very first election she was ever allowed to vote in. Blair describes herself as "very conservative," opposing abortion even in cases of rape and incest, and is a staunch supporter of voter ID laws, but hey, people change between high school and college. Like, am I still obsessed with Soco and crop tops? Well, okay, yes, but you get my point. 
8. BARBARA MIKULSKI (D, MD)

Babs is retired now, but before she decided to leave work and begin a lifelong vacay, she was (and still is) the longest serving woman in the history of Congress. Mukulski served from 1987 to 2017, so like, three years longer than Taylor Swift has existed on the Earth. Babara saw a lot of shit in her 30 years as a senator. When she was elected, there was only one other female senator (Nancy Kassebaum of Kansas) and as a result they lacked a proper bathroom, meaning there was no place for Babs and Nanc to run and talk shit when the men were giving them anxiety. During her time in office, Barbara would host all the female senators from both sides of the aisle at her house for monthly group dinners, where I can only assume copious amounts of much needed wine drinking and shit talking took place.
9. ILHAN OMAR (D, MN)

While the 2016 election was generally a shit show all around, it did give us Ilhan Omar, the first Somali-American legislator to be elected to Minnesota's House of Representatives. Omar, 34, who just happens to be a Somali refugee, proudly rocks a hijab (and statement necklace) each day at work. Representative Omar is a walking, talking contradiction to President Cheeto's stance on refugees, and while being a Muslim-American woman in Minnesota is probably not easy, neither is looking this fucking fly, and Ilhan still manages. 
10. JEANETTE RANKIN (R, MT)

Jeanette Rankin is another woman who is no longer in government, given that she was elected to the House of Representatives for Montana in 1917. That's right, a full three years before women were even granted the right to vote, Jeanette Ranken was in Congress serving as a living, breathing example of how fucking cool women are for her colleagues in The House every damn day. Ranken was instrumental in securing the vote for women in 1920 (obvi), making her "the only woman who ever voted to give women the right to vote"—those are her words BTW. 
Michelle Obama's Best Beauty Looks: A Farewell To A Very Betchy FLOTUS
Today, on this date, the world will go up in flames. At the very least, metaphorical ones. As Barry and his BFF Joe throw up the deuces to the White House, Michelle Obama and her strong arms follow suit. And we, as a nation, will miss out on all of Michelle's hotness. Because if there's one thing both parties can agree on, it's this: Michelle Obama is a babe.
Besides always going high when they go low, Michelle Obama also always went like, really pretty. Over and over again. In fact, the FLOTUS rarely missed a beat when it came to her vibe, so it was pretty hard to narrow down her best looks. Whatevs though. I tried. In honor of her leaving the White House forever—only to be replaced a confused Slovenian robot—here are the FLOTUS's top beauty moments.