4 Exercises To Improve Your Balance And Flexibility
Do you struggle with balance and flexibility? If you do, first off, you should seek care from a medical professional, since there are many potential causes of balance and flexibility issues other than just "I can't touch my toes and I'm clumsy". There could be an actual medical issue, so you want to speak to your doctor to make sure you identify the cause of your balance issues in order to receive proper treatment. That said, you can also improve your balance and flexibility by performing certain exercises. Your doctor may even recommend you look to direct access physical therapy. Working with an expert will ensure you're working safely and within your abilities.
If you're struggling to improve your balance and flexibility, give the following moves a try.
Alternating Arm Plank

A plank simply involves modifying a typical push-up position so your elbows rest on the floor. When looked at from the side, your arms should appear to form as close to a 90-degree angle as possible.
For this exercise, you may need to rest on your palms (like a typical push-up) when you first attempt it, as it can be difficult to maintain balance otherwise. That's because this version of a plank requires you to balance on just one arm for a few seconds, before switching to the other arm. As you get more comfortable with the exercise, you can try balancing on your forearms or extending your opposite leg.
BOSU Ball Split Squats

A BOSU ball is a piece of equipment you may have seen people using at your gym. It essentially looks like half of a stability ball. Instead of being a complete sphere, it has a flat base running through what would otherwise be the middle of the sphere.
Using a BOSU ball when performing split squats can be a very effective way to improve your balance and flexibility. For this exercise, step forward with one leg far enough so you have to raise the heel of your back foot. The toes of your back foot should rest against the BOSU ball. With your torso straight, bend your front knee so your back leg almost rests against the ball, before returning to a standing position. Alternate sides for the best results.
Pistol Squats

Pistol squats are useful when BOSU ball squats start to feel too easy. For this exercise, stand on one leg and bend the knee of that leg until its thigh is almost parallel with the floor. Try to extend your other leg in front of you as you do so. The straighter you can keep it, the better.
Return to a standing position and repeat to your comfort before switching to the next leg. This is a difficult move to perform, but it can be very helpful if you struggle with balance issues.
Standing Crunch With Clap

This is another exercise you may need to work up to. However, it is a very effective way to improve your balance and flexibility.
To perform it, stand up straight on one leg, with your other knee bent to form a 90-degree angle. Keep your hands raised above your head. Your raised leg's thigh should be parallel with the floor.
Next, bring your stomach forward to your raised leg as if performing a crunch from a standing position. While doing so, bring your arms below the leg and clap your hands together, then raise your arms back up as you return to your original position. Repeat to your comfort, then switch to the next leg.
Again, it's important to see your physician if you have balance and/or flexibility problems. An underlying medical condition may be the culprit. However, it's also helpful to perform these exercises. They'll provide you with the strength you need to stay balanced and comfortable throughout life.
Rae is a graduate of Tufts University with a combined International Relations and Chinese degree. After spending time living and working abroad in China, she returned to NYC to pursue her career and continue curating quality content. Rae is passionate about travel, food, and writing, of course.
Images: Shutterstock (3); Giphy; Unsplash
The Best Workout To Do Based On Your Fitness Goals
We all have our reasons for going to the gym, whether it's because we want to drop some pounds, get toned for our Mexico vacay, or just need to clear our overly cluttered minds (how could Tristan do that to Khloé?! What's baby True going to think??). Whatever the reason, there's a specific workout that will help you best achieve your fitness goals. Like, I'm totally a fan of yoga and all, but it's probs not your best workout option if you're trying to lose weight, and if you want to tone up, doing straight cardio for an hour isn't the best use of your time. So, to help you maximize your allotted 45 minutes at the gym as efficiently as possible, I've broken down the best workout for your fitness goals.
1. Weight Loss
If you're trying to lose weight, the best workout for you is a high-intensity interval training workout, more commonly known as a HIIT workout. A HIIT workout is a training method in which you alternate bursts of high- and low-intensity intervals throughout a set cycle. This method of working out is proven to burn more calories than most other workouts, while also simultaneously boosting your metabolism. There are tons of free online programs for HIIT workouts that you can do on your own, and most are only a max of 30 minutes. If you're looking for a HIIT workout class, try Switch Playground, Fhitting Room, 305 Fitness, or a group Tabata workout.

2. Tone Up
Everyone knows someone who's skinny-fat. The skinny-fat person wears an XS, but their body isn't exactly "tight" because they've clearly never stepped foot at a gym. Toning workouts are for anyone who is content with their current weight but is looking for a more overall definition (skinny-fat or not). The best workouts for those looking to tone up are programs that consist of body weight exercises such as squats, push-ups, and planks. If you're looking for a group fitness class, your best options are pilates, kickboxing, or barre.
3. Strength & Muscle Building
Take a cue from the d-bags grunting at the gym and grab yourself a pair of free weights to work on building strength and muscles. There are dozens of free online programs specifically designed for women that will help guide you through one of these workouts. You'll want to set different days to focus on different body parts and should either hire a trainer or watch a shit ton of YouTube videos to make sure your form is correct. There are also some apps that can teach you basic weights exercises, like squats and bicep curls (I use an app called Jefit, but I'm sure there are like, a million similar ones in the app store). For those looking for a strength building workout class, try boxing! Another option: grab some friends and do a P90x workout.
4. Flexibility
I'm not totally sure why this is your reason for working out… unless you're like, trying to do some weird shit in the bedroom??? But hey, to each their own!

Improving your flexibility will help decrease your risk of injury, and it will also help your muscles work more efficiently overall. The best workouts for increasing your flexibility are stretching exercises and a workout class such as, you guessed it, yoga.
5. Endurance
Nope, not referring to your drinking endurance! (If that's where your mind immediately went, then I'm going to guess you probs don't need any help there anyway.) I'm actually referring to physical endurance, as in not being the girl who's out of breath after climbing one flight of stairs. Building endurance is essential to multiple facets of your overall health. The best workouts for doing so are ones that combine both strength and cardio training, such as classes like Orange Theory. Any type of HIIT workout in general, though, works great for building your overall endurance.
6. Balance & Coordination
Working out for improved balance and coordination is another goal that I don't totally get the motive for. I guess it's useful if you're auditioning for American Ninja Warrior or something?? Regardless, improving your balance and coordination can't hurt, and almost any balance or coordination based workout will do more than just improve that. If you're working out on your own, yoga poses are a great workout for improving balance and coordination. If you prefer a workout class, barre classes or any boot camp style class are great options because you'll be doing multiple different moves that utilize multiple different muscles throughout the class.

7. Mental Health
At the end of the day, basically any workout that you're willing to do is great for your mental health. There are, however, certain workout classes that integrate spiritual and mental well-being into the actual workout, such as SoulCycle and yoga. Sue me, but I'm personally a big fan of SoulCycle for that reason exactly. I love getting an intense workout in while simultaneously being flooded with messages of positivity. Of course, I know not everyone feels this way, so whatever workout best gets your own feel-good endorphins flowing is going to be beneficial.

Pretty much any workout you do will help you to achieve more than just one of the body goals listed. The most important step is just getting your ass to work out, whether your reasons for doing so are superficial or health-related (or are superficial but you're pretending are health-related for your Insta story). Whatever your reasoning, I'm totally not judging.
Images: @shotsbywolf / unsplash; Giphy (4)
6 Exercises To Improve Your Balance And Flexibility
I follow a lot of #fitspo type of social media accounts, and every now and then I'll watch a workout clip on Instagram and literally bug out seeing what some of these girls can do with their bodies. I mean, no, I'm not talking about how cute their sponsored shaker cups look next to their butt-facing-forward mirror selfies. I'm talking about these crazy moves that require more balance and coordination than 99% of America can handle. Like, I work out regularly,  but honestly my flexibility and balance are pretty shitty, and it's something I'm trying to work on. Here are six exercises to improve balance and flexibility that I'm incorporating into my own routine . Please join me so I'm not the only one struggling through pistol squats at the gym.
1. Bosu Ball Split Squats
The bosu ball is meant to make any exercise harder, and that's because it screws with your balance, making you use your own body to stay aligned throughout the movement. If you do split squats regularly, try adding the bosu and it'll really help any imbalances you have in either leg. The idea is to prop one leg in a lunge on the bosu behind you, and then use your front leg to move up and down, pushing with your glutes throughout the movement. If you're a newbie, you'll probably start tipping over when you start, so just take your time and focus on grounding yourself with your front leg. If you feel like one side is easier than the other, that's completely normal and it's because we're usually stronger on one side. That's why we're doing this. Once you master this, try putting the front leg on the bosu, because variety is the spice of pulled muscles life.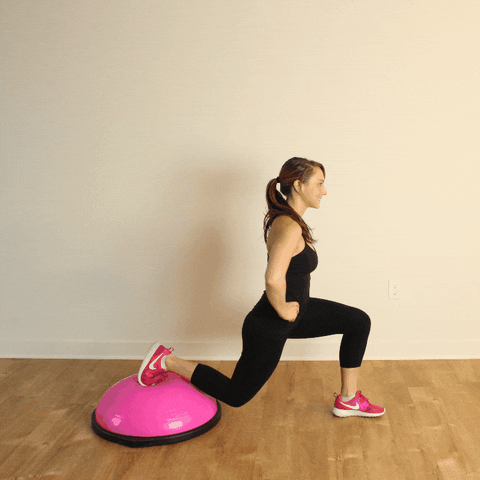 2. Lunge Hip Flexor Stretch
This move looks like more of a stretch than a real exercise, but honestly it's a must and it'll help with other exercises. It helps with mobility, flexibility, and coordination, so you'd be missing out just by skipping it. Especially if you sit at a desk all day, this move is amazing for opening up your hips and relieving any tightness from sitting for so many hours. Start by placing your hands on the ground and stepping back with your right leg, like you're stepping into a reverse lunge. Then, straighten out the back leg and feel the stretch in your hip flexors as your front leg bends in front of you. Hold for a few seconds before switching to the other leg.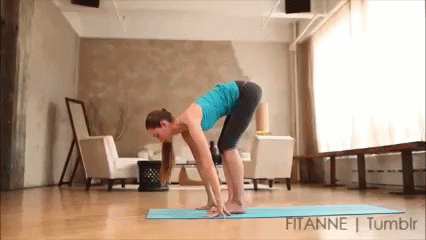 3. Alternating Arm Plank
This one is harder than it looks, so again, TAKE YOUR TIME. No one has ever rushed you through a plank, and the stability aspect here is key. The idea is to hold a regular high plank, but alternate arms so that you only have one hand on the ground at a time. This move hits your shoulders, abs, and arms all at once, and it also ensures you're not relying on one side of your body during other ab exercises. Remember to keep your hips as square as possible without swaying or lifting to one side. If this starts to feel like a side plank, take a break and start again.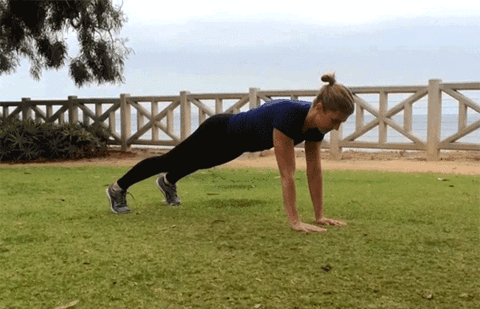 4. Pistol Squat
Ugh, pistol squats. Ask any trainer and they'll tell you this exercise is QUEEN of one-legged training. You're basically putting all your bodyweight on one leg at a time and squatting with only that leg, so yeah, it's hard. If you need to hold onto a bench or TRX straps at first, do it. In a standing position, raise one foot off the floor and descend into a squat. As you squat, try to extend your front leg forward without losing your balance. Then, get as low as you can before slowly rising up, straightening out your knee and driving through your heel. You should feel this in your glutes on the working side. Again, take your time and just focus on the balance part. The rep count doesn't really matter here, so just try to do a few without falling over. You'll go deeper, do more, and need less assistance as you get stronger.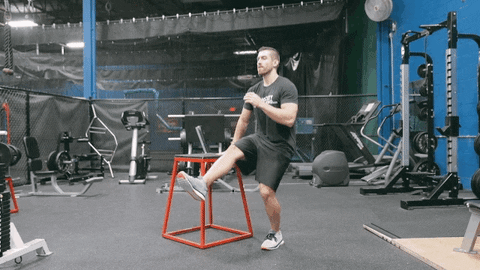 5. Opposite Arm & Leg Raises
Contrary to its name, the opposite arm and leg raise is actually more about your core and torso region. You're basically raising your right arm and your left leg at the same time while on all fours, so the goal is to keep the rest of your body as still as possible. You'll need to keep your back flat and engage your core. Squeeze your abs while you slowly extend your arm and leg, and then take a second to look forward at your reaching arm before lowering down and switching sides. This should also help strengthen your back, so make sure not to arch your spine and ruin your form. Think about pulling your abs in before lifting, and then when you reach out, keep your arms and legs parallel to the floor. For extra credit, get off your knees and do this from a full plank. Good luck in advance, is all I have to say.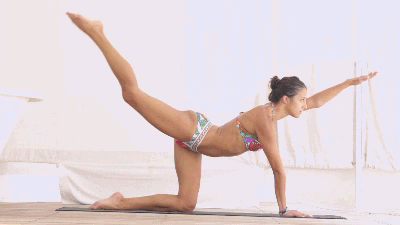 6. Standing Crunch With Clap
Balancing on one leg is already difficult AF, so adding in a crunch and an under-the-leg clap may take some patience. This move has two parts, so let's discuss both. It's kind of like tapping your stomach while rubbing your head. Takes a shit ton of coordination, is what I mean. Balance on one leg, keeping your other knee 90 degrees with your hands over your head. Then, crunch forward, bringing your hands under the raised leg for a little clap underneath. Bring your hands up and then back down for a few reps, and then switch to the other side. Also, try looking as happy as the girl in this GIF.

Images: Squarespace / Pexels; Giphy (5); Pinterest