7 Tricks Celebrities Do To Make Their Stomachs Look Flat
People say the camera adds 10 pounds, but like, I'm convinced that only applies to when you open your iPhone camera and it's accidentally on selfie mode. Celebrities are known to have perfect bodies, and despite a few bad paparazzi shots of a hungover Amanda Bynes, I fully agree. I mean, I know they spend a lot of money on personal trainers and nutritionists, but I think we deserve to know some of the tricks they use to get their stomachs to look perfectly flat and feel amazing despite all the flying and drinking they do. After doing some thorough research on the topic, I'm ready to share. Here are some celebrities' favorite tummy hacks.
Jessica Alba: Probiotics
Jessica Alba is a client of celebrity nutritionist Kelly Leveque, and her clientele also includes Chelsea Handler and Emmy Rossum. This woman knows how to make women look great, and her trick is probiotics. In fact, Jessica Alba doesn't even diet or watch her calories, because she's mainly focused on eating in order to improve her gut health. Apparently your gut health helps regulate your hormones and control your weight, so by improving the microbiome in your gut, you'll slim down and feel great.
Kourtney Kardashian: Green Tea
As much as we love our coffee, green tea is having its moment right now, and the Kardashians are totally funding it. Kourtney Kardashian can probably write a book about her list of health hacks (Kris Jenner, great opportunity here), and we've already tried a few of them. The flat tummy hack she swears by right now is her daily green tea latte. She drinks it with honey and almond milk, and she says it makes her stomach feel and look its best.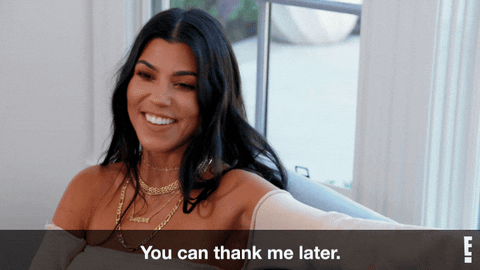 Meghan Markle: Water
An article recently came out about how Meghan Markle can take long flights all the time and still avoid bloating and puffiness. Important news right here. Anyway, it turns out she swears by her probiotic and drinking tons of water. She says this combo actually helps with jet lag and it prevents your body from bloating and even becoming constipated. Especially when flying at high altitudes, your stomach becomes filled with air, so loading up on water while traveling is a must. Start chugging.
Adriana Lima: Breakfast Smoothie
If you thought all Victoria's Secret models skip breakfast and eat three unsalted cashews for lunch, Adriana Lima says drinking a filling smoothie in the morning is actually what makes her look so good. Obviously aside from all the ab workouts she does, Lima says she looks her best in a crop top when she drinks a breakfast smoothie, usually with avocado, honey, or yogurt. She claims it boosts her energy and kick-starts her metabolism for the day. And I mean, it seems like it's working for her.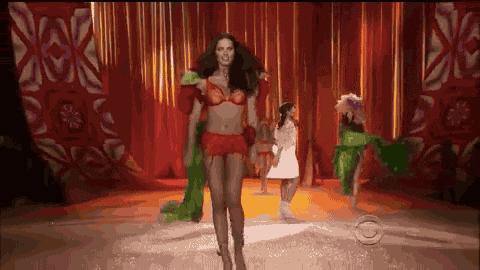 Khloé Kardashian: 5 Staple Foods
Khloé has obviously hired a team of health and fitness professionals to get her body to look its best, but she has her own tricks when she's not getting her ass kicked by Gunnar Peterson on national TV. Apparently Khloé sticks with five foods that give her that slim stomach look: avocado, ginger, watermelon, tomatoes, and oats. I assume she eats other foods aside from these five, but she likes incorporating these into her diet and says they helped her see results that complement her hard work in the gym, and they obviously work. I mean, there's a reason Revenge Body exists.
Emmy Rossum: No Fructose
I haven't heard the word fructose since freshman year biology, but apparently Emmy Rossum avoids fruit when she wants to de-bloat and feel her best in a tight dress. Fructose is the natural sugar in fruit, and although fruit is obviously good for you, having too much of it can make you bloated, and that's because the fructose feeds the gut bacteria that could make you look puffy and full. Honestly, if we're talking about giving up FRUIT, I'm scared to see what else she avoids, but like, it's her life.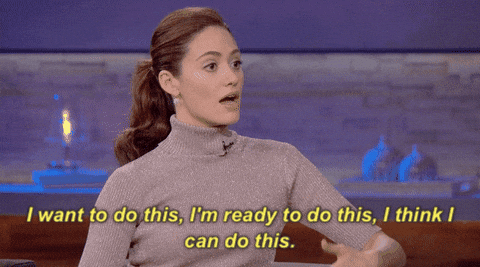 Miranda Kerr: Dandelion Tea & Goat Milk
Okay, this could be the weirdest hack of all, but Miranda Kerr is literally goals so let's talk about it. People always ask Miranda what she likes to eat, and she usually has normal answers, like toast and eggs and green juice. BUT Miranda also swears by this mixture of dandelion tea with goat milk. She says it has cleansing and detoxifying effects. I looked it up, and it turns out dandelion root actually has a ton of antioxidants and it can work to detoxify your body and reduce inflammation, so she's not crazy. She doesn't explain why she adds goat milk, but dairy from goats tends to be easier to digest than from a cow, so that's probably the reason. Personally I don't plan on trying this one right now, but if anyone does, please report back. I need to see what this girl's raving about.
Images: Giphy (3)
How To Get Amazing Abs In Time For Summer
Abs have been a hot topic for a while now, so let's talk about them: what they are, how to get them, and like, if we even want them. (The answer to that last question is an obvious yes.) Getting abs became trendy in the early 2000's around the time when people started to realize they wanted J.Lo's six pack instead of Mary-Kate Olsen's emaciated rib cage. Then, the ab crack suddenly became the new thigh gap of the internet and we started Googling shit like "Khloé Kardashian workout routine." All of this important history brings us to today, where we're left staring at our SoulCycle instructor's chiseled stomach and wondering how many calories were in that bagel we ate earlier. If you're looking for some real info, it's time to get some facts straight. Having good abs is more than just a flat tummy—as Meek Mill once said, there's levels to this shit. Meaning, there are a lot of different parts of your abs and you can't just do one exercise to tone all of them. So here's the deal with all your various ab muscles and what exercises you need to do to get amazing abs all over.
That Line Down the Middle
What is it? You may know this line down the middle of the stomach area as an ab crack, which is unfortunately not a drug you can take to get abs. But if our dealer was selling that, we'd save so much on groceries. Anyway. The ab crack isn't actually a muscle and so it doesn't get a real name, but the best way to get it is by having good genes and doing basic toning exercises. Genes are a huge part of it, and some people can have like, no body fat and a strong core, and still not have that line. We're all built differently, so let's work with what we've got.
How do I get it? Planks. It may sound basic AF, but planks are an amazing way to target the entire front of your core, so stop overthinking fancy and complex exercises and start planking. If you're a beginner, start on your hands, but starting on your elbows really targets the muscles better. Basically, you want to start face down with your forearms on the floor and your knees raised up so that only your toes and arms are touching the ground. Make sure you're contracting your abs and not sticking your butt in the air, or else you're literally doing nothing. Also, make sure to keep your back as flat as possible the whole time. Hold for anywhere from 30 seconds to two full minutes. If you're respectively psychotic and you're looking for an added challenge, try doing your plank in a TRX suspension trainer at your gym—if you don't even know what that is, it's best to stick to the regular planks for now.

Those Side Lines
What are they? The "side lines" you see all over Instagram during bikini season (probably while fake laughing on an inflatable swan in East Hampton), are actually called your obliques. Obliques are the most superficial muscle out of the muscles in your abdomen, which means they look hot but actually don't help you that much in terms of being strong as fuck. But who cares about strength? They'll look hot in your Instagram pics.
How do I get them? Russian Twists. There are tons of exercises that target your obliques (others include bicycles and side planks), but Russian twists are really the most effective way to tone those side muscles that look so good in a crop top or one of those slutty cut-out one pieces. Start by sitting on the floor with a weight in your hand (think anything from 8 lb to 15) and your feet slightly raised off the ground. Your legs should be bent at your knees and your upper body should be elevated to create a folding V shape with your legs. Move the weight from one side of your body to the other, ideally touching the weight to the ground on each side of you during every rep. Do this for 30 seconds to a minute, then rest for a few seconds and repeat again. It might hurt when you laugh tomorrow, but in that case I guess it's a good thing we have permanent RBF.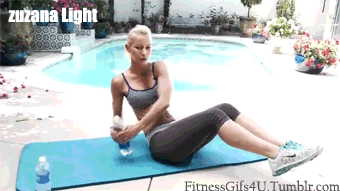 That V-Shape At The Bottom
What is it? No one would ever comment on an Instagram pic to compliment someone's lower abs, but like, why not? That shit is really hard to achieve and honestly I could use a post-workout snack just thinking about all that work. Working your lower abs is super important even if you don't necessarily want chiseled abs because it will help eliminate love handles in the process (but obviously stop eating those double-stuffed Oreos first.)
How do I get it? Well first before anybody asks, you do NOT need to become a man (or Terry Crews) to get the V-cut thing; that was just the best (read: hottest) picture I could find. Anywho. Leg raises. This move looks super easy when you see someone doing it, but once you start, you'll be crying pretty fast. Lying on the floor, place your legs straight out in front of you and your hands on the ground or under your lower back if you're prone to lower back pain. Lift your legs up, keeping them as straight as possible with your knees slightly bent until they make a 90-degree angle with the floor. Hold the contraction at the top for the second, then SLOWLY lower your legs down to the floor in front of you. You'll want to make sure you use a mat to protect your tailbone and stop fucking holding your breath. Seriously, what is it with people not breathing while working their abs? You're not underwater and people around you are starting to get worried.

Inner Core Muscles
What are they? The workouts we've discussed so far will all help tone your abs, but as we mentioned earlier, your core muscles go much deeper than you realize, so you should prob be working those inner layers too. A lot of people get caught up in working the area around their stomachs, but they don't realize that most of your core stability comes from your lumbar spine and lower back area, so try hitting those muscles too if you care about really strengthening your entire core area.
How do I get them? Superman lifts. Everyone has these inner core muscles, but they're pretty weak if you don't work to strengthen them, and Superman lifts are the best way. Lie face down on your stomach with your arms and legs extended and keep your neck in a neutral position. Then, keeping them straight and your torso tight, lift your arms and legs toward the ceiling, arching your back and getting your hands and feet like, five inches off the floor. Hold for a couple seconds at the top and then lower back down. If you're doing it right, you'll feel like an idiot. Try doing 10-15 reps before the embarrassment takes over resting and then repeating again.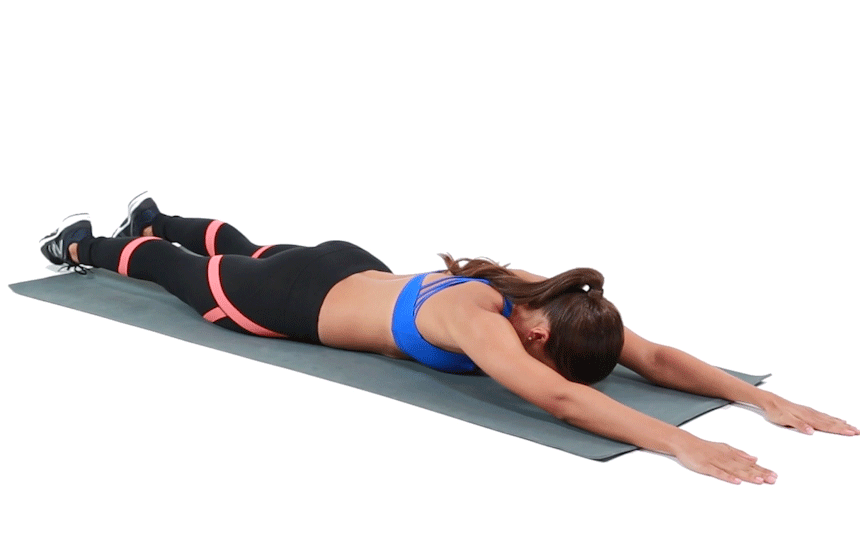 I know it sucks to spend extra time at the gym to do some work that's low-key good for you, but you stuck around last week for like, 15 minutes to find good selfie lighting, so we're gonna assume you have the time.
The 5 Best Ab Exercises & The 5 That Are Wasting Your Time
If you're one of those people who clicks on any article called "7 Foods To Eat For A Six-Pack" or "Drink This Tea To Get You a Flat Tummy Tomorrow," you're gonna want to keep reading. That's because Fit Tea doesn't work (and you should know that by now), but ab exercises do work. So we've done a thorough investigation(ish) of the 5 best ab exercises to get your abs in shape for your bikini. And, because we're psychic, we also know what you're doing wrong. So to shatter all your illusions and make you feel like a failure for your benefit we're also here to tell you the five ab exercises you think are working, but really aren't doing shit.
The first thing you need to know about getting abs is that core exercises are important, but they're not everything. That annoying phrase "abs are made in the kitchen" is sadly true. By definition, you have to have a pretty low body fat percentage to see abdominal definition, so if you're not eating right, fix that shit, then come back to this article. If you're pretty good on the nutrition and you're looking for the right exercises to shape your core and tone your tummy, here's what you should and shouldn't be doing in the gym: 
5 Exercises That Work…
1. Weighted Russian Twist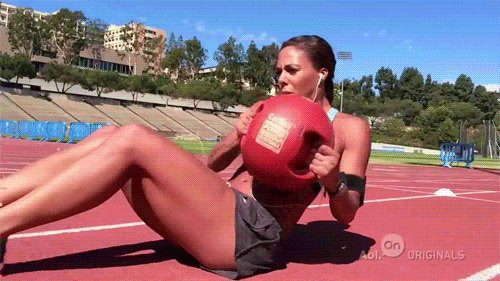 This move is great for toning the sides of your abs because it targets your oblique muscles. Start by holding a 12-15lb weight or weighted ball and sit on the floor with your knees bent. Ideally, your feet shouldn't be touching the floor, but if you're a beginner, you get a pass. For now. Lean back so your torso is at an angle, but keep your spine straight. Touch the weight to the floor from one side to the other while keeping your arms in front of your chest. Make sure you twist your core completely or else the whole move is pointless and you're playing yourself.
2. Plank

People tend to hate on planks because it looks like you're not doing much and because we're all still scarred from the planking craze of 2009, but if you're doing them right, you should feel the burn and see results pretty fast. Planks are amazing for your core, back, legs, and arm muscles, so stop talking shit and start planking. Whether you're doing a forearm hold or starting on your hands, keep your core tight and hold a stable position for a minute. As your core gets stronger over time, try holding for longer and longer. Separate your feet if you're just starting out, then move them closer together once you start getting stronger.
3. Side Jackknives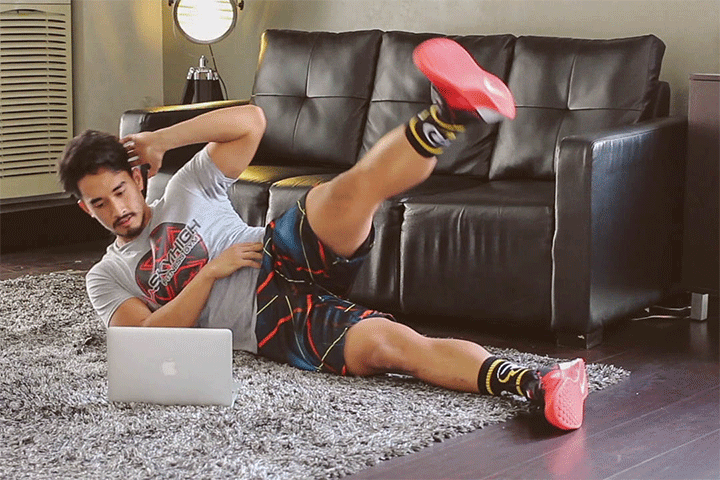 This move is another great one for the sides of your core, and if you do them enough, you'll start developing that hourglass shape around your waist that guys post about on Instagram all the time. Lying on your right side and keeping your left leg over your right one, place your left hand behind your head and bring your torso and left leg toward each other as you pull with your obliques. Squeeze for a couple seconds and then release your leg and hand. The key here is to go slow and feel every rep, so no cheating.
4. TRX Pikes + Knee Tucks

This move is def more advanced, but like, stop crying and put your feet in the TRX straps. The TRX is that yellow and black suspension trainer at your gym, and it's time to start using it. Get in a plank position with your feet in the straps and pull your knees into your chest, engaging your core on every rep. If you're up for the challenge, pike your feet forward, creating a V-shape with your body. You'll feel the burn immediately, but do as many reps as you can without collapsing.
5. V-Ups

V-Ups are not, as the name may lead you to believe, a form of Kegel exercises. They actually target the lower part of your abs that gives your body that V-shape you thought only J. Lo was blessed with. Keep your feet together with your toes pointed at the ceiling, and slowly lift your legs up while bringing your upper body off the floor and touching your toes. Try to keep your legs as straight as possible. Squeeze your core for a second and then slowly lower your legs and back down to the floor. It burns pretty bad, but you'll be thankful when you look unreal in your next bikini pic.
…And 5 Exercises That Are Wasting Your Time:
1. Fast Bicycles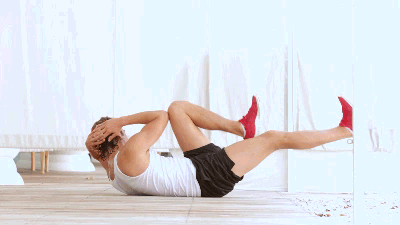 So many girls think that doing fast bicycle crunches will get you a six-pack, and it's honestly sad to watch. This isn't SoulCycle, so stop going so fucking fast without using a single muscle in your core. SLOW bicycles, on the other hand, are actually super effective because you're bringing your shoulder to your knee and isolating your core muscles enough to actually do something. Girls who do fast bicycle crunches and think they're getting abs are like guys who jackhammer away at your cervix and think they've given you an orgasm (ahem, Raven's ex).
2. Crunches

Again, sorry to burst your Shape Magazine bubble, but regular crunches or bodyweight sit-ups are probably wasting your time. Doing 100 baby crunches isn't impressive, and it's not going to do shit to your body. Add some weight to your crunches by holding a dumbbell at your chest, or get your feet off the ground to really challenge your core.
3. Leg Lifts

TBH, leg lifts can actually be a good core exercise if you're doing them slowly and only using your core muscles, but most people just use their hands for assistance and go way too fast to actually get an effective ab workout. This move is more advanced than most people think, so if you're not that strong yet, you're way better off starting out with V-ups or planks. Going straight to leg lifts is like skipping cocaine and going directly to crystal meth. Slow the fuck down. And stay away from crystal meth in general.
4. Static Side Planks

People tend to think holding a side plank for 30 seconds will shape the sides of your torso, but those people are what we in the fitness community like to call "idiots". There are so many better oblique exercises that are way more effective than a static side plank. If you really want to feel the burn in a side plank, try dipping your hip up and down (like Leo does in the above gif) or holding a dumbbell with your arm straight in the air. Otherwise, you're prob wasting everyone's time. Mostly your own, but also the people waiting to use your mat while you do the exercise equivalent of sitting there and looking pretty. We're not saying everyone will hate you if you do a static side plank, but we're not not saying that. The more you know.
5. Most Ab Machines

This might be controversial since so many people swear by the cable crunch machine or the hanging leg raise bar, but most ab machines at the gym are probably wasting your time if you want a good core workout. It's not that the machines don't work, but doing floor exercises are just as effective and are easier to scale to your own level, so don't waste your time trying to figure out how the machines work. We're also saving you from some annoying dude coming up to you and offering tips and telling you that you should smile more, so like, you're welcome.