Photoshop Fail Of The Week: Not-So-Inspirational Fitspo
I don't know if you guys have ever shopped at Gymshark, but I'm obsessed. It's a really cute athletic brand, everything is super flattering, and their sales are fire. This isn't even sponsored but hey, Gymshark, if you want a cancer patient that can't even work out right now to advertise for you, hit me up. I'm just the epitome of health. Anyway, so I follow their Instagram so I can know about sales and see cute new styles, and also because they always post the most fit people ever as fitspo. Back when I wasn't a professional chemo potato, I would see a post by them and think, "well f*ck, I should probably hit the gym." Effective advertising at its finest.
They even have an Instagram dedicated to training, so you can see new exercises and how to do them. Highly recommend. But here's the thing, most of Gymshark's posts feature people like this:
Like, everyone is obviously fit as F*CK, but reasonably so. I mean, if I went to the gym for six hours a day and didn't eat carbs, I could look like this, too! I would never, because that sounds hard, but it's the idea that anyone could be fit. This is how you advertise fitness, not with scary skinny Photoshopped models that don't even have room for organs. I thought Gymshark always did a great job of that. UNTIL.
This disaster showed up on my feed:
I mean. WTF is this shit? How does a fitness brand not see that there is something wrong with this picture? I get that when you're really fit, your waist gets teensy, but this is beyond believable. Not to mention, this is such a tiny waist it's not even aspirational, it's just scary.
Also? The grid lines in the floor are warped/disappeared riiiiiight near her waist. So weird when that happens. And if you need more convincing this is not real, the following pictures are screenshots from videos of the same model working out:


I mean, she is obviously in awesome shape, but I can't help but notice that, in the videos, she clearly has a waist that like, actually exists. And she can fit ribs and organs in there! The mirror picture is not even close. Also, if I looked like that, I can assure you I wouldn't edit anything ever. I'd be wearing very tiny crop tops and making everyone count my abs. Good thing I despise running and love french fries, otherwise I'd have no friends.
This GIF doesn't really work since I couldn't get her in the *exact* position, but you can clearly see that there is zero possibility this the same waist at a different angle:

Really like how they kept her chest and butt the same but gave her one-third of a waist. It's one thing if this were just some random Instagram model posting a picture like this, but I find it very disappointing that a FITNESS brand on their TRAINING Instagram didn't look at that and say, "hey, that's clearly not a realistic body and it's toxic to promoting FITNESS to pretend it is." Gymshark, I expect more from you.
In other news, Kim Kardashian is at it again with the Photoshop (shocking), but this time it was done well, with purpose, and she actually admitted to it.
I actually really liked this photo, it's so undone compared to the old days of Kardashian cards that seemed like an all-day photoshoot nightmare, especially with their 17 kids. This is relaxed, comfy, casual, and I think way cuter. However, Kim came out to admit that North actually had a huge tantrum the day of the photoshoot and refused to be in it, as kids often do. So she was added in via Photoshop later. Look, this is a great reason for Photoshop. Kids suck, especially when you have to wrangle an entire litter of them. I think you've got to just take what you can get and do whatever's easiest. The good thing about this photo though, it wasn't the disaster Photoshop job that was the Halloween pic, with Chi looking literally cut-and-pasted on collage style. It was properly done, you can't really even tell, and I like that Kim openly admitted it, because kids are hard, even when you're rich and famous. For once, her Photoshop use was for good, not evil. She's growing up! Maybe. I'll have to wait and see on that.
What do you think of Gymshark promoting a fake/unhealthy body image? Do you think they should be more careful what Fitspo they advertise? Do you think Kim's Christmas card Photoshop job is reasonable? When do you think Photoshop usage is okay? LMK and always send me your fails!
Images: gymshark, kimkardashian / Instagram
5 Fitness Apps That Are Actually Worth Downloading
Every year, on December 31, just before the clock strikes midnight and you're preparing to chug a bottle of champagne, you vow that this is the year you finally get in shape. Never mind that you'll probably wake up tomorrow and completely forget WTF happened on NYE, let alone say "no" to that leftover Chinese take-out in your fridge. I know, because like, me too. Diet starts in 2019, amiright? But for those of you who believe that eighth time's a charm, here are some fitness apps to help you get that New Year's body. It's time to use your phone for something other than cyber-stalking your ex and his new girlfriend.
1. Sworkit
Sworkit hit it big on Shark Tank when Mark Cuban invested $1.5 million in the company. At one point the app was free, but now they're charging $29.99 a quarter or $79.99 a year. They may sound like greedy f*cks, but they're actually the cheapest option of the paid apps on this list. Sworkit has a bunch of fans, averaging an impressive five stars on the App Store. With the price you pay, you get access to a trainer who can answer all your burning fitness questions. That's kinda cool if you're lonely and bored of bugging Siri or the personal trainer you're hooking up with. Also, Sworkit utilizes only bodyweight moves (no equipment) so you can literally do their workouts anywhere. That means if you're looking for an app to use in the gym, you have better options. In order to utilize all the equipment, keep reading.

2. MoveWith
MoveWith is like having a personal fitness class right on your phone. A lot of the most popular trainers from boutique studios around the country are coaches on this app. Basically, you get a similar workout for a fraction of the price and in the comfort of your own home or gym. The workouts range from yoga to HIIT to weightlifting to guided meditation. They even have life talks, so clearly the variety is insane. You can choose which body parts you feel like working on, and the amount of time you have to work out. The trainers' voiceovers also make it sound like they're right there with you, yelling in your ear. Very realistic and motivating for those of us who need to feel a little fear to get moving. Depending on the class you choose, you might need some gym equipment. This app isn't free, though, and will cost you $12.99/month or $95.99/year.
3. DailyBurn
DailyBurn is not good for commitment-phobes. Instead of starting a workout, the app makes you start programs that last 8 weeks *nervous laughter*. I'm here for a good time, not a long time. But for those of you who need that kind of structure, this app is for you. Each program also comes with its own nutrition guidelines and meal plan to make sure you really see the results. The thought of all this commitment and cooking is giving me hives, low-key, so let's wrap this up. Once again, this app is not free and will cost you $19.95/month.
4. Nike Training Club
Finally, a free app. Thanks, Nike! Although, I really do spend way too much money on your shoes anyway. I'll consider this just a mild favor from you to me. This app allows you to pick individual workouts or set a plan that is tailored to your goals. You can choose if you want to do no equipment or full equipment workouts. All that is cool and whatever, but the main reason I am downloading this app is because it lets you workout alongside side Nike sponsored athletes. That means celebrities like Serena Williams, Kevin Hart, Michael B. Jordan, and Cristiano Ronaldo will be sweating it out with you. This is like the ultimate workout porn. If self-love can't get me to exercise, then the thought of Michael B. Jordan's abs f*cking can.

5. Jefit
Do I know how to pronounce the name of this app? No. Do I use it? Semi-regularly. My ex-boyfriend introduced me to Jefit, and to this day I maintain that it is the only positive thing to come out of that year-long nightmare. But I'll save the details for my therapist. If you want to tone up but are too afraid to venture into the weight machines section of the gym, Jefit is the app for you. You can search basically any machine in existence and it will explain how to use it with written instructions and an accompanying gif. It also does the same for many free weight exercises, if you've ever wanted, for instance, to learn how to do a barbell deadlift without breaking your lower back. It also has preset workouts for each muscle group (think abs day, chest and triceps day, etc.). And the best part: it's free. Download Jefit and you just might be posting memes about "when you skip leg day" in no time. Change your name to Tyler, effective immediately.
Bonus: MyFitnessPal
Okay, MyFitnessPal is so popular that I had to include it on the list, but this app's main function isn't even really about exercise. It is a virtual food diary so you can stay on top of your intake. If you purchase the premium version, you can also add in your exercise so that it can calculate your expenditure. The forums and message boards give you that community feel if you're into chatting with random strangers on the internet (and honestly… strangers on the forum board are way quicker to congratulate you on losing two pounds than your bestie over there putting out wine and a cheese plates). There are no exercises or workout plans for you here, though, so maybe use this with another one of the apps above to really stay on top of things.
Images: Nathan Cowley/Pexels; Giphy (2)
The Full-Body Workout You Can Do In A Corner Of The Gym
If you go to the gym right before 9am or right after 6pm, you know how annoying it can be to get around the place during workout rush hour. As much as we'd all love to work out in an empty gym with the whole place to ourselves, it's v unrealistic unless you're like, a psychotic morning person or like, super rich. Luckily for you, we've put together a workout can literally be done with one mat in a tiny corner of the gym, so you don't have to bother waiting for a machine to become available or for people to step away from the dumbbell racks. Here's a quick workout that will tone your whole body and burn a ton of calories while staying in one space the whole time.  
1. Walkout Push-Ups
The walkout push-up is a great warm-up move because it gets your lower and upper body working without diving right into a cardio or strength move. The idea here is to first warm up your hamstrings by starting in a standing position and folding your arms and head forward, and then get your upper body warmed up by crawling your hands out to a plank position. Once you're in your plank, perform one push-up (drop to your knees if you have to) and then crawl your hands back to your ankles to stand back up, engaging your core at the top each time. Start off slow, and then try to speed up on your last few reps. Do 10 of these in total.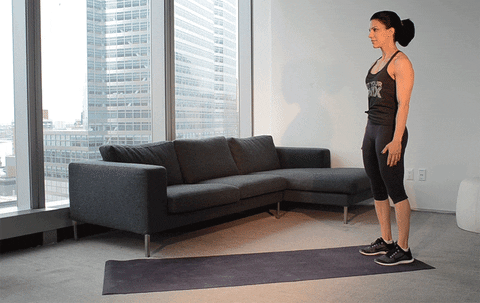 2. Glute Bridge To Oblique Reach
This is another lower and upper body movement, but this time you're working your butt and your obliques, aka your side abs and love handle region. Start by lying on your back with your knees bent and your feet on the ground. Then, extend one leg straight out and lift your hips into a bridge, squeezing your glutes and specifically feeling the burn on that same side. After the bridge, lower your hips back to the ground and reach your arms toward the straight leg while extending the leg upwards. Remember that you're crunching with your abs, so don't just use your arms to swing your body up. This combo is slightly complicated since it's technically two moves in one, so you can take your time on these until you get the hang of it. Do eight reps on each side.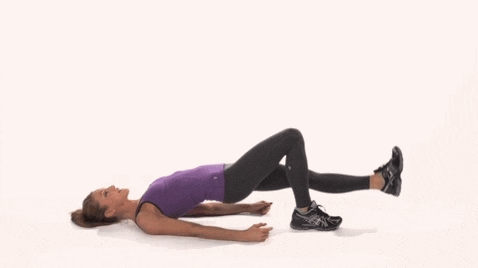 3. Tricep Extensions
You'll need a weight for tricep extensions, but it shouldn't be too hard to find because you can literally use whatever you want—a dumbbell, a weighted medicine ball, or a kettlebell. If you have a kettlebell available to you, you're gonna hold it by its horns (AKA the non-bell part) and lift it up over your head, keeping your elbows straight forward and your arms tight. Then, extend the bell toward the back of your neck, using your triceps to bring the weight up and down each time. If you feel like your elbows are widening out to the side, take a break and reposition yourself. The tricep muscles are really what give your arm that toned, sculpted look, so go heavy on these and take your time. Aim for 10-12 reps.

4. Deadlift To High Pull
The good news with this move is that you can use the same weight you were just using. Again, this is a combo move, so you're totally killing two birds with one stone by working your legs and your arms in one exercise. Place your kettlebell on the ground in front of you, and make sure it's between your legs, but like an inch or two forward. Then, bending your knees slightly, you're going to hinge your hips backward and lift the kettlebell keeping your arms straight, bringing it to your waist as you hinge the hips forward. That's the deadlift part. Then, you're gonna pull the kettlebell up to your chin, using your shoulders to row upright, with your elbows wide towards the sides. Once you complete one rep, bring the kettlebell down to the ground and do five more.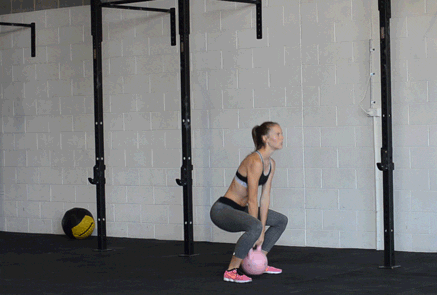 5. Squat Jumps
Now that we've done a bunch of strength work, it's time for some cardio. Your legs burn the most calories out of all the muscles in your body, so doing jumping exercises while combining squats or lunges is super effective. It's also really hard, so pace yourself. Start in a squat position, making sure your knees are behind your feet so you don't hurt yourself. Get super low, and then jump up explosively while straightening out your legs and arms. Aim for 20 reps here, but you might want to die by the time you get to 15. Try to fight through it.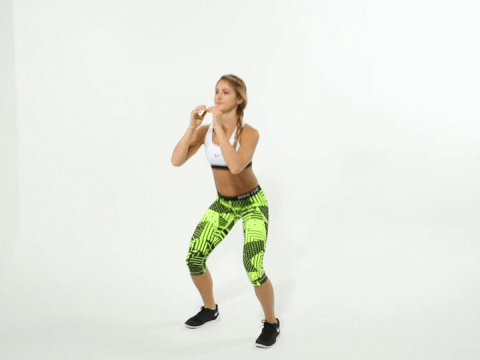 6. Burpees
Burpees are annoying and difficult, but there's a reason you see them in every fitness magazine and at every workout class—they WORK. Start by standing with your feet shoulder-width apart and your arms at your sides. Then, lower your body into a squat and place your hands on the floor in front of you, jumping your feet back so that you're in a plank position. Once your body is in a straight line, lower your chest to the floor and then bring it back up as quickly as you can. Then, jump your feet forward, outside of your hands, and jump up with your arms in the air. Do 8-10 of these, depending on your energy at this point in the workout. Also, keep in mind this is a full-body move, so make sure you follow the motions without just slamming your body down to the ground in the sloppiest way possible.

Images: Trust Tru Katsande; Unsplash, Giphy (5), Pinterest (1)
6 Exercises To Improve Your Balance And Flexibility
I follow a lot of #fitspo type of social media accounts, and every now and then I'll watch a workout clip on Instagram and literally bug out seeing what some of these girls can do with their bodies. I mean, no, I'm not talking about how cute their sponsored shaker cups look next to their butt-facing-forward mirror selfies. I'm talking about these crazy moves that require more balance and coordination than 99% of America can handle. Like, I work out regularly,  but honestly my flexibility and balance are pretty shitty, and it's something I'm trying to work on. Here are six exercises to improve balance and flexibility that I'm incorporating into my own routine . Please join me so I'm not the only one struggling through pistol squats at the gym.
1. Bosu Ball Split Squats
The bosu ball is meant to make any exercise harder, and that's because it screws with your balance, making you use your own body to stay aligned throughout the movement. If you do split squats regularly, try adding the bosu and it'll really help any imbalances you have in either leg. The idea is to prop one leg in a lunge on the bosu behind you, and then use your front leg to move up and down, pushing with your glutes throughout the movement. If you're a newbie, you'll probably start tipping over when you start, so just take your time and focus on grounding yourself with your front leg. If you feel like one side is easier than the other, that's completely normal and it's because we're usually stronger on one side. That's why we're doing this. Once you master this, try putting the front leg on the bosu, because variety is the spice of pulled muscles life.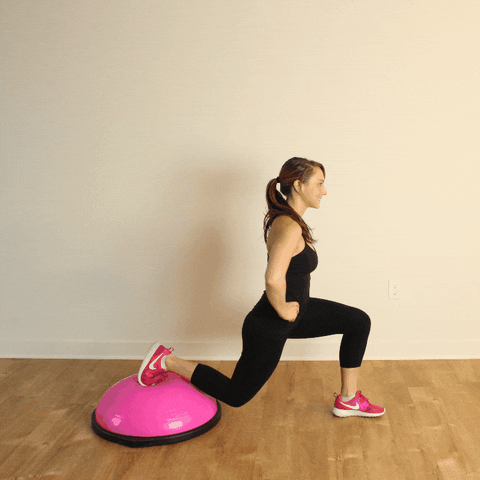 2. Lunge Hip Flexor Stretch
This move looks like more of a stretch than a real exercise, but honestly it's a must and it'll help with other exercises. It helps with mobility, flexibility, and coordination, so you'd be missing out just by skipping it. Especially if you sit at a desk all day, this move is amazing for opening up your hips and relieving any tightness from sitting for so many hours. Start by placing your hands on the ground and stepping back with your right leg, like you're stepping into a reverse lunge. Then, straighten out the back leg and feel the stretch in your hip flexors as your front leg bends in front of you. Hold for a few seconds before switching to the other leg.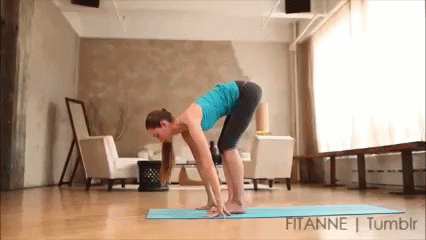 3. Alternating Arm Plank
This one is harder than it looks, so again, TAKE YOUR TIME. No one has ever rushed you through a plank, and the stability aspect here is key. The idea is to hold a regular high plank, but alternate arms so that you only have one hand on the ground at a time. This move hits your shoulders, abs, and arms all at once, and it also ensures you're not relying on one side of your body during other ab exercises. Remember to keep your hips as square as possible without swaying or lifting to one side. If this starts to feel like a side plank, take a break and start again.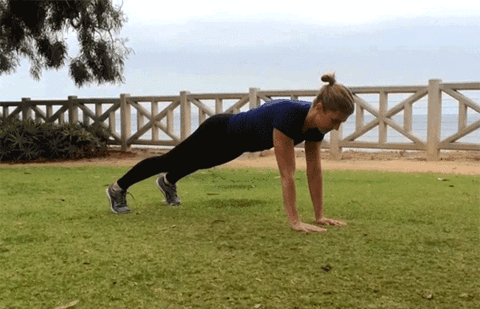 4. Pistol Squat
Ugh, pistol squats. Ask any trainer and they'll tell you this exercise is QUEEN of one-legged training. You're basically putting all your bodyweight on one leg at a time and squatting with only that leg, so yeah, it's hard. If you need to hold onto a bench or TRX straps at first, do it. In a standing position, raise one foot off the floor and descend into a squat. As you squat, try to extend your front leg forward without losing your balance. Then, get as low as you can before slowly rising up, straightening out your knee and driving through your heel. You should feel this in your glutes on the working side. Again, take your time and just focus on the balance part. The rep count doesn't really matter here, so just try to do a few without falling over. You'll go deeper, do more, and need less assistance as you get stronger.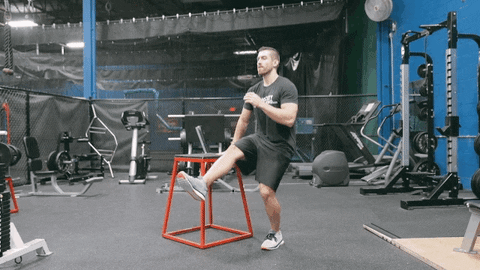 5. Opposite Arm & Leg Raises
Contrary to its name, the opposite arm and leg raise is actually more about your core and torso region. You're basically raising your right arm and your left leg at the same time while on all fours, so the goal is to keep the rest of your body as still as possible. You'll need to keep your back flat and engage your core. Squeeze your abs while you slowly extend your arm and leg, and then take a second to look forward at your reaching arm before lowering down and switching sides. This should also help strengthen your back, so make sure not to arch your spine and ruin your form. Think about pulling your abs in before lifting, and then when you reach out, keep your arms and legs parallel to the floor. For extra credit, get off your knees and do this from a full plank. Good luck in advance, is all I have to say.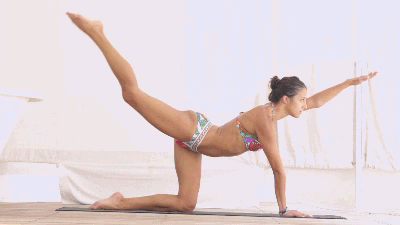 6. Standing Crunch With Clap
Balancing on one leg is already difficult AF, so adding in a crunch and an under-the-leg clap may take some patience. This move has two parts, so let's discuss both. It's kind of like tapping your stomach while rubbing your head. Takes a shit ton of coordination, is what I mean. Balance on one leg, keeping your other knee 90 degrees with your hands over your head. Then, crunch forward, bringing your hands under the raised leg for a little clap underneath. Bring your hands up and then back down for a few reps, and then switch to the other side. Also, try looking as happy as the girl in this GIF.

Images: Squarespace / Pexels; Giphy (5); Pinterest 
5 Moves To Tone Every Part Of Your Abs, Even The Ones You Didn't Know Existed
Have you ever scrolled through Instagram, found a picture of some fitness model's ridiculously chiseled six-pack, and wondered how the hell her body looks like that? So like, same. You've probably been told that "abs are made in the kitchen," and while that's depressingly true, doing the right core exercises makes a huge difference when it comes to seeing ab definition. Like, if you've been doing 50 sit-ups a day and wondering why your abs don't exist yet, it's time to rethink your core routine. All of the following moves target different sections of your abs, so do each one for 45 seconds and repeat the circuit 2-3 times, or just like, until your abs feel like they're literally on fire.
1. Entire Core: Bodyweight Plank
Regular bodyweight planks get a lot of hate because they look pretty easy, but if you feel that way 45 seconds in, your form is probably wrong. When done right, planks activate your entire core from top to bottom, so you need to make sure you're doing it correctly if you want to feel the burn in the right places. Start on your hands or your forearms with your elbows below your shoulders and your arms parallel to your body. Make sure you feel like you're pulling your belly button in toward your spine and activating your back muscles under your armpits. Your spine should be straight, but make sure your hips aren't sagging downward and your butt isn't lifting upwards. Your back should be straight enough for someone to balance a glass of wine on top of it. I wouldn't recommend trying it, though.

2. Lower Abs: Lying Leg Raises
Leg raises are ideal for your lower abs. If you're not sure what that means, here's five seconds of science for you: you have your first cousins, then you have your second cousins transverse abdominus, your rectus abdominus, and your external obliques. Those muscles make up your core, and leg raises tone the bottom half of them, which people tend to neglect. Lying flat on your back with your legs straight out in front of you, keep your feet touching while you slowly lift your legs up to the ceiling until your butt is slightly off the floor. Then, lower them back down until they're a few inches off the floor. Do as many reps as you can, and remember to breathe in between the lifts.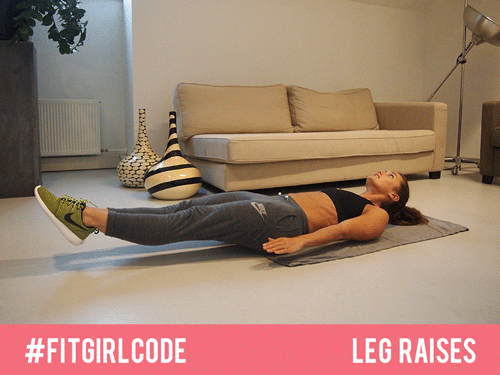 3. Obliques: Bicycle Crunches
Bicycle crunches target your oblique muscles, which are the sides of your abs that pop out when you're wearing a crop top. Basically, your stomach will look toned as fuck if you do enough of these. Lie on the floor with your hands behind your head and reach your right leg out as far as possible while crunching your left elbow to your right knee. You should feel like you're twisting through your core, so the goal is really to get your shoulder off the ground as close to the knee as possible. Alternate from right to left, starting off SLOWLY and getting faster toward the end. But not super fast, otherwise you're just using momentum and not your abs and this move will do nothing for you.

4. All Over Core Strength: Opposite Arm & Leg Extensions
You can do crunches and oblique bends all day long, but in order to tone the deeper muscles in your core, you need to do some stability work. Opposite arm and leg extensions might not feel like you're working your abs at first, but with the right amount of control and balance, you'll gain a ton of core strength, which will help all the other ab exercises seem a lot easier. Start on all fours with your hands under your shoulders and your knees under your hips. Then, engage your core while extending your left arm out in front of you and reaching your right leg behind you until both are parallel to the floor. Slowly bring them back to center and do the same to the other side. This move should be done slower than the rest, so don't worry if you only get a few reps in 45 seconds.

5. Obliques, Upper & Lower Abs: Scissor Kicks
Scissor kicks are named appropriately considering the fact that you'll probably want to stab yourself with a pair of scissors once you start doing these. With that being said, the pain is worth it because this move targets your obliques, your upper abs, and your lower abs at the same time. Start lying on your back, similar to your leg lifts position. But this time, alternate kicking each leg out in front of you, keeping your legs off the ground the entire time. Keep your core engaged and your back on the ground the entire time as you kick your feet like a 6-year-old at her first swimming lesson. You'll feel the burn pretty fast, but try not to let your feet hit the ground so you can really burn out the muscle. Oh, and heads up: simple instincts like sneezing and laughing are gonna hurt like a bitch tomorrow. I mean, there's a reason you've never seen Jillian Michaels crack a smile.