How To Tone Your Whole Body Without Getting Off Your Couch
Unfortunately, unless you're sponsored by a sugar daddy, have won the lottery, or still live in mom's basement, you're probably working for a goddamn living. That translates to sitting for extended periods of time, being tempted by cupcakes, doughnuts, and questionable vending machine treats, and definitely gaining back those five pounds you lost last summer. We shall overcome, and by overcome we mean "beat office obesity by exercising right in your office/cubicle/desk chair." Yah, people may see you and think you're losing it, but can you put a price on a six-pack you got while sitting and trolling through Pinterest? Probs not. Your boss will be super proud of how productive you are.
1. Seat Squeezes
Sounds weird and kind of is—while sitting at your desk, squeeze your butt, hold for like 10 seconds, and release. Repeat this shit until your ass is numb and your butt is like, sculpted and lifted.
2. Leg Raises
It's not like you're actually doing work, so it's time to strengthen your core, bitch. While you're sitting, straighten both legs and raise them slowly. Hold for 10 seconds, then lower. Repeat this shit as many times as you can without noticeably sweating. You can even put a weight like a briefcase or your purse on top of your legs to up the ante.

3. Squats
Alright so they're not as insane as the real thing, but doing "squats" at your desk will help get your heart actually moving and help to stave off those years of obesity coming for you as a result of sitting 10+ hours per day. From your chair, stand up, sit back down, and repeat like 20 times until someone walks by and decides you're really fucking weird.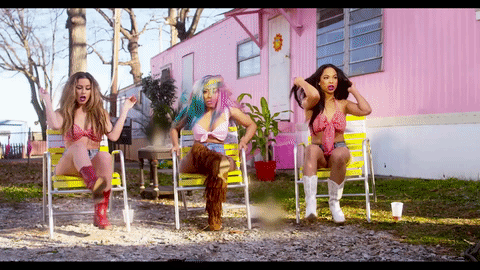 4. Shoulder Press
This will require finding something heavy, so get lookin'. Grab something that weighs like, 10-20 pounds (like your conscience, for instance) and hold it at shoulder length. Raise it over your head and back down for 12 reps three times or until your shoulders scream for mercy. Maybe save this one for when your coworkers are all on their lunch break so nobody calls the police.

5. Rolls
If you have a spinny rolly chair, congrats. Grab the edge of your desk with your hands, pull your feet off the floor, and pull yourself back and forth using your arms and core as many times as you can.
6. Raises
Since you aren't getting that 5% increase because of your attitude (WTF), try this raise instead (I kill myself with the jokes). Raise your legs up on to your chair in a cross-legged position. With your arms on the armrests, push up to raise your body off the seat. Stay that way for 20-30 seconds then release and rest. This is doubly hard in a spinny chair, so be fucking careful.

How To Get A Full-Body Workout With Only A Single Weight
There are a million online workouts that will drive you batshit crazy looking for every machine, kettlebell, booty band, and yoga mat out there. Like, we're not always standing in some fully stocked gym with two hours to spare and no one else around. We've found that sometimes, for whatever reason, we only have one or two weights, and it would be helpful to get a good workout with minimal equipment. That's why we created this bomb full body workout that only requires ONE dumbbell, no matter the weight. Perform the reps listed for each of these moves, and then repeat the circuit 2 more times for a quick and efficient workout. Let's get started:
1. Weighted Jumping Jacks
Jumping jacks are a pretty basic cardio move to get your heart rate up, but adding a weight to it is no joke. People think that in order to warm up, they need to do intense cardio sprints or jump rope for 10 minutes straight, but if you add a weight to a basic movement, you're getting a better workout in less time. Not only do jumping jacks warm up your shoulders and legs, but by adding a weight, you're working on your core, too. Try holding the weight with both hands above your head and do 30 jumping jacks total. If that's too hard, bring the weight to chest height, but do 40.

2. Single Leg Deadlift
People neglect single leg exercises because they think they could just be saving time by doing a move on both legs at the same time. What they don't realize is that by isolating one leg at a time, you're actually working on your balance and stability while toning the muscle. That's why single leg deadlifts are the shit. Stand on one leg and hold your weight in the same hand. Keeping that knee slightly bent, bend at the hip, extending your free leg behind you for balance. Continue lowering the weight until you're parallel to the ground, and then return to your standing position. Do 10 reps per leg, and remember to move slowly and squeeze your hamstrings with every rep.

3. Low To High Wood Chop
For those of you who don't know, your obliques are the muscles on the sides of your abs that will completely shape your core if you do enough wood chops. We love this move because it works your obliques and the entire upper ab region, and it doesn't involve you lying on the floor doing 500 bicycle crunches while holding your breath. For your wood chops, hold the dumbbell in both hands and twist left, so that it's starting on the outside of your left leg. Then, lift the weight diagonally across your body, ending twisted to the right with the dumbbell above your head. Pivot on your left foot as needed, and do 12 reps on each side.

4. Weighted Squat Jumps
This is another move that will get your heart rate up, and of course it's a squat, so you'll feel the burn in your butt. Squat jumps work your glute muscles, which are some of the biggest muscles in your body, so you'll be burning almost twice as many calories than by running or boxing. It's low-key amazing. Holding your dumbbell at your chest, squat down and jump up, straightening out your legs in the air and landing in a squat again. Do 15 reps, and if you need to drop the weight, do it. Just try not to rest in between in each jump. Oh, and don't blame us if you can't sit down tomorrow morning.

5. Lunge To Curl
The dumbbell lunge with a bicep curl is a combo move, so you're engaging your leg muscles and arm muscles in one move. Think of it like waiting for your laundry while doing your taxes. Both sound terrible, but you're getting both done in the same hour and you feel good about it. Anyway, hold the dumbbell at your right side as you step your left foot forward into a high lunge, making sure your left thigh is parallel to the floor. Once you're in your lunge, curl the weight to your chest, keeping your elbow close to your rib cage. Reverse to return to start, and do 12 reps on each side.

6. Weighted Crunch To Jump
This last move is pretty tough, but we decided to end the workout with a killer ab move, because people have literally been dying for abs since J.Lo circa 2003. The weighted crunch to jump is exactly what it sounds like, and it's too late to bail now. Lying on the floor with your dumbbell at your chest, do 5 crunches or sit-ups, bringing the weight over your knees each time. Then, roll up to your feet and jump up, still holding the weight. Perform this combo 5 times total. You're toning your abs while burning calories, so it's basically the grand finale. Then you can pass out on the couch for the rest of the night! Or drink an entire bottle of wine. Or both.

A Gym Routine That Even Unmotivated People Can Stick To
Everyone knows when it comes to going to the gym, getting there is the hardest part. Like, there are days when we genuinely feel we should be getting paid just for getting out of bed, so making it to the gym deserves an actual Nobel prize. As much as we complain, one of the reasons why going to the gym is so annoying is because you don't have a real plan that you're dedicated to, and so you don't have the motivation to get there. That's why we're gonna walk you through the process of creating a legit gym routine that will make you want to get to the gym and get shit done. Here's the plan:
1. Choose Your Days (Realistically)
Before you can map out your workouts, you'll have to decide how many days a week you'll actually be getting to the gym, and choose specific days that you're going. This can change over time obviously, but committing to exact days will help you actually get to the gym. For example, if you know you're going to work out on Mondays, Wednesdays, and Saturdays, you won't be deciding in your head all day on Tuesday if you should go to the gym after work, because you know that it's your day off and you're going tomorrow. It's kind of like making an appointment with yourself that you have to stick to, so mark your calendar and don't bail.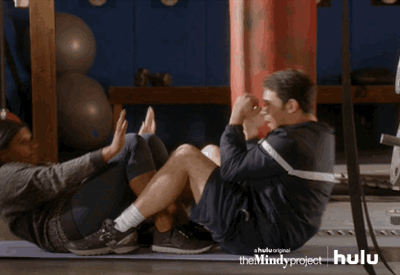 2. Decide On Your Workout Focus
There are a million online workouts that you can copy to a tee, but you're the only one that knows how you like to work out, and what machines and exercises will actually get you to the gym. It's totally fine to experiment with a few different types of workouts, but you should ultimately find the workouts you enjoy doing, and build your routine around that. For example, if you know you like doing HIIT cardio, ab toning, and leg workouts, break up your days into combos of each one. Trying new things is obv important, but if you're gonna dread going to the gym because you're making yourself do an exercise you don't like, it's not worth it.

3. Break Up Sessions By Body Part
Once you start working out throughout the week, you'll start to notice that it's harder to get to the gym after a few days because you're sore AF. I mean, it's understandable. If you're working hard enough and going to the gym consistently, your body will feel it, and that's not a bad thing. But even if you can't sit on the toilet without crying, it doesn't mean you need a day off—you just need to set your routine up accordingly. So, if you know you're going to do squats and lunges on Monday, you probably shouldn't plan on running on the treadmill on Tuesday, because your legs will be pretty shot and you'll end up half-assing your workout. Instead, plan to do upper body moves on that day or just some light yoga to keep your body active. Just don't be an idiot by hitting the same body parts one day after the other.

4. Make Playlists Beforehand
People undermine the importance of a bomb workout playlist. I mean, yeah working out is about your muscles and your body and your breathing and energy levels, but music low-key makes a huge difference, so take it seriously. Make your playlists at the beginning of the week so you have them ready for your workouts and you're not wasting gym time just shuffling through Spotify. By having good songs ready that you know will pump you up, your workout will be a thousand times better and you might actually look forward to the gym to listen to your sick playlist. It's kind of like the excitement you get before a SoulCycle Drake vs. Rihanna themed ride. You know you're about to die, but the playlist will be so good that it's worth it.

5. Only Focus On Yourself (As Always)
Once you get to the gym with your plan and your playlist ready, it can still be hard to get an effective workout if you get easily distracted by the other people around you. Like, stop thinking about the old man grunting in the corner, the girl next to you with amazing abs, or the relentless trainer offering you a personal session. Turn your music up and focus on your own workout, and you'll see a huge difference in your results. Also, just gonna throw this out there—your phone. You can literally scroll through Instagram and answer your texts all day, so now's not the time to ask your friends advice on a profile pic caption. Go on sleeping mode or airplane mode, or just put your phone away completely. The separation may be hard at first, but sooner or later you'll be the bitch judging the girl texting on the treadmill next to yours.