The Time To Cancel "Shedding For The Wedding" Is Now
"Shedding for those wedding bells, I see!" said an oblivious male trainer friend of mine the last time I was at a gym (which feels like 200 years ago), distracting me from a personal best I was about to make. Because we have a personal relationship, I said straight to his face, "excuse me, that was incredibly rude," and we moved on. But, truthfully, rude doesn't even begin to scratch the surface of how problematic this assumption is. 
Shedding for the wedding has somehow become a cultural phenomenon that not only requires a bride to put on the most expensive party of her life, but also forces her to spend the months leading up to the wedding (that should be spent drinking champagne and shoving her hand in people's faces) hangry and stressed. Disclosure: I am talking about female-identifying brides, as I rarely hear about grooms training specifically for the big day, but for the record, body shaming harms everyone.
First, let's break down how little sense the idea of losing weight for your wedding makes. You're marrying the love of your life, who loves you for you. Now you want to go and crash diet and/or binge exercise to drastically change your appearance for one day? There's no reason to make yourself miserable in preparation for what's supposed to be the happiest day of your life.
One could argue that the ritual ceremony of a wedding itself symbolizes entering adulthood. For me, it definitely does in a much more real way than graduating college or doing my taxes for the first time ever did, and for some, that can be a call to consider their health seriously for the first time. That is not inherently a bad thing, but the problem with the wellness industry as it stands is that it conflates health and well-being with beauty. That notion of "beauty" is further limited to Eurocentric features, so it's problematic in multiple ways. True health and well-being aren't as sexy to promote on Instagram, though, because it's tougher to market what we can't see from the outside, but diet culture has officially infiltrated the spaces we look to for health information. 
Diet culture is the belief that thinness = "health" and status. This is dangerous to us all, but especially to women, BIPOC, people who are differently-abled, anyone over size 6, the trans community—basically anyone society "others". It sends the implicit message that if you don't look like the imaginary health ideal—which, according to stock photos, is exclusively thin white women (who can usually be found laughing at salad)—you're not only unwell, but a whole slew of other unconscious judgments that come along with it (lazy, unmotivated, etc.). Wellness becomes inherently political in this regard. It is impossible to talk about health without addressing the fact that we all have varying levels of access to wellness resources and that we continue to glorify some bodies as beautiful and others as not—which lurks somewhere deep in our brain when we think about what would make us look *perfect* on our wedding day. 
I so, so, so get wanting to look your best for the big day. These are photos you'll have forever, after all. And yes, you better believe my skin care regimen is 234209243 steps long, and I've obsessed about the hair and makeup and the dress, but the idea that we need to lose weight to be and feel beautiful is sexist, and while we're being honest, it's racist. At the same time, I fully support your right to be autonomous with your body, in every sense of the word. If you want to lose weight to feel special on your special day, that is entirely your right and you shouldn't feel shame for that—but you should know where that desire comes from, because I'm willing to bet my dream honeymoon that the desire to lose weight comes from a hope that we will be more worthy, better versions of ourselves once that finally happens. The thing is, though, losing weight doesn't usually accomplish that. If you aren't armed with this information going in, you'll probably be disappointed when you get to that final dress fitting and you don't feel as changed as you thought you would. 
To be clear, I am not against having fitness goals! But by fitness goals, I mean actual fitness—not physique goals. A fitness goal is "I want to run a marathon" or "I want to carry this overpacked suitcase without breaking a sweat." A fitness goal is not, "I want to lose x pounds or fit in this dress". Personally, my biggest "wellness" goal is staying sane in 2020 and making it to my wedding alive amidst a GLOBAL PANDEMIC, PEOPLE. 
As a bride and pilates instructor (with no wedding date in sight), what I am doing is continuing to do the exercise I enjoy because it feels good and helps me deal with COVID-19/wedding/2020/self-employed stress. Listen, movement is objectively good; I've literally made it my career and can personally vouch for the life-changing magic of moving your body every day. The problem is, shedding for the wedding puts the focus on changing your body for aesthetic purposes only, instead of enjoying it or even focusing on health itself. Not only can that get punish-y and dangerous, but it's also just not fun. 
I move my body regularly, whether it's a full workout or a sanity walk around the block, because it feels good and also so I don't lose my sh*t when my dress is indefinitely delayed or trips get canceled. Choosing to exercise in appreciation of your body and as self-care increases body satisfaction and helps you be nicer to your reflection, which, wedding or not, is always welcome. 
Unfortunately, you're not likely to get through your engagement without hearing the phrase "shedding for the wedding". So what do you do when someone puts their nose where it doesn't belong? It's actually quite simple: Call them out and remind them (politely or not, up to you) that it's not only not their business, but it's also harmful and promotes an outdated beauty ideal. Let them know that your wedding does not revolve around an arbitrary number of pounds lost or gained, but the fact that you found yourself a life partner. What a concept. 
It's time to cancel "shedding for the wedding" and start celebrating body diversity with the same fervor that we do one particular type of beauty. 2020 brides have had to sacrifice dancing, hugging, and uh, human interaction in general with the rise of stoop and Zoom weddings. But, we've also started to see an edit of superfluous traditions in favor of celebrating what's actually meaningful about a wedding: the love! Maybe, *JUST MAYBE* we can make engagements about being engaged instead of dieting, and "shedding for the wedding" will go the way of the garter toss.
Images: Jacob Lund / Shutterstock
3 Signs You Need A New Workout Routine
When you're already going to the trouble of working out, it can feel like unfathomable betrayal to hear that you should, in fact, be doing a completely different workout. Or at least, that's the logic I once used to justify doing nothing but yoga for six months, while slowly ceasing to fit into my pants. As someone who really wants to be fit but is decidedly not an athlete, I've spent a of time and energy on different gyms, classes, and even trainers and physical therapists over the years, trying to find the perfect workout that would turn me into a *fit person* once and for all. As all those professionals have explained to me repeatedly, not all workouts are created equal. What's more, switching up your workout routine has consistently proven to show better results. So, while I reluctantly follow this advice myself, here are my past trainers', physical therapists, and preferred internet authority's tips for knowing when it's time for a new workout routine.
1. You're Not Getting Sore Anymore
Sorry! But also, not really because you should know this. If a workout stops making you sore, it's not a sign that you have ascended to a new level of athleticism in which your muscles are no longer capable of strain. It does probably mean that you have strengthened the specific muscles involved in this particular workout (congrats!). But if you don't up the difficulty of the workout, or switch out the muscles you're working on, you won't keep seeing results. At best, you'll maintain the very specific strength you've gained. But even that isn't a guarantee, since you're continuing to do a workout that was appropriate (and difficult!) for you in a less fit state. Trainer Faheem Mujahid explains it as your body realizing "it doesn't need to expend as much energy anymore:" meaning you burn fewer calories, get less tired, and are less likely to feel sore. Time to level up, b*tch!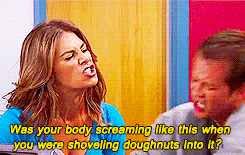 2. You're Getting *Too* Sore
The flip side of the whole soreness thing is that you have to be careful not to overdo it. There's a difference between it hurting when you laugh the day after an ab routine and needing to strap on a knee brace every time you leave the gym. Fitness instructor Trish DaCosta puts it plainly: "A reoccurring injury or too many injuries is often a sign we're doing too much of an exercise program." Pulled muscles, joint pain, or persistent aches are clear signs that your body needs a break. Injuries aside, extreme soreness—or persistent soreness in only a few, select places—also mean you should switch out your routine, or at least add some variety. Trainer Jessica Thiefels stresses the importance of making sure your body feels "balanced in strength," and adds that "working the same muscles, time and time again" is a bad idea. Muscles need rest periods in order to get stronger; so you're really just robbing yourself of #gainz if every day is focused on the same body part.
Obvs, if you're repeating the same workout over and over it's because you like it, and I get that it's tough to motivate yourself to make the switch. I once spent two weeks obsessed with barre and loving my life. Then I promptly re-pulled an old thigh injury, and my physical therapist at the time told me that barre was "the worst thing" I could do for my body.  The fact that I had just purchased both a "barre so hard" tank and a month-long barre studio membership apparently meant nothing to her. As much as I was dying to be a fancy barre girl, I had to accept that my body just wasn't built to benefit most from that particular workout.
Me to my useless barre studio membership: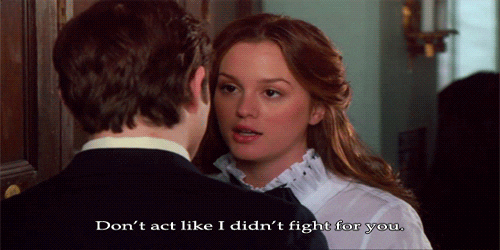 3. You're Not Getting The Results You Want
So, this goes back to my whole "only doing yoga" period in time—despite feeling like I was gaining weight, or at least sort of…spreading out. Before my yoga phase, I'd been getting most of my workouts in at the gym, where I lifted weights and ran intervals on the treadmill. Then, I moved to NYC and decided a gym was a luxury I could no longer afford. Even though I'd read countless times that yoga is not the most effective calorie-torching workout out there (particularly not when done for 15 minutes at a time in one's living room), I hated the idea that completing any workout wasn't enough for my stupid body. I felt more flexible and balanced for sure—but I felt like I was losing muscle, and my clothes weren't fitting as well.
The point here? Don't be like me! Yes, some exercise is better than no exercise at all. But that doesn't mean you can go on a jog and expect your triceps to be more defined after. DaCosta notes the importance of seeing "continued progress" from your workouts, which could come in any of the following forms: "more muscle definition, decreased body fat, more energy, stronger lifts, faster recovery times, weight loss, faster pace, etc." While yoga was pushing me on some of those fronts, it wasn't satisfying others. For a fully varied workout routine that pushes you on all these fronts, Mujahid recommends trying for a mix of "cardiovascular, strength, agility and flexibility sessions," making sure you're "hitting every muscle group" in a week's worth of workouts.
If that sounds totally unattainable to you (same girl), take some comfort in knowing a lot of these categories overlap. For example, a HIIT workout could be your lower body workout, and combines a cardiovascular and strength workout. Then you could work your upper body with yoga on alternate days, which would count as your agility and flexibility sessions. Throw in an ab day and you're done for the week. (And if that sounds like a month's worth of workouts to you, once again I say SAME GIRL. I'm just the messenger for what the pros are recommending.)
Me during my yoga phase:*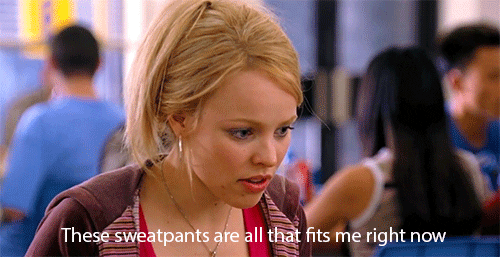 *To be clear, yoga absolutely can and does help people with all kinds of body goals. But my refusal to do any other workout meant I really hit a wall.
This article is not meant to shame anyone out of the workout routine that they're doing. Everyone who has broken a sweat (on purpose) in the past week: I am proud of you. But I also know firsthand how frustrating it can be to feel like you're making a huge effort and not getting anything for it. If anything, this article will hopefully inspire you to make a change and find the workout that leaves you sore, satisfied, and not feeling like you need a wheelchair. Everyone's body is different, and once you find the (healthily varied & not at all overwhelming) routine that works for you, working out will feel 1000% more worth it. I promise.
Images: Giphy (3); Pexels / bruce mars
The Best Workout To Do Based On Your Fitness Goals
We all have our reasons for going to the gym, whether it's because we want to drop some pounds, get toned for our Mexico vacay, or just need to clear our overly cluttered minds (how could Tristan do that to Khloé?! What's baby True going to think??). Whatever the reason, there's a specific workout that will help you best achieve your fitness goals. Like, I'm totally a fan of yoga and all, but it's probs not your best workout option if you're trying to lose weight, and if you want to tone up, doing straight cardio for an hour isn't the best use of your time. So, to help you maximize your allotted 45 minutes at the gym as efficiently as possible, I've broken down the best workout for your fitness goals.
1. Weight Loss
If you're trying to lose weight, the best workout for you is a high-intensity interval training workout, more commonly known as a HIIT workout. A HIIT workout is a training method in which you alternate bursts of high- and low-intensity intervals throughout a set cycle. This method of working out is proven to burn more calories than most other workouts, while also simultaneously boosting your metabolism. There are tons of free online programs for HIIT workouts that you can do on your own, and most are only a max of 30 minutes. If you're looking for a HIIT workout class, try Switch Playground, Fhitting Room, 305 Fitness, or a group Tabata workout.

2. Tone Up
Everyone knows someone who's skinny-fat. The skinny-fat person wears an XS, but their body isn't exactly "tight" because they've clearly never stepped foot at a gym. Toning workouts are for anyone who is content with their current weight but is looking for a more overall definition (skinny-fat or not). The best workouts for those looking to tone up are programs that consist of body weight exercises such as squats, push-ups, and planks. If you're looking for a group fitness class, your best options are pilates, kickboxing, or barre.
3. Strength & Muscle Building
Take a cue from the d-bags grunting at the gym and grab yourself a pair of free weights to work on building strength and muscles. There are dozens of free online programs specifically designed for women that will help guide you through one of these workouts. You'll want to set different days to focus on different body parts and should either hire a trainer or watch a shit ton of YouTube videos to make sure your form is correct. There are also some apps that can teach you basic weights exercises, like squats and bicep curls (I use an app called Jefit, but I'm sure there are like, a million similar ones in the app store). For those looking for a strength building workout class, try boxing! Another option: grab some friends and do a P90x workout.
4. Flexibility
I'm not totally sure why this is your reason for working out… unless you're like, trying to do some weird shit in the bedroom??? But hey, to each their own!

Improving your flexibility will help decrease your risk of injury, and it will also help your muscles work more efficiently overall. The best workouts for increasing your flexibility are stretching exercises and a workout class such as, you guessed it, yoga.
5. Endurance
Nope, not referring to your drinking endurance! (If that's where your mind immediately went, then I'm going to guess you probs don't need any help there anyway.) I'm actually referring to physical endurance, as in not being the girl who's out of breath after climbing one flight of stairs. Building endurance is essential to multiple facets of your overall health. The best workouts for doing so are ones that combine both strength and cardio training, such as classes like Orange Theory. Any type of HIIT workout in general, though, works great for building your overall endurance.
6. Balance & Coordination
Working out for improved balance and coordination is another goal that I don't totally get the motive for. I guess it's useful if you're auditioning for American Ninja Warrior or something?? Regardless, improving your balance and coordination can't hurt, and almost any balance or coordination based workout will do more than just improve that. If you're working out on your own, yoga poses are a great workout for improving balance and coordination. If you prefer a workout class, barre classes or any boot camp style class are great options because you'll be doing multiple different moves that utilize multiple different muscles throughout the class.

7. Mental Health
At the end of the day, basically any workout that you're willing to do is great for your mental health. There are, however, certain workout classes that integrate spiritual and mental well-being into the actual workout, such as SoulCycle and yoga. Sue me, but I'm personally a big fan of SoulCycle for that reason exactly. I love getting an intense workout in while simultaneously being flooded with messages of positivity. Of course, I know not everyone feels this way, so whatever workout best gets your own feel-good endorphins flowing is going to be beneficial.

Pretty much any workout you do will help you to achieve more than just one of the body goals listed. The most important step is just getting your ass to work out, whether your reasons for doing so are superficial or health-related (or are superficial but you're pretending are health-related for your Insta story). Whatever your reasoning, I'm totally not judging.
Images: @shotsbywolf / unsplash; Giphy (4)
I Tried Tone House, The "Hardest Workout In NYC," And Barely Survived
In a recent article about my experience at a Shock Therapy workout class, I referenced another traumatic fitness experience I willingly put myself through, and some people were curious to hear more. Well, actually only my boss, but whatever. If you clicked on this article, I'm guessing you want to hear about my suffering as well. Tone House had been on my list for a while, and when I finally tried it, I barely made it out alive, so excuse me if this recount of the experience is slightly distressing to talk about. Here's how it went down.

First of all, Tone House is marketed as an "extreme, athletic-based" group fitness class that is supposed to "unleash your inner athlete." Business Insider called it "the hardest workout in New York City." Unfortunately for me, I was picked last in kickball throughout middle school, and that's about the extent of my athletic past. I also think I played tennis on a date once. You get the point. Nonetheless, although I'm not an athlete,  I work out regularly and consider myself in pretty good shape, so I wasn't that worried. I live in New York City and I've tried everything from Barry's to CrossFit to boxing to legit barbell training, so I figured an athletic-style fitness class couldn't be too hard.

So…. I was wrong. As soon as I got to the studio, which basically looks like a dark torture chamber decked out with black grass turf, red lighting, and jacked trainers, I knew I had made a mistake. Within seconds of class starting, shit got real. We started out in a huddle—I shit you not, a *team huddle*—where we made a bunch of aggressive noises, chanted something about "leaving it all on the turf," and angrily high-fived each other. Then, the warm-up began and the hell ensued.
We literally ran around the room at full speed, galloping over hurdles and doing fast burpees in between cones. I thought about slowing down at one point, but considering there are people inches away from you, it wasn't an option. Plus, the instructors are clapping in your face and yelling HUSTLE so you kinda have no other choice. Between the scary red lighting and the 50 burpees within the first five minutes of class, the whole warm-up was a blur. 

Then, we got into the start of the real class, which thankfully included *taking turns* in our torture, so I actually had a minute to check my phone catch my breath in between rounds and try to forget about how nauseous I was. The workout included heavy sled pushes, bear crawls, gallops, more bear crawls, box jumps, more gallops, and this horrible sequence where we had to put our feet on gliders and do push-ups around the entire room while knee-tucking our way around the turf. For the record, I finally understand why bear crawls have that name. These regulars look like actual animals aggressively hunting their prey. I was both impressed and literally frightened. 

At the end of the class, (which was only an hour but felt like a whole day), everyone got back in that goddamn huddle and chanted some shit about teamwork and hustling. I felt like I was cast in a dark Nike commercial by accident. By the time everyone high-fived me like we were on a summer camp color war team together, my hands were literally bleeding from the turf and I couldn't fake a smile if my life depended on it. I must admit, looking back, it was slightly entertaining to see grown men clapping it out in an intimate sweaty circle. But then again, maybe that's just a sports thing. 

But wait, the story doesn't end there. The worst part of the whole thing is that as I walked out, promising myself I'd never go back, some hot blonde instructor in the locker room (who also happens to be Amy Schumer's personal trainer) told me it gets easier the second time. I decided to believe her and I showed up for my second class a couple weeks later. I guess my inner athlete still didn't feel like showing up that time around because it turns out it wasn't easier AT ALL. In fact, I actually feel like I'm gonna vom by just remembering those post-class feelings. Do they call those endorphins?
Images: Justyn Warner / Unsplash; Giphy (5)
6 Lower Ab Exercises That Will Make You Look Amazing In A Crop Top
You may have gotten away with hiding under winter coats and Bachelor episodes for the past few months, but soon it'll be time to step outside in minimal layers, and your bod is nowhere close to being ready. I mean, I don't blame you. The only people who consistently eat salads and go to the gym all winter are like, psychopaths people who bet too much money on their 2018 resolutions. When it's time to put on your new ASOS crop top, you'll want your abs to look amazing, and the lower ab region of your core can be the hardest to target. If you want to define that area and lose your love handles, you'll have to start putting in the work, starting with these lower ab exercises.
1. Leg Lifts
Lying on the floor, place your legs straight out in front of you and your hands on the ground or under your lower back if you're prone to lower back pain. Lift your legs up, keeping them as straight as possible with your knees slightly bent until they make a 90-degree angle with the floor. Hold the contraction at the top for the second, then SLOWLY lower your legs down to the floor in front of you. If you have lower back problems or need a modification, try doing the move with your hands under your tailbone. It sounds ineffective, but it actually makes it so much easier.

2. Flutter Kicks
Flutter kicks are another one of the lower ab exercises that are done lying on your back, but this time you actually need to lift your head and shoulders off of the mat to fully target the lower region of your core. Once again, put your hands under your tailbone if you feel any pain in your lower back. Then, lift your legs up in front of you (they can be slightly bent), and literally kick your feet out in front of you in a little flutter motion. You should feel your lower abs working as you kick, and the movement should be small and controlled. Note that these aren't scissor kicks, so if you feel like you're kicking around like a Rockette, you're doing it wrong.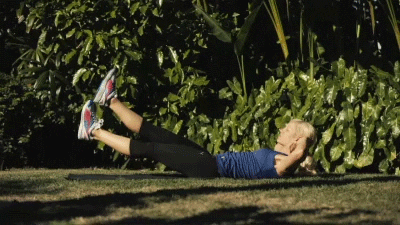 3. TRX Pikes
These can also be done on a rowing machine or gliders if you don't have a TRX in your gym, and if you're doing it at home, you can even use a hand towel on a wooden floor. If you're using the TRX, put your feet into the straps and then turn over, coming into a plank position with your hands on the floor and your feet hanging in the straps. Then, think about pushing your hands into the ground and pulling your legs toward your chest with your hips, keeping your legs as straight as possible. Try to focus on lifting with your abs while preventing your ankles from pointing. Once your head is looking in between your arms, slowly lower your hips back into your starting plank position. These are hard AF, so if you need to just do a couple reps and then hold a plank, go for it.

4. Dead Bugs
IDK who came up with the name for this move, but it'll demolish your entire core so we're gonna go with it. Lie on your back with your arms extended, but bend your knees so that they're creating a 90 degree angle above your hips. Engage your core and press your lower back into the floor as you slowly extend one leg toward the floor, almost hitting your foot to the ground. Then, bring it back to its bent position and do the same on the other side. Keep alternating sides, and if it feels easy, you can even get your arms involved by extending the opposite arm toward your leg each time you bend.

5. Raised Leg Circles
This exercise requires a lot of physical space, so if you're like, two feet away from someone else's mat, you may need to move to a more spacious area of the gym. This is another one of those lower ab exercises where you're lying on your back but raising your neck and shoulders off the floor. To start, extend your legs out in front of you and lift them a couple inches off the ground. The higher you raise them, the easier it'll be. Then, keep your feet and legs together as you literally circle them around you, keeping your hips on the ground as much as you can. Try to aim for six to eight circles in each direction. Make sure your feet don't touch the ground the entire time and that you're using your core instead of using momentum to swing them around.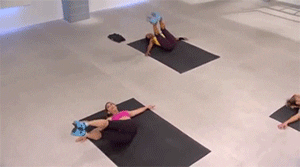 6. Hollow Body Hold
This move is a LOT harder than it looks, so try holding it for 25 seconds, and then slowly work your way up to 35, 45, and eventually a full minute. If you thought time moved slowly when planking, wait until you try this. The hollow body hold is exactly what is sounds like, so you'll be starting lying on the ground. Then, raise your feet off the ground and your arms at the same time, keeping your arms straight behind your head. So basically, only your lower back/ tailbone should be touching the ground, and your abs should be super tight the whole time. If you want to make it easier, put your arms out in front of you or to your sides. If you want to make it harder, hold a weight in your arms and hold it overhead. Just please don't blame me if it hurts to laugh tomorrow.

Images: Matthew Kane / Unsplash; Bionic Body (1); Giphy (5)