16 Free Home Workout Options You Can Do While Social Distancing
It's safe to say this is a pretty stressful time for… literally everyone. Whether you were just forced out of your dorm to go back to living with your parents, or you're now working from home all day with your roommate who breathes way too f*cking loud, we're all feeling the same thing: antsy and overwhelmed as f*ck. Not only because you're now learning which of your friends are complete idiots who thought it was still okay to go out on St. Patrick's Day (hope they're prepared to be roasted about this for years to come), but also because you've eaten through your entire two-week hoard of quarantine snacks in one day. And, you know, the general anxiety about everyone getting sick and the economy crashing and the healthcare system collapsing and all that fun sh*t. It's like, kind of a lot to handle.
With all the stress and nervous energy about this Black Mirror episode of a world we now find ourselves in, it's more important than ever to find a way to get that energy out. And since all the gyms and fitness studios are closing their doors for the time being (low-key kind of nice to not have to deal with dudes hitting on you while you're just trying to listen to a podcast on the treadmill), many fitness apps and studios are offering their home workout services online for free. Here's a roundup of all the ways you can break a sweat while at home for free:
obé fitness is an immersive online workout experience with energetic instructors that guarantee you'll get a good workout and have a great time doing it. They're offering a free 30-day trial, with hundreds of live classes per week. They offer classes for whatever you're into, from HIIT to pilates to yoga to barre to a whole lot more. Most of their classes are only 28 minutes long, which is about the amount of time I can step away from my computer without anyone getting suspicious. You can access their classes here.
The Sculpt Society, created by Megan Roup, is doing a 14-day free trial of their dance-cardio and strengthening routines, which honestly kind of sounds like a party. There are a bunch of videos of all different time increments, so if you have 15 minutes or 50 minutes, there's a workout for you. Check out Megan's classes here and also keep an eye out for your inbox because she's doing live workouts throughout the day.
CorePower is offering free online classes for everyone, which you can stream here. They offer yoga classes for people at every level, which is perfect for those of us who haven't been able to touch our toes since we were like, five.
Despite how much sh*t we all gave their commercial during the holidays, I bet we're all wishing we'd gotten a Peloton bike for Christmas right about now. Even if you don't have an exercise bike at home, Peloton is offering a 90-day free trial, which can be used for not only spin classes, but also body weight, yoga, strength training, and meditation classes. You can find their free trial here.
The Miami, Coral Gables, and Manhattan-based HIIT class is creating at-home bodyweight workouts (that require no equipment) that will be emailed daily. Each workout is 40 minutes long and only requires downloading an interval timer app. Visit their Instagram for more details.
All of Downdog's apps (Yoga, HIIT, Barre, and 7 Minute Workout), which specialize in home workout routines that can be done anywhere, are free until April 1st for everyone, and until July 1st for all students and teachers. All of their apps can be downloaded from the App Store or Google Play.
Not only do you get a 7-day free trial with Fit Body App, which offers workout challenges, custom workout programs, and meal plans, you can also get four weeks free when you use the code DAJEITALIA if you sign up through their website.
Tone It Up is offering a free month for new users who download the app from the App Store or Google Play. They have yoga, weight training, HIIT, barre, and a variety of other classes, which is great if you have the attention span of a goldfish and get bored after doing the same workout more than once.
P.volve is a low-impact workout that focuses on activating hard-to-reach muscles with precise movements. You can get 30 days of P.volve free, which gives you access to hundreds of videos that vary in length and area of focus, through their website.
Dance like no one's watching (except maybe your dog) during one of 305's famous dance cardio classes, live at noon every day on their YouTube page. We promise you will get a serious sweat in.
Neoufitness lets you stream live and on-demand fitness classes from wherever you are. They offer a ton of different options, like dance, cardio, kickboxing, and a variety of other classes. Neoufitness is now offering 30 days free for new members. Our fav is Sydney Miller's Housework. You can access it here.
Get a 21-day free trial of Openfit, which has live and on-demand classes of all kinds. All classes are under 30 minutes long, with some fitness classes as short as 10 minutes, and they offer classes for all levels of experience. Get your free trial here. 
While Blogilates is always free on YouTube and Blogilates.com, there's a 14-day quarantine home workout plan available, along with lots of apartment-friendly workouts so you don't have to be that annoying upstairs neighbor who's loud as f*ck during someone's conference call.
Barre3 is offering a free 15-day trial to stream their hundreds of online workouts, with new ones added every week. This is a low-impact workout that is all about building better posture and finding balance in your body. Access the free trial here.
Get a free 7-day trial of Dancebody, which offers live and on-demand dance-based cardio classes that will work muscles you didn't know existed in a fun but challenging way. You can access their classes here.
Melissa Wood Health has a free 7-day trial of her yoga and pilates-inspired workouts, which I'm pretty excited about cause I swear this is the routine every influencer does. These are low-impact, flow-style classes that focus on slow and controlled movements. You can find her classes through her website.
This situation may be the absolute worst, but at least you'll get to try out some new home workout apps for free that can keep you busy and hopefully get your mind off things. (Just set like, a billion reminders on your phone to cancel everything before you get charged.) And at the end of the day, just be glad you're not in quarantine with your ex. And if you are, best of luck to you.
Images: Form / Unsplash
5 NYC Workouts That Have Amazing Deals On ClassPass
Working out in NYC tends to get way more expensive and complicated than it should. Basically, it has all the bougie, celeb-studded options of LA, but none of the free, nature-y options of LA (hiking, beach running, chasing down Kardashians—you get it). Sure, you could dodge tourists in Central Park, but your patience will be getting more of a workout than you are. And IMO, all the hidden fees and rush hours involved in traditional gym memberships are a pain. So, in the interest of getting the best workouts for the best price, you sign up for ClassPass—only to discover that half the options there are just as expensive as booking regular classes. That's where I come in. I've tracked down the best boutique fitness studios that actually offer deals through ClassPass—here's where you should go. Note on how I'm pricing credits: I pay $94/month for 45 ClassPass credits + Blink membership. That's less than $2/credit; if I buy additional, it's priced at $2.50/credit.
Regular price: $38 Best ClassPass price: 12 credits ($24-30)
Fhitting Room offers high-intensity interval training: you'll lift some weights, use some machines, and do burpees while a trainer screams at you until your chest hits the floor. I'm not even being that dramatic—if you like trainers who go easy on you, either hire someone with a meek demeanor or, IDK, don't go to any of the studios on this list. Classes here can go up to 21 credits on ClassPass (at which point you'd be better off just buying them at the regular price), but if you choose your time carefully, you can book for 12 or 13. Right now, I'm looking at the app and there are 13-credit classes available at 9:30am all week, plus every Saturday afternoon class. It's a killer deal for a lot of hands-on attention from legit trainers.
Regular price: $35 Best ClassPass price: 10 credits ($20-25) ShadowBox is—you guessed it—a boxing class! You'll warm up with some cardio drills and shadowboxing, then go into seven rounds of bag work with more cardio (jumping jacks, burpees) or static holds (air squat, planks) in between. Most classes are 18 credits on ClassPass, but midday during the week is often 10 credits (don't worry, they have showers), as are early morning weekend classes. Hey, I never said the most convenient classes would be the cheapest. I've only been to the Flatiron location, but the studio is very chic, and I honestly thought I was going to die the first time I took a class there. If that's not a sign of a good workout, what is?
Regular price: $34 Best ClassPass price: 8 credits ($16-20) I legitimately almost didn't include this on the list because it's my favorite place to work out, and I don't want it to get any busier. That being said, I'm too generous not to clue you all in on the amazing deal and workout experience of Overthrow. At 8 credits a class (and there are a lot of options) plus free glove rentals, this place would probably be my go-to for boxing even if it weren't my favorite workout (which it is). Classes are in a dark basement, which is cooler than it sounds, and includes shadowboxing, circuit training, bag work, and partner work. It's improved my boxing more than any other studio, and just makes me feel GOOD. Definitely a different experience from Shadowbox, so try both and see what you like.
Regular price: $36 Best ClassPass price: 8 credits ($16-20) Switch Playground is a very specific type of workout class: you spend two minutes at 20 different stations, with two exercises per station that you alternate between in rounds of 30 seconds. If it sounds complicated, it's not—they have a bunch of trainers in the room who demonstrate each exercise and tell you exactly when to switch to the next movement. If you get bored easily, this is the perfect class for you. And if you take a while to get into each exercise, it's definitely not. Either way, it's a high-powered, high-energy class with a DJ and fun lighting that will certainly make you break a sweat. And all for $16.
View this post on Instagram
Regular price: $25 Best ClassPass price: 6 credits ($12-15) I absolutely love hot yoga, but after a few months of cutting out all other forms of exercise, I reluctantly admitted it didn't have the calorie-burning power I needed. I'm not saying Y7 is an exception to this, but I am saying that it offers enough non-calorie benefits that keep me coming back. Y7's yoga classes are conducted in candle-lit, mirrorless rooms, and have you go through three yoga sequences first with a class, then on your own. Remembering the sequence can be a little challenging, but I swear it's improved my memory and overall yoga abilities—plus, the lack of mirrors lets me lean into the meditation aspect of yoga way more than classes where I'm constantly checking myself out. (What? I look hot doing yoga.) Whatever your relationship to yoga, I'd recommend trying Y7 at least once. There you have it! I'm mildly concerned that all these studios will raise their ClassPass prices once they find out they're offering better deals, but that's a risk I'll take in the name of journalism. Please don't overcrowd my fave classes, but if I've made working out in NYC an easier experience for you, then I'll be happy. Images: Chase Kinney / Unsplash; fhittingroom, sbx_boxing. overthrownewyork, switchplaygroundnyc, y7studio / Instagram
7 Exercise Mistakes That Are Sabotaging Your Workout
Going to the gym f*cking blows. Half the time I don't know what I'm doing, so I just resort to hopping on the elliptical for 30 minutes before calling it a day. Not to mention, it's sweaty, painful, annoying, and honestly, I'd rather be on my couch watching SVU reruns. That's why nine times out of ten, I'll fork over the $40+ and just sign up for a bougie workout class where I can have an instructor tell me what to do, use the studio's freebie dry shampoo and face wash, post proof I was there on my Insta story, and continue avoiding an actual gym like the plague. And that's coming from me, a Pilates instructor, who yes, can also hate working out just as much as you do. If you're like me and want to make sure you're getting your money's worth of your fancy workout class, don't make these exercise mistakes after you sign up, because you're going to end up sabotaging yourself.
1. You're Not Properly Fueling Before Class

Never go to class on an empty stomach. You'll be groggy, irritated, and maybe even a little hangry. You can't expect your body to push through your workout and give it your all if you're operating on zero fuel. Grab a banana and some peanut butter—any food that will give you quick carbs for a boost of energy—and eat 30 minutes to an hour before your class to give your body what it needs.
2. You Won't Get Off Your Phone

Yes, Twitter is funny as sh*t, but pull yourself away from your tech for the entire duration of a class. If you need to take a quick selfie or snap a pic for some ~content~ that's fine, but do it before class or as soon as it's over. It's super rude to your instructor and other class attendees, and if you can't pull yourself away from your iPhone for an hour you won't be able to focus on your workout and will miss out on reps. And I promise you that your ex does not give a sh*t you made it to your fourth Barry's class in the past week… if he's still watching your story.
3. You're Wearing The Wrong Clothes

You don't need to show up wearing a sports bra, but wear clothes you feel confident in and that are at least semi-fitted. If your clothes are too baggy, your instructor won't be able to check your form, you'll lose out on maximizing your reps, and it can even lead to injuries. Avoid your college sorority T-shirts and think of it as an excuse to hit up Lululemon for some quality workout gear.
4. You Don't Tell Your Instructor You're Injured

First of all, kudos to you for even getting to class in the first place. But don't be so badass that you avoid telling your instructor you have something going on. Even if you don't think it's anything, letting your instructor know something doesn't feel right—or if you have a legit injury that's been checked by your doctor—is always the move. Your instructor should be able to modify any exercises for you, and can even give you a few pointers on how to rehab your injuries.
5. You Won't STFU

If you're hitting up a class with a friend, great. But stop talking sh*t/gossiping/stalking your Ship matches together as soon as class starts. If you really need to catch up, grab green juice after class and chat there. Or if you know that you won't be able to shut up when you're together, take the class on your own and make plans with them later.
6. You Arrive Late Or Leave Early

Yes, the MTA is a bitch and a half and will probably make you late at one time or another, but don't let make you late to your workout class. Not only could you lose your class credit or be charged by the studio (ugh, annoying), but it can also jeopardize your safety. 99 percent of classes start and end with a warm up and cool down and yeah, you should absolutely do them. They are crucial to helping your body prepare for exercises later in class, and they'll help relieve any soreness or tightness after your workout. IMO, not stretching after a spin class should be a felony.
7. You're Not Eating After Class

After you're done hitting a high-impact class, the first thing you should do is eat a good meal with protein. Avoid a sugary smoothie (yes, even it's made with mostly fruit) and try a good salad topped with tofu, beans, or another lean protein, or a sandwich you can take on the go. Yes, working out can help you lose weight, but only proper nutrition can make you fit and help you reach your goals. Don't let the past 45 minutes you spent sweating out last night's vodka sodas be in vain!
Images: bruce mars / Unsplash; Giphy (7)
3 Signs You Need A New Workout Routine
When you're already going to the trouble of working out, it can feel like unfathomable betrayal to hear that you should, in fact, be doing a completely different workout. Or at least, that's the logic I once used to justify doing nothing but yoga for six months, while slowly ceasing to fit into my pants. As someone who really wants to be fit but is decidedly not an athlete, I've spent a of time and energy on different gyms, classes, and even trainers and physical therapists over the years, trying to find the perfect workout that would turn me into a *fit person* once and for all. As all those professionals have explained to me repeatedly, not all workouts are created equal. What's more, switching up your workout routine has consistently proven to show better results. So, while I reluctantly follow this advice myself, here are my past trainers', physical therapists, and preferred internet authority's tips for knowing when it's time for a new workout routine.
1. You're Not Getting Sore Anymore
Sorry! But also, not really because you should know this. If a workout stops making you sore, it's not a sign that you have ascended to a new level of athleticism in which your muscles are no longer capable of strain. It does probably mean that you have strengthened the specific muscles involved in this particular workout (congrats!). But if you don't up the difficulty of the workout, or switch out the muscles you're working on, you won't keep seeing results. At best, you'll maintain the very specific strength you've gained. But even that isn't a guarantee, since you're continuing to do a workout that was appropriate (and difficult!) for you in a less fit state. Trainer Faheem Mujahid explains it as your body realizing "it doesn't need to expend as much energy anymore:" meaning you burn fewer calories, get less tired, and are less likely to feel sore. Time to level up, b*tch!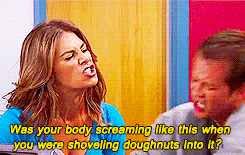 2. You're Getting *Too* Sore
The flip side of the whole soreness thing is that you have to be careful not to overdo it. There's a difference between it hurting when you laugh the day after an ab routine and needing to strap on a knee brace every time you leave the gym. Fitness instructor Trish DaCosta puts it plainly: "A reoccurring injury or too many injuries is often a sign we're doing too much of an exercise program." Pulled muscles, joint pain, or persistent aches are clear signs that your body needs a break. Injuries aside, extreme soreness—or persistent soreness in only a few, select places—also mean you should switch out your routine, or at least add some variety. Trainer Jessica Thiefels stresses the importance of making sure your body feels "balanced in strength," and adds that "working the same muscles, time and time again" is a bad idea. Muscles need rest periods in order to get stronger; so you're really just robbing yourself of #gainz if every day is focused on the same body part.
Obvs, if you're repeating the same workout over and over it's because you like it, and I get that it's tough to motivate yourself to make the switch. I once spent two weeks obsessed with barre and loving my life. Then I promptly re-pulled an old thigh injury, and my physical therapist at the time told me that barre was "the worst thing" I could do for my body.  The fact that I had just purchased both a "barre so hard" tank and a month-long barre studio membership apparently meant nothing to her. As much as I was dying to be a fancy barre girl, I had to accept that my body just wasn't built to benefit most from that particular workout.
Me to my useless barre studio membership: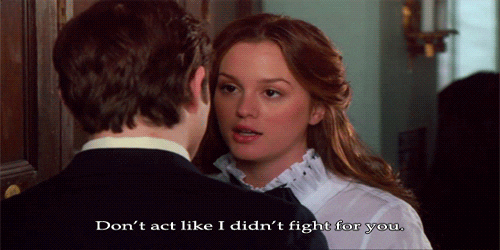 3. You're Not Getting The Results You Want
So, this goes back to my whole "only doing yoga" period in time—despite feeling like I was gaining weight, or at least sort of…spreading out. Before my yoga phase, I'd been getting most of my workouts in at the gym, where I lifted weights and ran intervals on the treadmill. Then, I moved to NYC and decided a gym was a luxury I could no longer afford. Even though I'd read countless times that yoga is not the most effective calorie-torching workout out there (particularly not when done for 15 minutes at a time in one's living room), I hated the idea that completing any workout wasn't enough for my stupid body. I felt more flexible and balanced for sure—but I felt like I was losing muscle, and my clothes weren't fitting as well.
The point here? Don't be like me! Yes, some exercise is better than no exercise at all. But that doesn't mean you can go on a jog and expect your triceps to be more defined after. DaCosta notes the importance of seeing "continued progress" from your workouts, which could come in any of the following forms: "more muscle definition, decreased body fat, more energy, stronger lifts, faster recovery times, weight loss, faster pace, etc." While yoga was pushing me on some of those fronts, it wasn't satisfying others. For a fully varied workout routine that pushes you on all these fronts, Mujahid recommends trying for a mix of "cardiovascular, strength, agility and flexibility sessions," making sure you're "hitting every muscle group" in a week's worth of workouts.
If that sounds totally unattainable to you (same girl), take some comfort in knowing a lot of these categories overlap. For example, a HIIT workout could be your lower body workout, and combines a cardiovascular and strength workout. Then you could work your upper body with yoga on alternate days, which would count as your agility and flexibility sessions. Throw in an ab day and you're done for the week. (And if that sounds like a month's worth of workouts to you, once again I say SAME GIRL. I'm just the messenger for what the pros are recommending.)
Me during my yoga phase:*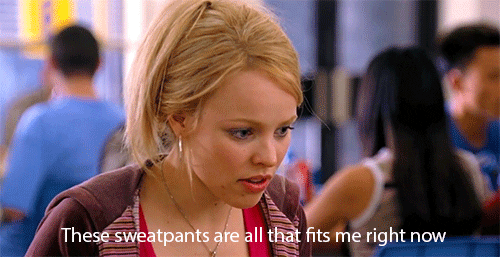 *To be clear, yoga absolutely can and does help people with all kinds of body goals. But my refusal to do any other workout meant I really hit a wall.
This article is not meant to shame anyone out of the workout routine that they're doing. Everyone who has broken a sweat (on purpose) in the past week: I am proud of you. But I also know firsthand how frustrating it can be to feel like you're making a huge effort and not getting anything for it. If anything, this article will hopefully inspire you to make a change and find the workout that leaves you sore, satisfied, and not feeling like you need a wheelchair. Everyone's body is different, and once you find the (healthily varied & not at all overwhelming) routine that works for you, working out will feel 1000% more worth it. I promise.
Images: Giphy (3); Pexels / bruce mars
Is SoulCycle Over? We Investigate
In this episode the Betches discuss the lady who sued SoulCycle, the fantasy suite Bachelor episode, International Women's day, WTF they're gonna do at SXSW, and more. Audience submitted advice questions are about a girl who needs to come out as a lesbian to her friends, and a long distance messaging relationship.
Today's episode is sponsored by Parachute. Go to parachutehome.com/betches to get free shipping and returns on bedding!
Read our recap of the Bachelor fantasy suite episode here!