7 Exercise Mistakes That Are Sabotaging Your Workout
Going to the gym f*cking blows. Half the time I don't know what I'm doing, so I just resort to hopping on the elliptical for 30 minutes before calling it a day. Not to mention, it's sweaty, painful, annoying, and honestly, I'd rather be on my couch watching SVU reruns. That's why nine times out of ten, I'll fork over the $40+ and just sign up for a bougie workout class where I can have an instructor tell me what to do, use the studio's freebie dry shampoo and face wash, post proof I was there on my Insta story, and continue avoiding an actual gym like the plague. And that's coming from me, a Pilates instructor, who yes, can also hate working out just as much as you do. If you're like me and want to make sure you're getting your money's worth of your fancy workout class, don't make these exercise mistakes after you sign up, because you're going to end up sabotaging yourself.
1. You're Not Properly Fueling Before Class

Never go to class on an empty stomach. You'll be groggy, irritated, and maybe even a little hangry. You can't expect your body to push through your workout and give it your all if you're operating on zero fuel. Grab a banana and some peanut butter—any food that will give you quick carbs for a boost of energy—and eat 30 minutes to an hour before your class to give your body what it needs.
2. You Won't Get Off Your Phone

Yes, Twitter is funny as sh*t, but pull yourself away from your tech for the entire duration of a class. If you need to take a quick selfie or snap a pic for some ~content~ that's fine, but do it before class or as soon as it's over. It's super rude to your instructor and other class attendees, and if you can't pull yourself away from your iPhone for an hour you won't be able to focus on your workout and will miss out on reps. And I promise you that your ex does not give a sh*t you made it to your fourth Barry's class in the past week… if he's still watching your story.
3. You're Wearing The Wrong Clothes

You don't need to show up wearing a sports bra, but wear clothes you feel confident in and that are at least semi-fitted. If your clothes are too baggy, your instructor won't be able to check your form, you'll lose out on maximizing your reps, and it can even lead to injuries. Avoid your college sorority T-shirts and think of it as an excuse to hit up Lululemon for some quality workout gear.
4. You Don't Tell Your Instructor You're Injured

First of all, kudos to you for even getting to class in the first place. But don't be so badass that you avoid telling your instructor you have something going on. Even if you don't think it's anything, letting your instructor know something doesn't feel right—or if you have a legit injury that's been checked by your doctor—is always the move. Your instructor should be able to modify any exercises for you, and can even give you a few pointers on how to rehab your injuries.
5. You Won't STFU

If you're hitting up a class with a friend, great. But stop talking sh*t/gossiping/stalking your Ship matches together as soon as class starts. If you really need to catch up, grab green juice after class and chat there. Or if you know that you won't be able to shut up when you're together, take the class on your own and make plans with them later.
6. You Arrive Late Or Leave Early

Yes, the MTA is a bitch and a half and will probably make you late at one time or another, but don't let make you late to your workout class. Not only could you lose your class credit or be charged by the studio (ugh, annoying), but it can also jeopardize your safety. 99 percent of classes start and end with a warm up and cool down and yeah, you should absolutely do them. They are crucial to helping your body prepare for exercises later in class, and they'll help relieve any soreness or tightness after your workout. IMO, not stretching after a spin class should be a felony.
7. You're Not Eating After Class

After you're done hitting a high-impact class, the first thing you should do is eat a good meal with protein. Avoid a sugary smoothie (yes, even it's made with mostly fruit) and try a good salad topped with tofu, beans, or another lean protein, or a sandwich you can take on the go. Yes, working out can help you lose weight, but only proper nutrition can make you fit and help you reach your goals. Don't let the past 45 minutes you spent sweating out last night's vodka sodas be in vain!
Images: bruce mars / Unsplash; Giphy (7)
The Worst Mistakes You're Making On Gym Machines
As much as I love bodyweight movements and at-home workouts, using machines at the gym is a good option if you know what you're doing. The gym is filled with intimidating equipment, and it usually takes a few tries to figure out how to use some of it. In fact, even some of the most simple machines are confusing, and you end up using them wrong, which ruins your workout and could cause you an injury down the line. Here are the workout mistakes you're making on six basic machines and how to fix your form. 
The Treadmill
The treadmill seems super intuitive, but people still screw up their form all the time, and it can sabotage your workout and lead to serious injuries. For example, a lot of people look down when they're on the treadmill, and that's a recipe for disaster. Not only can you lose your balance and eat shit on the Equinox floor, but you can also strain the back of your neck and misalign the rest of your body. To run on the treadmill properly, keep your gaze straight and your chest open. You'll be able to run for a longer amount of time and you'll probably be less sore the next day.

Elliptical & StairMaster
The Elliptical and the StairMaster are both go-to cardio machines, but they're only effective if you're positioned in the right way. Instead of hunching over and holding onto the side handlebars like your life depends on it, keep your hands to yourself and keep your posture straight the entire time. You're supposed to feel a burning sensation in your legs on these machines, so if you're death-gripping the rails to take the pressure off your legs, you're not doing yourself any favors. The machine is just there to support you, so you don't have to clutch the handles like you're gonna fall over. Plus, when you're hunched over, you're taking the exercise away from your legs, so you just end up burning less calories than you could have if your form was right.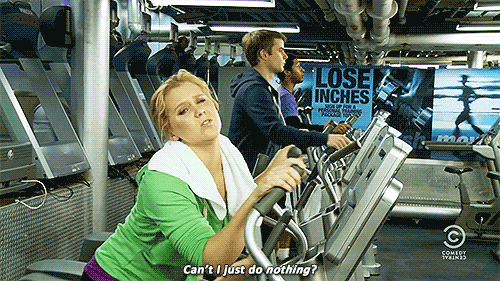 The Rower
The rowing machine is an even better workout than the electronic cardio machines, because you literally have to use your entire body to operate it. This includes your legs, arms, back, and abs. So, if you feel like you're just pulling in the bar with your arms, you're not using the machine correctly. Instead, think about pressing down with your heels and pushing outward, like you're standing up from a deadlift. The idea is to use momentum from your legs to generate the pull, and then use your back and arms on the second part to finish the pull. And again, if your posture sucks here, you'll probably injure yourself, so remember to keep your core engaged and your shoulders pulled back.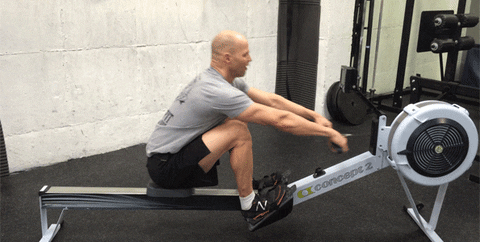 Lat Pulldown Bar
The lat pulldown bar can be difficult to use because it's hard to engage your lats. In fact, most people don't even know what their lats are, so that's problem number one. The lat muscle, aka the latissimus dorsi, is the huge muscle on your back that goes all the way behind your arms. If you strengthen this muscle, your back will look toned and tight, and your waist will end up looking more narrow in result. So, in order to pull down this bar using only your lats and not your shoulders, you need to really think about squeezing your back and engaging the muscle before you pull down. If you're leaning back too far or bringing the bar to your waist, you're overextending. Focus on bringing the bar to chest height and on keeping tension away from your neck and shoulders.

Hanging Leg Raise
This is a great piece of equipment for ab exercises, and it's super effective for leg raises, knee-tucks, and holds. It's also a tricky one because people tend to start doing leg raises before their core is engaged, so only the hip flexors are being worked. Instead, prop yourself up and get comfortable first. Engage your core by pulling your belly button in toward your spine, and then start the exercise. Another mistake people make is by keeping their shoulders too close to their ears. Instead, draw your shoulders down and think about pulling them away from your neck. This will help prevent tightness and injuries that are caused by locking out your shoulder and neck muscles.

Leg Press Machine
The leg press machine is basically a squat variation in a different position, so you need to make sure you're not just bouncing up and down and screwing up your back. A lot of people accidentally do partial reps on this machine, so they're not getting the full range of motion that they would in a standing squat. Position the seat so that when your knees come in, they come close to your chest, so you can target your glute muscles. Also, avoid locking your knees when you straighten out your legs. It's bad for your knees and you could really hurt yourself, so remember to keep a slight bend even while extending. There's no need to get injured at the gym if you just take your time to make sure you're not zooming through every movement.

Images: Giphy (6)
How Workout Classes Trick You Into Thinking You're Burning More Calories
In a bizarre turn of events, we're living in a time when Donald Trump is our president $34 workout classes are normal. Boutique fitness is taking over the workout world, and whether you're a cult follower or just someone who needs a 45-minute sweat before the workday, you've probably been drawn in by a class or two. With so many studios in the market, getting you to book a spot in class is getting competitive, and studios love exaggerating the effects of their workout classes to get you through the door. Here are some ways these workout classes might be tricking you into thinking you're burning more calories than you actually are.
1. The "Fat Burning Zone" Obsession
A lot of fitness studios use new technologies to track your heart rate and count how many calories you burn in each class, and honestly, these numbers aren't always indicative of a good workout, and just because your heart rate isn't in a certain zone, doesn't mean you're not burning calories.. If you're working hard in any class, you'll know when you're getting a sick workout, and you don't need to be told that you're in a specific "fat burning zone" to accomplish that. Trainers have literally come forward and admitted that although you could be burning a few extra calories while your body is in a specific fat-burning zone, it's a waste of mental energy to worry about it, and it doesn't make that big of a difference when it comes to burning fat. If you're particularly into the heart rate monitoring, go for it, but if it's not your thing, it really doesn't matter.


2. The AC Issue
The air conditioning of a studio depends on specific factors, like the building it's in and what the weather is outside, but if you feel a little warm as you're walking into the class, it's probably on purpose. A lot of spin studios and other bootcamp-style classes make the rooms hotter than normal to make sure you start sweating as soon as the class starts, and you end up drenched by the end of the workout. This doesn't mean you're not getting a good workout, but sometimes if you're dripping in sweat, you're tricked into thinking you burned more calories than you actually did. (Unless you signed up for a hot yoga class—obviously.)
3. The Class Right Before You
This goes hand in hand with the AC issue, but honestly it deserves some recognition because it's SO true. Ever notice that you're already kinda hot and sweaty if you walk into a fitness studio right after the previous class just ended? That's because the room is literally warmed up. And it also probably smells disgusting, but let's discuss that another time. While some studios leave 20-30 minutes in between classes for the staff to clean up and air out the room, a lot of busy studios have back-to-back classes without letting the room breathe in between. You end up sweating more and thinking you're burning more calories, but you're not getting a better workout just because you're drenched in sweat. Odds are, you're just doing the same shit in an already sweaty room. Sorry.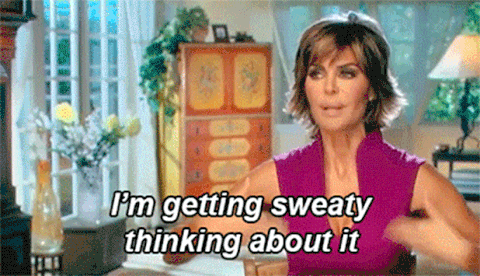 4. The Burnout Effect
In strength training, there is a legit and effective concept called "burnout sets," where you perform a certain exercise repetitively to exhaust the specific muscle. However, group workout classes have taken this idea and used it to make you think you're burning more calories than you might actually be burning. If you've ever spent like, 10 minutes in a barre class doing pulsing squats or felt the burn in your shoulders from the 2-pound weights in spin class, the fire in your muscles is from these burnout-style moves. However, this burning is not always indicative of how effective the workout actually is. You're fatiguing the muscle, but that can be done just as effectively with less reps and heavier weight, so you're just spending more time focusing on the burn. You're literally exhausting your muscles, but that doesn't always mean you're accomplishing more than you would with a regular-timed exercise set.
5. The "Full Body" Trend
This is another fad that workout classes use to draw you in and convince you you're getting some ultimate, total-body sculpting sweaty workout. The "full body" buzzword sounds like you'd be burning a ton of calories, but sometimes targeted workouts that don't work out your entire body can burn just as many calories. It's a marketing strategy, and it's working on you. Full body workouts are great for you, but don't think that if you're just doing an upper-body strength workout that you're not getting as effective of a workout. In fact, sometimes studios just add in moves that target extra body parts to make sure you're super sore the day after, which, once again, isn't always proof that it was a good workout.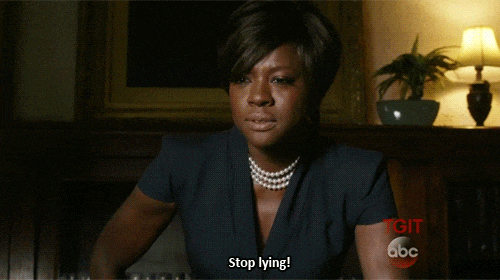 6. The Extra 15-Minute Class
After every Upper East Side mom tried the regular 45-minute classes and still had an extra 15 minutes before the 12pm rush hour at Whole Foods, studios decided to make their classes longer, adding in another 15 minutes to get an even better workout. While these longer classes obviously burn more calories because logically you're working out for a longer amount of time, don't think that these extra few minutes are necessary. HIIT style classes in particular are meant to push you to your limits in a short amount of time, so if you know you're sticking around longer, you might end up pacing yourself (aka not trying as hard the whole time) and burning the same amount of calories that you would have in the shorter class where you'd go all-out from the beginning. Class timing isn't everything, so if you don't want to do burpees to a Meghan Trainor song for another 15 minutes, don't feel guilty about it. We certainly don't.
Images: Martin Barak / Unsplash (1); Giphy (6)
Is SoulCycle Over? We Investigate
In this episode the Betches discuss the lady who sued SoulCycle, the fantasy suite Bachelor episode, International Women's day, WTF they're gonna do at SXSW, and more. Audience submitted advice questions are about a girl who needs to come out as a lesbian to her friends, and a long distance messaging relationship.
Today's episode is sponsored by Parachute. Go to parachutehome.com/betches to get free shipping and returns on bedding!
Read our recap of the Bachelor fantasy suite episode here!