4 Exercises You Should Do Every Hour If You Work From The Couch
When quarantine first began, working from the couch felt like a much-needed break from the discomforts of office life. Nothing was more appealing than rolling out of bed, grabbing your laptop, and rolling straight back onto the couch. No shower, no shoes, no problem. However, the excitement of working from the couch can start to wane once the aches and pains of too much sitting start to set in. From your neck to your lower back to your hips, sitting on a soft surface with limited back support for a full work day is considerably less comfortable than it seems. And as it turns out, working from the couch for too long is bad for you, both physically and mentally. The good news? You don't have to give up working from the couch completely just to get a bit more healthy.
The Problems
Sitting all day can have a number of negative effects on the body, but sitting slumped on a couch can be even more detrimental. "Sitting allows your muscles to become extremely tight and dysfunctional, which will compromise your posture and increase your risk of pain and injury," says Jeff Brannigan, Program Director at Stretch*d (a New York-based dynamic assisted stretching studio). Furthermore, Brannigan goes on to explain that "working from the couch makes it very easy to sit in a not-so-great position. Many people quickly begin to slouch or slide down the couch."
The problem? "Sitting in a compromised position drastically speeds up the onset of muscle dysfunction. You're far more likely to feel muscle tightness, tension, and pain due to an increased likelihood of developing imbalance throughout the body." In fact, in a 2018 study, the CDC went so far as to say that "high amounts of sedentary behavior and low levels of physical activity are associated with increased risk of premature mortality and some chronic diseases". Yikes.
The good news is that even if you work in an industry that requires you to be sedentary for most of the day, small changes to your routine can make a big impact. Better yet, new work-from-home policies make it even easier to get up and move. Eve Lynn Chrust, a New York City-based fitness and yoga instructor (you can find her classes at Obé, SoulCycle, and Athleta) says that exercise doesn't have to be something you force yourself to do at the end of a long work day. "Make it cumulative," says Chrust. "If you do a little something every hour of the work day, by the end of the day you'll have gotten more done than you might've expected." Chrust says that a few exercises coupled with a few laps around your apartment every hour are enough to counteract some of the negative effects of working slumped down on the couch all day. Her advice? Set a timer on your phone to dedicate four (yes, just four) minutes of every hour to getting off the couch and moving. By the end of a standard work day, you'll have already gotten a half hour workout in.
Here are some moves you should be doing to counteract the effects of sitting all day:
1. Walk It Out

The first one-minute move in your four-minute set? A lap around your house, a walk up and down a set of stairs or a stroll down the block! Chrust says, "there's a mental component of getting off the couch. When you sit for too long, things can feel stagnant and repetitive and you tend to get stuck. Getting off the couch even for just a minute helps you to feel motivated, it gives you energy and might improve your focus."
2. Squats

Chrust recommends doing 10 squats every hour to open your hips, stretch out your legs, and work your booty. "Doing just ten squats every hour throughout the workday is totally accessible, and by the end of an eight-hour work day you'll have done 80 squats!" she says.
3. Planks

Next up is a one-minute plank. Planks are a favorite of most yogis, and with good reason. They're an efficient way to work your entire core, front and back, says Chrust. "Abs are fundamental for posture. If you're hunching on a couch all day, you need core strength to lengthen out your spine."
4. Cat Cow

After you've completed the one-minute plank, move directly into a tabletop position, with your knees on the ground directly in line with your hips, and your hands on the ground directly in line with your shoulders. Flow through one minute of cat cow to create space in your spine, chest and neck, three spaces that are compromised when sitting on a couch for too long, says Chrust.
Images: GIPHY; Maryjoy Caballero / Unsplash
How To Run Safely Outside Without Being A Jerk About It
Apparently, I had no idea what being "stir-crazy" actually meant until we entered this indefinite solitary confinement they call quarantine. Even as a proud introvert, it feels like the universe is shoving all the plans I've ever canceled in my face and screaming, "IS THIS WHAT YOU WANTED?" This is absolutely not what any of us wanted—as any introvert will tell you, part of the thrill is canceling plans. With no plans to cancel, this endless abyss of plans that could have been (canceled) feels like a discount version of Groundhog Day. Not only are we mourning the closures of our favorite restaurants, stores, and bars, but many of the activities that kept us sane are no longer an option. One of the most difficult aspects of my quarantine has been the closure of my gym, and not only because of the sense of community it provided. Physical activity has been one of the only things I've found in over a decade of pretty severe anxiety that actually helped keep it in check. According to the CDC, reduced anxiety isn't the only noticeable benefit of regular physical activity. Just 150 minutes of moderate-intensity exercise each week (that's like 7 episodes of Schitt's Creek which, realistically, you've done in one day) can improve both your blood pressure and cholesterol levels. Regular exercise can also reduce your risk of certain cancers and cardiovascular disease. So yeah, TL;DR, exercise is good for you and I'm sorry for all the times I pretended I had cramps to get out of gym in high school. 
During this time of incredible stress and uncertainty, the anxiety-reducing aspects of physical activity are more important than ever. Being trapped inside a small space with no end in sight is stressful, to say the least. Exercise is definitely helpful, and nothing makes me feel quite as calm as the aftermath of a heart-pounding sweat session. There are plenty of workouts that can be done from the comfort of your own home, but when running is your go-to, working out while quarantined can be a little more complicated (unless you have your own treadmill, you lucky b*tch).
At the beginning of quarantine I was running four miles a day ….. Now I'm proud because I did a single squat

— Donese (@donese22) July 9, 2020
It's SO tempting—outside is literally right there. You can see it and hear it screaming at you to lace up and get out there. So what's stopping you? If your neighborhood is anything like mine, you've seen countless people jog by, headphones in, totally oblivious to the fact that we're in the middle of a freaking pandemic. If they can do it, why not the rest of us? Well, because we both know we're smarter than that. Yes, it's tempting to squeeze in a quick 3-miler and be back inside before the coronavirus even has a chance to notice we left our bubble. Unfortunately, this isn't some high-risk game of tag and we really can't afford to take any chances. Here's the great news, though—experts say that it is fairly safe to run outside, as long as we take the proper precautions. Family Medicine Physician Doctor Mike Varshavski—or as he's known on Instagram, Dr. Mike—tells Betches that running "is considered a low to moderate-low risk activity based on the new chart put out by the Texas Medical Association" and notes that "throughout this pandemic, almost all shelter at home orders have continued to allow and encourage solo exercise like hiking, walking, and running."
So that's the good news! And as long as you follow these pretty easy guidelines, you can rest easy knowing that you put your safety and the safety of others first.
1. Jog Alone Or In Small Groups, But Make Sure You Maintain A Safe Distance
I get it, running with your best friend or your running group like you've done for years is a blast. However, just because you have been extremely cautious about protecting yourself from the coronavirus doesn't necessarily mean your running partners have done the same. Make sure whoever you're running with is also taking the proper precautions, and continue to practice social distancing even when running outside.  Dr. Mike tells Betches, "any time you are exposing yourself to other individuals, it raises the risk of catching the virus," reminding us, "those who look healthy can still be spreading COVID-19. If you have to go with a group (for safety reasons, perhaps), try and be with the smallest group possible."
Brian Labus, Ph.D., MPH, assistant professor in the School of Public Health at the University of Nevada Las Vegas told Runners World, "If you deem running with a small group is something you're comfortable with, you'll want to ensure that these few people have been properly careful over the past few months, same as if you're running with one other person. Additionally, your small group should run somewhere you know you won't come in close contact with others." 
Labus also emphasizes that if you live with someone in the at-risk age group (over 65) or someone who is immunocompromised, extra precautions are necessary, and running with a partner may not be the best idea. He explains, "There have been over 182,000 cases (as of June 10) and over 77,000 COVID-19 deaths (as of June 6) in those age 65 and over since February 1, according to provisional data from the CDC. It is safer to run solo until disease transmission is low in your community."
2. Bring A Mask With You When You Run
It's probably not necessary to wear a mask while you run outdoors (and realistically, it would be really tough to wear a mask during any exercise that leaves you gasping for air) as long as you maintain the proper distance between you and anyone you encounter outside. Indeed, Dr. Mike tells Betches that "a mask should not be worn while running as sweat will make the mask wet and create other problems." He advises, "The best protection is to wear the mask until you're ready to exercise, take it off, and stay at least six feet away from others as best as possible."
View this post on Instagram
That said, it's probably not a bad idea to bring a mask with you when you run just in case. You may end up lost and needing to grab an Uber back, you could desperately need to run into Walgreens for a drink of water, or you might end up running into your ex and needing a disguise. Point is, there are a lot of reasons you may need a mask when leaving your house, so make sure you have one with you at all times. 
Donald Milton, a professor of environmental health at the University of Maryland School of Public Health explained to the New York Times, "Outdoors is relatively safe, and masks would only be important if you are exercising in crowded areas or indoors in space shared with other people." According to Milton, as long as you're keeping your distance, you should be pretty fine running outside with your mask at the ready in case of an emergency.
3. Scope Out Your Street During Different Times Throughout The Day, Or Find A Different Street Altogether
Please withhold all "duh"s, because from what I've seen firsthand it apparently needs to be said—the easiest way to keep your distance when running outside is to run in a less crowded area. Now, this doesn't mean driving 38 miles to the middle of the forest to knock out your run. This honestly may be as simple as spending a few days looking out your window every hour or two to see how many people are out and about. Peak hours in your neighborhood may also vary between weekdays and weekends, so also take that into account when planning your run. Ideally, you want to find both a time when not too many people are out, and a place where you have plenty of "escape routes." This means not running next to a busy street that you can't cross if you see a group of people on the sidewalk. If you're running on a forest path, it means being able to step way off to the side if someone else is approaching (and, see #2, don't forget your mask in case this isn't an option). 
Dr. Benjamin D. Levine, a professor of internal medicine at UT Southwestern Medical Center and Texas Health Presbyterian Dallas, explained to NPR the importance of keeping an even greater distance when exercising outside. He advises, "The greater volume and rate of breathing that occurs during exercise has the risk of spreading droplets farther. I think it's reasonable based on the known changes in breathing during exercise."
I don't know how many times I've been out walking and out of absolutely nowhere, a jogger runs by me so close that I feel a small gust of potential plague-wind as they pass. This isn't okay, guys. First and foremost, if we can't be considerate to other people who have just as much of a right to use the sidewalk as we do, we shouldn't be out running in the first place.
That said, if you've been keeping an eye on your street and it really doesn't seem like there's much of a break in the constant stream of people passing by, check out some other side streets nearby. Chances are, within a mile or so of where you live, there are some quieter residential streets that will be far less congested. 
4. Make Sure That It's Actually Okay To Run Outside In Your Area
As we've discussed, it is more than tempting to grab your shoes and just GTFO. But even if you've thoroughly read through these important tips and feel confident in your ability to run outside safely, please hit pause for just a hot second. Because of the constantly evolving nature of how we're handling this pandemic, running outside without a mask may not even be allowed in your area. Make sure you're constantly checking mandates from your state health departments to ensure you're adhering to your area's current requirements. These mandates are changing fairly regularly in some areas, so it's a good idea to check them daily before your planned run. Your state will most likely have a dedicated coronavirus page with all of the latest information, from things like the number of confirmed cases to reopening guidelines.
Dr. Mike emphasizes, "Know that there is no such thing as absolute safety when outdoors. The guidelines of wearing a mask, physical distancing, and washing hands will certainly reduce risk but not eliminate it. Know what is an acceptable risk for you."
If you're still hyped up to go for an outdoor run, more power to you. Just remember the four M's, and you should be good to go. Maintain your distance, Mask (in your pocket/bra/around your neck/whatever), find tiMes of the day that are less crowded (ok that was a stretch, who cares), and Mandates (check your local mandates to see what rules are in place in your area). Happy running!
Images: Andrea Piacquadio / Pexels; donese22 / Twitter; notskinnybutnotfat, dietstartstomorrow / Instagram
Why Having A Personal Trainer Isn't A Waste Of Money
Getting in shape isn't always easy. And let's face it, you may never have perfectly sculpted abs or toned arms, no matter how many times you go to hot yoga or lift things up and put them down. For whatever reason, so many people are hesitant to reach out for help when their workout routine just ain't cutting it. So we connected with Matt Sauerhoff, the founder and CEO of The LIV Method, to share five reasons why having a personal trainer is actually beneficial for achieving the results you've been dreaming about, but not seeing IRL.
1. You'll receive a completely customized workout plan according to your unique needs and goals.
NEWS FLASH: What J.Lo does at the gym isn't guaranteed to work for you too. That's because celebs have…wait for it…personal trainers! Everybody (and every body) is different. Personal trainers are literally trained to make sure you're working out to the best of YOUR ability to get maximum results based on YOUR body type and goals.
Your first session with a personal trainer is usually complimentary (it always is at The LIV Method), and it's basically just a casual hang sesh, so don't be scared or expect to go full-force right away. Matt says, "At The LIV Method, we have a 15-minute chat as a preliminary meet to best understand what our client's wants, needs, and challenges are, so we can best prepare for their first session. No one's workout is ever the same, as no two people are the same. Our sessions are as unique as our fingerprints."
"It's also an opportunity for you (the client) to see if this person is someone you like and want to invest in. While knowledge is power, chemistry is EVERYTHING."
2. You're frustrated and don't understand WTF you've been doing wrong.
You've been going to the gym for a year now soooo like, where the f*ck are your abs?
So many of my friends who do yoga are super thin and toned. Other friends of mine lift weights and have arms to literally die for. But when I took yoga classes and weight trained at the gym, I basically stayed physically stagnant (probably because I didn't know what I was doing, but still).
People who usually go to Matt and The LIV Method fall into two categories: 1) active and frustrated, or 2) inactive and frustrated. Just because you're working out doesn't mean your workout is productive. So what are we doing wrong?
"While classes can be a great outlet and workout, there isn't enough consistency or progression on a week-to-week basis to allow the body to adapt in any specific way. Trainers utilize a variety of science-based principles to remove the guesswork from exercise. Everything we do has a purpose and is part of a larger plan." Yay, science!
3. You'll learn what to do inside AND outside of the gym to get optimal results.
It's not just what you do inside the gym that drives results. It's actually everything you do, including how many pints of ice cream you eat after your workout, and the amount of delicious, sugary margaritas you drink on the weekends.
"The biggest impact we can have on our clients is OUTSIDE the gym where they spend the majority of their time," Matt told us. "There are 168 hours in a week, and we are lucky to be able to see our clients for more than one to two of them, which is why we focus so heavily on education and empowering our clients to make better decisions on their own."
Simply hiring a personal trainer does NOT mean you will automatically see results. At the end of the day, it's entirely on YOU. But the knowledge you gain from them will last a lifetime, which is what makes training with a professional 100% worth your time all the time (whether you use it or not).
4. You'll have someone to hold you accountable, and help you in your fitness journey every step of the way.
You can't find a treadmill at the gym on January 1 if your life depended on it, then the parking lot is back to its usual half-empty self come February 1. You buy an influencer based workout DVD and expect to look like a Victoria's Secret Angel after week two, then give up because life gets in the way.
You know the deal. While motivation comes and goes, a personal trainer is always there to keep you accountable and consistently working toward your goals.
"When chatting with any new client, we always take our time to help our clients identify not just the "what" but most importantly the "WHY" so we can continue to remind them as to why we started in the first place."
"Most people start their journey with a high level of motivation, and full intentions to achieve what they are setting out to accomplish. But seeing results is not an immediate thing. It takes will power, grit, and determination to have the longevity necessary to see it through."
5. You'll become your best self – mentally, emotionally, and physically.
Working with the right personal trainer can be a life-changing experience that's worth every penny. If visible results are what you want, and you're not getting them on your own, then it might be time to consider hiring someone to help you.
I asked Matt to give me one thing personal trainers wish that regular gym-goers knew about their services and how they can help, and his answer really hit home for me.
He said, "If self-improvement is the objective, then hiring the RIGHT personal trainer is a game changer. I have built my life around helping others become the best possible versions of themselves. The LIV Method is my mark on this earth and my mission to help as many people as I can to realize their full potential. I have surrounded myself with the best trainers in the industry who all share a common vision and purpose and who look forward to showing you what LIVing is all about!"

I'll raise a glass of wine to that! Or a salad? IDK. I'm just a writer who works out a couple of times a week, and I clearly need a personal trainer. #SOS
Images: Pexels, @thelivmethod / Instagram (5); Giphy
6 Lower Ab Exercises That Will Make You Look Amazing In A Crop Top
You may have gotten away with hiding under winter coats and Bachelor episodes for the past few months, but soon it'll be time to step outside in minimal layers, and your bod is nowhere close to being ready. I mean, I don't blame you. The only people who consistently eat salads and go to the gym all winter are like, psychopaths people who bet too much money on their 2018 resolutions. When it's time to put on your new ASOS crop top, you'll want your abs to look amazing, and the lower ab region of your core can be the hardest to target. If you want to define that area and lose your love handles, you'll have to start putting in the work, starting with these lower ab exercises.
1. Leg Lifts
Lying on the floor, place your legs straight out in front of you and your hands on the ground or under your lower back if you're prone to lower back pain. Lift your legs up, keeping them as straight as possible with your knees slightly bent until they make a 90-degree angle with the floor. Hold the contraction at the top for the second, then SLOWLY lower your legs down to the floor in front of you. If you have lower back problems or need a modification, try doing the move with your hands under your tailbone. It sounds ineffective, but it actually makes it so much easier.

2. Flutter Kicks
Flutter kicks are another one of the lower ab exercises that are done lying on your back, but this time you actually need to lift your head and shoulders off of the mat to fully target the lower region of your core. Once again, put your hands under your tailbone if you feel any pain in your lower back. Then, lift your legs up in front of you (they can be slightly bent), and literally kick your feet out in front of you in a little flutter motion. You should feel your lower abs working as you kick, and the movement should be small and controlled. Note that these aren't scissor kicks, so if you feel like you're kicking around like a Rockette, you're doing it wrong.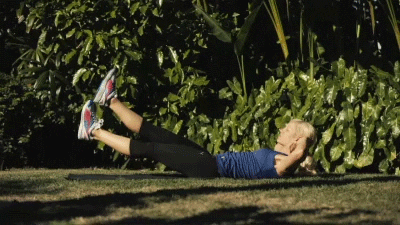 3. TRX Pikes
These can also be done on a rowing machine or gliders if you don't have a TRX in your gym, and if you're doing it at home, you can even use a hand towel on a wooden floor. If you're using the TRX, put your feet into the straps and then turn over, coming into a plank position with your hands on the floor and your feet hanging in the straps. Then, think about pushing your hands into the ground and pulling your legs toward your chest with your hips, keeping your legs as straight as possible. Try to focus on lifting with your abs while preventing your ankles from pointing. Once your head is looking in between your arms, slowly lower your hips back into your starting plank position. These are hard AF, so if you need to just do a couple reps and then hold a plank, go for it.

4. Dead Bugs
IDK who came up with the name for this move, but it'll demolish your entire core so we're gonna go with it. Lie on your back with your arms extended, but bend your knees so that they're creating a 90 degree angle above your hips. Engage your core and press your lower back into the floor as you slowly extend one leg toward the floor, almost hitting your foot to the ground. Then, bring it back to its bent position and do the same on the other side. Keep alternating sides, and if it feels easy, you can even get your arms involved by extending the opposite arm toward your leg each time you bend.

5. Raised Leg Circles
This exercise requires a lot of physical space, so if you're like, two feet away from someone else's mat, you may need to move to a more spacious area of the gym. This is another one of those lower ab exercises where you're lying on your back but raising your neck and shoulders off the floor. To start, extend your legs out in front of you and lift them a couple inches off the ground. The higher you raise them, the easier it'll be. Then, keep your feet and legs together as you literally circle them around you, keeping your hips on the ground as much as you can. Try to aim for six to eight circles in each direction. Make sure your feet don't touch the ground the entire time and that you're using your core instead of using momentum to swing them around.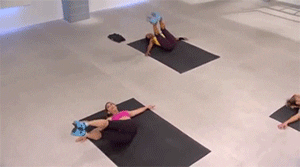 6. Hollow Body Hold
This move is a LOT harder than it looks, so try holding it for 25 seconds, and then slowly work your way up to 35, 45, and eventually a full minute. If you thought time moved slowly when planking, wait until you try this. The hollow body hold is exactly what is sounds like, so you'll be starting lying on the ground. Then, raise your feet off the ground and your arms at the same time, keeping your arms straight behind your head. So basically, only your lower back/ tailbone should be touching the ground, and your abs should be super tight the whole time. If you want to make it easier, put your arms out in front of you or to your sides. If you want to make it harder, hold a weight in your arms and hold it overhead. Just please don't blame me if it hurts to laugh tomorrow.

Images: Matthew Kane / Unsplash; Bionic Body (1); Giphy (5)
6 Popular Exercises That Are A Total Waste Of Time
Okay, let's make one thing clear. One third of Americans are obese and more than two thirds have never even heard of SoulCycle. Basically, if you're exercising, you're already doing something right. Getting to the gym is actually the hardest thing in the world, and so even if you're literally walking on a broken treadmill, you can congratulate yourself on beating the odds. With that being said, there is so much bullshit information out there, whether you're getting ideas from online workout plans or health magazines with Khloe Kardashian on the cover. If you're in the gym for like, 30 minutes, you want to maximize the amount of time you're there, so you should know if your go-to workout moves are wasting your time. Here are six popular exercises that you should skip:
1. Crunches
This is probably a shock, but it's true- your 100 bodyweight crunches are totally wasting your time. There are so many good ab workouts you can be doing, and crunches are probably the worst. First of all, when you do a crunch, you're lifting your shoulders off the ground and flexing the top part of your abdomen, without getting your obliques or bottom parts of your abs involved. This could create a muscle imbalance and even cause you to hurt your back in the long run. Doing moves like planks or leg raises, where your whole core is engaged, will give you more bang for your buck because you'll be using your entire core in every movement, not just the top half.

2. Donkey Kicks
There's nothing necessarily bad about donkey kicks,but if you're short on time, this isn't the best move you should be doing. Donkey kicks are supposed to tone your butt while getting your heart rate up, but there are better moves that do these two things more effectively. Exercises like squat jumps and jumping lunges, for example, work your legs while burning calories, and they're much more effective than donkey kicks. I mean, there's a reason you can do like, 80 donkey kicks but only 12 squat jumps. They're harder but they're so much better for your body.

3. Fast Bicycle Crunches
The bicycle crunch is an amazing ab burner, but a lot of fitness classes and online workouts tell you to do them fast, and you just end up screwing up your form and missing the point of the exercise. The idea behind the bicycle crunch is to twist your entire torso to one side, eventually touching your elbow to your opposite knee while engaging your obliques. By doing them fast, you completely skip the core engagement and you end up just kicking your legs around. Slow these down or skip them completely so you can stop kidding yourself.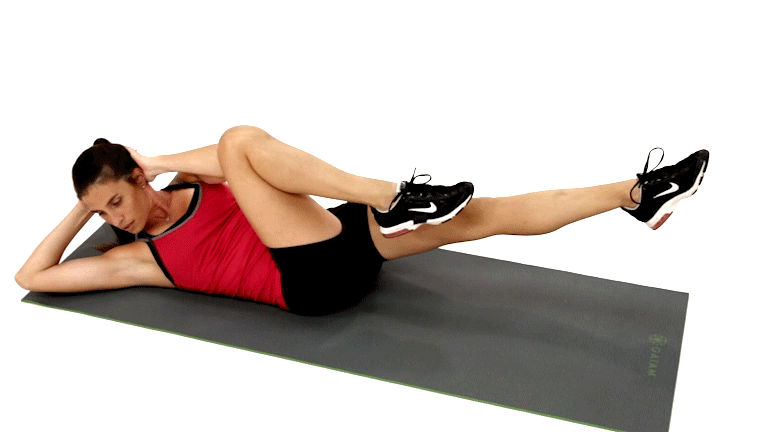 4. Butt Kicks
Butt kicks are similar to donkey kicks. There's nothing wrong with them, but there are so many moves that hit the same muscle groups in a stronger way. By kicking your heels toward your butt, you're technically getting a lower body cardio workout, but there are several moves that are even stronger cardio, and get your whole body involved in the movement. For example, squat thrusts and burpees are both movements where you'll burn calories while toning the upper and lower parts of your body. Don't believe me? Try doing 30 seconds of butt kicks and then 30 seconds of burpees and tell me which one felt like a better workout.

5. Elliptical Machine
The elliptical is honestly so fucking sad, and the fact that so many girls just go to the gym to prance around on that machine is pathetic. But then again, they probably don't know better so we're not gonna call them out. The elliptical is basically an easier version of other cardio equipment at the gym. People like it because it's easier on your knees than the treadmill, but if you're really trying to burn calories in a short amount of time, there are so many other machines that are so much more useful. For example, the rowing machine and the Stairmaster probably burn like, twice as many calories as the elliptical does, and they activate more muscles in your body. It might seem scary to try out machines you're not used to, but if you can get a better workout in a shorter amount of time, it's worth it. Step away from the elliptical.

6. Tuck Jumps
Tuck jumps are included in a lot of HIIT workouts because they blast calories super fast and make you like, really exhausted after only a few jumps. While we're not arguing against tuck jumps being an effective workout, they're super tough on your joints, so you could end up with a major knee injury. I mean, think about it. The idea behind the move is to jump your knees up to chest height and then hit your feet down on the floor. It's just a lot of pressure on your knees and it's not worth the joint pain you'll end up dealing with. Try doing other HIIT moves like skaters, burpees, or mountain climbers. They're just as effective and they're so much easier on your joints. Like, no workout is worth legit hurting yourself. Being too sore to sit down the next day is bad enough.

How To Tone Your Whole Body Without Getting Off Your Couch
Unfortunately, unless you're sponsored by a sugar daddy, have won the lottery, or still live in mom's basement, you're probably working for a goddamn living. That translates to sitting for extended periods of time, being tempted by cupcakes, doughnuts, and questionable vending machine treats, and definitely gaining back those five pounds you lost last summer. We shall overcome, and by overcome we mean "beat office obesity by exercising right in your office/cubicle/desk chair." Yah, people may see you and think you're losing it, but can you put a price on a six-pack you got while sitting and trolling through Pinterest? Probs not. Your boss will be super proud of how productive you are.
1. Seat Squeezes
Sounds weird and kind of is—while sitting at your desk, squeeze your butt, hold for like 10 seconds, and release. Repeat this shit until your ass is numb and your butt is like, sculpted and lifted.
2. Leg Raises
It's not like you're actually doing work, so it's time to strengthen your core, bitch. While you're sitting, straighten both legs and raise them slowly. Hold for 10 seconds, then lower. Repeat this shit as many times as you can without noticeably sweating. You can even put a weight like a briefcase or your purse on top of your legs to up the ante.

3. Squats
Alright so they're not as insane as the real thing, but doing "squats" at your desk will help get your heart actually moving and help to stave off those years of obesity coming for you as a result of sitting 10+ hours per day. From your chair, stand up, sit back down, and repeat like 20 times until someone walks by and decides you're really fucking weird.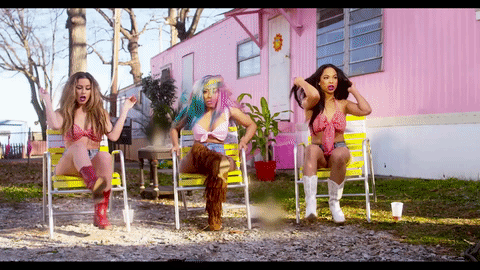 4. Shoulder Press
This will require finding something heavy, so get lookin'. Grab something that weighs like, 10-20 pounds (like your conscience, for instance) and hold it at shoulder length. Raise it over your head and back down for 12 reps three times or until your shoulders scream for mercy. Maybe save this one for when your coworkers are all on their lunch break so nobody calls the police.

5. Rolls
If you have a spinny rolly chair, congrats. Grab the edge of your desk with your hands, pull your feet off the floor, and pull yourself back and forth using your arms and core as many times as you can.
6. Raises
Since you aren't getting that 5% increase because of your attitude (WTF), try this raise instead (I kill myself with the jokes). Raise your legs up on to your chair in a cross-legged position. With your arms on the armrests, push up to raise your body off the seat. Stay that way for 20-30 seconds then release and rest. This is doubly hard in a spinny chair, so be fucking careful.

How To Get A Full-Body Workout With Only A Single Weight
There are a million online workouts that will drive you batshit crazy looking for every machine, kettlebell, booty band, and yoga mat out there. Like, we're not always standing in some fully stocked gym with two hours to spare and no one else around. We've found that sometimes, for whatever reason, we only have one or two weights, and it would be helpful to get a good workout with minimal equipment. That's why we created this bomb full body workout that only requires ONE dumbbell, no matter the weight. Perform the reps listed for each of these moves, and then repeat the circuit 2 more times for a quick and efficient workout. Let's get started:
1. Weighted Jumping Jacks
Jumping jacks are a pretty basic cardio move to get your heart rate up, but adding a weight to it is no joke. People think that in order to warm up, they need to do intense cardio sprints or jump rope for 10 minutes straight, but if you add a weight to a basic movement, you're getting a better workout in less time. Not only do jumping jacks warm up your shoulders and legs, but by adding a weight, you're working on your core, too. Try holding the weight with both hands above your head and do 30 jumping jacks total. If that's too hard, bring the weight to chest height, but do 40.

2. Single Leg Deadlift
People neglect single leg exercises because they think they could just be saving time by doing a move on both legs at the same time. What they don't realize is that by isolating one leg at a time, you're actually working on your balance and stability while toning the muscle. That's why single leg deadlifts are the shit. Stand on one leg and hold your weight in the same hand. Keeping that knee slightly bent, bend at the hip, extending your free leg behind you for balance. Continue lowering the weight until you're parallel to the ground, and then return to your standing position. Do 10 reps per leg, and remember to move slowly and squeeze your hamstrings with every rep.

3. Low To High Wood Chop
For those of you who don't know, your obliques are the muscles on the sides of your abs that will completely shape your core if you do enough wood chops. We love this move because it works your obliques and the entire upper ab region, and it doesn't involve you lying on the floor doing 500 bicycle crunches while holding your breath. For your wood chops, hold the dumbbell in both hands and twist left, so that it's starting on the outside of your left leg. Then, lift the weight diagonally across your body, ending twisted to the right with the dumbbell above your head. Pivot on your left foot as needed, and do 12 reps on each side.

4. Weighted Squat Jumps
This is another move that will get your heart rate up, and of course it's a squat, so you'll feel the burn in your butt. Squat jumps work your glute muscles, which are some of the biggest muscles in your body, so you'll be burning almost twice as many calories than by running or boxing. It's low-key amazing. Holding your dumbbell at your chest, squat down and jump up, straightening out your legs in the air and landing in a squat again. Do 15 reps, and if you need to drop the weight, do it. Just try not to rest in between in each jump. Oh, and don't blame us if you can't sit down tomorrow morning.

5. Lunge To Curl
The dumbbell lunge with a bicep curl is a combo move, so you're engaging your leg muscles and arm muscles in one move. Think of it like waiting for your laundry while doing your taxes. Both sound terrible, but you're getting both done in the same hour and you feel good about it. Anyway, hold the dumbbell at your right side as you step your left foot forward into a high lunge, making sure your left thigh is parallel to the floor. Once you're in your lunge, curl the weight to your chest, keeping your elbow close to your rib cage. Reverse to return to start, and do 12 reps on each side.

6. Weighted Crunch To Jump
This last move is pretty tough, but we decided to end the workout with a killer ab move, because people have literally been dying for abs since J.Lo circa 2003. The weighted crunch to jump is exactly what it sounds like, and it's too late to bail now. Lying on the floor with your dumbbell at your chest, do 5 crunches or sit-ups, bringing the weight over your knees each time. Then, roll up to your feet and jump up, still holding the weight. Perform this combo 5 times total. You're toning your abs while burning calories, so it's basically the grand finale. Then you can pass out on the couch for the rest of the night! Or drink an entire bottle of wine. Or both.

A Gym Routine That Even Unmotivated People Can Stick To
Everyone knows when it comes to going to the gym, getting there is the hardest part. Like, there are days when we genuinely feel we should be getting paid just for getting out of bed, so making it to the gym deserves an actual Nobel prize. As much as we complain, one of the reasons why going to the gym is so annoying is because you don't have a real plan that you're dedicated to, and so you don't have the motivation to get there. That's why we're gonna walk you through the process of creating a legit gym routine that will make you want to get to the gym and get shit done. Here's the plan:
1. Choose Your Days (Realistically)
Before you can map out your workouts, you'll have to decide how many days a week you'll actually be getting to the gym, and choose specific days that you're going. This can change over time obviously, but committing to exact days will help you actually get to the gym. For example, if you know you're going to work out on Mondays, Wednesdays, and Saturdays, you won't be deciding in your head all day on Tuesday if you should go to the gym after work, because you know that it's your day off and you're going tomorrow. It's kind of like making an appointment with yourself that you have to stick to, so mark your calendar and don't bail.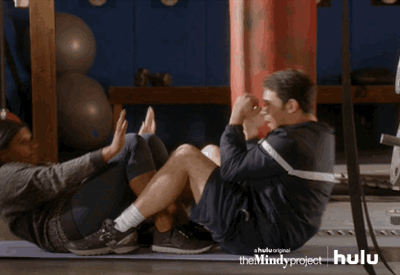 2. Decide On Your Workout Focus
There are a million online workouts that you can copy to a tee, but you're the only one that knows how you like to work out, and what machines and exercises will actually get you to the gym. It's totally fine to experiment with a few different types of workouts, but you should ultimately find the workouts you enjoy doing, and build your routine around that. For example, if you know you like doing HIIT cardio, ab toning, and leg workouts, break up your days into combos of each one. Trying new things is obv important, but if you're gonna dread going to the gym because you're making yourself do an exercise you don't like, it's not worth it.

3. Break Up Sessions By Body Part
Once you start working out throughout the week, you'll start to notice that it's harder to get to the gym after a few days because you're sore AF. I mean, it's understandable. If you're working hard enough and going to the gym consistently, your body will feel it, and that's not a bad thing. But even if you can't sit on the toilet without crying, it doesn't mean you need a day off—you just need to set your routine up accordingly. So, if you know you're going to do squats and lunges on Monday, you probably shouldn't plan on running on the treadmill on Tuesday, because your legs will be pretty shot and you'll end up half-assing your workout. Instead, plan to do upper body moves on that day or just some light yoga to keep your body active. Just don't be an idiot by hitting the same body parts one day after the other.

4. Make Playlists Beforehand
People undermine the importance of a bomb workout playlist. I mean, yeah working out is about your muscles and your body and your breathing and energy levels, but music low-key makes a huge difference, so take it seriously. Make your playlists at the beginning of the week so you have them ready for your workouts and you're not wasting gym time just shuffling through Spotify. By having good songs ready that you know will pump you up, your workout will be a thousand times better and you might actually look forward to the gym to listen to your sick playlist. It's kind of like the excitement you get before a SoulCycle Drake vs. Rihanna themed ride. You know you're about to die, but the playlist will be so good that it's worth it.

5. Only Focus On Yourself (As Always)
Once you get to the gym with your plan and your playlist ready, it can still be hard to get an effective workout if you get easily distracted by the other people around you. Like, stop thinking about the old man grunting in the corner, the girl next to you with amazing abs, or the relentless trainer offering you a personal session. Turn your music up and focus on your own workout, and you'll see a huge difference in your results. Also, just gonna throw this out there—your phone. You can literally scroll through Instagram and answer your texts all day, so now's not the time to ask your friends advice on a profile pic caption. Go on sleeping mode or airplane mode, or just put your phone away completely. The separation may be hard at first, but sooner or later you'll be the bitch judging the girl texting on the treadmill next to yours.