How Many Calories Your Favorite Workout Classes Actually Burn
Group workout classes are great. You're motivated by the overachieving people in the front row to work harder, but you also don't feel super sh*tty about yourself because there is usually someone who's just as lost as you. But even if you're not perfectly coordinated (me in dance cardio classes), you will likely still be dying at the end of a class, if you're doing it right. Obviously, not all workout classes are created equal, and some will burn more calories than others. So I did the research to find out if cycling is really kicking your butt, if CrossFit is really worth it, and more. Read on to find out how many calories workout classes burn. For reference purposes, I reported the number of calories burned for a woman who is 155 pounds. So your mileage may vary, but here's a good reference guide to the calories burned in your favorite group fitness classes.
HIIT

Also known as high-intensity interval training, HIIT classes involve lots of sweating, heavy breathing, and typically burpees. As the name implies, they are structured in intervals of high-intensity workouts. Typically, you push yourself to the maximum for 20 to 90 seconds before taking a short break and doing it all again. Due to the intensity of the workout (say "intensity" again), you can burn up to 900 calories in an hour. The harder you work, the more you'll burn. Either way, you'll for sure need a shower and nap after this workout.
Kickboxing

If you want a major confidence boost, take up kickboxing. This high-intensity workout will test your balance, endurance, strength, coordination, and flexibility. Not to mention, you'll feel like a total badass when you master a mean uppercut. A 155-pound woman could burn around 740 calories in an hour of kickboxing class. Speaking from experience, you'll work legit every muscle in your body, and I can guarantee you'll be so sore the next day. Have fun walking upstairs!
Cycling

Personally, cycling is my favorite workout. The high energy and fun music makes me forget about how much the instructor is kicking my ass. According to this calculator, you could burn 637 calories for a one-hour spin class working at mid-intensity (which means that you could still have a conversation). Personally, I can barely breathe midway through a spin class, let alone have a conversation, but sure.
CrossFit

Say what you want about the people who swear by it, but this workout is no joke, and you're able to burn almost 800 calories in an hour (so I guess those bros are doing something right). It's a high-intensity, constantly changing workout that involves exercises like push-ups, pull-ups, and squats. Honestly, I don't feel like I need to explain it further—if you want to know more just go up to the nearest person you know who does CrossFit and breathe in their direction and they'll tell you all about it.
Circuit Training

This workout may be hard, but it is never boring. It combines a variety of different exercises to work different muscle groups that you move through with a short or no break in between. Your heart will be racing basically as soon as you start. In a one-hour class (or workout you do yourself, which I'm v impressed you are motivated to do), you could burn up to 547 calories.
Hot Yoga

Well for starters, it's hot, which some people hate but I personally love. You sweat balls, which always makes me feel like I'm working 10 times harder that I probably am. The heat also helps you release toxins and loosens your muscles so you can have a deeper stretch. For an hour hot yoga session, you could burn up to 500 calories. You can also improve flexibility and reduce stress.
Barre

I don't think I've ever left a barre class when my legs don't feel like Jell-O. Even though I danced ridiculous hours as a child, these classes are very hard. In case you missed the trend, barre is a combination of ballet, yoga, and pilates poses and exercises to work muscles you never even knew you had (or at least, that's the case for myself).  You can burn more than 400 calories in an hour class and tone your muscles. These ballet-inspired classes will make you feel like a classy ballerina.
Images: Scott Webb/Unsplash; Giphy (7)
So, You Ate Too Much—Here's How To Reframe Your Thinking
We've all been there: doing super well with our workout routine, eating super clean and healthy, and then the holidays roll around, and you feel like you ate so much mac n cheese, you could literally die. You had the best of intentions. You told yourself you were going to fill up on salad and green beans and turkey. (Okay, so maybe you were a bit unrealistic). That didn't happen, because food is delicious. If you're like a lot of people, you might be feeling a whole lot of emotions, and probably not a lot of them are positive. I don't need to tell you that beating yourself up over not being perfect is counterproductive… but I'll tell you anyway. Don't worry, I'm here to help.
When all is said and done (and eaten), you probably came to one of two different conclusions, right? One, you say f*ck it, you already messed up, might as well give up. Two, you own up to your sh*t, recover, and get back on track. If you picked one, then we need to switch your whole mindset. How are you ever going to reach your goals (in fitness and life in general) if, for every one mistake you make, you give up and make another four or five? One bad meal or one bad day doesn't have to set you back for a week or more. So take a deep breath, stop beating yourself up, and take a look at my best tips to helping you get back on track.
Instead Of Beating Yourself Up… Forgive Yourself
I already touched on this a little, but first and foremost, realize that you're human and no one on Earth has ever stuck to a diet or lifestyle change perfectly. Diets are not designed for perfect execution, but that's a whole different topic of discussion that I could talk about forever. Bottom line, if you went harder at Thanksgiving than you had initially intended, forgive your mistake and dust yourself off. It's just a speed bump, you didn't crash and burn. You'll be okay.
Instead Of Feeling Regret… Find Appreciation
Instead of focusing on all the negative feelings, focus on the upside. Did you have a great time with your friends and family? Did you enjoy the food? Did you avoid getting into an argument with Uncle Paul by making sure your mouth was full with mashed potatoes at all times? Regret nothing. The more you focus on the negative, the more you'll stress yourself out, which will raise your cortisol levels and cause you to further demonize food. If you follow my school of thought, then you know we don't demonize food—doing so will just make you want more of the "bad" foods you have deemed off-limits, and in the long run, sabotage your own goals and happiness.
Instead Of Doing A Cleanse… Hydrate And Eat Fiber
Okay, so instead of just not eating the next day to counteract the damage, drink a lot of water and make it a point to eat something green and crunchy like a salad (crunchy because of the lettuce, not croutons, sorry) for either lunch or dinner. The water and fiber will help move things along, literally and figuratively. Salad, soups, feel free to add whatever lean protein you want. Avoid processed foods and try to limit your sodium intake, because it will just make you more bloated. But, for the love of God, eat! Don't try to crash diet or deprive yourself of food or go on a juice cleanse—that's setting yourself up for more struggle, disappointment, and bad feelings in the long run.
Instead Of Working Out As Punishment… Do It As Motivation
If you feel so motivated, try to get a workout in. To be clear, this is not a punishment for your mistakes. Don't approach it like that, but approach it like, now that your gas tank is full, you have the resource to go the extra mile. You may find that you are able to lift heavier, run faster and go for more reps and sets. Use the extra fuel as a resource for achieving new fitness goals, but make sure not to over-exercise to the point of injury.
Remember: As long as you don't give up, you'll be okay. Keep the vibe and self-talk positive, because literally, EVERYONE on Earth goes through this. What matters is if you choose to bounce back from these setbacks. The difference between progression and regression not just in fitness, but in life, is realizing you're bigger than your mistakes.
Images: Element 5 Digital / Unsplash; @dietstartstomorrow, thefuckitdiet /Instagram
4 Pilates Moves To Tone Your Butt & Legs
All these exercises strengthen butts and legs at the same, but most importantly, without a strong core (which, in pilates, we refer to as The Powerhouse), your shoulder and hips will tighten as a result of bearing the brunt weight of your body.
These exercises are typically performed in a systematic order of the classical pilates to be more effective. Before taking on any of these exercises, make sure you've already exercised. For example, jogging, bicycling, Soulcycle, etc. would all work. This is to ensure that your muscles and joints are supple, to sustain and keep the form of these exercises with consistency.
Single Legs Kicks

Setup: Lie flat on your stomach, nose to the mat, and place your palms in line with your ears. Engage your abs, press the floor away with your palms into straight arms, lift your chest up and stretch it forward, bending the elbows just under your shoulders, with each hand in a fist to anchor you, and your head in line with your spine, eyes leveled.
Movement:  Kick the heel of your foot to your bottom in a dynamic motion like "kick kick" and switch, "kick kick" and switch. As you kick your heels, keep your hips and butt stable by pressing the hip flexors to that mat, zip the inner thighs, and keep the knees together. Engage your glutes, and kick for 3 sets. Do not let your booty pop up, hence why you press the hips to the mat. Be mindful not to let your lower back collapse either, which is why your abs must be engaged with a pull in and up.
Modifications: Lower your abs down to the mat with your chest up and forward, with your elbows slightly forward, and your hands in a fist in line with your elbows, and kick your heels to your bottom.
Double Leg Kick

The double leg kick is the next progression after double kicks.
Setup: Remain flat on your abs after the single leg kicks, with your chest down, on the right side of the face on the mat. Keep your neck long, and stack the palms on top of each other in the small of your back, ideally in the mid back close to the shoulder blades.
Movement: Kick the heels of your feet to your butt, 1-2-3. Lift the chest forward, then stretch and reach the arms behind you, over your butt and hands folded, to further open your chest. Then, turn your head to the left side of the face, lift and reach arms again, and repeat. Abs must be engaged, and legs stretched long when straight. Repeat 3 sets.
Modifications: If your shoulders or arms are tight, and it's too difficult to stack them on top of your lower back, rest the back of your hands on top of your butt or on the mat when kicking your heels to the bottom, and lift your arms up in line with your hips when you lift your chest up and forward.
Leg Pull down

Setup: In a plank position, put your elbows and wrist right under your shoulders, with your legs straightened out, and the heels of your feet together, toes apart, navel to spine.
Movement: Pull navel to spine. Flex toes to rock back in a straight line, and point your toes to lengthen your whole frame forward. Keep pulling your navel to the spine, and resist the gravity of your back collapsing down into the joints by lifting back up to the sky. After 3 sets of repetitions, lift the right leg and rock back and forth and repeat on the left side.
Modifications: If balancing your upper body on your palms is too much pressure on the joints, bend the elbows and rock back and forth on elbows with hands in a fist. Just remember to resist the gravity of the body upwards. Imagine you're balancing a tray with glass on it on your back, and don't let it slip off while moving. You have to balance it by keeping your back straight and level.
Leg Pull Up

The leg pull up is the next profession from leg pull down.
Setup: Start by sitting on the mat, knees bent, feet flat on the mat, arms stretched behind in line with shoulders, and palms on the mat. Lift your hips up in line with your knees and straighten the legs in front in two steps, heels together and toes apart.
Movement: Engage your abs and lift your right leg up, pointing the toes. Do not scrunch your feet, reach them like you're trying touch something in front of you, and maintain the height on of your hips as you lower the leg down the mat. Flexing, lift the left leg, reaching the toes, and repeat the same motion.  Repeat for 3 sets.
Modifications: To modify this exercise, keep your hips up, bend your knees with your feet flat on the floor and your feet and knees together. Keeping your knees in line with your ankles, progress to extend the right leg straight up from and in line with the hips, and with both knees leveled in even height, lower the right leg straight down to the mat to the height of the left ankle. Lift it back up to the knee's height, bend the knee, and switch to the left. Repeat the same exercise as the right leg. Repeat this in 3-5 sets.
Caution: This exercise is very challenging on the hips and shoulders, as you can stiffen up when locking your joints. The key to sustaining this exercise is to keep the heaviest parts of the trunk (i.e. chest and hips) up.
Images: Michele Paniz Photography
5 Fitness Apps That Are Actually Worth Downloading
Every year, on December 31, just before the clock strikes midnight and you're preparing to chug a bottle of champagne, you vow that this is the year you finally get in shape. Never mind that you'll probably wake up tomorrow and completely forget WTF happened on NYE, let alone say "no" to that leftover Chinese take-out in your fridge. I know, because like, me too. Diet starts in 2019, amiright? But for those of you who believe that eighth time's a charm, here are some fitness apps to help you get that New Year's body. It's time to use your phone for something other than cyber-stalking your ex and his new girlfriend.
1. Sworkit
Sworkit hit it big on Shark Tank when Mark Cuban invested $1.5 million in the company. At one point the app was free, but now they're charging $29.99 a quarter or $79.99 a year. They may sound like greedy f*cks, but they're actually the cheapest option of the paid apps on this list. Sworkit has a bunch of fans, averaging an impressive five stars on the App Store. With the price you pay, you get access to a trainer who can answer all your burning fitness questions. That's kinda cool if you're lonely and bored of bugging Siri or the personal trainer you're hooking up with. Also, Sworkit utilizes only bodyweight moves (no equipment) so you can literally do their workouts anywhere. That means if you're looking for an app to use in the gym, you have better options. In order to utilize all the equipment, keep reading.

2. MoveWith
MoveWith is like having a personal fitness class right on your phone. A lot of the most popular trainers from boutique studios around the country are coaches on this app. Basically, you get a similar workout for a fraction of the price and in the comfort of your own home or gym. The workouts range from yoga to HIIT to weightlifting to guided meditation. They even have life talks, so clearly the variety is insane. You can choose which body parts you feel like working on, and the amount of time you have to work out. The trainers' voiceovers also make it sound like they're right there with you, yelling in your ear. Very realistic and motivating for those of us who need to feel a little fear to get moving. Depending on the class you choose, you might need some gym equipment. This app isn't free, though, and will cost you $12.99/month or $95.99/year.
3. DailyBurn
DailyBurn is not good for commitment-phobes. Instead of starting a workout, the app makes you start programs that last 8 weeks *nervous laughter*. I'm here for a good time, not a long time. But for those of you who need that kind of structure, this app is for you. Each program also comes with its own nutrition guidelines and meal plan to make sure you really see the results. The thought of all this commitment and cooking is giving me hives, low-key, so let's wrap this up. Once again, this app is not free and will cost you $19.95/month.
4. Nike Training Club
Finally, a free app. Thanks, Nike! Although, I really do spend way too much money on your shoes anyway. I'll consider this just a mild favor from you to me. This app allows you to pick individual workouts or set a plan that is tailored to your goals. You can choose if you want to do no equipment or full equipment workouts. All that is cool and whatever, but the main reason I am downloading this app is because it lets you workout alongside side Nike sponsored athletes. That means celebrities like Serena Williams, Kevin Hart, Michael B. Jordan, and Cristiano Ronaldo will be sweating it out with you. This is like the ultimate workout porn. If self-love can't get me to exercise, then the thought of Michael B. Jordan's abs f*cking can.

5. Jefit
Do I know how to pronounce the name of this app? No. Do I use it? Semi-regularly. My ex-boyfriend introduced me to Jefit, and to this day I maintain that it is the only positive thing to come out of that year-long nightmare. But I'll save the details for my therapist. If you want to tone up but are too afraid to venture into the weight machines section of the gym, Jefit is the app for you. You can search basically any machine in existence and it will explain how to use it with written instructions and an accompanying gif. It also does the same for many free weight exercises, if you've ever wanted, for instance, to learn how to do a barbell deadlift without breaking your lower back. It also has preset workouts for each muscle group (think abs day, chest and triceps day, etc.). And the best part: it's free. Download Jefit and you just might be posting memes about "when you skip leg day" in no time. Change your name to Tyler, effective immediately.
Bonus: MyFitnessPal
Okay, MyFitnessPal is so popular that I had to include it on the list, but this app's main function isn't even really about exercise. It is a virtual food diary so you can stay on top of your intake. If you purchase the premium version, you can also add in your exercise so that it can calculate your expenditure. The forums and message boards give you that community feel if you're into chatting with random strangers on the internet (and honestly… strangers on the forum board are way quicker to congratulate you on losing two pounds than your bestie over there putting out wine and a cheese plates). There are no exercises or workout plans for you here, though, so maybe use this with another one of the apps above to really stay on top of things.
Images: Nathan Cowley/Pexels; Giphy (2)
Try These 6 At-Home Exercises On Days When You Skip The Gym
Don't have time to take that spin class after work anymore? Or do you suffer from social or performance anxiety when exercising in front of groups of people when chances are nobody is even looking at you? No worries! There are so many ways to stay active, burn calories, and get in shape from the comfort of your own home. Here are six great at-home exercises for those days you need to skip the gym or just don't feel like leaving the house.
1. Burpees
Burpees, or squat thrusts, aren't called "one of the most effective workouts" for nothing. This killer full body exercise activates the chest, arms, core, glutes, and hamstrings. Start off in a standing position, drop into a squat position, place your hands on the floor, kick back into a plank position, then reverse these steps, and repeat.

2. Mountain Climbers
Mountain climbers are a boot camp workout, and I'm tired even thinking about doing them. This insane cardio and core exercise successfully helps to burn stubborn belly fat and strengthen a bunch of different muscles. Incorporate a few reps into your routine every day and you'll get sexy six-pack abs in no time.

3. Jump Rope
Time to dig through boxes in your parents' basement, tap into your childhood, and whip out that old school jump rope. If you don't have a jump rope or want to save your hard-earned five dollars like the thrifty betch you are, jumping jacks are equally as effective. Who knew we were such little geniuses back then?
4. Stairs/Steps
Do you live in a two-story house or an apartment building with stairs? If so, then substitute the step boxes at the gym for the staircase in your own home. Whether you're wearing leggings or pajama pants, running or jumping up and down steps is a totally legit cardio and leg workout. I promise your heart will be pounding out of your chest after you complete a couple of stories.

5. Yoga
Stretching is amazing for the mind and body—but downward-facing dog isn't as easy as it looks. Yoga is a fantastic workout that activates your entire body and improves flexibility. You'll be surprised at how much you actually sweat and how refreshed you feel after twisting, turning, and detoxing those tequila shots from last night out of your body with certain yoga sequences.
6. Workout Programs
No matter if you want to dance Zumba, challenge yourself (aka die) with high-intensity interval training, or try out a fitness influencer-created guide like BBG, there are tons of awesome at-home workout programs to choose from and try in front of your TV or computer.

Never waste your time and gas driving to the gym to work out on boring machines again! Now you can try any of these exercises to save your money on a gym membership and workout at home whenever and however you want. Now you literally have no excuse not to exercise. You're welcome.
Images: Giphy (4)
The Best Instagram Trainers For Quick At-Home Workouts
Don't get me wrong—I have nothing but
deep-seated disgust
respect for all the SoulCycling betches out there. But for me, paying $40 to feel bad about my Target sports bra and distinct lack of abs is not really something I'm willing to do. In my very busy, #adulting life, I have specific requirements for my workouts. They should be free, doable from home, and under 30 minutes. Oh, and actually feel like a workout—aka I should break a sweat and/or actively find it difficult. As it turns out, not everyone is as
lazy
innovative as me, so finding workouts that met all these criteria actually took a while. We all know the queen of quick at-home workouts,
Kayla Itsines
, but here are a few others for when you want to mix it up/be able to walk the next day. Without further ado, here are my favorite trainers with quick at-home workouts that actually work. You're so welcome.
Pamela Reif
I don't remember how or where I came across
Pamela Reif
, but she now plays an alarmingly large role in my life. Like, my boyfriend knows her name because I show him her Instagram so often. It's weird. Anyway, a quick scroll through her IG will reveal that her fitness routine is no joke—and neither are her abs. While she does legit gym sessions too, she's also the creator of several 10- and 20-minute
no-equipment workouts
that will leave you feeling like you just got out of Barry's in one-third of the time. She also reposts pictures on her story of ~regular people~ who do her YouTube workouts and tag her, and no lie, over half have mini six packs. My favorite videos are the 10-min "
Booty Burn
," 10-min "
Sixpack Workout
," and 20-min "
Flat Belly & Round Booty
". (Leg day freaks, don't @ me). If you only have 10 minutes to work out but want to be sore for three days, I can't recommend her ab workouts enough. Oh, and here's what HER abs look like, if you needed more convincing:
Gina M. Florio
I came across Gina Florio for the first time through
Popsugar Fitness
, which posted
this kettlebell workout
. Yes, the fact that it requires equipment is a little more high-maintenance than I care to get, but if you don't own two kettlebells (pro tip, dumbbells will work too), you should seriously consider investing. It'll cost less than a month's access to a very cheap gym, and you can do SO MUCH with them.
Gina's Instagram
is filled with quick at-home workouts with kettlebells, and every one I've tried so far is brutal in the best way. She breaks her workouts down so you're only doing 2-4 reps at a time, but you'll do 4-5 sets total. Personally, I love this system because it's much easier to trick your body into doing just 2 more than it is to do just 25 more. You'll definitely feel like you're dying between rounds, but you'll be done in 20 minutes and feel like a badass now that you know how to do things like snatches and dead cleans.
Fiji McAlpine
Some days, any kind of jumping/lifting seems like too much—even if it's only 20 minutes. When I really can't stomach HIIT-type action but want to justify the cookie I ate a lunch, I turn to my all time favorite yogi: Fiji McAlpine. You'll note that I did not link to an Instagram there. In demonstration of what a pure and legit yoga-teaching soul she is, she doesn't have one. Instead, you can find her workouts on
DoYogaWithMe
, an amazing website that shares a ton of free yoga videos for all lengths/focuses/levels. I discovered Fiji in particular early on through a friend's recommendation, and I'm obsessed with all the videos in her
14-Day Challenge
. Especially, as I'm sure you guessed, the ones that are
20
or
25 minutes
. Her classes are labeled as Intermediate, but I am by all accounts a Beginner and really didn't struggle with her classes. I just had to work my way up to certain poses, which she assures you in her very soothing voice is normal and ok. Fiji's approach to yoga is a perfect combination of deep stretches and active movement, so you don't get burnt out on either way but you never feel like you're wasting your time. If you're up for some light core work and can't remember the last time you stretched, Fiji's yoga classes will feel amazing. Just trust me.
There you have it! My fave ab/butt-focused, full body, and yoga workouts. All free, all minimal equipment, and all under 30 minutes. So next time your flaky friend pulls a bad sushi excuse and bails on SoulCycle, maybe put the $40 toward a new pair of shoes and try one of these instead.
6 Fat Burning Foods You'll Want To Add To Your Diet Right Away
It's pretty damn tempting to buy every skinny tea and diet plan you see on Instagram, but honestly there's no real trick to fat burning unless you're eating a balanced diet and working out regularly. It took us a while to accept this tragic reality, but after trying every diet on social media and experiencing continual disappointment, it might be the hard truth. With that being said, there are definitely some foods that have certain compounds and nutrients that could help you burn fat more easily—fat burning foods, if you will. We did some research to find the superfoods that have been proven to help with weight loss, and we're currently ordering each one in bulk. Here are the fat burning foods you to add to your diet.
1. Cayenne Pepper
Pepper has a compound in it called capsaicin, which has been proven to spike your metabolism and boost your body's ability to convert food into energy instead of storing it as fat. Spicy foods also tend to suppress your appetite, which is one of the reasons why you may be super full after eating something spicy for lunch. According to the American Journal of Clinical Nutrition, you just need to add a pinch of cayenne pepper to your meal and it'll help your body burn fat after you eat. So like, pass the pepper.

2. Black Beans
Just in case you needed that extra push to order Mexican for dinner tonight, black beans may be one of the coveted fat burning foods, although that burrito might not be. If you ask me, black beans should be trendier than they are, because they're low-key magical. In fact, some researchers say they're equivalent to a fat-burning pill, but like, much more legal (some disagree, but over all, adding beans to your diet as part of a healthy weight loss regimen can help you lose weight). Black beans are filled with slow-digesting fiber that feeds the bacteria in your gut and trigger a chemical called butyrate, which basically helps your body burn fat more efficiently.

3. Grapefruit
It may be time to stalk up on grapefruits ASAP. In a 2006 study, scientists realized how magical grapefruits are when they asked a group of participants to drink apple juice everyday and another group to drink grapefruit juice everyday. It turned out the grapefruit people lost more weight and their bodies' metabolic rate sped up dramatically, and the apple juice people went home in shame (I paraphrase). Not only are grapefruits rich in bioactive compounds that help break down body fat and regulate your blood sugar, but they also lower your body's insulin and speed up your metabolism. Game changer. Just don't douse it in sugar, duh, because that defeats the purpose of fat burning foods.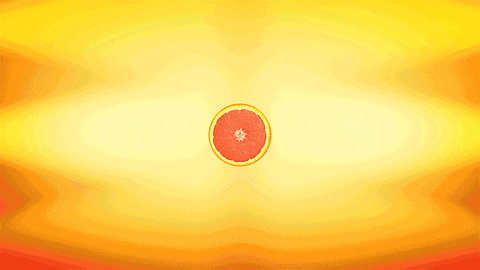 4. Bone Broth
You may have seen your favorite health bloggers sipping on homemade bone broth recently, but this trend actually has a ton of scientific proof behind it. Bone broth is filled with vitamins and collagen, and its nutrients can also help reduce inflammation in the gut, which often leads to weight loss. By healing the gut and filling our bodies with good bacteria, bone broth can make you less bloated, be better protected against sickness, and promote fat loss in the body.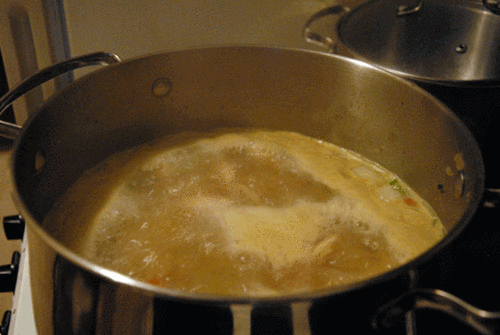 5. Eggs
People used to think the cholesterol in egg yolks would make you fat, but actually the opposite may be true. The egg yolk myth started decades ago, but it turns out we were wrong back then and we're like, much smarter nowadays (cue the video of people eating Tide pods in 2018). Eggs are packed with protein and vitamins, and the cholesterol in the yolk has no real impact on cholesterol metabolism in your body. Some evidence even shows that eggs may raise levels of HDL cholesterol in your body, which helps prevent heart disease. The protein and healthy fat combination in eggs will keep you full for longer and have been linked to fat loss, so like, it may not help you burn fat as expressly as some of these other fat burning foods, but eggs may help you lose weight overall. Bottom line, you can stop pretending you like egg whites.

6. Anything Fermented
Fermented foods, like sauerkraut, Kombucha, kimchi, kefir, tempeh, and miso are all foods that could majorly help your body burn fat. This comes back to the whole idea of the good bacteria in your gut. By improving your gut health, you help your digestion work better and boost your body's immunity. Nobody's promising that if you start drinking Kombrewcha you'll lose three pounds overnight, but these foods are super healthy for you and they just get your system working better, which could very likely help you lose fat, as long as you're not like, eating the sauerkraut on a hot dog. You're on your own in that case.

Images: Trang Doan / Pexels; Elle Hughes, Charisse Kenion, / Unsplash; Tiburi, Edwina MC / Pixabay;  Giphy (2)
How To Get Amazing Abs In Time For Summer
Abs have been a hot topic for a while now, so let's talk about them: what they are, how to get them, and like, if we even want them. (The answer to that last question is an obvious yes.) Getting abs became trendy in the early 2000's around the time when people started to realize they wanted J.Lo's six pack instead of Mary-Kate Olsen's emaciated rib cage. Then, the ab crack suddenly became the new thigh gap of the internet and we started Googling shit like "Khloé Kardashian workout routine." All of this important history brings us to today, where we're left staring at our SoulCycle instructor's chiseled stomach and wondering how many calories were in that bagel we ate earlier. If you're looking for some real info, it's time to get some facts straight. Having good abs is more than just a flat tummy—as Meek Mill once said, there's levels to this shit. Meaning, there are a lot of different parts of your abs and you can't just do one exercise to tone all of them. So here's the deal with all your various ab muscles and what exercises you need to do to get amazing abs all over.
That Line Down the Middle
What is it? You may know this line down the middle of the stomach area as an ab crack, which is unfortunately not a drug you can take to get abs. But if our dealer was selling that, we'd save so much on groceries. Anyway. The ab crack isn't actually a muscle and so it doesn't get a real name, but the best way to get it is by having good genes and doing basic toning exercises. Genes are a huge part of it, and some people can have like, no body fat and a strong core, and still not have that line. We're all built differently, so let's work with what we've got.
How do I get it? Planks. It may sound basic AF, but planks are an amazing way to target the entire front of your core, so stop overthinking fancy and complex exercises and start planking. If you're a beginner, start on your hands, but starting on your elbows really targets the muscles better. Basically, you want to start face down with your forearms on the floor and your knees raised up so that only your toes and arms are touching the ground. Make sure you're contracting your abs and not sticking your butt in the air, or else you're literally doing nothing. Also, make sure to keep your back as flat as possible the whole time. Hold for anywhere from 30 seconds to two full minutes. If you're respectively psychotic and you're looking for an added challenge, try doing your plank in a TRX suspension trainer at your gym—if you don't even know what that is, it's best to stick to the regular planks for now.

Those Side Lines
What are they? The "side lines" you see all over Instagram during bikini season (probably while fake laughing on an inflatable swan in East Hampton), are actually called your obliques. Obliques are the most superficial muscle out of the muscles in your abdomen, which means they look hot but actually don't help you that much in terms of being strong as fuck. But who cares about strength? They'll look hot in your Instagram pics.
How do I get them? Russian Twists. There are tons of exercises that target your obliques (others include bicycles and side planks), but Russian twists are really the most effective way to tone those side muscles that look so good in a crop top or one of those slutty cut-out one pieces. Start by sitting on the floor with a weight in your hand (think anything from 8 lb to 15) and your feet slightly raised off the ground. Your legs should be bent at your knees and your upper body should be elevated to create a folding V shape with your legs. Move the weight from one side of your body to the other, ideally touching the weight to the ground on each side of you during every rep. Do this for 30 seconds to a minute, then rest for a few seconds and repeat again. It might hurt when you laugh tomorrow, but in that case I guess it's a good thing we have permanent RBF.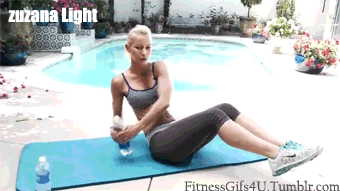 That V-Shape At The Bottom
What is it? No one would ever comment on an Instagram pic to compliment someone's lower abs, but like, why not? That shit is really hard to achieve and honestly I could use a post-workout snack just thinking about all that work. Working your lower abs is super important even if you don't necessarily want chiseled abs because it will help eliminate love handles in the process (but obviously stop eating those double-stuffed Oreos first.)
How do I get it? Well first before anybody asks, you do NOT need to become a man (or Terry Crews) to get the V-cut thing; that was just the best (read: hottest) picture I could find. Anywho. Leg raises. This move looks super easy when you see someone doing it, but once you start, you'll be crying pretty fast. Lying on the floor, place your legs straight out in front of you and your hands on the ground or under your lower back if you're prone to lower back pain. Lift your legs up, keeping them as straight as possible with your knees slightly bent until they make a 90-degree angle with the floor. Hold the contraction at the top for the second, then SLOWLY lower your legs down to the floor in front of you. You'll want to make sure you use a mat to protect your tailbone and stop fucking holding your breath. Seriously, what is it with people not breathing while working their abs? You're not underwater and people around you are starting to get worried.

Inner Core Muscles
What are they? The workouts we've discussed so far will all help tone your abs, but as we mentioned earlier, your core muscles go much deeper than you realize, so you should prob be working those inner layers too. A lot of people get caught up in working the area around their stomachs, but they don't realize that most of your core stability comes from your lumbar spine and lower back area, so try hitting those muscles too if you care about really strengthening your entire core area.
How do I get them? Superman lifts. Everyone has these inner core muscles, but they're pretty weak if you don't work to strengthen them, and Superman lifts are the best way. Lie face down on your stomach with your arms and legs extended and keep your neck in a neutral position. Then, keeping them straight and your torso tight, lift your arms and legs toward the ceiling, arching your back and getting your hands and feet like, five inches off the floor. Hold for a couple seconds at the top and then lower back down. If you're doing it right, you'll feel like an idiot. Try doing 10-15 reps before the embarrassment takes over resting and then repeating again.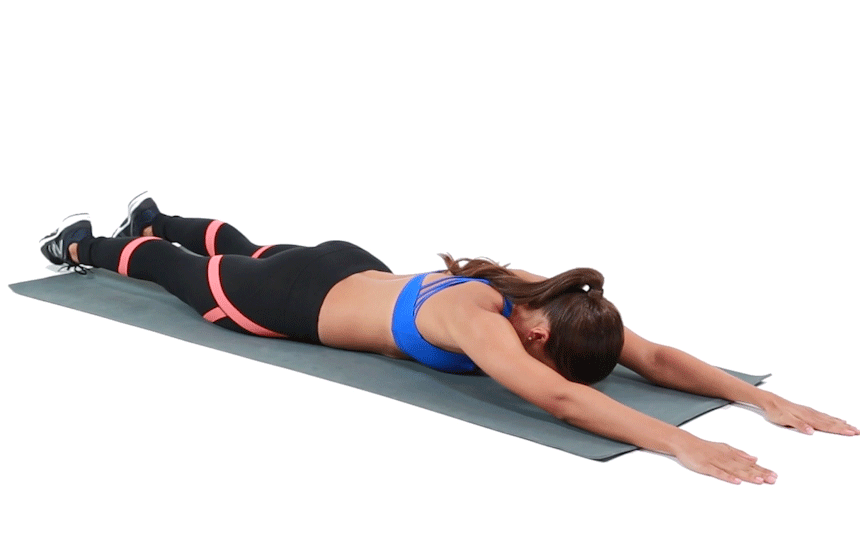 I know it sucks to spend extra time at the gym to do some work that's low-key good for you, but you stuck around last week for like, 15 minutes to find good selfie lighting, so we're gonna assume you have the time.