This TikTok-Approved Tool Will Literally Make You Look Like a Newborn
Betches may receive a portion of revenue if you click a link and purchase a product or service. The links are independently placed and do not influence editorial content.
Let's face it, we've all woken up in the morning and been like "WTF happened to my face!?" I know I have at least. Whether it's the sodium from the sushi I ate the night before, or if I had one too many espresso martinis at dinner, the puffiness in my face shows all the evidence.
I've tried ice rollers, gua sha tools, and everything you can think of to get my face back to its more chiseled natural state. And as I'm itching closer to my 30s, anti-aging tools and treatments have peaked my interest. That's why I love the NuFACE Trinity Facial Sculpting Device.
It feels like a new and buzzy beauty product drops every second—literally. But, there are a few superstars that tend to stand out from the crowd, and this is one of them. Let me be clear—it's not new. But it's gained tons of popularity thanks to TikTok for its firming and lifting powers.
The NuFACE is a microcurrent-powered tool that lifts, contours, and can even help improve your overall skin tone. All you have to do is apply the hydrating gel that comes with the device and get to sculpting. The NuFACE operates on three different intensity levels, and while it's not painful, you can feel it doing its thing to get you snatched.

The brand suggests using it five days a week for the first 60 days for at least five to 20 minutes on each area you want to focus on. After that time's up, you can cut down to two to three times per week. So, whether you want to get Bella Hadid level cheekbones, a jawline sharper than a knife, or a tighter neck after all that texting and scrolling you've been doing, it can help.
And, don't get me wrong, I love getting a little Botox here and there, but having a daily maintenance tool on hand is the icing on the cake. For extra firming power, you can also add in the NuFACE Silk Creme Activator, as a post-sculpting session moisturizer. Since NuFACE has updated the Trinity in the past, we're sure that this won't be the last version we see of it either.
It'll cost you a pretty penny, though. The kit including the device, primer, charger, and holding stand retails for $339 on Amazon. But, compared to the price of injectables, which can cost you an upwards of $1,000, we'd say it's worth it.
So, instead of freaking out the next time (or first time!) you spot a wrinkle or crease on your forehead, under eye area, or around your mouth, consider easing those nerves with the contouring powers of the NuFACE Trinity. It'll get you looking like a newborn in just two months time.
WTF Is Red Light Therapy & Should You Try It?
It's no secret by now that I'm a fan of high-tech beauty hacks. So when I was offered the chance to write about red light therapy, I dove in—despite having absolutely no idea what it was. 48 hours later, I'm semi-seriously considering taking out a loan to buy a Joovv Elite and converting a wall of my (tiny) apartment into a red light therapy studio. (Don't worry, I'll explain what a Joovv is, my uninitiated friends.) But first, a rundown of WTF red light therapy actually is, how it works, and how quickly whether you should do it. 
What Is Red Light Therapy?
Red light therapy is, in the end, very much what it sounds like: a form of therapy for your body using red light. To be more specific, using wavelengths of red and near infrared light, and to be psychotically specific, using red light "in the mid-600 nanometer range" and near infrared light "in the mid-800s." (You do not need to understand these words in order to reap the benefits. But should you, for example, have a very irritating boyfriend who demands to know the science behind all your beauty treatments, you can now cite those numbers for him.) These wavelengths penetrate "roughly 5 millimeters below the skin's surface," stirring up all kinds of sh*t in your cells without damaging the surface of your skin. A win in my book.
How Does Red Light Therapy Work?
The reason such specific wavelengths are required is that you're going after a very specific effect: to strengthen the mitochondria in your cells. I've been waiting my entire adult life to use this fact that I learned in middle school, and here it is: the mitochondria is the powerhouse of the cell. Unfortunately, my understanding never went far enough to know what that means, so I dove back into my research. According to Healthline, the mitochondria creates energy, or energy-carrying molecules called ATP (adenosine triphosphate. Do I have a PhD yet?). When red light stimulates the mitochondria, it creates more ATP—and with more ATP, cells have more energy to get sh*t done.
can you imagine falling in love with someone who doesn't know that mitochondria is the powerhouse of the cell

— keely flaherty (@keelyflaherty) March 24, 2018
What Does Red Light Therapy Do?
To get a more nuanced view of red light therapy's effects, I spoke to Lindsay Malachowski, the Director of Operations at SKINNEY Medspa. First, I ran the effects I was most hoping were true by her: the wonders red light therapy is meant to perform for your skin. According to Joovv, a company offering at-home red light therapy devices, RLT is clinically proven to boost collagen production, reduce inflammation and redness, and improve the appearance of wrinkles. (I am aware that clinically proven implies there are clinical studies I could read. I prefer a more human approach.) When I asked Malachowski about these claims, she confirmed them as true—with some caveats.
Red light therapy, Malachowski explains, is "the most gentle form of photodynamic therapy:" AKA it's effective, but not going to get you the most dramatic results. Because it's LED rather than laser, and doesn't work directly on the surface of the skin, it provides less "significant changes" than a laser treatment like Fraxel or IPL. That's not to say RLT is useless—Malachowski specifically states that it's an effective treatment to reduce redness, inflammation, breakouts, and eczema, with the added benefit of having no downtime afterward. Finally, while she affirms that red light therapy "does stimulate collagen," she notes that here, too, it's not the most dramatic treatment available on the market. (For that, she recommends non-invasive ultrasound or radio-frequency like Ultherapy.)
When I next asked Malachowski about red light therapy's weight loss and fat reduction effects, she was notably less enthusiastic. According to her, there's "little scientific evidence" supporting those particular claims. She doesn't have much more to say about that, except to recommend CoolSculpting or EmSculpt to those looking for those results.
When I spoke to Joovv's cofounder, Scott Nelson, he directed my attention to a whole other side of red light therapy benefits: namely, those that don't immediately appear in the mirror (sue me, I'm vain). When I asked which groups of people would benefit most from red light therapy, he mentioned immediately that it can lead to "better-looking skin," but he also mentioned people suffering from joint pain, trouble sleeping, or struggling with muscle recovery. He also mentioned that "elite athletes" use red light therapy to achieve "that edge" when it comes to increasing their performance or cutting down their recovery time. For what it's worth, Joovv's clients do include pro athletes Zach Johnson, Anthony Pettis, and Duncan Keith. As for better sleep, he says that using red light therapy "on a regular basis" will quickly improve sleep quality and REM cycles.
So, Where Do I Get It Done?
Good question! Certain salons and spas offer red light therapy treatments, including SKINNEY MedSpa. (It's not offered as a service on its own, but it's a 20-minute portion of their Hi Tech Facial, and they also offer it after Botox, filler, and Fraxel treatments to speed up healing.) Other treatment settings might include lying in a red light therapy bed for 20 minutes, offered by aesthetician Mzia Shiman in NYC.
If you're looking for an at-home version (a phrase I've always personally been happy to hear), Joovv sells red light therapy devices in sizes ranging from purse-friendly to a six-foot-tall wall-mounted model. For these, Nelson recommends a daily treatment of 8-10 minutes, standing three to six inches from the device. When I asked how quickly you saw results (I'm impatient, okay?), he let me know that effects like pain and inflammation relief could be seen in a single session. Effects on the skin, however, would take up to 4-6 weeks of daily treatment.
So, will I be marching out to begin my 4-6 weeks of dedicated red light therapy? Honestly, definitely, but I'm not a hard sell on products that promise to solve all my problems. While experts may not agree on all the effects of red light therapy, there does seem to be substantial scientific evidence that it's a useful treatment for skin quality, pain relief, and improved sleep. Other claims you can test for yourself, and write blog posts about if you so choose. But if this treatment is even half as effective as the clinical trials supporting it would suggest, I'd say it's definitely worth a shot.
Images: @skinneymedspa, @jolenegoring / Instagram; @keelyflaherty / Twitter
The Treatments Behind Celebs' "Natural" Beauty That Nobody Talks About
In 2018, we've definitely noticed that the way we use makeup is changing (unicorn brows, anyone? JK, this trend made my eyes bleed). Specifically, we've seen a lot more honesty from celebs and normals alike about how much of a role makeup plays. Think: Kardashian-esque contouring, YouTube beauty tutorials, #nomakeup selfies. And often, it's been empowering to watch people openly celebrate both natural looks and the transformative power of makeup. But recently, the tone has shifted. While the idea was once more "everyone has flaws and that's ok," it's now about having such naturally perfect features that makeup would only detract from them. These treatments are typically semi-permanent (aka not a full nose job/brow lift—so '90s), always expensive, and basically give you an Insta-filtered face. Here are some of the semi-permanent treatments celebs are using to get that perfect "effortless" look.
Botox/Chemical Peels
I'm lumping these two together, not because they're all that similar, but just because these are the beauty treatments we've all known about and made fun of since the '90s. Both treatments have gotten a lot more sophisticated—so the Samantha Jones raw meat face doesn't happen after peels anymore, and people with Botox can (kind of) still raise their eyebrows—but they're still the basic anti-aging treatments we all know and wish we could afford love.
Microneedling
Microneedling is a procedure in which a tiny needle pokes holes all over your face. (If you've ever used a dermaroller, it's the expensive version of that.) This then promotes collagen production as your skin heals, which reduces the visibility of fine lines, wrinkles, pores, and acne scars. You know, all the things that make you look like a human, which is no longer desirable. Treatments cost up to $1,000, but then your skin is as good as Kourtney Kardashian's. (You didn't really think it was her diet that made her skin good, right?)
Injections
Injections is kind of a vague way of putting this, but that's because injections can do so many different things. You can use filler to fix bad under eyes, smooth out your jawline and cheeks, and really just smooth out any imperfections you're worried about. While I'm certain that most celebrities over a certain age have had some sort of filler put in, some of the most vocal users are the cast of Vanderpump Rules. In fact, Lala Kent and Tom Sandoval recently took a joint trip, where Lala got something called "Diamond Facial Sculpting." (Fillers, but fancy I guess?) Lala says Tom was there for "moral support," but I swear I saw him in a chair in the background of her IG story. Hard to believe Sandoval would willingly skip out on a beauty treatment.
Laser Treatment
No, I'm not talking about laser hair removal. (Though I'm certain that any celebrity who's ever worn a bikini has gotten that too.) I'm talking about lasers used as facial treatment, which, like fillers, come in many varieties and have many uses. Basically, lasers can be used to fade pigmentation (*glares at rosacea-ridden face*), even out texture and tone, and basically act as "permanent concealer." MUST BE NICE. Both Kim Kardashian and Jhené Aiko have recently raved about their laser treatments—and if they're not #skingoals, IDK who is.
Microblading
This one is along slightly different lines, because it's not about skincare. BUT, now that we are officially living in the Age of Eyebrows, it's pretty freakin' important. Microblading is getting semi-permanent tattoos draw onto your brows with teeny tiny strokes that resemble real hairs. This then gives you the appearance of naturally full brows for roughly two years. It also costs around $1,000 upfront, plus a mandatory touch-up two weeks later. So yeah, I'll be getting that when I'm 70 and win the lottery, and will be drawing on my brows each morning until then. Irritatingly, I cannot tell you that celebs like Cara DeLevingne have used this treatment. Instead, it's a whole bunch of awfuls including Bella Thorne and Lena Dunham. Microfeathering is another version of this treatment, which basically just fills in instead of drawing you a whole new brow.
Do I have anything against these treatments, beyond the fact that I can't afford them? Yeah, a little. I definitely have a problem with celebrities who pretend they haven't had ANYTHING done. I respect their privacy and all, but I'm a grown-ass woman and I find myself getting upset about my own visible pores. This isn't something that bothered me even two years ago. But now, every picture I see on Instagram features skin that doesn't look like skin. And just a few years of being bombarded with those images has been enough for me to think there's something wrong with my face because of it. Which is all to say, I'm truly worried for young kids who are growing up surrounded by that kind of illusion, and not being repeatedly and aggressively told that it is, in fact, an illusion.
Ultimately, I think it's probably positive that these treatments are public enough that I can even write this article. Yes, the treatments themselves are becoming more mainstream. But the information is available—if you look—about why exactly these celebs can post #nomakeup selfies that make me feel like a garbage rat. Now if you'll excuse me, I'm going to start a GoFundMe because all these procedures cost more than my rent.
Images: drjasondiamond, thelipking, lalakent, jheneaiko, microbladingla_juliafaria / Instagram
What Is Toner, Why Do You Need It, & Which One Do You Need?
Let me start off by saying that I am not a skincare expert. I am just a 24-year-old human woman. One who discovered six months ago that my college skin care routine ("washing most nights, probably") was no longer going to cut it. I'm lucky enough not to deal with serious acne. But all the "minor" concerns (dullness, dryness, redness, inexplicable bumpiness)? You bet. SO, I did what all good shopaholics journalists do best: research. I went into a very deep, surprisingly Korean internet blackhole, and emerged with a four-step skincare routine. Cleanser, toner, serum, moisturizer. Duh. Of all these steps, toner was the one I resisted most—and the one I still find most confusing. Since I'm sure I'm not alone in this, I've written up my findings on this v important topic. What is toner, why do we all apparently need it, and which one is best? Please enjoy.
What Is Toner?
First and foremost, toner is very different than it used to be. The toner I remember from high school was glorified rubbing alcohol prescribed by particularly vindictive dermatologists. But today's toners are so much more. A good toner can help you even out texture and tone (duh), shrink the appearance of pores, and leave your skin super soft and glowing.  To get technical, one skin care specialist describes toner as a way to "complete the cleansing of your skin." Apparently, cleansers "can leave a film on your face" that toner strips off. Which really makes me question why I'm using cleanser in the first place, but k.
If you want a buzzier description of what toner does, Allure describes it as "a fast-penetrating liquid that delivers skin a quick hit of hydration and helps remove some dead cells off the surface of the skin." (Seriously, are cleansers removing anything?) And in case I have any toner nerds in the comments, I'll also mention toner's effects on pH level. Apparently, a good toner functions by resetting your skin's natural acidic pH. You can read more here, or just trust me that it means you'll look good and resist more bacteria. Two equally sexy goals, am I right?
Finally, what is toner actually made of? The general answer is water, plus some combination of acids, glycerin, essential oils, plant extracts, and more. Kewl. Some toners still contain alcohol, but it's not recommended unless oil is your main problem.
TL;DR: Toners are a water-based product will give you a more thorough cleanse, prep your skin to absorb your moisturizing products, and overall improve skin's appearance and texture over time.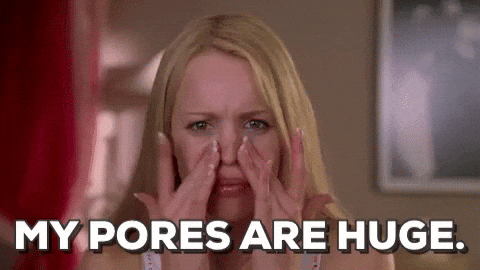 How Do I Use It?
You should think of toner as a chaser for your cleanser and a primer for your serum/moisturizer. If you're particularly anal, you should apply toner no more than 60 seconds after cleansing. Apparently, that's when your skin will absorb it best. After, you apply any serums/moisturizers/eye creams. My favorite explanation for how this works is given by Charlotte Cho, co-founder of Soko Glam. "Your skin is like a dried-up sponge," she says (adds up). "If you put thick cream on a brittle dry sponge, it won't accept it." If this doesn't make you spiral into self-doubt about every time you've put $70 moisturizer on your bone-dry face, congratulations. Can't say the same.
As for like, how do you literally put it on your face—you have two options. You can read the instructions on the bottle (some recommend cotton pads while others say to use your fingers).  Or you can really make a day of it and attempt to follow the K-beauty "7 Skin Method." I'd make a joke here about "who has the time for that," but I watched a full season of American's Next Top Model last weekend. I have the time for that.
Okay, What Kind Of Toner Should I Buy?
Now you're asking the important questions. The answer, of course, depends on your skin type. Generally speaking, Korean brands like Soko Glam will have great options, because their toner never went through the gross alcohol phase that American toners did. But beyond that, you should figure out your skin's needs (or see a dermatologist to find out) and pick ingredients based off that.
For sensitive skin, chamomile, aloe vera, and amino acids all help calm/soothe. Some good picks include Mizon Intensive Skin Barrier Emulsion and Exuviance Soothing Toning Lotion. For oily skin, alcohol will help kill oil and shine, but so does witch hazel—and the latter is less drying. Belif Witch Hazel Herbal Extract Toner is my personal fave, and Pixi by Petra Glow Tonic is another beloved one on the market. For dry skin, glycerin, essential oils, and rosewater are all key hydrating ingredients. Try the Klairs Supple Preparation Facial Toner or Caudalie Beauty Elixir. For dull, uneven skin, try Son & Park Beauty Water, which has both exfoliating and hydrating properties.
Oh, and whatever you do, stop buying Neutrogena toner. I usually love Neutrogena, but their crazy-drying alcoholic toners (yes, even and especially the "Alcohol-Free" toner) are the reason it took me so long to come around to real toner. I used that shit for two weeks and I may as well have been washing my face in Svedka. If you need any further convincing, take a look at their spokesperson. I rest my case.

That's all the wisdom I have today! But my recent skincare tear is showing no signs of stopping, so stay tuned for upcoming reviews of dermarolling, Hanacure, and how to file for bankruptcy when you've spent all your money on Korean beauty products.
Images: Giphy (2); sarah_glow / Instagram
Betches may receive a portion of revenue if you click a link in this article and buy a product or service. The links are independently placed and do not influence editorial content.