I'm Never Going Back To The Way Concerts Were Pre-Covid
One day, instead of war stories, we'll tell our grandchildren that 2020 was a year in isolation where we became dependent on video chats, TikTok, and making homemade bread. With bars and restaurants closed during quarantine, our lives stood in purgatory with strict stay-at-home orders that even celebrities couldn't escape. Artists such as Lady Gaga, Taylor Swift and Billie Eilish sadly (and rightfully so) canceled or postponed their shows until further notice (without a new date to plan an outfit for). With social media recently flooded with videos of crowded clubs and sporting arenas at full capacity, it's looking like the end of the pandemic is in sight. This also means that my FOMO is making a swift return. 
I took my first flight in over a year to Florida (which could be a whole other article), where my hotel, the AC Hotel Orlando Downtown, had its grand opening during the pandemic. Their rooftop bar has been selling out $1,200 tables (not including drinks!) and the sight of girls sorority squatting to snap that perfect rooftop Insta means that nature is healing, my friends.
The first night of my trip I went to a COVID-safe Foreigner concert and NGL, it was certainly an ~unprecedented~ experience. For one, the sitting area looks a bit like pig pens. Yes, I'm talking pigs on the farm swarmed by flies on a hot summer day, packed like sardines within metal bars. If you got too drunk at the show you won't have to worry about losing your friends since you — like these piglets — are confined in a metal pen. I'm actually squealing, because I low-key loved being in this pigpen. 
This contactless experience was a stroke of genius that really addressed the pain points of a pre-COVID concert. This should be happening everywhere, IMO. Let me explain why we should embrace the pig pens at outdoor shows and festivals post-pandemic.
Pushing Your Way Through Sweaty Crowds Won't Be A Thing
While I do low-key miss the too-close-for-comfort crowds at a concert and scrubbing profusely in the shower when I get home, that soon will become a distant memory. When you purchase your tickets online, you get to select the location of your pod—which contains five seats and a small table. A lot of outdoor concerts and music festivals are usually standing room only, so it's a game-changer when you can pick your seat before the show, and not have to worry about showing up hours before to stake out a spot. 
Forget Waiting In Long Lines For A Vodka Soda
It's about f*cking time that venues got with the times. Instead of waiting in line while missing your favorite song, you can download an app to order food and drinks that will get delivered directly to your pod. This is organization at its finest; whoever had this idea this clearly understood the assignment. So go on, buy as many beers and vodka sodas as you want… we've got lost time to make up for, and you don't have to worry about juggling them back to your seat.
You Won't Lose Your Friends In A Drunken Crowd
In the pre-COVID era, going to a music festival was a true friend test. Why? Because when the crowds rush in, that's the moment when you find out who is going to stick with you and who is going to leave to push their way up to the front. Being sober (or not drunk enough), when everyone around you is sloppy and spilling drinks, is basically its own level of hell. With each pod numbered, you won't have to worry about losing your friends. Guests aren't restricted to staying in their pod, but a mask is required to go make new friends out in the wild. 
There Won't Be A Random Tall Guy Blocking Your View
There's no buzzkill greater than when you get situated in a crowd (or have your lawn chair set up at an outdoor concert) and then some tall dude plants himself right in front of you. Like WTF man?! Then you're left watching the jumbotrons, which is better than nothing—but if I wanted to watch a concert from a TV screen I would have stayed home.  With the pod seating elevated off the ground, even people walking by won't get in the way. It's great to pick where you sit beforehand, and you definitely should splurge for that amazing view.
This pod philosophy obviously works and should be here to stay—long after the pandemic subsides. The new 'make out with random strangers' will be inviting them over to your pod. Will the opening line be 'Pfizer or Moderna?' Yikes. Maybe not. One thing that will make a comeback? Blurry IG Story concert videos. This is the one and only time we'll give it a pass. 
Image: Ibai Acevedo / Stocksy.com
I Was Sober At A Music Festival & This Is What It Taught Me
If you know me, you know that there are a few things I like in this world above all else: contemporary R&B, cheese, and partying. One of my favorite pastimes lately is day drinking. Does that sound concerning when I type it out? Yes, moderately. Cool, charging onward. I also love going to music festivals—I typically go to three or more a year. I know, I'm insane. How do I do it? No idea. I think it's a lethal combo of loving live music and hating myself, in order to willingly spend my money and PTO days getting f*cked up in a field, standing so close to speakers that the bass makes my insides vibrate. Hey, everybody's got their idea of a good time.
So I was surprised as anyone to find myself, at 10pm on Friday night at Shaky Beats festival in Atlanta, as Rüfüs Du Sol closed out day one, dead-ass sober.
*Record scratch* Yeah, that's me. I bet you're wondering how I found myself in this position. I'm about to tell you.
I guess, in order to really get the full picture, I have to back up a bit. The year was 2018. The weekend was Labor Day. The festival was Electric Zoo, one of my favorite festivals that I have been going to for the past three or four years. (I have lost count at this point.) Every year, I tell myself that I'm not going to do too many interviews and I'm just going to enjoy the festival, and every year, all three days, I get sucked into doing an interview at like, 7pm, which is prime festival time. Seriously, all the best acts start playing right at 7pm! Don't get me wrong, doing interviews is great; I get to meet and talk to artists like Alesso, Alan Walker, and Troyboi. But it also takes what should be a fun and relatively relaxing experience (going to a festival and writing about it after the fact) and makes it stressful: coordinating interviews, plus making it to the acts I want to see, plus simply giving myself enough time to maneuver through the crowds and make it to my interview slot in time.
And when you factor drinking into all of that, what should be a simple activity gains so many moving parts that it becomes like solving the Da Vinci code. Because I can't be drunk during my interview, but ideally I'd like to be a little lubricated so I'm not super self-conscious and awkward, but I can't pregame too hard, but drinks at the festival are absurdly expensive, and you can't pay for anything in cash, because the festival is cashless, so now I gotta make sure I have enough money on my wristband for a drink, and if I don't have enough I need to go to another kiosk to add money to my wristband, and…

You see what I mean? After everything was said and done, of course I had a great time at the festival, but I spent so much time running around, getting to my interviews, figuring out if I was too sober or too drunk, waiting on line to get a drink, etc. etc. etc-f*cking cetera, that I forgot to actually appreciate the fact that I was at Ezoo. It's funny, many people will regret how much they drank during the weekend (which I have done in the past and will likely continue to do in life, don't get me wrong), but after that weekend, I regretted how much mental energy I spent worrying about how much I was drinking and when I'd have another drink and from where I would procure said drink. To this day, I feel dumb and a little ashamed about it.
So when I found myself back at Shaky Beats, another one of my favorite festivals, in Atlanta this year, I didn't want that sh*t to happen again. I've become a little tired of drinking in general—the taste of most types of alcohol, the way beer makes my nose stuffy (which I suspect is some sort of allergy or intolerance but I'm too afraid of the consequences to get it checked out by a doctor), the way it zaps me of all productivity and energy the next day.
I didn't set out to be sober the first day of the festival, but found myself that way half on purpose, half by accident. I didn't pregame, which was by design. Drinking plus Atlanta heat equals total exhaustion, so I didn't want to drink until the sun went down anyway. Second of all, I told myself going into Shaky Beats that I was going to have a good time, and not worry about getting drunk or anything. I just took a "if it happens, it happens" type of approach towards drinking at the festival (one I should take to my love life as well, instead of this death grip I currently have on trying to control every interaction I have with a member of the opposite sex, but that's neither here nor there), rather than a "I will be bored if I don't have a consistent buzz the entire time" approach.
And you know what? At around 8pm, I still hadn't had a drink, and I really wasn't missing anything. I was, seriously, totally sober (not even uppers or weed!), and having a great time. Not to mention, I was 100% alert. And, like, why wouldn't I be having a great time? I genuinely enjoy the music (it's the whole reason I was at the festival), and could say I saw some of my favorite acts, like Big Gigantic, What So Not, and San Holo—and remembered their entire set. At that point, since the festival ended at 10:30pm (my only gripe with it, tbh), I just didn't see the point in drinking. Sure, I could have a $11 beer or whatever, but what would it do for me that I wasn't already currently experiencing? Nothing.

Contrast that to the next day, when I did decide to have a couple of drinks. Why? I don't know; I felt like it. And honestly? I just felt kind of off. Once the sun went down, I was like, two Mike's Harders deep and just overall in a weird mood. I can't describe it. It was maybe a mix of the alcohol and the knowledge that the festival was ending soon and I'd have to get on a plane the next day and go back to work that just had me feeling a little bummed out, in a way I couldn't put a finger on. Yeah, I still had a great time—I saw Party Favor, hands down my favorite act of the weekend; discovered Clozee, a French DJ who is getting added to my pregame playlist immediately; and got showered by glow sticks and confetti during Martin Garrix's headlining set—but I left the festival feeling kind of dampened. Drinking wasn't even really worth it.
Am I going to be sober forever? Probably not—recently, I was on day eight of a ten-day course of antibiotics and itching for a glass of wine at the end of a long day. But, as f*cking dumb and cliche as it sounds, I know for a fact now that I don't need alcohol to have a good time. Does it help sometimes? Yes, especially if I'm forced into a situation I don't like (see: birthday parties where I only know the birthday girl or boy). But at a place like Shaky Beats, when I'm with people I like, doing something I genuinely enjoy anyway? Except for the vague sense of ennui, it didn't add anything to the experience, and knowing that for the future feels kind of empowering.
Images: Katrina Barber
Why You Need To Start Planning For Labor Day Weekend 2018 Right Now
Last weekend The Betches took over Electric Zoo on Randall's Island. Perhaps you saw us on their Instagram story or just generally balling hanging out? IDK. Regardless, we're here for our usual post-event recap. Here's the best, the worst, and everything you missed. BTW, EZoo is returning for their 10th anniversary next year (fuck, I'm old), so start planning now so you don't miss out again.
THE BEST
The Music. Fucking duh. There were so many amazing acts, so brace yourself. We randomly wandered over to Slander and it was lit. Ok you know what I'm not going to sit here and be like "this person was great. That person was amazing" because there aren't that many adjectives in the English language. So here's our non-complete list of favorites: Ookay, Armin Van Buuren, Ghastly, Rezz, NGHTMRE, Jauz, Yellowclaw, Galantis, Seven Lions, Snails, Alan Walker, Above & Beyond, Slushii…okay I realize I'm basically listing the entire lineup. Whoops. Obviously you go to festivals for the lineup, and EZoo's lineup never disappoints. There's always so much going on, and something for everybody. Or at least, that's what I'm told. I don't really have that varied of music taste. Persecute me.
The Stages: The stages this year were really awesome. There was the Bollywood themed Elrow stage, the main stage looked like a giant elephant surrounded by a mini NYC skyline, one of the tents was decorated like the subway which gave me PTSD-like flashbacks to my morning commute delays but was overall cool. Once again, EZoo did a great job of making you feel like you were on a remote location in the woods somewhere even when you were in the middle of a city and could see the Costco on 117th street from the media tent.

The Food: I ate a total of one (1) meal at EZoo, which is more than I usually eat at these things #FestivalDiet. I had a sushi burrito, and it was good. No complaints. The line wasn't long, it wasn't absurdly expensive, it was solid. Did I love the cashless system? No. What's the point of waiting on a line to put money on my wristband with my credit card when I could just use my credit card? I don't know. But at least this year they didn't have that ridiculous EZ Bucks conversion system. Me last year trying to figure out how much money shit actually cost in real money:

The Lounges: It's always nice to be able to retreat to somewhere a little more private that serves hard alcohol, and the China Town and Little Italy sections were just that. It was a nice reprieve, and the New York tie-in was cute.
The Crowd: Every year I tell people I'm going to EZoo somebody inevitably asks, "Ew, isn't that for 16-year-olds?" And the answer is no. Overall the crowd is a little bit older since you at least have to be a legal adult to attend, and overall everyone is more chill. There's not very much pushing to get to the front even though it's the headlining set and we're all packed in like sardines and if you wanted to be upfront at Kendrick, you should've gotten here three hours ago like the rest of us, TREVOR. There's a lot less of me questioning my own life choices and wondering if I'm getting too old for this (answer: never). Everyone we met was friendly and cool and hopefully it stays that way.
THE WORST
…Nothing tbh. "Worst" is a strong word. Honestly aside from having a personal vendetta against "cashless" systems, the one gripe we had was security. It was all just very confusing. The first day they took away my empty stainless steel water bottle, and that was v personally upsetting. The next day, they let my brother keep his (those bitches). They also took my friend's empty clear plastic water bottle. That was annoying. But like, I get it. They're just trying to make it safe. But still, I want my water bottle back.

You'll notice I didn't have many complaints about EZoo, and my mom and my last boyfriend will tell you that's fucking saying something. We really had no ragrets this year. Sorry if you have FOMO now but at least there's always next year—and you know they're going to pull out all the stops for the 10th anniversary.
What To Bring To A Music Festival So You Don't Die Before The Headliner
I love music festivals more than the average person. Any place with good music, drinks, and slutty fashion-forward attire is like, my second home. I've honestly been to way too many to count, so I'm like, a pro. In a way, they're as close to Survivor as I'll get, being that they almost always take place on some island. Most venues are super strict with what you can bring in because NGL, a lot of idiots think these events are a great time to start a drug ring. Not only are you limited, but you don't want to bring too much because who the hell wants to dance with a fucking backpack for hours, anyway? So, if you've ever been to one of these overpriced Coachella imitations, you know the only thing you could probs bring is your phone, sunglasses, and cash. Have to break a seal? Good thing you paid a million dollars for a germ-infested port-a-potty. Feeling dehydrated but don't want to pay $20 for a water bottle? Sucks to suck. Since Panorama is literally this Friday, I've come up with a list of what to bring so you're not feeling (or looking) like a hot mess all weekend.
1. A Small But Cute Crossbody

Chances are you can't bring a big AF bag anyway so, you want a small trendy crossbody that's comfortable to wear all day long and can also fit all your shit in it. The Rebecca Minkoff Mini Mac in Black has enough room to fit your phone and other must-have essentials. If you manage to keep it together all weekend, aka not lose this, you can even use this as your new going out bag.
2. Ear Plugs

By the time you leave, you will seriously be deaf. You'll be screaming to your friends, thinking that it's totally the normal volume. I'm telling you rn, it's not. You will hear ringing for at least the next day or two so, try not to lose your sanity. If you still want to hear the crisp sounds of the music without possibly going deaf, consider packing small light ear plugs like DownBeats Reusable High Fidelity Hearing Protection Ear Plugs.
3. Portable Phone Charger

Your phone will die, or come very close, a whole fucking lot. So, Snapchatting excessively will seriously take a toll. Either cool it with the snaps because no one wants to watch your minute-long story anyway, or invest in a portable phone charger. The PhoneSuit Flex XT Pocket Lightning Charger is probs the smallest charger ever. You can use it with or without your Kate Spade case every time your battery runs low without missing the show.
4. Travel Size Emergency Kit

These fucking adorable and convenient kits are basically lifesavers in a bag you can buy. Find one that has all of the essentials you'll need for any slight inconvenience. The Pinch Provisions Festival Aid Kit comes with travel size sunscreen, flushable wipes (BLESS), deodorant towelettes since you'll most likely be roasting, and like, so much more. The company also has a bigger version with even more necessities including a rain poncho, tampon, and blister balm. If only they had one for my life (i.e, drunk text remover, blackout radar…etc.)
5. Refillable Water Bottle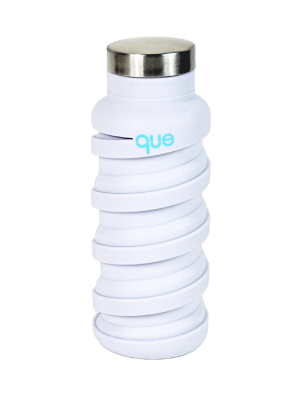 If there's anything you take away from this article that I spent too much time on for you to ignore, it's that bringing a refillable water bottle is crucial. One, because you will be under the sun for long periods of time and if you're drinking, you'll probs forget to eat. Two, because why pay for water when most festivals have hydrating stations?! If you bring your used Fiji or Life water bottle, you're more likely to lose it and/or toss it all together. Because lugging around a Camelbak doesn't sound appealing either, opt for a que Bottle that collapses to half its size so you can tuck it away when you're done.
How To Recover From A Festival When Taking A Sick Day Is Not An Option
If you've scrolled through Instagram recently or walked through Penn Station wondering if there's an LF convention in town, you're well aware that festival season has begun. If you just got back from Gov Ball and you're wondering how to cope post-festival, we've got you covered. From the shitty alcohol you snuck in a Poland Spring bottle to the French fries stand you just had to stop by in between artists, you feel pretty shitty right now and we're here to help. Here's how to undo the damage from a music festival:
1. Get A Good Night Of Sleep
This should be obvious, but in case you somehow feel the need to rally and go out the night after a music festival because you literally can't stop won't stop, we're here to tell you that you should actually stop. At least for a couple days. By catching up on sleep and getting your body back on a normal sleep cycle, you'll find that you'll start feeling better without any crash diets or excessive amounts of coffee. Plus, it's been proven that more sleep prevents you from craving fattening foods, so you're basically dieting just by cancelling plans and going to sleep a bit earlier. You're welcome.

2. Eat Frequent Mini-Meals
If you're feeling bloated or nauseous from indulging in fast food or salty snacks after a festival, try eating small, frequent meals for a couple days afterwards. Instead of eating three meals a day, break up your meals into 5 or 6 different ones to keep your metabolism moving and help get your digestion back on track. Your metabolism speeds up when you consume mini-meals throughout the day, so you're helping your body recover naturally by keeping it as active as possible after you've been treating it like shit all weekend.
3. Go Do Cardio
No, really. Go. Not only does getting a good sweat feel amazing, but it actually helps you recover from all of the alcohol you've been consuming. When you do a spin class or go for a run after a weekend of drinking, not only is your body burning calories, but it's also literally sweating out the alcohol that's still in your body. So, if you start smelling vodka mid-SoulCycle, just try your best not to vom before arms and know that you're doing something right.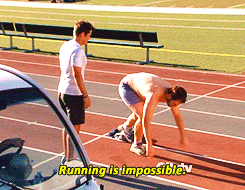 4. Take Biotin
There are few occasions where betches depend on supplements, but if your nails, hair, and skin need some serious TLC after a festival, biotin is literally your new best friend. Biotin is a natural supplement that helps strengthen your nails, fix your damaged hair, and help hydrate your skin, so after you've been outdoors being bounced around on the shoulders of some ratchet denim vest, you'll need some of this. Stock up and thank us later.
5. Eat Whole Foods
There's no detox in the world like REAL food, so skip the diet teas and the artificial 100-calorie packs, and eat real, whole foods. We're referring to anything along the lines of vegetables, whole grains, fruits, nuts, and lean proteins. Try to limit processed foods like cereals, bars, and packaged snacks for a few days, and you'll see a huge difference in your body, skin, and overall energy levels. People will start asking if you just got back from Gov Ball or from some spiritually cleansing exotic yoga retreat.

6. Aloe Vera & Cool Showers
One thing people tend to forget about music festivals is that they're outdoors in the brutal summer heat, meaning you will get sunburned. You might have ordered your flower crown online a month ago, bought your homeless-looking denim shorts two months ago, and stocked up on chasers all week, but you obviously neglected to wear sunscreen, and you're currently dealing with the painful consequences. The best things you can do right now are just to take cool showers, smother your body in aloe vera, and keep telling everyone how good you'll look when it fades into a tan.
5 Signs It's Officially Summer
Memorial Day weekend is upon us which we all know is the "unofficial" start of summer. Why is it not the official start, though? The weather is nice (when it's not pouring all day), day drinking season begins, and everyone starts wearing less clothing. Quit trying to fool us, inventors of the modern-day calendar. We all know it's not really spring rn. Aside from the arrival of that holiday everyone confuses with veteran's day, here are some more signs summer is upon us.
1. Fuckboys Get More Bold
If you're noticing you've been getting cat-called more than you're used to, it's not because you're crazy. It's because with warmer weather and shorter hemlines come bolder fuckboys. Summer might as well be called "Hey cutie! Loving that sundress! …Oh okay fuck you then bitch, acting like you didn't hear me? You're ugly anyway" season. But I guess just calling it "summer" is a lot more succinct.
2. Unnecessary Wine Trends
I don't know what it is about the summer, but every year it's like everyone just suddenly discovers wine once late May hits. Newsflash, sheeple: Pink wine has been around all year. I would know this better than anyone since I visit my local wine store on a weekly basis. It's been there the whole time. All the dick riders will suddenly be posting #RoseAllDay and Champagne pics or Snapchatting sangria, when those of us who are ride or die for our wine just roll our eyes.

3. Pool Floaties Everywhere
I hoped we would have left the pool floatie trend behind in 2016, but much like Donald Trump's political aspirations, that shit is here to stay no matter how much evidence points to its detriment to society. Pool floaties are already popping up on my Instagram feed despite the fact that there's been like, maybe three whole days so far when it's actually been nice enough to go to the pool. Last year it was swan and unicorn floaties; who knows what this year will bring? Mermaids? Unicorn Frappuccinos? Whatever it is, it's going to be everywhere and it's going to be horrible.

4. Your Desire To Do Work Is At An All-Time Low
You know it's summer when your desire to do work is even lower than it is normally—you didn't think that was possible, but somehow it is. And who can blame you? It's nice outside, the air conditioning is blasting so high you might get frostbite, and there's tons of fun shit happening outside. Like, for instance…
Since I'm not convinced that non-wizards are actually able to get tickets to Coachella (and take off of work in the middle of March), Governors Ball is the official unofficial start to festival season—and by that logic, the summer. If you're not going to Governors Ball, get your shit together, Carol! Governors Ball is one of the best festivals in New York City. It's on Randall's Island which is within walking distance to most NY millennials aka those of us who live in Harlem or Queens. And none for Brooklyn, bye. JK but there are tons of travel options (like a Williamsburg shuttle for you bougie hipsters) to make it easy for you to get there.
As far as lineup goes, it's lit. (Yes I'm aware that "lit" is over. I don't care.) For your rap-loving friends aka your white friends who are gonna try to rock cornrows (don't let them), you've got A$AP Ferg, ScHoolboy Q, Danny Brown, Rae Sremmurd, CHANCE THE MF RAPPER, FUCKING WU-TANG CLAN, and more. Sorry, I need to pop a Xanax before I continue because I'm just too fucking excited. For your EDM friends who are probably crying over the cancellation of EDC NY, you've got acts like Marshmello and Flume. There are other artists who don't fall into either of those categories, such as Phoenix, Lorde, Tove Lo, and honestly that's not even the half of it. Check out the rest of the lineup here because I don't have enough space and if I get any more excited I may give myself a heart attack.

There's also going to be amazing food there (if you actually eat at festivals). Remember DŌ, that viral cookie dough place? They will be there so you can finally get a taste without waiting on a three-hour line. Uma Temakeria will bring their sushi burritos, so you don't have to choose between eating something healthy or filling. And yes, there's plenty of vegan, vegetarian, and generally annoying options for all you hipsters who somehow got misdirected to this site and are reading this right now. (Hi.) Check out all the Governors Ball food options here.
I'm sure I've convinced you to buy your Governors Ball ticket, but you need to act quickly. Get your credit cards out, because Friday and Saturday day passes are already sold out! Sunday passes are expected to sell out soon, so seriously, buy it now. Or just buy a 3-day pass so you don't have to choose which day to go. Buy your ticket here, and we'll see you there.
This Is How Many Times You'd Have To Stream Ja Rule's Music To Save Him From This $100M Lawsuit
As we all know by now, Ja Rule is in a bit of legal trouble due to the fact that his "luxury music festival" turned out to be turned out to be more of a Lord of The Flies type situation wherein rich millennials were trapped on an island for days with no food or water. And as funny as it was to watch these influencers struggle to come to terms with the fact that they just paid $12k to live in a FEMA tent, we all knew that soon enough these privileged millennials would come home and do exactly what rich white people do best: sue the shit out of everyone involved.
Yesterday Ja Rule and Billy McFarland, the Fyre Festival "organizers" (can you be called an organizer if you failed to organize anything?) were slapped with a $100 million dollar lawsuit alleging the festival "fell dramatically short of even the most modest expectations."
Way harsh, Tai! But also like, 100% fair and accurate.
So like, let's say this lawsuit is successful—and it probably will be given the fact that the festival was advertised as a luxury weekend away with models and turned out to be a 48 hour nightmare with feral dogs—wtf is Ja Rule gonna do? Does he even have a million dollars at this point, let alone a HUNDRED million? I mean, how much did he get for that Hamilton Mixtape track? Will the Fyre Festival really be the end of Murder Inc?
Not necessarily! You, yes you, can help to save Ja Rule from bankruptcy, and by proxy allow Ashanti to work another day. And all it'll take is $9.99 for a Spotify Premium subscription. Then all you have to do is listen to Ja Rule, and only Ja Rule, and he'll collect the royalties.
Let's break down just how much Ja Rule you'd have to listen to in order to pay off his legal fees. So, according to Spotify, artists make between $.006 and $.0084 every time a person streams one of their songs. Let's assume that Ja is making the upper half of that, because he's like, fairly famous. In order to earn him $100 million, you would have to:
1. Listen to "Mezmerize" 11,904,761,904 times.
For those of you not used to such large numbers, that's eleven billion, nine hundred four million, seven hundred sixty one thousand, nine hundred and four times.

But if listening to the same song over one billion times isn't your style, you could always…
2. Listen to his highest selling album, Pain Is Love, 744,047,619 times.
OR if you want to make sure you get all the good stuff (aka the stuff with Ashanti) you could always mix it up and…
3. Listen to all 17 of his singles 700,280,112 times.
OR, if you've got a low attention span and really love Ja Rule you could always:
4. Listen to Ja Rule's entire discography 104,160,000 times.
So get listening guys! This is going to take 3 billion minutes to complete.
And just in case you're not convinced that Ja Rule is just a patsy who lent his name and maybe a check to this festival and had no involvement in the actual planning of it because he was just roped into this mess—and is therefore extremely worthy of saving—look no further than the following gif for evidence:

SAVE JA. It's on all of us. That is all.
Fyre Festival Is Being Sued For $100 Million And Here Are All Their Bullsh*t Apologies
Well, we all knew it would happen eventually. The organizers of Millennial Hunger Games, aka Fyre Festival, have been hit with a $100 million lawsuit, which seems appropriate given that $100 million is approximately the price of one ticket to the festival. The lawsuit, filed by Fyre Festival attendee and Rich Dumbass Who Was Stupid Enough To Buy Tickets To A "Luxury Music Festival" Daniel Jung alleges the festival "was nothing more than a get rich quick scam from the very beginning" and that the organizers (lol Ja Rule and Billy McFarland) "intended to fleece attendees for hundreds of millions of dollars by inducing them to fly to a remote island without food, shelter or water."
I mean, yeah, sounds about right.
Given that whoever is responsible for this (Ja Rule and Billy McFarland) are basically in deep, deep shit, you'd probably not be surprised to hear that anyone even remotely connected to the festival has been rushing to Instagram to deliver their half-apologies and let you know that it is definitely, 100%, not their fault that all those rich people got stranded on an island with no water.
Now, I think I speak for those of us who were never going to Fyre Festival because we don't have $12k just lying around to go on a Snapchat vacation when I say that this whole thing was a delight to watch. I truly have not felt this level of joy and camaraderie since my second grade class collected enough cans to win a pizza party. I had often dreamed of a world in which social media influencers would be rounded up and sent to a sandbar in the middle of the ocean where they'd be forced to fight for increasingly scarce resources, and this weekend we came closer to that dream than I'd ever imagined possible. Thank you Ja Rule. Thank you Bobby McFarland. If you go to jail for this, I will write you faithfully every day.
In honor of the wonderful disaster that was Fyre Festival, here is our ranking of Fyre Festival apologies, from most to least likely to ever live this down.
5. The Government Of The Bahamas
As soon as social media started realizing that Joanne The Scammer has pulled what was perhaps her most incredible scam yet, the government of the Bahamas was out here letting everybody know this shit was not their fault. In a statement posted to their website, The Bahamian government offered a "heartfelt apology to all who travelled to our country for this event," but also shadily added that the "Ministry of Tourism is not an official sponsor" of the event, which is basically the diplomatic version of saying "don't @ me." Luckily for The Bahamas, I have a feeling this incident will have very little effect on future influencers travelling there in search of Instagram likes.
4. Bella Hadid
Wayyy back in December, when the Fyre Festival disaster was just a glimmer in Ja Rule's eye, Bella Hadid and a number of other models were flown out to the Bahamas to shoot an extremely glamorous promo video, made specifically to entice rich boring people to buy tickets to the fest in hopes that they could live the "Bella Hadid on a boat with her friends" lifestyle. Now that it turns out the whole event was less Bachelor In Paradise and more Survivor: Millennial Vs. Millennial, Bella has come out hard making sure that everyone knows that she is both sorry that people got trapped on an island with no food or water, and totally free of fault. Well played, Bella. I think it's safe to say that people know that you had nothing to do with the planning of this festival, but just make sure the next time you agree to sell something on Instagram that thing doesn't result in the world's first influencer refugee crisis.
— Bella Hadid (@bellahadid) April 29, 2017
3. Kendall Jenner
Kendall Jenner has not apologized and will never apologize. Not for Pepsi. Not for this. And not for just standing around while her younger sister injected herself with so much silicone that her face is going to fall off before she turns 30. It's not Kendall's job to give a fuck about what she sells on Instagram, it's all of our jobs to wonder why we're spending thousands of dollars on something that Kendall Jenner promoted on Instagram. Kendall Jenner doesn't need to apologize to us. We should be thanking her for helping to shine a light on just how fucking stupid social media makes us all.

2. Billy McFarland
So before we even go into his legitimately hilarious apology, you should know that Billy McFarland is a Silicon Valley guy whose previous claim to fame was founding a company called Magnises (which appears to be a contraction of 'Magnum' and 'Penises,') a company that offered exclusive social "black cards" that were supposed to get you "exclusive VIP experiences" but just ended up being a kind of shitty version of your regular debit card. After the embarrassing disaster that was McFarland's Magnum Penis Debit Card, Billy apparently thought, "What if we did the same thing, but on an island and really dangerous?" And thus, Fyre Festival was born.
In a spectacularly dumb apology published in Rolling Stone, McFarland said that it was "the toughest day of his life," which is funny because he wasn't the one trapped on an island with two slices of cheese and no water. He goes on to describe himself and business partner Ja Rule as "a little ambitious," "naive," and basically shoving all the responsibility onto a "bad storm." Because I guess if a storm gets bad enough it can actually go back in time and make it so you never built half the shit you said you were going to build in the first place.
Most hilariously, Billy goes on to explain that there "will be make-up dates" and basically makes it seem like there will be another Fyre Festival in the future, except this time all the victors from past Fyre Festivals have to return to the island and compete against each other one last time in honor of the Quarter Quell. He ends his insane apology by saying the new festival will "keep the theme of being on water and beach. It'll be not just music, but all forms of entertainment. The one change we will make is we will not try to do it ourselves. We wil make sure there is infrastructure in place to support us."
Uh…hate to break it to you dude, but I don't think there is going to be another festival. You kind of shit the bed on the first one. Best of luck with your lawsuit though!

1. Ja Fucking Rule
There are a lot of funny things about the Fyre Festival fiasco, but the funniest has to be the involvement of Ja Rule. Who'd have thought that a man who named his company Murder Inc might not be very good at business? Ja Rule's apology is incredible for many reasons. For one, it was posted to Twitter via screenshot of a note on his phone, which is totally appropriate if you're Taylor Swift accusing Kim Kardashian of character assassination, and less appropriate when you're responsible for scamming people out of hundreds of thousands of dollars and stranding them on an island.
— Ja Rule (@Ruleyork) April 28, 2017
So yeah, a couple of things here. Number one, and most importantly, "This is NOT MY FAULT…but I'm taking responsibility," has to be one of the greatest sentences ever typed in notes and posted to Insta. I'm considering having it tattooed in Ja's handwriting along my lower back. I love it so much. Second of all, please present even the smallest amount of evidence that this was "NOT A SCAM." Who did you think was going to plan the festival for you? The festival elves? Ya'll know Coachella isn't just a naturally occurring part of desert ecology right?
Honestly, part of me feels bad for Ja because I think this is probably mostly Billy McFarland's fault, but Ja has the bigger name, he will absolutely take the bigger fall. Let's just hope all his "Mezmerize" royalties don't run out anytime soon.