Finding Out I'm Not A Music Festival Person, At A Music Festival
I feel like most people would describe me as go-with-the-flow. Most of the time, my texts in a group chat about plans sound like "whatever works for everyone!" and "sounds good to me!". This isn't because I don't care about whatever dinner or trip we're brainstorming, rather it's because I just kind of enjoy being along for the ride. Fun to me is just everyone else having fun! (It should be noted that therapists have also told me that I'm extremely codependent, but that's for another time.)
This, along with a relocated friend, is how I wound up camping in the fields of Tennessee for an eternity long weekend. This is also how I learned that music festivals, like tank tops and Game of Thrones, just aren't for me. Both because of interests and my body type.
It all started in a harmless fashion, someone sending a link to tickets in a group chat saying "omggg let's go!". Usually, when things like this happens, what follows is just a symphony of "oh for sure!"'s until no one ever addresses it again. Easy. Except this time, there was an added element: I had a friend who recently moved to Tennessee (a state I only sort of knew existed beforehand), and the ticket link was for Bonnaroo—a music festival in *survey says* Tennessee. This upped the ante, so we all decided to pool our funds together and buy wristbands and camping passes for three days.
I obviously agreed to go on this adventure with friends, because I always love spending weekends with friends! The dots I forgot to connect, though, were that how I usually love spending those weekends are sitting in a chair in an air-conditioned space with cell reception and a glass of Pinot Noir. Cut to me sitting in between a Walmart bag of tent supplies and an almost equally-sized bag of Doritos. Baby, let the games begin?  
I don't know why it didn't click to me that when you're camping, it's actually camping. Despite being told "we'll be sleeping in a tent," I feel like my mind just equated a tent to an RV, JoJo style.

There's a lot that people don't tell you about music festivals when they talk about music festivals. I've heard about how seeing DJ Panda Bear or whoever on molly was "literally life changing" 800 times, but I've never ONCE been told about hammering a tent pole into the ground at 7am with a handle of Svedka because you don't have a hammer. Once your tent is set up as much as a tent can get set up by the hands of five twenty-somethings from the Tri-State area, you unpack your things and… sit waiting for music to start. Okay, I can get down with chugging PBR and waiting for Chance the Rapper. I think I'm back on the bandwagon… until I see the map of where the music actually is.
Basically, getting from your campgrounds to where the festival actually is can only be described as the journey you would take on the Oregon Trail. Except instead of contracting Cholera, you just run the risk of ruining every girl named Lindsay's Instagram photo. After trekking, we made it in to the festival grounds and I immediately was confused: was this a festival about music or a festival of people who love lines? Cause that's almost exclusively what I saw.
The crowds of people didn't seem to mind waiting 25 minutes for vegan hot dogs in the heat, but I'm someone who is always a little sweaty and has minimal patience when it comes to food. I think my main issue was that I lack the *chill* factor that makes music festivals enjoyable for everyone else. I don't want to smoke in a circle on the dirt, I want to have a dirty martini. Is that too much to ask, outdoors? Speaking of the outdoors, I think the moment I realized that this life wasn't the life for me was when I filled a jug of water with a hose to pour on myself as "a shower." Very different from my Sunday ritual of taking a bath with a piece of eucalyptus hanging from the faucet. 
Despite having my basic rights stripped away from me (air conditioning), I do have to admit that it was a pretty amazing experience to be away from cell service, responsibilities, and the realities of the world for a few days and have nothing to worry about besides being able to get the best spot to cry along to Lorde songs live. After the weekend, I realized two things: not everything is for me and to never insult people who use the phrase "glamping" again, because I think they're now my family.
While I quickly realized music festivals weren't for me, I'm glad I went to test the waters—and water pressure of the hose I used as a shower. It was a fun experience that did make me feel instantly younger—until I woke up hungover in 98 degree heat from four beers and very much felt my age. All that said, will happily take any free VIP tickets from anyone to anything!
Images: @hannynaibaho / Unsplash; Giphy
The 8 Best Music Festivals You Haven't Heard Of
Having withdrawal from Coachella? Want to go to a festival you can actually afford? Same on both accounts. Live music is an expensive habit, and a lot of festivals don't come cheap. The solution? Instead of going to a big-name festival where tickets will cost you a month's rent in a Southern U.S. city, set your sights on a lesser-known one. These underground festivals will often pull some big names, and plenty of newcomers just waiting to be discovered. That's the best part of a festival anyway, right? Discovering new artists because you just happen to walk by their set? That's how I discovered Flosstradamus, one fateful Bonnaroo night. Anyway, this isn't about me; it's about you. Sort of. Check out these underground festivals this summer. For the purposes of this article, I am mostly classifying an underground festival as a newer one, since you probably haven't heard of something if it's new. Not so much that they are highlighting underground music, because I don't know anything about underground music, unless we're talking about alt. R&B artists I found on Spotify and Soundcloud. Let's begin!

Set in Central Park, Atlanta, Georgia (yes, that is a real park, and no, they do not mean Centennial Park), this two-day dance music festival boasts headliners Rüfüs Du Sol and Martin Garrix. Other performers include Big Gigantic and San Holo, plus tons of other names you'll want to see. While not super duper underground, Shaky Beats is still relatively unknown since it's only in its third year. That means you can actually see the performers you want. Having been, this is a fun, small, manageable festival where you can't really lose your friends since the grounds are not that big and you will have service (hallelujah!). Plus, since it's not on an island, you're not going to get stranded with no shuttle service (unlike a certain other EDM fest). And if you want to keep partying once the festival is over, there are a few late-night show options. With tickets at $139 for two days, it's very affordable, considering that is less money per day than I paid for one Khalid show at MSG.
If you've got eclectic taste in electronic music, you'll want to check out Elements Music & Arts Festival. Now in its third year, this camping festival in Lakewood, PA has headliners including Disclosure, Big Gigantic, and Sofi Tukker, but the rest of the names are not the types of artists you're hearing on the radio. Or at least, I'm not. And I thought I was hip! There will be art installations and programming from sex-positive NY-based venue House of Yes. It takes place over Memorial Day weekend, meaning you don't even have to take a day off work to enjoy this festival. Tickets start at $249 for a three-day pass, which is still way less than renting a house in the Hamptons.

So apparently Capitol Hill Block Party has been around since 1997, but this is the first I'm hearing about it. Then again, I don't live in Seattle, so what do you expect? Did I totally miss the mark with this pick? Tell me in the comments! Anyway. Taking place from Friday, July 19 through Sunday, July 21, Capitol Hill Block Party has artists from a variety of genres. Headliners are RL Grime, Lizzo, and Phantograms. Other performers include Snakehips, Aminé, Denzel Curry, and others. Sure, the lineup is lighter on indie rock bands and singer-songwriters than Sasquatch!, but since it's not returning in 2019, what else do you have to do? Tickets start at $160 for a 3-day ticket, which in the festival world, is basically free.
Judging by the bare bones website, lack of pre-2019 Facebook profile picture, and two single Instagram posts to date, I'm guessing this is the inaugural Under The Sky Music & Arts Festival. The Americana, folk, and alt-country fest is taking place at Big Mtn Ranch in Whitefish Montana, which is precisely the setting I would picture for this genre of music festival. Even though this festival is flying under the radar, they've booked big name acts like Jenny Lewis, ZZ Ward, Band of Horses, and Nathan Rateliff & The Night Sweats. (Incidentally, The Night Sweats is also what I call my backing band.) Two-day tickets start at $119.

I attended Greatest Day Ever a few years ago, back when it was on Governors Island in one small tent with MetroBoomin and DJ 4B. It's come a long way in the six short years since its inception and now boasts performers like Pusha-T, Carnage, and Zeds Dead. While they've tried out a few locations, this year the festival and carnival is happening at Ford Amphitheater on Coney Island. There will be carnival rides, meaning you can get that ferris wheel pic, and actually go on the ferris wheel, unlike some other festivals. This one-day-only event (hence the name) will be on July 13, with tickets starting at $65. Again, given I paid way more than that to see one artist, that's not a bad price.
In 2018, Chicago's Lyrical Lemonade and Spkrbx Presents joined forces to put on a one-day festival in Douglas Park. Back for its second year, the festival has expanded to two days, bringing performers such as Playboi Carti, Lil Yachty, A Boogie Wit Da Hoodie, and Cam'ron. And that's just for day one. Day two artists include Juice Wrld, Tyga, and a whole lot more. Damn, that's a lot of people. And it's outside, unlike other festivals you might go to that typically pull this kind of lineup but take place inside an arena (*cough* every radio stations' "summer festival" that's not even really a festival because it takes place inside, which is way less fun). Tickets start at $150 for a two-day pass.
After its inaugural year in 2018, the self-proclaimed "adult-alternative rock music festival" returns to Panama City Beach, Florida. With a lineup including Kings of Leon, Young the Giant, The Revivalists, and more, it's sure to be a vastly different experience than the time you went to PCB on college spring break. (Or perhaps that was just me.) The festival takes place literally on the beach, and you can't beat that setting. Tickets start at $149 for a 3-day pass.
From what I can tell (i.e. lack of info to the contrary and sparse social media presence), 2019 will be the festival's first year, so if you've heard of it I am extremely impressed. Happening in Queen Mary Park in Long Beach, CA, this two-day festival will have performances by MGMT, The Yeah Yeah Yeahs, Phoenix, Passion Pit, and many more. The festival is sold out, according to the site, but you can join the waitlist for tickets (or check out the event's Facebook page, where you might have some luck and get one secondhand from someone trying to offload their pass).
Images: justlikeheavenfest, sandjamfest, thesummersmash, underthebigskyfestival, elementsfestival_ / Instagram; Joshua Lewis; Jerry Chen; Courtesy of aLIVE Coverage (2)
Play This Game Of Coachella Bingo While You Scroll Though Instagram
As most people do, I have a love-hate relationship with Coachella. Every year, I find myself scrolling through Instagram, complaining about how Coachella is basically just Disneyland for influencers, and a way for Vanessa Hudgens to cling to relevance for two weeks a year. Instead of flying across the country and lighting all my money on fire, I prefer to celebrate Couchella. For those wondering, "Couchella" is the fun way of saying "eating a ton of junk food and wallowing in self-loathing as I scroll Instagram and half pay attention to reruns of The Office."
As much fun as Couchella is, it can get a little depressing by weekend two. But don't worry, because now we've turned Coachella into an opportunity for comedy and drunkenness, with a special game of Coachella Bingo. Tell everyone in the group chat to come over, because you have some serious Instagram stalking to do. Let's get to the game.
Some guidelines:
To play, don't bother printing out the Coachella Bingo card. Save the trees and yada yada yada, but also I don't know a single person who owns a printer anymore. Just screenshot the sheet and use the markup feature on your phone to put X's on the spot.
Take a shot every time you finish a line. This will almost make it feel like you're at Coachella, except you have cell phone signal, and you also don't have to share a bed with six other people in an Airbnb.
When you get blackout (both on the bingo card and from drinking), the prize is that you don't have to risk sharing a toilet seat with Bella Thorne or Jax Taylor, you don't have to deal with creepy dudes trying to proposition you for port-a-potty sex, and you don't have worry about being in shape for a half-clothed Insta for at least two more months. It's the small things in life.

Just some quick notes on squares that may cause some confusion:
Someone who is too old to be at Coachella: any Real Housewife, or any guy who is actually old enough to be your father.
Changing into a bikini does not count as an outfit change so long as you don't wear it to the festival, but it counts if you change into an outfit after.
Villains from The Bachelor who the rest of the cast refuses to hang out with do NOT count as seeing a girl gang from The Bachelor. They will, however, fall under the umbrella of fake Revolve sponsorship and/or Diff Eyewear.
Leonardo DiCaprio's ex-girlfriends only count if he bought them a hybrid car or dated them during his Oscar campaign to make it seem like he will get married someday to pander to the Academy. Leo sleeps with everyone, so knowing which flavor Juul pod he uses when he vapes during sex does NOT count as being his girlfriend.
Getting wayyyy too tan can count as cultural appropriation if you need it to.
Pretending to be sponsored by Boohoo, VICI, or Fashion Nova counts as pretending to be sponsored by Revolve
And that's it! Happy hate-stalking, and see you next year!
When Did Coachella Become An Influencer Playground?
I'll start by saying that, yes, I did go to Coachella this year (and if you want to see my content, check out my Instagram). Cool, now that I'm done being the most terrible person alive, let's talk about Coachella. A few years ago when I first started working for Betches, I didn't even really know what Coachella was. I remember editing an article on "5 Celebs Who Embody Coachella" and having next to no clue what the article was even talking about, but I published it anyway because I was just doing my job.
In recent years, though, Coachella has become impossible to ignore. Now, it's less of a music festival and more of a cultural event. The focus in the media is on the music and production as much as it is on figuring out which celebrities attended and what they were wearing. And, even furthermore, it's about the parties surrounding Coachella. There are invite-only parties like Revolve festival, not to mention Neon Carnival and Framework Presents after-parties. When did Coachella become like this, anyway?
It's a complicated question, so I decided to research the lineup through the years. Although Coachella started as a rock festival, they were pulling acts like Red Hot Chili Peppers and The Beastie Boys even in 2003. In 2004, their attendance doubled and hit 120,000 guests, with The Cure, Radiohead, and then-relatively-unknown The Killers performing.
2007 seems to be when things start to take off—the festival expands from one day to three, and pulls $16.3 million in box office revenue, up from $9 million the year before. The following year, Prince gets added to the lineup; in 2009, Coachella books Paul McCartney. Around this period is where things start to turn towards the mainstream. In 2010, Jay-Z becomes the first hip-hop artist to headline the festival, and the next year Kanye West headlines. But perhaps the most precise turning point towards the mainstream occurs in 2012, when Coachella expands to two weekends, and most notably, Dr. Dre headlines and brings out the Tupac hologram. This is where press for Coachella explodes; the Desert Sun reports that this performance overshadowed even Radiohead's headlining set, the Rock & Roll Hall of Fame notes it as one of the 20 greatest festival moments ever.
But I didn't want to take one article's word for it, so I consulted Reddit. One user wrote, "I feel like since 2011 when Kanye and Kings of Leon headlined Coachella really broke into pop culture," adding, "it was at that point where I began to hear Coachella mentioned a helluva lot more on radio, tv, in online media and by regular 9-5 types in everyday life." Another echoed, "I think it was after 2011 being the last time it would only be one weekend… I strongly believe it went 'mainstream' (or got more popular) after that year because me and six friends bought our wristbands and car camping a MONTH before the event… there's no way that could ever happen again due to everything selling out in a matter of minutes."
This timeline tracks with the advent of Instagram, which launched in 2010 and featured its very first ad in 2013. I'm not a sociologist, but I'd venture that Coachella's increased presence in mainstream popular culture, coupled with the simultaneous rise of Instagram, created a perfect storm of photo opps, so to speak. Compounded with the increased ability to actually make a living off of Instagram as an individual and not an established retail brand with every passing year, these factors turned the festival into the millennial influencer wasteland it's seen as today.
Is this accurate? ??? pic.twitter.com/ELfVdED7hA

— WORLDSTARHIPHOP (@WORLDSTAR) April 16, 2019

In short, it wasn't always like this, and this perception as an Instagram destination is relatively new, compared to the festival's 20 year history. But even still, Coachella has earned a reputation as being a social media playground—but is it deserved?
On the surface, unequivocally yes. You're talking about a massively popular event that's attended by celebrities and "regular" (but still well-off) folks alike, that is not accessible to everybody. The fact is, going to Coachella is expensive. Most multi-day festivals are going to run you a couple of hundred dollars for the ticket price alone, not counting travel and accommodations. I probably spent a grand just getting and staying there—I don't know for sure, I don't want to think about it. So you have a bunch of people who have at least some money, plus people with tons of money, risking heat stroke together to stand in a giant crowd and maybe see the top of the head of an artist whose songs they vaguely know, projected from a giant screen 100 yards away. It's inherently pretty douchey; combined with the fact that the festival has now achieved unparalleled name recognition, if you say you're going, you sound like a huge asshole. And I will say that, compared to other festivals I've been to, Coachella is the only one that's as much about what you're wearing as who you're going to see. On top of that, you've got these larger-than-life 3-D art installations, an iconic ferris wheel, great natural lighting until 8pm—so of course people are going to take pictures, and they're all going to be the same ones. So, yeah, it does seem like a Coachella problem.
can u imagine having enough money to go to coachella and u spend it on going to coachella

— niiice. (@niiiceband) April 12, 2019

But is it really?? I'm going to say no. Not because Coachella is not one giant Instagram activation, but because everything these days is. We are all out here taking the same fake candids in any environment that is remotely photogenic. Go to a random street corner of Manhattan and you'll likely see girls posing for in front of a parked taxi cab. Hell, at least Coachella is still a music festival, unlike Museum Of , and all those other pop-ups that are unabashedly made explicitly for social media. I have been to so many of these events, and most of the time it's like being in the North Korean supermarket from The Interview—everything looks shiny from the photos, but all the depth is manufactured. That monochrome ball pit that looks amazing on your friend's feed? It's likely a standalone pit in a bare room (that's 100 degrees because it's not properly ventilated; the room was probably constructed in a pinch for the sole purpose of this pop-up). That rainbow wall? A few feet of painted plywood propped up and stuck in the corner of a sparsely decorated backyard. Some of the Coachella parties might fall into this latter camp, but the festival? It's a festival. A real, 3-D, walk-around-it-and-touch-things, listen-to-music, festival. People are going to take pictures there, just like they do in any other restaurant, bar, birthday party, or park, so like, who really cares? This is not a phenomenon unique to this particular festival.
And, look. I'm not saying Coachella is this perfect utopia. Not at all. There's plenty to dislike about it, like the fact that it's overcrowded, expensive, their security system felt like more of a "pray something doesn't go horribly wrong" attitude than an actual plan, or most importantly, it's got shady links to anti-LGBTQ organizations. Be mad about that, but don't be mad that it's a place where millennials millennial.
Images: Don Indio; worldstarhiphop, niiiceband / Twitter
5 Overdone Festival Trends We Don't Want To See This Year
Brace yourself, it's almost that time of year again: festival season. The only time of the year where I actually hesitate to pick up my phone and scroll through Instagram. Maybe it's part FOMO and maybe it's part I don't want to see your f*cking ferris wheel photos where you're wearing the same basic "festival" outfit as every other girl on my timeline. IDK, it's one of the two, maybe both. I mean, the least you can do for us peasants sitting at home (while you're raging your last few brain cells out) is avoid wearing the same basic cringeworthy stuff we see year after year. Like, at the very least, bring us some enviable outfits and interesting content. I don't think that's too much to ask. Here are five overdone festival trends that I don't want to see this year, plus more stylish replacements for each.
1. Flower Crowns
This one should go without saying, but this year, leave your flower crowns at home. Like, please. I beg you. Unless you're below the age of 10, at this point, it's the ultimate festival fashion faux pas. It's too predictable, too cliche, and I know you're better than all that. So, unless you want to look like an eager wannabe at your first festival ever, ditch the flower crown. Instead, opt for some chic barrettes, a hair scarf, or even a head wrap.

Forever 21 Leopard Print Headwrap

Free People Bandana Scarf Pony

Free People Resin Star Clip Set
2. Temporary Tattoos
Speaking of festival accessories that make you look like you're 10 years old, let's talk about temporary tattoos. YIKES. If I see any metallic flash tats on my Instagram feed, you best believe you'll be getting a hard unfollow. And like, faster than you can even post a generic Insta story of your Coachella pass. No temporary tattoos and no flower crowns. Honestly, I'll take your bejweled body tats before your tacky flash tats. Look, there are plenty of great accessories to snazz up your Coachella look, so there's no need to f*ck up your aesthetic with these lame body tats. At the end of the day, you don't want to look like a try-hard. And temporary tattoos, well, they're the definition of trying too hard. Instead, you can add some glitz to your look with a few strategically placed accessories, like earrings, necklaces, and body chains.



3. Floral Flare Pants
I know, I know, this one is probably a hard pill for most of you to swallow, but the floral cotton flare pants HAVE GOT TO GO. I mean, if sorority girls are wearing these pants casually out on the weekends to frat parties, you certainly should not be wearing them to one of the most fashionable events of the year. Now, look, I get it—these pants are comfy af. They make your legs look long and your butt look good. So I'm not nixing this style pants altogether, just the basic floral and tapestry print versions. Instead, try a more trendy and less basic pair, like an animal print or even a clean stripe pattern.

Juniper Blu Snake Print Fit & Flare Pant

House of Harlow 1960 x REVOLVE Lora Pant

House of Harlow 1960 x REVOLVE Jeane Pant
4. High Waisted Booty Shorts
You all know the ones I'm referring to—the ones that are up your ass crack and debatably denim underwear. Look, if you want to have your ass cheeks out, more power to you. Coachella is the time and place for it! But, if you're not in college anymore, it's time to elevate your short choices. High waisted pairs are ideal for your festival crop tops, but opt for a more elevated looser fitting pair like the ones below.

AMUSE SOCIETY Canopy High Waisted Short

1.STATE Flat Front Regency Stripe Tie Waist Short

Blue Life Rosie Ruffle Wrap Short
5. Open-Toed Flats
Festival 101, no open-toed flat shoes. Unless you want the bottoms of your feet to look like you just hiked through miles of black mud while barefoot, an open-toed flat is a HARD no. Why ruin that expensive pedicure and have who knows what stuck in your toenails for the next five years? Opt for a cute sneaker so you'll be comfy and actually be able to walk around, or even a wedge so that your feet are at least elevated from the ratchet ground.

Superga Snakeskin Lace Up Sneaker

Dr. Martens 1460 Pascal Lace Up Boot

If you're lucky enough to be going to one of these festivals, you better make SURE your outfit is Instagram perfection. Look, just because I don't want to see your ferris wheel pics doesn't mean I don't want to see your outfit, especially if it's a good one. Like, I know the whole reason you're even going to the festival in the first place is for the Insta content, so just stay away from these overdone festival trends and I may actually throw you a like. I think that's fair.
Images: @globelet / Unsplash; Forever 21; Free People (3); Revolve (9); South Moon Under (2)
Betches may receive a portion of revenue when you click a link and purchase a product or service. The links are independently placed and do not influence editorial content.
5 Music Festival Must-Haves You Need To Survive The Entire Day
Sponsored by Suave
Music festivals are definitely something everyone needs to attend at least like, once in their life to just get it out of their system. IDC if it's a big fest in the desert or a lesser-known one in the middle of the woods―you just need to go to one. Buying the tickets, planning your outfit, and stocking up on one or two bottles (of sunscreen) are just a few things to get you prepared, but knowing the essentials you need to pack for survival are crucial. As it is, many items are restricted, so these are things you kinda need to plan ahead of time. Coming from someone who has honestly attended too many music festivals, you need to plan for sweltering heat, tons of body-to-body contact, deafening music, and exasperating lines for both the port-a-potty and refill stations. I'm about to make your life and packing situation a million times easier with this list of everything you could possibly need to get you through the day.
1. A Fanny Pack
For starters, you can't bring your designer purse and honestly, you wouldn't want to. You need a v small (but totally cute) bag like a fanny pack to hold all of your stuff—you know, your phone, charger, cash, cards, makeup… just the essentials.

 2. Portable Charger
If you thought you spammed your social media now, just wait until you arrive at the festival. You'll start to wonder if you should make a documentary with the amount of videos you'll be taking. Clearly, you'll need your iPhone battery to stay as alive as possible, at all times. We all have that one friend that runs away, so a dead phone won't make the situation any better. Opt for a case that charges your phone, or a sleek battery pack. Portable chargers come in so many discreet forms these days that you have no excuse for toting around your entire charging cable.
You'll be dancing and running around all day, which means you'll need those perfect loose curls that you painstakingly spent over an hour curling to stay in place without looking crunchy or stiff. Suave's Micro Mist Hairspray will help you achieve the perfect festival hair that will look amazing in all your Instas. It holds for up to 48 hours—that's like watching #Beychella on repeat for 2 days straight. Yes please.

Dry shampoo is already your travel companion, so this one will only make you love it that much more. With the sun beating down on your head and hair, you don't want to look like a grease monkey by noon—you need a dry shampoo that will give your hair a natural-looking clean. Like, you still have pictures to take. Made with 100% natural argan oil, this is your life-saver to make your strands feel refreshed all day long—even if you're on day three without a shower.

5. Baby Wipes
So, yeah, there are no bathrooms. Instead, you'll be faced with dozens of port-a-potty's that you'll have to hope are unoccupied and come with toilet paper. On the very likely chance that all TP is MIA, come prepared with flushable wipes and you'll find yourself making plenty of festie besties.

Images: Shutterstock (3); Suave (2)
Coachella Fashion Inpso That Will Make You Look Hot On Instagram
Happy spring, betches! As soon as this snow bullshit stops, we'll soon be drunk on a Wednesday afternoon living our very best lives. With spring's arrival also comes an unofficial (but low-key official) season that happens to be my absolute favorite time of the year: festival season. The most anticipated of the bunch is, without a doubt, Coachella—the one place where all of our favorite celebrities black out, wear designer flower crowns, and find true love. I assume—I've never been, because I don't have an extra grand lying around. But enough about me. Not only is Coachella a literal two weekend-long shit show in a desert, but it's the most ~lit~ time and place to be a wild child and experiment with some crazy-ass fashion trends, just because Vanessa Hudgens does it you can. Whether you're planning to go solo, with a spring fling, or your festie bestie, you'll need the hottest trends to style with. Here are the best Coachella fashion trends to give you all the fashion inspo you need.
Pretending the whole "peeing while you're naked thing" doesn't exist, bodysuits are always a yes for festivals. The less fabric you wear, the less you're profusely sweating. You want a bodysuit you can take an artsy candid in, like this one from Topshop. Let's be real, Coachella is basically one giant Instagram festival, and Coachella fashion is all about how you'll look in pictures.

As if this wasn't already a given. If maxi skirts aren't your thing, obviously you can never go wrong with a pair of trendy high-waisted shorts with, like, the cutest effing shirt you have ever seen. Or a bodysuit! Remember, there are two weekends of this shit, so you can mix and match without spending all your money.

What better to make your life 10 times easier than a set that already comes with a matching top and bottom? If you're looking to go full Vanessa Hudgens with your Coachella fashion look, you'll want a boho chic maxi skirt with some floral hippie pattern that makes you look both v skinny and super tan.

For some reason, despite the sweltering heat, statement jewelry is an essential part of Coachella fashion. The problem? The last thing you want to have weighing on your chest is a big af necklace when you already feel your boob sweat. You also don't want to be that crazy person rocking a velvet choker in 90-degree heat. (Again, I have no idea how hot it really gets at Coachella because—one more time for the people in back—I have never been.) Anyway, when it comes to necklaces you'll want to opt for a dainty piece that won't strangle you, like this subtle layered necklace.

Thank god, fedora-style hats are actually a trend rn, otherwise we'd all look like fucking idiots. Not only is it kind of cute the more you look at it, but being in any desert under the scorching sun will probs give your scalp a legit sunburn. Prevent that shit by opting for one of these guys.

Chic booties are cute and all, but let's be real. You're not going to last more than 4 hours in them if you're drunk frolicking and dropping it low in front of a stage. Stick with sandals you can last in, but cute ones that add a little bit of height to your look with a slight platform so you can like, actually see Beyoncé's performance even if you didn't camp out at the stage five hours in advance.

Images: Brandy Melville (1); Revolve (1); Showpo (1); Anthropologie (1); Urban Outfitters (1); ASOS (1)
Betches may receive a portion of revenue if you click a link in this article and buy a product or service. The links are independently placed and do not influence editorial content.
How To Recover From A Festival When Taking A Sick Day Is Not An Option
If you've scrolled through Instagram recently or walked through Penn Station wondering if there's an LF convention in town, you're well aware that festival season has begun. If you just got back from Gov Ball and you're wondering how to cope post-festival, we've got you covered. From the shitty alcohol you snuck in a Poland Spring bottle to the French fries stand you just had to stop by in between artists, you feel pretty shitty right now and we're here to help. Here's how to undo the damage from a music festival:
1. Get A Good Night Of Sleep
This should be obvious, but in case you somehow feel the need to rally and go out the night after a music festival because you literally can't stop won't stop, we're here to tell you that you should actually stop. At least for a couple days. By catching up on sleep and getting your body back on a normal sleep cycle, you'll find that you'll start feeling better without any crash diets or excessive amounts of coffee. Plus, it's been proven that more sleep prevents you from craving fattening foods, so you're basically dieting just by cancelling plans and going to sleep a bit earlier. You're welcome.

2. Eat Frequent Mini-Meals
If you're feeling bloated or nauseous from indulging in fast food or salty snacks after a festival, try eating small, frequent meals for a couple days afterwards. Instead of eating three meals a day, break up your meals into 5 or 6 different ones to keep your metabolism moving and help get your digestion back on track. Your metabolism speeds up when you consume mini-meals throughout the day, so you're helping your body recover naturally by keeping it as active as possible after you've been treating it like shit all weekend.
3. Go Do Cardio
No, really. Go. Not only does getting a good sweat feel amazing, but it actually helps you recover from all of the alcohol you've been consuming. When you do a spin class or go for a run after a weekend of drinking, not only is your body burning calories, but it's also literally sweating out the alcohol that's still in your body. So, if you start smelling vodka mid-SoulCycle, just try your best not to vom before arms and know that you're doing something right.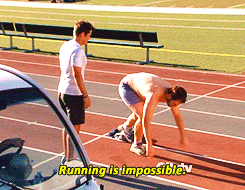 4. Take Biotin
There are few occasions where betches depend on supplements, but if your nails, hair, and skin need some serious TLC after a festival, biotin is literally your new best friend. Biotin is a natural supplement that helps strengthen your nails, fix your damaged hair, and help hydrate your skin, so after you've been outdoors being bounced around on the shoulders of some ratchet denim vest, you'll need some of this. Stock up and thank us later.
5. Eat Whole Foods
There's no detox in the world like REAL food, so skip the diet teas and the artificial 100-calorie packs, and eat real, whole foods. We're referring to anything along the lines of vegetables, whole grains, fruits, nuts, and lean proteins. Try to limit processed foods like cereals, bars, and packaged snacks for a few days, and you'll see a huge difference in your body, skin, and overall energy levels. People will start asking if you just got back from Gov Ball or from some spiritually cleansing exotic yoga retreat.

6. Aloe Vera & Cool Showers
One thing people tend to forget about music festivals is that they're outdoors in the brutal summer heat, meaning you will get sunburned. You might have ordered your flower crown online a month ago, bought your homeless-looking denim shorts two months ago, and stocked up on chasers all week, but you obviously neglected to wear sunscreen, and you're currently dealing with the painful consequences. The best things you can do right now are just to take cool showers, smother your body in aloe vera, and keep telling everyone how good you'll look when it fades into a tan.