Trends From Last Year That Have No Business Staying In Your Closet
There's something about Spring that gives us a sense of revival—you're stowing away the heavy winter coats, shedding those few extra pounds you packed on during hibernation mode, and dropping those fuckboys that you kept around strictly for "cuffing season." But before you start spending your Saturdays drinking rosé on a rooftop somewhere, you should probably go through your closet and do some spring cleaning in preparation for the warmer months.
To help you purge your closet just like you've purged your life (by leaving last year's bullshit in 2017), we've come up with a list of the dumpster fire trends you need to ditch just in time for beach week.
Unicorn Everything
For whatever reason 2017 was the year of pastel unicorn everything. From hair trends to clothes to makeup, everything looked like a mythical creature threw up on it—especially on the grounds of Coachella. So with festival season quickly approaching, let's make an effort to do away with the unicorn trend and reach for chicer variations of bright colors and bedazzled pieces.

Oversize Sweatshirts With Thigh-high Boots
Like most absurd trends, this impractical look was made famous by the royal family of Calabasas. Let's assess for a second: The Kardashian/Jenner sisters really convinced us to romp around in thigh-high heeled boots paired with large, oversize sweatshirts. And in some cases, even T-shirts. And like, fine. I love a comfy sweatshirt as much as the next betch who spends her Sundays hungover on her couch ordering Domino's. But what were we really trying to accomplish with this look? Was it supposed to be sexy yet comfortable? I mean sure it's sexy when you can afford like $1,500 Balenciaga thigh-highs, but to me, this trend just feels like KKW is Regina George when she rocks the tank with the nipple holes. We're all just her army of hopeless skanks following suit.
Corset Belts
If you wear an Hourglass Gal waist trainer to work out and your waist is like 20 inches, I'm really happy for you and I'm going to let you finish but we don't need to see your fake corset belt OVER your shirt in 2018. This trend is almost as bad as when we thought it was a good idea to wear belts just sitting on our hips on top of our long Abercrombie & Fitch tank tops back in like '06.
Chokers
If you've been patiently waiting for the dog collar choker trend to die, 2018 is the year. We're layering dainty gold and silver necklaces in 2018 and tossing out the black velvet chokers that we've been holding on to for dear life for the past few years.

Millennial Pink
What kind of sign is it that the color chosen to represent millennials is the same color as Pepto Bismol? At any rate, it's out with the diarrhea medicine hue and in with Gen-Z yellow.

Fur Slides
Bad gal RiRi gave us the OG faux fur slides with her Spring 2016 Fenty Puma x Rihanna collection, and ever since we've seen some of the worst knock-offs. We're really ready to retire this trend in 2018. Although the idea of adding fur to a pool slide didn't make much sense, they were fun while they lasted. But thanks to the oversaturated, tacky knock-offs it's finally time to lay this trend to rest.
Cork-Heeled Wedges And Heels
We really hope that you don't still have cork-heeled wedges and heels in your closet, but if you do, throw them out. Now. There's something about the warmer months that make basic bitches want to break out cork-heeled shoes like they're synonymous with summer, but we're asking you to please do away with this heinous look. If you've found yourself shoeless after throwing out corked shoes, see our spring shoe shopping guide here.
Worn-Out Leggings
This may seem like an obvious item to toss during your Spring cleaning purge. But considering it doesn't look like the athleisure trend is going anywhere anytime soon, it's time we get rid of ill-fitting, over-worn leggings. Toss out those leggings with the hole in the crotch that make your butt look saggy and treat yo'self with a brand new pair of leggings or jogger pants—because why not spend money on the item of clothing that you spend the most time in?

Images: Kourtney Kardashian, closet.nia, fentyxpuma, tonybianco / Instagram; Giphy (4)
The Most Heinous Looks From NYFW So Far
In case you haven't noticed a significant increase in "candid" blogger outfit photos on your Instagram feed, it's currently New York Fashion Week. For those of you who think that NYFW doesn't affect you, think again. (Yeah, I'm about to go Miranda Priestly on your asses, so buckle up.) Fashion Week determines which designs Forever 21 and Zara are going to do a shitty job of ripping off next season, so you better pay attention this week because these are the outfits you're going to have to buy when you're searching for a last-minute addition to your collection of going out clothes. Here are some of the worst looks from the first weekend of New York Fashion Week to mentally prepare you for what's to come.
1. The Row
The Row sent a model out in a literal Snuggie and I'm feeling pretty conflicted. On one hand, I think this is the ugliest effing gown I've ever seen. On the other hand, if this means I can start wearing a Snuggie in public, I'm very on board.
2. Christian Cowan
While I'm really excited to see that Christian Cowan is trying to make small dogs as accessories a thing again, I don't think any of us will be hopping on the tweed chaps trend anytime soon. Just looking at this outfit is making my thighs chafe.

3. Alexander Wang
Usually, Alexander Wang can do no wrong. However, this look is a total miss. Bella looks like a drunk member of a bachelorette party who just wrestled with her dress for five minutes in a bathroom stall after peeing. I mean, maybe that's an unfair criticism. If "drunk girl screaming 'it's my birthday!!' and trying to get a free Fireball shot" is the look Wang was going for, this hits the nail on the head.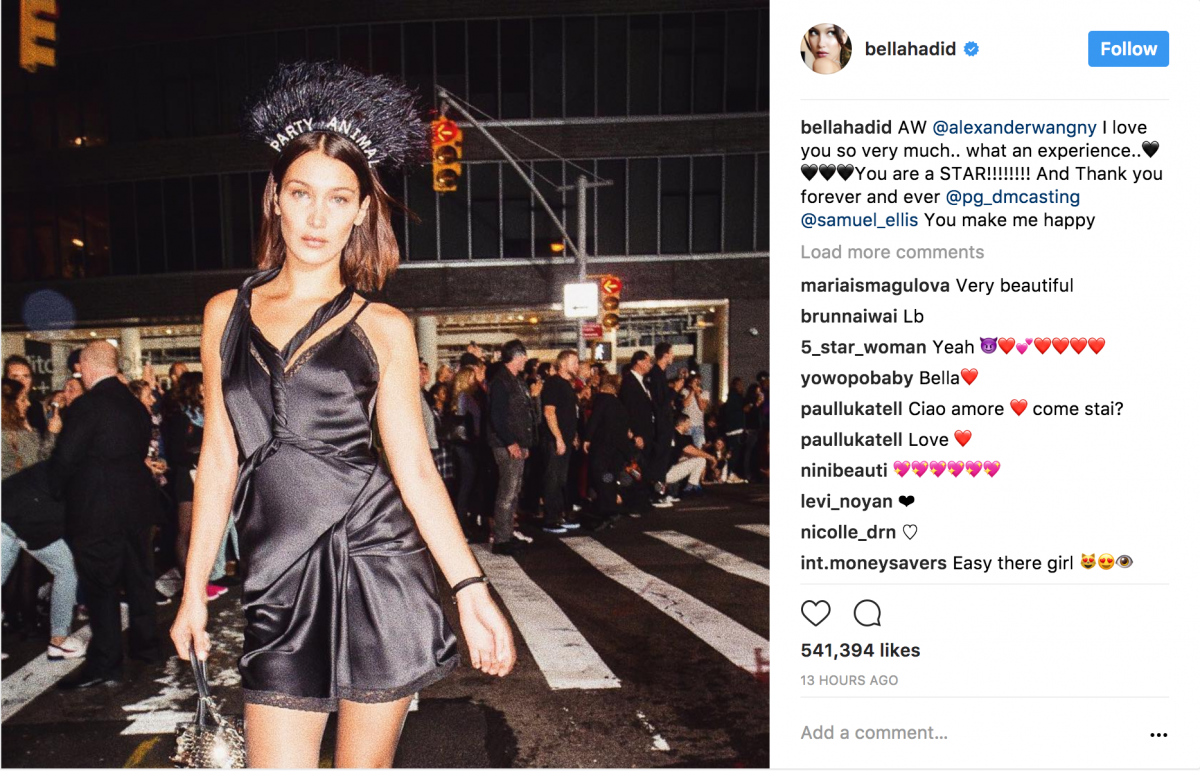 4. Fenty x Puma
The Fenty x Puma collection is another typically untouchable line, but even Rihanna can't expect us to watch a model strut down a runway in snow pants and a bucket hat without raising a brow. I'm sure that the first time Rih actually wears this out, we'll all be obsessed with it, but for now, this is bringing back memories of all the worst wedgies from childhood.

5. Tom Ford
I'm all for wearing as much denim as physically possible, but this Tom Ford look might just be where I draw the line. Like, I'll probably try to wear the infamous Britney Spears patchwork denim dress to my wedding, but this denim on denim on denim with a white pointed toe is still too much for me.
Shopbop Is Having A Huge Sale, So Get Your Credit Cards Ready For These 10 Must-Haves
Someone who is probably now dead or less famous than Angelina from Jersey Shore once said something about the fact that boredom doesn't exist because of creativity. IDK, I'm too lazy to Google the real quote. Anyway, it's irrelevant because that's not true. Boredom doesn't exist because of the invention of online shopping. Shopbop is currently having a huge sale where you get 20% off orders under $500 or 25% off orders of $500 or more. Obviously, this is super overwhelming, so here are a few suggestions.
FENTY x PUMA Creepers literally never go on sale. This is as historic as the invention of the sticky boob.

FENTY x PUMA Cracked Creeper Sneakers
​Thanks to Bieber and the Jenners, a Calvin Klein underwear set is a total necessity. If you don't already have one, I'm honestly shocked. If you do already have one, you might as well get it in another color.

You should probably invest in a few pairs of Quay sunglasses so you don't have to keep replacing them every time you lose them after a blackout in broad daylight at a darty.

Adulting sucks, so wear an expensive glorified onesie to feel like a kid again.

Black lipstick is dope in theory but questionable in real life. This Kendall + Kylie coin purse is perfect for (technically) pulling off black lips without looking like a poorly executed Jenny Humphrey Halloween costume.

Kendall + Kylie Gabriella Coin Purse
The perfect black one piece is nearly impossible to find. It's like, you're either going to look like Farrah from Teen Mom or an actual, real life mom. This one is perfect because it shows off just the right amount of sideboob.

Beach Riot x Stone Cold Fox Bridget One Piece
The good ol' "but they'll go with everything and were on sale" line you feed yourself every time you buy a pair of heels that you'll never wear actually wouldn't be a lie with these Alexander Wang sandals.

Alexander Wang Abby City Sandals
A LuMee case is technically buying Instagram likes because it makes your selfies so lit (sorry for the dad joke), but it's not really embarrassing if it's on sale.

Like mimosas at brunch or shots at a pregame, your attitude towards black crossbody bags should always be "well, I can have one more."

I'm not sure exactly when wearing jeans became as uncomfortable as opening a guy's Tinder bio to see that he has his height in it, but it has. Thanks to the invention of leggings as pants, I now wear jeans about as frequently as Adam wore shirts in the first season of Girls. Anyway, these AG jeans are basically leggings, so you should probably get them.