Why Lo Bosworth Is Trying To Change The Way Women Care For Their Bodies
If the name Lo Bosworth makes you feel nostalgic for simpler times when you would take a hiatus from your own dramatic teenage life to indulge in the more dramatic teenage lives of the super rich cast members of Laguna Beach and then, The Hills, same. But prepare to associate Lauren Conrad's super cute bestie, Lo Bosworth, with her line of feminine health products because the former reality TV star really cares about your vagina. Back in 2016 Lo started Love Wellness, originally releasing products like a pH balancing cleanser and The Killer, a boric acid suppository to relieve yeast infections and BV, because she didn't think that gynos were offering enough resources and supplements that specifically catered to women's bodies—and she was right. Well, just last week Lo introduced five new total body health supplements into her line: #Mood Pills to naturally boost your mood; Bye, Bye Bloat to get rid of excess water weight; Lean Queen to help boost your metabolism; Lights Out to to help you get to sleep; and Good to Glow a solution to all of your skincare woes. All products are packaged in the chicest pastel packaging, are to be taken orally everyday or as otherwise directed, and will only set you back $24.99.
All of Lo's products, old and new, are made up of natural ingredients like coconut oil, tumeric root, ginger, and green tea to help women heal, maintain and flourish their bodies in the safest way possible. To get the full Lo-down, we talked to the Love Wellness founder herself to find out what sparked her deep care for our vagines and what the brand has in store for the future of feminine health, spoiler alert: sadly, no Justin Bobby jokes were mentioned in this interview.
Betches: What inspired the development of the five new supplements?
Lo Bosworth: Our customers asked us to expand into different women's health categories and we were thrilled to be able to make that happen. Our priority was to make these new line of ingestibles as natural and organic as possible, and we're quite proud of the new offering. Being able to offer women natural and safe products for mood, metabolism, glowing skin, and more is very exciting for us.
What retailers will the products be available in? When?
We sell Love Wellness products at lovewellness.co and we'll be announcing upcoming retail partnerships over the next few weeks.
How did you decide which natural ingredients to include in the products?
We work with a team of doctors and food scientists to determine what natural ingredients go into each product. The formulation process is very exciting for me personally, as there are lots of natural ingredients that have worked for me for anxiety, sleep, and skin care. In our #Mood Pills for example, we've include organic chasteberry, which is proven to help alleviate symptoms of PMDD, and organic St. John's Wort that has been proven to be effective for light depression.
What kind of diet do you suggest taking Lean Queen with?
We always recommend to consult with your doctor before starting any kind of diet or supplement regime. With that being said, I'd recommend a well-balanced diet that's high in good carbohydrates for energy, fiber, and lean protein. It's okay to eat a piece of whole grain bread that's high in natural fiber! Of course, drinking lots of water is critically important as well.
Is each supplement to be taken daily?
We recommend that the supplements should be taken daily, but Bye Bye Bloat and Lights Out can both be used on-demand.
What space in the market did you see for the Love Wellness brand?
When I first launched Love Wellness in 2016 I saw a huge opportunity in women's personal care to provide natural, safe, OB/GYN-recommended products that work, while creating an honest and open self-care culture. Many drugstore feminine hygiene companies market their products as safe and effective when in reality, they're not. The cheap chemical formulations in these products can wreak havoc on the vaginal microbiome and lead to chronic infections and irritations. My primary mission when launching the company was to educate women on this point, and to be able to provide them with safe solutions for upping your gut and vaginal flora with our Good Girl Probiotics, relieving infections and irritations with The Killer, our best-selling boric acid suppositories, and cleanse the vulva safely with our pH Balancing Cleanser and Do It All Wipes. With our new launch of ingestibles, we see Love Wellness as the ultimate one-stop shop for women's wellness and personal care solutions for issues that are typically kept private. Our goal is to make healthcare and preventative care for issues traditionally viewed as embarrassing more comfortable for women by offering natural, organic solutions that are packaged beautifully along with educational content.
Your favorite supplement?
I love our #Mood Pills! I've suffered from anxiety and depression and tried pharmaceuticals to help ease my discomfort but found that natural solutions always worked better for me in the long run. I'm thrilled to be able to offer women a natural and organic formulation that combines best-in-class ingredients from nature to stay balanced.
Future plans for the brand?
We have many products in R+D at the moment. We're looking at the CBD space, and have quite a bit in the pipeline for retail in 2019.
How To Increase Your Vagina Confidence From The Inside Out
Sponsored by Queen V
I'm sure I'm not alone when I say I've often thought life would be easier without a vagina. I know I'm supposed to embrace it and take pride in my womanhood and blah blah but come TF on. The only times I'm really paying attention down there are when it's busy ruining my favorite underwear with a surprise period or surprise infection, or busy ruining my sex life by suddenly being bone dry. It's not exactly the perfect recipe for a loving relationship with my platinum vagine. (I kid. I'd probably give it like a bronze.)
Luckily, sexy new company Queen V is here to solve all my problems. A group of like-minded women got together and decided they were sick of out-of-touch dudes manufacturing bogus vaginal products (same). Instead, they thought the women of today deserved cute, affordable, and genuinely effective vaginal products. (Groundbreaking, right? Sadly, it really is.) Here are the products you're about to be obsessed with. You and your "Queen V"—as founder Lauren Steinberg refers to it, a term I fully intend to steal—can thank me later.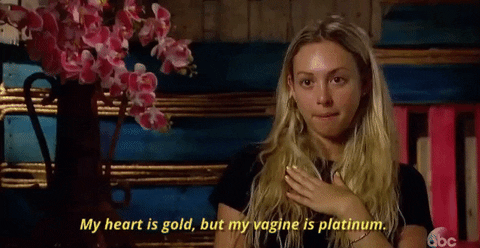 Make It Reign/V Bar
You know how gynecologists are always telling you not to douche up there? How your vagina is "self-cleaning" and body wash will just fuck up the pH? Well, while the pH stuff is spot on, I've never loved the alternative of "just throw a little water on it and hope for the best." Enter Queen V, with not one, but TWO cleansers I am allowed to use for my whole entire body! With V Bar or Make It Reign (moment of credit for the cute-ass names), you can actually clean yourself without worrying about accidentally giving yourself BV. And they say women's lib is a myth. As an added bonus, they're made with yummy ingredients like rosewater, aloe, green tea, mango, and chamomile. So you can still smell like you paid an extra $10 for a marked-up "women's soap"—when you could actually buy both for a total of $9. Score.

DD Probiotic
Honestly, if you're not taking some kind of probiotic right now, it's time to move into 2018. We already discussed how good they are to beat bloat—but did you know they can also help prevent yeast infections? Queen V's Daily Dose Probiotic has all the same digestive health properties, but is specially formulated to keep your yeast/bacteria levels where they should be. It also includes turmeric, which has amazing anti-inflammatory properties in addition to helping skin conditions like acne, eczema, or psoriasis. Basically, this shit will keep you 100 from head to toe. Buy ASAP.

The Eraser
Speaking of yeast infections—is there anything that makes you hate your vag more? Sure, there's the excruciating pain of UTIs. (And should that problem arise, Queen V's UTMI supplement is formulated with cranberry to promote urinary tract health.) But at least most UTIs can be treated with an antibiotic that's meant to work within 24 hours. With yeast, you're basically told to handle it on your own for the coming week, and shove a bunch of chemical goop up there whenever it gets unmanageably itchy. (So like, every second of every day until it's gone. Seriously, I don't know why I even buy cute underwear anymore.) Enter The Eraser: a boric acid suppository for soothing yeast symptoms. It's basically a less-scary and longer-lasting alternative to the creams that promise to remove all feeling from the area and wear off 20 minutes later. (Neither of which is an ideal outcome). With The Eraser, you get relief without the mess, and without the ingredients you can't pronounce.

P.S. I Lube You
Finally, we've arrived at my favorite of the bunch. As my local Rite Aid can attest from watching me crouch for 45 minutes in the "family planning" aisle, lube options often really, really suck. Also, as my local Rite Aid can hopefully NOT attest, lubes can often seriously fuck up your vagina. (Anyone think they'd test the ingredients more if lube went inside men? Yeah, me too.) Anyway, all the more reason to buy lube made BY women, FOR women. P.S. I Lube You (another adorable name, minus the images it conjures up of a sobbing Hilary Swank) is an aloe-based lubricant that does more than make sex better. (Though honestly, that's enough for me.) It actually protects and hydrates you down there—which, given my obsession with moisturizing, was incentive enough for me to double my order. Oh, and it's organic. Gwyneth would so approve.

If nothing in this list spoke to you, you should absolutely check out their full list of products here. Whether you're looking to #maintainyourv, #enjoyyourv (hint: this is the section with lube in it—also a nice bubble bath), or #healyourv, Queen V has you covered. Now that Queen V has pointed out that men really shouldn't be selling you vaginal products (and are in fact getting it wrong a lot of the time), I'm not sure I can ever go back. These products are available at Walmart across the country, affordable AF, and come in way cuter packaging than vaginal products have any right to—without the insulting "pink tax" connotations. It's basically the Glossier of vaginas, and I for one am obsessed.
Images: Giphy (1); Instagram (4)