TV Shows From Your Childhood You Didn't Realize Were Empowering
From one betch to all the betches out there, happy International Women's Day! May we take no sh*t from men neither today nor any day! According to the UN, "International Women's Day is celebrated in many countries around the world. It is a day when women are recognized for their achievements without regard to divisions, whether national, ethnic, linguistic, cultural, economic, or political." So basically, it is a day that women are actually acknowledged for being badass bosses, regardless of extenuating traits like race or politics. Recognition of women's existence and achievements seems like it should be an everyday thing, but whatever, I'm not here to complain. On the contrary, I'm about to make y'all really happy with some flashback Friday feminist empowerment from our favorite television shows circa the '90s and early 2000s.
That's right, some of our favorite childhood shows made a legit and impactful effort to instill feminism in our young and impressionable minds so that we would be prepared to enter young adulthood with the betchy confidence of Angelica Pickles circa the early years. Let's get to it.
 'Rugrats'
I'm going to start with Rugrats because it is the freshest in my memory. A few weeks ago, my roommate and I were watching that Friends episode guest starring Elizabeth Daily, AKA the voice of Tommy Pickles. (For those of you who are wondering, her actual real life voice is the literal same as that of Tommy Pickles.) So, like any sober 25-year-olds, we got nostalgic and wanted to relive the joy of a Rugrats episode, but because cartoon quality has gotten significantly more legit since the '90s, Rugrats no longer graces our television screens via cable. It is, however, on available for purchase. So without hesitation, we threw our hard-earned dolla dolla bills at the entire first season of this show, and literally watched the entire thing within a week. I am not impressed with us, but I am impressed with the astute level of feminism in this gift to humanity.
For those of you who may have forgotten, Angelica is low-key the star of the show because she was bossy as hell, and I am here for it! How could she not be when her boss bitch mom actually uttered the words, "Angelica will make it in a male-dominated power structure." Um, YES. Let's not forget about DiDi Pickles, who was the glue that held her weird little fam together. Let's face it, her hubs was a toy inventor with the mental capacity of a stale cracker, and Tommy is a textbook case of ADHD's early symptoms. She was progressive af and we aren't mad about it. Betty Deville is another top contender for most feminist queen of Rugrats. She was always donning her athleisure because she gotta #werk, raise a family, and crush souls of judgmental trolls all day everyday. Last but not least, Charlotte Pickles, who was gloriously terrifying and got whatever the f*ck she wanted. This human form of a power stance knew how to command a room and didn't have time to deal with your sh*t. Claps for you, Charlotte.
'The Amanda Show'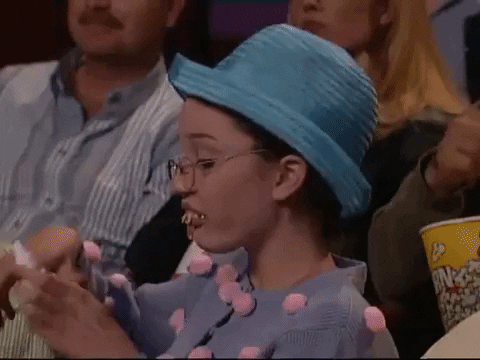 The Amanda Show was SNL for '90s babies. She was Kristen Wiig, Kate McKinnon, Maya Rudolph, Leslie Jones and Tina Fey all rolled into one sassy betch. Because Amanda played upwards of 800 different characters in countless sketches on this blessing of a television show (#MoodysPoint), I just don't have the time to go into all of them, and I refuse to focus on only a few because they all deserve recognition. So instead, I'm going to focus on the show in general. The Amanda Show made humor accessible. I know what you're thinking, "What?" But think about it, The Amanda Show was just an endless sea of hilarious jokes from a group of really attractive kids who were not afraid to don heinously ugly wigs, outfits, or fake teeth for a laugh. I feel pretty confident in myself, but idk if I could have thrown on a pair of fugly overalls, a bucket hat and dentures in front of a 1) live studio audience and 2) millions of viewers at home. Kudos to you, Amanda. We love you!
'The Powerpuff Girls'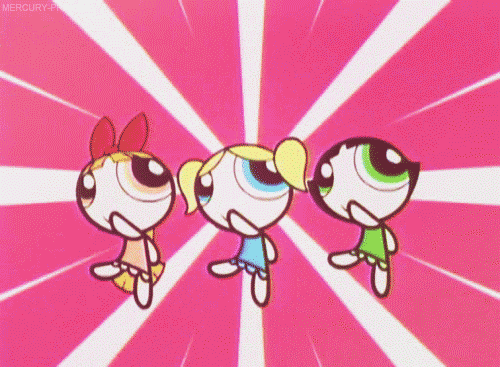 I watched this show a looong time ago, so I'm going to keep this brief. If there is another definition of girl power that isn't "Sugar, spice, and everything nice," I don't want to hear it. These were the ingredients chosen to create the perfect little girls, but Professor Utonium accidentally added an extra ingredient to the concoction: chemical X. Thus, the Powerpuff Girls were born using their ultra-superpowers. Blossom, Bubbles, and Buttercup have dedicated their lives to fighting crime and the forces of evil, and I'm impressed. These sister were like, what, seven years old and fighting crime? I can't even find a dude who washes his hair, and these girls were out here making the world a safer place. Good for them.
'The Fresh Prince Of Bel Air'
Each of the three main women in this amazing show were absolute queens in their own right, but I am just going to focus on one, the matriarch and feminist icon, the OG Vivian Banks. (Not her replacement who looked literally nothing like her in any way, and I need an explanation from the producers for this abomination). Anyway, Vivian 1.0 showed all of us plebeians how to rock a mint green power suit and raise a family, both of which are impressive. So in like, basically every episode, Aunt Viv stood up to sexism, ageism, racism and a slew of other -isms, because she's a hero who's too stylish to wear a cape. Her education about cultural references was truly unparalleled. Let's not forget her absolutely schooling Will when he acted like he was an expert in black history because he read Malcolm X's autobiography. The exact quote was: "You can read that book, you can wear the t-shirt, you can put the posters up and shout the slogans, but unless you know all of the history behind it, you're trivializing the entire struggle." YAS, AUNT VIV, YAS. The bottom line is Vivian was a woman who was unabashed to speak her mind, especially when dealing with her moronic male counterparts. Sorry, Carlton, we love your mom and her dance moves more.
'Sex and the City'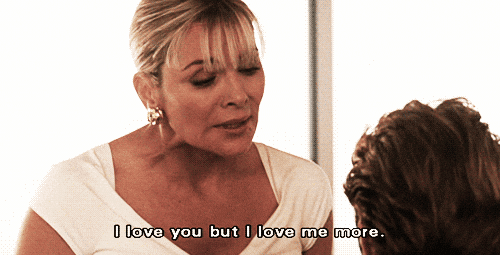 Ok, before everyone judges my mom for letting me watch this show, she didn't know I binged harder on SATC than I did on Halloween candy. Skip your eye rolls and scoffs for calling this show feminist, but what would you call a squad of women who subconsciously discussed the bs behind the coveted fairytale ending and openly shut down slut-shaming? This group of revolutionary women (I'm a total Carrie) made it okay to engage in sex with guys you aren't Facebook official with, to have fun without worrying about the haters and, of course, to prioritize Manolos over all else. Idk if this was intentional or not, but these four women make up one perfect betch: Charlotte is romantic, Miranda is brilliant, Carrie is funny, and Samantha is Samantha. Of course, no one woman is actually perfect, which is why all of these traits are separated into four individual women, but they are all great and I love them. On a side note: it truly breaks my heart that SJP and Kim Cattrall aren't actually friends IRL, because their characters were the most likable on the show. Truly, no one could pull off jewel tones and feathered accessories like they could. I'm hoping that somewhere in lower Manhattan, Carrie and Samantha are getting afternoon cocktails rn.
'Lizzie McGuire'
This show was my life, and I have no shame in my game. Lizzie was a cultural icon who struggled between staying true to herself and wanting to fit in, but then she realized how much the popular kids sucked and got over it. Snaps. Lizzie's main feminist feat is that she was not afraid to go through all of the same struggles all teenage girls go through: heartbreak, annoying siblings, eating issues, and, most iconically, bra shopping with your mom. Lizzie facing all of these preteen issues made all of us realize that these are just normal parts of life, and we shouldn't feel embarrassed to be experiencing them. Lizzie came into her true feminist self in the final scene of the movie, though, when she chose herself and her hair extensions over a guy. Nevermind that he lied, cheated, and tried to pass Lizzie off as Brunette Lizzie Isabella, but he tried to play her for a fool, which just isn't how you save your career, sweetie. Lizzie's too smart for that sh*t, you Italian meatball!
Images: Nickelodeon; @stephdelucaaa, @freshprince.ig; @wearemitu / Instagram; Giphy (3)
What Is Labiaplasty, And Why Are Women Getting It?
I've got a fine relationship with my vagina. To be honest, before this article I had not given it much thought. It's there, it does what it needs to do, and I carry on with my life. But for some women, how their vulva looks and feels causes them major stress. That's where labiaplasty comes in. For some people, when they hear about a labiaplasty, they think (logically) "okay, yeah, plastic surgery for your labia." For others, when they hear it, their first reaction is "WTF." But whether you've heard about a labiaplasty before or not, I'm sure you have some questions and probably some misconceptions that I plan to debunk. But let's get one thing straight: labiaplasty is NOT a millennial-geared surgery to promote altering your body for purely aesthetic reasons to look like a Victoria's Secret Model or porn star. It can be done for aesthetic purposes, but there are also legit medical reasons for this.
I Spoke To An Expert
For this taboo and rarely-spoken-about topic, I called in the big guns, Dr. Lara Devgan. She is ranked as the #1 female cosmetic surgeon in New York on Rate MDs, and tbh, that's good enough for me. But, according to her website, she is also a "board-certified, Yale-educated, Johns Hopkins Medical School-instructed, and Columbia/ New York Presbyterian Hospital-trained plastic & reconstructive surgeon." Dr. Devgan is everything my Jewish parents wished I'd grown up to be, but here I am, writing about vaginas on the internet. Sorry, mom and dad. Did I mention she's Kim K's plastic surgeon?
WTF Is Labiaplasty?
Dr. Devgan explains labiaplasty as "cosmetic rejuvenation of the female genitalia." Put simply (thanks Google), a labiaplasty is "plastic surgery performed to alter the appearance of the labia, typically the labia minora, or to construct labia." So at this point in your life, if you don't know the difference between your labia minora and labia majora, we've got an issue. Go back to health class, then come back to this article. Just kidding! I'll tell you. The labia minora are the inner lips, and the majora are the outer lips.
Why Would Someone Do This?
Dr. Devgan explains that this surgery is performed for functional and/or cosmetic reasons. Many women who opt for this surgery are either unhappy and self-conscious about how their genitals look or they experience friction or discomfort from exercise, clothing, or sex. Furthermore, the excess tissue that may hang below the rest of the vulva can mess with the vagina's normal flora and cause frequent yeast infections. Dr. Devgan says that this is one of the fastest growing plastic surgery procedures in the US and one of the more common surgeries she performs.
How Does The Surgery Work?
Because every woman is different, it really depends on the individual needs of the patient. Dr. Devgan explains that "the exact maneuvers we do in surgery depends on a woman and her unique anatomic characteristics and concerns." However, most surgery is performed under local anesthetic (you are awake and your vajayjay is just numbed) and takes about 30 to 45 minutes. For some in-depth diagrams to explain the surgery, check out Dr. Devgan's website.

The Recovery Time
Labiaplasty tends to be minimally painful—think less than painful than watching Colton confess his love for Cassie and her leave. But don't worry, the doc still gives her patients pain meds just in case. Dr. Devgan says that most of her patients take 4 to 7 days off work, although she has had women go back to work the next day. She recommends taking the first 3 days to ice the area with pelvic elevation. Dr. Devgan recommends no sex, tampons, or strenuous activities for at least 6 weeks. The scars are v minimal and usually disappear to be almost invisible, to the point where your gyno or SO won't notice them.
How Will It Impact Your Life
For women who have lived their lives feeling self-conscious of how they look, it can be a life-changing surgery. Dr. Devgan says, "patient satisfaction for this procedure is extremely high." For Dr. Devgan, it is "one of the most gratifying procedures" and she commonly hears, "wow, I should have done this sooner" from her patients. Patients can wear jeans and won't be uncomfortable or feel that they constantly need to re-adjust themselves. They can wear bathing suits without feeling embarrassed that someone can see their labia. Dr. Devgan explains that it will not interfere with giving birth vaginally in the future, with orgasms, arousal, or using the restroom. But it can make sex more comfortable and enjoyable.

The Bottom Line
As Dr. Devgan said, a labiaplasty is not a "sexy surgery" nor is it a "porn surgery." In fact, a small study published in 2016 found that women who had undergone labiaplasty were just as likely to have done so for improved appearance and sexual performance as they were for "practical" reasons, like physical discomfort. (But honestly, who's to say that wanting to feel more secure about your appearance isn't practical?) This surgery might seem weird to talk about, but it shouldn't be. Let's be real, if men had a similar issue, it would not be such a taboo topic. Dr. Devgan says, "if some meaningful percentage of the male population had an issue where skin on their testicles was impeding on their abilities to conduct their normal lives, it would be a front and center topic that was totally acceptable and totally covered." The bottom line is, if you're considering getting labiaplasty, you shouldn't be ashamed to talk about it with a trusted surgeon. And if you're perfectly happy with your lady parts and don't want to change it, that's great too.
For any further questions, Dr. Devgan's website provides a ton of information and before and after pictures (which are honestly so impressive). And you can follow her on Instagram at @laradevganmd.
Images: Andre Maliik / Unsplash; laradevganmd / Instagram; Giphy (2)
It's International Women's Day And You Should Def Let Your Followers Know You're Celebrating
Happy International Women's Day, betches. Every betch loves a holiday, especially ones that are specifically dedicated to celebrating ourselves. Think of it like having a second birthday and take the opportunity to treat yourself to a second iced coffee and lots of Instagram likes, all for a good cause of course.
As you know, we've been working with our favorite beauty brand Soap & Glory to promote a conversation around female empowerment since last December, through our Slay Your Pay campaign. So unless you've been living under a rock or like, on a serious internet cleanse since then, you're already well aware of how much we disapprove of the gender pay gap.
So now we've decided to tackle a new issue – the overall disparity in female leadership and role models in general. Not only do we make less money than men for doing the same exact thing, but to make matters worse, there are still less women getting a chance in these male dominated fields. For example:
Only 14% of American CEOs are women
Less than 20% of chefs are women (so it's unclear where they get that whole 'women in the kitchen' thing from)
Only 5% of commercial pilots are women
Zero percent of American presidents have been women
To put it mildly, sh*t is f*cked up. Okay so maybe not mildly, but definitely accurately.

This International Women's Day is the perfect time to speak out the best way we know how – on Instagram, obvs.
Follow us today on @betches and @soapandgloryusa as we post inspirational quotes and images from our favorite female role models, tagging @betches and @soapandgloryusa. Of course, we want you to post your own as well, and if you're lucky, you might even get a regram from us.
So show us, who is your #womenspiration? What has she said or done that empowers and inspires you? Today is the day to let the world (and your Instagram following) know that betches are not to be f*cked with.

ABOUT SOAP & GLORY
Soap & Glory is the beauty brand for the feisty, fabulous and fun— fearlessly delivering world-class products that give every girl THE BEST BANG FOR HER BEAUTY BUCK!  We suggest using Soap & Glory with equal parts happiness and abandon, because we believe while beauty absolutely matters, it doesn't matter absolutely. 
Slay Your Pay with BETCHES x Soap & Glory Continues
Well betches, we finally made it past the joke of a year that was 2016, and we all know what that means: time to make your new years resolutions, and attempt not to break them during your first blackout night of 2017 (that's for your second blackout night of 2017). In our perpetual mission to get our shit together, we know you're trying to save more money in 2017 so you can finally buy yourself a dog or like, meet your personal goal of retiring by age 35. You've come to the right place.
As you might already be aware, as part of our partnership with our favorite beauty brand Soap & Glory, we declared December as National Ask For A Raise Month. We're thrilled to say that the response was even better than we hoped for — we got tons of submissions of success stories, as well as questions about pay and general career advice. We're prouder than Yolanda Foster at Paris Fashion Week. 

Thanks to your overwhelmingly positive response, the good news is that we're expanding the Slay Your Pay campaign into 2017. Why should the raises end just because December did? Let your cup bank balance runneth over. What if we told you you could keep your new years resolution to save more money, while buying the same amount of shit as before? This, betches, is why we're keeping this campaign and the convo about the pay gap going.
Speaking of betches taking a stand, we're not sure if you heard, but the day after the inauguration this year (that would be January 21st, let's see if your resolutions are still intact by then), there's going to be a 'UGE women's march on Washington.
The goal of the march is to stand in solidarity with women's rights, which includes a whole array of shit, other than our salaries, that we definitely take for granted. Women have been marching a LOT throughout history, and if we didn't have all these marches, we probably wouldn't even be allowed to have these jobs in which we suffer from unequal pay. Sad!

What is the gender pay gap and why should I care?
Basically the gender pay gap means that women, on average, are only paid 80% of what men are (aka for every dollar a man gets, a woman only gets 80 cents) for doing equivalent jobs that require equivalent experience. And while making 20 cents less than your boyfriend sounds like nbd, over time this turns into a fuckload of money. I object! 
If there was no wage gap, a woman would earn on average $530,000 more over her lifetime, which in some states could buy you a literal mansion. Do you care yet?
That's like, so unfair. How can this happen?
The sad truth is that the pay gap starts with a discrepancy between men and women's entry level salaries, usually right out of college. Men tend to negotiate for higher pay than women, and many people simply don't know that you can or should negotiate, or that it's up to us to ask for a raise. The employer isn't going to just offer because you're pretty. 

What can I personally do about this?
Omg so glad you asked. Many of our readers told us about their successful experience asking for a raise during Decembetch (aka National Ask For A Raise Month), and you can be one of them. If you yourself aren't in a position to ask for a raise right now because you just started a new job, or you're about to leave, you can spread awareness by telling your friends about it. This is totally in your interest as well, because the more money they have, the less annoying they're going to be about splitting the bill evenly at group dinners, trust me.

How do I ask?
You just fucking ask. You can also read our article on how to ask for a raise like a betch.
Also, we'll be continuing to share Slay Your Pay stories on our podcast Betch Slapped, and dedicating one of our Dear Betch submissions every week to career-related advice, so if you want a shout out (anonymous or not), you should share your story with us by email at [email protected] and maybe we'll read it on the 'cast.
What is the Women's March and how do I get involved?
The march is taking place on January 21st in Washington DC. It is an inclusive march, with the goal of standing in peaceful solidarity against all types of injustices against women. You don't have to buy a ticket, just show up. Maybe get some glitter glue and make like, a sign or something.
Check out the Facebook event here. To let everyone know you're going you should probably RSVP, even though the Statue of Liberty doesn't say you have to.
ABOUT SOAP & GLORY
 
Soap & Glory has been supporting the Clean of England since 2006, when we decided to formulate fun, world-class quality beauty products that would give every girl the best bang for her beauty budget.  We suggest using Soap & Glory with equal parts happiness and abandon, because we believe while beauty absolutely matters, it doesn't matter absolutely.