This Youtuber's Makeup Line Was Recalled For Having Asbestos
It's nothing new for celebrities to create product lines, and they're probably complete trash about half the time. For every Fenty Beauty, there's a scam like the Kardashian Kard. When a celebrity is putting their name on a product, it's tough to know what's really worth your money. Luckily, in certain cases, the federal government gets involved to tell us what not to buy. This week, the FDA has officially recalled Jojo Siwa's makeup kit, and the reason is both hilarious and terrifying.
Quick update for those of you who choose not to pay attention to child stars: JoJo Siwa is a 16-year-old Nickelodeon star who got her start on Dance Moms. She's known for her ridiculous outfits, high ponytail, and huge hair bows. She's basically a full-grown adult (she's 5'9), but her personality is stuck at about nine years old. She's hung out with North West and feuded with Justin Bieber, and is generally just like…a lot.
While JoJo Siwa makes money from releasing music and touring, the biggest part of her business is a massive merchandise range that's sold internationally at stores like Walmart, Target, and Claire's. In fact, schools in the UK even had to ban JoJo Siwa hair bows from being worn because not all students could afford them. JoJo's merch makes her an estimated $8 million a year, but that number might suffer after this latest news.
JoJo Siwa has had a major deal with Claire's for years now, and there was a time when many of her products were exclusively available at Claire's. I love that, because it means you can get an infection from a piercing gun and an overpriced hair bow all in the same place! Convenience is key. Recently, JoJo Siwa got into the makeup game with Claire's, selling a heart-shaped makeup set that you can tell is cheap just from the photo. I might not have expected much in terms of quality, but now the FDA has officially recalled the makeup set "due to the presence of asbestos."
ASBESTOS?
I mean, yikes. Like, is this the same asbestos that's in the walls of old buildings? The same one that causes mesothelioma and that lawyers always have commercials about on daytime TV? Because that seems not great.
Today, the FDA is releasing new results from its continued testing of cosmetic products for asbestos & is warning consumers to not use 2 additional products that have tested positive for asbestos & have been recalled https://t.co/p4AACHd9y8 pic.twitter.com/DYtSelENEj

— U.S. FDA (@US_FDA) June 6, 2019
While the "dangerous levels of asbestos" in the JoJo Siwa makeup set are definitely concerning, this isn't actually a surprise. Claire's has been majorly struggling recently, first declaring Chapter 11 bankruptcy. In the aftermath of this, many of their cosmetics products have been recalled for asbestos, and they're all probably made in the same factory as the JoJo Siwa set. I'm pretty sure none of you reading this have shopped at Claire's since the fifth grade, but if you missed the memo, don't f*cking shop at Claire's.
It's been a few days since the recall was announced, but JoJo Siwa has yet to mention it on any of her social media accounts. Instead, she's been busy performing at Nickelodeon's SlimeFest and announcing new tour dates. I'm not her publicist, but I feel like it would maybe be a good idea for her to use her platform to tell her young fans to not use the makeup set, because it literally might give them cancer. Just like, a tweet or something!
In other, equally upsetting news, I learned while stalking JoJo Siwa on Instagram that she calls her fans "Siwanatorz." Sorry, but I saw it, so you had to see it too. If you have a friend or a loved one who might be using a JoJo Siwa makeup set, please tell them to throw it in the garbage, and then have a chat with them about reevaluating what they spend their money on.
Images: Shutterstock; itsjojosiwa (2) / Instagram; US_FDA / Twitter
The FDA Just Approved A Birth Control App And We're Suspicious
There is an app for everything in your life. There are apps for ordering coffee in the morning, and now there's one for making sure you don't get preggers. The FDA just approved an app called Natural Cycles as a form of contraception. Considering there is still an ongoing debate in the U.S. over women's reproductive and abortion rights, which could affect access for some to contraceptives, this app could be a saving grace. Natural Cycles is meant to give women control over their bodies and prevent unplanned pregnancy, which sounds great, but wtf is it and how does it work?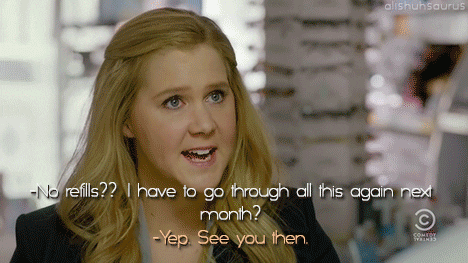 How TF Does It Work?
The app requires you to enter the correct information about your cycle and take your basal temperature, aka your lowest body temperature achieved at rest. It then uses an algorithm to determine when you are fertile. On the days when you are fertile you're supposed to practice safe sex, or just give the vag a day off. Whatever you prefer. The only problem with this is that a lot of are still taken by surprise when we have a visit from good old aunt flow, so how TF are we going to enter all of this information in?
What Are The Benefits?
The positives of this app are that if we end up like in the Divergent movies (but with a phone and hopefully the guy who plays Four), this app will let women continue to practice safe sex. Post apocalyptic planning aside the app means that women don't have to rely on hormonal contraceptives such as birth control and IUDs. We all have that friend with an IUD horror story or who took a birth control that made her totally nuts. (Unless you are that friend, in which case, my apologies) More importantly app claims to have a failure rate of only 1.8 percent compared to the 9 percent that condoms have. Remember though, this failure is not getting an F on a midterm you never studied for its having a child… so not something you can just cry your way out of at a parent teacher conference.

What's The Downside?
In general this just seems like a lot of maintenance and personal responsibility which, considering how most of us have to set an alarm to remember to take a pill every day (and then still forget), can lead to problems. The other downfall is that the app costs $79.99 annually. For a lot of women, their birth control is covered by insurance (thanks Obama!) so that seems like a lot of money for an app that doesn't even play Candy Crush or airbrush photos for you. However, if your birth control isn't covered, then it is a lot cheaper than having to pay for your monthly set of pills. Or, you know, having a baby for the rest of your life. Either way this is the first of many new products that will come out of the femtech industry, tbh can't see what else they role out!
Heads up, you need to keep up with the news. It's not cute anymore. That's why we've created a 5x weekly newsletter called The 'Sup that will explain all the news of the week in a hilarious af way. Because if we weren't laughing, we'd be crying. Sign up for The 'Sup now!