WTF Is Red Light Therapy & Should You Try It?
It's no secret by now that I'm a fan of high-tech beauty hacks. So when I was offered the chance to write about red light therapy, I dove in—despite having absolutely no idea what it was. 48 hours later, I'm semi-seriously considering taking out a loan to buy a Joovv Elite and converting a wall of my (tiny) apartment into a red light therapy studio. (Don't worry, I'll explain what a Joovv is, my uninitiated friends.) But first, a rundown of WTF red light therapy actually is, how it works, and how quickly whether you should do it. 
What Is Red Light Therapy?
Red light therapy is, in the end, very much what it sounds like: a form of therapy for your body using red light. To be more specific, using wavelengths of red and near infrared light, and to be psychotically specific, using red light "in the mid-600 nanometer range" and near infrared light "in the mid-800s." (You do not need to understand these words in order to reap the benefits. But should you, for example, have a very irritating boyfriend who demands to know the science behind all your beauty treatments, you can now cite those numbers for him.) These wavelengths penetrate "roughly 5 millimeters below the skin's surface," stirring up all kinds of sh*t in your cells without damaging the surface of your skin. A win in my book.
How Does Red Light Therapy Work?
The reason such specific wavelengths are required is that you're going after a very specific effect: to strengthen the mitochondria in your cells. I've been waiting my entire adult life to use this fact that I learned in middle school, and here it is: the mitochondria is the powerhouse of the cell. Unfortunately, my understanding never went far enough to know what that means, so I dove back into my research. According to Healthline, the mitochondria creates energy, or energy-carrying molecules called ATP (adenosine triphosphate. Do I have a PhD yet?). When red light stimulates the mitochondria, it creates more ATP—and with more ATP, cells have more energy to get sh*t done.
can you imagine falling in love with someone who doesn't know that mitochondria is the powerhouse of the cell

— keely flaherty (@keelyflaherty) March 24, 2018
What Does Red Light Therapy Do?
To get a more nuanced view of red light therapy's effects, I spoke to Lindsay Malachowski, the Director of Operations at SKINNEY Medspa. First, I ran the effects I was most hoping were true by her: the wonders red light therapy is meant to perform for your skin. According to Joovv, a company offering at-home red light therapy devices, RLT is clinically proven to boost collagen production, reduce inflammation and redness, and improve the appearance of wrinkles. (I am aware that clinically proven implies there are clinical studies I could read. I prefer a more human approach.) When I asked Malachowski about these claims, she confirmed them as true—with some caveats.
Red light therapy, Malachowski explains, is "the most gentle form of photodynamic therapy:" AKA it's effective, but not going to get you the most dramatic results. Because it's LED rather than laser, and doesn't work directly on the surface of the skin, it provides less "significant changes" than a laser treatment like Fraxel or IPL. That's not to say RLT is useless—Malachowski specifically states that it's an effective treatment to reduce redness, inflammation, breakouts, and eczema, with the added benefit of having no downtime afterward. Finally, while she affirms that red light therapy "does stimulate collagen," she notes that here, too, it's not the most dramatic treatment available on the market. (For that, she recommends non-invasive ultrasound or radio-frequency like Ultherapy.)
When I next asked Malachowski about red light therapy's weight loss and fat reduction effects, she was notably less enthusiastic. According to her, there's "little scientific evidence" supporting those particular claims. She doesn't have much more to say about that, except to recommend CoolSculpting or EmSculpt to those looking for those results.
When I spoke to Joovv's cofounder, Scott Nelson, he directed my attention to a whole other side of red light therapy benefits: namely, those that don't immediately appear in the mirror (sue me, I'm vain). When I asked which groups of people would benefit most from red light therapy, he mentioned immediately that it can lead to "better-looking skin," but he also mentioned people suffering from joint pain, trouble sleeping, or struggling with muscle recovery. He also mentioned that "elite athletes" use red light therapy to achieve "that edge" when it comes to increasing their performance or cutting down their recovery time. For what it's worth, Joovv's clients do include pro athletes Zach Johnson, Anthony Pettis, and Duncan Keith. As for better sleep, he says that using red light therapy "on a regular basis" will quickly improve sleep quality and REM cycles.
So, Where Do I Get It Done?
Good question! Certain salons and spas offer red light therapy treatments, including SKINNEY MedSpa. (It's not offered as a service on its own, but it's a 20-minute portion of their Hi Tech Facial, and they also offer it after Botox, filler, and Fraxel treatments to speed up healing.) Other treatment settings might include lying in a red light therapy bed for 20 minutes, offered by aesthetician Mzia Shiman in NYC.
If you're looking for an at-home version (a phrase I've always personally been happy to hear), Joovv sells red light therapy devices in sizes ranging from purse-friendly to a six-foot-tall wall-mounted model. For these, Nelson recommends a daily treatment of 8-10 minutes, standing three to six inches from the device. When I asked how quickly you saw results (I'm impatient, okay?), he let me know that effects like pain and inflammation relief could be seen in a single session. Effects on the skin, however, would take up to 4-6 weeks of daily treatment.
So, will I be marching out to begin my 4-6 weeks of dedicated red light therapy? Honestly, definitely, but I'm not a hard sell on products that promise to solve all my problems. While experts may not agree on all the effects of red light therapy, there does seem to be substantial scientific evidence that it's a useful treatment for skin quality, pain relief, and improved sleep. Other claims you can test for yourself, and write blog posts about if you so choose. But if this treatment is even half as effective as the clinical trials supporting it would suggest, I'd say it's definitely worth a shot.
Images: @skinneymedspa, @jolenegoring / Instagram; @keelyflaherty / Twitter
4 Healthy Foods That Are Surprisingly High In Fat
Over the last few weeks, I've been tracking macros on MyFitnessPal. Initially, I was doing it to try and get back on Keto. (By "back on," I mean I did it for two weeks before a vacation once.) Unsurprisingly, I bailed on Keto (nothing is low-carb enough!!!). and I then decided my #newyearnewme would be about counting macros instead. I'm currently using this calculator, which I found via this highly reliable fitness Instagram. I'm not even being sarcastic—there's very good advice on there. My biggest challenge with macros so far has definitely been keeping my fat content in check. Within a week, I realized I knew way less about which foods are high fat than I thought. For example, I had a day of what I considered very healthy eating (salads! oats! grain bowls!), and then discovered my diet had been 60% fat. And this is why I have trust issues. So, I did some research into which of my "healthy" choices were causing that high fat content. I'm not talking about obvious fats—you should all know that baked goods are full of bad fats and avocados are full of good fats. These are the sources of fat you're not as likely to guess as, say, a fried chicken sandwich or a BLT with mayo.
Disclaimer: Everyone's dietary needs are different, and many diets may call for higher fat content. I am not advocating for a universal low-fat diet, so do not come for me. Rather, I am hoping this information may be illuminating to some of you (read: I don't want to be the only one who didn't already know all this).
I'll be honest, I've never really known a lot about the nutrition content of falafel. It felt like a kind of dietary gray zone. Not as healthy as a vegetable, but probably better than cheese. Right? Not really. While trying to design a low-fat grain bowl at Tender Greens, I was pretty shocked to see that the steak topping was lower in fat than the falafel option. While falafel can be a healthy dish (the ingredients themselves are nutrient-rich), I'd somehow forgotten that it's typically deep-fried. This adds, in scientific terms, a sh*t ton of fat to your meal. FWIW, the "baked falafel" option at Tender Greens was way healthier—but unless a menu specifies "baked," you should assume it's deep fried, and therefore higher in fat.
Tofu is a similar deal to falafel—it's all about how it's prepared. While tofu isn't deep-fried quite as often as falafel (though still more often than you'd think), it's really good at soaking up whatever it's cooked in. And given that tofu on its own has just about zero flavor (it's okay, we can all admit that), it's usually cooked in a bunch of oils, sauces, etc. So tofu on its own? Low-fat, healthy option. But the way it's usually prepared in restaurants can make it a higher-fat option than something like chicken.
Okay, this one errs more on the side of "foods we knew were high in fat." But take a minute and actually consider how many "healthy options" feature nuts as a key ingredient. Protein bars that pride themselves on not adding sugar? Full of nuts. Overnight oats? Probably filled with nut butter (or WTF are you doing). Even a lot of salads and bowls will add nuts as a topping, plus, almonds are constantly touted as the ideal mid-afternoon snack. We also all know the problem with nuts—they are impossible to portion for how calorie-dense and fat-dense they are. And anyone who says they're full after 6 almonds is a dirty liar.
So, while nuts are full of technically good fats, it's still super easy to go over on your fat content goals if all the healthy options you're choosing are nut-heavy. So if my breakfast included 2 tbsp of almond butter (18 grams of fat and it never feels like enough), maybe I don't also have have a nut-based Lara Bar at 4pm (9 grams of fat), and snack on nuts at 6pm (19 grams of fat). That brings my fat content from nuts alone (not even the fun fats, like sauces and cheese and sugar) to 46 grams, when my daily goal is 48. (Let it be known that my total fat content for that day wound up being 90+ grams. This sh*t is hard!!!)
I know! I said this list would be about non-obvious sources of fat. Yet here I am basically listing the liquid form of fat and saying "surprise! This is fat." Sue me, but also listen because this is probably the #1 thing that people forget to count in their diets. One tablespoon of olive oil has 14 grams of fat. One tablespoon of butter has 12 grams of fat. (The type of fat they offer is different. Here is a long article on different fats and how they affect you.) Even at home, I struggle to cook something edible using less than 2 tbsp of one of these. It can be super tempting to just log the one chicken breast you cooked in there, but unless you're using a cooking spray, you have to account for the fats it absorbed.
Well, that's the end of my tirade on fat, and now I never want to look at a nutrition label again! Remember, the worst thing you can do with your diet is eat in a way that makes you miserable, because you know that sh*t won't last. My fat content is still way too high most days, but I'm figuring out what a low-fat day I can live with looks like. At least it's not Keto!
6 Fat Burning Foods You'll Want To Add To Your Diet Right Away
It's pretty damn tempting to buy every skinny tea and diet plan you see on Instagram, but honestly there's no real trick to fat burning unless you're eating a balanced diet and working out regularly. It took us a while to accept this tragic reality, but after trying every diet on social media and experiencing continual disappointment, it might be the hard truth. With that being said, there are definitely some foods that have certain compounds and nutrients that could help you burn fat more easily—fat burning foods, if you will. We did some research to find the superfoods that have been proven to help with weight loss, and we're currently ordering each one in bulk. Here are the fat burning foods you to add to your diet.
1. Cayenne Pepper
Pepper has a compound in it called capsaicin, which has been proven to spike your metabolism and boost your body's ability to convert food into energy instead of storing it as fat. Spicy foods also tend to suppress your appetite, which is one of the reasons why you may be super full after eating something spicy for lunch. According to the American Journal of Clinical Nutrition, you just need to add a pinch of cayenne pepper to your meal and it'll help your body burn fat after you eat. So like, pass the pepper.

2. Black Beans
Just in case you needed that extra push to order Mexican for dinner tonight, black beans may be one of the coveted fat burning foods, although that burrito might not be. If you ask me, black beans should be trendier than they are, because they're low-key magical. In fact, some researchers say they're equivalent to a fat-burning pill, but like, much more legal (some disagree, but over all, adding beans to your diet as part of a healthy weight loss regimen can help you lose weight). Black beans are filled with slow-digesting fiber that feeds the bacteria in your gut and trigger a chemical called butyrate, which basically helps your body burn fat more efficiently.

3. Grapefruit
It may be time to stalk up on grapefruits ASAP. In a 2006 study, scientists realized how magical grapefruits are when they asked a group of participants to drink apple juice everyday and another group to drink grapefruit juice everyday. It turned out the grapefruit people lost more weight and their bodies' metabolic rate sped up dramatically, and the apple juice people went home in shame (I paraphrase). Not only are grapefruits rich in bioactive compounds that help break down body fat and regulate your blood sugar, but they also lower your body's insulin and speed up your metabolism. Game changer. Just don't douse it in sugar, duh, because that defeats the purpose of fat burning foods.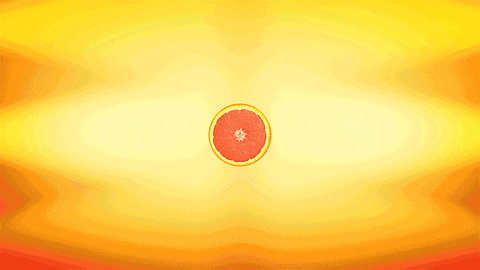 4. Bone Broth
You may have seen your favorite health bloggers sipping on homemade bone broth recently, but this trend actually has a ton of scientific proof behind it. Bone broth is filled with vitamins and collagen, and its nutrients can also help reduce inflammation in the gut, which often leads to weight loss. By healing the gut and filling our bodies with good bacteria, bone broth can make you less bloated, be better protected against sickness, and promote fat loss in the body.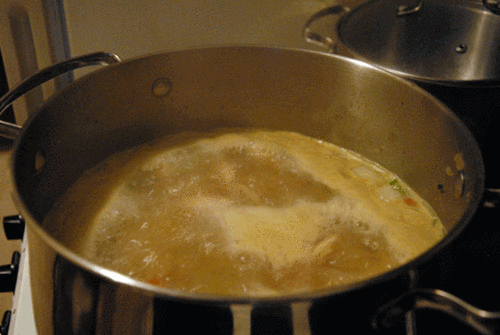 5. Eggs
People used to think the cholesterol in egg yolks would make you fat, but actually the opposite may be true. The egg yolk myth started decades ago, but it turns out we were wrong back then and we're like, much smarter nowadays (cue the video of people eating Tide pods in 2018). Eggs are packed with protein and vitamins, and the cholesterol in the yolk has no real impact on cholesterol metabolism in your body. Some evidence even shows that eggs may raise levels of HDL cholesterol in your body, which helps prevent heart disease. The protein and healthy fat combination in eggs will keep you full for longer and have been linked to fat loss, so like, it may not help you burn fat as expressly as some of these other fat burning foods, but eggs may help you lose weight overall. Bottom line, you can stop pretending you like egg whites.

6. Anything Fermented
Fermented foods, like sauerkraut, Kombucha, kimchi, kefir, tempeh, and miso are all foods that could majorly help your body burn fat. This comes back to the whole idea of the good bacteria in your gut. By improving your gut health, you help your digestion work better and boost your body's immunity. Nobody's promising that if you start drinking Kombrewcha you'll lose three pounds overnight, but these foods are super healthy for you and they just get your system working better, which could very likely help you lose fat, as long as you're not like, eating the sauerkraut on a hot dog. You're on your own in that case.

Images: Trang Doan / Pexels; Elle Hughes, Charisse Kenion, / Unsplash; Tiburi, Edwina MC / Pixabay;  Giphy (2)