People Discovered Shein Was Selling A Swastika Necklace & Flipped Out
Because I don't say "I hate it here" enough times per day (my current count is at least 10 so far today alone), Chinese fast-fashion retailer Shein was caught selling Swastika necklaces on their site. And before you ask, no, this is not one of those situations where it kind of looks like a Swastika if you squint and cock your head to the side—they were blatantly selling a product they called "Metal Swastika Pendant Necklace" and it was exactly as the name describes.
Marissa Casey Grossman aka @fashionambitionist on Instagram pointed out the product's existence in a post to her Instagram feed, writing, "I have zero words" and calling the necklace "ABSOLUTELY disgusting". Other influential Instagrammers like @influencerstruth and @condeblast blasted Shein for their decision to produce and sell a swastika necklace. The listing is no longer active, and Shein has since apologized.
Some users pointed out in the comments that the swastika has long been a symbol of good luck and fortune in other cultures, and the Nazis appropriated it. Indeed, a Shein spokesperson told Buzzfeed that the necklace was not a Nazi swastika, but "a Buddhist swastika which has symbolized spirituality and good fortune for more than a thousand years." They added that the Nazi swastika has a different design and is pointed at an angle. Let's just hope the people looking to buy that $2.50 necklace knew that—but either way, a global company with over 11 million followers on Instagram should have known better.
This isn't the first time Shein came under fire for selling religious items, either. The necklace controversy comes less than a week after Shein briefly listed Muslim prayer mats and attempted to sell them as decorative rugs on their site. The mats were taken down almost immediately and the company quickly issued an apology on their Instagram, writing that they "vow to do a much better job in educating ourselves on different cultures, religions, and traditions." Clearly that promise hasn't panned out.
Over the weekend, anti-Semitism was in the news when DeSean Jackson, the wide receiver for the Philadelphia Eagles, posted a quote that he attributed to Hitler.

The statements that Jews plan to "extort America" and "achieve world dominations" are illustrations of a harmful stereotype that claims Jews control things like the banks, media, U.S. government, and have plots to take over the world. The stereotype dates back to the 19th century and has been used to scapegoat Jews for complex problems in the world.
After receiving backlash for the post, Jackson issued two apologies. He initially claimed, "Anyone who feels I have hate towards the Jewish community took my post the wrong way. I have no hatred in my heart towards no one!!" Ok, sure, but what exactly was the right way to take that quote?
In a later apology on his Instagram, he wrote, "I unintentionally hurt the Jewish community in the process and for that I am sorry!" He added, "This apology is more than just words – it is a promise to do better. I will fully educate myself and work with local and national organizations to be more informed and make a difference in our community."
View this post on Instagram
Despite his claim that he didn't intend to hurt Jews with the quote, I have to wonder how any quote attributed to Hitler that explicitly references Jews could not, by definition, hurt Jews. I mean, that was kind of Hitler's whole thing. (Also, for what it's worth, the quote is probably not even from Hitler, but that's the least problematic aspect of all of this.)
The Philadelphia Eagles released a statement calling the messages he shared "offensive, harmful, and absolutely appalling" and offering a vague promise to "take appropriate action".
— Philadelphia Eagles (@Eagles) July 7, 2020
Finally, to round out this horrible list, the Trump campaign is selling shirts with a design that is reminiscent of that of the official symbol of the Nazi party. Of course they are. See for yourself:
The President of the United States is campaigning for reelection with a Nazi symbol. Again.

On the left: an official Trump/Pence "America First" tee.

On the right; the Iron Eagle, the official symbol of the Nazi party.
⁰It's not an accident. Bigotry is their entire brand. pic.twitter.com/mSOBxwf7Wa

— Bend the Arc: Jewish Action (@jewishaction) July 1, 2020
After receiving backlash for it, the Trump campaign issued the biggest non-apology of all time. In an email to Forbes,  Trump's 2020 communications director wrote, "in Democrats' America, Mount Rushmore glorifies white supremacy and the bald eagle with an American flag is a Nazi symbol. They have lost their minds."
First of all, the complaints about this shirt have nothing to do with Mount Rushmore, but ok, and nice gaslighting on the anti-Semitism concerns. This comes after Facebook removed Trump campaign ads contained an image of a red upside down triangle, a symbol used by Nazis to identify political prisoners in concentration camps. At this point, it's hard to believe the Trump campaign does not know exactly what they are doing with these kinds of graphics, and honestly, I'm just surprised Facebook actually did something about Nazis on their platform for once.
The Shein rep told Buzzfeed, "As a multicultural and global brand, we want to apologize profusely to those who are offended, we are sensitive to these issues and want to be very clear that we in no way support or condone racial, cultural and religious prejudice or hostility." They added, "We are actively working through our internal structure and processes to resolve these issues, including a product review committee to ensure that we respect our diverse community."
Currently, according to Shein's own website, products are first conceptualized by designers, and after manufacturing go through a "rigorous" quality assurance" phase. Regardless of whether or not you buy the apology, you should probably stop shopping at Shein anyway. The company has been accused of ripping off indie designers and their clothes fall apart after one wash. It's also a fast-fashion company, and while they claim to support fair labor practices and sustainability, fast-fashion companies in general have contributed to massive pollution and waste and committed human rights abuses.
Images: Shein; 0ne0fone (2), fashionambitionist / Instagram
5 Ugly Fall Trends To Skip And What To Wear Instead
Fall is officially here and, even though it might not feel like it yet, according to all of the Instagram influencers clogging up my feed with their best unoriginal fall pics, last Monday was the first official day of fall. Which means that, if you still haven't switched over your wardrobe yet, it's officially time to get on that. It's also time to go shopping for updated fall pieces, because who doesn't want another excuse to shop? There are some amazing fall trends worth getting on board with right now like, '70s silhouettes, dad jeans, and animal print. But of course, in keeping the world balanced, for every fall trend that I'm loving, there's another that I cannot get behind. So here are the five fall trends you won't see me in, and that I hopefully won't see you in either, plus some alternative fall trends to try instead.
1. Capes

ModCloth Pardon My French Quarter Cape, $89
I feel like every couple of years this trend comes around and, in the least shocking thing ever, I hate it even more. It's not only impractical, it's also ridiculous looking. In my humble-yet-judgy opinion, fashion capes are on the same spectrum as fashion ponchos. And let me clarify something for you all: ponchos are for the rain, and capes are for superheroes. If you're gonna be a hero, be the kind that doesn't wear capes. Instead of the costume-y cape trend, opt for a more effortlessly cool and trendy extra-long duster.

Free People Inside Out Cardigan, $168
2. Shakespearian Ruffle Collars

Zara Ruffled Printed Blouse, $69.90
I'm sorry, but no one can pull of this trend. Even Shakespeare himself looked like a straight clown in his ruffled collar. Instead of the obnoxious ruffle collar, try a romantic-inspired balloon sleeve. It's a way more flattering look and also one that won't scare away small children. 

525 America Puff Sleeve Pullover, $88
3. Micro Purses

WANT Claim To Fame Mini Crossbody Bag, $24
Again, I can't get behind an impractical trend. The tiny bag trend was already throwing me off, so now that we've gone micro, I'm out. I pray that since we've now gone so micro, fashion will switch over to the other extreme, back to oversized Olsen-level hobo bags from here on out. But anyway, these micro bags are bullsh*t. I can't afford to lose any more credit cards, and this bag doesn't even look like it could fit my keys and one other thing. So instead of an impractical micro purse, try just a small '90s style shoulder bag. At the very minimum, you can at least fit your phone and like, a pack of gum.

ASOS DESIGN croc effect 90s shoulder bag, $29
4. Statement Hats

ASOS DESIGN Faux Fur Roll Back Bucket Hat, $23
The name of this trend alone gives me cringe sweats. Like, a statement hat… that doesn't even make sense. A hat, in itself, is a statement. So now you're trying to do a hat, that's also going out of its way to make a statement? I can't. The only people who can get away with wearing a fuzzy bucket hat are LL Cool J and Cam'ron. Get on their level and then we can talk. In the meantime, maybe try some cool hair accessories instead?

ASOS DESIGN hair clip with pearl glam slogan, $9.50
5. Colored Tights

ASOS DESIGN 50 Denier Tights, $9.50
Colored tights scare me. They are reserved for kindergarten teachers, and kindergarten teachers only. They feel very Ms. Frizzle and the Magic School Bus. Although, I just looked it up and she apparently didn't actually wear colored tights. But seems like she would have, right? I don't know, either way, they're gonna be a no, from me dawg. Instead, try a subtle animal print tight. 

Commando Leopard-Pattern Sheer Tights, $36
So that's my list of hard nos. Other than these, everything else I'm on board with or, at the very least, can tolerate. I'm sure you will all be commenting with misguided aggression to disagree with my selections as you like to do, so have at it.
Images: Ali Pazani / Unsplash; ModCloth; Free People; Zara; South Moon Under; Nasty Gal; ASOS (4); Neiman Marcus
Betches may receive a portion of revenue if you click a link and purchase a product or service. The links are independently placed and do not influence editorial content.
An Investigation Into Who Is Leaking Kim Kardashian's Looks
While the past 24 hours have been completely taken over by the news of Jordyn Woods and Tristan Thompson hooking up (allegedly), that's not all that's been happening in the Kardashian universe. This week, Kim Kardashian has also been dealing with a scandal of her own, and I'm here to get to the bottom of it. In recent years, it's become a huge trend for fast fashion websites like Fashion Nova and MissGuided to create inexpensive replicas of outfits that celebrities wear. The Kardashians and Jenners are some of the most-copied celebs, and these stores put in overtime to get the dupe designs up for sale as quickly as possible. Today, we're talking about the biggest Kardashian mystery of 2019, at least for now: who is leaking Kim Kardashian's outfits?
The Crime
On Sunday night, Kim Kardashian attended the Hollywood Beauty Awards in a dramatic dress that was vintage Mugler couture dress from 1998. Not everyone loved the, um, dramatic boob cutouts on the dress, but there was no denying it was a major statement. Interestingly enough, Fashion Nova put up a version of the dress for preorder within minutes of Kim stepping out in the look. This didn't seem that strange, because these brands could just show a virtual mockup of the dress and then make it later. But the story got more complicated when fashion account @diet_prada, who is notorious for exposing industry drama, found proofs from a previous Fashion Nova photoshoot featuring the dress.
The date on the files is 02-14-19, which was days before Kim wore the dress in public. Also, the file has "Kim dress" in the name, so there's no way it was just a random coincidence that Fashion Nova decided to make that dress. Basically, someone must have leaked the look ahead of time, and we need to know who it was. People were quick to accuse Kim of having an under-the-table deal with these brands, but yesterday, she took to Twitter and Instagram to vehemently deny the claims:

That's a whole mouthful to get through, but Kim is essentially saying that she values her relationships with designers, and she would never make a deal to undercut their hard work. Another interesting wrench in this story happened earlier this month, when Kim posted the photo below:
Kim makes a big show of asking the fast fashion brands to wait before ripping off her look, which, of course, MissGuided did just hours later. So while Kim claims to be working hard to stop this kind of situation from happening, who is really to blame? I have some ideas.
The Suspects
Kim Kardashian West: Let's be real. Despite Kim's insistence that she has no relationship with Fashion Nova or any other fast fashion brands, I wouldn't be surprised. I understand that her relationships with designers are important to her, but she could also be making a sh*tload of money by leaking these looks. No matter what she says, it's a good thing for her that people want to dress like her.

Kris Jenner: Even if Kim is telling the truth, her momager might be going behind her back. Kris has always been a supportive mom, but maybe she's tired of just getting a 10% cut from her daughters' deals. A sneaky Fashion Nova deal would be the perfect way for her to make some nice pocket change without cutting Kim a check.

Jordyn Woods: I wasn't even going to include Jordyn on this list originally, but things have obviously changed. Could her alleged hookup with Tristan Thompson have been a diversion tactic from more devious business practices? Jordyn's Instagram page is basically one big ad for these fast fashion companies, so maybe they were sliding her some extra cash for deets on her family's upcoming outfits. I hope she was saving that money under her mattress, because her life is going to look a lot different now that Kylie's not paying for everything.
North West: Kids these days are scary good with technology, so I have no doubt that North could steal mommy's iPhone and AirDrop MissGuided some photos from Kim's fittings. I've always had a sneaking suspicion that North is the smartest person in that family, so maybe she's playing the long game to take over the Kardashian empire.
I didn't have the heart to tell her she had it on backwards. pic.twitter.com/DCTpY5kE2e

— North West (@norisblackbook) February 18, 2019

Jonathan Cheban: When it comes to Foodgod and his parasitic friendship with the Kardashian family, I've always smelled a rat. Maybe I'm personally biased because he blocked me on Instagram (long story), but I wouldn't put it past him to hack into Kim's iCloud and take some screenshots. I don't know what Kim sees in him, but she's kept him around for far too long.
its nice that kanye gave jonathan cheban a job pic.twitter.com/RRyzn3yAQ3

— ™️ (@TrevorMcMullan) May 19, 2017
The Verdict
At this point, it's too soon to say who's really to blame. We might never know, but I have a feeling that sooner or later this whole fast fashion game is going to come crashing down. I'm sure designers are itching to sue these sites for copying their designs, and Kim Kardashian's fashion mole has to be feeling the heat. If the leaks stop now all of a sudden, we definitely know that it was Jordyn. Otherwise, we'll have to wait and see who makes the next move. This is like the fashion Hunger Games, and you know Kim isn't going to let anyone else win.
Images: Shutterstock; @diet_prada, @kimkardashian / Instagram; @kimkardashian / Twitter
Zara's Cheaper Sister Brand, Bershka, Just Opened A Store In The U.S.
Zara fans, big news: Zara's sister brand is opening up a pop-up shop for three months in NYC. The younger-targeted brand is called Bershka, and before we dive any further into this, we've got to talk about the name. Was anyone else's immediate reaction some joke about babushkas? Or something you might call your Russian grandma? Or was that just me? And for those of you know-it-alls who are like, "well Zara is actually pronounced 'dzah-dah' since it's a Spanish company so this isn't that bad"… Shhhhhhut your face. The clothes are slightly cheaper than Zara's, which is great for me personally. Yes I've seen The True Cost, global exploitation is very bad, but I'm a student. Persecute me. Bershka also sells menswear, so you can drag your boyfriend or brother. Probably not your husband, unless you got married super young in the Midwest. I don't know your life.
Bershka also sells activewear, which is nice, but that 100% will not motivate me to exercise more. Last but not least, they have a beauty collection with matte and shine lipsticks, contouring kits, nail polishes, and more. Bershka (still can't get over the name) officially launched in the US online this past spring, but now it's testing the brick-and-mortar waters out. Before shopping, I'm going to warn you: the sizes run small *rolls eyes* and they don't carry any XL sizes or plus sizes. That's some serious cross-Atlantic shade, Spain. That hurts.
Anyway, if you're skinny, the clothes are really cute (especially the outerwear and bottoms), so I'll probably be adding some pieces to my fall/winter wardrobe. Wait. They have a Halloween and Disney collection??? Take my money. The store is located at 580 Broadway in SoHo and will be here until January. For those of you who aren't in the city, shipping is free if you spend more than $70. God bless free shipping, honestly. I've picked out some of my favorites, and you should def pay attention, because I know what's best.

I need this. And it's only $59.90! This puffer comes in garnet (pictured) and green. This 5'7″ model is wearing a medium—wow, they weren't kidding when they said it ran small, but I guess they did style this over a suit. Odd choice, but okay. You do you, Bershka.

These jeans totally could've been styled with the above puffer for a cute cold-weather lewk. This pair combines two of my favorite trends: lace-up and frayed denim. And for only $49.90… bless. Also, please don't wear that sweater unless you're going as Cookie Monster for Halloween. Wait, that's actually not a bad idea…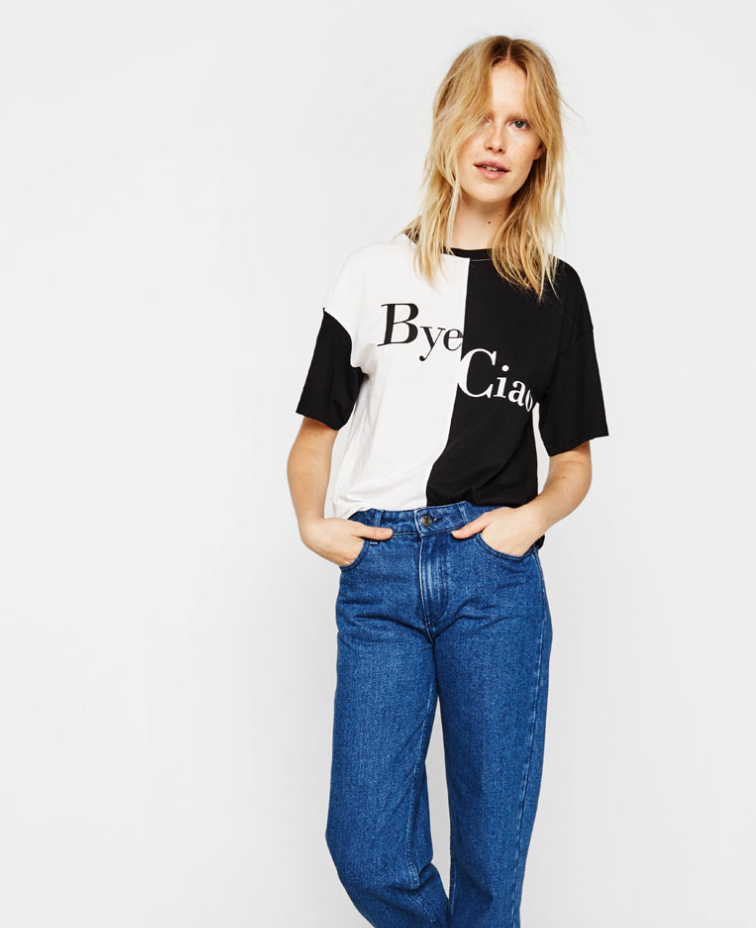 Guys, when I saw this, I literally gasped and said, "Yes." That kind of reaction doesn't happen very often for me. I've been less thrilled on birthdays. This $15.90 shirt comes in two colors: black (pictured, duh) and orange, with the text, "Avant Garde." Ciao bella, I'm going shopping.

Does this not look comfy af? I mean, come on. $29.90 for a hug on your body? Done. Sold. Ship it. This sweater comes in cream (pictured) and gray. I approve of both colors.

Anything with pearls (faux or not) is a win in my book. I also need new combat boots, so let me just update my already full cart. Shoes for $60… not bad at all.

Okay, I'm really impressed with their beauty collection. $9.90 for this flavoured (how European of you to spell it like that) lip balm crayon. It is paraben-free, not tested on animals, and made with plant based oils and butters. *slow clap*