The 7 Most Iconic White Sneakers—Because I'll Be Wearing This Style All Summer
—±Betches may receive a portion of revenue if you click a link and purchase a product or service. The links are independently placed and do not influence editorial content.
If you would have told my high-school self that one day I'd be wearing jeans and sneakers, I would have told you to get lost. I mean, there's no greater "dad" look than wearing a pair of white New Balances with a pair of light wash jeans and you won't convince me otherwise. But frankly, this season it's perfectly on-trend to rummage through your dad's closet and borrow a blazer, jeans, and a pair of white tennis shoes. And while the oversized blazer and jeans trend might meet its end soon, there's one thing that remains a classic regardless of what's happening in fashion: a great, comfy, white sneaker. This spring and summer are no different.
Putting on a new, crisp white pair of sneakers is like ordering a caesar salad and table fries, it just feels right. So, I asked the Betches audience which white sneakers were elite and you did not disappoint. Here are the 7 most popular answers.
Veja Campo Sneaker

While these are classic in their own right, they are 100% the new kids on the block. It's like all the sudden in 2017 I saw every single human that graced the streets of NYC wearing a pair, and for good reason. They are sustainably made with organic cotton and wild Amazonian rubber. Something your ego (and wallet) can feel good about.
Shop it: Veja Campo Leather Sneakers, $175, Nordstrom
Superga 2750 Cotu Classic Sneaker

I'd be remiss if I didn't tell you a brief story about why I personally love Superga's. TL;DR It was 2008 and I saw Joe Jonas wearing Supergas, so I bought Supergas. They're super comfy, come in a ton of colors, and make me feel cultured since they're made in Italy. Honestly, TG for Joe Jonas or I would have never found my favorite shoes.
Shop it: Superga 2750 Cotu Classic Sneaker, $69, Revolve
Air Force 1s

Honestly, if you don't know what these are, are you even a zillenial? I swear these paired with a black onesie and an oversized white button-down is the equivalent to the "cool girl" uniform. You can catch me grabbing an iced matcha in these everyday for the foreseeable future.
Shop it: Nike Air Force 1 '07 Lv8 Sneaker, $120, Revolve
Dr. Scholl's Time Off Platform Sneaker

I'm not going to lie, these threw me for a loop. Before I tried these, nothing screamed, "I'm getting old" quite like officially investing in a pair of Dr. Scholls. But, don't judge a book by it's cover, because not only are these cute-AF wearing them is like walking on clouds.
Shop it: Time Off Platform Sneaker, $70, Amazon
Hoka Bondi 8

If you're looking for a new pair of shoes for your hot girl walks, look no further. These might not be your obvious choice for a normal, everyday sneaker but nothing can compete with these if you're walking long distances. Like, they're even approved by ​the American Podiatric Medical Association.
Shop it: Bondi 8, $165, Hoka
Reebok Women's Club C Sneaker

If it isn't broken, don't fix it. That how I feel about these Reebok sneakers. I've seen these for as long as I can remember. (No, really, I remember seeing these on the playground in kindergarten.) They were a staple then, and they're a staple now. A perfect addition to your capsule wardrobe.
Shop it: Reebok Women's Club C Sneaker, $44.71, Amazon
Leather Converse

This wouldn't be a complete list without the obvious classic: Converse. What makes these a bit more trendy (and honestly, grown-up) is the fact that they're leather. They'll also stay clean for a hell of a lot longer than the canvas ones, so it won't look like you just came from a frat party basement even though you're 30.
Shop it: Chuck Taylor All Star Lift Platform Leather, $75, Converse
Stylish Sneakers Made For Walking That Won't Make You Look Like A Soccer Mom
As a betch in New York City, the best and biggest pain-in-the-ass city in the USA, I have to do a lot of fucking walking. So much that by the time my lunch break comes around, I basically burned off the calories in my bagel and Starbucks order from earlier (or at least that's what I tell myself). Since this is my only form of exercise rn, this unverified fact comes as quite a perk and makes me feel slightly better about myself. However, with all that walking comes major outfit and shoe decision-making. Should I look just "alright" and resort to wearing my lame-ass Adidas so I can be comfortable? Or, should I dress like a Waldorf and wear my fave pumps so I can cry in pain by the time 2pm rolls around? I take the mantra "beauty is pain" with a grain of salt and a shot of tequila, so I usually settle for the first option. As a result, I feel like a fucking loser walking around in the world's fashion capital (NBD) looking like an idiot while also low-key writing about fashion rules. For my city betches high and low, I found a happy medium to our first-world problem. Here are 5 v stylish sneakers that are def made for walking and don't look fugly af.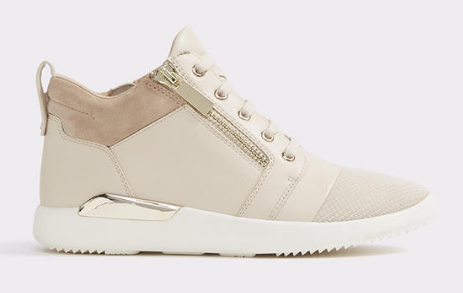 Make these neutral sneaks pop with a bold pattern or bright color. These are the definition of street chic with metallic and zipper detailing. Featuring a foam sole and a "walk-ready cushioned lining" (whatever that means), these are literally made for a long commute on your feet. Wear with a T-shirt dress to take these from office appropriate to happy hour hoe asap.

Choo has never let me down when it comes to my fave dependable Saturday night heels. Just like I fashionably stumble around every weekend, he doesn't fail to provide my hangover with the most comfortable and sophisticated kicks. This pair features two things every betch loves: a shit ton of glitter and a dark neutral color to go with everything else. Dress these up with a mini skirt or keep it chill with a dark pair of jeans, and you'll be finally be the only girl who isn't complaining about how bad her feet hurt.

IDK about you, but whenever I see someone wearing studded shoes, I immediately think that person is not to be fucked with. Not only would they actually do harm if you felt like kicking someone in the face (which is all the fucking time), but they make you look like a badass bitch regardless of how much your Spotify playlist says otherwise. Since they come with a leather lining, which apparently allows your feet to breathe oddly enough, you won't feel like they're suffocating and slowly fostering mold growth inside your shoe all day.

Similar to how we like our shots, waxing appointments, and hook-ups, these shoes are quick, easy, and painless. Whether you're running late for the third time this week or you need a pair of shoes to quickly change into, these slip-ons get the job done without looking like lame af Keds. They come in a color called "pink beige" which happens to also look exactly like the color you probs want for your next mani-pedi.

Naturally, I saved the best for last since it's all black and reminds me of the sneaker version of my worn-down combat boots. Designed to look fierce and feel as light as air, this sneaker features a low profile with removable contoured arch support. Except, the contour is not your face makeup. According to its short bio, it also has an American Podiatric Medical Association seal of acceptance, which sounds like something really official and probs hella good for your feet.