Is This Spring's Most Confusing Trend?
From clear vinyl shoes to Matrix-esque sunnies, this spring is all about weird af trends. Still, the most controversial and confusing yet has to be this bike shorts trend. I mean, this trend is legit so mind-boggling that even Vogue doesn't know how to respond, deeming it spring's "most curious trend." Vogue is legit all of us trying to tell our friend in the nicest way possible that her outfit makes her look like a fat cow.
Just like everything else that the Kardashians do, people don't take it seriously at first. But, sooner than later, even the skeptics find themselves contouring their faces while wearing the latest from the Kendall & Kylie collection. Love them or hate them, there's no denying that the Kardashians are a family of trendsetters, and no one else could make cycling shorts a thing besides the one and only Kim Kardashian West. Legit, Kim could wear a trash bag, get her sisters to wear it too, and just like that, we're cutting holes in Glad bags for Coachella 2019. But, like many Kardashian trends, there's a right and a wrong way to attempt it. So as unrealistic as it seems that people other than celebs will actually be wearing bike shorts come summer, you should take it seriously now or you'll be the one left standing there in jorts, wondering where you went wrong.
They say there's a time and place for everything, and bike shorts are no exception. Demonstrated below, is current Revolve "it girl" Negin Mirsalehi showing us how and when to wear this trend. Negin is wearing the shorts as part of a daytime-casual look, and makes them chic as hell with her designer fanny pack and white denim vest.
As for who hasn't mastered this look? Bella Hadid. Just leave it to Bella to try too hard. I get it, your sister is a goddess, life is difficult. But your constant over-the-top effort to look unique and cool simply is not working. Like, why are you wearing bike shorts to the Cannes after-party? Why do your bike shorts have a seam along your crotch? Why are they metallic? I just have so many questions, and tbh most of them boil down to WHY??
If you're going to attempt the bike shorts trend this summer, you need to choose carefully, lest you become the internet's next meme. These styles will make you look trendy and cool and not like a soccer mom. You're welcome.
1. Spandex
These ones are legit the kind you could wear to SoulCycle, and they are also Kim K.'s go-to style. They're definitely the most comfy, but make sure you style them in a way that doesn't make you actually look like a cycling instructor. See Negin Marsalehi above.

Urban Outfitters Out From Under All Day Bike Short
2. Denim
You kind of have to know what you're doing to wear this style, or you could end up looking a little too NASCAR, if you know what I mean. Make sure you buy them loose and oversize to look trendy, not trashy.

3. Above The Knee
This style is probably the easiest to pull off, and even still, it's not going to be easy. Since they're fitted, I would probs wear with a loose graphic tee or crop top to keep the look balanced and stylish.

Hudson Jeans Amelia Cut Off Knee Short
Look, I know this trend is hard to digest—like I said, it's pretty much a glorified Bermuda short. All I'm saying, is if you want to be a trend-setter rather than a follower, then you better sprint to your closest Urban. Yes, you might be ridiculed at first, but a few months from now when all your friends are vying to wear your "ugly" shorts, you'll be the one with the last laugh. Just look at Kim, who's laughing her humongous ass all the way to the bank.
Betches may receive a portion of revenue if you click a link in this article and buy a product or service. The links are independently placed and do not influence editorial content.
The Worst Fashion Trends Of 2017 That We All Have To Promise To Never Speak Of Again
You know when you look at old photos of yourself and think "ew, why did I wear that?" Normally this occurs a few years after you wear a fugly outfit, but let's be proactive this year. Lots of 2017 trends were totally disgusting, and in the interest of shit talking, I don't think I can wait a few years to talk about it. Here are the absolute worst fashion trends of this year.
1. Clear Boots
Sure, clear boots looked cool when Kim Kardashian rocked them, but have you ever tried these on? Your nasty sweaty feet will fog them up almost immediately. Whoever thought Saran-wrapping your feet and adding a four-inch heel was a good idea is seriously disturbed.

2. Clear Panel Mom Jeans
As if clear boots weren't enough to make you question your personal hygiene, Topshop released a pair of clear panel mom jeans back in the spring. Apparently, sweaty kneecaps are the fashion industry's latest attempt at ruining our lives. The worst part is, these things actually sold out. Judging all of you.

3. Balenciaga Platform Crocs
Balenciaga's take on the already ridiculously heinous Croc design was so bad, I originally assumed they were only created to inspire memes. Maybe they were. IDK. Have fun looking like a redneck Bratz doll.
#Balenciaga X #Crocs? In 2017, the collab lives on. Here's one for the linkers & builders https://t.co/9pdYbWoAix pic.twitter.com/ZUBBDr76zs

— SSENSE (@SSENSE) November 9, 2017
4. The RompHim
I guess douchey frat boys got tired of wearing khaki pants and Vineyard Vines shirts, so they designed this stupid male romper as a desperate cry for attention. It kind of worked, but they look absolutely insane, so I certainly wouldn't consider this a win for them.

RompHim Black Chambray Male Romper
5. Kitten Heels
In the world of fugly shit, kitten heels aren't exactly new. However, I'll never pass up a chance to dump on heels that are two inches and shorter. Lower heels were definitely a thing this year, but a straight-up kitten heel will never be okay. Yuck.

Topshop Abba Pointy Toe Bootie
Tips For Pulling Off The Leopard Trend Without Looking Like A 'Jersey Shore' Reject
Leopard print gets a bad name. Sure, it's the unofficial uniform of drunk bitches at bachelorette parties in Myrtle Beach, but it's also an iconic print that can be pulled off by basically anyone. Whether you're preppy enough to have a boat named after you or some crazy punk chick with like, five nose piercings, there is truly a leopard print for everyone. Here are a few guidelines for pulling off leopard print without looking like a total Jersey Shore reject. Or you can just ignore these tips and hit up the clearance rack at your local Forever 21 to celebrate the return of America's favorite least favorite reality show. It's up to you.
1. Stick To Classic Silhouettes
Obviously, your leopard print dress is going to look like total trash if it's a stretchy bodycon with side cutouts. Opt for a more versatile design, like a classic shirt dress. Pieces like this are great for anyone who is adult enough to have a real job, but still hasn't mastered the art of having separate wardrobes for work and play. If you're totally in a bind and need to wear this to the office, nobody's ever going to know that you last wore it with ankle strap heels and an exposed leather bralette.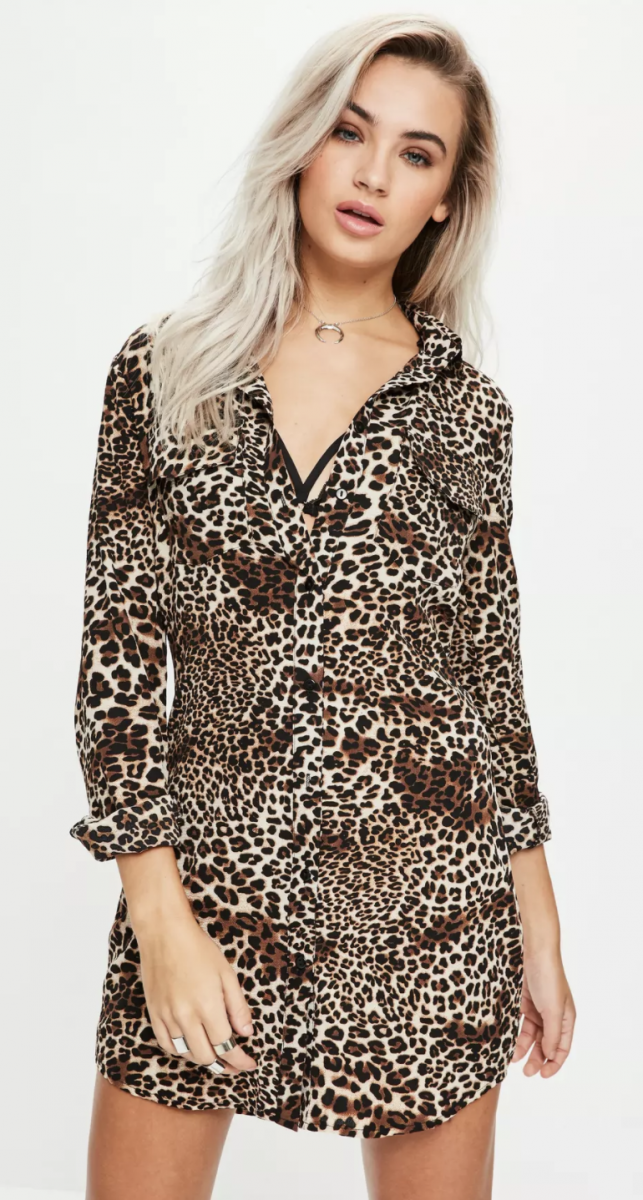 Missguided Brown Leopard Print Long Sleeve Shirt Dress
2. Keep It Casual
There's no safer bet than a comfy cotton T-shirt. So unless you're wearing a pink sequin Victoria's Secret Bombshell bra underneath and it's somehow showing through, you should be good with this one.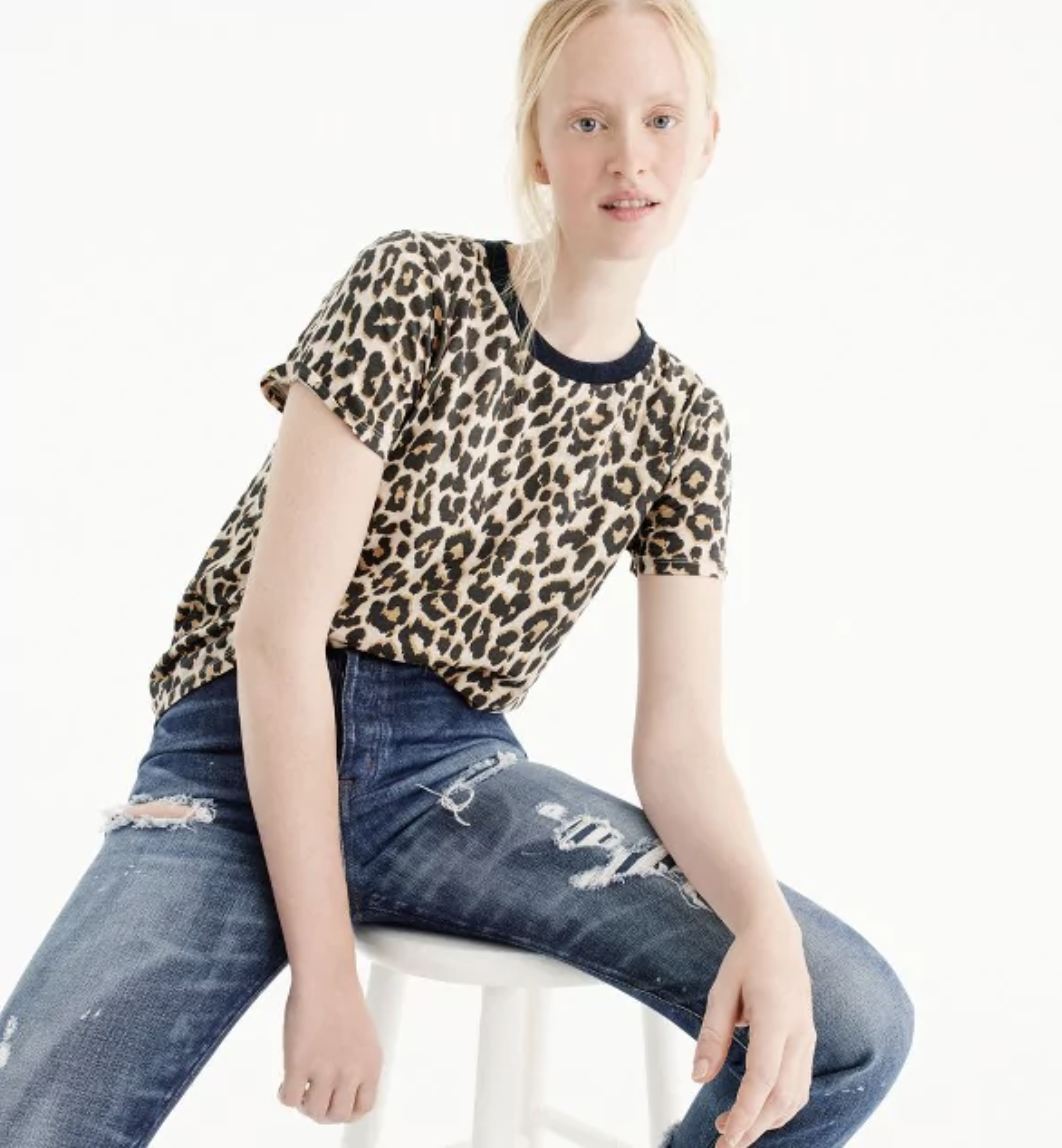 3. Choose Abstract Prints
Leopard print doesn't necessarily have to be straight out of the safari. Playing around with abstract prints and colors that don't actually appear in nature can be a great way to subtly incorporate leopard into your wardrobe. From a distance, you can barely tell these jeggings are even leopard print. (Just like, don't go all Lisa Frank on us.)

Gap Mid Rise Leopard Print Ankle Jeggings
4. Tread Carefully With Footwear
Leopard print shoes are either a perfect staple or something you should never, ever wear. There's pretty much no in-between. It's definitely in your best interest to stay away from anything that could be categorized as clubwear, like platform stilettos or thigh high boots. However, leopard print shoes are tricky, because sometimes just the material or color of the print can make them a total miss. When in doubt, just ask yourself if the shoes you're about to purchase feel like an homage to anything from the Snooki Shop. If not, you're golden.

Sam Edelman Taye Leopard-Print Calf Hair Ankle Booties
5. Try Not To Look Like A Stuffed Animal
Leopard print coats are probably always going to be a thing, so it's a good idea to invest in one. Just make sure it's not like, too fluffy, or else it's going to look you skinned the stuffed animals from your childhood.

ASOS Faux Fur Coat in Leopard Print
What Guys Think Of The 5 Summer Trends You're Obsessed With
We can all agree that men know nothing about fashion, food, travel, or truly anything. Let's be clear, I am a man—a super gay man, yes—but I know about straight guy stuff because I unfortunately know many of them. Even grew up with several.
Recently I overheard a straight guy named Randy (I can't even) say "Huh, that look cool," in regards to a woman's flawless ombre that she most definitely paid millions for, as he tucked his football back into his pants and grunted about classic rock. I looked at the floor shaking my head, my own freshly dyed faux-gray hair falling into my eyes. Most men simply don't get it, and yet their opinions are considered "important," what with them essentially ruining running our entire government and making decisions for us and all that fun stuff. It's insane bullshit, but until the day we completely dismantle the patriarchy it's important to take time to see things from everyone's point of view. Or so I am told by straight white men.
I spent many years pretending I was a straight man, acting indifferent towards any and all fashion trends so people wouldn't find out my secrets of being gay and also fashionable, because society drives it into our heads that those things go hand in hand and that we shouldn't express them. Which is why I asked some aforementioned straight men what they thought about the hottest summer trends. Here's what they had to say:
1. Denim Skirts
Let's begin by talking about the elephant in the room. Summer is approaching more rapidly than global warming can destroy us, and denim skirts are coming back faster than Beyoncé's body after she had Blue Ivy.
Personally, I fucking hate denim skirts. Nothing says "I shop mostly at strip malls upstate" like a denim skirt. Even the high fashion ones you can get for hundreds of dollars in Soho look like they could be Faded Glory by Walmart. The opinion of the straight male, however, seems to skew very different. Straight guys love denim skirts. They live for them, in fact. You want the attention of a fuckboy? Slap on a denim skirt from Forever 21, a little mascara and a band T-shirt you've never actually listened to/cared about and the fuckboys will come crawling out of the woodwork like pretentious termites. Take Sean from Maine, for example, who said, "Denim skirts are okay. They're pretty hot I guess. Like, in the summer I like them." I didn't have time to punch Sean from Maine in the face and also he is my brother's friend so instead I mentally clocked him as a fuckboy and moved on.

2. Starbucks' Unicorn Frappuccino
Speaking of things that are insane, let's discuss Starbucks' Unicorn Frappucino. It's only here for a very brief time and I think we all need to thank whatever God we pray to that they go away as fast as they came. They're literally all sugar and food coloring and Starbucks' baristas hate making them. If I was ever interested in a dude and he ordered a fucking Unicorn Frappucino, I would probably wait for it to come out and then throw it in his face. If a straight guy thinks it's cute or charming that you want a Unicorn Frappucino then he's an idiot, or very possibly a pedophile, and you should ghost him immediately—and I'll add we should all ghost the Unicorn Frappucino. To get a straight guy to comment on a Unicorn Frappucino they'd have to admit that they've had one, which would make them maybe seem gay to their friends at the gym, so you'll have to just trust me on this one.
3. Underboob
"What's underboob?" Dan, a bartender in Brooklyn asks while pretending to be stressed about making me a vodka martini. After showing him my go-to underboob picture from Kylie Jenner's Instagram, he changes his tune. "Ohh, yeah, yeah…I like that. I like underboob." So complex, the male species is.

So that brings me to underboob. Of course fucking sicko straight dudes love underboob, but the thing is…so do I?!? If it's done tastefully it can be shocking and exciting and even high fashion. Celebs everywhere are doing it, from Lady Gaga to Gigi Hadid. Women have been showing top boob for centuries, and side boob for the last three years or so, so why not show off the bottom? It exudes confidence and when I see it I automatically think that the woman showing it off is not to be messed with. I mean, Beyoncé and Nicki Minaj have been doing it for years, so it's truly insane that it's taken this long to really catch on. Plus, now you can show off that tattoo you got on your rib cage when you were 18 that you never want your mom to see.
4. Pink Eyeshadow
Hot. Pink. Eyeshadow. It was very popular at the Met Gala, with celebs from Jennifer Connelly to Selena Gomez sporting the attention-getter with no apologies. I'm very into it. I think it makes the eyes pop while sending a subtle message of "I'm confident and I'm better than you, which may be due in part to the Adderall I just railed," which is always the message I try to send. Straight men tend to shy away from a bold eye or a bold lip—or a bold personality, for that matter—but I'm here for it. My friend's boyfriend Ian said, "What's eyeshadow?" After I convinced him that knowing what eyeshadow is doesn't make him gay, he finally admitted that he knew what it was and also that he didn't like it. See? They're timid about very bold makeup choices as it may draw attention from other men and you may end up leaving them for someone more confident. Men and peacocks essentially think the same way.
5. Center Parts
Center-parted hair is back and sort of becoming classic, at least if Mariska Hargitay's hairstyle on this season of Law & Order: SVU is any indication. The center part has never really gone away, and with Kim K sporting one at the Met Gala last week, it's sure to be popular this summer. Center parts are…fine. My personal taste is a little…flashier…but if you're heading to the beach or to a house party and you don't have a lot of time to get ready, then yes, by all means go with the center part. Fuckboys love a center part because it's not too flashy and they think they're deep for being into a girl that looks high fashion. As I explain this article to a friend, her boyfriend who we'll call Straight Eric mentions he likes center parts because it makes girls seem seem smart and sophisticated. While I can't disagree, I am surprised he knows what the word sophisticated means.

To wrap up, I'd like to say that only one opinion matters and that's yours. Fashion trends wouldn't happen if someone wasn't the first person to slap on hot pink eyeshadow, or reveal underboob. Where would we as a society be without the brave trailblazer who thought "maybe I'll part my hair…but in the middle?!" There's no excuse for the Unicorn Frappucino, but hopefully this summer has some other fun food trends in store for us, preferably ones that won't give you immediate health issues related to high insulin levels.
The takeaway I hope you learn from this is all men are insecure and you should never change your makeup or wardrobe or anything about you at all based on their preference. (Unless they're like…Ralph Lauren. Then maybe listen to his fashion advice.)
Flames On Clothing Is In, So Get Ready To Look Like An Emoji
It used to only be okay to wear black and red if you were Kirsten Dunst in Bring it On or like, Avril Lavigne. The color combo totally evokes sk8er girl vibes, which were gross AF until recently, when everyone started wearing Vans and Thrasher hoodies as dresses and the flames trend was born. Do any of us even know what Thrasher is? Probably not, but it's irrelevant, because Rihanna wears it and what RiRi says goes. (Side note, that totally pisses off the people at Thrasher. Again, don't really know/care who those people actually are, but if they think Rihanna isn't badass enough to wear their clothes, they're probably stage five hardos.)
It seems like almost everyone is currently going through an "it's not a phase, mom" phase. In addition to nipple piercings and "snogged lips," you should probably get some shit with flames on it if you're looking to pull off the "edgy, but I'm still part of a family cell phone plan and shower regularly" vibe.
At first, the flame trend reminded me of something the people who took their Facebook profile pictures in Spencer's would wear. Then, supermodels and other famous people started to wear it, so I decided it was fine. I've also realized that this trend has my full support because it creates outfits that are so easy to caption, which gives you time to do more important things like complain and take even more pictures of yourself. All you have to do is throw up some fire emojis and call it a day. Here's how to pull off the trend without looking like one of the Hot Wheels toys the kid you babysat in high school used to play with.

Halsey is a perfect example of a betch who's like, really pretty and into high fashion but also hashtag edgy. She's proof that a Gucci bag with flames on it is the most effective way to show the world that you're into expensive shit, but also super chill and probably smoke weed.

In case you accidentally spent all of your funds on Ubers to places you could have walked to, or are just a regular person who can't afford to blow four grand on a bag you'll only use for two months, there are definitely other options. This American Vintage Leather Flame Backpack will achieve a similar vibe and nobody will even know it's not designer if you take the photo with that Polaroid camera you got at Urban Outfitters.
​

Bella Hadid, who is another icon in the world of basic betches who are still edgier and cooler than everyone else, wore a leather Philipp Plein miniskirt with flames for her PAPER cover shoot. Unfortunately, it costs roughly the same amount of money as 185 vodka crans.

The One Above Another Mini Skirt In Petrol Glitter With Flame from ASOS is $49 and sparkly, so… I'm going to go with that one instead.

Of course, no roundup of trends that primarily exist on Instagram would be complete without featuring the Queen of outfit pics an innocent boyfriend was forced to take, Kylie Jenner. Obviously, there's a $70 pair of Champion sweatpants with flames screen printed on the side in the Kylie Jenner Shop. Considering you'll probably wear these once before throwing them into the bin of clothes you only pull from when you're blacked out and waiting for your pizza to be delivered, it's probably okay to get the Forever 21 knockoff in this situation.

So yeah, you're welcome for all of the "OMG you're so clever lol" comments you'll get on your flame outfit Instagram with an "IT'S LIT" caption.
Clear Plastic Boots Are The Kardashians' New Obsession & We Have A Lot Of Questions
Okay people, it is 2017. Donald Trump is president. Barack Obama is windsurfing with Richard Branson in Hawaii while the director of the FBI testifies that Putin hacked our election, and there is one thing that we absolutely need to talk about: Clear. Plastic. Boots. Every couple of years, some clear plastic item of clothing becomes popular for a hot minute—whether it be umbrellas, jeans with holes, or whatever the fuck—and we all rush out and buy them before realizing that plastic is actually hot and sticky and not at all fun to wear. This year, the clear plastic trend has unfortunately fallen to boots, meaning that "high fashion" women are stuffing their legs into saran wrap and walking around like it's okay. I blame the Kardashians. Poor timing to hate on that family, I know.
Kim—if you're reading this (and you are), much power and all for opening up about your robbery on this week's episode. But I have a shit talking session to resume and now isn't the time to find a scapegoat in this clear plastic tragedy.  As we all know, one of the Kardashian family's main goals is finding new and exciting ways to avoid wearing clothes while still, somehow, wearing clothes. We get it, most of you have great metabolisms, Khloé has Revenge Body, and Kylie's entire body and face was molded out of clay in an LA outpatient clinic. But this is too far. Take our shirts, our dresses, and our jumpsuits. Make them see through, so be it. But our shoes? We can't have one nice thing? Preferably the thing that lets us not shave our legs??

After reviewing the above image, the problems with this trend are clear (get it???). For one, Ziploc bags are great for sandwiches, but why would I want to wear them? Looks like your mom packed your feet for school lunch. Bye.
Speaking of school, let me educate you with a little bit of science. Am I a scientist? Fuck no. I've heard that's like, hard. But four years of high school and one semester of a science elective did teach me that trapping your foot in an enclosed shoe—without socks, may I add—will lead to sweat. Sweat = moisture. Moisture = the essence of beauty evaporation. Evaporation = steam. And that is basically the Greenhouse Effect. Do you want moss to grow inside your shoes? Didn't think so. Your feet will start to look like you're in your own personal steam room and will smell like sweaty plastic. If you want to look stupid as hell walking around in a cloud of fog, might I suggesting vaping? Seriously, there is no way Kim's foot temperature is not 100+ degrees here:

So let's say that even after my incredible arguments above, you are still tempted to slide into a giant leg condom. Okay. Can you tell me one cute way to wear them? I'll wait. Are you planning on wearing these boots over your knee in some kind of futuristic stripper ensemble? Please explain how you would avoid the boot wrapping around your thigh and it squeezing out all of the problems you binge-ate this winter. Will you have to lube up your leg before putting them on? Try again. Or you could take note from Kylie Jenner, who recently paired a short pair of booties with sweatpants. 

Basically, if you want to look like Cinderella on her way out of Hot Topic, or a D-Team Power Ranger (like, so off-brand you weren't even granted a color), then I HIGHLY recommend these shoes. If you want to continue having friends, any other shoe, like literally any other shoe, is a better option. Looking at you, Crocs. 
But again, Kim, so so so glad you are safe. 
The 6 Fashion Trends Guys Hate That You're Probably Wearing Right Now
Head Pro loves to dispense (bad) fashion advice, whether you ask him to or not. Email him at [email protected].
I don't know if this will come as quite the same shock to you as it did me, but: sometimes, ladies be wearin' clothes. And, even MORE shocking, sometimes ladies be buying new clothes based on things called "trends." Oftentimes, these trends are good. But sometimes they're bad! Sometimes, ladies be wearing trends that defy even the modicum of "logic" applied to the fashion industry. As a self-appointed tastemaker of women's fashion, these are some of the latest, hottest trends you should stop wearing immediately.
1. Chokers
I want to know who the first girl was who, post-2010, put on a necklace that was too small for her and decided that it was a choker. Do you hear that sound? It's older millennials calling, and we want our fashion mistakes from the early 2000s back.

2. Cold Shoulder Sweaters
The reason you shouldn't buy it is literally right there in the name, and yet here we are. I kind of get that, if you have big, broad linebacker shoulders, this gives the appearance of a slimmer silhouette. But then I also get that this gives the appearance of a sweater that has holes in the shoulders, which is what it is. Even off the shoulder sweaters make more sense…

3. Off The Shoulder Sweaters
… but not really. Like, I realize that fashion is cyclical and that in the internet age, shit come around a lot faster than it used to. But can we agree to just leave the 80s in the 80s? Imagine some older, crusty bitch in their 50s who goes on Facebook and writes shit like "GET OVER IT LIBERAL SNOWFLAKES YOU LOST #MAGA." Those are the people who were wearing off the shoulder sweaters in the 80s.

4. Lace-Up Tops
Oh yeah, are you a hockey player now? Are you gonna pick up a sword and shield and go fight a dragon, Ms. Joan of Arc? We have things called zippers and buttons now. Or even better yet, just wear low-cut tops. That's a win-win.

Ribbed Lace-Up Top by Forever 21
5. Onesies
Oh man, fuck a onesie. Every time I see or picture a onesie, I picture some dipshit like Meghan Trainor wearing one. (Editor's Note: I think he means a bodysuit and not like what Rachel wore on her fantasy suite date…smh men.) She may be the worst person alive, so why would you want to jack her style? Plus, you have to take the whole thing off to pee. I'm neither opposed to topless women nor women peeing, and I understand that things like rompers require the same gymnastics. But this is not couture fashion. These are fucking pajamas.

Out From Under Plunging Turtleneck Bodysuit by Urban Outfitters
6. Those Fur-Lined Gucci Slide-On Loafers
Literally everything about that phrase is an abomination. I don't care if you have the money to buy several pairs of $1,000 shoes that look like you stepped in roadkill, Gucci anything should not be worn by anyone under the age of 60. I'm sorry, but you can't grow up in the 2000s, when every poor jackass had a Louis, Gucci, or Fendi knockoff bag and still aspire to wear one of those brands. Guys may not pay much attention to what you're wearing, but I guarantee he'll think you're a psycho if you show up to a first date wearing these.

Princetown Slipper by Gucci (duh)
There. Now that I've solved that, the world is officially problem-free.
Head Pro loves to dispense (bad) fashion advice, whether you ask him to or not. Email him at [email protected].