5 Things You Definitely Should Not Still Be Wearing At This Point In The Year
For most betches, pulling together an acceptable fall outfit is almost as easy as finding a friend with an Adderall prescription. Thanks to the Olsen twins, it's just a matter of throwing on an oversized black sweater, some sort of black bottoms and a pair of black boots. However, if you're the kind of person who has that whiney "But I want it to be summer all year long!" mentality, and you've developed some sort of sick resistance to the fool-proof fall uniform, this might prove more difficult. If you believe that a "cute fall outfit" consists of a sundress, a duster sweater, and some vaguely fall-ish footwear, listen up. These are a few things you definitely should not still be wearing at this point in the year. And before you ask, no. I do not give a shit about the fact that it keeps getting hot AF in the middle of the day. If that's something that bothers you then, idk, call your senators or some shit. The fact remains, if you wear any of these things past September, you can't sit with us.
1. Eyelet Materials

Fold these up and stick them in that storage container under your bed, because you should not even be looking at anything made out of an eyelet material for at least the next six to seven months. Nothing says, "I'm a barely functioning member of society who has no clue what fucking season it is," like a flowy white eyelet off the shoulder top in the end of October. Unless you're being your summer self for Halloween, in which case, you're fucking weird and have other problems to deal with.
2. Espadrilles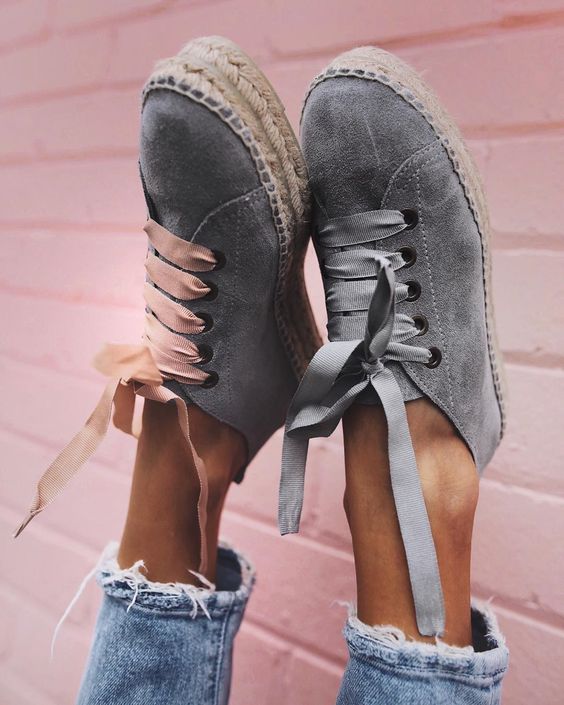 I'm going to assume that you understand the world well enough to know that you should put away your summer wedges as soon as you get your first craving for a hot coffee instead of iced. The real offender here is any shoe style that's like, an espadrille hybrid. Specifically, think of all those platform espadrille sneakers that aesthetic bloggers were rocking this summer.  You should never have to pick a crunched-up leaf out of your carefully woven espadrille sole, so just don't let it happen.
3. Gingham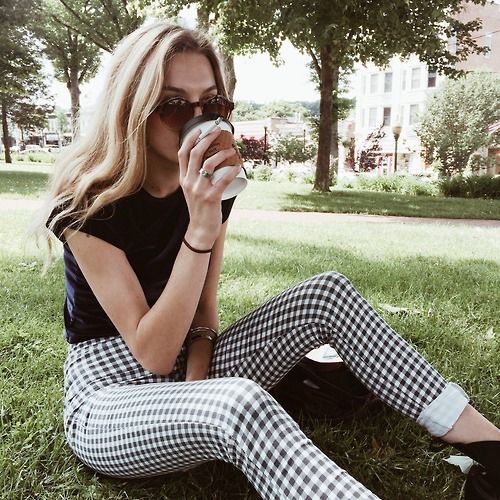 You know that part at the end of Mean Girls when Regina George becomes a jock, and it should be really sad because she used to be the HBIC, and now she's wearing a fucking mouthguard? The only reason this scene isn't totally heartbreaking is that she had a really good run as a popular betch before her downfall. The same goes for gingham. Gingham had a strong summer as one of the most popular prints, but it's time for it to leave the spotlight and take its talents somewhere more subtle… like to the tea towel industry or something. If you're still really feeling that vibe but want to update it for fall, just look for pieces that are a more autumn-y plaid or the checkerboard print Forever 21 keeps vomiting all over the place.
4. Palazzo Pants

In most cases, you should stop wearing palazzo pants in the fall and winter months. There are obviously some actually cool palazzo options that would pass as acceptable, but these are the exception and not the rule. Since the beginning of time (okay, maybe just since the beginning of Pinterest) most of you have been under the impression that if you throw on a sweater and boots, you can transition most summer wardrobe staples into fall outfits. However, a cable knit sweater and Frye boots does not a fall outfit make! Generally speaking, bohemian printed palazzo pants are for girls who want to brag about the fact that they have a great butt and/or smoke a lot of weed, and they (the pants) really have no place in your fall wardrobe.
5. Rompers

At first, I assumed that including rompers in this list would be as obvious as including bikinis. Like, clearly you're not going to wear a romper in the fall. Then I came across a bunch of photos of fashion bloggers wearing rompers with tights on Pinterest. Yep, TIGHTS. Unless you're the manager of a Free People, you have no excuse to be wearing a romper in the fall, no matter how many floor length cardigans and pairs of thigh high boots you're willing to disguise it with. Rompers are really already on their way out, so this shouldn't be that difficult. Also, peeing in rompers is hard enough as it is. Don't make it more difficult by adding fucking tights into the mix. Just don't.
Images: Shutterstock; Pinterest (5)
10 Nordstrom Anniversary Sale Items You Need To Put In Your Cart Right Now
It's the most wonderful time of the year – after Christmas, Hanukkah, my birthday, and any holiday in-between where I get gifts – the Nordstrom Anniversary Sale! Fuck any other semi-annual sale, the only one that matters is Nordstorm's. Duh. So, get your dad's card ready, loser, because we're going shopping. The insanely good sale discounts boujee fashion and beauty items, up to like, 70 percent off. Trust me, I know. I'm having an anxiety attack just thinking about it. Fashion designers include favorites like Good American and Stuart Weitzman, with makeup brand obsessions that of MAC Cosmetics and NARS. Some of you, lucky bitches, aka Nordstrom card members, have been shopping the exclusive preview since July 13. Well, now the rest of us get to take part in the fun of maxing out our cards up until August 6. Since there are literally too many things to look through, almost as overwhelming as walking into Forever21, I've picked out what's worthy to treat yo'self with for now and even for the upcoming PSL season. This is like, Christmas in July– Only better because you're buying shit for yourself and no one else.
The Best Clothing & Accessories
Zella Live In High Waist Leggings

I go through leggings like I go through bobby pins. IDK if that analogy actually makes sense in this scenario but, same concept. I'm always needing to buy more that don't cost a million dollars or make a hole in my crotch. These make my ass look like I actually do squats (LOL) and they're barely over $30. I don't think there is a question for this one.
BLANKNYC Life Changer Moto Jacket

Give me a chic leather jacket or give me death. I'm not wearing my big-ass winter coat or a grandma-looking cardigan out to the nightclub once temperatures drop below 50 degrees. A thick black (faux, because like, animals) leather jacket is a necessity for the cooler times of the year. So since you def lost yours in a frat basement, coat check, or wherever your drunk ego found fitting, don't be an idiot and miss out on the opportunity to get this badass jacket.

If you don't wear riding boots once September hits, do you even really do fall? I have an unhealthy obsession with riding boots of all shades so if I can get a black Tory Burch pair at almost 50 percent off, you best believe I ordered two. Just in case I fuck them up (I usually do). These are must-haves with our beloved over the knee socks and extra long sweaters.
Love By Design Grommet Sleeve Pullover

You can never own too many oversized sweaters to hide your hibernation weight as soon as summer is over. This cute AF pale pink, off-the-shoulder style comes in 3 shades with v modern lace up sleeve. Of course, black is also an option. Go up a size, and wear with high socks with over the knee boots.
Rebecca Minkoff Unlined Front Pocket Leather Tote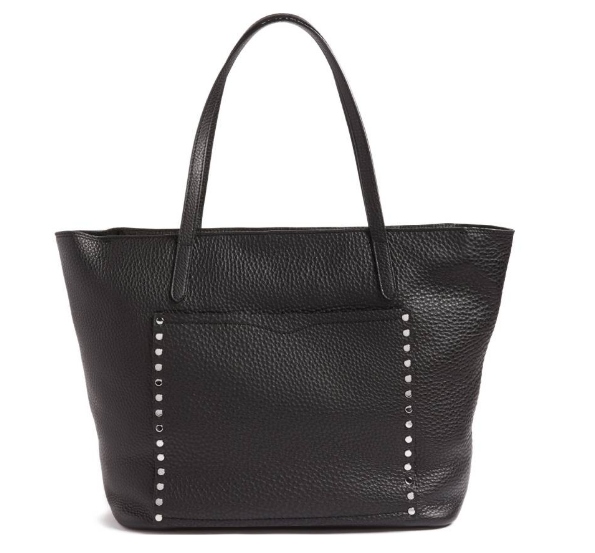 I'm always wanting needing a huge bag to hold all of my shit. I mean, I'm not going to ride the subway with a briefcase, it's not that serious. However, I need a big enough bag to hold my entire room laptop, phone, 50 pairs of sunglasses, and makeup but, still have it look like a fashionable purse. This studded bag comes in 3 of the best neutrals: black, brown, and white.
The Best Beauty Essentials
Clarisonic 'Mia – White' Sonic Skin Cleansing System

I can't even begin to tell you how many times I've eyed these life-changing things in Sephora because I have wanted one for like, ever. But, since I'm a broke bitch it's kind of expensive, I never bought one. Now, here's my god-given chance. For less than $100, this thing is a waterproof gadget that gives you perfect skin and keeps you looking barely over 21 so, obviously get one ASAP before they sell out.
Stila Stay All Day Liner And Lipstick Duo

You get two fab beauty essentials made by a makeup goddess for the price of one. Uh, yeah, I'm getting 12. You'll receive a black (waterproof!!) liquid eyeliner to make fierce wings with on the nights you're getting shitty, and a pink nude (because you don't have enough as it is) that provides full-coverage without needing like, lip injections.
MAC Look In A Box Advanced Brush Kit

If your brushes are looking ratchet, you either need to wash them (ya, that's something you have to actually do) or just buy some new ones. So, when the worshiped MAC has a set to make your contour look that much better for like, 70 percent off, you fucking take advantage of that shit. The kit comes with 6 different brushes and a limited-edition makeup bag. Add it to the cart like, now.
Charlotte Tilbury Filmstar Bronze And Blush Glow Set

Another contour palette? No, you def don't need it but, it's Charlotte Tilbury and it's on sale so, are you going to get it? Uh, fuck yeah. The set features a natural-looking bronzer, crushed pearls for a perfect summery blush, and a mini brush to apply it all. You'll seriously fall in love.
Impressions Vanity Co. Touch XL Dimmable LED Makeup Mirror With Removable 5x Mirror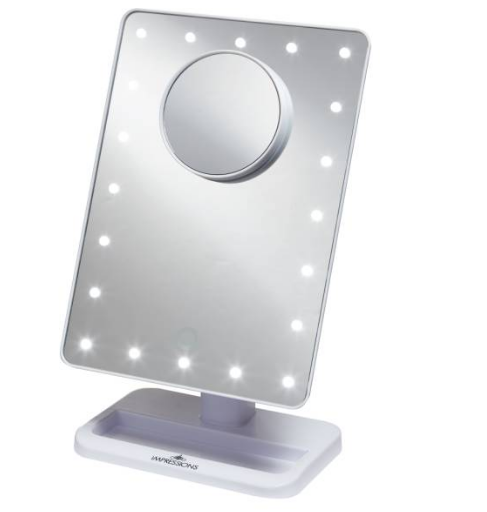 Ugh, okay, I don't even know where to begin with this amazing invention. This is as close as you'll get to owning a LuMee Phone Case or one of those selfie mirrors the Kardashian's use. The perfect addition to your vanity is controlled just by tapping a power sensor (how effing cool) and adjusting its brightness. It can do a complete 360 and comes with a removable zoom-in mirror that will probs highlight every flaw but, it comes in pretty clutch for a personal selfie station. It's already flying off the shelves (or, is it site??) so you better make sure to choose next-day shipping.
This could be you so, start payin':