Influencers Are Ruining Gratitude
It's crazy to think that just 10 years ago, Instagram wasn't a thing, and most of us had never heard of influencers or fashion bloggers. In a few short years, we've seen the rise of an entire culture of elaborate brand trips, sponsored content, and millions of outfit posts that essentially all look the same. Everyone seems to be on vacation year-round, and it's all in the name of content.
But while fashion bloggers increasingly schedule their entire lives around their Instagram feed, constantly chasing more followers, more likes, and more brand deals, there's another trend in the community that seems directly at odds with this greed for clout: constantly saying how grateful you are.
Of course, if your life is going well, you should feel grateful, and there's nothing wrong with expressing your gratitude, but it feels a little hollow when you're constantly seeing it hashtagged on pictures of elaborate tropical vacations and luxury outfits. For example, take this photo of @fashionambitionist (aka Marissa Casey Grossman), whom you might recall from her over the top, "surprise" proposal and wedding back in June.
Since getting married (in Paris, I might add), Marissa has been on trips to Israel, the Hamptons, and Italy, and she specifically mentioned being grateful in four different posts from her Italy trip. I mean, I'm glad she had fun on her trip, but it's really not that hard to be grateful when you're on a 10-day luxury vacation on the Amalfi Coast. In this case, #grateful just feels like code for "I'm so happy that I'm rich enough to go on a trip like this," which isn't really the point of gratitude.
Arielle Charnas, who has repeatedly been at the center of controversy with thin-shaming and her Something Navy clothing line, also loves to express her gratitude on Insta. Again, it's not hard to be grateful when you and all your rich friends are hanging out in the Hamptons, home cooked meal or not.
It's one thing when influencers use gratitude as a way to humble brag on their bougie vacation posts, but it feels especially unwarranted when they start using the phrase on actual branded posts. Lydia Elise Millen is a major British fashion blogger who I've definitely spent way too many hours watching on YouTube. Along with her massive collection of luxury clothes and handbags, Lydia has spent the last year and a half documenting her insane home renovations on her YouTube channel, which she's obviously super #grateful for.
Here's a recent post from her campaign with H&M:
Of course, it's cool for Lydia that H&M wanted to do a campaign with her, but starting a caption with "Ad" (that's not even hashtagged properly) and then talking about being grateful is just not a great look. Save that for an off-the-cuff message to your followers, not a post that you're literally getting paid for. Like, would she still be grateful if the H&M check didn't clear? I have my doubts.
It's not only fashion bloggers that are guilty of overusing "grateful," but they're definitely some of the worst offenders. While it often comes across as a humble brag, maybe it stems from a deeper place. In the past, it was seen as taboo to talk about wealth and finances, but the entire ecosystem of influencer culture is built on flaunting what you have. Does it help you feel better about constantly showing off your Chanel bags if you make sure to tell everyone how grateful you are? I have a feeling the answer is yes. Does it make the viewer feel any differently about their own financial status? Probably not.
With "grateful," as is the case with most things, it starts to lose its meaning when you say it over and over again, and this never-ending public gratitude just feels performative. When people post normal pictures with normal captions, I don't assume that they're ungrateful for their lifestyle, whether they're on a yacht in Capri or living in a small town. There are plenty of ways to express thanks and gratitude besides slapping #grateful on a bikini picture that you put through 14 editing apps.
Instead of talking about gratitude all the time, maybe we should focus more on being open about the things in our lives that we're genuinely thankful for. Fancy vacations are nice, and I don't mind seeing pool-side thirst traps on my feed, but those probably aren't the posts where we should be expressing our gratitude. Save that for a post about your family, or your health, or something that actually matters.
Images: Angello Lopez / Unsplash; fashionambitionist, ariellecharnas, lydiaemillen / Instagram
The Chic Spring Trends That Are All Over IG & How To Wear Them For Less
I know the first day of spring was two weeks ago, but I'm still freezing my ass off in NYC. Even though the weather isn't heating up, that doesn't mean your wardrobe shouldn't! I just feel like it's my civic duty to make you aware of some of the spring trends you've probably already noticed on fashion bloggers—and as always, how to wear them for less.
Trend 1: Fanny Packs
First, the fanny pack this trend is totally "I'm not a regular mom, I'm a cool mom." That being said, you do not need to go drop thousands on a designer fanny pack (even typing that made me feel dumb). This trend will be by gone the fall, so no need to have a Louis Vuitton fanny pack that could fund your future children's tuition.

 This yellow one (also a trendy color this spring) is from Zara and it gets the job done, whatever a fanny pack's job is— but it's sold out, even though I bought it a month ago. Instead, try these inexpensive, cute alternatives I found.


ASOS Flat Fanny pack


Another trend in this same look are paper bag pants. Shay is wearing a pair for $165 by Flynn Skye, but mine didn't cost nearly as much. Here are the same pants I'm wearing for $40. And obviously, everyone needs these $10 sunglasses from WearMe Pro.
Trend 2: Topstitch
One of this years hottest trends is topstitch, which sounds like a Disney Channel movie, but in reality it's just having the seams on top of your clothes. You'll see it a lot on denim because denim just kind of lends itself to topstitching. It's a cool trend but definitely not cool enough to spend hundreds of dollars. I don't know why, but I feel like Sabrina The Teenage Witch had at least one of those jumpsuits.

This romper from Topshop is a little pricier than I'd like it to be ($130), but sometimes you need a staple piece, especially if it works for multiple occasions. This could be great for date night, a work event (throw on a cool blazer), a Saturday lunch date (love a good day date), or a night out with the girls. I paired it with my Public Desire white boots, but you can put pumps on and dress it up, or even wear it with flats while you run errands on a Saturday. Instead of a designer chain belt, I finished the look off with one I found in my closet. I love you all, but I'd rather not come home to find you in my closet, so try this chain link belt from Nasty Gal instead.
I love jumpsuits, because they take the agony out of matching pants and a top and sometimes I just can't do that. But if it's a little too much from you, these items are both cheap (and approachable) ways to do topstitch.


ASOS Fit And Flare Midi Dress With Contrast Stitching
Trend 3: Translucent
Clear plastic shit has been in since last year, when Kim Kardashian wore those famous clear plastic boots. This trend is a little daring, but you can pull it off in a few ways—and obviously they're all inexpensive.

First, I bought this jacket from Zara, since I'm not into dropping thousands on a Burberry trench.

I also found these shoes from Forever 21. They're a little more subtle, but they still make a statement (without costing as much as Kim's pair, I'm sure). Throw them on with jeans or a skirt and everyone will think you're a blogger that just left a really, really important photo shoot.
If this is all still too much, you might feel more comfortable with a translucent bag. These bags are cool for spring and summer and will make you still feel on trend. Most importantly, they're much cheaper than the $210 Staud one the blogger above is rocking.

BP Mini Translucent Metal Handle Bag

Forever 21 Transparent Faux Leather Crossbody Bag

Images: shaymitchell (2), josefinehj, songofstyle (2) / Instagram; Maya Media (4)
How To Pull Off Polka Dots Like A Fashion Blogger For Cheap
To polka dot or polka not? Let's pretend I never said that. Dad jokes aside, polka dots are very on trend right now, and I have to be honest, I am kind of obsessed with it. This trend may take some getting used to, but, I am telling you, there are multiple ways you can rock this without feeling like the president of your fifth grade class. Remember when Elle Woods' advisor told her to have a backup for Harvard and that they wouldn't be impressed that she aced History of Polka Dots? Well, joke's on her, because Elle became the best lawyer and POLKA DOTS ARE HERE TO STAY. Every blogger has been rocking this trend, all in very different ways.
As always, I have three blogger-inspired looks I recreated, and duhhh I saved you a ton of money!
Look 1: Polka Dots in Paris
First, this AFRM dress is $128, and could be reasonable, except for the fact that it's not. So that's why I found you something very similar from Forever 21 for $32. I threw it on with my Public Desire white boots (also a trend I hope never ends) and some $10 sunglasses, and we are ready to go. This is a great look for a bridal or baby shower blacking out on a rooftop during spring.

Forever21 tiered flounce maxi dress
Look 2: Pretty in Polka Dots
Olivia, Olivia, Oliva. $600 for a top???? Must be nice. Here is the SAME SHIRT for $50 from Zara. I love these bodysuits from Zara because they are extremely versatile. It's like buying two shirts for the price of one. You can pin this and wear it to work, or wear it open on a night out with the girls.

Zara polka dot bodysuit
Look 3: Polka Dot Pose
Lastly, I switched this look up for you, just to show you how to rock polka dots in different ways. I found this dress at Forever 21 for $38. I put a Zara blouse on underneath and my Public desire boots again, then obvs my go-to sunglasses. I love dresses that you can wear during spring time with a shirt underneath, and then easily rock at summer patio parties.

Forever 21 polka dot mini cami dress
Bonus Polka Dots Looks
Are you nuts for polka dots? Here are some extra ways to rock this trend for cheap.
Try some polka dot tights with a black dress and heels.

Forever 21 sheer dotted tights
Put on this headband with an all-black or all white bathing suit this summer, and you'll be the coolest girl at the beach.

Forever 21 polka dot headband
Polka dot crop top???? How cute with jeans or black pants.

Forever21 polka dot crop top
Images: weworewhat (2), oliviaculpo / Instagram; Maya Media (3)
Betches may receive a portion of revenue if you click a link in this article and buy a product or service. The links are independently placed and do not influence editorial content.

How To Dress Like A Fashion Influencer For Way Less Money
I'm back, and as promised, I have three more blogger-inspired looks that you can recreate for way less than these fashion bloggers spent. I get that keeping up with trends can be almost as hard as keeping up with your new boyfriend's ex, so leave them to me and you can keep refreshing her Instagram in peace.
One trend I'm really loving right now is hats. Hats have become a staple in my wardrobe recently, and not just because I need to cover up my dry shampoo overload. Every fashionista seems to be rocking them in different ways, but not all hats are created equal. One wrong purchase and bam, you're an extra in Newsies, or like, my dad. This week, I'm taking three different fashion bloggers' looks that incorporate a hat, and breaking down just how much money you'll save getting the look for less. You and your bank account are welcome in advance.
Look 1: The Bodega Beret
My first blogger is We Wore What. I feel like Danielle (yes, I'm on a first name basis with her in my mind) has a style that is very NYC.  If I want to be the ~cool fashion girl~ in flats and a hat, I look to her. She inspired this week's bodega cool-girl look. Here's how much her look will run you.
Shoes: Jeffrey Campbell, $150-$250
Jacket: Tome NYC,  $400-1,000.
Bodysuit: Wearcomando, $74
Total: $1,324

Here's my version, the look for less. I topped this look off (literally) with a beret and sunglasses from Amazon. Spoiler alert: you'll like the price tag a lot more.

Shoes: Public Desire, $59.99
Jacket: My jacket is almost TEN years old (gotta love vintage), but here is a similar one from Forever 21 for only $24.
Bodysuit: Naked wardrobe, $34
Total: $118

Look 2: Shine Betch Shine
Next is Shay Mitchell. Shay isn't just an actress, model, CEO, entrepreneur, and brand ambassador; she's also The Head Pro's girlfriend a fashion blogger. Shay's style is always on trend, and to me, it always seems like she has the perfect outfit for every occasion. She's downtown chic with uptown class. Not to mention she's gorgeous, and everything looks great on her (I promise I'm not trying to date her). But for real, she has a very cool, edgy style—overpriced, but cool. Here's how much her look will cost you.
Bag: Chanel, $3,000
Pants: Petar Petrov, $1,435
Belt: Gucci, $450
Total: $4,885
I know Gucci belts are all the rage right now, but in a few months no one is going to even remember them. Why spend your hard-earned vodka soda money on something that probably won't even hold up your pants all that well? For the pants, I found almost an exact copy on the cheap. And ASOS is my favorite for hats right now. Your bank account is going to personally write me a thank you note.
I love anything shiny… pants, hats, a new Hinge match. This look is great for the seamless transition from daytime brunch to 2:00am " u up" texts. Here's my rockstar-inspired look: 

Here's how much my look cost me.
Bag: Zara bag, $55.90
Pants: Topshop, $60
Belt: Zara, $50
Hat: ASOS, $26 (Note: The hat in my photo is currently sold out, so I found you this cool replacement)
Total: $160
Look 3: Business, But Make It Fashion
Jourdan Sloane is the last blogger this week, but certainly not the least. Jourdan's style is effortlessly trendy. She's the girl who walks in and says, "Oh this? I just threw this on and it happens to be super on trend and super fucking cool." This is what I try to achieve every Friday night in hopes of getting free shots. She was the inspo for my last hat trend look this week, and certainly didn't disappoint. It's very edgy, but sometimes you need to be bold and channel your inner Elle Woods, aka show up in a blazer ready to argue.
Here's how much this look cost her.
Shoes: Dior, $800
Bag: Givenchy, $2,450
Blazer: Vintage, so it basically cost her an arm and a leg or maybe her first born.
Total: $3,250
In reality, I wouldn't wear this to your next meeting unless you want to be fired immediately, and maybe you do. In which case, go for it! I threw on a beanie with this to stay on brand with the hat trend, and also because I need to buy more dry shampoo. But I think this outfit is perfect for a Thursday night downtown sushi spot, or maybe an art event where you pretend to know what's going on.

Here's how much this look cost me.
Shoes: $89.90; you can find pumps similar to mine here.
Bag: Forever 21, $24.90
Blazer: Zara, $50; I found you an even cheaper one for $24.43 from Forever 21.
Beanie: Zara, $17.90
Total: $139
Happy shopping betches! May your looks be Instaworthy, and your wallets full.
Images: Eli DeFaria /Unsplash; Maya Butler (3)
Betches may receive a portion of revenue if you click a link in this article and buy a product or service. The links are independently placed and do not influence editorial content.
How To Dress Like A Fashion Blogger For A Fraction Of The Price
Raise your hand if you have ever been personally victimized by the sticker price of your favorite blogger's outfit, making you want to throw yourself into oncoming traffic (*everyone raises hand*). Don't worry, I'm here for you. I'm not going to ask you if you're seeing this post and I'm certainly not going to tell you to turn your post notifications on. What I am going to do is tell you how to get these fashion blogger looks for less (way less), so you can save your money for something more important like happy hour… or an overpriced workout class that you end up skipping.
My personal style is the sale rack. When I get dressed in the morning I need an outfit that's trendy, looks expensive, but was really all purchased from Zara, Forever 21, or H&M. Here are three looks that are great for blacking out at brunch, and where you can get these fashion blogger looks for less. Don't thank me, have your accountant thank me in the form of Edible Arrangements.
Instead of dropping thousands at Balenciaga for a sweatshirt (yes, a sweatshirt) I found this similar one at Zara with a red stripe down the sleeve. I went ahead and paired it with red Zara thigh-highs, too. I feel like when I wear thigh-highs I'm guaranteed a text back. These particular items are sold out at the moment, but fear not: I found similar ones from H&M and ASOS. I never, ever, ever spend lots of money on sunglasses, so go for these trendy Kardashian-inspired specs from Amazon.

Shop The Look

From left: Sweatshirt, H&M; Boots, Asos; Sunnies, Amazon
Want to fake it till you make it in a power suit? Don't break the bank with this metallic suit, because I found a complete replica at Zara, and paired it with metallic boots from Public Desire. This is a bold look, but it will have everyone (including your ex) sneaking a second look.

Shop The Look

From left: Jacket, Zara; Pants, Zara; Boots, Public Desire
This look is one of my favorites. Shine like the top of the Chrysler building, as Rihanna would say. I found similar metallic pants from H&M and paired them with a basic black tank from Forever 21 (I will not mention how many hours I spent digging through the racks to find it). I added this killer patent leather black jacket, also from Forever 21—same comment about digging through the racks. Throw on sock boots to complete your look—these are Public Desire, but Zara and Steve Madden all make similar styles. Cheap boots are key, because you won't feel bad ruining them when you're running from bar to bar.

Shop The Look

From left: Jacket, Forever 21; Pants, Missguided; Boots, Public Desire
Images: Alex Iby / Unsplash; Maya Butler (3); H&M (1); Asos (1); Amazon (1); Zara (2); Public Desire (2); Forever 21 (1); Missguided (1)
10 Turtlenecks That Will Make You Look Like An Instagram Fashion Blogger
Want to pretend like you're the type of woman who works out before heading to her job in finance instead of the type of woman who binge-watches Netflix and stalks her ex's Instagram activity all day? One word: TURTLENECK.
It's turtleneck season, betches, and the 90s staple is seriously having a moment right now. Just Google "turtleneck Gigi Hadid" and you will be immediately shook. What makes every single one of her outfits complete? A turtleneck. Every It Girl is rocking them these days. From the Hadid sisters to hilarious Insta queen Morgan Stewart, it's an item that immediately takes your look from middle to high class, yet can only cost you around $25 and no one will ever have to know. People are so obsessed, that there's literally an Instagram account called "turtleneckpics". THAT'S how much people love them. (Ok, shush, so they haven't posted since 2016, but that's besides my point.)
And let's be real: Everyone knows that with all the weight you packed on over the holidays, you could really use some extra coverage for that double chin and lack of clavicle (honey, not even Facetune can help you rn). Therefore, what better way to slim your neck and collarbone area than with a comfy piece of fabric? Also, it's freaking freezing outside. Your mom will be so happy to hear you're finally covering your neck.
So, congrats! You're now an Insta fashion blogger who uses LIKEtoKNOW.it and are a proud member of #TeamTurtleneck. Where do you go from here? Don't break your neck trying to search online (ok, I'll stop). Scroll down to find 10 of the hottest turtlenecks on the market right now that will turn heads and won't break the bank.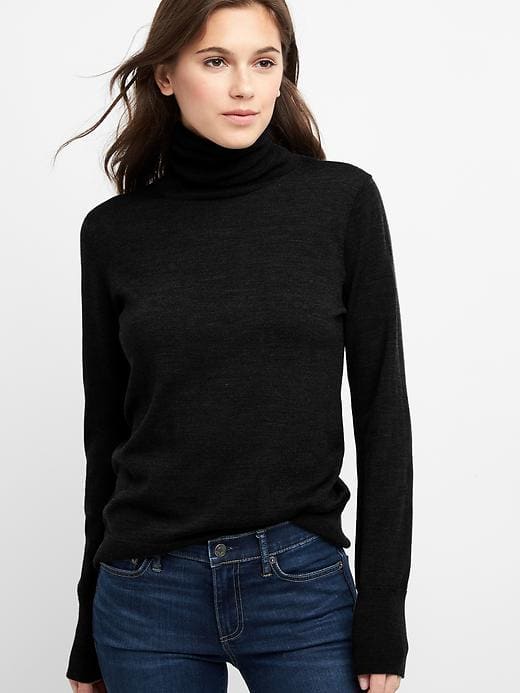 If these are out of your budget, or if you just maxed out your credit card for the fourth time (new year, same you!), then the next time you go home, raid your mom's closet. You can also hit up your local Goodwill or thrift shop. You may be shocked to see all the gorgeous cashmere or cotton turtlenecks you find from the 90s or early 2000s. I literally wore my mom's wool turtleneck from the 90s the other night and I've never received so many compliments in my entire life.