How To Pull Off Polka Dots Like A Fashion Blogger For Cheap
To polka dot or polka not? Let's pretend I never said that. Dad jokes aside, polka dots are very on trend right now, and I have to be honest, I am kind of obsessed with it. This trend may take some getting used to, but, I am telling you, there are multiple ways you can rock this without feeling like the president of your fifth grade class. Remember when Elle Woods' advisor told her to have a backup for Harvard and that they wouldn't be impressed that she aced History of Polka Dots? Well, joke's on her, because Elle became the best lawyer and POLKA DOTS ARE HERE TO STAY. Every blogger has been rocking this trend, all in very different ways.
As always, I have three blogger-inspired looks I recreated, and duhhh I saved you a ton of money!
Look 1: Polka Dots in Paris
First, this AFRM dress is $128, and could be reasonable, except for the fact that it's not. So that's why I found you something very similar from Forever 21 for $32. I threw it on with my Public Desire white boots (also a trend I hope never ends) and some $10 sunglasses, and we are ready to go. This is a great look for a bridal or baby shower blacking out on a rooftop during spring.

Forever21 tiered flounce maxi dress
Look 2: Pretty in Polka Dots
Olivia, Olivia, Oliva. $600 for a top???? Must be nice. Here is the SAME SHIRT for $50 from Zara. I love these bodysuits from Zara because they are extremely versatile. It's like buying two shirts for the price of one. You can pin this and wear it to work, or wear it open on a night out with the girls.

Zara polka dot bodysuit
Look 3: Polka Dot Pose
Lastly, I switched this look up for you, just to show you how to rock polka dots in different ways. I found this dress at Forever 21 for $38. I put a Zara blouse on underneath and my Public desire boots again, then obvs my go-to sunglasses. I love dresses that you can wear during spring time with a shirt underneath, and then easily rock at summer patio parties.

Forever 21 polka dot mini cami dress
Bonus Polka Dots Looks
Are you nuts for polka dots? Here are some extra ways to rock this trend for cheap.
Try some polka dot tights with a black dress and heels.

Forever 21 sheer dotted tights
Put on this headband with an all-black or all white bathing suit this summer, and you'll be the coolest girl at the beach.

Forever 21 polka dot headband
Polka dot crop top???? How cute with jeans or black pants.

Forever21 polka dot crop top
Images: weworewhat (2), oliviaculpo / Instagram; Maya Media (3)
Betches may receive a portion of revenue if you click a link in this article and buy a product or service. The links are independently placed and do not influence editorial content.

How To Dress Like A Fashion Influencer For Way Less Money
I'm back, and as promised, I have three more blogger-inspired looks that you can recreate for way less than these fashion bloggers spent. I get that keeping up with trends can be almost as hard as keeping up with your new boyfriend's ex, so leave them to me and you can keep refreshing her Instagram in peace.
One trend I'm really loving right now is hats. Hats have become a staple in my wardrobe recently, and not just because I need to cover up my dry shampoo overload. Every fashionista seems to be rocking them in different ways, but not all hats are created equal. One wrong purchase and bam, you're an extra in Newsies, or like, my dad. This week, I'm taking three different fashion bloggers' looks that incorporate a hat, and breaking down just how much money you'll save getting the look for less. You and your bank account are welcome in advance.
Look 1: The Bodega Beret
My first blogger is We Wore What. I feel like Danielle (yes, I'm on a first name basis with her in my mind) has a style that is very NYC.  If I want to be the ~cool fashion girl~ in flats and a hat, I look to her. She inspired this week's bodega cool-girl look. Here's how much her look will run you.
Shoes: Jeffrey Campbell, $150-$250
Jacket: Tome NYC,  $400-1,000.
Bodysuit: Wearcomando, $74
Total: $1,324

Here's my version, the look for less. I topped this look off (literally) with a beret and sunglasses from Amazon. Spoiler alert: you'll like the price tag a lot more.

Shoes: Public Desire, $59.99
Jacket: My jacket is almost TEN years old (gotta love vintage), but here is a similar one from Forever 21 for only $24.
Bodysuit: Naked wardrobe, $34
Total: $118

Look 2: Shine Betch Shine
Next is Shay Mitchell. Shay isn't just an actress, model, CEO, entrepreneur, and brand ambassador; she's also The Head Pro's girlfriend a fashion blogger. Shay's style is always on trend, and to me, it always seems like she has the perfect outfit for every occasion. She's downtown chic with uptown class. Not to mention she's gorgeous, and everything looks great on her (I promise I'm not trying to date her). But for real, she has a very cool, edgy style—overpriced, but cool. Here's how much her look will cost you.
Bag: Chanel, $3,000
Pants: Petar Petrov, $1,435
Belt: Gucci, $450
Total: $4,885
I know Gucci belts are all the rage right now, but in a few months no one is going to even remember them. Why spend your hard-earned vodka soda money on something that probably won't even hold up your pants all that well? For the pants, I found almost an exact copy on the cheap. And ASOS is my favorite for hats right now. Your bank account is going to personally write me a thank you note.
I love anything shiny… pants, hats, a new Hinge match. This look is great for the seamless transition from daytime brunch to 2:00am " u up" texts. Here's my rockstar-inspired look: 

Here's how much my look cost me.
Bag: Zara bag, $55.90
Pants: Topshop, $60
Belt: Zara, $50
Hat: ASOS, $26 (Note: The hat in my photo is currently sold out, so I found you this cool replacement)
Total: $160
Look 3: Business, But Make It Fashion
Jourdan Sloane is the last blogger this week, but certainly not the least. Jourdan's style is effortlessly trendy. She's the girl who walks in and says, "Oh this? I just threw this on and it happens to be super on trend and super fucking cool." This is what I try to achieve every Friday night in hopes of getting free shots. She was the inspo for my last hat trend look this week, and certainly didn't disappoint. It's very edgy, but sometimes you need to be bold and channel your inner Elle Woods, aka show up in a blazer ready to argue.
Here's how much this look cost her.
Shoes: Dior, $800
Bag: Givenchy, $2,450
Blazer: Vintage, so it basically cost her an arm and a leg or maybe her first born.
Total: $3,250
In reality, I wouldn't wear this to your next meeting unless you want to be fired immediately, and maybe you do. In which case, go for it! I threw on a beanie with this to stay on brand with the hat trend, and also because I need to buy more dry shampoo. But I think this outfit is perfect for a Thursday night downtown sushi spot, or maybe an art event where you pretend to know what's going on.

Here's how much this look cost me.
Shoes: $89.90; you can find pumps similar to mine here.
Bag: Forever 21, $24.90
Blazer: Zara, $50; I found you an even cheaper one for $24.43 from Forever 21.
Beanie: Zara, $17.90
Total: $139
Happy shopping betches! May your looks be Instaworthy, and your wallets full.
Images: Eli DeFaria /Unsplash; Maya Butler (3)
Betches may receive a portion of revenue if you click a link in this article and buy a product or service. The links are independently placed and do not influence editorial content.
10 Turtlenecks That Will Make You Look Like An Instagram Fashion Blogger
Want to pretend like you're the type of woman who works out before heading to her job in finance instead of the type of woman who binge-watches Netflix and stalks her ex's Instagram activity all day? One word: TURTLENECK.
It's turtleneck season, betches, and the 90s staple is seriously having a moment right now. Just Google "turtleneck Gigi Hadid" and you will be immediately shook. What makes every single one of her outfits complete? A turtleneck. Every It Girl is rocking them these days. From the Hadid sisters to hilarious Insta queen Morgan Stewart, it's an item that immediately takes your look from middle to high class, yet can only cost you around $25 and no one will ever have to know. People are so obsessed, that there's literally an Instagram account called "turtleneckpics". THAT'S how much people love them. (Ok, shush, so they haven't posted since 2016, but that's besides my point.)
And let's be real: Everyone knows that with all the weight you packed on over the holidays, you could really use some extra coverage for that double chin and lack of clavicle (honey, not even Facetune can help you rn). Therefore, what better way to slim your neck and collarbone area than with a comfy piece of fabric? Also, it's freaking freezing outside. Your mom will be so happy to hear you're finally covering your neck.
So, congrats! You're now an Insta fashion blogger who uses LIKEtoKNOW.it and are a proud member of #TeamTurtleneck. Where do you go from here? Don't break your neck trying to search online (ok, I'll stop). Scroll down to find 10 of the hottest turtlenecks on the market right now that will turn heads and won't break the bank.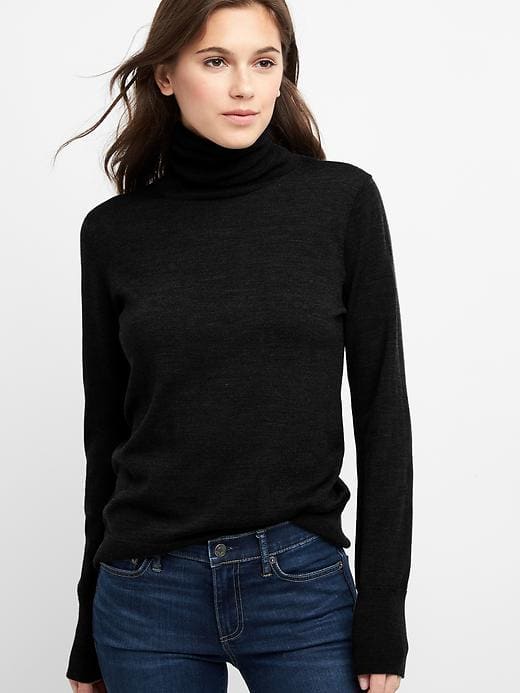 If these are out of your budget, or if you just maxed out your credit card for the fourth time (new year, same you!), then the next time you go home, raid your mom's closet. You can also hit up your local Goodwill or thrift shop. You may be shocked to see all the gorgeous cashmere or cotton turtlenecks you find from the 90s or early 2000s. I literally wore my mom's wool turtleneck from the 90s the other night and I've never received so many compliments in my entire life.