I Found an Alternative to the Sold-Out Viral Platform Uggs, And They're Under $100
Betches may receive a portion of revenue if you click a link and purchase a product or service. The links are independently placed and do not influence editorial content.
Name a brand that's had a stronger comeback than UGG—we'll wait. What once seemed like a uniform staple for basic girlies everywhere, has quickly morphed into one of fashion's must-have staples, especially the Ugg Classic Ultra Mini Platform Boots. First, fashion's lovechild Bella Hadid was spotted wearing the boots with crew socks and very cheeky shorts in the dead of summer, and then other "It girls" like Gigi Hadid, Elsa Hosk, and Keke Palmer quickly followed suit. But, with so much hype tied to these platform stompers, it's no surprise that they've been sold out for months, and re-stocks are easy to miss. So, naturally, I had to find a lookalike for you, because who has the patience to stay on the waitlist for a '2000s shoe?
One quick scroll through Amazon's endless amount of shopping pages led us to the Cushionaire Hippy Pull-On Platform Boots. These look nearly identical to the viral mini shoes and are nearly half the price. At just $79.99 you can have these iconic shoes at your doorstep in just two days (shoutout to Amazon Prime shipping).

When it comes to appearance, these check off every box you might be looking for in platform Uggs. They're thick, warm, have a sky-high bottom to add a few inches to your height, and are super comfy thanks to memory foam. And, unlike actual Uggs, however, these have a faux-fur lining on the inside, if sheepskin isn't your thing. You can wear these for a hungover morning run to the bagel shop (bacon, egg, and cheese PLS!) or to go spend money on things you don't need at Target—you know, the important things. Just pair them with your favorite leggings and you're good to go, unless you're channeling your inner Hadid sis and want to wear them with cheeky shorts—which is totally fine too.
And avid Amazon shoppers give these their stamp of approval too. These not-Uggs have a 4.6 rating on the site. Unsurprisingly, these are also a hit among TikTok fashion creators too.
So, the bottom line is that not only are these cheaper than a pair of Uggs that are nearly impossible to get your hands on, but they're just as comfortable and high-quality as the real deal. There are good reasons as to why these have an average 4.6-star rating on Amazon, and the positive reviews speak for themselves. Sure, winter might almost be over, but if Bella Hadid can wear these in all-year-round, so can you. What are you waiting for? Snag these Ugg lookalikes for $79.99 and channel your most basic vibes today.
How To Get Ready At Home For Your Corona Wedding
Once upon a time, getting ready for a wedding (whether or not it was your own) meant endless salon trips and overpriced beauty treatments. As COVID-19 changed literally everything to do with modern celebrations, it makes sense that the global pandemic would royally f*ck up a bride's beauty plan. While some salons have reopened, that doesn't mean all brides have the option to go about the traditional pre-wedding glamming ritual. Whether your finances are all out of whack thanks to lost wages or you're in a position (whether physically or morally) where you don't want to risk spreading the virus, you're probably wondering how tf you can still feel like a plucked, pruned, and polished bride the day of.
As someone who hated leaving her home even before the pandemic hit, I'm here to tell you that it's totally possible to indulge in some hardcore beauty prep before the big day without ever setting foot outside your door. From teeth whitening to manicures, self-tanners to Botox, you can make all of them happen from home (yes, even the Botox). While it might not seem as glamorous as the prep plan you had back when the world wasn't a dumpster fire, just think: If you film the process as you get ready, that's content for TikTok.
Teeth Whitening

Myth: You have to be an influencer-level #girlboss to utilize teeth whitening kits. While they are the bread and butter of sellouts on Instagram, a teeth whitening kit is an easy way to up your look without doing things like exercising or leaving your house. Some kits take a few days while others take 30, so time it out to ensure your best results line up with the big day. A kit like Colgate's version of those IG LED light whiteners is a great option since it only takes 10 days, you only have to use it for 10 minutes a day, and it doesn't cause sensitivity like a lot of other products/strips do.

Colgate Optic White At-Home Teeth Whitening Kit
If you'd rather go the most classic route, these Crest Whitestrips have over 15K reviews on Amazon (with a majority of them being positive). Just make sure to use toothpaste for sensitivity during treatment to avoid discomfort if you're not down for the whole "beauty is pain" thing. 

Crest 3D White Professional Effects Whitestrips
Waxing
If you feel the need to ditch the razor to eliminate any cuts or bumps on the big day (still, as someone who shaved hunched over in the shower, painfully hungover the morning or her wedding, it's really nbd), waxing a few days before your wedding will ensure you're stubble-free for your wedding night. For smaller areas (like the lip, fingers, toes, and even brows), simple wax strips will get the job done. Opt for something created for sensitive skin like these strips which are dermatologically tested, hypoallergenic, cruelty-free, and cheaper than bottomless brunch. 

TOPNaturePlus Hair Removal Wax Strips
If you're looking to do larger areas like your legs, arms, or your (peace be with you) bikini area, depilatory wax (aka what the salon uses) is the answer. To make things simpler, a hard wax kit that doesn't involve strips streamlines the process. This kit from Amazon is $35 and works like a charm. Just know that it will take much longer than however long you would spend shaving in the shower, so block out a good chunk of your day if you plan to go from "Corona au naturel" to hairless from the ears down.

Bella Verde Waxing Kit – Home Wax Warmer
Tanning
Having a ~glow~ is something most brides crave to make the white of their gowns pop. While spray tanning might give you flashbacks to the scene in Bride Wars when Anne Hathaway turns orange, not all of the options out there yield secondary color results. St. Tropez is one of those brands everyone seems to universally love, and for good reason. The products are high-end yet affordable and they don't turn your skin orange. Snatch up the wildly popular bronzing water mousse which will give you more of a medium glowy tan that's shockingly easy to apply. 

St. Tropez Self Tan Purity Bronzing Water Mousse
While the bronzing water is ideal for anyone wanting a medium tan, there are other options depending on what level of baked you're looking for. If you want a dark tan, opt for the bronzing mousse, or if you just want an "I hung out at the pool and responsibly applied sunscreen" sun-kissed look, the gradual tinted body lotion will get the job done. Whichever you choose, make sure to use an applicator mitt to avoid telltale streaks and give you even coverage. 

St. Tropez Applicator Mitt
Manis & Pedis
Even the most laid-back bride usually opts for a mani and pedi on her wedding day. With plenty of ring shots, having at least polished nails is a simple way to feel put-together on your big day. If you want something quick and simple, swipe a polish on your nails the night before or morning of the big day after a quick shaping sesh with a file. Sally Hansen Insta-dri is great if you want a rich color and are notorious for smudging your mani. While it doesn't actually dry instantly, it does dry faster than anything else out there (just keep your coats thin). Just make sure to use a top coat, obvi.

Insta-Dri Sally Hansen Finger Nail Polish
If you want a thicker, more salon-quality mani (and have the time/patience to do something more than a few swipes of traditional polish), consider getting a powder dip kit. While it will def help to watch a few YouTube videos before you accidentally spill blush-colored powder all over your bathroom, the results are just as good as a $50 mani after a bit of practice. 

Acrylic Dip Powder Nail Color Kit
Hair Coloring

oVertone Golden Brown Healthy Color Duo
While home hair coloring is a gamble, there's a way to get rich hues without going to a salon or drying your hair out with box dyes. oVertone offers a variety of shades from traditional colors like brown, black, and ginger to vibrant ones like pink and blue. The semi-permanent dyes are great if you want to add some warmth or depth without the commitment or damage of a permanent dye. Try out a few options in the months leading up to your big day to figure out what feels right. If you're looking for just a subtle change, the color conditioners add some richness without a full-blown color change. 
Deep Hair Conditioning 
Deep conditioning to hydrate your ends and eliminate frizz is Beauty Prep 101. While most people have their tried-and-true deep conditioner selections, now's the time to up your game because uh, even if there's a global pandemic, it's still your wedding, dammit. And by God, you deserve to feel pampered AF. First, grab a deep conditioner or hair mask to soak into your follicles and soften all of your "I can't f*cking believe I had to postpone my wedding twice" damage.

It's a 10 Haircare Miracle Hair Mask
From the end-all-be-all line that makes your hair looks like you haven't been swimming in split ends for months, It's a 10 Miracle Hair Mask is under $30 yet still more high-end than the old bottle of Suave in the corner of the shower. After rinsing, spray some It's a 10 Miracle Leave-In product on your damp hair and get yourself married with silky, "she didn't just live through a pandemic, did she?"-worthy locks. Oh, and in a few days when your hair feels brittle and dull after drinking champagne and eating cake for an entire weekend, repeat the process and thank me later. 
Deep Moisturizing
Whether or not you plan to rock a wedding day tan, having smooth, sleek, hydrated skin will not only photograph better, but it will also give you a glow no matter your skin tone. In the days leading up to your wedding, lather on some hardcore moisturizer to glisten the day-of. CeraVe's famous Moisturizing Cream is dermatologist-approved, gentle on skin conditions and your wallet, and wins tons of awards year after year.

SOL DE JANEIRO Brazilian Bum Bum Cream
If you want something a little less "everyday" and a little more special, Sol de Janeiro's Brazilian Bum Bum Cream combines a blend of cupuaçu butter, antioxidant-rich açaí, and coconut oil which wakens dry, dull skin. Oh, and it smells like a tropical vacation, which will 100% up the exotic vibes day-of, even if you're getting married in your backyard.
Extensions
Whether you have baby-thin hair that tangles in the slightest breeze, decided to give yourself a DIY cut during quarantine and lost more inches than you care to admit, or you just dream of rocking mermaid locks for your wedding photos, extensions are the key to getting those hair-envy wedding looks. If you're forgoing a professional stylist and plan to do your own hair, however, selecting extensions that are easy to utilize by yourself is key. If you plan on wearing your hair down, Hidden Crown extensions are by far the simplest solution out there (and great for half-up half-down styles). Instead of clips or tape (which are tricky to perfect on your own, no matter how many YouTube vids your watch), Hidden Crowns are full crowns of hair that are secured with a piece of wire kind of like a headband. This means the chances of you throwing it across the room in frustration are greatly reduced.

If you're looking for something even simpler and plan to wear your hair in either an elegant pony, some sort of bun or updo, or get all boho with some braids, the Insert Name Here ponies are quite literally the simplest hair accessory I've ever used. You put your natural hair in a bun or ponytail, and then you just wrap the velcro of the pony extension around your elastic. It takes five minutes and gives enviable results. Add some Baby's Breath or clips for an additional elegant pop.
Botox
No, I am not advising some back-alley at-home Botox injectables. If you're looking for neck wrinkles and crows feet solutions for your bridal portraits and don't feel like that's a valid reason to leave your home and go to the doc for a non-essential visit (RESPECT), you can still have that "I've never squinted at my computer screen for 12 hours straight" wrinkle-free look. Firming creams and serums are literally everywhere, so don't be afraid to test out products to see what works (bc wtf else are you going to do right now?). If you want a famous celeb-endorsed option, The Athena 7  Minute Lift cream is one of those products you'll probably try once and then buy for the rest of your life. It's all-natural, plant-based, and smooths out lines on the face, neck, and décolleté. Yes, it's pricey, but it's cheaper and less invasive than actual injectables, so it could be a solution for your wrinkles even after the world opens back up for good.

Ultimately, it doesn't matter how you prep for your wedding. 2020 is a whole new era of nuptials, so when it comes to prepping, do what makes you feel best. Whether that's an entire home pampering day or just rolling out of bed and saying your "I dos" in your pajamas, as long as it's with the person you love (and as long as you throw a kick-ass party when Corona is over), you'll still make plenty of people jealous. And at the end of the day, isn't that the point of weddings in the first place?
Say Yes to the Betch & subscribe to our weekly Betches Brides newsletter here.
Images: Elena Taranenko on Unsplash; Giphy; Amazon; Sephora; Ulta; oVertone; Alex Gaboury / YouTube; Hidden Crown Hair; 7 Minute Lift
Betches may receive a portion of revenue if you click a link and purchase a product or service. The links are independently placed and do not influence editorial content.
A Step-By-Step Guide To Giving Yourself An At-Home Gel Manicure
The longer we stay home, the more we must improvise. I, like many others, quite enjoyed my biweekly routine of getting my nails done. Aside from the obvious relaxation aspect, there is something about a fresh manicure that adds a little sparkle to my look. For obvious reasons, that hasn't and likely won't be something on our radar anytime soon, so I turned to the internet to find the best at-home gel manicure kit a gal could buy.
Cue ZOYA's Gelie-Cure Foundation Pro Kit. This set retails for only $65 (approximately how much I spend on one single gel manicure at the salon) and contains EVERYTHING you could possibly need: cuticle serum, all the gel goodies, foils to make you feel legit, and even a travel LED light so you can do your nails on the go (but please, STAY HOME). 

Obviously, I needed to put this kit to the test, because you can't believe everything you read on the internet.
*Spoiler alert* it actually worked really well overall. We may have hit some minor speed bumps along the road, but this was definitely a step up from my regular DIY manicures that chip within the first five minutes of being dry. 
Here is my step-by-step guide to get your nails looking fab with an at-home gel manicure, regardless of which brand or kit you so choose to proceed with.
Step 1: Prep What You're Working With

I have somehow managed to keep my nails in good condition throughout this quarantine, but if that isn't the case for you, that is OK. First things first, you've got to shape your nail. I personally chose a "square with rounded edges" look, which is so easy to do on some nails, and a challenge on others. But, as long as the nails look semi-related, it works. I used the nail file from the kit, but obviously you can use any nail file that works for you.
Pro tip: After shaping, be sure to buff the edges to prevent cracking/breaking, because let's be real, there is nothing more annoying. 
Step 2: Apply Treatment

After you're ~ feeling good ~ with your nail base, it's time to treat the nail and cuticle area. I am guilty of always having janky cuticles, so this step is everything, IMO. Unsure of what I did to deserve such a thing, but just thankful there is a solution. I apply a small amount of ZOYA's Rescue Serum to my index finger (again, you can use your serum of choice) and then place a tiny little bit to each finger and massage into the nail. A little goes a long way here, so follow directions. If your cuticles are fine, let them be, but if they need a little loving, that's ok too. Take a cuticle pusher, and GENTLY push cuticles back. And… then leave them alone. 
Pro tip: Don't cut them, don't pick them, just push back and let it be. 
Step 3: Base Coat

This is essentially common knowledge, but I'll walk you through it anyway. Apply a gel base coat—I'm using ZOYA's Repair Base, you're using the base you so choose to proceed with. Cover your entire nail, and seal the free edge to avoid peeling/cracking. This is most applicable to those with longer nails, but if you've got short stubby nails (as I typically do), then just make sure you've covered what you've got. Easy enough? Yes. Moving on. 
Step 4: Foundation

Once you've got your base coat to protect your nails from all harm that gel causes, you'll need your gel foundation. If you're confused as to why you need two "base coats", think of Repair Base as your SPF, and Naked Gelie as your makeup foundation. One layer to protect, one layer to work as a foundation for all of the following steps, if you may. For this step, you'll actively avoid the cuticles and skin surrounding your nail (leave a small gap), but you will want to seal the free edge again. You can do a quick check under your nail light to ensure that the nail is properly covered, glowing, and not messy. I'd be lying if I said I did this flawlessly in one step. My left hand was easy, because I'm a righty, but my right hand was a bit of a struggle because my left hand has a mind of its own. 
Pro tip: Less is more, because the gel slides around the finger. One swipe down the center of each finger (with the brush fanned) will do.
Step 5: Go Glow Time

So now is when things get *serious* because we are locking in the gel coat and making moves!!
This step is important, but simple. You'll turn on your light and bake. Put your fingers under the light for the allotted time, and make sure your nails do not stick out and have full exposure to the light. I have long fingers so I wish this light was a bit bigger, but most gals aren't 6 feet tall like I am, so I guess I'll take the L for this one. Once you've done this for all nails, it is safe to move on.
Pro tip: Repeat step four and five twice for a stronger gel coat. They typically do this at the salon as well, and it's for a reason.
Step 6: The Grand Finale

This title is misleading if you want to add color, but if you want to keep it simple with no polish and just a fresh clear gel look, listen up. You'll need any after-gel cure spray to remove residue from the nail. Use a lint free nail pad to ensure that no little fuzzies attack and mess up your perfect manicure. Speaking from experience, there is nothing worse. And voilà, you've got yourself a pair of fresh nails. 
(Optional) Step 7: Polish The Nails

SO if you're mad at me for leaving colored polish out of the equation, relax, it's here. We have two options from this point on:
Option 1: If you'd like the option of removing polish as you please like a regular manicure, you can simply paint any color over your gel manicure (regular polish, not that special "no light gel" BS that destroys your nails). This gives you the ability to change colors as you please, and the base should last 2-3 weeks under the color(s) of your choice (this is true for any brand's at-home gel kit if done properly). If you're afraid of commitment, this move is for you. This is what I decided to do in the photo above, and I ask that you please refrain from judging how shaky I am with my dominant hand. I TRIED, I really did, but as you can see, this is where the manicure went south. If I was going out in public, I'd probably have started over, but I'm living in a bubble and I only exit my apartment in gloves… so I said f*ck it and left them as they were.
Option 2: If you're the girl that has been wearing Ballet Slippers on her nails for the last 10 years and nothing can change that, then we switch gears to the "sandwich technique". No I did not come up with this name in a fit of hunger, but yes, I would love a sandwich. You'll start this method the same as you would option one, and paint a thin layer of your favorite regular polish over the gel foundation. Wait two minutes (if you have the patience) and apply a second thin coat of polish to the nails. After this second coat is applied, wait 10 more minutes (sorry not sorry) for the coat to be semi-dried. *Trust the process* and once the 10 minutes are up, apply a layer of gel polish to the nail again. They don't need to be completely dry, hence my "semi-dried" statement one sentence ago. 
Pro tip: Once applied, you'll need to clean up the edges all around—this is actually important, because if the gel spreads to cuticles or corners, it can result in an incorrect cure. I KNOW you don't want any mistakes at this point, so do as I say. Pop the nails back under the light and repeat steps five and six. 
And there you have it, an at-home gel manicure, pretty and perfect without having to go to a salon.
Is it as relaxing as an in-spa experience? Absolutely not. It's actually stressful, because it's easy to mess up and I am simply not as artistic as the nail technicians that I go to. I made my boyfriend massage my shoulders while my nails were under the light, but the experience was not the same.
Quality-wise, the gel is better than I expected and hasn't peeled yet *knock on wood* so being that we are trapped inside for an indefinite amount of time, I would recommend going the gel kit route for the time being. But will this kit replace my nail salon forever? Probably not.
OH. I almost forgot. I feel it is important to include the removal process here too, and it's sooo easy (this was the only step I was confident that I could conquer). If you've been to a salon, you probably know the deal, but if you pick off your gel nails (cringe) then follow these steps to avoid doing such a thing:

Step 1: Soak cotton ball with polish remover and place on nail
Step 2: Wrap nail in tin foil and shape to nail/finger
Step 3: Wait two minutes if you are removing just base, and four minutes if you are removing "sandwich nails"
Step 4: Open foil, and use cotton to wipe the nail clean. This is where we differ from the salon, who would typically use a file to remove the hard gel. The at-home nail systems make for easier, safer removal and for that, I am thankful. 

Please tag me in all of your nail photos and LMK what kit is your favorite, so I can see how much more talented the world is than me/see if I am doing it right. And if all else fails, find yourself a cute pair of press on nails and call it a damn day. THANKS and happy manicuring. 
Images: Toa Heftiba / Unsplash; Dylan Rubinstein (9); Courtesy of ZOYA
Where To Get The Biggest Fall Fashion Trends For Under $100
In my opinion, there's nothing cooler than a fashion blogger who can successfully mix expensive and inexpensive fashion pieces. Like, someone who can mix a head-to-toe Zara ensemble with a casual Chanel bag in such a stylish way that I just assume everything she's wearing is designer. And, in the same vein, there's also nothing more disappointing than a fashion blogger who does dress head-to-toe in everything designer, which is an unattainable reality for most of us peasants. Besides, it's also not as cool because it's not as impressive—like, if you have money, then I expect you to be able to dress great. Those of us who follow fashion trends on IG know the crushing disappointment of seeing your fave blogger wear something that you just "have to have," only to discover said piece has a price tag that's triple your paycheck. That being said, there are some obsession-worthy designer Instagram trends happening right now that you probably want to get in on, but don't think you can afford to. Well, I've done you all the favor of finding pieces similar to the designer ones you love so that you can actually do the more fiscally responsible thing of not blowing your entire paycheck on a single trendy designer piece.
1. Square-Toe Heels
I will bet my life savings that you have seen these shoes on Instagram by now. (Disclaimer: my life savings right now is like, $3.) Everyone out there who considers themselves a "fashionista" knows that Bottega Veneta is the current "it" brand. They have made square-toe heels THE only heel you need for fall. There are two different popular iterations of the heels that are currently trending: square-toe black mesh and square-toe cushion sandal.  Both are super cute, but at just about $1,000 a pair, they're highly impractical. Instead, I found these incredible dupes for you all that are a reasonable $70. I can't imagine they'll be in stock for long, though, so be early to the trend and order yours ASAP.

2. Pouch "Cloud" Bag
Sticking with the currently popular Bottega Veneta trend, the pouch or "cloud" bag is very clearly the only bag you need to be cool on Instagram this season. PSA, though, from one drunk mess to another: this is not the ideal bag for bringing to a boozy brunch because it seems way too easy to lose. So, don't max out your credit card for this bag that you'll 100% leave in your Uber home. Rather, get this amazing dupe from Amazon and save approximately $2,500 (along with the self-hatred that comes with inevitably losing your expensive bag).

Simple Dumplings Messenger Bag, $28.99
3. Chain Belt
Okay, so in general right now "chain" sh*t is very big on Instagram. Between chain necklaces, earrings, pumps, and belts, they are everywhere. In fact, you've probs seen your fave fashion bloggers casually rocking a Chanel chain belt. Uhm, happy for you and your financial success, but like, I can't afford that. Even on The Real Real, the cheapest chain belt I can find is like $300, and it's rusted and not cute. And considering I do still need to pay my monthly rent, even $300 on a trendy designer belt just isn't going to work for me. Fortunately for all of us, there are plenty of chic and expensive looking chain belts that are actually affordable. I actually own this one from Princess Polly and I highly recommend it.

Princess Polly Artemis Belt, $28
4. Feather Crop Top
Okay, so this trend is definitely extra, which is exactly why it's such a hit on Instagram. Like, it's highly unlikely you're wearing this costume-esque top out in real life unless you're Kourtney Kardashian, but you're doing it for the 'gram! The strapless feather crop top simply isn't practical; however, it will definitely rake in the likes. That being said, there's no need to go out and buy Kourtney Kardashian's exact one from Attico, which clocks in at over $1,000. But, it would be totally worth purchasing this similar top from Dolls Kill that costs less than a bar tab.

Feather Tube Top Trim Black, $38
5. Underwire Bra Crop Tank
So this brand Orseund Iris has been taking over my Instagram feed with their signature outer underwire bra tops, and basically, I'm obsessed. Unfortunately, their signature tube tank costs a whopping $195. And like, it's really cute, but for another $100 I could get that rusty used Chanel chain belt from The Real Real, you know? At least the belt I would potentially rewear. This crop top, on the other hand, is the kind of piece you wear once for the 'gram. So, simply put, it's just not worth it. But what is worth it is this similar style bodysuit from Princess Polly, which is currently on sale for just $18. For under $20, you can sacrifice a vodka soda or two to make the purchase if you simply must achieve this lewk.

I've always had a love for the finer things in life. Unfortunately, my current financial situation doesn't allow me to go around dressing in head-to-toe designer threads. So, instead, I prefer to buy timeless designer accessories and then buy trendy fast fashion clothes. If you're like me, these similar dupes are great alternatives for the trendy designer ones. And, if you're not like me and can actually afford all the original designer versions, then the least you could do is also buy me one of each while you're buying your own.
Betches may receive a portion of revenue if you click a link and purchase a product or service. The links are independently placed and do not influence editorial content.
Images: @sonniehiles/Unsplash; @kyliejenner/@rosiehw/@cassdimico/@kourtneykardash/@orseund_iris/Instagram; Muse; Dolls Kill; Amazon; Princess Polly (2)
The Biggest Wedding Dress Trends You'll See Next Year, According To An Expert
Assuming you haven't been living in a cave for the last month, you are likely aware that fall is in full effect, and the new wedding season has been formally kicked off by The Biebers' second exchange of vows (because apparently one wedding isn't enough). While no one expects non-celebrity brides to deliver extravagance at the level that celeb weddings often do, living in the age of Instagram means competition abounds in the world of weddings (even for us common folk). And though I am still not over the fact that Hailey put "Till death do us part" on her actual wedding veil,  her dress is hardly the only source for gown inspo. That's why we spoke to Azazie designer Peter Hale Cooney to get the scoop on all the wedding dress trends coming soon to an aisle near you. 
Perhaps it is best to start with what trends are officially ~out~. Peter predicts that we will be saying goodbye to "frivolous and over the top accoutrements on dresses." This, of course, means that the tired popular trend of "crystal and bead encrusted" dresses is going into hibernation. Thinking feathers? Think again. Basically, any attempt to recreate Beyoncé's iconic Met Gala 2012 dress should be stopped in its tracks. Put the feathers and the jewels down (you too, Kim). 
This does not, however, mean an end to glamour. Peter assures us, "I think we're going to see the return of romantic dressing." This could mean a range of styles including everything from "voluminous silhouettes to pared down, simplistic dress." You can even hold onto the sexier vibe that brides with conservative parents on Say Yes To The Dress butt heads over, with "nods to lingerie" in your gown of choice. Hoe, but make it bridal.

Cooney also predicts plenty of "diaphanous fabrics" (I looked it up, and it means light and translucent) and "lovely lace fabrics." Lace, in particular, is a point of emphasis in the romantic aesthetic of future wedding dresses. "Nothing says romance more than a fine lace," Cooney adds.
Perhaps the trend I am most looking forward to seeing on my Insta feed is the return of 60s and 70s styles. Maybe it's all the Mad Men I've been binging getting to my head, but a Megan Draper ensemble on a wedding aisle sounds pretty dreamy to me (even if she is the most annoying character in the show). Cooney predicts the era will manifest in details like "easy breezy shapes, long sleeves," and "slightly rebellious ensembles." 
To the brides out there who stick their noses up at tradition, you're in for a treat, because color may be an unconventional trend that is becoming, well, conventional. According to Peter, "color has been making its way into bridal collections for many seasons now. I think soft pastel shades incorporated into dresses are absolutely stunning." 
As for bridesmaids, another increasingly popular shift away from tradition is mixing and matching dresses. "In this day of body positivity I know brides want all the members of their party to feel as comfortable as they do beautiful. This means different dresses for different figures." As a matter of fact, dresses may not even be a necessity anymore. Cooney boasted about all of the bridal party jumpsuits Azazie is getting ready to drop, gushing that he "love this development for bridal parties."
All trends and traditions aside though, Peter believes first and foremost that a ceremony should be designed around the bride and groom's own tastes. "I'm in the school of thought that there is no rule book when it comes to your big day. From venue, to ceremony, to style of dresses worn. Stick to the vision you have that reflects you and your partner best and it is sure to be an unforgettable day."
Images: Izabelle Acheson / Unsplash; azazie / Instagram; Azazie.com
What Is Dermaplaning? 5 Things To Know About Shaving Your Face
Another day, another way to improve myself. Whether it's eating or skin care or wearing things that don't make me look fat, 2018 is already so full of advice. Well now, there's a new way to get baby smooth skin—it's called dermaplaning and it involves shaving your face. *Shudders* Every day we stray further from God's light.
OK, so, like, first off, I didn't even know wtf dermaplaning was until last week. I should probably tune in to the trends more often, since I'm the voice of a generation and all. Turns out, shaving your face to exfoliate is big business. Whether you're doing this shit yourself or paying a fancy doctor to do it for you, chances are it's totally good for your skin. Allegedly. But you, the average Betches reader, probs doesn't know wtf I'm talking about. Allow me to explain and like, enlighten you.
WTF Is Dermaplaning?
So, dermaplaning—according to Cosmo—is literally using (or having a doctor use) a surgical scalpel to gently scrape off any dead skin cells or "peach fuzz" on the surface of your face. It's a super effective exfoliating treatment and is apparently all the fucking rage these days. It's like shaving your face, but more bougie.
Can I Do This Or Will It Fuck Me Up, Fam?
Yah, pretty much anyone with any skin type can dermplane. Myths abound that, like any kind of "shaving", your hair will grow back thicker, darker, and scarier. This isn't fucking true, according to Bustle, and your hair will grow back exactly the same as before. Also, it doesn't hurt and won't cause breakouts.
How Much Will This Shit Cost Me?
I meaaaaaaaaaan, it honestly depends on where you go and how you do this shit. For a REAL dermaplaning tool (no, you can't use a regular razor), it'll set you back around $75, and you totally can't put a price on beauty. If you're nervous, go to a dermatologist for a real appointment. That'll probably set you back a couple hundred bucks, but every place is different. Maybe they're having a sale—idfk. Given that I cut my legs every time I shave and I've been doing that since I was 11, I wouldn't trust myself with a razor to the face, but ya know, to each her own.
Why Am I Shaving My Face?
There are literally tons of benefits to dermaplaning. According to Elle, hairless skin helps all the shit you're layering on your face—from anti-wrinkle creams to acne shit to moisturizer to even your makeup—go on smoother. Plus, you're literally unclogging your pores by dermaplaning since it's getting rid of that dead skin buildup we all know and love.
Will My Skin Be #Flawless?
Yes and no. If you're going for a legit treatment, like, at a doctor's office, chances are your skin is going to be hella red and dry for a few hours after. It'll be a good night to sit in solitude, is what I'm saying. This is the time to rub in some vitamin C serums and other good-for-you shit since your face is like, super prime to absorb it. Afterwards, though, you'll have mega-soft skin that you may not even need an Insta filter for. PRAISE JESUS.
May the odds and your skin be like, ever in your favor.
Images: Giphy (3)
The Sexiest Lingerie For Every Body Type
Add lingerie to the list of dreaded things to shop for, along with jeans and bathing suits. It doesn't even matter if you're an Insta fitness model. Shopping for lingerie just all around fucking sucks. It's long, tedious, and honestly, too expensive for pieces of clothing (can I even really call them clothing?) that someone will just rip off in a matter of minutes. With Valentine's Day coming on hard and strong, our eyes are not only blinded by the heart-shaped shit everywhere, but we're reminded that this is the *second* time of year when girls can dress like a total slut and no other girls can say anything about it. What? I had to say it. If you're planning on showing off your goodies this year, you def want to feel like nothing less than a sex goddess while wearing it. No two bodies are the same, fucking duh, so here is the best lingerie you should buy based on your body type.
If You Have Small Bust And Wide Bottom, You'll Want A… Babydoll
The coverage helps even out your proportions so both your bust and waist are emphasized in all the right ways. The illusion is all in the lace, so just trust me on this. Play around with the bust area if you'd like more cleavage, or opt for one with no padding at all to keep your body looking lean and voluptuous all the way through.

If You Have Large Bust And Small Bottom, You'll Want A… Lace Teddy
Whether you want to enhance your boobs or kinda just keep them low-key, you'll def want to run to Victoria's Secret for one of their iconic teddies, aka bodysuits. A teddy keeps your upper half looking on-point, while giving you that hourglass shape by narrowing your waist and giving the illusion of a larger bottom.

Victoria's Secret Very Sexy Chantilly Lace Plunge Teddy
If You Have Large Bust And Large Bottom, You'll Want A… Corset
Looking curvy isn't an issue for you, you lucky betch. However, sometimes, making your curves look just right in all the right places *is* the pain in the ass. A corset will be the solution to all of your problems when it comes to feeling and looking v sexual this V-Day. It will perk up your bust, define your butt, and keep your torso looking slender, all at the same time.

Bluebella Cassandra Basque B-DD Cup
If You Have An Hourglass Shape, You'll Want A… Chemise
Honestly, you can wear anything your little heart desires without having a major panic attack, so I kind of hate you. You already know you look phenom in a basic black bodycon, so you'll want a chemise that has the same idea… just more sexy and revealing. It'll hug your curves exactly how you'll want it to, and draw his attention to both your boobs and butt in the best way possible.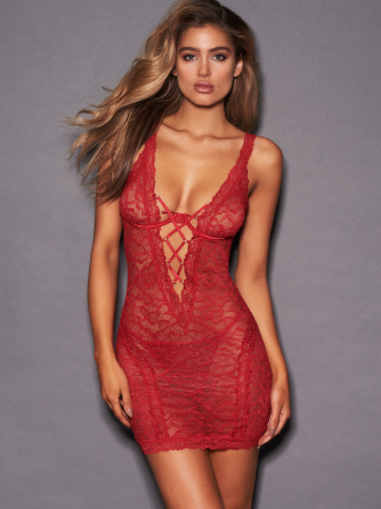 Fredericks of Hollywood Lana Lucia Lace Chemise
If You Have A Small Bust And A Small Bottom, You'll Want A… Push-Up Bra & Cheeky Panties
There's nothing a good ol' push-up can't fix when it comes to turning A-cups into DD lookalikes. To offer as much cleavage as possible *and* make your ass resemble Kim's, you'll want an enhancing set that will make you forget all about the itty bitty itty committee of which you are chairwoman.

Victoria's Secret Very Sexy Fishnet Lace Choker Plunge Bra
The Worst Grammys Fashion Looks Of All Time
Eh, no offense, but the Grammy Awards are kind of the most boring music award show. Besides the Milli Vanilli lip sync scandal of 1990 (which like, doesn't even count because that was basically 100 years ago), the Grammys are usually relatively scandal-free. The VMAs seriously get all the good drama. Anyway, it's still a pretty decent chance to talk shit, because there are always going to be a few guaranteed heinous outfits. In honor of the upcoming 60th Grammy Awards, let's take a stroll down memory lane and rip on some of the ugliest outfits to ever grace the Grammys red carpet.
Katy Perry, 2017
Katy Perry is one of those celebrities that most people dislike, but can't exactly explain why. She was super likable at the beginning of her career when she was wearing cupcakes as clothing, but somewhere along the line, she became totally unbearable. I think this dress may have been that turning point.

Iggy Azalea, 2015
Iggy's dress isn't necessarily horrible, but this hairstyle is another story. As you'll probably remember (if your brain is filled with memes instead of useful information, like mine), this braid sparked tons of memes, comparing Iggy's head to everything from a bird's nest to a loaf of challah. Honestly, I'm craving a Panera broccoli cheddar bread bowl just looking at this.

Nicki Minaj, 2012
In 2012, Nicki Minaj wore a very confusing Versace cape and took a dude dressed as the Pope as her date. I'm assuming she had a reason for dressing like this to the Grammys, but this was six years ago, and if I can't remember it, it's irrelevant by now.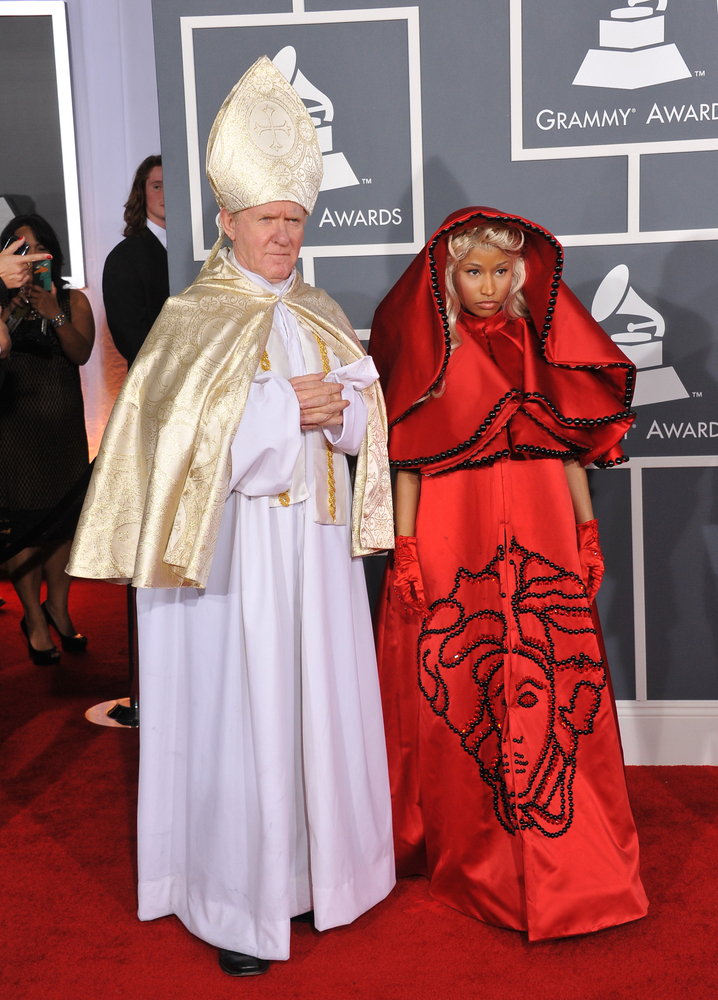 Taylor Swift, 2008
In 2008, the world was a better place. Taylor Swift didn't have bangs yet and was still a sweet little country singer. Although I will cherish this year as the least annoying Swift year since she became famous, this red carpet look is tragic. It really screams "my parents are letting me go to prom with an upperclassmen this year, but my curfew is 9:30."
Taylor attended GRAMMYs for the first time in 2008 at the age of 18! She had 1 nomination! #GRAMMYs #TaylorSwift pic.twitter.com/JUAcSKZwe1

— T (@LegionellaT) February 15, 2016
Dencia, 2016
I have no idea who Dencia is, but when you Google her, her Wikipedia job description is "entrepreneur." Does that mean she sells LipSense on Instagram? Anyway, she wore a onesie with stuffed Hello Kitty dolls hanging from it and bejeweled crotch wings. Goodbye.

Lady Gaga, 2010
I was really trying to avoid including Lady Gaga in this list, because the rules just like, don't apply to her. If she wants to wear a meat dress, we're going to let her wear a meat dress, and we're not going to say anything about it. However, this dress should have been stopped. It's just plain rude to go to a seated event decked out in spikes and hoops.

M.I.A., 2009
This dress is… a lot. It looks like a beach umbrella from CVS. I'm confused as to why M.I.A., who attended the 2009 Grammy Awards on her literal due date, would choose to wear a dress with as much fabric as physically possible while simultaneously trying to show off her baby bump.

Sheryl Crow, 2002
I got a feeling I'm not the only one who effing hates this outfit. Sheryl Crow's 2002 outfit is exhausting to look at, so please just insert your own "Soak Up the Sun" joke in reference to her ugly frameless sunglasses. I'm not even going to dignify that cape or romper with a joke.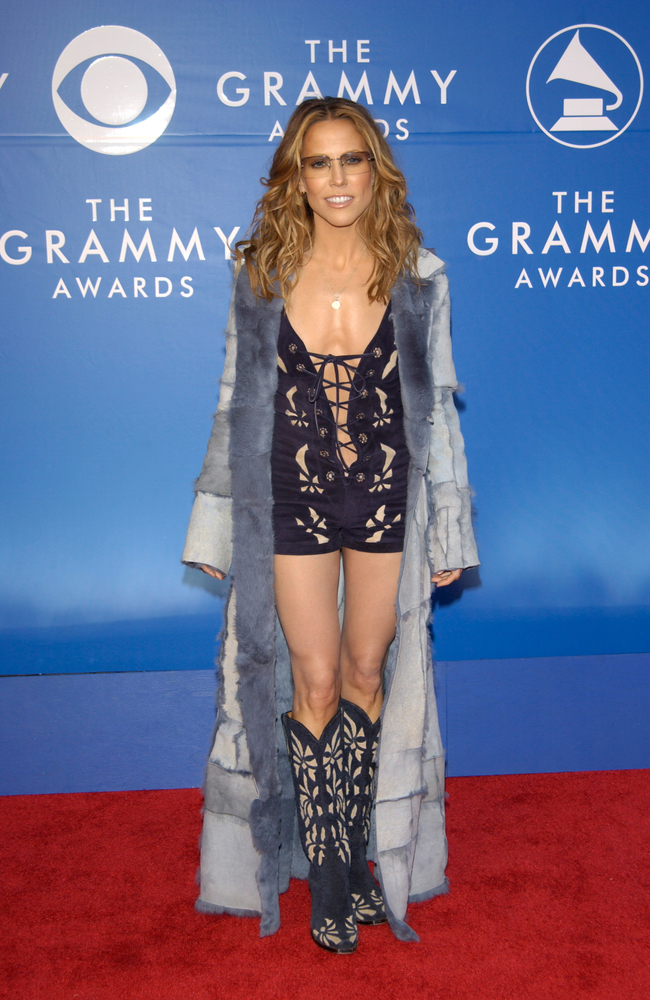 Joy Villa, 2017
At the 2017 Grammys, Joy Villa wore the fugliest dress that has ever graced a red carpet in award show history. Obviously, this was a publicity stunt, because nobody would wear a "Make America Great Again" gown unless they were super desperate for attention. Unfortunately, it didn't work, because I still don't know who the fuck Joy Villa is and needed to Google "Ugly Trump dress Grammys" to find out.