Becca's Worst 'Bachelorette' Fashion Choices So Far
The Bachelorette season premiere is nearly upon us, and there's a lot we can already expect from Monday night's episode. For one, Becca will say the words "let's do the damn thing" no less than 12 times in the span of 120 minutes. It's my personal recommendation that you turn that entire phrase into a drinking game to make it bearable. Just be careful not to die! We should also expect Arie and Lauren to drop another irrelevant wedding-related announcement before the opening credits clear the screen, lest they give Becca one goddamn minute to shine. But mostly we can expect that Becca will be testing my fucking sanity with her outfit choice. I think we can all confidently say that Becca was not our first choice for the Bachelorette (SEINNE, YOU WERE ROBBED), but I've personally been questioning ABC's decision-making skills after watching Becca dress herself these past few months. I don't know if it's something in the Minnesota air or if she's just high off of Arie hate-tweets, but she's definitely feeling some sort of confidence about her Bachelorette style that is 100 percent unwarranted. And who would I be if I didn't shed some light on her v flawed style choices? So, follow me, as we journey through Becca's most heinous fashion choices to date.
1. The 'Bachelorette' Premier Dress
Let's start with the least offensive garment she's worn as of late: her Bachelorette premiere dress. Now, usually the Bachelorette wears red on night one, but Becca is making it clear here that OVER HER DEAD BODY WILL SHE BE LEAVING WITHOUT A GODDAMN FIANCE. At least, that's what I'm assuming she was trying to say with this bedazzled wannabe bridal gown. I mean, is it smart to start off a first date with desperate marry-me vibes? Then again, Ashley I did teach us that acting like a psycho from the get-go might actually land you a man after he goes through literally every other woman first, so maybe it'll work out for Becca? IDK. Though I don't hate this dress with every fiber of my being, I'm definitely underwhelmed by it. It just doesn't say "I'm ready to play with the hearts and emotions of 20 men" like I was hoping it would. That's strike one, Becca!
2. The After The Final Rose Dress
So I know I'll probably catch shit for this one in the comments section, well FINE. I'm still going to talk shit about this dress because principles. Becca wore this number during "After The Final Rose". Not only was this the night she got to confront her ex, but also she met a few of her new suitors, and she chose to wear… this. The dress itself is fine. I mean, I make it a rule not to borrow outfits from my grandmother's swing parties, but to each their own.
3. The 'Bachelor' Finale Dress
You have to think that the moment she walked down that hill wearing grandma's gala dress, Arie took one look at her and knew he'd be sliding into Lauren's DMs later. Tbh I don't really blame him. First of all, wearing black lace over a cream overlay is a fucking crime against humanity and my eyeballs, and should be punished as such. Did she not know that the finale would be a live televised event in which I, and all of America, would be judging her from the comforts of our couch and sweatpants? Did she?? And if she thought I would take it easy on her just because I have queso stains on my PJ bottoms, am wearing a Buffy The Vampire Slayer shirt, and have literally no room to talk about style, she should have thought a-fucking-gain. Also, the goal here is to make the Bachelor want to marry you, to be so enraptured by your presence that he forgets he's been banging another chick all week. Somehow I don't think this prom dress she found in Deb's clearance section makes the cut.
4. This Promo Outfit
I know, it's like you want to look away but you just… can't. When this abomination first graced my screen, I thought it was a practical joke. No way would ABC, a company that invests millions of dollars into the production of The Bachelorette, would allow the star of this season to promote the show dressed like she shops exclusively in Macy's teen section. There's just no fucking way. AND YET here she is wearing that disgusting lace jacket that's making me question what the hell is going on in Minnesota for her to think making this her fashion statement was okay.
So hopefully in these next 10 or so weeks, Becca gets a new stylist who does not have a personal vendetta against her. I can only assume that's what's been going on. I'll see all you betches every Tuesday, where I'll be recapping The Bachelorette and hopefully not shading Becca's every wardrobe choice. I just want the best for Becca, and that includes a wardrobe that does not solely consist of 2004's greatest fashion hits.
Images: Getty Images; @bacheloretteabc, @bkoof ,@bachelorette_becca, @bachelorabc  / Instagram
5 Over The Knee Boots That Will Make Your Legs Look 5 Miles Long
The beginning of fall means it's time to mourn your summer body start investing in the season's biggest staple: over the knee boots. OTK's are nothing new and will always be a timeless wardrobe addition. The sleek thigh-highs make you look tall af, basically skinny, and ultra sexy regardless of if you wear them with an oversize sweater or a slutty skirt. As usual, you'll need new pairs in bold colors to spice up your OOTD, so here's me being like, such a good friend and giving you the low-down on this season's hottest shoe.

Although navy is usually reserved for winter, there's literally nothing wrong with preparing for hibernation by shopping the color a little early. Navy blue is obviously just as cute as black, it's just as dark as black, so we should totally just stab black give it a chance. These suede OTK boots are super comfortable, aka v walkable, and def go with any outfit of your choosing. Except black. Duh.

Some may hate thigh-highs because they can be annoying af and slouch down your leg like fucking sleeves. Thankfully, these sturdy stiletto heels stay in place where they belong and still make your legs look as though they go on forever.

Like our lipsticks, bras, and everything important in life, we obvs need shoes in a nude tan, too. These slinky zip-ups look amazing with every skin tone and accentuate your legs enough to make your friends wonder if you've been hitting the treadmill. Well, joke's on them. The block heels make walking a breeze and essentially decrease the chances of busting your ass when you've had one too many tequila shots.

I literally don't know anything that makes you look more fire than burgundy heels. I don't mean regular heels, I mean like, sexy chunky-heeled OTK boots that you will cherish as much as you would your first born. The hot fall hue is a perfect pop of color; it's classy and a hell of a head-turner anywhere you go.

Naturally, I saved the best for last because Stuart Weitzman is to blame for our OTK obsession. He's the man behind the boot every celeb we stalk on Insta swears by. And obviously, for good fucking reason. They actually *stay* over the knee, are softer than newly waxed legs, and look amazing even over your fave skinny jeans. The style comes in must-have neutrals and a royal blue you'll grow to love.
The Best Mom Jeans That Won't Make You Look Like An Actual Mom
Moms over guys, or GTFO. Boyfriends (both the men and the jeans style) are cool and all, but since fashion sizing seems to go down the family tree, the current rage is all over the mom jean. It's basically a combo of high-waisted skinny and loose boyfriend jeans, sounds gross, I know. No one wants to wear literal mom jeans because they're like, fugly, non-fetch vintage material, and they don't make your ass look good so honestly, what's the point? Before we jump to conclusions, I will say that they are extremely comfortable, unlike all of my literal skin-tight jeans that I can barely breathe in (but, beauty is pain so, whatevs), and plus, you'll now totally fit in at any bar in Williamsburg. If you're on the fence about trying the new jean trend, here's how to wear them and what styles to buy so you look chic AF like Rachel Green instead of looking like a lame mom.
ASOS PETITE Farleigh Slim Mom Jeans In Prince Light Wash

If you prefer your jeans tight, you'll want to find a mom jean in a slim fit so it hugs your waist closely and tucks in any beer bloat. The light wash is perf for both every day and night wear for an effortless, street casual look. Your mom probs makes the joke that you pay too much for jeans you can rip yourself so a distressed style is a solid indicator that you're being judged by your parents doing something right. Pair with a crop top or tucked in blouse, and neutral pumps to really amp up your look.

If your mom says, "O-M-G I used to have a pair just like those!!," it's actually a compliment this time. Reason being that only the cool MILFs rocked DIY bleached Mom Jeans and still got some numbers while they were at it. This pair is all around loose, and tapers at the bottom for a skinny ankle fit. Roll them up and pair with non-basic sneakers (so no Adidas, k?), or a low chunky heel.

A colored and distressed mom jean takes a youthful twist on the 90s classic that was once deemed as unflattering. Well, welcome to 2017, where even the ugliest trend somehow looks socially acceptable on (almost) everyone if you have an ounce of style at all. Wear with a white off the shoulder top and nude wedges for the comfiest, yet trendiest, day drinking outfit.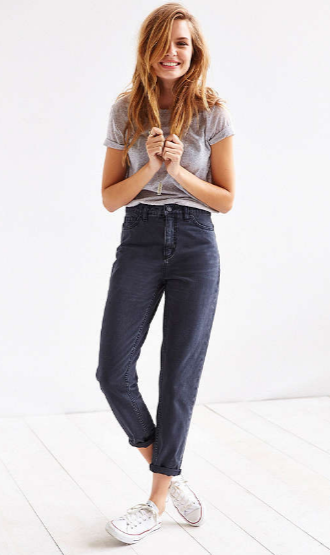 Obviously, you need (everything) a pair in black to go with the rest of the blackness in your closet. A dark shade looks best with an ankle strap heel, plunging bodysuit, and leather jacket for an Insta-worthy edgy look to the club. On your lazy days, wear rolled up cuffs with stylish mules and a loose T-shirt.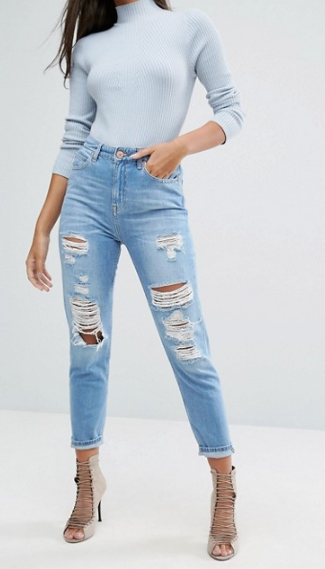 Cool mom jeans look best ripped. IDC. If you disagree and you're all like, "but, I don't want ripped jeans," because you think it's classier for whatever reason helps you sleep at night, then you can happily go look like a mom elsewhere. A super distressed style with a relaxed fit is not only fashion-forward but says, "I'm def blacking out tonight," without being v obvious about it. They'll become your next overly worn jeans if you style with strappy stilettos and a slutty flirty bralette.