I Found an Alternative to the Sold-Out Viral Platform Uggs, And They're Under $100
Betches may receive a portion of revenue if you click a link and purchase a product or service. The links are independently placed and do not influence editorial content.
Name a brand that's had a stronger comeback than UGG—we'll wait. What once seemed like a uniform staple for basic girlies everywhere, has quickly morphed into one of fashion's must-have staples, especially the Ugg Classic Ultra Mini Platform Boots. First, fashion's lovechild Bella Hadid was spotted wearing the boots with crew socks and very cheeky shorts in the dead of summer, and then other "It girls" like Gigi Hadid, Elsa Hosk, and Keke Palmer quickly followed suit. But, with so much hype tied to these platform stompers, it's no surprise that they've been sold out for months, and re-stocks are easy to miss. So, naturally, I had to find a lookalike for you, because who has the patience to stay on the waitlist for a '2000s shoe?
One quick scroll through Amazon's endless amount of shopping pages led us to the Cushionaire Hippy Pull-On Platform Boots. These look nearly identical to the viral mini shoes and are nearly half the price. At just $79.99 you can have these iconic shoes at your doorstep in just two days (shoutout to Amazon Prime shipping).

When it comes to appearance, these check off every box you might be looking for in platform Uggs. They're thick, warm, have a sky-high bottom to add a few inches to your height, and are super comfy thanks to memory foam. And, unlike actual Uggs, however, these have a faux-fur lining on the inside, if sheepskin isn't your thing. You can wear these for a hungover morning run to the bagel shop (bacon, egg, and cheese PLS!) or to go spend money on things you don't need at Target—you know, the important things. Just pair them with your favorite leggings and you're good to go, unless you're channeling your inner Hadid sis and want to wear them with cheeky shorts—which is totally fine too.
And avid Amazon shoppers give these their stamp of approval too. These not-Uggs have a 4.6 rating on the site. Unsurprisingly, these are also a hit among TikTok fashion creators too.
So, the bottom line is that not only are these cheaper than a pair of Uggs that are nearly impossible to get your hands on, but they're just as comfortable and high-quality as the real deal. There are good reasons as to why these have an average 4.6-star rating on Amazon, and the positive reviews speak for themselves. Sure, winter might almost be over, but if Bella Hadid can wear these in all-year-round, so can you. What are you waiting for? Snag these Ugg lookalikes for $79.99 and channel your most basic vibes today.
How To Get Ready At Home For Your Corona Wedding
Once upon a time, getting ready for a wedding (whether or not it was your own) meant endless salon trips and overpriced beauty treatments. As COVID-19 changed literally everything to do with modern celebrations, it makes sense that the global pandemic would royally f*ck up a bride's beauty plan. While some salons have reopened, that doesn't mean all brides have the option to go about the traditional pre-wedding glamming ritual. Whether your finances are all out of whack thanks to lost wages or you're in a position (whether physically or morally) where you don't want to risk spreading the virus, you're probably wondering how tf you can still feel like a plucked, pruned, and polished bride the day of.
As someone who hated leaving her home even before the pandemic hit, I'm here to tell you that it's totally possible to indulge in some hardcore beauty prep before the big day without ever setting foot outside your door. From teeth whitening to manicures, self-tanners to Botox, you can make all of them happen from home (yes, even the Botox). While it might not seem as glamorous as the prep plan you had back when the world wasn't a dumpster fire, just think: If you film the process as you get ready, that's content for TikTok.
Teeth Whitening

Myth: You have to be an influencer-level #girlboss to utilize teeth whitening kits. While they are the bread and butter of sellouts on Instagram, a teeth whitening kit is an easy way to up your look without doing things like exercising or leaving your house. Some kits take a few days while others take 30, so time it out to ensure your best results line up with the big day. A kit like Colgate's version of those IG LED light whiteners is a great option since it only takes 10 days, you only have to use it for 10 minutes a day, and it doesn't cause sensitivity like a lot of other products/strips do.

Colgate Optic White At-Home Teeth Whitening Kit
If you'd rather go the most classic route, these Crest Whitestrips have over 15K reviews on Amazon (with a majority of them being positive). Just make sure to use toothpaste for sensitivity during treatment to avoid discomfort if you're not down for the whole "beauty is pain" thing. 

Crest 3D White Professional Effects Whitestrips
Waxing
If you feel the need to ditch the razor to eliminate any cuts or bumps on the big day (still, as someone who shaved hunched over in the shower, painfully hungover the morning or her wedding, it's really nbd), waxing a few days before your wedding will ensure you're stubble-free for your wedding night. For smaller areas (like the lip, fingers, toes, and even brows), simple wax strips will get the job done. Opt for something created for sensitive skin like these strips which are dermatologically tested, hypoallergenic, cruelty-free, and cheaper than bottomless brunch. 

TOPNaturePlus Hair Removal Wax Strips
If you're looking to do larger areas like your legs, arms, or your (peace be with you) bikini area, depilatory wax (aka what the salon uses) is the answer. To make things simpler, a hard wax kit that doesn't involve strips streamlines the process. This kit from Amazon is $35 and works like a charm. Just know that it will take much longer than however long you would spend shaving in the shower, so block out a good chunk of your day if you plan to go from "Corona au naturel" to hairless from the ears down.

Bella Verde Waxing Kit – Home Wax Warmer
Tanning
Having a ~glow~ is something most brides crave to make the white of their gowns pop. While spray tanning might give you flashbacks to the scene in Bride Wars when Anne Hathaway turns orange, not all of the options out there yield secondary color results. St. Tropez is one of those brands everyone seems to universally love, and for good reason. The products are high-end yet affordable and they don't turn your skin orange. Snatch up the wildly popular bronzing water mousse which will give you more of a medium glowy tan that's shockingly easy to apply. 

St. Tropez Self Tan Purity Bronzing Water Mousse
While the bronzing water is ideal for anyone wanting a medium tan, there are other options depending on what level of baked you're looking for. If you want a dark tan, opt for the bronzing mousse, or if you just want an "I hung out at the pool and responsibly applied sunscreen" sun-kissed look, the gradual tinted body lotion will get the job done. Whichever you choose, make sure to use an applicator mitt to avoid telltale streaks and give you even coverage. 

St. Tropez Applicator Mitt
Manis & Pedis
Even the most laid-back bride usually opts for a mani and pedi on her wedding day. With plenty of ring shots, having at least polished nails is a simple way to feel put-together on your big day. If you want something quick and simple, swipe a polish on your nails the night before or morning of the big day after a quick shaping sesh with a file. Sally Hansen Insta-dri is great if you want a rich color and are notorious for smudging your mani. While it doesn't actually dry instantly, it does dry faster than anything else out there (just keep your coats thin). Just make sure to use a top coat, obvi.

Insta-Dri Sally Hansen Finger Nail Polish
If you want a thicker, more salon-quality mani (and have the time/patience to do something more than a few swipes of traditional polish), consider getting a powder dip kit. While it will def help to watch a few YouTube videos before you accidentally spill blush-colored powder all over your bathroom, the results are just as good as a $50 mani after a bit of practice. 

Acrylic Dip Powder Nail Color Kit
Hair Coloring

oVertone Golden Brown Healthy Color Duo
While home hair coloring is a gamble, there's a way to get rich hues without going to a salon or drying your hair out with box dyes. oVertone offers a variety of shades from traditional colors like brown, black, and ginger to vibrant ones like pink and blue. The semi-permanent dyes are great if you want to add some warmth or depth without the commitment or damage of a permanent dye. Try out a few options in the months leading up to your big day to figure out what feels right. If you're looking for just a subtle change, the color conditioners add some richness without a full-blown color change. 
Deep Hair Conditioning 
Deep conditioning to hydrate your ends and eliminate frizz is Beauty Prep 101. While most people have their tried-and-true deep conditioner selections, now's the time to up your game because uh, even if there's a global pandemic, it's still your wedding, dammit. And by God, you deserve to feel pampered AF. First, grab a deep conditioner or hair mask to soak into your follicles and soften all of your "I can't f*cking believe I had to postpone my wedding twice" damage.

It's a 10 Haircare Miracle Hair Mask
From the end-all-be-all line that makes your hair looks like you haven't been swimming in split ends for months, It's a 10 Miracle Hair Mask is under $30 yet still more high-end than the old bottle of Suave in the corner of the shower. After rinsing, spray some It's a 10 Miracle Leave-In product on your damp hair and get yourself married with silky, "she didn't just live through a pandemic, did she?"-worthy locks. Oh, and in a few days when your hair feels brittle and dull after drinking champagne and eating cake for an entire weekend, repeat the process and thank me later. 
Deep Moisturizing
Whether or not you plan to rock a wedding day tan, having smooth, sleek, hydrated skin will not only photograph better, but it will also give you a glow no matter your skin tone. In the days leading up to your wedding, lather on some hardcore moisturizer to glisten the day-of. CeraVe's famous Moisturizing Cream is dermatologist-approved, gentle on skin conditions and your wallet, and wins tons of awards year after year.

SOL DE JANEIRO Brazilian Bum Bum Cream
If you want something a little less "everyday" and a little more special, Sol de Janeiro's Brazilian Bum Bum Cream combines a blend of cupuaçu butter, antioxidant-rich açaí, and coconut oil which wakens dry, dull skin. Oh, and it smells like a tropical vacation, which will 100% up the exotic vibes day-of, even if you're getting married in your backyard.
Extensions
Whether you have baby-thin hair that tangles in the slightest breeze, decided to give yourself a DIY cut during quarantine and lost more inches than you care to admit, or you just dream of rocking mermaid locks for your wedding photos, extensions are the key to getting those hair-envy wedding looks. If you're forgoing a professional stylist and plan to do your own hair, however, selecting extensions that are easy to utilize by yourself is key. If you plan on wearing your hair down, Hidden Crown extensions are by far the simplest solution out there (and great for half-up half-down styles). Instead of clips or tape (which are tricky to perfect on your own, no matter how many YouTube vids your watch), Hidden Crowns are full crowns of hair that are secured with a piece of wire kind of like a headband. This means the chances of you throwing it across the room in frustration are greatly reduced.

If you're looking for something even simpler and plan to wear your hair in either an elegant pony, some sort of bun or updo, or get all boho with some braids, the Insert Name Here ponies are quite literally the simplest hair accessory I've ever used. You put your natural hair in a bun or ponytail, and then you just wrap the velcro of the pony extension around your elastic. It takes five minutes and gives enviable results. Add some Baby's Breath or clips for an additional elegant pop.
Botox
No, I am not advising some back-alley at-home Botox injectables. If you're looking for neck wrinkles and crows feet solutions for your bridal portraits and don't feel like that's a valid reason to leave your home and go to the doc for a non-essential visit (RESPECT), you can still have that "I've never squinted at my computer screen for 12 hours straight" wrinkle-free look. Firming creams and serums are literally everywhere, so don't be afraid to test out products to see what works (bc wtf else are you going to do right now?). If you want a famous celeb-endorsed option, The Athena 7  Minute Lift cream is one of those products you'll probably try once and then buy for the rest of your life. It's all-natural, plant-based, and smooths out lines on the face, neck, and décolleté. Yes, it's pricey, but it's cheaper and less invasive than actual injectables, so it could be a solution for your wrinkles even after the world opens back up for good.

Ultimately, it doesn't matter how you prep for your wedding. 2020 is a whole new era of nuptials, so when it comes to prepping, do what makes you feel best. Whether that's an entire home pampering day or just rolling out of bed and saying your "I dos" in your pajamas, as long as it's with the person you love (and as long as you throw a kick-ass party when Corona is over), you'll still make plenty of people jealous. And at the end of the day, isn't that the point of weddings in the first place?
Say Yes to the Betch & subscribe to our weekly Betches Brides newsletter here.
Images: Elena Taranenko on Unsplash; Giphy; Amazon; Sephora; Ulta; oVertone; Alex Gaboury / YouTube; Hidden Crown Hair; 7 Minute Lift
Betches may receive a portion of revenue if you click a link and purchase a product or service. The links are independently placed and do not influence editorial content.
A Step-By-Step Guide To Giving Yourself An At-Home Gel Manicure
The longer we stay home, the more we must improvise. I, like many others, quite enjoyed my biweekly routine of getting my nails done. Aside from the obvious relaxation aspect, there is something about a fresh manicure that adds a little sparkle to my look. For obvious reasons, that hasn't and likely won't be something on our radar anytime soon, so I turned to the internet to find the best at-home gel manicure kit a gal could buy.
Cue ZOYA's Gelie-Cure Foundation Pro Kit. This set retails for only $65 (approximately how much I spend on one single gel manicure at the salon) and contains EVERYTHING you could possibly need: cuticle serum, all the gel goodies, foils to make you feel legit, and even a travel LED light so you can do your nails on the go (but please, STAY HOME). 

Obviously, I needed to put this kit to the test, because you can't believe everything you read on the internet.
*Spoiler alert* it actually worked really well overall. We may have hit some minor speed bumps along the road, but this was definitely a step up from my regular DIY manicures that chip within the first five minutes of being dry. 
Here is my step-by-step guide to get your nails looking fab with an at-home gel manicure, regardless of which brand or kit you so choose to proceed with.
Step 1: Prep What You're Working With

I have somehow managed to keep my nails in good condition throughout this quarantine, but if that isn't the case for you, that is OK. First things first, you've got to shape your nail. I personally chose a "square with rounded edges" look, which is so easy to do on some nails, and a challenge on others. But, as long as the nails look semi-related, it works. I used the nail file from the kit, but obviously you can use any nail file that works for you.
Pro tip: After shaping, be sure to buff the edges to prevent cracking/breaking, because let's be real, there is nothing more annoying. 
Step 2: Apply Treatment

After you're ~ feeling good ~ with your nail base, it's time to treat the nail and cuticle area. I am guilty of always having janky cuticles, so this step is everything, IMO. Unsure of what I did to deserve such a thing, but just thankful there is a solution. I apply a small amount of ZOYA's Rescue Serum to my index finger (again, you can use your serum of choice) and then place a tiny little bit to each finger and massage into the nail. A little goes a long way here, so follow directions. If your cuticles are fine, let them be, but if they need a little loving, that's ok too. Take a cuticle pusher, and GENTLY push cuticles back. And… then leave them alone. 
Pro tip: Don't cut them, don't pick them, just push back and let it be. 
Step 3: Base Coat

This is essentially common knowledge, but I'll walk you through it anyway. Apply a gel base coat—I'm using ZOYA's Repair Base, you're using the base you so choose to proceed with. Cover your entire nail, and seal the free edge to avoid peeling/cracking. This is most applicable to those with longer nails, but if you've got short stubby nails (as I typically do), then just make sure you've covered what you've got. Easy enough? Yes. Moving on. 
Step 4: Foundation

Once you've got your base coat to protect your nails from all harm that gel causes, you'll need your gel foundation. If you're confused as to why you need two "base coats", think of Repair Base as your SPF, and Naked Gelie as your makeup foundation. One layer to protect, one layer to work as a foundation for all of the following steps, if you may. For this step, you'll actively avoid the cuticles and skin surrounding your nail (leave a small gap), but you will want to seal the free edge again. You can do a quick check under your nail light to ensure that the nail is properly covered, glowing, and not messy. I'd be lying if I said I did this flawlessly in one step. My left hand was easy, because I'm a righty, but my right hand was a bit of a struggle because my left hand has a mind of its own. 
Pro tip: Less is more, because the gel slides around the finger. One swipe down the center of each finger (with the brush fanned) will do.
Step 5: Go Glow Time

So now is when things get *serious* because we are locking in the gel coat and making moves!!
This step is important, but simple. You'll turn on your light and bake. Put your fingers under the light for the allotted time, and make sure your nails do not stick out and have full exposure to the light. I have long fingers so I wish this light was a bit bigger, but most gals aren't 6 feet tall like I am, so I guess I'll take the L for this one. Once you've done this for all nails, it is safe to move on.
Pro tip: Repeat step four and five twice for a stronger gel coat. They typically do this at the salon as well, and it's for a reason.
Step 6: The Grand Finale

This title is misleading if you want to add color, but if you want to keep it simple with no polish and just a fresh clear gel look, listen up. You'll need any after-gel cure spray to remove residue from the nail. Use a lint free nail pad to ensure that no little fuzzies attack and mess up your perfect manicure. Speaking from experience, there is nothing worse. And voilà, you've got yourself a pair of fresh nails. 
(Optional) Step 7: Polish The Nails

SO if you're mad at me for leaving colored polish out of the equation, relax, it's here. We have two options from this point on:
Option 1: If you'd like the option of removing polish as you please like a regular manicure, you can simply paint any color over your gel manicure (regular polish, not that special "no light gel" BS that destroys your nails). This gives you the ability to change colors as you please, and the base should last 2-3 weeks under the color(s) of your choice (this is true for any brand's at-home gel kit if done properly). If you're afraid of commitment, this move is for you. This is what I decided to do in the photo above, and I ask that you please refrain from judging how shaky I am with my dominant hand. I TRIED, I really did, but as you can see, this is where the manicure went south. If I was going out in public, I'd probably have started over, but I'm living in a bubble and I only exit my apartment in gloves… so I said f*ck it and left them as they were.
Option 2: If you're the girl that has been wearing Ballet Slippers on her nails for the last 10 years and nothing can change that, then we switch gears to the "sandwich technique". No I did not come up with this name in a fit of hunger, but yes, I would love a sandwich. You'll start this method the same as you would option one, and paint a thin layer of your favorite regular polish over the gel foundation. Wait two minutes (if you have the patience) and apply a second thin coat of polish to the nails. After this second coat is applied, wait 10 more minutes (sorry not sorry) for the coat to be semi-dried. *Trust the process* and once the 10 minutes are up, apply a layer of gel polish to the nail again. They don't need to be completely dry, hence my "semi-dried" statement one sentence ago. 
Pro tip: Once applied, you'll need to clean up the edges all around—this is actually important, because if the gel spreads to cuticles or corners, it can result in an incorrect cure. I KNOW you don't want any mistakes at this point, so do as I say. Pop the nails back under the light and repeat steps five and six. 
And there you have it, an at-home gel manicure, pretty and perfect without having to go to a salon.
Is it as relaxing as an in-spa experience? Absolutely not. It's actually stressful, because it's easy to mess up and I am simply not as artistic as the nail technicians that I go to. I made my boyfriend massage my shoulders while my nails were under the light, but the experience was not the same.
Quality-wise, the gel is better than I expected and hasn't peeled yet *knock on wood* so being that we are trapped inside for an indefinite amount of time, I would recommend going the gel kit route for the time being. But will this kit replace my nail salon forever? Probably not.
OH. I almost forgot. I feel it is important to include the removal process here too, and it's sooo easy (this was the only step I was confident that I could conquer). If you've been to a salon, you probably know the deal, but if you pick off your gel nails (cringe) then follow these steps to avoid doing such a thing:

Step 1: Soak cotton ball with polish remover and place on nail
Step 2: Wrap nail in tin foil and shape to nail/finger
Step 3: Wait two minutes if you are removing just base, and four minutes if you are removing "sandwich nails"
Step 4: Open foil, and use cotton to wipe the nail clean. This is where we differ from the salon, who would typically use a file to remove the hard gel. The at-home nail systems make for easier, safer removal and for that, I am thankful. 

Please tag me in all of your nail photos and LMK what kit is your favorite, so I can see how much more talented the world is than me/see if I am doing it right. And if all else fails, find yourself a cute pair of press on nails and call it a damn day. THANKS and happy manicuring. 
Images: Toa Heftiba / Unsplash; Dylan Rubinstein (9); Courtesy of ZOYA
I Tried A Bunch Of Fashion Subscription Boxes, And These Ones Are Worth It
As a normal and not-at-all-famous twentysomething living in New York, I am in denial wholeheartedly know that I am not a Kardashian/Jenner. However, these women and I do have two things in common: horrendous taste in men and great taste in style. The Kardashians, namely Kim, have taught me that, unless I am dressed and done up like I'm about to walk the red carpet at the Academy Awards, I shouldn't leave the house. Unfortunately for my bank account, I learned this lesson at a young age and have always dressed up for class, the airport, doctors' appointments, you name it. On days when I should've been wearing leggings, a sweatshirt and Uggs after a rough night at my college's local watering hole, I was in full ensemble. Look good, feel good, right? Well, as it turns out, that mantra does not apply to my wallet. I'm not an influencer, so I don't get any of my designer clothes for free, and so I have had to learn how to not pay full price for my clothes. I use fashion subscription and rental services (of which there are many) to do this. But which clothing rental services are worth your money? I tested them out so you don't have to. You're welcome.
Sorry to my friends and family, but RTR is the only thing I truly love in this world. Thanks to RTR, you literally have no reason to ever spend money on designer knock-offs at FashionNova again (no shade, but… ok maybe a little shade). You can get the real thing at RTR! They have every designer under the sun, including Derek Lam, Vince, Zadig & Voltaire, Proenza Schouler, etc. You can opt for either the Update membership or the Unlimited membership. The Update membership allows you to pick and keep any four items at a time, however, you can't swap them for other pieces during the month. You just have to wait until next month, which is fine if you believe good things come to those who wait. I am not one of those people, so I have Unlimited. Praise be. The Unlimited membership allows you to have four things at once and swap anything out whenever you want.
I tried to explain this very simple concept to my mom and she did not understand, so if you and my mom have that in common, let me break it down again. Rent the Runway has literally thousands of legit designer pieces available at any given time. You pick four, and the angels at RTR send them to you in cute little garment bags. You wear them whenever you want and swap them for something new the next day, a few months after, or whenever you want as long as you keep paying for your account.



I did Le Tote for like three months, and it was fine. Not amazing, but not terrible either. Like Rent the Runway, Le Tote is a clothing rental company that has different membership options, and because I'm extra, I signed up for the plan where I get the most stuff at a time. So when I talk about LT, I'm referring specifically to the plan I had. Le Tote let me have eight pieces at once sans swaps (unless something didn't fit) for the month. But in order to swap those pieces, I had to send them back within like, a millisecond of receiving them. Return shipping is a pain. Who has time for that?
Anyway, quantity-wise, eight pieces was plenty to get me through dinners with high school friends and office happy hours, but quality-wise, the clothes weren't that exciting TBH. Like, my favorite thing was a navy blue sweatshirt with ruffles on the sleeves from a brand I had never heard of. If you're just looking for a fun and easy wardrobe update, Le Tote may be for you, especially because it's a lot cheaper than Rent the Runway. I stopped because I noticed that a lot of the stuff they were sending me was too similar to stuff I already owned, and I didn't need to be paying a monthly fee for a few more basic sweaters to keep the ones in my closet company. But that's just me and my style is like, v niche.

Ava Marbled Resin Hoops

Lysse High Waist Faux Leather Legging

Trunk Club is Nordstrom's personal styling side hustle that asks you to answer the world's longest questionnaire about your style upon signing up. Because I love talking about myself, I was down to spend 30 minutes on it and then chat with my stylist about each and every answer for the rest of the workday. So unlike RTR and Le Tote, there is no renting. You talk to your stylist and send her pics of celebrities and Pinterest boards you like and she will send you a legit curated wardrobe complete with bags, jewelry, clothes, and shoes. The stylists are also really cool and sweet. My stylist and I follow each other on Instagram and she always comments on my posts when I'm wearing something she picked out for me. Thanks, Lilly, love you!
Anyway, she sends me like six (or eight, I can't remember) pieces every three months and I keep what I like and send back what I don't. Because I still have to pay for things like rent, electricity, and a subway card, I usually only keep one or two things and regretfully send back the rest. If you are richer than I, you can schedule trunks more regularly. And speaking of trunks, the pieces arrive in the cutest little box and each piece of clothing is wrapped in tissue paper and tied with a super chic ribbon in the most perfect bow. Another great thing about this service is that I end up buying things I never would have found in the store, like my cropped crisp white button-down with a gigantic bow on the collar, which both repels and intrigues guys, depending on their level of fragility. Thanks to the never-ending questionnaire, Lilly always kills it with the trunks, so here's to her and all that she does. 

Sam Edelman Raakel Knee High Boot

Levi's 501® High Waist Ripped Fray Hem Skinny Jeans

Ok, if you have eyes, you know what Adore Me is because their ads are literally everywhere. Adore Me is a monthly lingerie subscription that is not rentable, because gross?? The brand has two membership options: VIP and Elite. I opted for the Elite version because I don't feel like I need more than three sets of matching lingerie per month. I have to say, the quality is not the absolute best, but everything is so fun and no one has ever complained. I probably won't do this forever because I still need money for food, but for now, I am enjoying it and I highly recommend it.



Alright, so as you may have guessed, I would rather rent my outfits than buy them. Yes, I know I have commitment issues, it is something I am discussing with my best friend therapist. I mean, I live in New York, city of renters, right? This brings me to yet another clothing rental company called FashionPass. The concept is literally the same as Rent the Runway, but for a fraction of the price. No shade to RTR, which will always have me covered when I'm in the mood to wear something loud and memorable like a fuchsia Jason Wu sweater with a plaid Milly asymmetrical wrap skirt. Sometimes, though, I just want to wear jeans and a T-shirt, and that is where FashionPass comes into play. I love this company because it promotes designers for like, normal people. Think Sanctuary, BB Dakota, French Connection, Free People…etc. The list goes on, but you get what I mean.
There are three different membership options, but I am only going talk about one: Wanderlust, which offers the most bang for your buck because you get four clothing items and three accessories per month, and, like RTR, unlimited swaps and free shipping both ways. I know I said I wasn't going to throw shade at RTR, but in order to properly commend FashionPass for something, I have to sh*t on RTR for a hot sec. Sometimes I have a legit question about my account and want to chat with a stylist online about it, which is an option RTR advertises everywhere on the site/app, but 9 out of 10 times I open the chat bubble, my stylist is out living her best life and not responding to my urgent questions. At FashionPass, if you have any questions about literally anything, the stylists respond to you basically as you're hitting send on your message. I don't know about you, but I am a millennial who would rather rip my hair out one strand at a time until I am bald than speak to someone on the phone, so I love online chatting with customer service employees, and FashionPass has really nailed their chat service. If you don't care about that because you're a functional human who can handle a three-minute phone conversation, then opt for FashionPass for the clothes and bags. That's all.

BB Dakota Friendly Fire Ruby Wrap Dress


Wantable is similar to Trunk Club in that you take a style quiz and get to keep your clothes. After filling out the quiz and telling them any patterns, colors, silhouettes, etc. that you don't like, you get an "edit" which is basically a preview of a bunch of looks. From there, you can spend literally hours (maybe not literally, IDK, I got bored after a few minutes) going through every piece on the Wantable site and indicating if you hate or love it. This way, hopefully, your stylist won't send you anything you automatically hate. You can also request certain items that you know you want to try, and at the end of it, you'll get a box with seven picks. In addition to regular clothes, they also offer fitness wear, so you no longer have to be that girl at the gym working out in your frat tank even though you graduated five years ago. The pieces typically range from $50-100 per item, so it's a bit more, shall we say, accessible than the stuff you'd find on RTR (while still offering brands you'd find at Nordstrom and other similar retailers). I ended up keeping two items from my edit (some solid black jeans and a fun sparkly black top), and would have kept three, but the leopard jeans they sent me were a touch too big. But the stylist was so apologetic about it, it was actually kind of sweet. This is a good option if you want to push your style a little bit without committing to an expensive designer piece.


Kut from the Kloth Donna High Rise Ankle Skinny with Raw Hem
If you like your fashion with a side of responsibility, then you'll want to check out Fashom, a new cruelty-free styling service that also does the whole quiz-then-we-send-you-stuff thing. Fashom is actually not a subscription, because you can choose when you want your boxes delivered, which means you don't have to worry about auto charges or skipping months. (Even though it's technically not a subscription box, I like the fact that all the clothes are ethically sourced, so I'm including it anyway.) You get to pick five pieces and then can keep or send back whatever you want, but you get a 25% discount for keeping three or four items and 30% for keeping all five. The nice thing about Fashom is that for every box sold, they donate $1 to Second Chance Rescue in NYC, so at least I can say my impulse buying is helping puppies. What I liked about it is that they don't just randomly send you a bunch of items you didn't want—they help you narrow down a list, and then you ultimately choose what comes in your box. However, if you want someone to do the choosing for you, this might not be the box for you. It's not, like, designer, but I found a few cute items (like the fun striped sweater below that earned me a ton of compliments when I wore it) that I wouldn't have found on other sites. And I mean that, because I literally tried to search the items I got in my box and didn't find them anywhere on the internet. So at least I won't be wearing the same sh*t as every other girl on the streets of New York, right?

Love In Gillian Striped Pullover Sweater

Crescent Ella Lace With Spaghetti Top
Images: freestocks.org/ Unsplash; Rent the Runway; Le Tote; Trunk Club; Adore Me; FashionPass; Wantable, Fashom
Betches may receive a portion of revenue if you click a link and purchase a product or service. The links are independently placed and do not influence editorial content.
One Millennial's Quest To Understand TikTok
TikTok: the video app that's confusing as sh*t and makes me feel old.
When I first noticed TikTok videos seeping into my Instagram feed here and there, I was like, "why is anyone using any social media platform other than Instagram? These people clearly have some extra free time on their hands. What losers!" But then I kept seeing the videos pop up and kept hearing people rave about how addictive the app is, and I thought, "okay, I guess I have some free time, too."
Upon downloading TikTok, I felt utterly confused. My first observations were as follows:
☆There are more teens in braces than not
☆I'm hearing lots of music (mostly pop and rap) that will forever be stuck in my head
☆I'm seeing lots of dumbass dances (sorry) set to said pop and rap music
☆These weird voice filters are making these teenagers sound like robots
gI simply did not understand the point of this childish app! Gen-Z has really lost it. But then, I stumbled upon fashion influencer Brittany Xavier's TikTok and was like, "this is some sh*t I can get behind!" She posts fashion and beauty videos, but they always have a cool and unexpected twist, like in these posts here and here, that makes me question if she is the next Steven Spielberg.
I chatted with Brittany to get the inside scoop on how the hell she makes these videos and any tips she has on using the app in general. So if you're a millennial who feels ancient trying to understand TikTok, this one's for you. 
Actually Spend Time On The App 
"The most important thing to do is to spend time on TikTok to understand the culture and what's trending," explains Brittany. "If you post a video just as you would on Instagram stories, it won't do well." 
VERY true. The second you open TikTok you will know v well that you are not on Instagram. You barely have to put any effort into IG Stories (well, who am I kidding, we all have f*ckboys to secretly impress, but you know what I mean), whereas on TikTok, you better have your self-timer set up and that dance routine mastered. (So much work…)
You also better be familiar with the "for you" page—the place where all the trending videos are posted. "I follow the 'fashion' and 'beauty' hashtags as well as the 'for you' page to check out what's trending and if I like any of those," says Brittany. Which leads us to her next tip… 
Use The Trending Songs 
"The trending songs will help your videos spread more," Brittany explains. This, here, is the key to TikTok and a totally new concept for my useless, IG-programmed brain! Certain songs have gained popularity on TikTok—for what reason, I'm not totally sure, but it's usually because one of those stupid (again, sorry) dances went viral using the song. So, if you use a trending song, you are way more likely to get a spot on the coveted "for you" page. Unless you're not even posting and are merely using the app to stalk your ex and his new girlfriend, in which case you might benefit from an article with a different set of tips.
Take The Time To Plan Your Videos 
"If you want to perform well on TikTok, you really have to set aside time and commit. It really needs to be a priority," explains Brittany. "Some of my videos take two hours to make—I want to make sure I have all the right clothes and lighting set up. And if I'm trying to do a smooth transition, that means I have to exit at the exact right second, which takes time." 
This was comforting for my overly competitive, narcissistic and social media-obsessed heart to hear. Why am I not able to make my TikToks as entertaining as hers? OH, because I'm too busy watching Bravo. Brittany makes it look so easy, but there's a ton of thought and a huge time commitment required from her to make these videos so damn good. She said she even goes so far as to mark the spot where she was standing to make her transitions seamless. "People don't want to spend time on the app, but that's why their videos don't perform," Brittany says. And THAT'S why you aren't a TikTok influencer, Sydney Becky!!! 
Make Sure Your Videos Always Have A Takeaway
"I don't even look at TikTok as social media. I look at it as entertainment," Brittany explains. "You can't just post selfies of your makeup; there has to be a big reveal at the end or some kind of value-added takeaway." It's true—I personally don't love watching videos that don't have some kind of punch or surprise to them. 
"I'm still trying to obtain followers that are into fashion and beauty, while also incorporating whatever trends I'm seeing." I think this is where popular fashion/beauty influencers are having trouble translating onto TikTok—they just repost whatever videos they'd normally post on Instagram, without putting any emphasis on a solid takeaway, or, tbh, trying to appeal to teenage monsters with zero attention span. 
Don't Make Your Videos Too Long 
As just mentioned, attention spans are basically—wait, what was I saying? oh, right—a thing of the past. So, "keep it simple, don't overthink it, and maybe only showcase 3 outfits vs. the 10," says Brittany. 
While Brittany is really only using the app for fun and to fit in with her 12-year-old daughter, Tommy Hilfiger (whom she was already in talks with) has already asked her to include their brand in two of her videos, so I think we all know where this app is going: $$$$$!!! 
I'm super interested to see what the next wave of TikTok influencers will look like. Musicians are even using the app in hopes of having their songs blow up, so maybe the next Lil Wayne is really just one weird-ass, robotic dance away! Come to think of it, will underground rappers be the next Flat Tummy Tea influencers? Only time will tell!
Images: brittanyxavier / Instagram
The Full-Body Workout You Can Do In A Corner Of The Gym
If you go to the gym right before 9am or right after 6pm, you know how annoying it can be to get around the place during workout rush hour. As much as we'd all love to work out in an empty gym with the whole place to ourselves, it's v unrealistic unless you're like, a psychotic morning person or like, super rich. Luckily for you, we've put together a workout can literally be done with one mat in a tiny corner of the gym, so you don't have to bother waiting for a machine to become available or for people to step away from the dumbbell racks. Here's a quick workout that will tone your whole body and burn a ton of calories while staying in one space the whole time.  
1. Walkout Push-Ups
The walkout push-up is a great warm-up move because it gets your lower and upper body working without diving right into a cardio or strength move. The idea here is to first warm up your hamstrings by starting in a standing position and folding your arms and head forward, and then get your upper body warmed up by crawling your hands out to a plank position. Once you're in your plank, perform one push-up (drop to your knees if you have to) and then crawl your hands back to your ankles to stand back up, engaging your core at the top each time. Start off slow, and then try to speed up on your last few reps. Do 10 of these in total.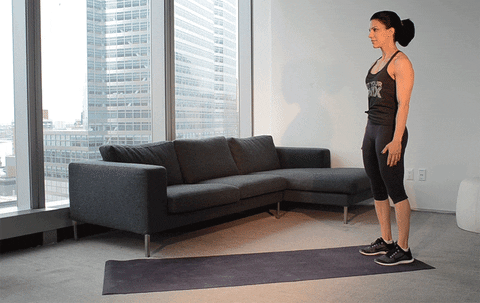 2. Glute Bridge To Oblique Reach
This is another lower and upper body movement, but this time you're working your butt and your obliques, aka your side abs and love handle region. Start by lying on your back with your knees bent and your feet on the ground. Then, extend one leg straight out and lift your hips into a bridge, squeezing your glutes and specifically feeling the burn on that same side. After the bridge, lower your hips back to the ground and reach your arms toward the straight leg while extending the leg upwards. Remember that you're crunching with your abs, so don't just use your arms to swing your body up. This combo is slightly complicated since it's technically two moves in one, so you can take your time on these until you get the hang of it. Do eight reps on each side.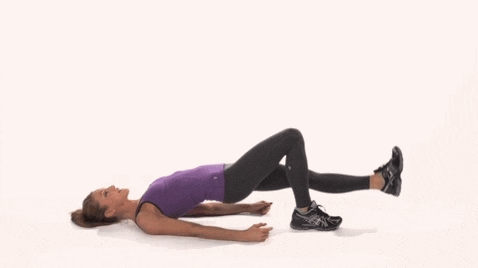 3. Tricep Extensions
You'll need a weight for tricep extensions, but it shouldn't be too hard to find because you can literally use whatever you want—a dumbbell, a weighted medicine ball, or a kettlebell. If you have a kettlebell available to you, you're gonna hold it by its horns (AKA the non-bell part) and lift it up over your head, keeping your elbows straight forward and your arms tight. Then, extend the bell toward the back of your neck, using your triceps to bring the weight up and down each time. If you feel like your elbows are widening out to the side, take a break and reposition yourself. The tricep muscles are really what give your arm that toned, sculpted look, so go heavy on these and take your time. Aim for 10-12 reps.

4. Deadlift To High Pull
The good news with this move is that you can use the same weight you were just using. Again, this is a combo move, so you're totally killing two birds with one stone by working your legs and your arms in one exercise. Place your kettlebell on the ground in front of you, and make sure it's between your legs, but like an inch or two forward. Then, bending your knees slightly, you're going to hinge your hips backward and lift the kettlebell keeping your arms straight, bringing it to your waist as you hinge the hips forward. That's the deadlift part. Then, you're gonna pull the kettlebell up to your chin, using your shoulders to row upright, with your elbows wide towards the sides. Once you complete one rep, bring the kettlebell down to the ground and do five more.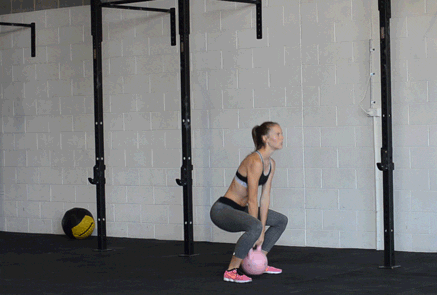 5. Squat Jumps
Now that we've done a bunch of strength work, it's time for some cardio. Your legs burn the most calories out of all the muscles in your body, so doing jumping exercises while combining squats or lunges is super effective. It's also really hard, so pace yourself. Start in a squat position, making sure your knees are behind your feet so you don't hurt yourself. Get super low, and then jump up explosively while straightening out your legs and arms. Aim for 20 reps here, but you might want to die by the time you get to 15. Try to fight through it.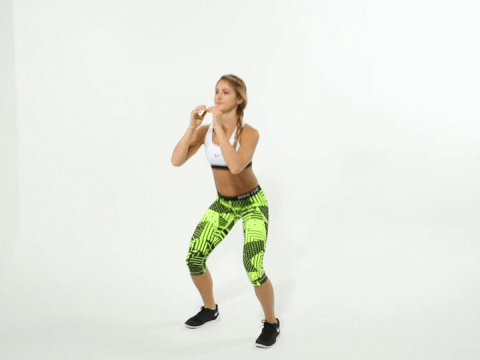 6. Burpees
Burpees are annoying and difficult, but there's a reason you see them in every fitness magazine and at every workout class—they WORK. Start by standing with your feet shoulder-width apart and your arms at your sides. Then, lower your body into a squat and place your hands on the floor in front of you, jumping your feet back so that you're in a plank position. Once your body is in a straight line, lower your chest to the floor and then bring it back up as quickly as you can. Then, jump your feet forward, outside of your hands, and jump up with your arms in the air. Do 8-10 of these, depending on your energy at this point in the workout. Also, keep in mind this is a full-body move, so make sure you follow the motions without just slamming your body down to the ground in the sloppiest way possible.

Images: Trust Tru Katsande; Unsplash, Giphy (5), Pinterest (1)
7 Tricks Celebrities Do To Make Their Stomachs Look Flat
People say the camera adds 10 pounds, but like, I'm convinced that only applies to when you open your iPhone camera and it's accidentally on selfie mode. Celebrities are known to have perfect bodies, and despite a few bad paparazzi shots of a hungover Amanda Bynes, I fully agree. I mean, I know they spend a lot of money on personal trainers and nutritionists, but I think we deserve to know some of the tricks they use to get their stomachs to look perfectly flat and feel amazing despite all the flying and drinking they do. After doing some thorough research on the topic, I'm ready to share. Here are some celebrities' favorite tummy hacks.
Jessica Alba: Probiotics
Jessica Alba is a client of celebrity nutritionist Kelly Leveque, and her clientele also includes Chelsea Handler and Emmy Rossum. This woman knows how to make women look great, and her trick is probiotics. In fact, Jessica Alba doesn't even diet or watch her calories, because she's mainly focused on eating in order to improve her gut health. Apparently your gut health helps regulate your hormones and control your weight, so by improving the microbiome in your gut, you'll slim down and feel great.
Kourtney Kardashian: Green Tea
As much as we love our coffee, green tea is having its moment right now, and the Kardashians are totally funding it. Kourtney Kardashian can probably write a book about her list of health hacks (Kris Jenner, great opportunity here), and we've already tried a few of them. The flat tummy hack she swears by right now is her daily green tea latte. She drinks it with honey and almond milk, and she says it makes her stomach feel and look its best.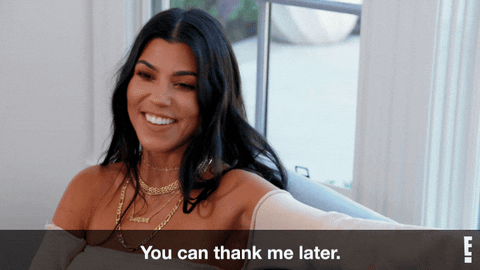 Meghan Markle: Water
An article recently came out about how Meghan Markle can take long flights all the time and still avoid bloating and puffiness. Important news right here. Anyway, it turns out she swears by her probiotic and drinking tons of water. She says this combo actually helps with jet lag and it prevents your body from bloating and even becoming constipated. Especially when flying at high altitudes, your stomach becomes filled with air, so loading up on water while traveling is a must. Start chugging.
Adriana Lima: Breakfast Smoothie
If you thought all Victoria's Secret models skip breakfast and eat three unsalted cashews for lunch, Adriana Lima says drinking a filling smoothie in the morning is actually what makes her look so good. Obviously aside from all the ab workouts she does, Lima says she looks her best in a crop top when she drinks a breakfast smoothie, usually with avocado, honey, or yogurt. She claims it boosts her energy and kick-starts her metabolism for the day. And I mean, it seems like it's working for her.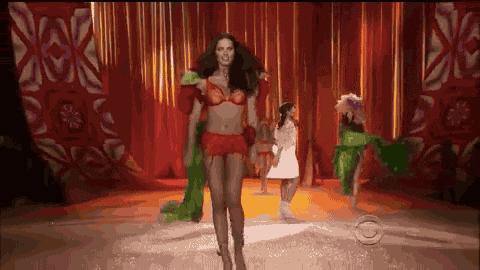 Khloé Kardashian: 5 Staple Foods
Khloé has obviously hired a team of health and fitness professionals to get her body to look its best, but she has her own tricks when she's not getting her ass kicked by Gunnar Peterson on national TV. Apparently Khloé sticks with five foods that give her that slim stomach look: avocado, ginger, watermelon, tomatoes, and oats. I assume she eats other foods aside from these five, but she likes incorporating these into her diet and says they helped her see results that complement her hard work in the gym, and they obviously work. I mean, there's a reason Revenge Body exists.
Emmy Rossum: No Fructose
I haven't heard the word fructose since freshman year biology, but apparently Emmy Rossum avoids fruit when she wants to de-bloat and feel her best in a tight dress. Fructose is the natural sugar in fruit, and although fruit is obviously good for you, having too much of it can make you bloated, and that's because the fructose feeds the gut bacteria that could make you look puffy and full. Honestly, if we're talking about giving up FRUIT, I'm scared to see what else she avoids, but like, it's her life.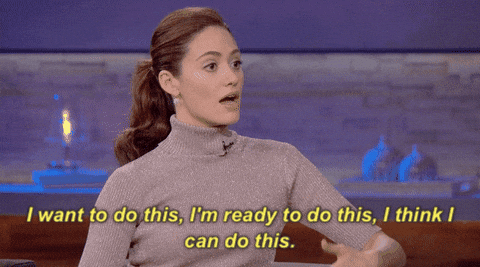 Miranda Kerr: Dandelion Tea & Goat Milk
Okay, this could be the weirdest hack of all, but Miranda Kerr is literally goals so let's talk about it. People always ask Miranda what she likes to eat, and she usually has normal answers, like toast and eggs and green juice. BUT Miranda also swears by this mixture of dandelion tea with goat milk. She says it has cleansing and detoxifying effects. I looked it up, and it turns out dandelion root actually has a ton of antioxidants and it can work to detoxify your body and reduce inflammation, so she's not crazy. She doesn't explain why she adds goat milk, but dairy from goats tends to be easier to digest than from a cow, so that's probably the reason. Personally I don't plan on trying this one right now, but if anyone does, please report back. I need to see what this girl's raving about.
Images: Giphy (3)
The Worst Mistakes You're Making On Gym Machines
As much as I love bodyweight movements and at-home workouts, using machines at the gym is a good option if you know what you're doing. The gym is filled with intimidating equipment, and it usually takes a few tries to figure out how to use some of it. In fact, even some of the most simple machines are confusing, and you end up using them wrong, which ruins your workout and could cause you an injury down the line. Here are the workout mistakes you're making on six basic machines and how to fix your form. 
The Treadmill
The treadmill seems super intuitive, but people still screw up their form all the time, and it can sabotage your workout and lead to serious injuries. For example, a lot of people look down when they're on the treadmill, and that's a recipe for disaster. Not only can you lose your balance and eat shit on the Equinox floor, but you can also strain the back of your neck and misalign the rest of your body. To run on the treadmill properly, keep your gaze straight and your chest open. You'll be able to run for a longer amount of time and you'll probably be less sore the next day.

Elliptical & StairMaster
The Elliptical and the StairMaster are both go-to cardio machines, but they're only effective if you're positioned in the right way. Instead of hunching over and holding onto the side handlebars like your life depends on it, keep your hands to yourself and keep your posture straight the entire time. You're supposed to feel a burning sensation in your legs on these machines, so if you're death-gripping the rails to take the pressure off your legs, you're not doing yourself any favors. The machine is just there to support you, so you don't have to clutch the handles like you're gonna fall over. Plus, when you're hunched over, you're taking the exercise away from your legs, so you just end up burning less calories than you could have if your form was right.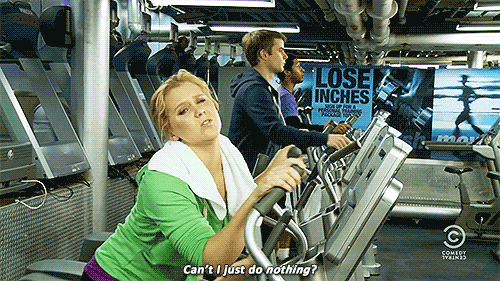 The Rower
The rowing machine is an even better workout than the electronic cardio machines, because you literally have to use your entire body to operate it. This includes your legs, arms, back, and abs. So, if you feel like you're just pulling in the bar with your arms, you're not using the machine correctly. Instead, think about pressing down with your heels and pushing outward, like you're standing up from a deadlift. The idea is to use momentum from your legs to generate the pull, and then use your back and arms on the second part to finish the pull. And again, if your posture sucks here, you'll probably injure yourself, so remember to keep your core engaged and your shoulders pulled back.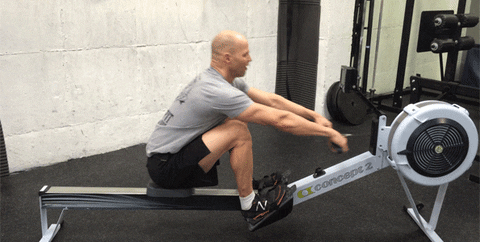 Lat Pulldown Bar
The lat pulldown bar can be difficult to use because it's hard to engage your lats. In fact, most people don't even know what their lats are, so that's problem number one. The lat muscle, aka the latissimus dorsi, is the huge muscle on your back that goes all the way behind your arms. If you strengthen this muscle, your back will look toned and tight, and your waist will end up looking more narrow in result. So, in order to pull down this bar using only your lats and not your shoulders, you need to really think about squeezing your back and engaging the muscle before you pull down. If you're leaning back too far or bringing the bar to your waist, you're overextending. Focus on bringing the bar to chest height and on keeping tension away from your neck and shoulders.

Hanging Leg Raise
This is a great piece of equipment for ab exercises, and it's super effective for leg raises, knee-tucks, and holds. It's also a tricky one because people tend to start doing leg raises before their core is engaged, so only the hip flexors are being worked. Instead, prop yourself up and get comfortable first. Engage your core by pulling your belly button in toward your spine, and then start the exercise. Another mistake people make is by keeping their shoulders too close to their ears. Instead, draw your shoulders down and think about pulling them away from your neck. This will help prevent tightness and injuries that are caused by locking out your shoulder and neck muscles.

Leg Press Machine
The leg press machine is basically a squat variation in a different position, so you need to make sure you're not just bouncing up and down and screwing up your back. A lot of people accidentally do partial reps on this machine, so they're not getting the full range of motion that they would in a standing squat. Position the seat so that when your knees come in, they come close to your chest, so you can target your glute muscles. Also, avoid locking your knees when you straighten out your legs. It's bad for your knees and you could really hurt yourself, so remember to keep a slight bend even while extending. There's no need to get injured at the gym if you just take your time to make sure you're not zooming through every movement.

Images: Giphy (6)