8 Leopard Pieces For Fall That Aren't Over-The-Top
When it comes to wearing leopard print this fall, there's a very fine line between trendy and tacky. And when I say fine, I mean very fine like, Tyler Cameron-level fine. Which is exactly why one must tread lightly when attempting to wear this trend. All it takes is one slight misstep and the next thing you know, you've been cast as an extra on Jersey Shore, fist pumping with the best of them. And I mean, I personally don't want that for you, even though we love Jersey Shore.
We've all seen the leopard trend done correctly and incorrectly. When it comes to the leopard trend, it's all about how you style said piece more so than the actual piece itself. For example, take a leopard bodycon dress. I'm sure your minds all immediately went to the incorrect way to wear it, with sky-high heels and a Bump-it. Which like, fair—that is bad. However, if you instead paired that same leopard bodycon dress with chunky dad sneakers and an oversize denim jacket, it goes from tacky to stylish and cool. I've done you all the favor of selecting some effortlessly cool, easy-to-wear trendy leopard pieces for fall that you'd really have to go out of your way to make tacky. But like, don't test that please.

Well, first off, not to be a total narc or anything, but these mules are referred to as "cheetah" when, in actuality, they're a leopard print. Trust me, cheetahs have been my favorite animal since I was a 4-year-old and I have gotten into many fights in grade school over the difference between the two. ANYWAY, these mules are basically the cutest shoes I think I've ever seen. They're both classy and cool with their black and white twist on the trend, plus stylish point-toe and comfortable block heel. They'd look super chic with boyfriend jeans and a simple white tee. Honestly, these mules are the epitome of chic, so you really can't f*ck up how you style them as long as you keep the shoes as the statement piece of the outfit.

Cardigans themselves are effortlessly stylish, which leaves minimal room for them to be tacky. Especially when you have one as cute as this, with a stylish and well-done leopard print, you'll be golden. Another important note for when taking on the leopard print trend just in general, is to pay attention to the quality of the print. Some iterations of the leopard print just automatically look tacky, regardless of the piece or how you style it. So just make sure the print on your piece isn't too kitschy and is actually elevated, like in this cardigan.

A leopard print belt is a safe way to ease yourself into this popular fall trend.  The belt elevates the most basic outfit, making it instantly stylish and cool, with the perfect hint of trendy. So you really can't go wrong here. Well, unless you buy one of those sweater dresses from JC Penney with the cheesy leopard print belt pre-attached. That leopard print belt would be severely incorrect.

This leopard print jacket makes for an incredible fall staple. The leopard print is subtle and muted in a perfect fall brown shade, making it the ideal jacket to pair with everything in your closet. Personally, I already consider leopard print to be a neutral. But, for those of you less bold, this jacket can pretty much be universally considered relatively neutral. It's basically the perfect stepping stone for someone who wants to embrace the leopard print trend into their everyday fall wardrobe without looking over-the-top.

A leopard print headband is the perfect accessory to add just a touch of the trend to your fall outfits. It looks chic while also making for a trendy option to hide a bad hair day. This should go without saying, but if you wear a leopard print headband, then no other part of your outfit should be leopard. Any additional leopard will make this once chic headband instantly look cheap and tacky, so keep the rest of the outfit simple.

I love a slip dress, especially one in a polished leopard print like this one from French Connection. It will look super cute this fall worn over a black long sleeve turtleneck, or paired with an oversize duster cardigan. It's a comfy and easy way to wear the trend, and the looser silhouette keeps it from looking like a tacky club dress.

This updated corduroy version of Levi's beloved straight leg Ribcage jean in a leopard print is perfect for fall. The cool girl style and fit of the jeans is the perfect complement to the trendy leopard print. They're super high-waisted so they'll pair great with a cropped sweater or even a tight bodysuit, and will totally be your go-to pant for fall.

You really can't go wrong with a leopard print midi skirt. I mean, haven't you seen every girl in your office wearing some version of this skirt? Exactly, which means it's far from tacky and appropriate for work. Try pairing it with a chunky turtleneck and some shrugged knee-high boots for a casual-cute trendy fall ensemble.
Basically, the endless options of leopard pieces for fall make it relatively easy to find some items that aren't tacky. Of course, anything can instantly become tacky if you try hard enough. So do your part to avoid that at all costs by keeping the print to just one piece of your outfit. Anything more, and you're officially crossing into fist-pumping-at-Karma territory.
Images: Kristina Petrick /Unsplash; South Moon Under (2); Revolve; Free People; ASOS; Nordstrom (2); Princess Polly
Betches may receive a portion of revenue if you click a link and purchase a product or service. The links are independently placed and do not influence editorial content.
What Not To Wear In Your Dating App Pictures
I'll start by saying that the advice in this article is based on the assumption that you're looking for something ~real~ via the dating apps. Like, If you're solely on them to get laid, sure, go ahead, post those bikini pics from college Spring Break 2012. But if you're looking for eternal love, I'd probs refrain. Even though those thirst trap pics will def get you all the matches, it's highly unlikely you'll be getting a match from Mr. Right. Plus, do you really want the pressure of having to live up to to your own throwback spring break bod??? Like, let me remind you this was a time in your life when your daily meal was restricted to green salads sans dressing and drunk snacks of celery and kale. That was a determined, laser-focused level of willpower version of you that just is simply unattainable now. (Trust me, I've tried.)
ANYWAY, back to what you came here for. As cliche as it is, you want to make sure your profile pics represent the real you. (Well, the best version of you, that is.) And, as with anything in life, you want to stay away from polarizing extremes. Unless that is truly who you are, of course. In which case, go ahead and post the pics of you from the Women's March with a vagina hat on your head #breakingtheglassceiling. You do you, sis.
Here are the main outfit factors to consider in each of your profile pics, and how to maximize your dating potential with each.
Color
Do: Red
Don't: Neutrals
You want to make sure you're wearing color in the majority of your dating profile pics. Colors will make your profile more noticeable and more memorable, whereas neutrals make you…well, not. I'm sure you've heard it before, but your best option is to wear red. Red grabs attention and has a hot romantic appeal and implied confidence. Think Megan Fox sex appeal paired with Kanye's unexplainable confidence. That's the image you'll project, minus the whole "make America great again" rants.
Fit
Do: Fitted, Tailored
Don't: Baggy, Too-Tight
Going back to making sure your pictures accurately represent you, it's important to not wear overly baggy clothes that keep your body type a vague unsolved mystery. When it comes to dating apps, you're going to be better off underselling and over delivering rather than the reverse. Wear clothes that are fitted enough to accurately represent your body type and flatter your particular figure. Like, no offense to Sierra Burgess, but talk about misrepresenting what you look like. And she ended up having to pretend she was deaf and then running on the field in the middle of a football game because of it. And sure, it worked out for her in the movie, but life ain't a movie. Catfishing RARELY ever works out—just ask Nev and Max.
Accessories
Do: Statement earrings
Don't: Sunglasses
OMG, sorry to be negative Nancy here, but I HAVE to start with the "don't". Don't f*cking wear sunglasses in your dating profile pics, point blank. Uh, ever heard of the "sunglasses effect"? Look it up on Urban Dictionary. Anyone can appear hot in a pair of sunnies, guy or girl. Personally, I automatically swipe left on profiles of guys in sunglasses because I just don't have time to sit around playing Nancy Drew. I'm not going to waste my precious time trying to investigate whether you're actually hot or not for some pointless small talk and the chance to ultimately probably never even meet. I'm just being real here. Instead, for an accessory, wear a statement earring. It adds detail and flair to your pic and shows you have some sense of style.

Lucy Resin Hoop Earrings
Sex Appeal Level
Do: Show some skin
Don't: Show too much skin
Okay, so there's a fine line here and it's going to require a lot of self-awareness and connection to reality to understand the difference. You want to make sure you're showing some skin so as to not come across looking like a politician's wife. But, not too much skin that he's wondering whether you get paid Instagram sponsorships for always being in a bikini. Understand? You know in your heart whether it's a thirst trap pic or not, let's be honest.


Sweet Talk Vegan Leather Mini Dress
Outfit Style
Do: Glam/Going Out, Casual, and Athleisure
Don't: Full Prom, Sports Bra & Spandex, etc.
You want to make sure you offer a few different looks in your dating profile pics. For example, do one that's "glam/going out" that shows you dressed up, looking like a straight snack headed to da club. One casual, wearing your best family-appropriate sweater at Thanksgiving—maybe even allow Grammy in the pic for an emotional appeal. And lastly, one in your ahtleisure that could be a gym-selfie-worthy outfit. But, could is the operative word here, no gym selfies. Ever. For any reason.


Lovers + Friends Boa Mini Dress


Free People Crazy For You Buttondown


Adidas Originals 3 Stripes Legging
So there you have it, ladies. Basically, do your best to be your most authentic self and to portray your most authentic self on your dating profile. And hey, maybe you'll actually end up meeting your future husband on one of these apps! Probs not, but here's to positive thinking!!
Images: @pablomerchanm / Unsplash; Revolve (3); Free People (3); Urban Outfitters
Betches may receive a portion of revenue if you click a link and purchase a product or service. The links are independently placed and do not influence editorial content.
What To Wear When It's Hot Outside But Freezing In Your Office
Making yourself get up and go to work on any given day is a difficult task. Making yourself get up and go to work when it's PRIME tanning weather outside (omg UV 9 today?!) is even harder. And, as if these problems weren't enough reason to fake sick, summer also introduces the dilemma of what to wear to work when it's 100 degrees outside and -30 degrees in your office. As my dad would say, it's like whoever controls my office thermostat has stock in the electric company. So how the hell do you dress for such extremes???
You've heard it repeatedly your whole life, and now I'm telling you again: layers. Of course, layering for the office specifically is a bit more challenging because you actually have to look professional and not like the Abominable Snowman. Here are some key pieces necessary for layering appropriately along with a proper formula to ensure you're doing so effectively. 
Start with…
1. Business Professional Tank
A business profesh tank is an essential for your work wardrobe. This tank will serve as the base layer for most of your work outfits, so I recommend purchasing one in a  neutral color. Even though you'll most likely be adding a layer on top of your tank, it's important to make sure that the tank alone is appropriate so that there won't be an HR complaint in the event you need to take your jacket off. Always wear a cami under your tank in order to prevent any sweat from your commute from coming in direct contact with the tank itself. You don't want, like, noticeable sweat stains. Gross.

Then add…
2. Lightweight Cardigan
You'll want to have a thin, lightweight open cardigan that you can toss on when you're ~slightly chilled~ or to use as an additional thin layer under a jacket when it's just that freezing. You don't want a cardigan that's too chunky, heavy knit, or otherwise "wintery" because you'll look like an overdramatic millennial. In general, girls tend to be a lot colder than our male counterparts, so just be aware that even though you have icicles forming on your nose,  60-year-old overweight Gary next to you is probs sweating through his polo. Always be sure to leave a lightweight cardigan at your desk that stays at the office. You never know when you might forget yours at home that day or just decide to donate it to a homeless person on the way in that morning (aka you left it on the subway).

If you're still cold, add…
3. Knit Blazer
A knit blazer is the perfect summer alternative to your traditional, heavier weight blazer. Knit blazers look just as professional as your classic blazer but will be much more comfortable during the summer season. Unlike your traditional blazer, a knit style won't make you feel like you're trapped in one of those infrared sauna suits if you start sweating. Buy your knit blazer a size larger so, need be, you can wear it over your tank and lightweight cardigan when Karen decides turns down the thermostat again cause she's in menopause.

BCBGeneration Welt Pocket Tuxedo blazer
Or you can wear…
4. Drape Jacket or Vest
Drape style jackets look professional because the minimal structure of the jacket makes them look more polished than, say, your bomber jacket. A drape jacket, like a knit blazer, is something you could wear as a third layer for when it's just that freezing. Another alternative is a lightweight drape vest, which will give you an added layer of warmth but with less constriction in the arms.

Blank NYC Ivory Vegan Ponte Drape jacket
Or…

And if you're still freezing…
5. Duster
Dusters are very on-trend right now and make the perfect office wardrobe staple, particularly for when you're wearing a dress or skirt. The long length of a duster means there's extra fabric to cover your legs when you're shivering at your desk. Just make sure that if you do go the duster route, you pick one suitable for indoors. You don't want people to confuse you with Sherlock Holmes every time you get up and go to the copier machine.

Topshop Lightweight duster coat
Obviously this isn't an exact, fail-proof formula, so use your own best judgement to avoid looking like a crazy person. When all else fails, and your office is actually just that cold, try layering a super thin long sleeve tee or a pair of thick tights underneath what you're already wearing. And, if that doesn't work, then maybe just quit.

Images: Demetrius Washington / Unsplash; @mydaywasworsethanyours / Giphy; South Moon Under (2); Revolve (2); BCBGeneration; Topshop
Betches may receive a portion of revenue if you click a link in this article and buy a product or service. The links are independently placed and do not influence editorial content.
5 Essential Pieces For This Confusing AF Weather
In case you haven't noticed, the world is like, probably basically ending and the climate is all over the place. One day, it's 60 and sunny, and the next, there's a storm that meteorologists have named something ridiculous, like a Polar Shit Nova Bomb. The only entity that currently changes its mind more than the weather is Arie Luyendyk Jr. The only difference is that when Arie decides to create a shitstorm, it results in a few sponsored content partnerships and increased television ratings, and when Mother Nature does it, it ruins all of our clothes. It's about time you stock up on some transitional clothing for when the weather is confusing af, and here's the shit you should buy.
Get Waterproof Shoes That Aren't Rain Boots
The worst part about this shitty end-of-winter, beginning-of-spring weather is that even when it's not actually raining, the ground is kind of a war zone for your shoes. Obviously, you can't wear your fav suede booties, but unless there is literal water actively falling from the sky, you really can't be wearing your rain boots, either. It's probably solid to invest in a pair of sneakers or casual shoes that can survive rogue puddles. When I originally saw these sneakers in Nordstrom, I had no idea that they were waterproof, which is exactly what you want when it comes to weather wear.

Topshop Crush Waterproof Contrast Sole Sneaker
If You Absolutely Have to Wear Rain Boots, Don't Be All Like, Uncool
It's like, kind of impossible to wear rain boots without looking like a mommy blogger who forces her kids to wear the same clothes as her. Luckily, there are tons of Jeffrey Campbell rain boots that don't suck. Just like, wear cute socks with them. Please.

Jeffrey Campbell Hurricane Weather Boot
Tie Shit Around Your Waist
I totally understand if you're hesitant to tie clothes around your waist. It's a very "eighth grader who just started her period on a class trip" move. However, everyone with half a brain knows that wearing layers is basically your only option when the weather is bipolar, and carrying an extra sweatshirt around when you're too warm to wear it is fucking exhausting. Thankfully, wearing a flannel around your waist with a denim or leather jacket and a basic base layer is an actually cute, extremely versatile look. Chambray or denim shirts are perfect for this, since they're transitional clothing that basically goes with everything.

Madewell Chambray Classic Ex-Boyfriend Shirt in Mazzy Wash
Quantity Over Quality
Listen, I know it can be tempting to wear that velvet top a few more times before it looks really out of season (who knows how much longer crushed velvet is going to be a thing, anyway), but when the weather is all over the place, you're better off wearing two breathable layers than one really thick one. Quantity over quality is probably already your stance on wine, so why not try adopting it into other areas of your life, like transitional clothing? Think open cardigans and tank tops instead of thick sweaters. Cardigans are ideal for throwing over clothes that prob shouldn't be worn until it's warmer out, but that you're going to wear anyway because you don't give a shit.

Urban Outfitters BDG Jesse Oversized Cardigan
Get Wintery Shit in Springy Colors and Materials
You'll probably still want to wear a scarf some days in the spring, but a chunky blanket scarf that weighs as much as an Olsen Twin will make you sweat the second there's a slight change in weather. Lightweight springy-looking scarves are usually floral and ugly, so you're going to probably want to invest in a scarf (or some kind of cold weather accessory) that's made out of a breathable material. Lululemon's Vinyasa scarves are the perfect transitional clothing accessory, because they're very versatile and will keep you warm without making you gross and sweaty.

Betches may receive a portion of revenue if you click a link in this article and buy a product or service. The links are independently placed and do not influence editorial content.
Image: Rodolfo Sanches Carvalho / Unsplash
Tips For Pulling Off The Leopard Trend Without Looking Like A 'Jersey Shore' Reject
Leopard print gets a bad name. Sure, it's the unofficial uniform of drunk bitches at bachelorette parties in Myrtle Beach, but it's also an iconic print that can be pulled off by basically anyone. Whether you're preppy enough to have a boat named after you or some crazy punk chick with like, five nose piercings, there is truly a leopard print for everyone. Here are a few guidelines for pulling off leopard print without looking like a total Jersey Shore reject. Or you can just ignore these tips and hit up the clearance rack at your local Forever 21 to celebrate the return of America's favorite least favorite reality show. It's up to you.
1. Stick To Classic Silhouettes
Obviously, your leopard print dress is going to look like total trash if it's a stretchy bodycon with side cutouts. Opt for a more versatile design, like a classic shirt dress. Pieces like this are great for anyone who is adult enough to have a real job, but still hasn't mastered the art of having separate wardrobes for work and play. If you're totally in a bind and need to wear this to the office, nobody's ever going to know that you last wore it with ankle strap heels and an exposed leather bralette.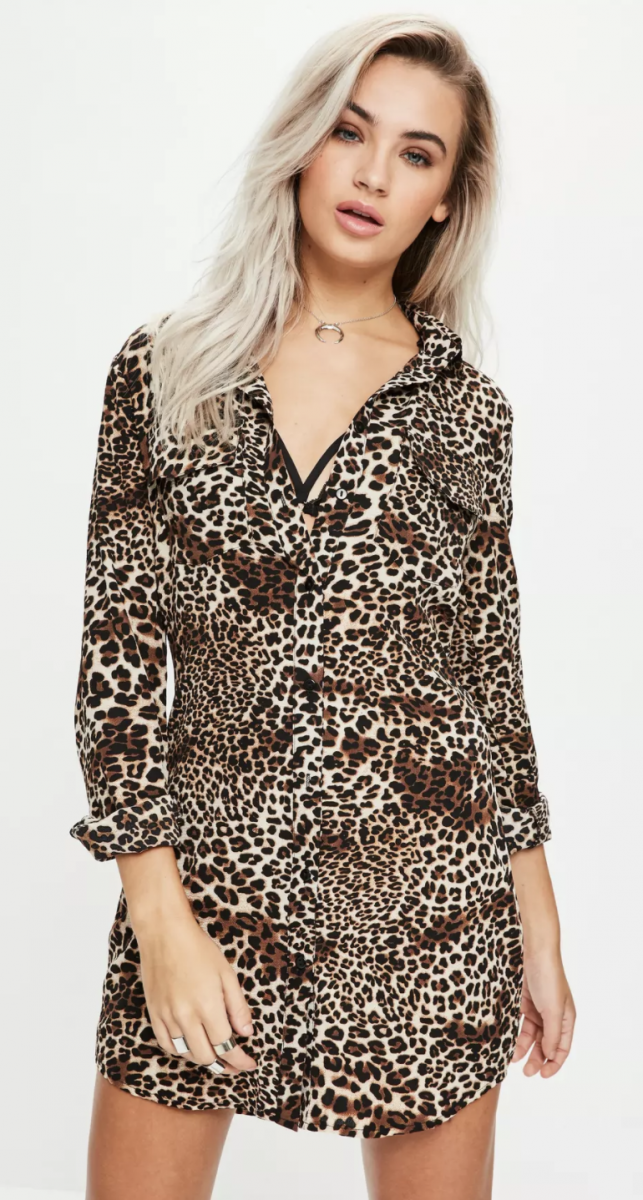 Missguided Brown Leopard Print Long Sleeve Shirt Dress
2. Keep It Casual
There's no safer bet than a comfy cotton T-shirt. So unless you're wearing a pink sequin Victoria's Secret Bombshell bra underneath and it's somehow showing through, you should be good with this one.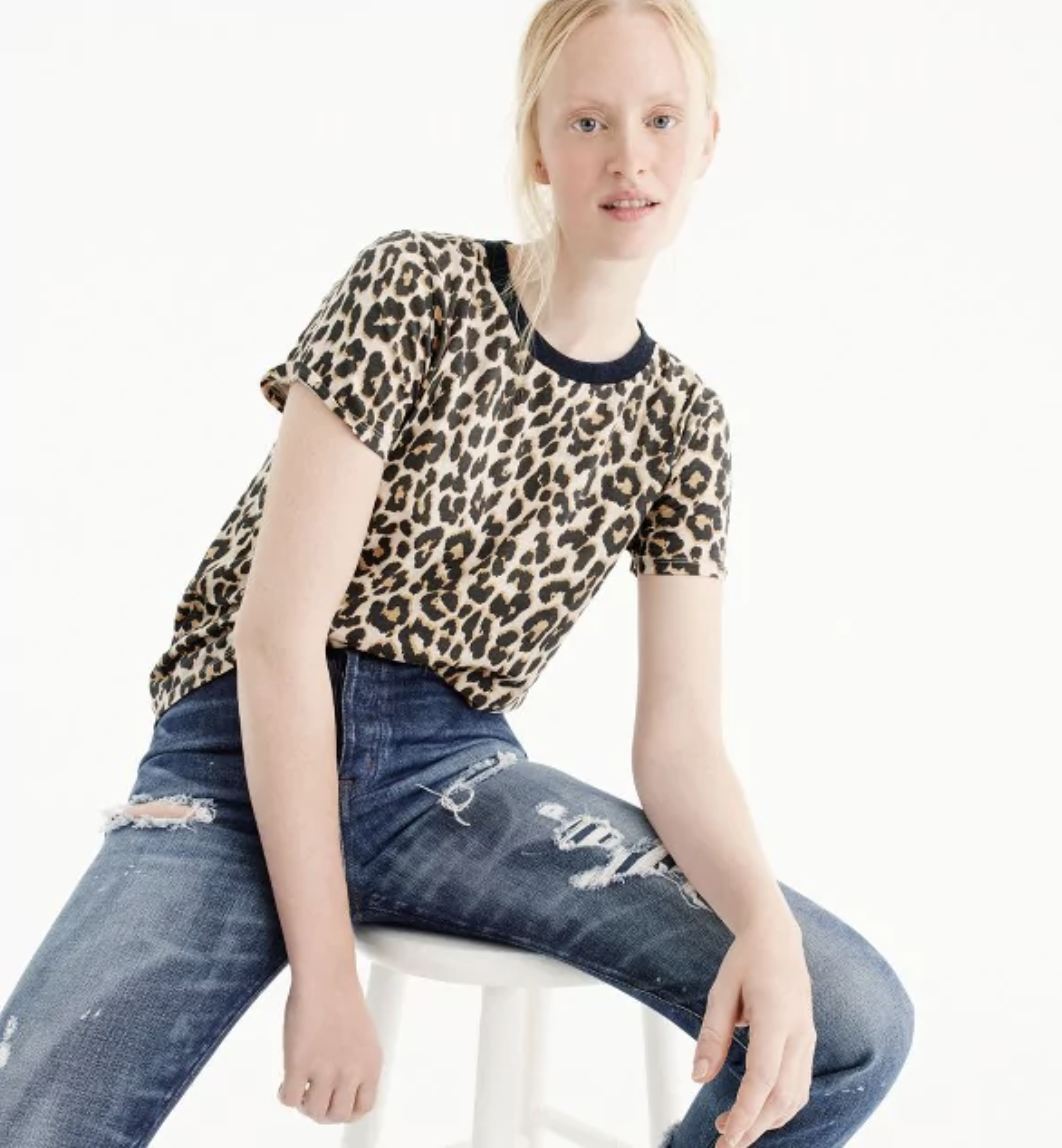 3. Choose Abstract Prints
Leopard print doesn't necessarily have to be straight out of the safari. Playing around with abstract prints and colors that don't actually appear in nature can be a great way to subtly incorporate leopard into your wardrobe. From a distance, you can barely tell these jeggings are even leopard print. (Just like, don't go all Lisa Frank on us.)

Gap Mid Rise Leopard Print Ankle Jeggings
4. Tread Carefully With Footwear
Leopard print shoes are either a perfect staple or something you should never, ever wear. There's pretty much no in-between. It's definitely in your best interest to stay away from anything that could be categorized as clubwear, like platform stilettos or thigh high boots. However, leopard print shoes are tricky, because sometimes just the material or color of the print can make them a total miss. When in doubt, just ask yourself if the shoes you're about to purchase feel like an homage to anything from the Snooki Shop. If not, you're golden.

Sam Edelman Taye Leopard-Print Calf Hair Ankle Booties
5. Try Not To Look Like A Stuffed Animal
Leopard print coats are probably always going to be a thing, so it's a good idea to invest in one. Just make sure it's not like, too fluffy, or else it's going to look you skinned the stuffed animals from your childhood.

ASOS Faux Fur Coat in Leopard Print
7 Must-Have Festival Accessories
Attending a music festival at least once in your life is about as mandatory as leaving your motherland at least once. You just have to do it because as a wise Wiz Khalifa once said, we are young, wild, and free. Honestly, I wouldn't be surprised if you considered getting that as a tattoo. Drinking in excess, deafening music, and eating overpriced food are a betch's top three fave things. So, when you put them all together on a remote island in NYC for a Coachella knockoff or in the middle of Chicago, us basic bitches everywhere are going to unite. This means we're naturally stressing over what the fuck we're going to wear because festival attire requires a combo of hippie Vanessa Hudgens and chill Kendall Jenner. We're not showing up looking like rave sluts in pink fishnets and cheap thongs (God, no. Make it stop). Nor are we going to Forever21 and grabbing the most plain high waisted shorts and crop tank. Nailing the boho chic aesthetic requires versatile staples, slightly confusing detailing, and bold accessories that won't get you accused of cultural appropriation. Whether you're going to Lollapalooza this weekend or prepping for Outside Lands, here are boho chic essentials for an outfit to make your friends envy your trendy ways.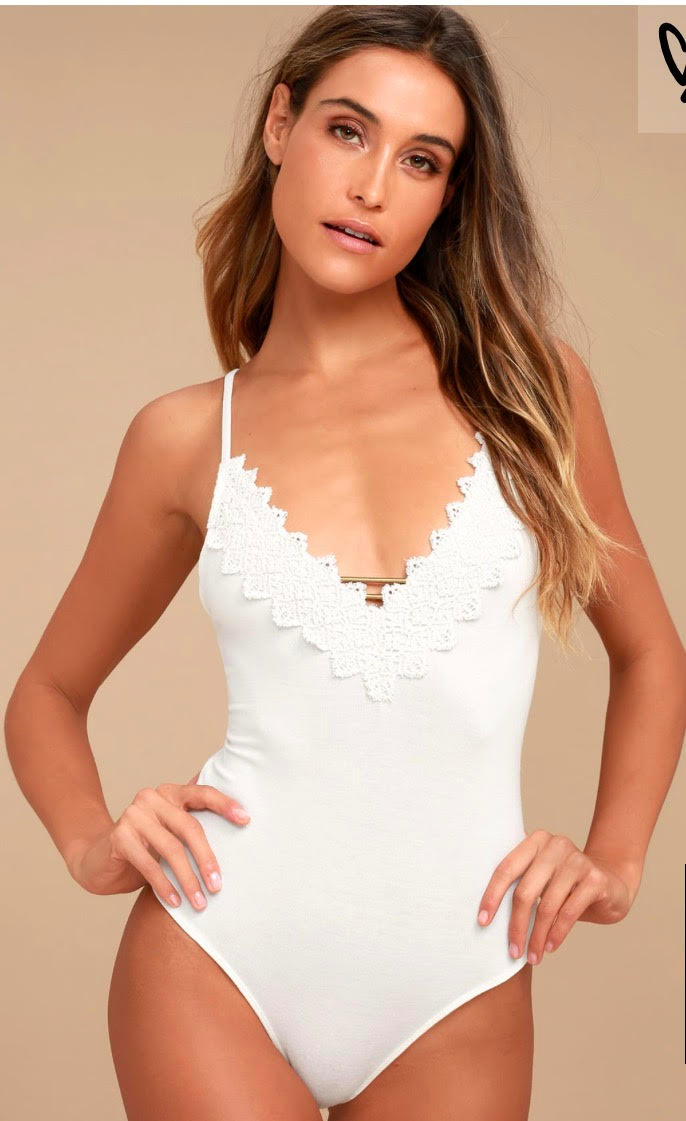 It's going to get hot and sweaty real quick so an ivory bodysuit is the perf go-to for an instant sexual free-spirited look. In addition to the lace detailing on this one, the front has two brass bars that gives off a boho twist. With the last month of summer upon us, your tan will look so much better in all of your Snapchats.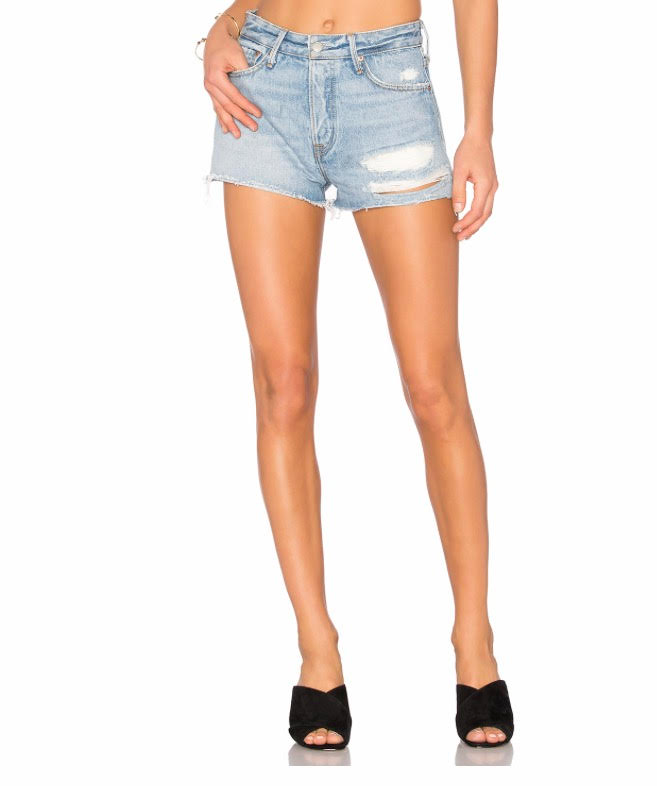 Well, no shit. Obvs plan on wearing ripped high-waisted shorts because you just like, have to for a festival. These are a little cheeky but they provide enough coverage so you're not mooning every person who dances behind you. Ain't nobody want to see that shit anyway.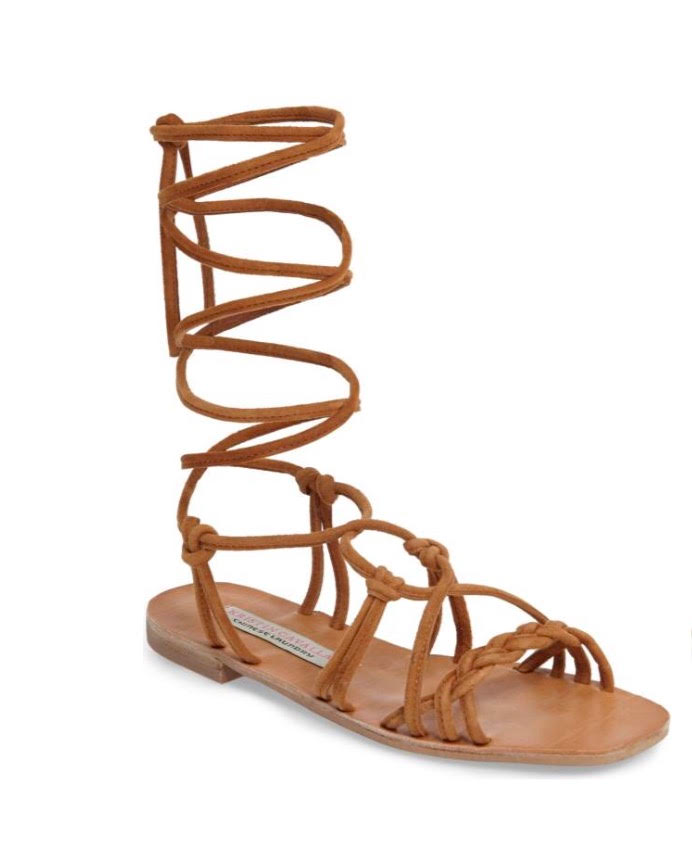 With hippie trends during festival season come complicated strappy shoes that take up the time you should spend pregaming instead. These are cute af so you'll have to suck it up. You'll want a flat shoe that's comfortable to last all day in, especially since you'll be standing and dancing for hours. This style comes in three neutral colors, but a caramel shade is ideal for summery western vibez.

Boho chic pieces come in vivid colors and mixed patterns so if you mix and match too much at once, you'll just look like you got ready while you were blackout (which you may very well have been, but you don't want anyone to know that necessarily). Keeping neutral tones together is what really keeps it Insta-worthy, so before you make your posse take a picture of you on your good side, match your shoes and bag for a balanced look. Find a cross body that's big enough for at least your phone, sunglasses, possibly a flask small water bottle, and then some.

Any plunging neckline needs bling to fill up the space and bring more unnecessary attention to your cleavage because you worked hard to make it look good. Find minimalist charms like this set for a unique delicate style even if you could care less about the fucking solar system.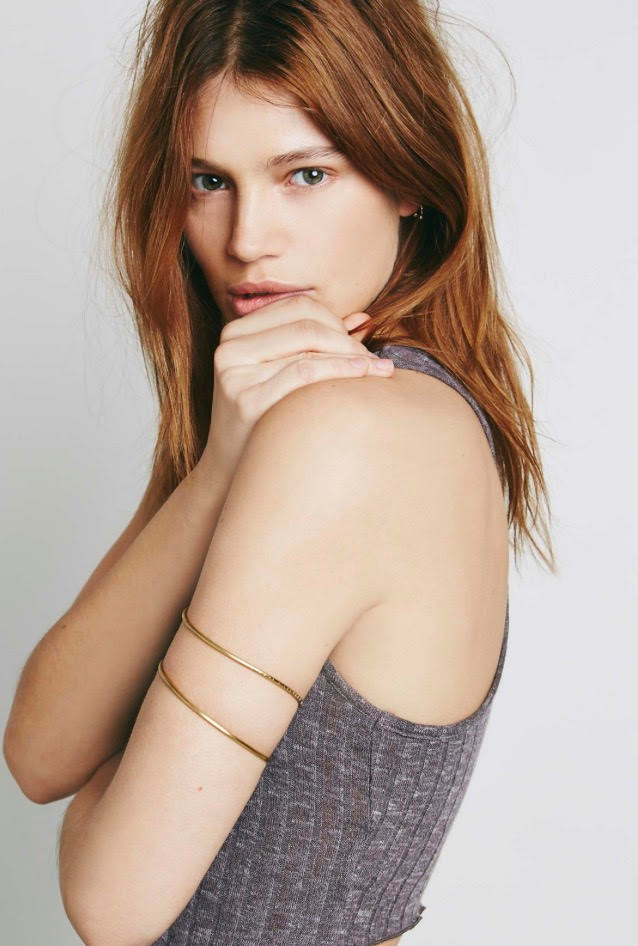 Straight from Free People's festival shop (which is like, straight fire BTW), this arm cuff is the perf addition for a fashion-forward accessory that makes you look both v artsy and trendy. The armbands are adjustable so you can totally use it to your advantage and make your arms look toned AF or hide embarrassing farmer tans. IDK if our ancestors from Woodstock would be necessarily proud, but I feel like the Queen of Coachella aka Vanessa would be, which comes pretty close.

I'm not a fan of Gigi's mustard sunglasses and honestly, not everyone looks good in Ozzy Osbourne's circle sunnies, so I give the holographic frame a solid 10/10 for must-have festival shades. The trippy rose gold will hide your drunk eyes and def look fab on every basic betch who already has everything in the pink metal. Since the frames are kinda trippy, you'll probs entertain that one person in the crowd who clearly took way too many drugs for their own good. "Omg duuude, those are sick. Can I try them on?!" Let's not but, say we did?

5 Lightweight Summer Backpacks That Won't Cause Back Sweat
Complaining about the weather is totally one of our favorite pastimes, until shit gets real and we're actually like, sweaty or something. God forbid. There's really nothing worse than sweating, and unless you're paying $300 a month for a workout class that makes you sweat, you should obviously avoid perspiring at all costs. Seriously, it's disgusting.
While antiperspirants and deodorants take care of common problem areas like your underarms, sweltering NYC heat encourages another kind of sweat to rear its ugly head—back sweat. Not only does back sweat make your morning commute that much more unpleasant (and I'm already in a bad mood when I have to wake up before noon), it also leads to bacne (I don't even like looking at that word) and really puts a damper on all those slutty backless dresses and swimsuits you want to wear. The cute and unnecessarily expensive leather/suede backpack you haul around could, unfortunately, be contributing to the issue since leather isn't a particularly breathable or moisture-wicking material. So, here are a few backpacks we've found in summer-appropriate materials, just in case the one you use for work is making you sweat like any one of us in church.


This isn't like, a regular backpack. It's a cool backpack. The absolute angels at Rebecca Minkoff took the Julian leather backpack and made it lightweight for summer. Dreams do come true.

This cotton canvas backpack looks like it belongs on the floor of a minimalist Tumblr bedroom, but you're probably going to just fill it with shit like chopsticks you'll forget about and crumpled up receipts. It also has a laptop sleeve, which you'll probably leave something important in and find two weeks later.

If it didn't sound like a bad line from an Old Navy commercial, I'd tell you that this Marc Jacobs backpack is fashionable and functional. Backpacks are typically kind of nerdy, but this one is Marc Jacobs so it's actually sorta edgy (which isn't easily achieved by nylon bags, but whatever).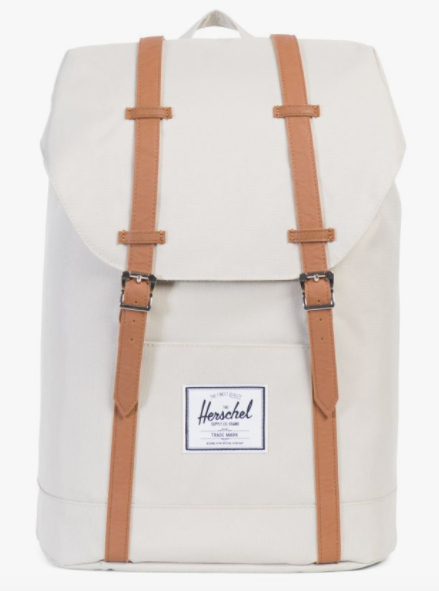 Herschel is kind of like, the Vans of the backpack world. Pretty much everyone has one now, and they're kind of making us all look like hipster dudes from Brooklyn. But they're functional, not ugly and can probably fit a bottle of wine, so why not?


I know we like, just said that Kate Spade isn't cool anymore because of the whole Coach thing, but I've pretty much already talked shit about every other designer that you preppy betches probably love, so I'll let you have this one thing, as long as you don't get carried away. This nylon backpack is actually so cute and black and white stripes go with everything (just ask Kris Jenner).
How To Dress For Work When It's Hot AF Outside But Freezing In Your Office
Being an adult is shitty year-round, but it especially blows in the summer when you have to figure out how to dress for work when it's really hot out. For some reason, every office in the world is fucking freezing, as if air conditioning was invented yesterday and everyone's fascinated with it. Your options are either to arrive to work with pit stains because you're dressed for the arctic but it's 105 degrees outside or to chill with your nipples showing all day because you didn't dress for the AC. You're pretty much screwed no matter how you dress, but these tips should help a little. I'm also not even going to try to sell that any better…betches love to complain so being a little bit uncomfortable with the temperature is sometimes kind of fun.
1. Wear Linen Pants
Wearing linen in the summer to stay cool when you have to cover up is like, the oldest trick in the book. It's probably why linen even exists in the first place. The trick with wearing linen is to look for it in trendy silhouettes, or else you'll end up looking like Barbara Streisand in Meet the Fockers or a recently divorced woman who decided to take a year off and do the whole Eat, Pray Love thing. These linen joggers from the Gap are actually super versatile and go with pretty much any kind of shoe you can imagine. (I have a black pair that I've already worn like a million times and I usually hate being an outfit repeater.) Plus, they're available in tall and petite lengths.

GAP cotton-linen utility joggers
2. Switch Denim For Chambray
If you work in an office with a dress code that allows you to wear jeans, try picking up a pair of these chambray pants by Seafolly instead. It's basically the same look, but chambray is much more lightweight than denim. If you work in an office that forbids jeans, slip a Xanax into your boss's coffee and tell her to chill the fuck out.

3. Throw A Sweater Over Your Dress
Every stupid "how to transition your wardrobe" guide that comes out every season of every year tells you to wear a sweater with a dress, so like, I'm sorry about this. It's pretty much the shittiest advice ever because 90% of the time, you're going to end up looking like Taylor Swift. To make this look acceptable, ditch the floral sundress and go for something cool that you can wear to happy hour after, like this slip dress from Topshop. Don't try to get cutesy with the shoes, either. Like, T. Swift would def wear Keds or some shit, so…don't. Also, make sure to lint roll the cat hair off your sweater first.
P.S. If you're like a "fashion risk taker" and/or have a secret Tumblr page filled with photos of Kate Moss and Winona Ryder in the 90s, wear the sweater under the slip dress.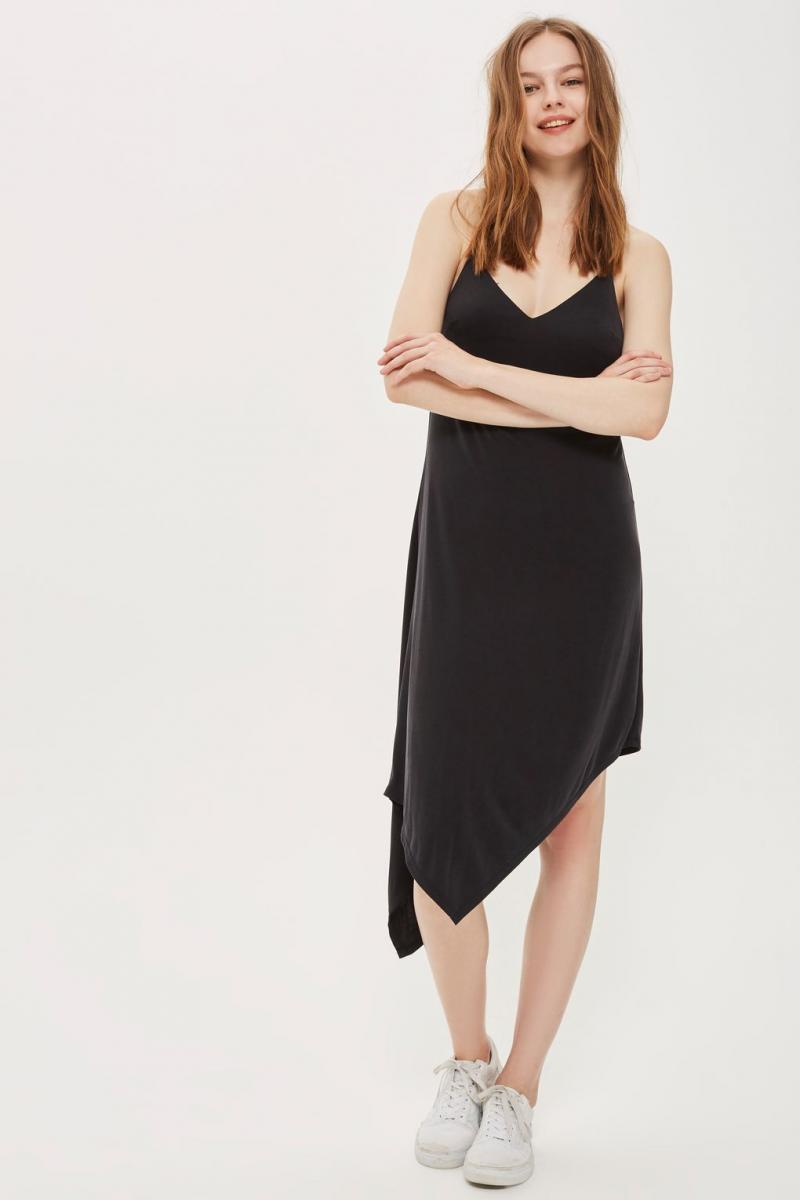 Topshop asymmetric hem slip dress
4. Dress Like A Frat Boy
LOL, jk, I'd rather die. You could not pay me to wear Vineyard Vines. However, if you work in an office where you have to wear a suit, listen to the advice I already gave you and wear linen. Obv, most of the linen suiting in this world is fugly and will make you look like your idea of fun is blacking out while playing lawn games with freshman girls. Zara usually has some decent clothes for profesh betches, like this linen blazer, so maybe you check them out.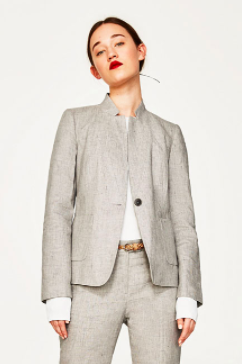 Or you can try Sears.


5. Wear Cotton
Cotton is another really breathable material, so anything that's totally made from it should help save you from being known as the sweaty girl at work. (Every office has one and if you think yours doesn't…it's you.) You've probably seen those ads on TV that are as annoying as a triple text, but The Fabric of Our Lives is actually pretty helpful because it pulls cotton products from all different kinds of stores into one searchable spot. However, even if it's a fast way to shop a bunch of brands at once, the database probably isn't updated super frequently, so occasionally, the listed products are sold out. Such a pain in the ass.
But yeah, apparently this Sanctuary bomber is cotton, so you can use it to layer when some asshole cranks up the AC. Also, shoutout to bomber jackets for still being relevant after Forever 21 almost killed them off.

6. Wear A Longline Cardigan
Longline cardigans are probably the summeriest cardigans in the game, so this metallic version from Nasty Gal is a good layering tool to have. It's kind of the same idea as the "beach sweater" you convinced your mom you'd need from Abercrombie in middle school, except now you have an actual purpose for it.