5 Hilariously Bad Tips For Having Sex When You're Home For The Holidays
It's that time of year again, friends. With the holidays approaching, you're poised to buy gifts, head home, and barely tolerate spend time with loved ones for several days. If you're bringing a significant other home with you, it can be challenging to find some alone time. And it definitely presents a dilemma. Do you get it on in your childhood bed? How many future holidays will you ruin if your parents happen to hear? Fortunately, our fellow publications have once again come through with some truly batsh*t sex advice, this time with a home for the holidays theme. Prepare to be bewildered.
 1. Have A Holly Jolly Playlist

The close quarters and proximity to relatives already makes home for the holidays sex a bit of a buzzkill (unless you're an exhibitionist, I don't know your kinks). But the good people of POPSUGAR managed to find a way to make things even more awkward by suggesting "you crank those holiday tunes a little bit louder" to drown out any suspicious, um, noise. I've mentioned before that I'm not personally a huge fan of sex playlists, but I understand that with a non-tool playing DJ under the right circumstances it can work. What I can't abide is the thought of getting it on to songs like "Jingle Bell Rock" and "Little Drummer Boy." Not only am I drying up at the thought, this idea makes absolutely no sense. You mean to tell me that two people in a romantic relationship who have left the larger group to hang out behind a closed door blasting Christmas tunes will evoke no suspicion whatsoever? If anything, you're pretty much guaranteed to hear an unwanted pa rum pum pum pum at said door.
2. Baby, It's F*cking Cold Outside

For those who don't want to risk scarring disturbing their family, there's always the option of taking things outside the bedroom you grew up in. I would have suggested maybe the shower, but the authors at Life by LaserAway advise readers to "try having sex in a car or some bushes outside." The car suggestion isn't my favorite, but I'll leave it alone because at least that's an enclosed space. What I'm really baffled by is the casual suggestion of "some bushes outside." Unless you live in a fairly warm climate year-round, it's likely to be cold as Santa's balls during the holidays. Even if you're cool with vaginal frostbite, there's the issue of a potential bush-induced rash or other irritation. Call me neurotic, but I don't think this is what Musique meant when they sang "Push, push in the bush."
3. Carol Of The Basement

If, like me, you'd prefer to keep your bush away from an actual bush this holiday season, you'll need to get a little creative in terms of locale. Our friends at Today have the following suggestion: "Basements were made for make-outs and even though you haven't used one for that reason in decades, there's no reason not to start now." I wouldn't say no reason. There's no place less sexy in a house to bone in than a dank basement. It's an assault on the senses: the musty smells, the endless eyesores consisting of your boyfriend's middle school soccer trophies and his mom's workout equipment from the 80s, and the rug burn you're sure to get from trying to maneuver on moldy carpet that was put down when Jimmy Carter was in office. Just me?
 4. Rockin' Around The Pantry

Rounding out the list of sh*tty places to bang when you're desperate is this gem from the folks at Elite Daily: "This might sound crazy, but making out in the pantry is honestly really cute." Cute isn't quite the word I'd use, but sure. Unless you're, I don't know, Logan Roy, a pantry is barely going to fit a 4-year-old playing hide and seek, let alone two people f*cking. If we really want to get cute, we might as well add laundry hamper to the list! So adorable. I'm all for proximity to snacks, but the idea of a pantry pounding is just bonkers. Again, may I humbly suggest the shower?
5. Santa Claus Is Coming WHERE?!

And now, ladies and gentlemen, we have the jewel in the crown and the inspiration for this hard-hitting piece of journalism. Of course it comes from Cosmo, where sex tips are notorious for stretching the definition of "advice": "If you are staying at someone's house over the holidays and need to avoid certain seminal evidence, make the easiest masturbator ever by filling a plastic sandwich bag with lube. Put a sock around it for a better grip and stroke up and down your partner's penis while they rub you. Afterward, seal it up then hide the living hell out of that baggie." There are so many layers to this "tip," and I mean literal layers. A plastic sandwich bag and a sock? What kind of f*cked up MacGyver sh*t is this? And if we're gonna be this extra when it comes to the raw materials needed for this "masturbator," where are the explicit instructions for disposal of this literal scumbag? Isn't hiding it way riskier than throwing it out, because someone could find your cum-filled sock and sandwich bag? And you're meant to hide it where, exactly—under the tree? This gives a whole new meaning to a gift from Santa's sack.
Home for the holidays sex can be complicated, but there's no need to be extra about it, unless frozen limbs and makeshift condoms are your thing. If so, godspeed. If not, just wait until everyone is asleep and keep quiet so as not to wake an unsuspecting relative. With that in mind, may your days be merry and your nights silent.
Images: Ian Schneider / Unsplash; Giphy (5)
What To Bring To Friendsgiving If You Don't Know The First Thing About Cooking
Thanksgiving is the ideal holiday for people who actually know their way around a kitchen. The holidays are essentially a dragged out humble-brag for wholesome girls who "love to cook" and "just wanted to share their new banana bread recipe with the friends they love most!!". 
Cut to me: a gal who falls dead on the other end of the spectrum. One time I tried to make a Vietnamese spring roll that simply required me to buy some noodles and vegetables and roll them up into a single rice paper sheet—couldn't even do that. So, you get where I'm at in terms of cooking for others. I am, therefore, taking the liberty of crowning myself an expert in NOT cooking, which makes me the perfect person to share ideas on what to bring to Thanksgiving or Friendsgiving dinner if you don't know how to cook. And no, I'm not just going to tell you to go to the store and pick up a pumpkin pie—that's amateur hour.
Alcohol That Isn't Wine

You can pretty much bet on the hosts having wine already, or another guest bringing wine as a gift. So, instead of bringing a basic $25 red wine (because you felt too guilty buying the cheapest $12 option so you took it one notch up), bring a bottle of something that the hosts will actually remember. Skinnygirl cocktails are always unexpected and yummy, but still as fancy as wine. My personal favorite is the original Margarita flavor. Loverboy is another fun, low-calorie drink, and the packaging will automatically let it be known that "party's here!!!" Or, if all else fails, bring a variety pack of spiked seltzer, since we as a collective society are still not done making memes about it.
Thanksgiving-Inspired Chips

I recently braved the Union Square Trader Joe's (if you don't live in NYC, just know that this Trader Joe's location is almost as crowded and difficult to get into as, like, LIV nightclub in Miami), and had the amazing pleasure of sampling their Turkey and Stuffing Seasoned Kettle Chips. Not to be lame and get too overly excited about a chip, but I literally walked away thinking, "this is a party in my mouth!!" Okay, that got lame. Whatever. The chip truly tasted like turkey and then stuffing—magic! Pringles also came out with a roasted turkey flavor, now available in retailers nationwide. But if you do go this route, get a dip too so you don't seem like a total cheapskate.
Ready-To-Bake Cookies

I know, I know—you saw that word "bake" and immediately kept scrolling. Don't! You can do this! Ready-to-bake cookies literally only involve putting the cookie dough rounds (that are already all evenly cut up for you) on a cookie sheet, and putting them into the oven. You do not need to be Paul Hollywood to pull this off—all you need to be able to do is set a timer. If you don't know how to use the oven, take deep breaths and text your Mom. Pillsbury knows that you are useless and uneducated in the kitchen, and has turkey-shaped sugar cookies just for you that are on-theme, easy and delicious. *Chef's kiss.*
A Salad

As someone whose cooking-incompetent mother has used this trick for years, I'm confident that people who don't cook can still put together a really amazing and tasty salad. The ingredients don't even have to be anything crazy. Simply find a unique dressing at one of those super expensive local health markets (like The Health Nuts), and people will rave about the salad. Trust me, I have seen the positive reactions with my own two eyes throughout many years of the same boring salad from my Mom (sorry, Mom)! 
Here are a few detailed options (with links to ingredients you may be overwhelmed by):

Wild rice salad: Arugula, tomatoes, wild rice, shaved almonds, sweet potatoes (optional, my mom always forgets to add the sweet potatoes, #shocker, and it still tastes great), and Greek vinaigrette
Asian salad: Chopped up cabbage, chopped up peanuts, sesame seeds, tofu/chicken (optional), and ginger dressing
Garden salad: Mixed greens, avocado, dried cranberries/cherries, croutons, sweet potatoes, hummus (optional), walnuts, and avocado vinaigrette 
Also, bring pita for extra brownie points. 
Cranberry Cocktail Ingredients

Note that I did NOT write "cranberry vodka." That was intentional. This isn't your college bar. Let's rebrand the cranberry vodka to a more sophisticated, classy Friendsgiving or Thanksgiving cocktail with cranberry juice, seltzer, vodka or gin, and some actual, fresh cranberries and lime to float inside the drink. Maybe even bring champagne flutes to complete the "fancy cocktail" package. Do a sugar rim if you're extra fancy.
Roasted Veggies

As my friend ingeniously told me over dinner the other night, the one thing everyone always forgets to bring to a Friendsgiving is veggies. I thought about it, and realized she was 100% right.  When it comes to friendsgivings, everyone's falling over themselves to bring a pumpkin pie, mac 'n cheese, mashed potatoes, etc., and you have nothing green at the table. But roasting veggies is so easy. Just buy a bunch of asparagus, onions, peppers, or literally whatever else you want. Toss them in olive oil, season with salt and pepper (and other spices if you're fancy), put them all on a pan, and roast at 400 degrees. Check on it after like, 20 minutes to make sure you didn't burn anything.
Banana Bread

To that girl in the office who ALWAYS brings banana bread in—we're onto you. Banana bread is SO easy to make and requires very few ingredients. Just get:

A bread-shaped pan because I know you don't own one 

Butter (1/4 cup melted—look on the stick of butter and it will tell you how much that amounts to in solid form)

Sugar (1 cup of the regular sh*t)

Egg (just one)

Flour (1 1/2 cups of the all-purpose flower that's probably been sitting in your freezer for a year)

Baking soda (1 tsp)

Salt (1 tsp)

Chocolate (optional)

And 3 bananas! The blacker, the better—perfect for those people who try to be optimistic and buy fruit, only to have it go bad on their counter.
You literally just have to mix up the bananas, sugar, egg, and butter. Then mix the flower, baking soda, and salt, and add the banana mix into that. Then you bake that whole thing at 325 degrees for about an hour in your new pan. So, watch out, designated office baker. 
To the non-cooking betches out there: stay confident in your gifts! No, bagged chips might not be the "homemade dish" that was technically requested on the invite, but they are equally as tasty—so who cares?
Images: Element5 Digital/ Unsplash; Christine Siracusa/ Unsplash; Jeff Siepman/ Unsplash; Jez Timms/Unsplash; Taylor Kiser/ Unsplash; Erol Ahmed/ Unsplash; Emiliano Vittoriosi/ Unsplash; Mae Mu/ Unsplash;
3 Signs You Shouldn't Bring Them Home For Thanksgiving
Ah, it's that time of year again. Even the most die-hard "summer is my season" person is forced to admit we're heading into winter, fast. And that means whatever summer fling (congrats!) or winter cuff (less congrats because that's very basic of you) you've picked up is now entering a weird stage. If they've stuck around this long, you can't exactly keep them in the casual hookup zone. (And I'm assuming you like them if they're still here, so why would you want to?) Faced with the prospect of Aunt Susan slipping you egg freezing pamphlets, it's tempting to bring anyone home for Thanksgiving who's willing. 
But we both know that's a bad idea. Anyone you bring home for Thanksgiving, you'll be asked about for years to come. And your own memories of the holidays could well be tainted by a particularly good or bad visit. So, here are the signs your new relationship isn't ready to be a part of your Thanksgiving. You'll thank me later.
Your Sober Interactions Are Rare
Look, no one here is arguing that Thanksgiving is a sober event—far from it.  But, generally speaking, there are at least a few hours when everyone's still lucid. (This is the portion of the day when your mother will glare at you for "smelling like alcohol.") So, have your interactions in this relationship been mostly inebriated? If so, Thanksgiving is not a great time to discover that sober, the person you brought is actually boring AF, or worse, very rude and kind of racist.
This goes for all layers of a "mostly drunk" relationship. If you've been increasingly branching out into brunches and daytime hangs and it's looking like this could be for real, that's awesome and I'm genuinely very happy for you. But if you're only a month into that vibe, seriously consider how much you know about this person. Is it enough that you want to answer questions about them once a year until eternity? Probably not. You should have been hanging out sober long enough that you've agreed upon a "how we met" story. One that glosses over the 16 vodka sodas and waking up his roommate to borrow a condom.
If you suspect they'll say this to one of your aunts, definitely don't bring them home for Thanksgiving: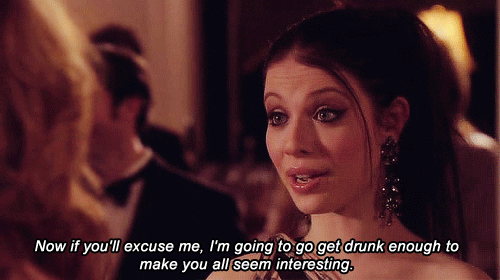 You Haven't Discussed Your Family
For reasons totally unrelated to my aforementioned alcoholic fun-loving tendencies, I have a minor breakdown at most large family events. Maybe it's the uncle who can't understand that ANY comment about my weight is not appreciated. Or my mother saying something that sounds like a compliment—but later reveals itself as an intricate jab. Either way, family time is f*cking tough.
So, who do you want there when that stressful point hits? Will they react poorly if and when you lock yourself in your old bedroom with a bottle of wine? Or will they tell you they're on your side and commiserate with family sh*t of their own? Ideally, the person you bring home will be aware of underlying tensions, and ready and willing to calm you down. And the only way to prepare someone for family sh*t, sadly, is to have those conversations. If you don't tell them what to expect, you can't even really be pissed off when they're surprised by it. (I mean, you can be, but you'll have to apologize later, which sucks.)
So if you haven't gotten into those deeper conversations—or you have, and you felt like they didn't or couldn't respond correctly—maybe think twice before bringing them home. Their feelings aside—and believe me, they'll have some—it'll be an added stressor for you. Don't bring someone home if you're just going to worry all night that you're scaring them off.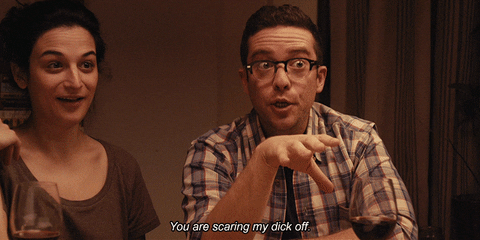 They Haven't Asked What You're Doing
It's November, people! Extenuating circumstances aside—i.e., they're working through the holidays, they're not close with family/not American and therefore this holiday genuinely isn't a thing for them—they probably have at least one Thanksgiving invitation insistently re-appearing on Gmail. If they're anything like me, their family has booked them out months in advance with regular death threats for non-attendance. (In case me writing this article doesn't make it clear enough, my family is not exactly chill about holidays.) Part of the reason that people enter relationships is often for exactly this reason. They want someone to take home for the holidays. Or just someone to spend time with around the holidays and feel less cripplingly lonely when love songs play on the radio Spotify.
So, if the person you've been seeing has kept eerily quiet about the idea of going home for Thanksgiving, it's a pretty sure sign that—sorry—they don't see you being a part of it. This doesn't mean the relationship is doomed. It's perfectly normal not to want to involve your family with a relationship that's still new. It's just a sign of where they're at, and something you should pay attention to—especially if you had thought you were in a more serious place.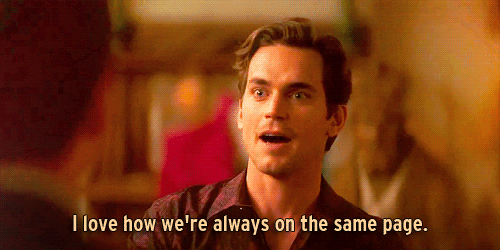 So, if you're with someone who's been sending you calendar nudges for November 22, knows which grandmother expresses love through attacks on your character, and has seen you sober more often than drunk—by all means, invite the f*cker home. Shove it in your smug cousin's face who brought home her high school sweetheart for five years and said "don't worry, I'm sure you'll find someone" while eyeing your fourth piece of pie. But if you think the visit will put undue stress on both your relationship and your time at home, it's so not worth it. Not bringing someone home for Thanksgiving doesn't mean you're over. And in many cases, choosing not to spend it together means you have a shot at still being together next year. Choose wisely, and don't forget the wine.
Images: Giphy (3); StockSnap / Pixabay