The Best Halloween Episodes From Your Favorite TV Shows
Halloween is almost here, and I say this with all the enthusiasm of someone who will be spending the holiday double fisting Kit-Kats and red wine. Look, I know technically Halloween falls on a Thursday this year, so it is socially acceptable to black out like you would on any other thirsty Thursday, but by god I just can't do it. In fact, the only celebrating I intend to do is with my dog as we sit on the couch and re-watch our favorite Halloween episodes to ever air on TV whilst dressed in costume as Dobby the house elf and his prized sock (I'll let you figure out who is who in that scenario). So, for those of you who are looking to go all out on the couch this year, here are the best TV shows to watch to get you in the Halloween spirit (without really being in the Halloween spirit). 
Friends: "The One With The Halloween Party" (Season 8, Episode 6)

Tbh I was never a huge fan of Friends. I know, I know. Let's tie me to the stake now because apparently that is an unforgivable sin. Sighs. That said, I do love a good Halloween episode, even if it's a Friends episode. Monica and Chandler decide to host a Halloween party where Ross tragically shows up dressed as a spud…nik. No one gets his costume and he is appropriately shamed throughout. If anything, you should watch the episode for costume inspo (it's seriously gold) and also for the hilarity of Joey showing up dressed like Chandler. 
Parks & Rec: "Greg Pikitis" (Season 2, Episode 7)

Parks & Rec had quite a few Halloween episodes, but my favorite has always been the first one, which aired during the second season. Leslie Knope stands off against her sworn enemy, Greg Pikitis, a junior high delinquent who pranks the Parks Department every Halloween. This is also the episode where we meet Burt Macklin, FBI agent, for the first time, when Leslie asks Andy to interrogate Greg over his whereabouts and "maybe waterboard" him. To this day I wish you knew how much I regret not naming my dog "Pikitis" so that whenever she secretly sabotages me by chewing a hole in the crotch of my favorite leggings I could venomously whisper "Pikitis" under my breath. Also, Ann throws a Halloween party and it's trash because Ann is trash. Watching Ann miserably fail at being fun is in itself worth a re-watch. 
One Tree Hill: "An Attempt To Tip The Scales" (Season 3, Episode 4)

Were you even truly living in the early '00s if you weren't tuning in every week to watch the utter madness that was One Tree Hill? The show was about two half brothers who share the same scumbag dad and a love of basketball, but one of them is rich and one of them is a bastard. This is like, the least dramatic plot line of the entire show, and to illustrate this point, let me recommend to you the Halloween episode of season three. Haley comes back from her world (??) music tour and tries to reconnect with her husband, Nathan. She is a sophomore in high school. Lucas, also a sophomore in high school, tries to be exclusive with his f*ck buddy Brooke (baby Sophia Bush), and he believes his worthiness and willingness to commit must be proven via a killer Halloween costume. He chooses Tommy Lee. I think that says enough about how their relationship inevitably turns out.
Peyton, not being dramatic at all, decides to dress as an angel of death, and her father only gives a half-hearted shrug in protest to this alarming outfit choice. The episode culminates at a Halloween party at underage nightclub TRIC, where Fall Out Boy casually performs. Watching this episode live on air, my only question was, where I can I replicate the angel of death outfit to properly alarm my mother? Watching the episode as an adult has me asking quite a few more questions, like why is there so much leather during this underage party? Is it too late to call a hotline about Peyton's obvious issues with depression? And what blackmail did The CW have on Fall Out Boy to get them to continually perform on this godforsaken show? THESE ARE THE THINGS THAT KEEP ME UP AT NIGHT. 
Buffy The Vampire Slayer: "Halloween" (Season 2, Episode 6)

For those of you who are like, Buffy The Vampire Slayer? What's that? SHAME ON YOU, YOUTHS. To educate you poor, misguided children, Buffy is iconic and, as far as I'm concerned, should be mandatory viewing in all schools, sort of like how that Romeo & Juliet movie from the 1960s was. The show follows Buffy, high school cool girl and avid scrunchie wearer, who eviscerates people with snarky one-liners by day and slays vampires by night. If anyone has a problem with that plot description, they can take it up with me and the pointy end of my stake, mmkay?
Any one episode will have enough monsters and vampires to feel like a Halloween special, but the Halloween episode from season two is truly something else. In an effort to seduce the vampire she has a crush on, Buffy dresses up like a girl from his youth: an early 1800s noblewoman. I took a similar tactic to impress the guy in Kappa Sig I dated by dressing up like a cheerleader one Halloween, complete with underwear that said "haze me" on the butt. To each their own I guess, Buffy! Things go amiss for Buffy and her friends when the owner of the Halloween store enchants everyone's costume so that you transform into the thing or person you've dressed up as. Mayhem ensues. The episode is complete with treacherous wigs and even more treacherous English accents, and is an absolute must-watch. 
The Office: "Costume Contest" (Season 7, Episode 6)

Like Parks & Rec, The Office has a LOT of Halloween episodes to choose from, but I think we can all agree that the one from season seven was the best. Pam raises the stakes of the annual costume contest by awarding the winner a Scranton book of coupons that could amount to $15,00o in savings. This leads the employees of Dunder Mifflin to think that the book is literally worth $15K and so everyone goes all out for the costume contest. Angela shows up in a naughty nurse outfit (lol I can't wait to hear how she rationalizes that one to Jesus), Jim actually wears a costume, and Gabe is doing the most as Lady Gaga.
Stranger Things: "Trick or Treat, Freak" (Season 2, Episode 2)

Guys, is there literally anything in this world that's cuter than watching 13-year-old nerds coordinate their group Halloween outfits?! I don't f*cking think so. Stranger Things is fun to rewatch because it feels appropriately spooky and nostalgic, which is what Halloween is all about. Plus, at one point during the episode Nancy gets drunk at a costume party and yells at Steve. I'm sorry, but if drunkenly sobbing in a bathroom after fighting with your boyfriend isn't a Halloween mood THEN I DON'T KNOW WHAT IS. 
Gossip Girl: "The Witches of Bushwick" (Season 4, Eipside 9)
First of all, I forgot this episode of Gossip Girl even existed, let alone that it's aptly titled "The Witches of Bushwick." As a person who used to call Bushwick her penance for past sins home, I can honestly say that there are, in fact, witches in this area of Brooklyn. Not to name names but there was a very suspicious incident at a vegan cafe wherein I mistakenly asked for creamer in my coffee and later became mysteriously ill. I'm just saying, it's suspicious is all. The episode takes place at Chuck's Saints and Sinners masquerade party at the Empire Hotel and it is PEAK Gossip Girl in terms of fashion and fighting. It's a very Serena-heavy episode in the sense that Jenny and friends try to overthrow her while Nate and Dan both try and woo her. Also, Chuck and Blair are there and are perfect. 
New Girl: "Keaton" (Season 3, Episode 6)

New Girl has always been the gift that keeps on giving for me, especially since I've always self-identified as having the spirit of a crotchety, 90-year-old man, in the same way that Nick Miller does. This is one of my all-time favorite episodes because we find out that Nick has been sending Schmidt fake messages from actor Michael Keaton FOR YEARS. Schmidt for some reason believes with his whole heart that the actor who plays Batman has been sending him supportive letters and emails for his entire life when in fact it's been his mom and then roommate Nick writing the sage advice. I almost peed myself watching this episode—it's that good.  
These are the best Halloween episodes to re-watch in preparation for (or during) Halloween. If you don't spend the next 3-6 hours watching this powerhouse lineup of television, I'll be personally offended. Smell ya later!
Images: Giphy (5); Tenor (1); weheartit (1)
The Best Shows & Movies Coming To Netflix This Month, Just In Time For Netflix & Chill Season
The weather is getting crazier and there's less and less reason to go outside. This is the time of year we commonly refer to as "fall" or "cuffing season." Basically, it's the three months before winter when you could go outside but you kind of don't feel like it so you stay inside and watch bullshit and gain your winter weight instead. Maybe you trick seduce some poor sap into doing this with you, maybe you don't. Either way, it's kind of dope. To help commence your fall chill, here's what's new on Netflix this month so you can get a head start on your winter body. There's a whole bunch of new shit coming that you don't want to miss, from classic oldies to new shows, and here's what we think you'll like the best.
1. 'Little Evil'
Adam Scott from Parks and Rec plays a guy who marries a woman with a kid who happens to be the antichrist. Funny, I thought that was my ex. This movie is a comedy spoof that's exactly what it sounds like. We expect great things, mostly because we love Adam Scott, but also because we low-key love the devil.
2. 'BoJack Horseman' Season 4
This animated sitcom is dope and we're happy it's back. A show about a bunch of animals living in LA with Will Arnett (Arrested Development) playing BoJack, a man, who is also a horse. This is a chill show and easy very easy to binge on. If you haven't caught up, congrats! You can waste an entire weekend of your life binge-watch past seasons, or like, honestly just start watching the new one. It's a cartoon, you'll catch on.

3. 'Dead Poet's Society'
The classic movie about a bunch of bros that learn from Robin Williams is a good way to look back on college when you miss it. This is a good one to watch if you want a low-key night or something to put on when you have a guy over and want to make him think you have good taste in movies.
4. 'Beauty and the Beast' Live Action
If you didn't catch this movie in theaters, we don't blame you. It was probably just all right. But now that it's on Netflix you might as well catch Emma Watson (featuring autotune) playing Belle and that one overhyped gay character everyone freaked TF out about. It's Disney, so expect go be moderately entertained.

5. 'Narcos'
If you haven't been watching this show, you should get on it right now. It's dark and gritty and makes us feel like we're Julia Stiles in Save The Last Dance but with more drugs. Like, we're going to the other side of the tracks but without the whole Juilliard thing.
6. 'Jaws'
Nothing like a classic shark movie to remind you why you're happy swimsuit season is over. This is a great cuddle-up-on-the-couch-with-hot-chocolate-and-bae movie, especially because you can grab him when the scaries happen, despite knowing when they all happen because you've both seen this movie multiple times. The good news is you won't feel bad for missing any of it if things get a little steamy… actually, I take it back. If Jaws gets you hot and bothered, I'm calling the police.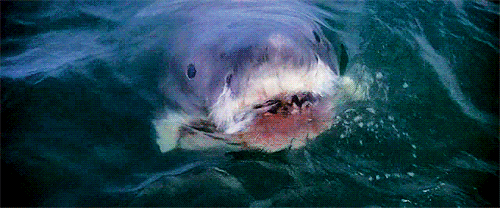 7. 'Portlandia' Season 7
Sketch comedy show about hipsters in Portland makes us laugh, and you can turn it on and off while you're cooking if you don't feel like watching an entire episode. Because it's broken up into sketches, it's easy to jump into whenever you're bored.