6 Fall Lipstick Shades That Will Look Good In All Your Selfies
Even if you're not a fan of fall, you have to admit that the one perk you can't resist is the rise of the vampy fall lip. It means eagerly bringing back the smokey eyeshadow and complementing it with a sultry shade of lipstick that's reminiscent of your favorite Cabernet or better yet, your favorite color, black. There's something about wearing lipstick at all that makes anyone feel like an 11/10. And when it's in a dark shade, you all of a sudden feel like you could very well be the next Rihanna. Am I right, or am I right, ladies? Each year, there's a plethora of shades we must get our hands on before they sell out at Sephora. I guarantee you, any color you're even slightly attracted to will probs sell out faster than you can say, "basic." This season is obviously no different, so thanks to yours truly, here are 6 must-have fall lipstick shades you need to shop for rn.
1. Brown
While some may be so bold as to actually wear black lipstick, others may stick to similar dark fall lipstick shades that aren't so goth. A huge hit is always a brown. Preferably one that is dark enough to contrast your highlight, but still light enough where you can't pass for like, Wednesday Addams.

Charlotte Tilbury Birkin Brown Matte Revolution Lipstick
2. Wine
Once you find the perfect sexual wine lipstick, you'll never choose anything else again. This chic color is red's sexier, more badass twin that elevates literally any look. Leggings and a hoodie? Add a bit of this and you can definitely hit up happy hour in comfort and with confidence.

NARS Semi-Matte Lipstick, Scarlet Empress
3. Burnt Orange
Burnt orange is honestly my favorite color when fall rolls around. It's neutral, dark, but not too dark, and looks amazing on everyone regardless of their skin tone. Adding this warm glow to your lips is def a must during the colder time of the year. It'll bring out your natural tone, fading summer tan, and looks subtle enough where you won't look like a try-hard.

4. Plum
Plum is the Queen Bee of vampy shades. Point blank. It's v chic, incredibly trendy, and perfectly shows everyone how dead you are inside. Isn't that the whole reason why we wear these colors anyway?

Bite Beauty Amuse Bouche Lipstick in Rogue Berry
5. Bright Red
Despite this not being a dark color, candy apple red is one of the very few exceptions to the vampy shade rule. When all you ever feel like wearing is black, which is basically all of the time, you can simply coat your lips in a bright matte to warm up your outfit and effortlessly add some color (for once) so no one can dare call you depressing.

Chanel Rouge Coco Ultra Hydrating Lip Colour in Gabrielle
6. Rose Taupe
This one, I admit, is an oddball, but the trends don't lie. For those of you not yet wanting to let summer go, you can easily transition into the next few months with a nude shade that's a bit on the darker end of the spectrum. A peachy taupe will be your next obsession for wanting to add a final touch before you head out the door.

Anastasia Beverly Hills Matte Lipstick in Soft Touch
Photos: Carol Oliver / Unsplash; Net-A-Porter; Sephora (2); Nordstrom; Ulta Beauty (2)
Betches may receive a portion of revenue if you click a link and purchase a product or service. The links are independently placed and do not influence editorial content.

The 5 Best Face Toners On The Market That Actually Work
Here's the thing with toners: Either you already incorporate one in your daily beauty routine, or you have tried, only to have it backfire, both on your face and your wallet. More often than not, face toners seem to be more of a miss than a hit. This happens so often that you end up questioning everything you believe in like, "I know Google says I need it, but do I reaaally need a toner if I can barely find one that makes a subtle difference?!" Truth be told, actually, yeah. When you find one that produces the results you've been searching endlessly for, it's kind of like a major "OMG, where has this been my entire life?" moment. I swear there are some amazing toners that actually do what they're intended to do. And for some, they can even go as far as to prevent breakouts, shrink pores, control oiliness, give you glowing skin, and more. Bible. On that note, you can run to your local Sephora or Ulta after reading this to buy the 5 best toners in the game.
Whether you've got oily, combination, or even just normal skin, this is the perfect toner to go to when you're in desperate need of an overnight pore minimizer. Ideal for either morning or night, this will remove makeup, reduce blackheads, and shrink pores to create even-toned, smooth, and clearer skin.

Specially formulated for those with acne-prone skin, this clarifying toner will be your new obsession. It works wonders after just one use, tbh. It helps reduce swelling, unclogs pores, and prevents future breakouts. It's super gentle and sensitive on all skin types since it has Vitamin E, grape seed extract, and witch hazel, the last of which in particular is said to be a real miracle-worker.

One of the biggest reasons we end up resorting to a toner is because we have dry and flaky skin. For once, this is a toner that doesn't make your dry skin worse, but instead, restores it with intense hydration. It's hella moisturizing, refreshingly thick, smells amazing, and makes your face feel brand new.

Mario Badescu's line is the holy grail of all skin care issues. I mean, call me dramatic, but it's true. I am proudly obsessed, and I wouldn't be like, such a good friend if I kept my fave beauty secret from all of you. This toner doesn't disappoint, either. It helps reduce wrinkles, acne scars, and skin discoloration with the powerful powers of Glycolic Acid and natural fruits.

Please raise your hand if your face has become a greasy victim of summer's unbearable heat. I'm raising both hands, I swear. After these dogs days of summer are over, we'll all probably be in need of a serious oil control toner. Without stripping the natural oils (believe or not, those are good kinds), this removes excess oil and refines pores to offer a refreshed, glowing, and clearer face.

Photos: JoelValve / Unsplash; Amazon; Ulta Beauty; Sephora (2); Saks Fifth Avenue
Betches may receive a portion of revenue if you click a link and purchase a product or service. The links are independently placed and do not influence editorial content.

6 Lip Colors You Have To Get For Fall
The season of upper lip sweat and actual hell outside is almost over—yay! Which means it's almost the best time of year: Halloween. Sorry, I mean fall. Fall is my favorite time of year because HALLOWEEN and also, fashion is just better. If you're looking for something new and trendy for fall but are also moving into the world's tiniest studio apartment (me) and/or are broke (also me), update your look by investing in one (or all) of this season's hottest fall lip colors.
1. Oxblood
Deep reds are my favorite fall lip colors, but this year the specific red tone you'll see everywhere is oxblood. It's like a burgundy but with more brown/purple in it. Oxblood is one of the best colors ever, and it will look gorgeous on any skin tone. It's the ultimate edgy lip. Or edgy everything. Seriously, I love this color so much, get clothes with it, do your nails with it, paint your entire face, I don't care.

MARC JACOBS BEAUTY Le Marc Lip Crème Lipstick in Deep Oxblood
2. Pumpkin
Orange-red is actually my favorite summer lip color, but this year we're seeings them all over the runway for fall too. I'm kind of obsessed with it. It's a fun bright twist to probably drab fall attire and I get more use out of this color for longer. We're calling it pumpkin to make it more festive, but any orange you love will work.

NARS Audacious Lipstick in Vivid Orange Red
3. Magenta/Violet
Another summer staple that can carry you into fall, magentas and violets are super in again. This is a great color range, because you can push it from electric purple to deep berry, depending on your mood. I love purple shades as an alternative to red, and magenta is a sexier way to do pink without looking like a baby prostitute.

ANASTASIA BEVERLY HILLS Liquid Lipstick in Vibrant Plum Magenta
4. Metallics
Metallic lipsticks are a cool, edgy element to add to your look. You can do these in any colors (I especially love it if you're super adventurous and do a dark purple, blue, or even black), or double up by mixing two of these trends together, like a magenta or nude metal. It's an easy way to update your go-to color.

URBAN DECAY Vice Lipstick in Trance-Metallized
5. Brown
In true 90's fashion, brown lipsticks are back. Wear these with your flannels and space buns and Doc Martens. I love this trend and I feel like an angsty teenager when I line my eyes with black kohl and put this on. You will look like a Nirvana video reject, but like, in a chic way. Reapply often, as dark lipsticks may fall victim to butthole lips, which is not cute.

SMASHBOX Be Legendary Lipstick in Coffee Run
6. No-Makeup Nudes
Kylie Jenner didn't become a billionaire for nothing. Nude lips are still everywhere. However, this fall, "no-makeup" makeup is all the rage. You know, where you look like a Victoria's Secret model but you pretend you did not use 17 products to achieve this look? That. Nude lipstick does not mean choosing a color identical to your natural lips—you'll want to pick a shade that is similar, with a slightly enhanced color. Depending on your skin tone, go a little more peach, pink, or plum. Texture is super important with nude lips, so get something that goes on soft and creamy, not chalky, like this Too Faced one.

TOO FACED Natural Nudes Lipstick in Skinny Dippin'
Images: Frankie Cordoba / Unsplash; Sephora (6)
Betches may receive a portion of revenue if you click a link and purchase a product or service. The links are independently placed and do not influence editorial content.

The 5 Beauty Products You Need To Invest In Before Fall
It's truly mind-blowing that August ends next week, basically marking the end of summer. It still feels like June. Just sayin'. Everyone knows September 1st is the unofficial start of fall, so it's now or never to start thinking about our inner basic betch. Whether or not you choose to accept it, fall is coming, which means you should also probs start digging out your comfiest oversize sweaters and make moves for fall fashion. Not only do the cooler temperatures affect our layered outfits, but they also affect our glowing skin that we worked so hard to perfect this summer. As we all know, cold and windy days make our beauty routines a living hell. To mentally, emotionally, and physically prepare yourself for how to transition your beauty routine in the coming weeks, here are some of the best beauty products you'll want to get your hands on.
1. Invest In A Hair Mask Treatment
If your hair has somehow remained miraculously unharmed by the ocean's evil wrath this summer, then you're already winning and I hate you. Laying out and day drinking in the middle of a hot summer's day can take a toll on us in more ways than one, one being our hair. To restore some life back into dry, damaged hair, invest in a nourishing and conditioning hair treatment you can use once a week.

Living Proof Restore Mask Treatment 
2. Incorporate Moisturizing Facials
Let's be real. How many times did we fall asleep with a face full of makeup on this summer? Or better yet, fall asleep under the sun, thanks to too many spiked seltzers? The end result is never pretty, so we kind of have to make up for that before it gets worse. Start by treating yo'self with a hydrating treatment that enhances your glow and makes your face feel soft af.
3. Extend Your Summer Glow
As usual, we can never have nice things, and if by some rare chance we do get to have something nice, it doesn't last long. FML. In this scenario, I'm not referring to like, long-lost relationships, a bottle of wine, or a new uncracked iPhone screen. I'm referring to the tan we worked too hard on for it to go unnoticed. Consider using an extender that continuously brings out your summer glow and helps prolong fading for as long as possible.

4. Use Gentle Cleansers
From here on out, you'll want to stay far, far away from anything harsh, drying, or too strong on your face. Prep your skin for the colder weather by washing your face with a gentle cleanser, preferably one for sensitive skin types. This helps keep natural oils in and prevents your skin from becoming flaky too soon.

Burt's Bees Face Cleanser for Sensitive Skin
5. Exfoliate Your Lips
Fall is most definitely the season of lipsticks. I mean, our obsession for vampy colors is real since each year we stock up on a ridiculous amount of shades to maybe wear like, once. #NoRegrets. To prep and prime your lips for the utmost flawless application, start using a conditioning lip scrub. The exfoliator will gently remove dead skin and keep your lips plump, smooth, and ready for endless swatching this fall.

Photo: STIL / Unsplash; Ulta (2); Sephora (2); Revolve (1)
Betches may receive a portion of revenue if you click a link and purchase a product or service. The links are independently placed and do not influence editorial content.

5 Fall Beauty Trends That Will Be All Over Instagram
Even though it feels like Satan's armpit in New York rn, fall is fast approaching. But with every new season comes a new wave of people trying to make fetch some batshit beauty trend happen. Hello hairy selfie nails? Fucking wave eyebrows? It's a wonder God doesn't just smite us all rn and start over with the human species. Honestly, would not blame Her one bit. That said, there are a few trends that if I saw a person rocking them on my Instagram news feed I wouldn't immediately report that person to Instagram HQ for personally victimizing me with their beauty choices. I'm kind like that. Anyways, here are 5 beauty trends that are about to be all over your Instagram this fall.
1. Metallic Accents
If you would have told me three months ago that this metallic/glitter trend would still be going strong this fall AND that I'd be into I would have told you to lay off the bath salts. But I guess it wouldn't be a Monday unless I decided to lower my standards try something new, and metallic accents are about to be everyfuckingwhere this fall. They were all over the runway during Fashion Week and I have a feeling they're also about to be all over the J train at 8am during my morning commute. Tbh I'm barely in the mood to speak words to humans before 11am, and I'm certainly not in the mood for you and your iridescent eyelids assaulting my retinas that early in the morning. The key to metallics is to be subtle AF with your makeup. Think gold eyeshadows and shimmery nail polish—make the metallics the statement piece of your look.

2. Graphic Eyeliner
We've said it once, we'll say it again: Winged eyeliner is done. It's cancelled. And thousands of thots just screamed into the void. During Fashion Week makeup artists ditched traditional eyeliner techniques for more graphic lines paired with fresh faces. 100 percent this look is not for your 9am department meeting (or so I am "gently" reminded by HR), but it could take your after work happy hour game to the next fucking level. Again, the eyeliner should be the statement of your look so don't try pairing this shit with a crazy lip color or glitter eyeshadow. Instead pair the blunt, clean lines with barely-there makeup for a chic AF finish.

3. Black Bows
For those of you who have been dressing like Blair Waldorf since 2012, just waiting for preppy-bitchy-chic to come back into style (as if it ever wasn't) then get ready to lose your fucking mind because black bows are making a huge comeback for fall. This is not a drill. This hair accessory is about to blow up your Instagram feed with girls who are trying to exercise their daddy issues make a bold statement with their look. It's a low-maintenance way to upgrade your everyday look. Plus it's cheap AF to pull off.

4. The Natural Glow
Apparently this fall is going to be all about "fresh faces" and "looking natural". *shudders* But if you think for one fucking second I'd let my coworkers see the actual face I was born with, then you've lost your damn mind. Even though contouring might be over forever (someone needs to notify the Jenner/Kardashian Klan ASAP), there's still a shit ton of makeup that goes into looking natural because no one just woke up like that. Use hydrating creams and highlighters to get that clean, clear complexions and natural looking, healthy glow.

5. Vampy Lips
You know what they say: if it ain't broke then don't fuck with my vampy lip color. Tbh I don't think I can imagine a world where dark lipwear isn't in style and I'm feeling v blessed that I don't have to this fall. There's a reason this shit is timeless: It's chic and edgy, it looks good on legit any skin tone, and you will 100 percent find me rocking this lip color from now until Memorial Day. We suggest using NARS Audacious Lipstick in deep aubergine because the color is amaze and that shit will never come off no matter how many vodka sodas you drink at happy hour.

The 6 Lipstick Shades For Fall You Need To Add To Your Makeup Bag
Say goodbye to bare eyelids, pale pink lips, and tirelessly trying to perfect the bare minimum I-just-woke-up-like-this look. It's almost fall, which means it's time to start darkening our beauty routine, just like we do for our wardrobe. Now, the true me will emerge from hibernation this summer so I can wear my lack of heart on my sleeve again. Although it's still a learning process for many, we're prepared to hide our hangover lack of sleep with a good ol' smokey eye. We've already got our first fall manicure picked out, so now it's time for our guilty pleasure: lipstick. We all get weak in the knees for a lipstick that's yet another nude you'll insist is different (it's not), or a really intense vampy red. The darker, the better—fucking duh. Even if you're the type to settle with your fucked up coffee order rather than complain for the barista to make it again, it's at least fun to pretend you're intimidating af with the right shade of lipstick. Whether you're a true lipstick guru or recently turned Kylie fanatic, you've come to the right place for the best lipstick shades to get you psyched for next season.

Cherry red lips are always a basic look for fall since we're turning away from true reds and looking for something deeper in color. MAC's best-selling lipsticks are v creamy, highly pigmented, and dry matte. The wine lip goes hand-in-hand with dark eyeshadow for that trending vampy look you'll soon be seeing everywhere. Why this Twilight thing is a fad next season, I couldn't fucking tell you.

A classy elegant nude never goes out of style which is why I've saved my nude pics from back when I was skinny in college and with all the dull colors you'll be dressing head to toe in, you'll need a simple nude to go with them. This shade is the most ideal and won't wash you out or make your lips look pasty or diseased. Like, summer is just finishing, we need to make some of your racial ambiguity lasts, damn it. The modern collection is full of pinks and reds made for every skin tone. Each lipstick protects against cancer-causing rays, leaves them hella moisturized, and contains brightening pigments so both you and your lips stay looking ~lit~ all night long.

NGL, any dark lip color makes me think you're channeling my spirit animal an inner homicidal Wednesday Addams, but in girl world, the fighting has to be sneaky this silky-smooth plum shade is considered a v trendy twist. Bruised/borderline hypothermia-looking lips look cool as temps begin to drop because like, fashion, and the color def pops in all your Instas. If you're too hungover to do any other makeup, just swipe on a bold lip and no one will ever question it. It's literally the best last-minute accessory.

Since pale pink is already sooo last season, swap the basic betch shade for a slightly darker replacement like a peachy rose. It's not too pink or too light, so go for a shade that's more on the orangey side for a luscious combo that looks something like peach and rosé. Yeah, I'm also going to need that in a bottle like, pronto. When your lipstick matches the color of your drink, you know it's going to be a good fucking night.

Finding a brown for every skin tone can be tricky because we're not trying to walk around with something that resembles shit on our lips, so be sure to go for one that's on the warm beige-y side like this warm tan shade… even though it's called Cold Brown. IDK, I don't make the rules here. The color cools down your look for an effortlessly chic style that doesn't have a totally nude lip but gives a subtle enough pop where you're not getting stared at on the street. This lipstick literally has the most smooth application ever, so it's def non-drying and is guaranteed to stay on for multiple rounds of shots.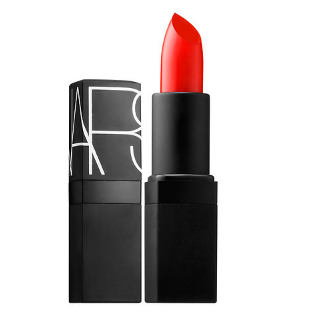 Fall is all about going darker (fucking obviously if you haven't caught on by now) so if you can't let go of a bright red, at least don't go for the firetruck red. Try not to be basic for like, two seconds and find a color that's more on the orange-red side. The orange pigment will really warm up the rest of your face, regardless of skin tone. Pair with a deep pink blush to make yourself look so much tanner, even if your equivalent of spending time in the sun this summer was walking to work. This lipstick is only semi-matte so if mummy lips aren't your thing, no stress. It still glides on super soft and leaves a sheer finish for a duckface-worthy Snapchat to your Bumble boy. Priorities.