7 Common Skin Care Myths & What The Truth Is
In a world where beauty bloggers act like they have a medical degree and influencers promote facial cleansing brushes on their Insta stories, basically anyone can call themselves a skin care expert. While it's great that we can learn everything we need to know about toners and exfoliators from just a quick Google search, it also means that a lot of us have based our skin care routine on information that might not be accurate. Don't panic and throw out all of your favorite beauty products just yet, though! Take a look at these busted skin care myths to get all of the facts on how to achieve the glowing skin you've always dreamed of.
Myth #1: Anti-Aging Products Are Only For People With Wrinkles
You might think that anti-aging products are for "older" people who have wrinkled skin. What many of those people will tell you is that they've had no luck getting their skin to look baby-smooth again like it once did. The truth is, once your skin has wrinkles, there's no magic cream that can take them away permanently. The most effective way to be wrinkle-free is to start taking preventative measures when you're young (in your 20s and 30s). That means using moisturizer and sunscreen or another SPF face lotion every day to prevent the development of dark spots and/or other signs of premature aging.
Myth #2: You Only Need Sunscreen If You're Going To Be In Direct Sunlight
This brings us to our next point: it seems that the only time most of us remember to put on sunscreen is when we are going to the beach, or doing some kind of outdoor activity in the sunny summer months. While it is incredibly important that you use sun protection regularly when you plan to go out in direct sunlight, it's equally as important to wear sunscreen on a daily basis, regardless of how sunny or cloudy it may seem.  Especially when it comes to preserving and protecting your complexion, a daily broad-spectrum SPF is essential. Whether you realize it or not, even the smallest amount of sun exposure—whether that be through a window, sitting outside, or even through cloud cover—puts your skin at risk for negative effects from sun exposure. We know that getting a sunburn is very bad for your skin, but the sun can also penetrate the layers of your skin and cause damage deeper down, potentially leading to skin cancer, the most common cancer in the United States.
Myth #3: A Set Skin Care Routine Will Work For Everyone
You may be thinking, "everyone with perfect skin is following the same skin care routine, and I need to use exactly what they use if I want to have great skin too." Yeah, that just isn't the case. Each person has unique skin needs based on their skin type. A person with oily skin will need to use different products to cater to their needs as opposed to someone with dry skin. The same goes for people with mature skin, or sensitive skin, and so on. Just because one product worked amazingly for one person, doesn't mean it will have the same effects for you. Take the time to research your skin type, or visit a dermatologist to find out what your skin type is, and the best way to care for it. The good news is there are so many products available that you're bound to find the right ones for you.
Myth #4: Once Your Skin Reaches Maturity You'll No Longer Break Out
You'd think that once you make it past your teens, you'll never have to deal with acne again. Sorry, but we have some bad news. As it turns out, acne doesn't seem to magically remove itself from your existence once you turn 20. Actually, your skin doesn't fully mature until you're about 30 to 35 years old, and even once you've reached that age range, you may still find yourself dealing with those pesky zits. But why? The most probable cause of your adult acne is your hormones. Your hormones change a lot over the course of your life, but factors like birth control, menopause, and even just your menstrual cycle can cause your hormones to fluctuate and create acne on your skin. Ughhh, we can't have any nice things.
Myth #5: A Skin Care Routine Is Only For Your Face
Finally, you've perfected your skin care routine and your complexion looks the best it ever has. While achieving that sought-after facial glow does qualify for a well-deserved pat on the back, you may be forgetting about the big picture: the rest of the skin on your body! 
You can't forget to invest just as much time and energy into the skin on your body as you do for your face. Though your routine won't be the same—our body skin is much thicker, which is why you wouldn't use the same products on your face that you would on your body (and vice versa). TG, because facial products are expensive. 
When it comes to skin care on your body, keep it simple. Wash your skin well with a soap or shower gel to remove the daily dirt, sweat, and other sh*t that collect on your skin. Next, exfoliate your clean skin. Whether you use a dry brush or a scrub to exfoliate while in the shower, it's important to remove dead skin cells from your body to reveal the healthy skin underneath. Finally, moisturize. Once you've finished cleansing and exfoliating your skin, finishing off with a moisturizer is arguably one of the most important steps, as moisturizing serves to replenish your skin barrier, helping to improve its overall tone and texture.
Myth #6: A Skin Care Routine Is Only Effective If You Use A Multitude Of Targeted Products
With the thousands of skin care products available on the market, you may think that your routine will need to consist of 10 products minimum. The good news is, it doesn't have to be that complicated (or expensive). If you want to create a perfectly effective skin care regimen, keep it limited to these three steps: cleanse, exfoliate, and moisturize. Cleaning your skin of makeup and dirt, exfoliating off the dead skin cells built up on your face, and moisturizing the new and healthy skin underneath is the simplest way to care for your skin on a daily basis and maintain a clean, clear, and healthy complexion. 
However, if you have any unique skin concerns—like acne, for example—you may want to consider incorporating a specialized treatment product into your skin care regimen, as this will work to effectively target and address these areas. An acne cream containing tretinoin, for instance, is great for increasing skin cell renewal, which helps to prevent acne from the inside-out. On the other hand, if you're concerned about dryness or wrinkles, applying a serum for overnight recovery can help penetrate the skin at a deeper level for better results. 
At the most basic level, keep your skin care routine short and simple, and only incorporate more targeted treatments if and when necessary. Make sure to apply these treatments only to the particular areas of your skin that need some additional TLC.
Myth #7: "A Little Dab Will Do Ya"
Most skin care products will say to only apply a pea-sized amount of the product to your face, and this is true when using a product like an eye cream, where a little can go a long way. In reality, however, the suggested amount of product for proper use with most skin care products isn't enough to give complete results for your skin. If you're going to cleanse, exfoliate, or moisturize, don't be afraid to apply a little bit extra. The lighter products like a cleanser or moisturizer can't really hurt your skin, so if you want to get your complexion extra clean and smooth, you can add a little more than the bottle suggests. 
If you do choose to use more of a product than suggested, keep your skin type in mind. For instance, those with dry skin shouldn't over-cleanse, as their skin will dry out easily, and for those with oily skin, there's no need to go overboard on the moisturizer or facial oils. 
For products like a serum, a chemical exfoliator, or a targeted treatment, you'll want to stick to the directions on the label, as these products are stronger and can cause damage to your skin if not used improperly or too frequently. 
Images: Retha Ferguson / Pexels
The Right Type Of Facial You Need For Your Skin Type
I am 24 years old, and up until recently, I thought I knew how to wash my face. Like, I thought the face wash I was using was AMAZING. And it was, it really was. I was obsessed. But after a lovely facial at Massage Envy, I found out from my esthetician that the face wash I was using is not right for my skin type, and it was actually making my skin really irritated. I didn't even notice. You may think you're using the right face wash, but you could be wrong. *Gretchen Wieners voice* I always knew my skin was sensitive but had no idea face wash could possibly be harmful to me. Especially because it's not like I felt it stinging or ripping my face off. So she told me exactly which type of face wash I needed. I got it, and it DOES feel so much gentler on my skin. My mind was blown, and I decided I needed to ask about the correct face washes for each skin type on behalf of y'all. You're welcome.
Do not waste any more time using a product that is making your skin worse. I asked a few simple questions for each skin type: What type of face wash you should be using, which face products you should be avoiding, other easy steps you can take to make your skin better, what you're doing that's making your skin worse, and which facial is best for your skin type. And to make sure I got an expert opinion, I consulted Diana Morrison, the lead esthetician of Massage Envy. She's the HBIC who told us 3 easy things we can do for healthier skin.
Skin Type: Well-Balanced Or 'Normal' Skin
What type of face wash should I use: Look for a middle of the road cleanser that doesn't contain harsh exfoliants or too many moisturizing ingredients. A person with normal skin should look for a gentle foamy cleanser. This will allow them to cleanse their skin and remove impurities without stripping the skin of its natural moisture. To take the skin to the next level, I recommend a hydrating toner. This will add additional nourishment and vitamins to keep the skin as healthy as possible.
What types of face products should I avoid: For normal skin, the key is to be gentle. Avoid using aggressive scrubs that will over exfoliate the skin and leave it irritated and dry. The goal is to maintain balance.
Is there anything easy I could be doing that could make my skin better?:  The ABC method is essential for people with normal skin. The A, is a vitamin A, like a retinol for use at night. This can help promote cellular rejuvenation while we sleep and keep skin youthful. The B is a broad-spectrum sunscreen. Everyone should be wearing an SPF 30 every day. Even if you are not spending a lot of time outside, it is important to protect your skin. Try to look for a sunscreen that has extra benefits like hydration, or a moisturizer that has SPF. C is for Vitamin C, which is essential for healthy skin. I recommend using a Vitamin C day serum. Vitamin C is essential for the production of collagen, which is the building block of our skin.

Anything I might be doing that could be making my skin worse?: The most important thing is to find balance in your skincare. Have fun with your regimen, but don't over do it. At home, face masks can be beneficial, but over exfoliating will leave the skin dry and flakey. It's also important to not pick at breakouts and spread bacteria. You should also avoid tanning. There are many disadvantages to tanning but what most people don't know is that the UVA and UVB rays activate enzymes that eat away at the collagen in the skin. Collagen is the building block of the skin and essential for maintaining a youthful, plump, healthy complexion.
What type of facial is best for me: Someone with normal skin should look for a vitamin-rich facial to rejuvenate, nourish, and refresh skin. At Massage Envy, our Healthy Skin Facials incorporate Murad's Multi-Vitamin Infusion Oil to give skin a dose of vitamins A-F.
Skin Type: Dry
What type of face wash should I use: Someone with dry skin should stick to a creamy cleanser. It is important to gently cleanse the skin without stripping away oils. Infusing hydration with a cleanser will also help keep the skin nourished. Micellar water can be used as an alternative cleanser for dry skin.
What types of face products should I avoid: It is best to avoid mattifying products that are meant to dry out the skin. Salicylic acid has a lot of benefits but is simply too harsh for someone with dry skin. Stay away from anything that will accentuate dryness. Even when using makeup, heavy powders will dull out the skin. For the best results, use products that add luminosity and give a healthy glow.

Is there anything easy I could be doing that could make my skin better?: Facial oils can be a lifesaver for people with dry skin. Using the right amount in the morning will allow the oil to absorb into the skin, giving a plumping and luminous glow. It is also important to moisturize often and drink a lot of water. Healthy skin can start from the inside out.
Anything I might be doing that could be making my skin worse?: Over-exfoliating is dry skin's worst nightmare. A lot of people with dry and flaky skin try to over exfoliate it to get rid of dead skin cells. But in reality, they should be moisturizing and hydrating internally and externally.
What type of facial is best for me: A healthy skin facial works best for people with dry skin. Enzyme facials yield amazing results. The enzymes act like pacman and gently digest the old, dead surface cells on the skin. This allows moisturizers to absorb better and help with an overall healthy glow.
Skin Type: Oily
What type of face wash should I use: Foam cleansers work best for people with oily skin to remove oil, makeup, and sunscreen. Look for foam cleansers with lactic acid and salicylic acid. They remove impurities and tend to be a bit more drying, which helps control oil production while leaving the skin feeling clean.
What types of face products should I avoid: When it comes to oily skin, it is all about finding a balance in oil production. Anything too occlusive will not let your skin breathe and can lead to clogged pores and acne.

Is there anything easy I could be doing that could make my skin better?: For oily skin, I recommend a corrective serum. Topical products with AHAs like glycolic acid or lactic acid work throughout the day to help dissolve buildup and impurities in the skin. Salicylic acid also has many benefits. It helps balance the skin while acting as an anti-bacterial to effectively kill breakouts.
Anything I might be doing that could be making my skin worse?: The worst thing for oily, acne prone skin is to pick at breakouts. Most of the time, our bodies detoxify the breakout internally and can clear it up on its own. However, if you do decide to manually extract a breakout, make sure the skin is soft. It is important to be as safe and clean as possible when extracting breakouts. A misconception about oily skin is that you do not need a moisturizer. However, people with oily skin need the balance of a squeaky-clean feel and moisture. I recommend a lightweight, water-based moisturizer that will leave the skin looking balanced and healthy.
What type of facial is best for me: Massage Envy's Microderm Infusion treatment is effective for people with oily skin who do not have active breakouts.
Skin Type: Combination Skin
What type of face wash should I use: For combination skin, it is important to treat the dry and oily parts of the skin differently. I recommend a double cleanse. First, use a light, foamy cleanser that is not too drying. Then, use a corrective cleanser with a benzoyl peroxide or salicylic acid to treat oily and congested areas. The cleansers are most effective when paired with a corrective toner.
What types of face products should I avoid: With combination skin, it is important to find a balance. I do not recommend using anything that is too drying or too moisturizing.

Is there anything easy I could be doing that could make my skin better?: I recommend using a corrective serum. Anything with glycolic acid AHA works well with combination skin. I would pair this with a light moisturizer that is water-based and nourishing.
Anything I might be doing that could be making my skin worse?: Using any product that treats one extreme or another can have negative results on the skin.
What type of facial is best for me: A chemical exfoliation helps yield the best results for combination skin. Massage Envy offers Healthy Skin Facials that are personalized for the client's skincare needs. Microderm Infusions also work to give a gentle exfoliation and clear the surface of dead skin cells.
About Diana Morrison (Lead Esthetician of Massage Envy):
Diana Morrison is the Lead Esthetician of Massage Envy. She has been a dual licensed massage therapist and esthetician for over 10 years. Diana has practiced in multiple modalities, including both spa and clinical treatments, such as highly experiential facial and body wrap treatments, advanced skin care such as microdermabrasion with a chemical peel, dermaplaning, high frequency.
Skin Care Diaries: The Ups & Downs Of Sticking To A 5-Part Skin Care Routine
Welcome to skin care diaries, a new Betches segment, where we explore the reality (or not) of sticking to an elaborate skin care routine and how well it works.
Two things happened when I turned 25 years old. One, I tumbled into an immediate pit of existential despair because I had been alive for a quarter of a century and had yet to establish myself as a wunderkind in any field. Two, I started giving a sh*t about my skin. There might have been some other stuff in there, but those are the two that stick out.
Up until that point, I'd never been someone who actively pursued skin care. Like, sure, I washed my face in the shower and sometimes before bed if the simple act of removing my makeup hadn't already exhausted me, but that was about as extensive as it got. I was more disciplined about sunscreen application than my friends, but definitely not as on top of it as I should have been. Because, it bears mentioning, I am pale as hell. We're not talking "one base burn away from a tan" pale or "it's the middle of February and everyone kind of looks like that pale." We're talking the kind of pale that would have made me outrageously popular in the Victorian era, but made growing up in Southern California a veritable health hazard.
After years spent trying to tan at all costs, suffering more sunburns than I can count, and doing God knows how much damage to my skin, I came to terms with the fact that a golden summer glow just wasn't going to happen for me. But it still took a few years after that to realize that, if I started playing my cards right, I could maintain my youthful complexion for years to come while my friends all slowly withered away into leather bags. Or, at least, that's what I told myself as I proceeded to drop hundreds of dollars in the name of establishing a skin care routine.
Me: *Spends countless hours and way too much money on skincare products*
My wallet:

After much trial and error, and a few allergic reactions, I have found a regimen that I'm decently happy with. In fact, I can say with absolute certainty that at the ripe old age of 26 and a half, my skin has never looked better. Not perfect, but better than I ever could have imagined as a shiny, perpetually rosy-faced 16-year-old.
I still come home some nights drunk exhausted and do the bare minimum before falling into bed. My chin still breaks out from time to time. There's a little more discoloration in places than I'd like, because I will never truly rid myself of the pink undertones bestowed upon me by centuries of ancestors who apparently never saw the sun. But most days I'm comfortable leaving the house without a stich of foundation—something I couldn't have said two years ago.
What are my secrets? I'll tell you, under the pretense that I make it very clear that I am not a dermatologist. I am not a skin care professional. I am not a person with any authority on any face but my own. But I'm hoping that by recording one week of my routine, I can at least shed light on the beauty that is skin care. My very own Pay It Forward, but hopefully without me getting stabbed in the end. We'll see.
My Routine
For starters, let's outline the routine. It's fairly basic, but that doesn't mean I don't try to talk myself out of one or two steps at least once a day. I do the following both in the morning and at night:
Face wash: Cetaphil Daily Facial Cleanser for Normal to Oily Skin. I've tried more expensive stuff that's been great, but Cetaphil is cheap, reliable, and it doesn't dry out my skin. Sometimes I'll experiment with Birchbox samples that I get, but I always end up coming back to Cetaphil.
Toner: Thayer's Rose Petal Witch Hazel. I pour a liberal amount on a cotton round and cover every inch of my face in it. Not only is this good for your skin, but it feels amazing. I would bathe in it if that was even slightly economically viable.
Serum: The Ordinary Hyaluronic Acid 2% + B5. The Ordinary is a skincare mecca, and it's outrageously cheap. The downside is that the names aren't the least bit intuitive and require a fair amount of research to understand, but it's worth it. I also use their Serum Foundation, and can't recommend it enough. Sure, the founder is certifiably insane, but he's delivering quality products at a price I can afford. Pick your battles, you know? Hyaluronic Acid, despite what the name may imply, is actually a moisturizer. I slather my face and chest in it morning and night, which is the closest I get to hydration on any given day. It'll feel a little sticky as it dries, but that dissipates fairly quickly. What's left is baby smooth skin and an unwarranted sense of superiority. Relish in it.
Moisturizer: Boots No.7 Beautiful Skin Day Cream – Normal/Oily. Much like Cetaphil, this is more a purchase of convenience than anything else. It works well, it's affordable by most moisturizer standards, and it doesn't leave me feeling oily. I could probably find one I like better, but I'm not desperate to search at the moment.
Sunscreen: Either La Roche-Posay Anthelios Ultra Light SPF 60 or Sun Bum Original SPF 50. I wear sunscreen on my face from the second the sun appears in the spring until it goes into hiding in the fall. In Portland this runs from about mid-June through to the end of October, which can get expensive. To try and combat that, I'll switch between La Roche-Posay, an expensive option that feels less sticky under makeup for work days, and Sun Bum, which is a drugstore-priced option without all the gross chemicals that come with Banana Boat or Coppertone.
Monday
If we're being honest here, there are a lot of mornings where I'll skip the Cetaphil and move straight to toning. But in honor of the first day of my skin care diaries, I actually washed my face before work. I do it for you.
Monday was the last day of the life-cycle of a truly heinous PMS-induced breakout on my chin, so I was still feeling a bit self-conscious. My foundation is super light and not made for that kind of coverage, but nothing some green concealer can't fix.
I came home that night and followed my routine through without incident. I dabbed on an eye cream sample for good measure, because I figured overcompensating on the first day would make up for whatever mishaps I incurred throughout the week.
My skin to me:

Tuesday
Much like the rest of the world, Portland is in the middle of a heat wave. This is miserable for all the reasons you would imagine, with the added benefit that my 100-year-old apartment has no air conditioning. It gets so hot and humid in here that my roommate and I have started referring to it as the Everglades. Over the course of Tuesday, I break out the Witch Hazel no less than five times, because those split seconds of cool relief were the most comforting part of my entire day.
I kept to the routine on Tuesday except for one small divergence. That night I slept at a friend's house, because she had the foresight to live somewhere with AC. Not only did she graciously usher me into her chilly oasis, but she let me use her Glamglow Face Wash, and in a moment of weakness I truly considered driving to Sephora and buying my own. Sure, it's $32 a bottle and smells vaguely of licorice, but I don't think there was an impurity left in my body after using it. If I washed my liver in Glamglow it would probably revert back to the state it was in before I discovered wine. It's a miracle and truly worth a splurge on your next treat yo'self occasion.
Wednesday & Thursday
Both Wednesday and Thursday went by without incident. My chin was newly blemish-free, my skin was thriving in the sudden overcast weather, and I was feeling overtly confident having stuck fastidiously to my regimen over the past couple days. Which naturally meant disaster had to strike.
Friday
I made the mistake Friday of signing up for a 6am workout class. Nothing good ever comes from this, but every few weeks I convince myself it's what healthy people do. Healthy people also probably responsibly pack a bag the night before rather than blindly racing around their room at 5:30 in the morning, haphazardly throwing things in a duffle bag before sprinting out the door.
I made it through the class and directly to the shower, only to find that I had forgotten both my Cetaphil and my toner. Panic set in. I couldn't use my serum without washing my face. What was I, an animal?
Not content with just water but afraid to use shampoo, I made do with the only thing I had at my disposal: an Old Spice body wash that someone had left behind in the studio shower. It didn't feel great, probably wrecked my clog-prone pores, and left my face smelling like my ex-boyfriend. In short, not an ideal start to the day.
I got home that night hellbent on righting the mistakes of the morning and (after thoroughly washing my face) broke out my favorite face mask: the Lush Cup O' Coffee mask. I fully recognize that 90% of face mask culture is a total farce, something shiny and fun to spend your money on in the vain attempt at making you feel like you're investing in yourself. I get that most are just oily messes that sit on top of your skin and do nothing but make you smell like an assortment of plants. But none of that is not true of this mask.

Not only does Cup O' Coffee leave you smelling like, you guessed it, a cup of coffee, but it's one of the single best exfoliators I've ever encountered. Apply liberally, let it sit for 15 minutes, and then scrub away for skin so fresh it's like you just emerged from the womb. The gritty, lightly brown stained mess it leaves all over your sink is well worth the baby-soft face that you'll spend the rest of the night caressing. I typically reserve this ritual for Sunday nights, as a way to set myself up for the week, but Friday called for it. I was back on track.
Saturday
I spent Saturday in a cabin up at Mt. Hood with a group of friends and partook in a bunch of activities that are great for your body, but arguably not for your skin. I spent a substantial amount of time in the sun, likely without adequate coverage. I sweat more than I'd like to admit on a hike that could best be described as a well-meaning walk, then neglected to wash my face. I drank a lot—good for neither skin nor body but great for the soul. I ate kettle corn by the gallon full. And then, after a long night, I crawled into bed, made a half-hearted attempt at toning some of the grime off my face with only the moonlight and my phone to guide me, and then fell asleep. Best laid plans and all that.
Sunday
On Sunday I woke up, face sticky from a mixture of what I imagine was margarita, kettle corn, and haphazard toning, feeling slightly guilty and a little hungover.

I washed my face and set out to right the wrongs of the night before with extra serum and moisturizer, which definitely isn't how that works but I let myself believe it anyway.
I washed my face again upon returning home and then covered every possible inch of it with the Glossier Moisturizing Moon Mask. I don't know why I approach skin retribution the way overcompensating, sh*tty boyfriends try to win back their girlfriends after a fight, but it's probably just as effective. That is to say, it is not at all effective. I went to bed still feeling the effects of a day full of sugar and without any semblance of skin care, dreaming of kettle corn. So, a fairly average end to a weekend.
As you can see, I'm nowhere near perfect in this department. But what I've found is that doing something, no matter how minimal, is better than nothing at all. Sure, it can be tedious and expensive. Yeah, packing for overnight trips is kind of a pain. And yes, I've hyperventilated in the Sephora moisturizer section on more than one occasion. But barring some kind of Kardashian level of cosmetic assistance, you're stuck with your skin for the rest of your life. Much like the 401k emails from HR you keep ignoring, it's probably time to invest in it*.
*Disclaimer: I am even more unqualified to offer advice on 401k's. Do not take my word for anything.
I am open to suggestions for a new moisturizer, so hit that comments section if you have any.
Images: Giphy (4)
Essential Travel Beauty Tips So You Don't Look Gross After Flying
Travel is without a doubt one of the greatest parts of summer. First of all, there's the crack-like (I assume) rush of turning on an "out of office" email reply. Chase that with a daily routine of margaritas for breakfast, followed by triple-digit likes on a "look at my ass this beautiful view" 'gram, and I'm decidedly living my best life. Unfortunately, even the highest of vacation highs tend to come crashing down within 24 hours of returning home. Not only did your "out of office" reply deter exactly zero people from emailing you multiple times, but you now have to deal with the ravaging effects of whatever public transit hell you were subjected to on your return home. (I'm primarily discussing air travel here, but let's not pretend that buses/trains don't leave you feeling pretty icky as well.) Here are some travel beauty tips for avoiding and even reversing the damaging effects of air travel.
Start With A Clean Face
If you're one of those people who can't leave the house without a full face of makeup, I have bad news. No one believes you woke up like that, and you should absolutely never fly in makeup. If you absolutely have to roll up to the airport made-up, at least take it off ASAP once you're in the air. Makeup wipes like these Philosophy facial cleansing cloths are a must, given the state of airport bathrooms and the fact that your bougie-ass cleanser definitely won't make it through TSA. Alternately, you can go with a (travel size) no-rinse micellar water—just please God use cotton pads, not airplane toilet paper. Ew.

Purity Made Simple One-Step Facial Cleansing Cloths
Embrace In-Flight Skincare
Ok, so now your face is clean. Sadly, your work is just beginning. One of the biggest damaging factors on airplanes is that they dry you out like crazy. This means you're looking at red patches, flaky skin, and the overall pallor of a three-day-old corpse (just me?). Luckily, there are ways to avoid this—though they do involve giving exactly zero fucks what the people in your row think. For starters, it seems like every celeb on earth applies a hydrating mask while flying. Luckily, there are "invisible masks" like the Origins Drink Up Intensive,  or Kiehl's Ultra Facial Overnight Hydrating Masque, both of which you can leave on for hours to absorb maximum moisture, without getting dirty looks from flight attendants. For those a little less shameless, the Summer Fridays Jet Lag Mask goes on like a regular mask (that you'll have to rinse off with a warm towel, somehow), but it provides hydration and anti-inflammation without any harmful ingredients or artificial fragrances (it's also vegan). If you're brave enough for a sheet mask, Chrissy Teigen and J Lo swear by the SK-II Facial Treatment Mask.

Kiehl's Ultra Facial Overnight Hydrating Masque
Once you've removed the mask, it's recommended you follow up with your preferred serum/moisturizer/eye cream. (Or if you're prone to puffy under-eyes (hi), consider some cooling pads like these skyn ICELAND firming eye gels.  Emma Stone swears by argan oil for long flights, but your heaviest daily moisturizer should work fine.

As a final, extra-luxe step, invest in a face mist. Celeb stylists love rose-water infused options (try Khloé Kardashian's preferred Jurlique version), but regular old Evian is fine too. If you're reallyyyy trying to get extra about this, the Caudalie Beauty Elixir is another celeb fave. (It's a toning spray, but don't ask me what toner does). Or,  you can follow up your SK-II celeb-approved face mask with their Facial Treatment Essence. (Seriously, do not ask me what essence does.)
Stock A Full Mom-Purse
You know that one friend whose purse is always fully stocked with Kleenex, lip balm, gum, etc? Yeah, you'll want to emulate that to an extent. In addition to all the face wipes and hydrating essentials mentioned above, you should never board a flight without hydrating lip balm, hand lotion, and more water than you usually drink in a week. This final point is especially key, because in addition to making your outsides dry AF, your insides are also dying from dryness when you're on a flight. So drink, drink, DRINK. Even though it's annoying to get up every half hour and use the bathroom, you'll thank me when you don't arrive bloated and constipated (ew), not to mention the fact that the simple act of getting up and moving frequently is proven to help beat in-air bloat, and can help prevent blood clots. Woo!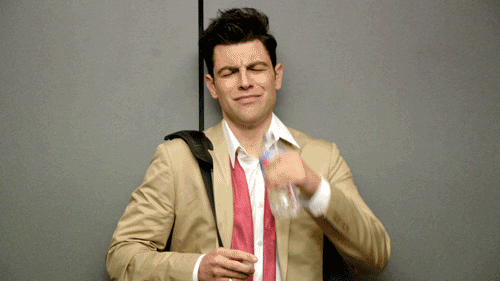 Be Careful What You Eat & Drink
Oh, and speaking of drinking—I have another bubble to burst here. As you know from waking up at 3am with desert mouth after a night of drinking, alcohol dries you out—which means drinking on flights is a big no-no (same is true for caffeine). Yes, air travel is definitely one of those memories I'd prefer be a little hazy, but the pounding headache and exaggerated dehydrating effects all around are not worth the 25-30 minute buzz. Save the drinking for your final destination.
When it comes to eating, you're better off the less you ingest while actually on the flight. Sugar-free foods and gum escalate an already gassy situation (sorry—I don't make the rules), and chewing gum makes you literally swallow air, which, you guessed it, escalates both the gas and the bloat. The same goes for high-sodium foods and any carbonated drinks. So yeah, even your beloved La Croix is a no go. Some experts suggest to avoid eating anything on a flight, since flying may cause your digestive system to slow down, and the restarting process will be all the more unpleasant if there's new food to digest rolling around in there. Whether or not that's 100% scientifically proven, many people who avoid eating on planes say they feel more rested and hydrated after, so it's worth a shot. Were you really that hyped about airplane food anyway?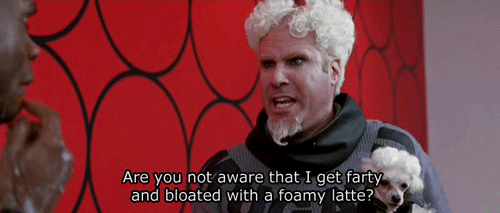 That's all from me (though TBH, it's plenty). I purchased maybe six more products over the course of writing this article, as I'm currently in the throes of post-flight bloat and ogre skin myself. Learn from my mistakes and help slightly soften the blow of going back to work by not having to deal with a pimple the size of a third eyeball taking over your forehead. Really takes away from the glamour of an overseas vacay.
Images: Giphy (2); Sephora (2)
Betches may receive a portion of revenue if you click a link in this article and buy a product or service. The links are independently placed and do not influence editorial content.
The Best Face Wash For Your Skin Type
Like most people in this world, I really care about my skin. Despite my horrible attempts at clean dieting and exerting energy into anything that doesn't involve walking to the closest liquor store Starbucks, I try really hard to treat my skin like silk (@KrisJenner) by using only the best makeup removers, micellar waters, masks—you name it. Only the best for my prized feature. However, one of the hardest products to find that doesn't make my face have a mid-life crisis is a face wash. It's something we use everyday, so someone please tell me why it's so hard to find one that's just right for my skin type. *Sighs* Since I know firsthand how fucking stressful this can be, here are the best face washes based on your skin type. You can thank me later.
If You Have Oily Skin, Try…
This godsend of a face wash was made just for those who struggle to keep their faces looking shine-free all day long. Not only does it thoroughly clean your face, but it also reduces excess oil without drying your face out. Ugh, bless. It leaves your skin feeling v smooth and makeup-ready without any worries of looking oily af.

IMO, this is seriously the best and safest brand for your skin. I have almost everything from Cetaphil and have literally never been disappointed in the results. This facial wash is super gentle on even the most sensitive skin types and removes oil, so it can also control the shine on your face. It also happens to be a fab makeup remover, too.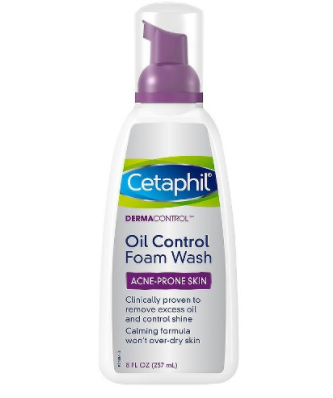 If You Have Dry Skin, Try…
Created specifically for those with super flaky skin, this moisturizing face wash adds a ton of the hydration you need while also preserving your skin's natural moisture. Since it's a foaming cleanser, it goes on with ease and leaves your face feeling amazingly soft afterwards.

This shit is formulated with five conditioners, so that's when you know it's luxurious af. The creamy gel cleanser soothes uneven textures, softens super dry patches, and clears up your pores ASAP. It's like, apparently made with some sort of ingredient that's also in contact lens solutions, so you can def use on your eyes for that mascara that doesn't gtfo.

If You Have Combination Skin, Try…
If you're kind of on the dry side but somehow a bit on the oily side as well (HOW THO??), this foaming cleanser gently removes a day's worth of grime, as well as the makeup you've been wearing for hours. It's totes refreshing and makes your face feel like it can breathe again without drying it out or making you feel moist. Ew.

Designed for all skin types, the best-selling Philosophy cleanser works well on those whose skin may be super dry and extremely sensitive, too. It's gentle on the eyes for removing your gothic makeup and gives your pores a much-needed deep cleanse. It's a fab toner and source of hydration, if your skin is suffering a bit come the colder seasons.

If You Have Normal Skin, Try…
The sulfate-free cleansing gel easily cleanses clogged pores and helps prevent future breakouts. It helps your skin retain natural moisture, as well as controls oil, so you're looking radiant in all the right ways. Plus, it reduces annoying inflamed areas and gets rid of buzzkill breakouts before you can even freak out about it.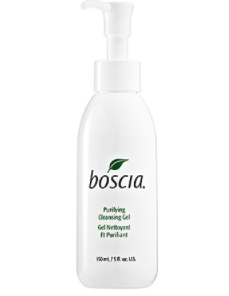 This face wash is ideal for those who have an equal balance of dry *and* oily skin types (lucky, betch)—hence the name. Since it's v gentle on the face, you can easily use just little, and it goes such a long way. It's only an added bonus that it functions as a makeup remover and leaves a refreshingly cool sensation when you're finished.